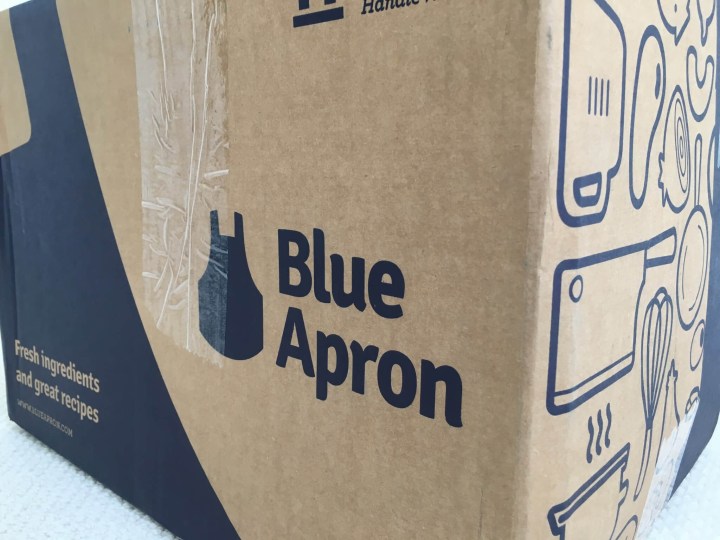 Blue Apron is a subscription box for making great meals at home. If you're like me, you periodically find yourself in a serious cooking rut. You make the same things every week, but the thought of researching a recipe and acquiring all of the ingredients is just too much work. Blue Apron is the solution! Each week, Blue Apron sends you a refrigerated box with all the fresh ingredients you need to make the included recipes. You can select the 2-person plan – 3 meals a week of 2 portions each – or the family plan – 2 to 4 meals a week of 4 portions each. The menus are set, but you can ask Blue Apron to avoid ingredients you don't eat – shellfish and lamb, in my case.
We got the Family Plan for 2 meals. I set the delivery date and it arrived right on time, securely packaged in a heavy-duty box. All of the ingredients are wrapped in an adorable insulated blanket and cooled with ice packs. Mine took a day to arrive and sat on my porch for 3 hours, and everything was perfectly cool inside.
Pricing: 2-Person Plan – $59.94 for 3 recipes. Family Plan (serves 4) – $69.92 for 2 recipes, $139.84 for 4 recipes.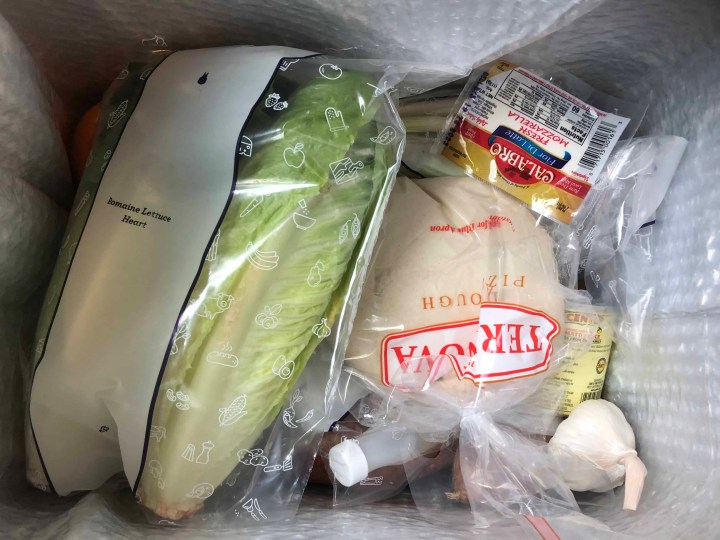 Historically, the meals have been generally divided by meal in paper bags, but this time it was all in there together.  Honestly, it looked like someone just threw everything into the box from ten feet away.  Nothing was damaged, but it was weirdly chaotic.
DEAL: Save $30 on your first order! Use this link – no coupon code required!
The meat is at the bottom, surrounded by still-frozen gel ice packs. The fish was not double-bagged this month again, which I don't like on principle, even though it was all fine.  Leakage can ruin a box. Bring back the zip-top bags, Blue Apron!
Our first meal was the Baja-Style Tilapia Tacos with Orange & Cheesy Sweet Potatoes.  I'd like to buy a comma, please.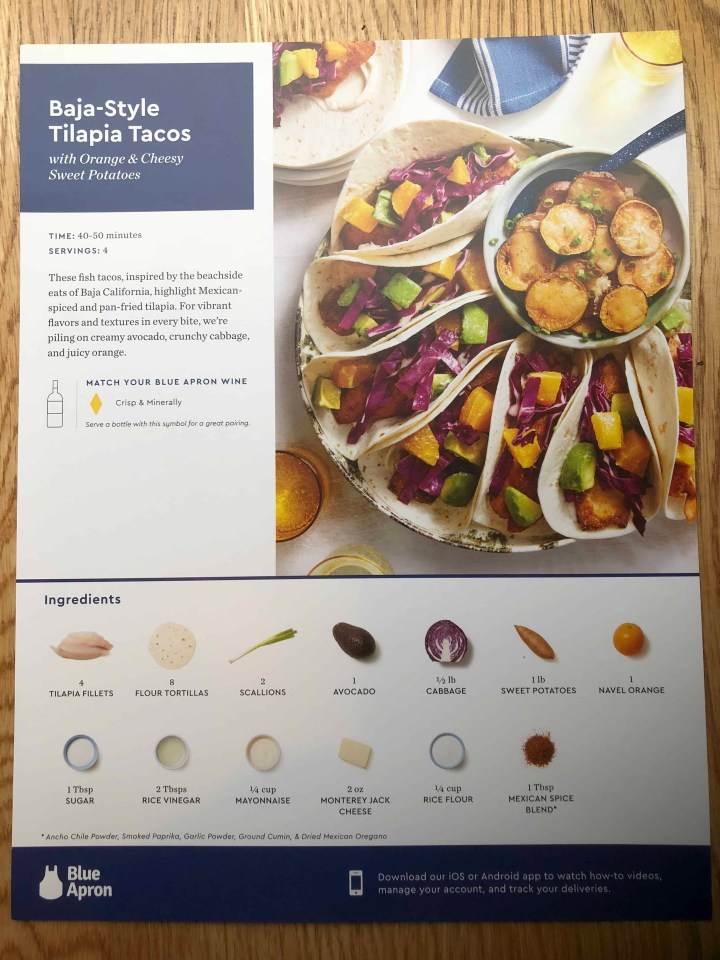 As usual, all of the ingredients were included. We make tilapia tacos often, and this was pretty straightforward.  The tilapia was in great shape, firm and not fishy-smelling. The recipe said to slice after cooking, which sounds like a prescription for a flaky mess. I would absolutely slice it before you cook.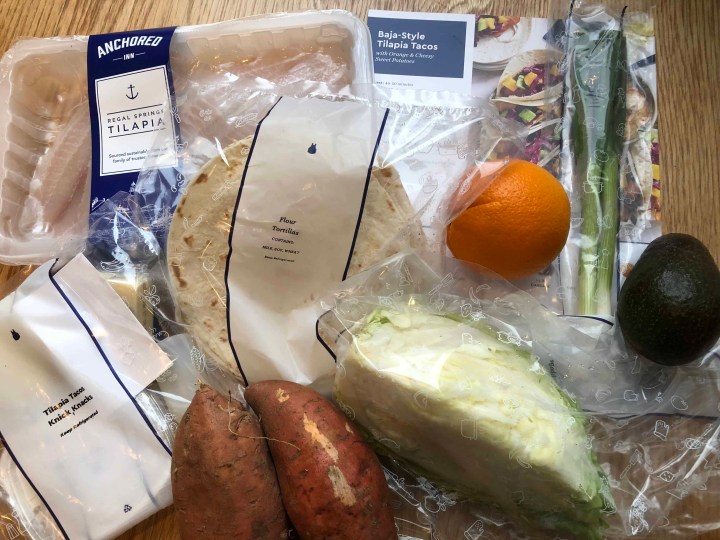 The meals come with nutrition info and ingredients. Know what you're eating!
This prep was easy and fast, just a bit of chopping and dredging. We got a green cabbage instead of red, which was totally fine, flavor-wise, but it would have been prettier with red.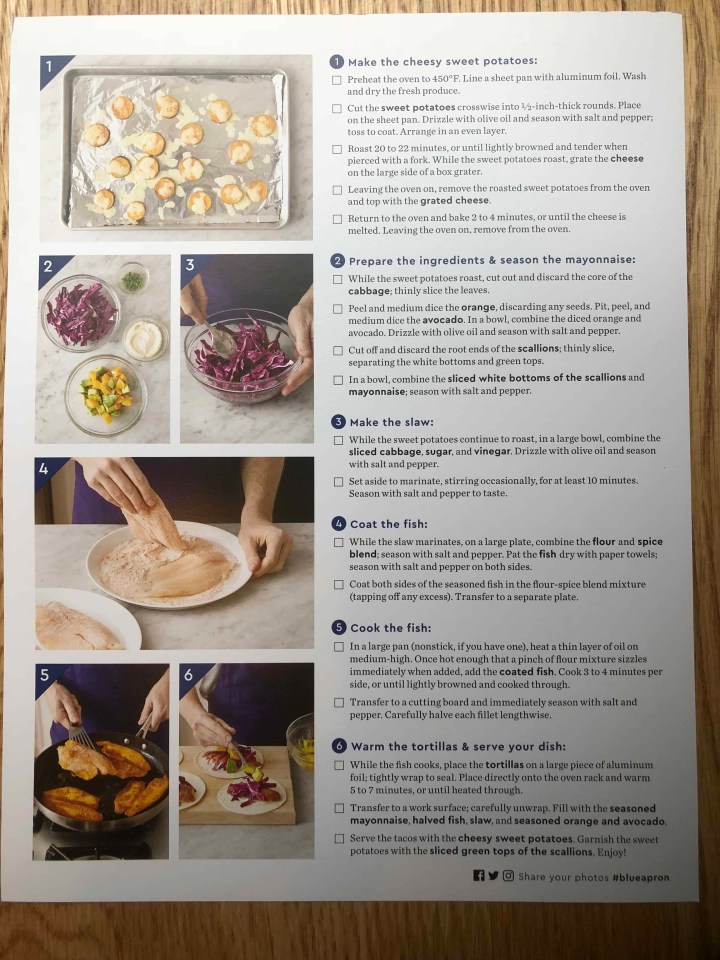 The avocado was perfectly ripe. I'm allergic, so I didn't have any of this delicious-looking salsa, but my husband said it was amazing. I squeezed a little lime in there to keep the avocado from browning.
The fish was easy to prep and cook. I've never worked with rice flour before, and I really liked the nice coating it made. The timing on the recipe was right, but you know you're done when you get a nice flake on the fish. I cooked in two batches–when you split the fillets, you'll get a fat and a skinny piece, so I cooked all the fat ones together and then the skinny ones.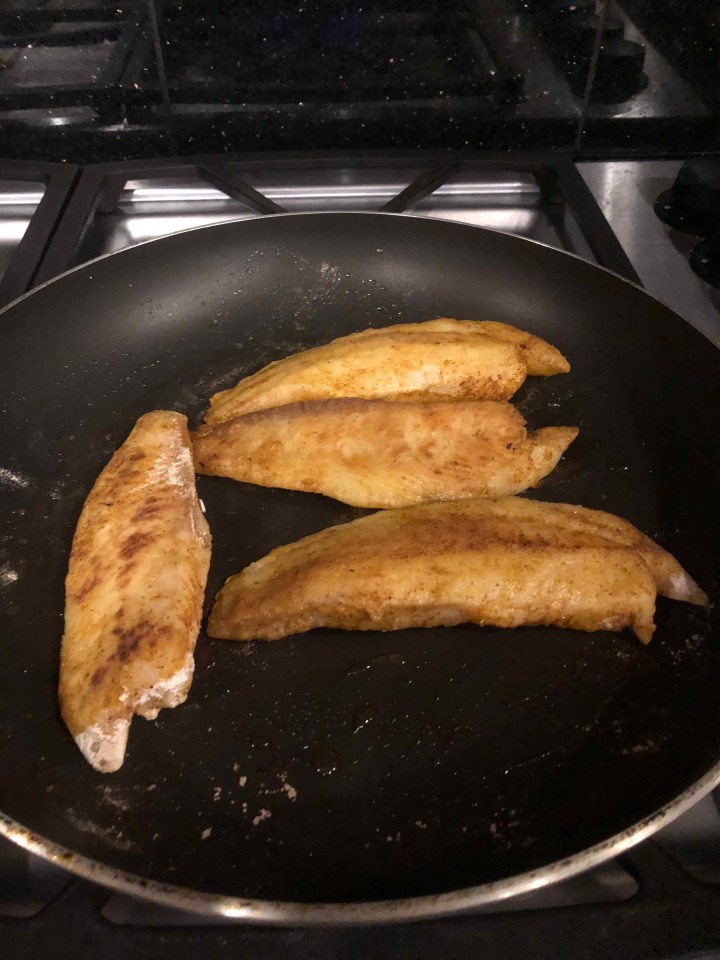 Per the online reviews, I skipped the scallion mayo the recipe called for and instead made lime sour cream (sour cream, lime juice, salt and pepper), which went really well. The slaw and salsa toppings seemed weird together, but they were each bulky enough to have separately for taco variety. The sweet potatoes were tasty and easy, though I wouldn't say they really "went" with the tacos. Plenty of leftovers for lunch the next day; a few more tortillas would have been nice. Overall, this was one of the better meals we've had in a while.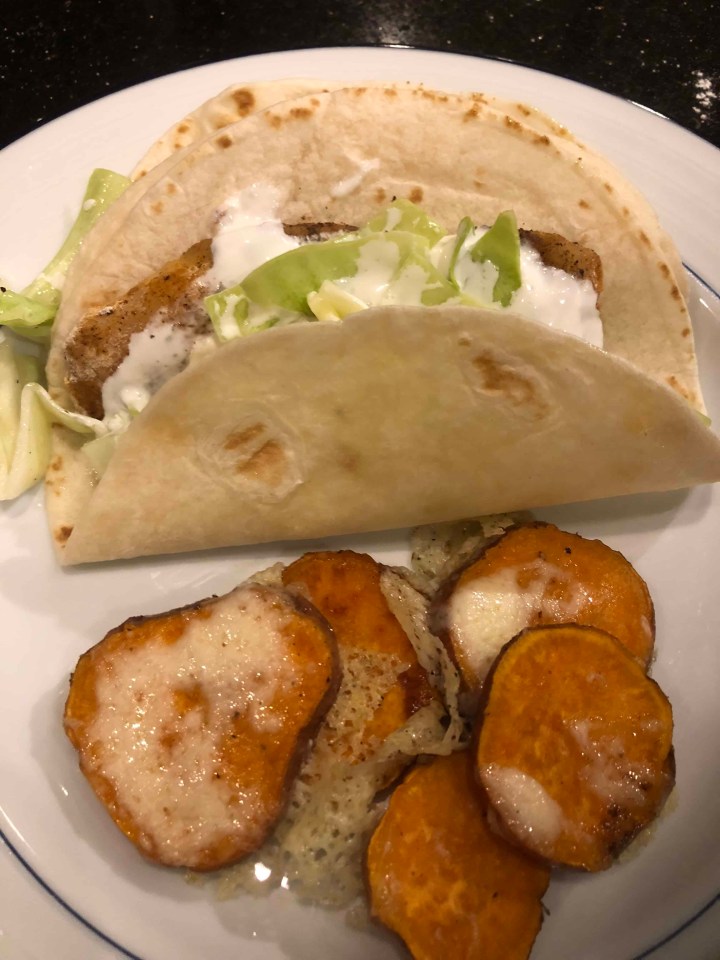 We went for the easy play with the Three-Cheese Pizza with Creamy Tomato Sauce & Romaine Salad on Saturday for family movie night. (Guardians of the Galaxy I, if you're wondering).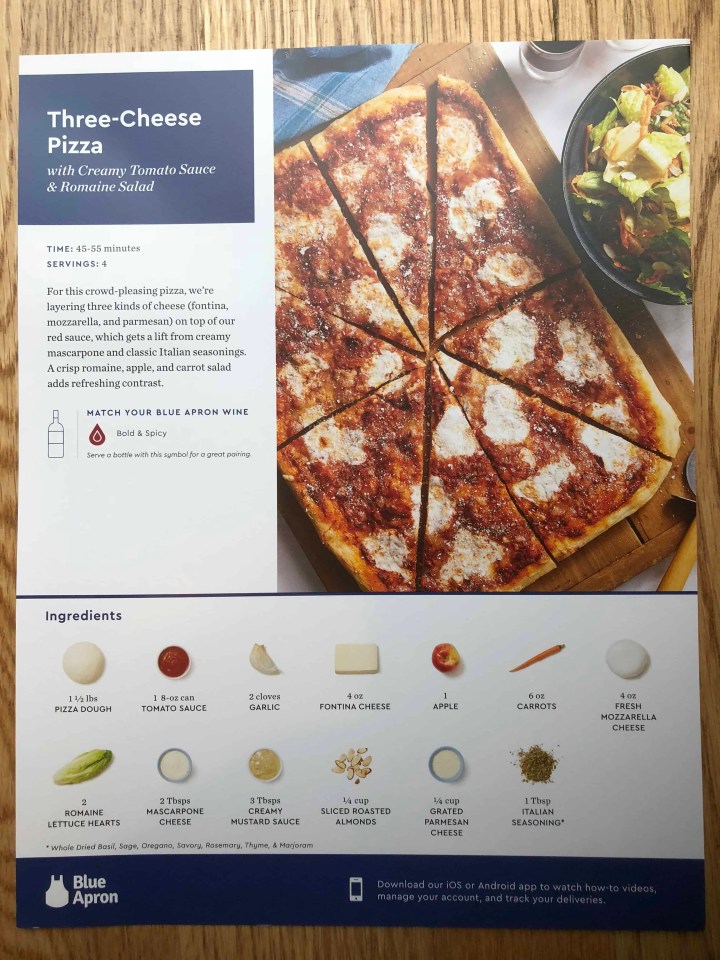 All of the produce was in good shape this month.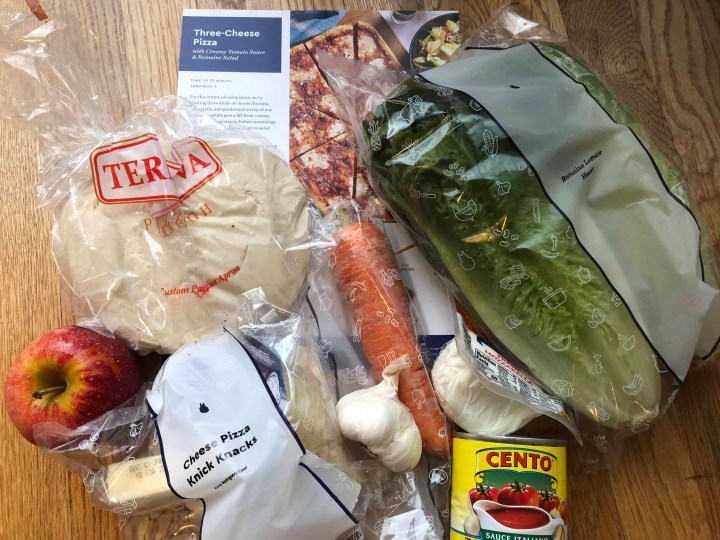 As usual, Blue Apron does a great job of sending you just the amount you need for the recipe, so you don't waste anything; nor do you have to think about how much to add to the recipe.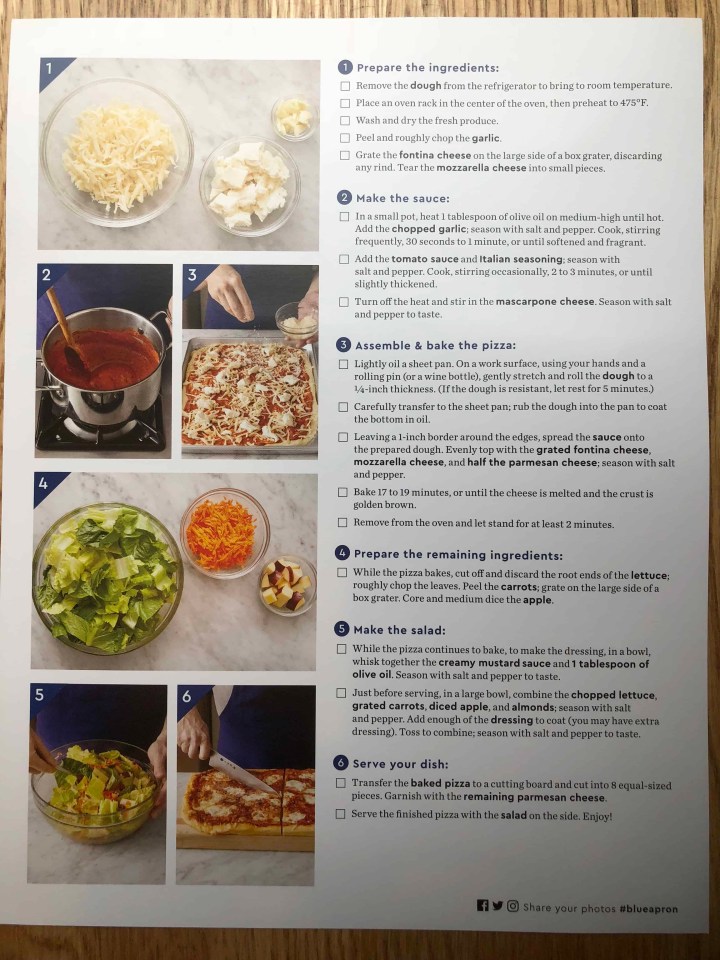 Each recipe comes with these easy-to-follow instructions. Even if you are new to knife skills, you will be able to do everything on this list.
Lots of cheesy goodness (and veg). And, yes, that's a Blue Apron wine subscription bottle over there. I stopped making pizza at home years ago because I find the dough frustrating–a lot of sticky work to get it to the right thickness, and I don't know that it's sufficiently better than take-and-bake to be worth the trouble. The passage of time has not improved my dough skills, alas. Make sure you leave plenty of time for the dough to come to room temperature–the recipe tells you at least 30 minutes, but you'll want to give it at least an hour.
Nutrition facts are good for you.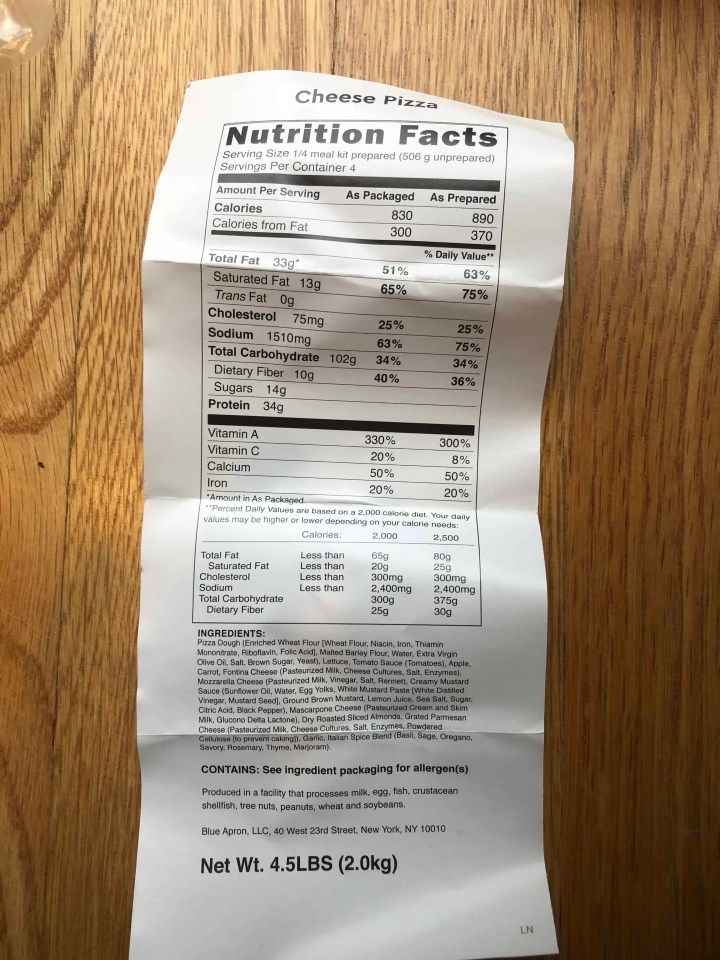 My dough refused to get much thinner than 1/2 inch. The sauce was tasty (because it was full of cheese, natch), and the fresh mozz really brightened up the pizza toppings.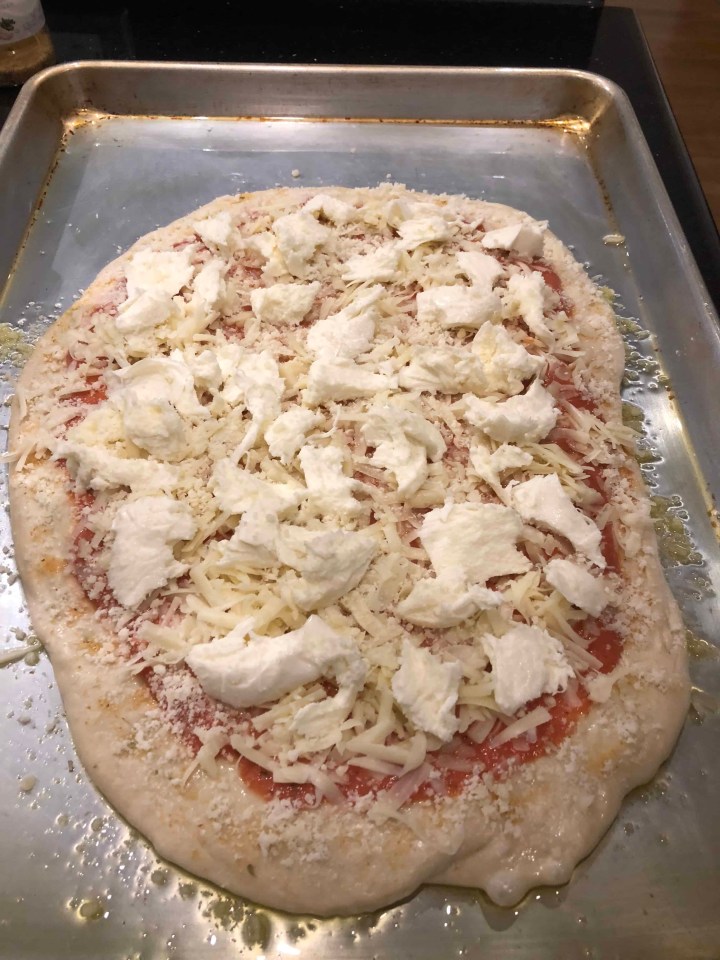 It was easy to toss together the salad while the pizza cooked. Make sure you give it a couple of minutes to cool down before you slice it, or your cheese will slide right off.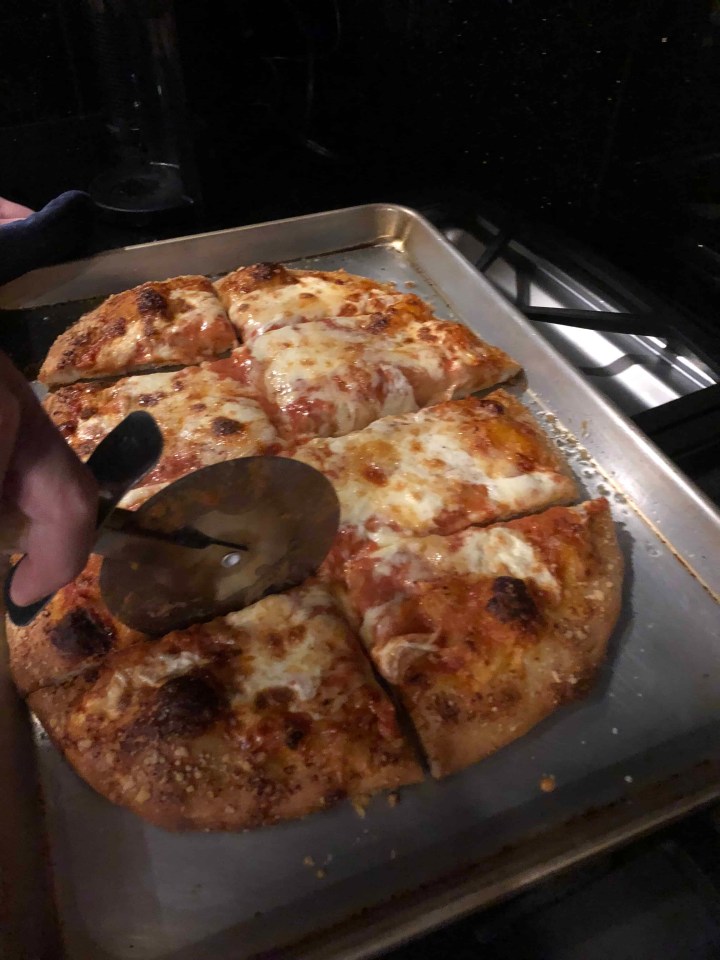 The pizza was good, and the salad was fine and plentiful–we only used one head of romaine and there were leftovers for lunch. Sometimes, the vegetarian BA meals don't quite satisfy, but this was plenty of food and everyone was happy.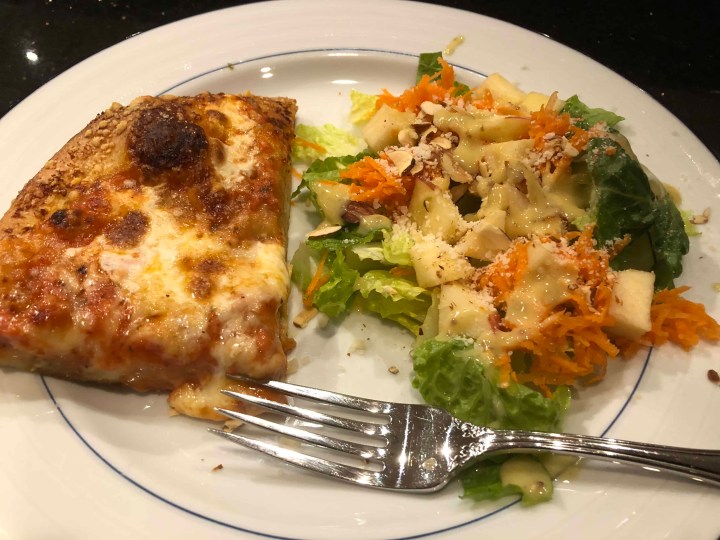 Hey, did you know that Blue Apron has a wine program now? It's super easy to match your wine to your meal, like the fun Nebbiolo we had with the pizza.
It's nice to not have to decide "what's for dinner" all the time. Overall, Blue Apron has been enjoyable and gets us out of our boring dinner routine. Honestly, you can forget how fun cooking can be. Interesting ingredients, easy recipes, and delicious food. We can't wait to see what we get next time!
What is your go-to veg side dish? Let us know in the comments below!