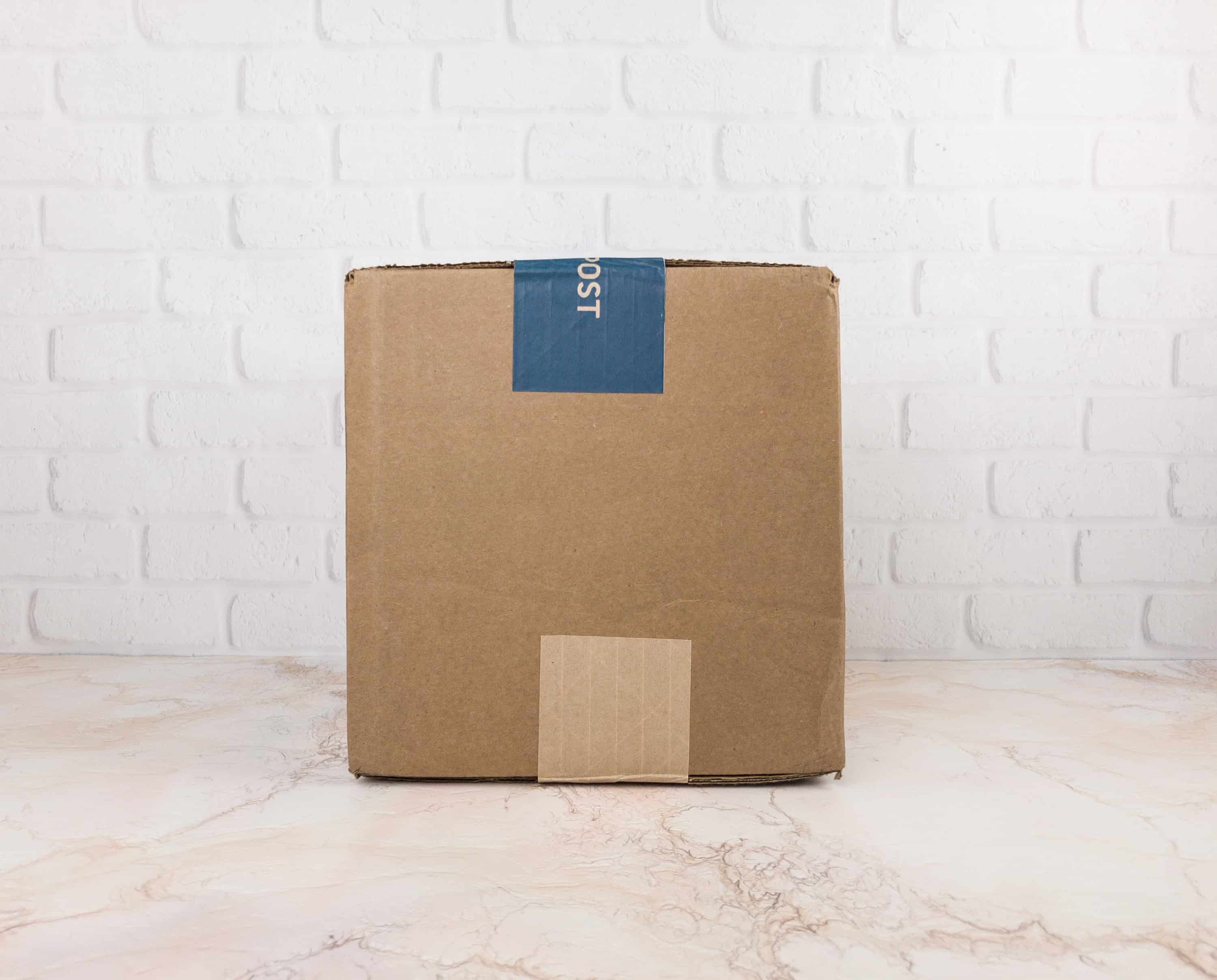 Bespoke Post is a men's lifestyle subscription box offering sophisticated accessories, gear, and curated interest kits, although many of their offerings are unisex and would be equally appropriate for any woman with a rugged and adventurous side.
The monthly limited-edition boxes are built around a central, unique theme, and there are usually two or three new boxes to choose from every month. You can also skip the month if you're not interested in any of the available boxes.
This month's theme is EQUIPPED. The front side of the card lists the items included in this curation. Each box includes a card announces the theme.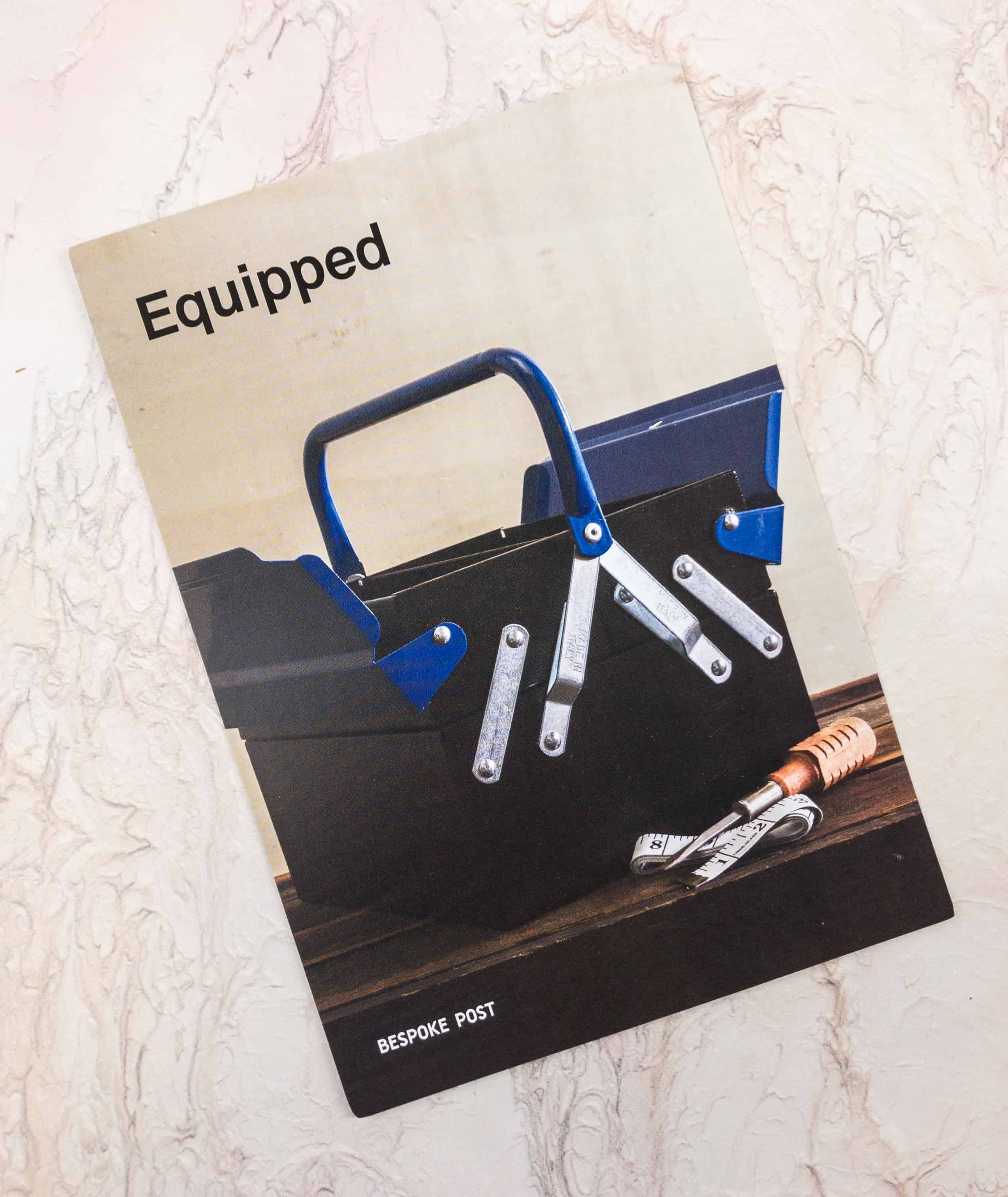 DEAL: For a limited time, use code HELLO20 to save 20% on your first box!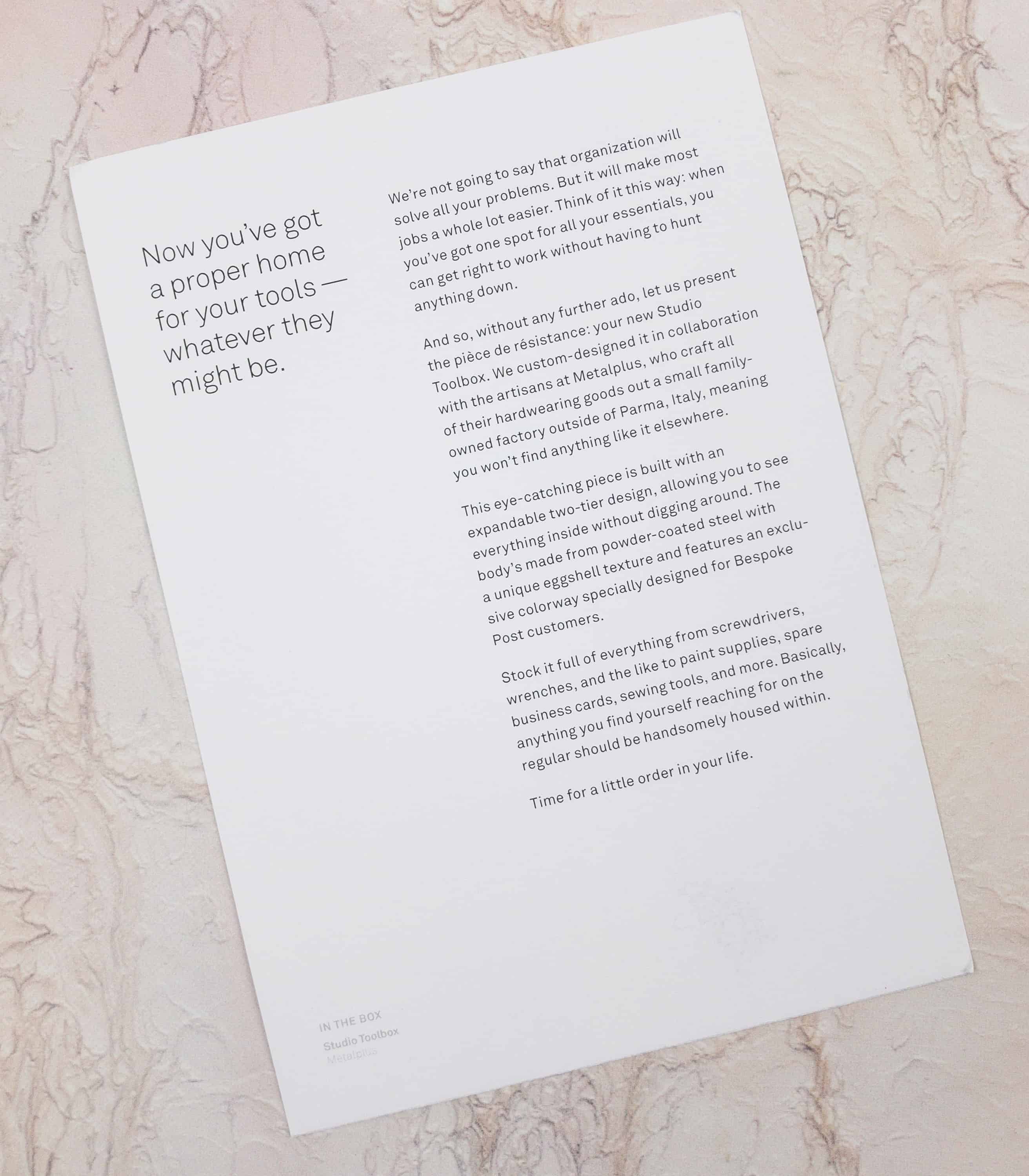 The back of the intro card has a brief description about the item that notes a bit about its provenance and fabrication and explains why it is such an awesome choice for this curation.
Everything in the Bespoke Post EQUIPPED Box. Some Bespoke boxes contain a collection of several small items. Most boxes have a larger item and a couple complementary smaller items. Some boxes, like this one, have a single, awesome item.
Studio Toolbox Metalplus. This custom-designed box is exclusively made by artisans from Metaplus. It's an all-in-one toolbox where you can put all your essentials organized in one place.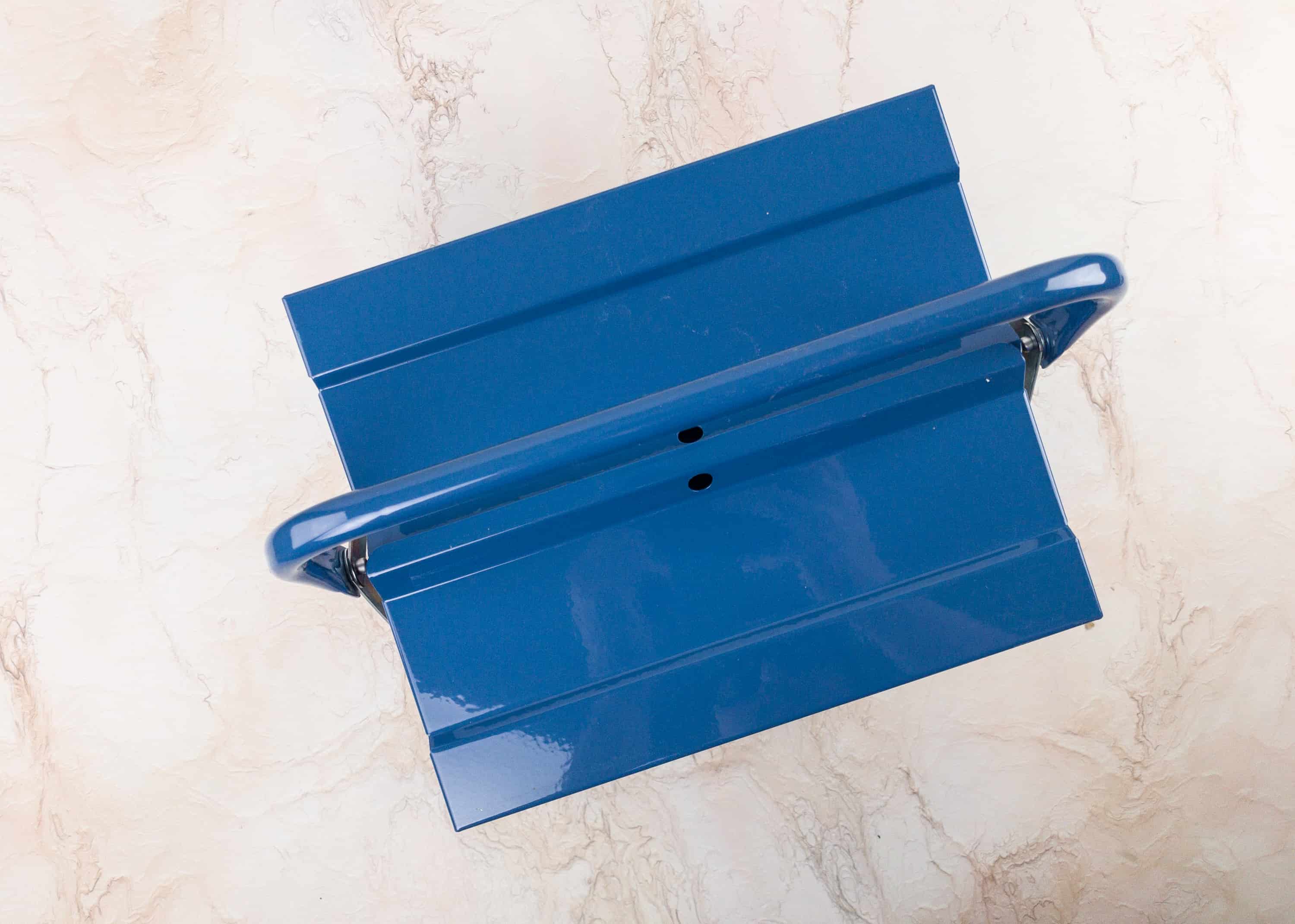 It is made from powder-coated steel that means the surface is more resistant to chipping, scratching, or fading. The lid has a pair of holes near the center so you can padlock your toolbox between uses.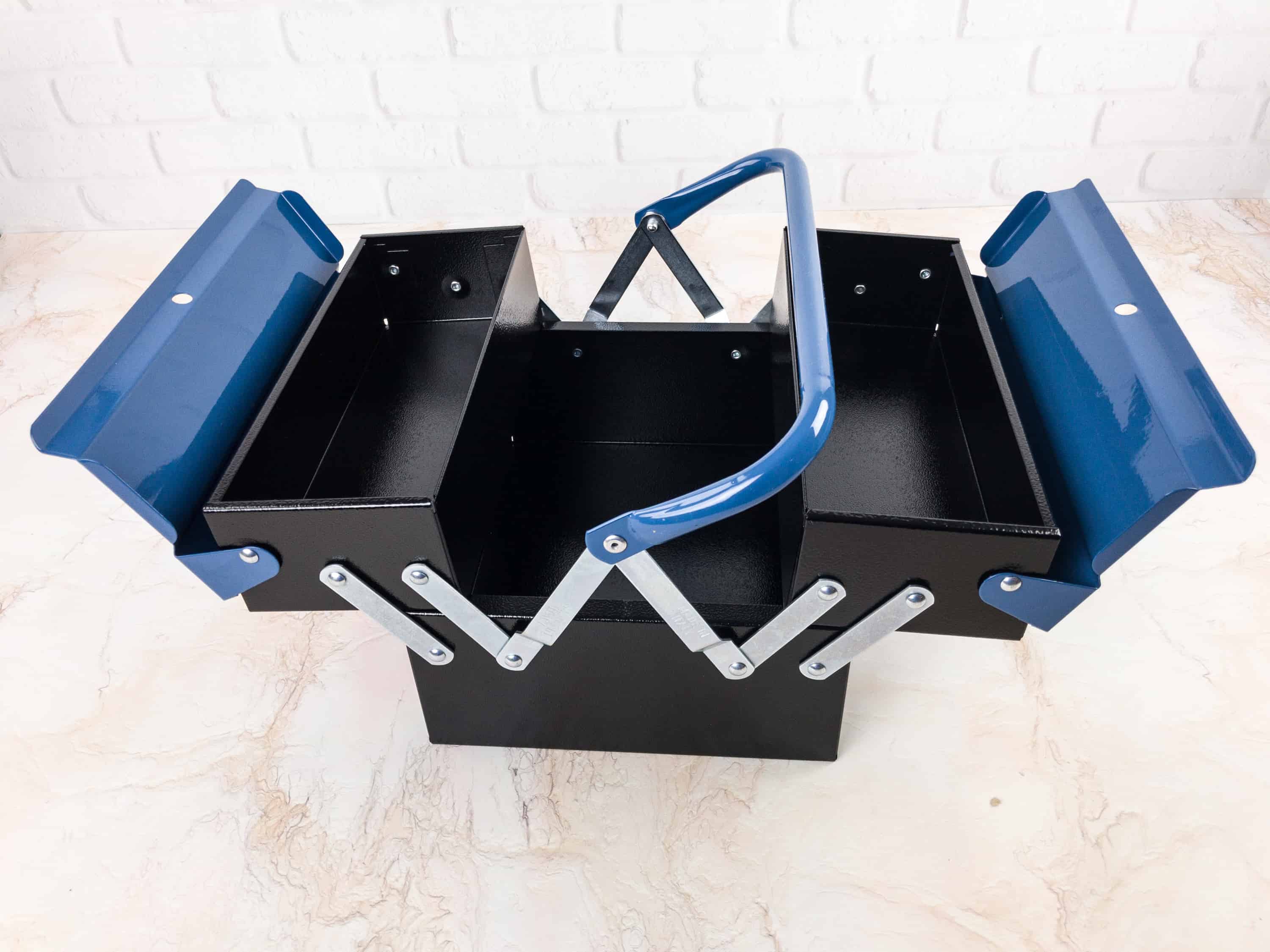 It also has a unique eggshell texture and features a color specifically chosen for Bespoke Post subscribers.
Studio Toolbox is built with an expandable two-tier design, making it easier for you to see every tool inside without having to lift out a tray. The handle folds neatly to the side, allowing full access to the lower compartment.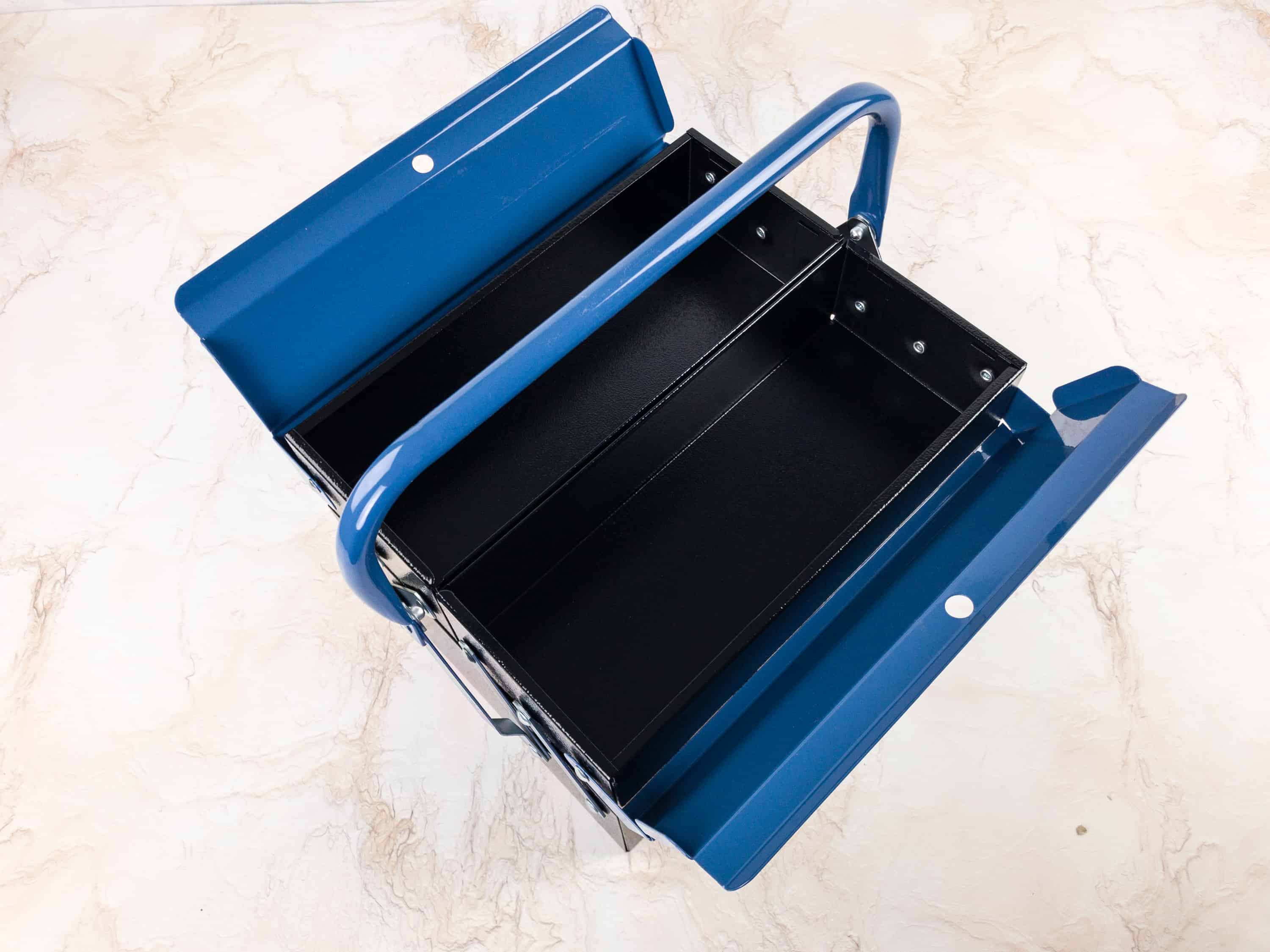 You can place your smaller tools on the upper level of the toolbox with larger items tucked below.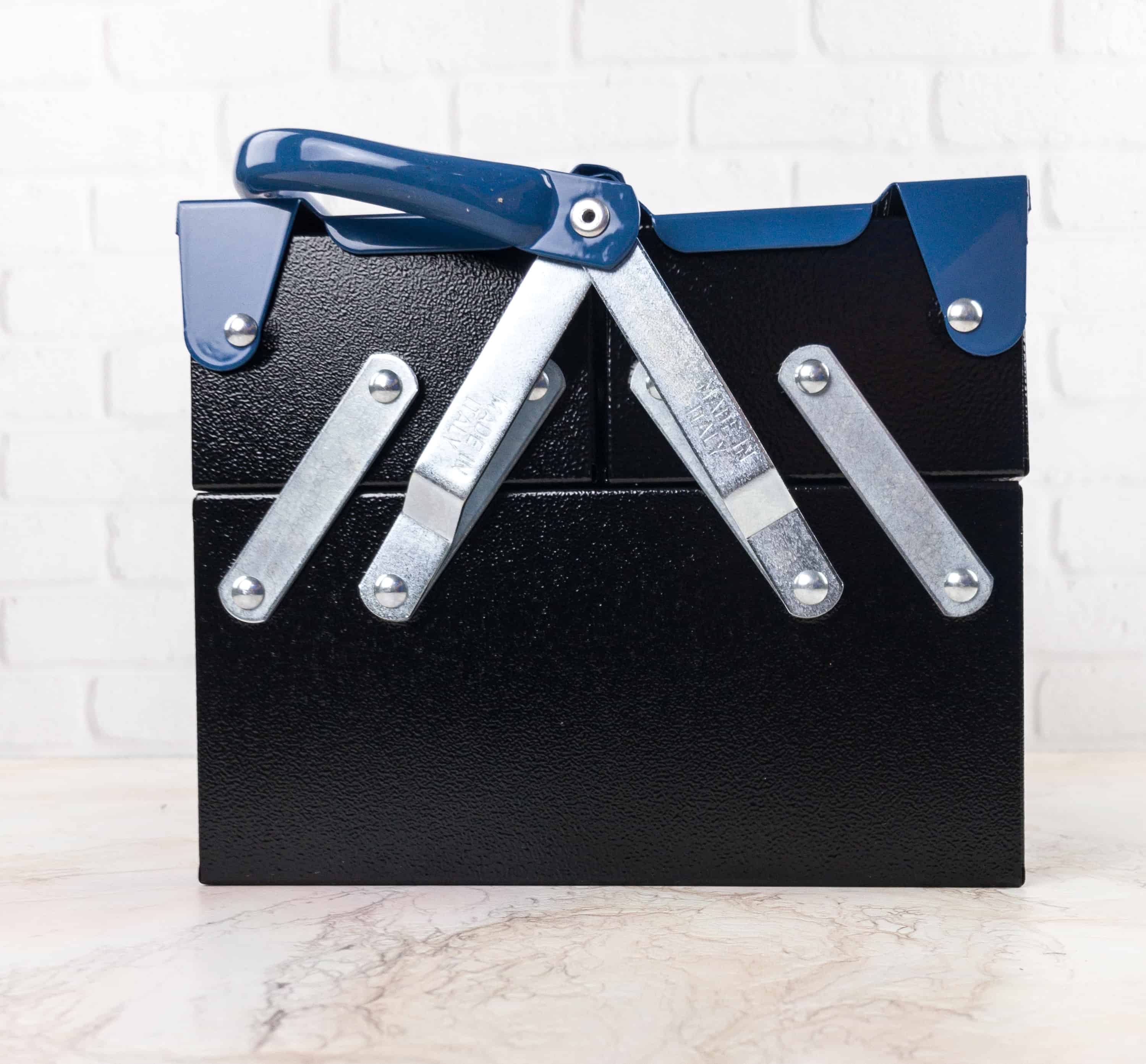 You can stock all your tools inside this box, from screwdrivers, tape measure, hammers and wrenches to paint supplies, pliers, and drills.
I received only one item from my Bespoke Post Daily EQUIPPED box, but I'm really impressed. I've already put the toolbox to use, gathering up some of my project supplies I had littered about the house. It's made with high-quality materials, and it's sure to become an heirloom item. This box is a great example of why I love Bespoke — they have a knack for knowing what you need but have not yet realized for yourself — every household really should have a proper toolbox handy. Having subscribed for a long time, I've reviewed nearly every box Bespoke has made, and it's amazing to see multiple new boxes every month. There is always something new!
What did you think of the Bespoke Post DAILY box?