Graze is a weekly snack box (you can opt to get it bi-weekly too or every month) with 8 individual servings of prepackaged fresh and healthy snacks. With over 100 snacks available, you can rate the snacks you receive online to help customize your box.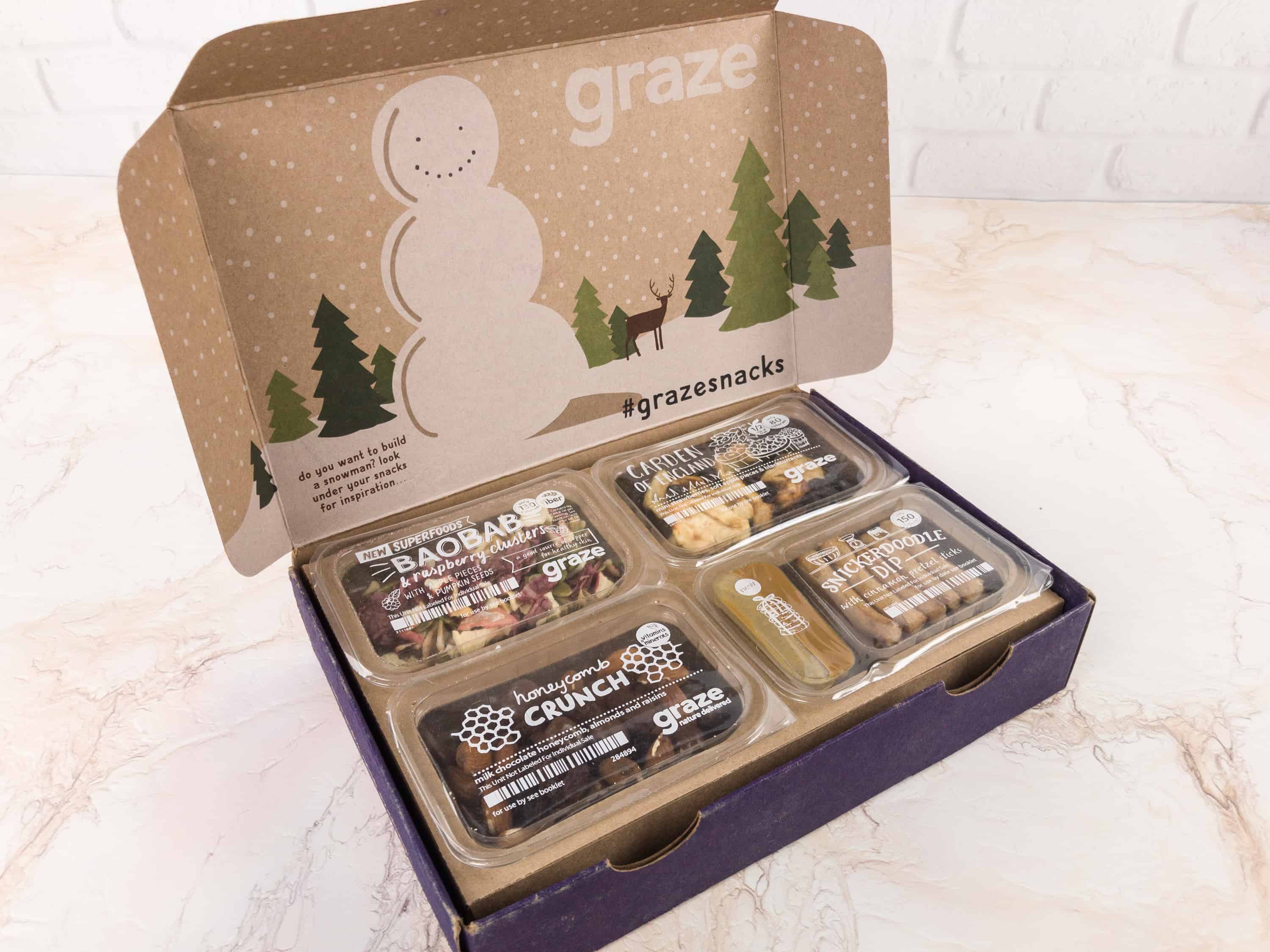 We got a Variety Box!
DEAL: You can get an individually sized (4 count) box free for your first box in a Graze subscription ($1 shipping). After you get your free box, pick up more free and almost free subscription boxes here!
Every box includes an info sheet. It has coupons to share with friends and some other item of interest. Sometimes it's a recipe incorporating a graze snack; other times it is an announcement of new offerings from the Graze snack lab.
Previously, Graze had 8-11 different varieties of snack boxes. Those have been compressed into 3 varieties. I liked being able to subscribe to that many particularly treat types, and I kinda miss the old system. You can still filter their online shop by all the categories, though.
The other side of the info sheet side has the nutrition stats for each of our selections. There's lots of healthy ingredients and no weird stuff. The expiration dates for the snacks are printed on this sheet, too.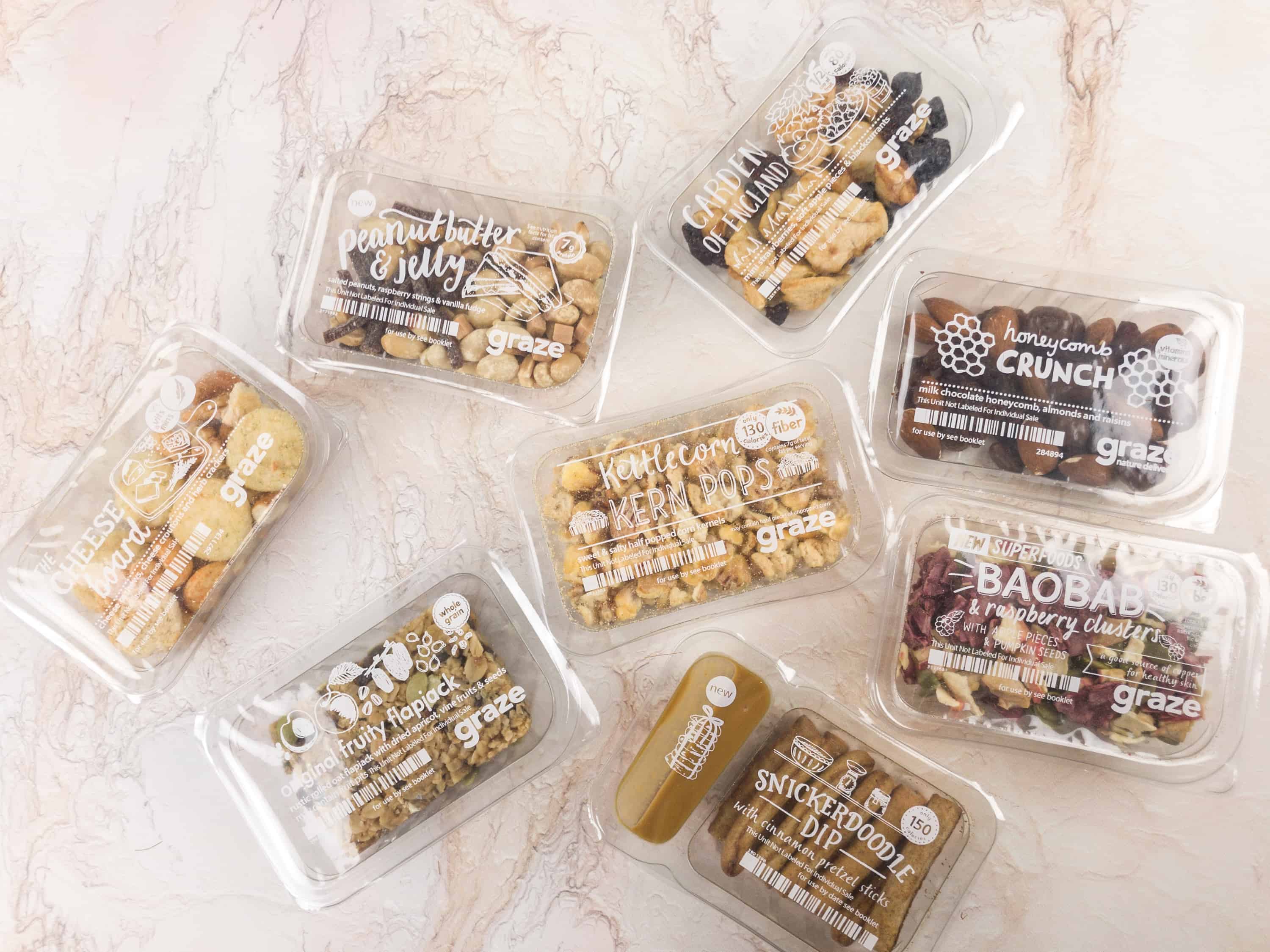 Everything is packed in neatly, and all the snacks are perfectly portable. Our family divvies them up for emergency breakfasts, special snacks, and desk snacks, depending on the family member! This month we stuffed them all into a snack bag and grabbed them for our road trip!
The Cheese Board. This is cheesy, but not in an expected or tame way. Bright rice herb crackers, super crispy crunchy cheese breads, and cheesed up cashews.
Kettle Popcorn Pops. These are half-popped corn kernels. Crunchier than regular popcorn! It was sweet and salty at the same time. Great for a movie night, but awesome for on-the-go snacking too. I half-heartedly allow pop kerns in my box because my husband loves them to death.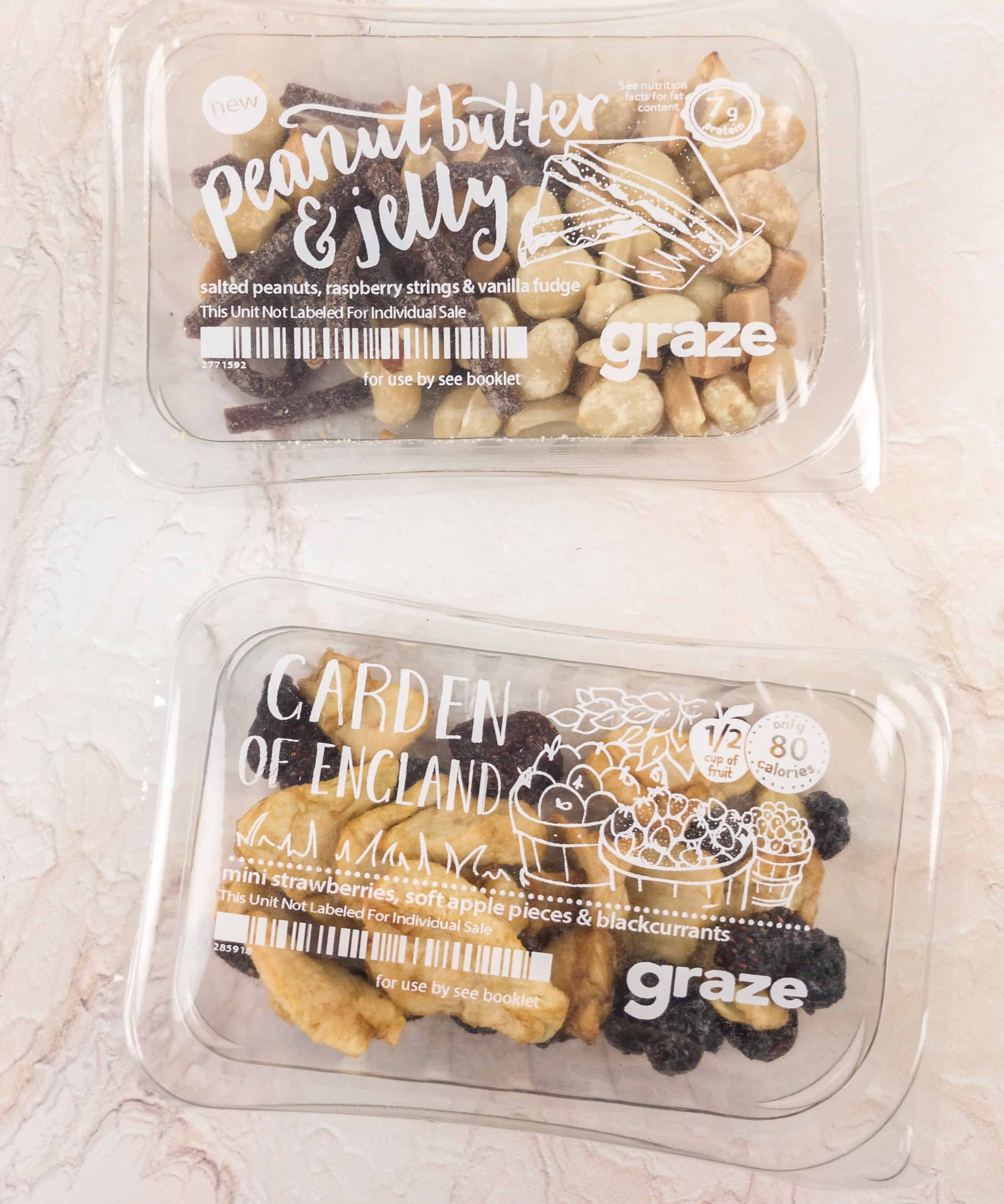 Peanut Butter & Jelly. This snack is all about FUN – raspberry strings, vanilla fudge, and peanuts. I love the way the strings impart a jellied flavor to the rest of the items. This is so good, I need to make sure I rate it highly in my account so I can keep getting it! "For the children."
Garden Of England. I love the Garden of England snack! It's one of my all-time favorites. The apples are nice and moist, and I love the plump dried strawberries. The blackcurrants add a nice variety. I just love them!
Baobab Raspberry Coconut Clusters With Apple & Pumpkin Seeds. I honestly wasn't entirely sure how this snack would go over with my child (I tried it and liked it). It's a mix of baobab and raspberry coconut chips, pumpkin seeds, and apple pieces. The entire snack was eaten and two thumbs up were given, with special thanks given to the pepitas, so it worked!
Original Fruity Flapjack. This flapjack is delicious! . It includes apricots, dates, sunflower and pumpkin seeds, raisins, and currants. I really had these blocked for the longest time on my account, and I'm glad I unblocked them – they really aren't like a granola bar – they're totally next level!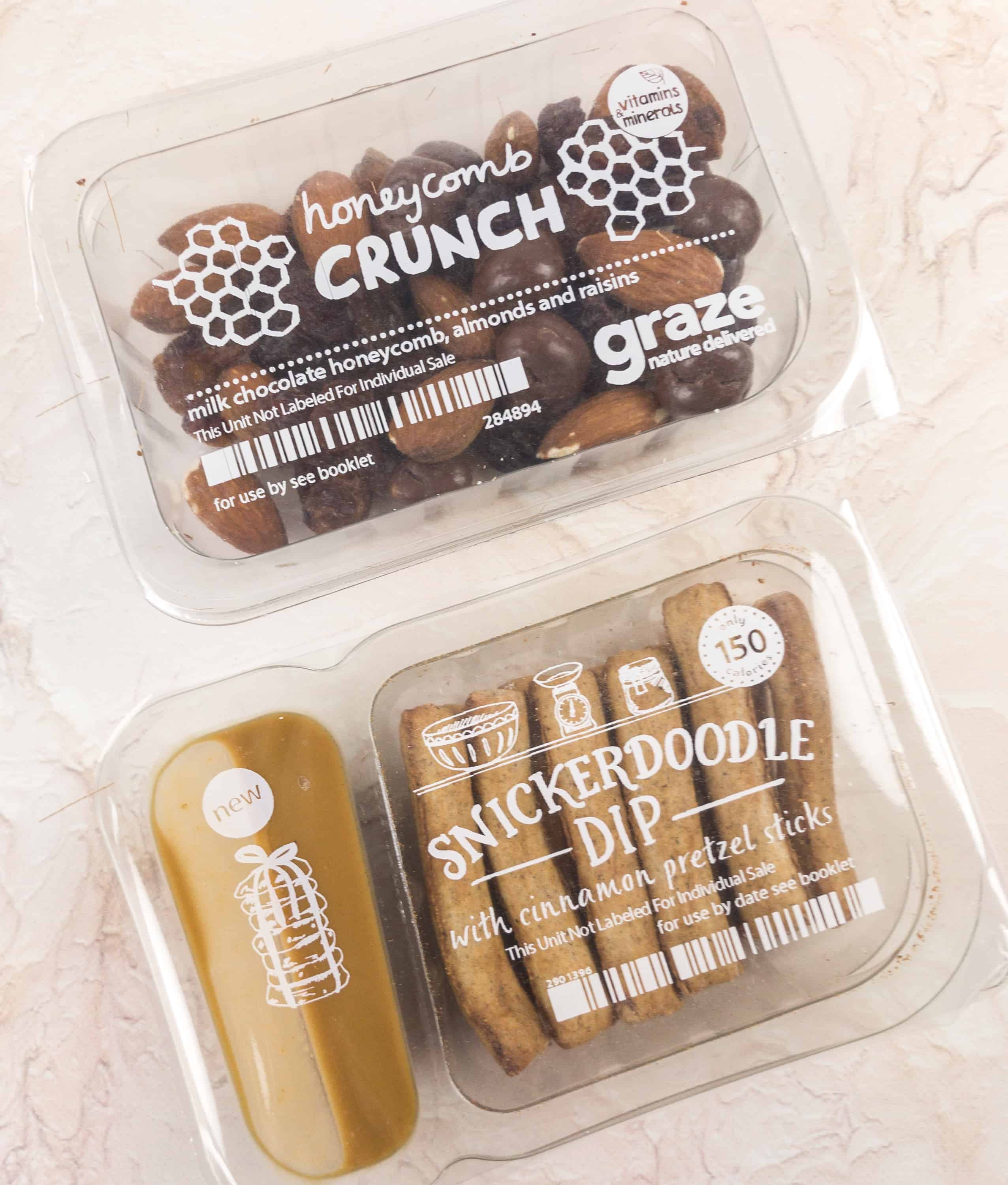 Honeycomb Crunch. This one here has raw almonds, chewy raisins and belgian milk chocolate coated honeycomb. It has an irresistible crunch and packed with all the goodness of nuts plus the richness and sweetness of the belgian chocolate coating the honeycomb.
Snickerdoodle Dip & Cinnamon Pretzel Sticks. A perennial fave – I can't get enough of these! They have little cinnamon pretzel dippers paired with a snickerdoodle cookie dip, and it's to DIE for. We totally also buy these in the Graze Shop!
Graze Box sent us another healthy and fun variety of snacks, and with all our faves from the previous boxes. The treats are not just tasty and yummy and crunchy, but all are healthy too. It certainly makes our taste buds extremely happy. We really love this subscription!
Graze recently introduced a rewards program with more incentives to buy from the shop, and we've been picking up multi-packs of our very favorite treats to have on hand or tuck into a bag for a snack on the go! They have flavors that I haven't seen in the subscription yet, which is a little odd. Maybe they'll show up there, perhaps they'll be store-exclusive. While they've reduced the number of categories (e.g. variety) for subscription purposes, the Graze store can still be sorted, searched, and refined by all manner of categories.
What's your favorite snack from Graze?