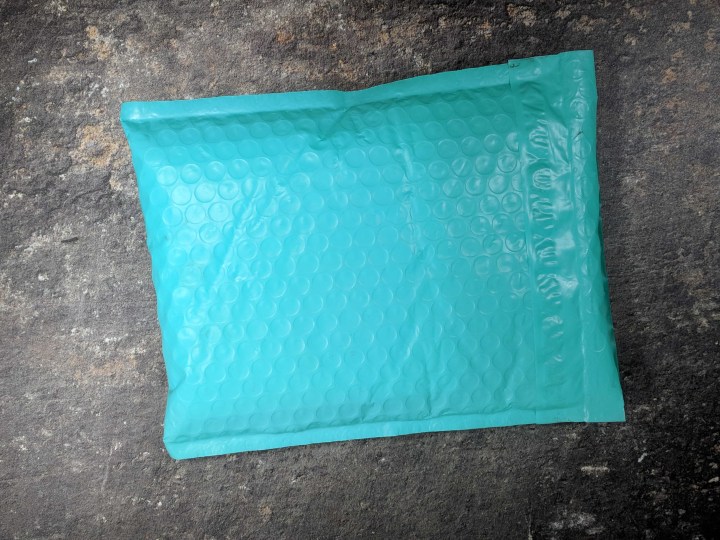 Bargain Bead Box is a monthly bead subscription service. Each month, you'll receive over $40 worth of top-quality jewelry supplies. It can be a mix of loose beads, bead strings, findings, and pendants. You can share your creation on their social media for a chance to win a $25 gift certificate for their sister store Bead Box Bargain. Boxes are $15.95 per month. Shipping is free in the US and $7.50 to Canada. Even if it's technically a subscription box, it comes in a teal bubble mailer, which is less expensive than a box so they can send more beads! And more beads is more fun!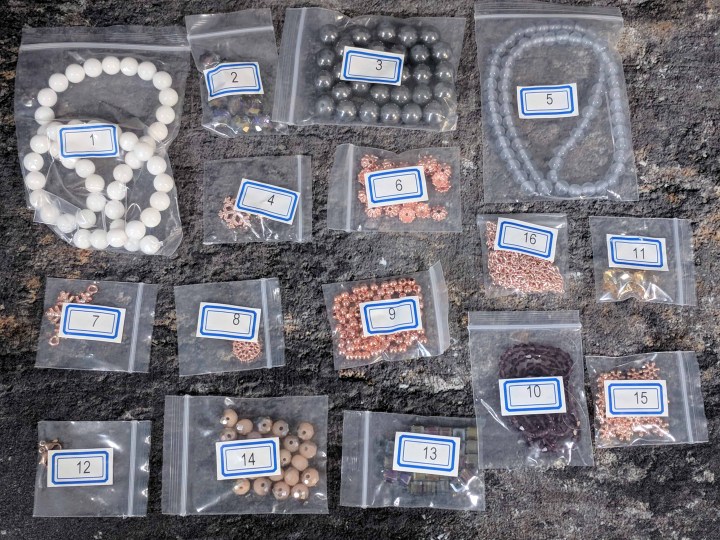 All the beads are packed in well-labeled plastic bags and tucked inside an organza bag. On the reverse of the introduction letter, we get a description of all the items in this month's box, with some gemstones once again!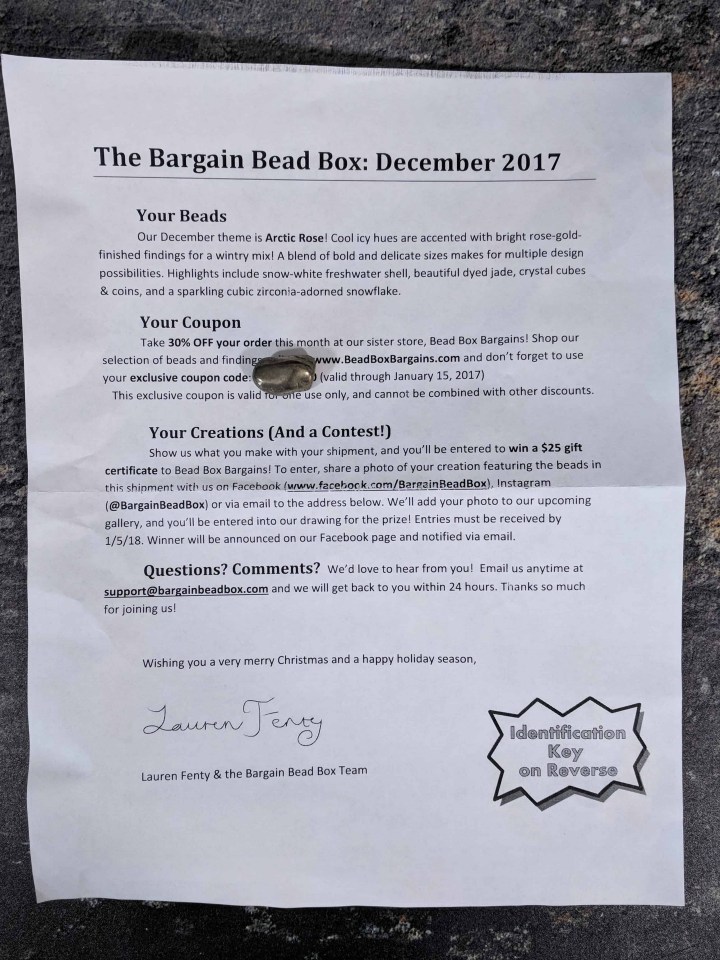 Each month is curated around a different theme and all the beads and findings are coordinated. This month's theme is Arctic Rose, with Bright Rose-Gold Finish Findings! I think it's the first time that we get rose gold in this box since the beginning. I like it, and I hope we'll get more in the future! You also get a discount code for their sister store. I've used it a couple of times and it's totally worth it!
6mm Permanently-dyed lilac jade beads. The beads are lighly colored and the lilac dye is almost grey. I like having gemstones, even when they are dyed. They are soft looking and they will give a nice calmness to any design.
10mm round full AB glass beads. I don't like big beads, but these are great with the lilac jade. They are grey with an AB coating, but not quite metallic. They are the perfect size for the bead caps that were provided in this box.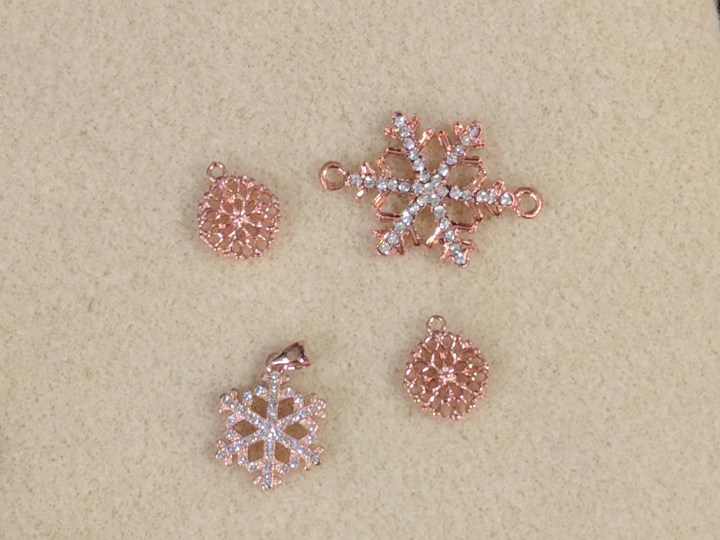 19x15mm cubic zirconia & rose-gold brass snowflake. This is such a cute and small pendant! We usually get a quite large pendant or main component in the Bargain Bead Box, but this month we received a small pendant. It still is a showy piece, but lovely and perfect for winter. I was happy to see that it came with a bail.
2pc 15×12 rose gold pewter floral drop. Two fun and also small pendant/charms that can be used on a bracelet or earrings. The design is between a snowflake and a flower, so it could be used with more spring tone colors for a nice spring design.
33×21 rose gold pewter snowflake link. This is the first item that caught my eyes from this box. It's rose gold, it's sparkly, and it's a lovely snowflake. I wanted to turn it into a bracelet, but that plan fell apart for different reasons. It will be made. It could also be used as a focal on a simple rose gold chain (provided in the box), or as a drop with a crystal teardrop bead underneath.
8mm freshwater shell beads. Pure snowy white, perfect round size, these are great for any design. With silver bead caps, they would be classy and chic. By themselves, they could be knotted to make a pearl necklace, or mixed with different colors to give them some oomph.
6mm Chinese crystal cube beads. They are not cubic per se, as their sharp edges have been faceted. The soft color with just a bit of AB coating makes them perfect for simple cascading earrings.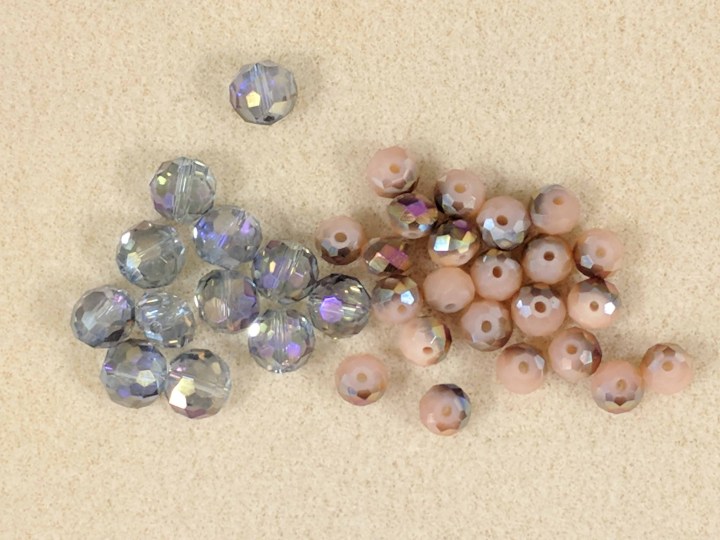 10mm puffed coin Chinese crystal beads. They are almost the same color as the cubic beads, but slightly more pale. They are flat, making them perfect for stretch bracelet (see my design below).
8x6mm Chinese crystal metallic-plated rondelle beads. A soft peach color with metallic coating on one half, they are lovely with the rose gold findings, especially the bead caps.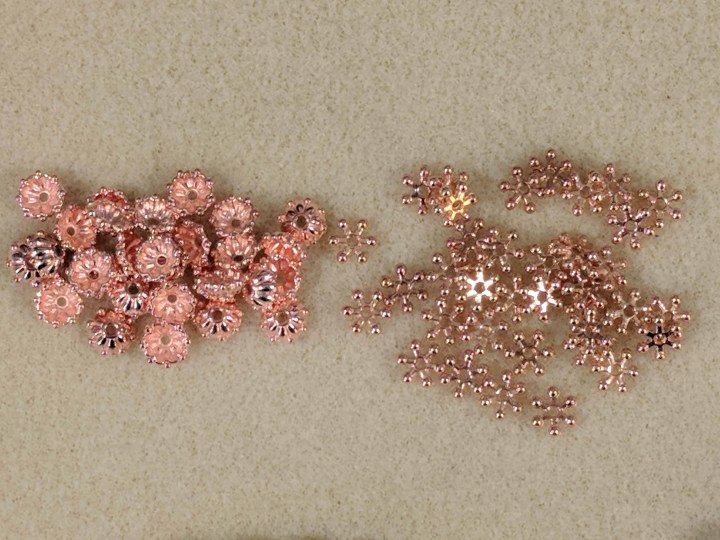 Every month, Bargain Bead Box will send some staples in the monthly metal, such as 8mm rose gold finished bead caps and 7mm rose gold pewter snowflake spacer beads. The bead caps are lovely with the bigger beads (10mm), and the spacer beads adds a bit of sparks when paired with matte beads and makes any design ligther looking.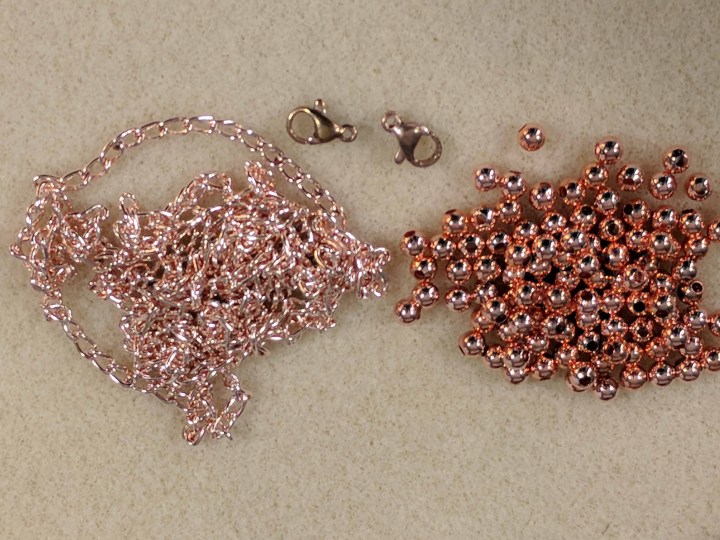 More staples with these simple yet useful 4mm rose gold finished brass spacer beads and the rose gold plated stainless steel lobster claw clasps to help put the finishing touch to the design without having to run to the bead store at the last minute!
1 meter steel jewelry chain. This is so useful to add some fun elements to a design. A simple chain with a focal, a chain tassel, or a cascading element.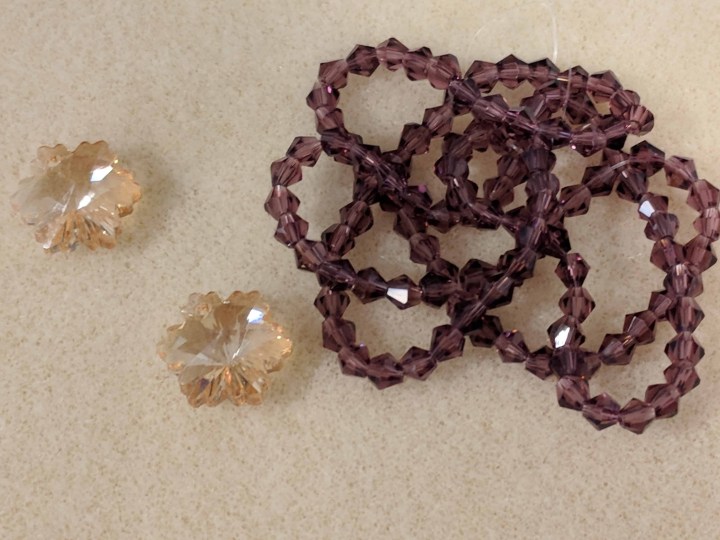 14x12mm cut glass crystal snowflakes. You get two, so you can turn them into earrings!
4mm Chinese crystal bicone beads, amethyst. Small bicone beads are a staple in this monthly box, and I really like that we have them in a deeper color to contrast with all the light color in this month's box.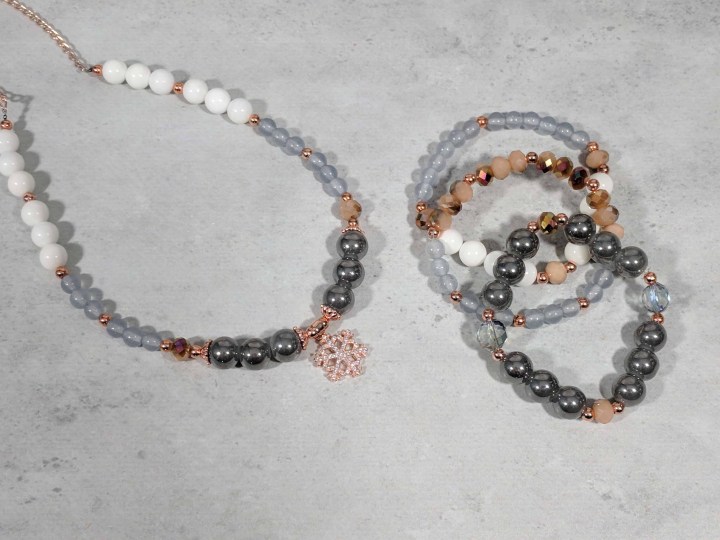 I'm in a stretch bracelet making mood these days, as they are perfect to give away around Christmas. I didn't do anything too elaborate with my usual metal working as it's the first time I have rose gold findings in a box, and I had no head pins, or wire, or jump rings in my stuff, making it a bit harder to work with.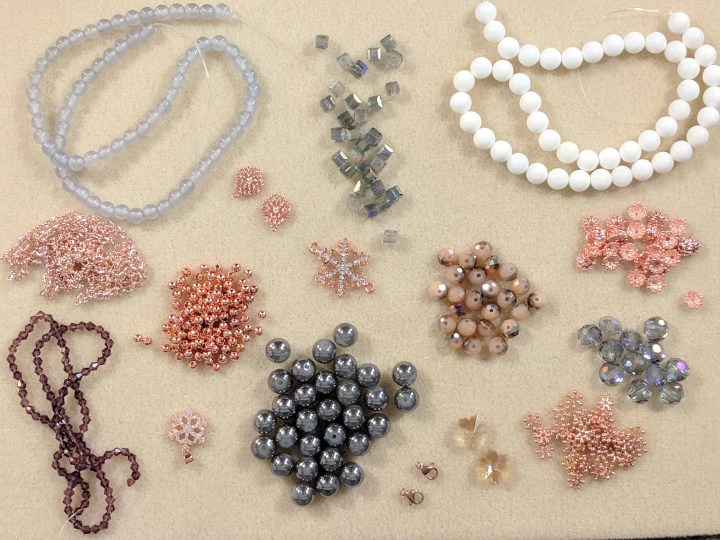 I love how every month, the theme is well represented through all the beads and findings. The Arctic Rose really shined through, but I wished we would have gotten jump rings and headpins as even my bead store doesn't keep any rose gold findings in stock. I like this color, so I hope to get more of it in future boxes, but with some much needed findings!
What did you think of this month's Bargain Bead Box?