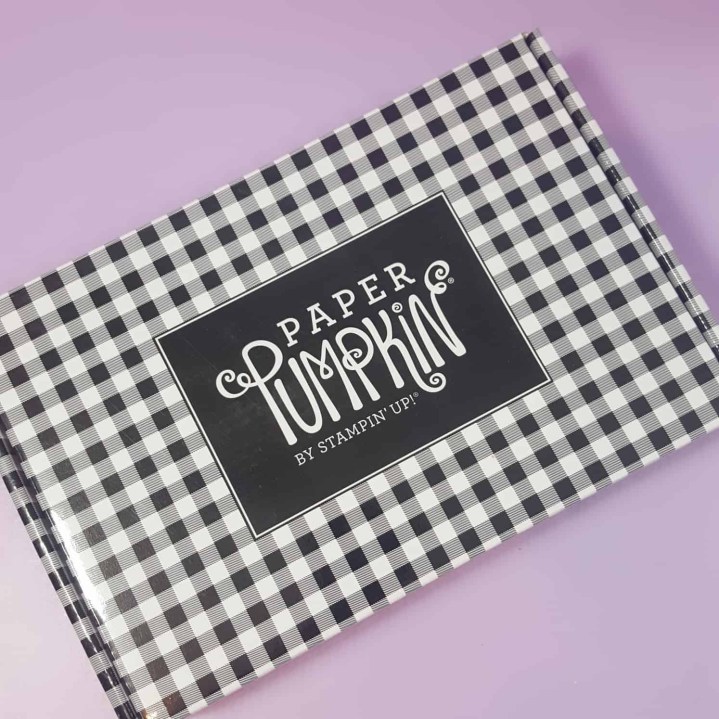 Paper Pumpkin is a monthly box from Stampin' Up that is a crafting subscription kit that delivers creativity to your door every month. Each box includes everything you need to make a stunning project. With Paper Pumpkin, you'll save time and money while you build your collection of crafting supplies. Every month you'll receive a unique stamp set with an ink spot or two (that won't repeat a color in a 12-month period). In no time at all, you'll have a variety of stamps and ink to use on other projects. In addition, your first kit includes a free clear stamping block that you'll use every month.

They'll surprise you with projects like cards, gift packaging, home décor, and more for just $19.95 a month (shipping included).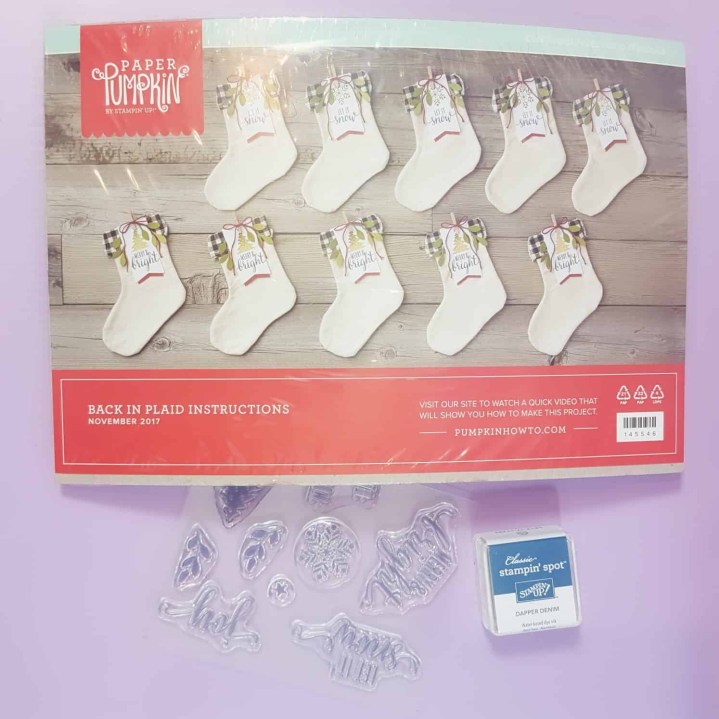 The paper products and supplies other then the ink spot and stamp set are all sealed and held flat with some cardboard.
Here are all the products that are in the sealed kit. This month, it was really packed full.
Every month, we get at least one ink spot and this month we got Dapper Denim. Dapper Denim will be great for holiday crafting and is a nice wintery blue to go along with the Cherry Cobbler we got last month.
Each month, the Paper Pumpkin comes with an information brochure that folds out and lets you know how to make the projects for that month. This month, we have supplies to make 10 stockings!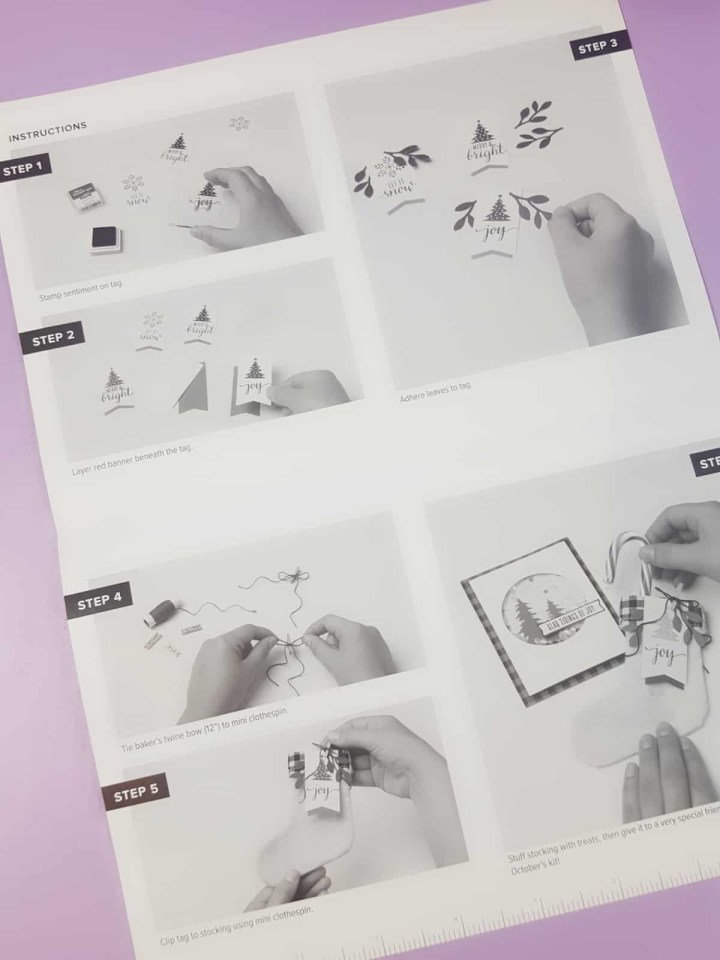 The instructions are easy to follow with both pictures and written descriptions.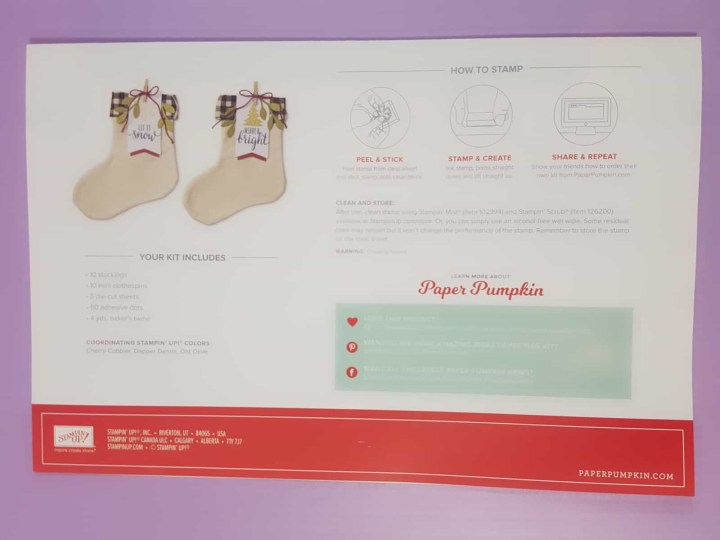 The back of the pamphlet lists the included supplies and a quick note on how to stamp if you are new to it. It also shows the colors that coordinate with the kit.  If you don't know Stampin' Up has core colors that it uses in their inks, cardstocks, papers, and embellishments so if you see the color listed it will be the same in all products with that color.  The coordination and ease of making things match is one of my favorite things about Stampin' Up.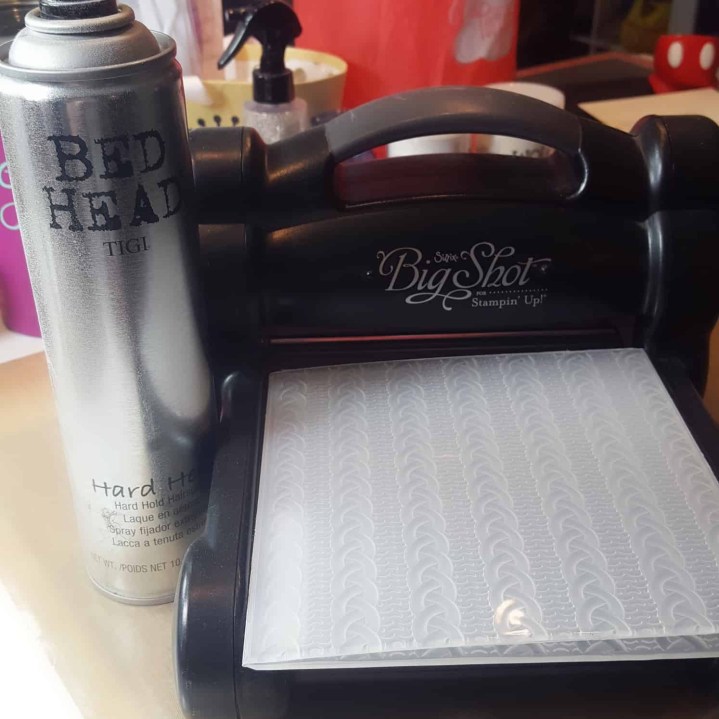 I was slow in making this project so I had seen some samples online and I knew right away that I was going to modify mine a bit. I already had the products here that I would need: some hairspray, a big shot, and the cable knit texture plate.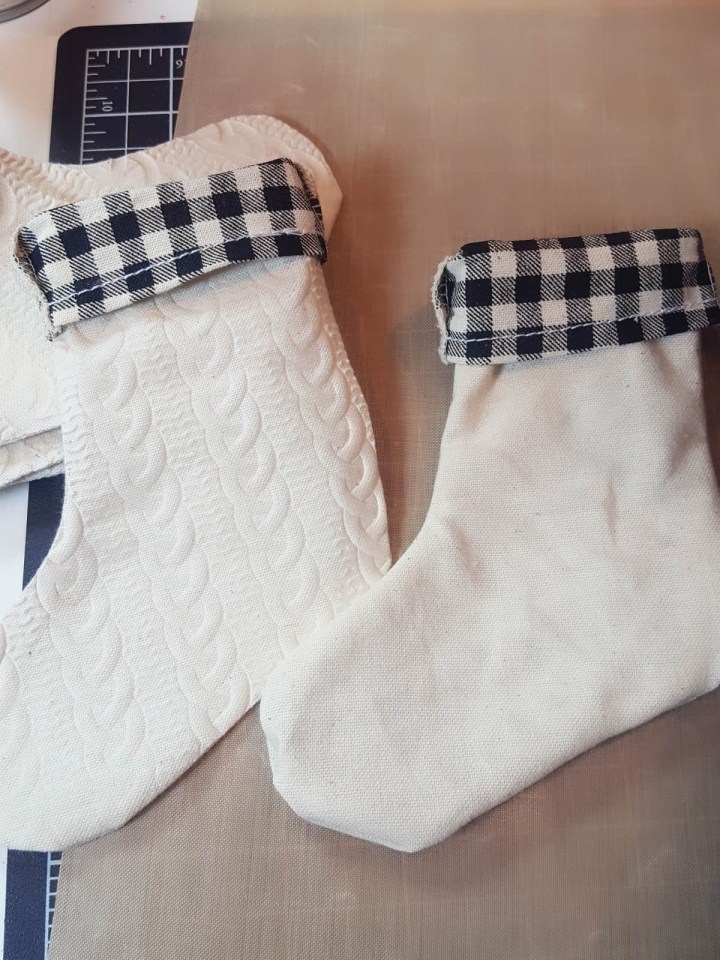 Here is how the modification turned out. While the original one is cute on its own the cable knit imprint is perfect. I was in love with the first look.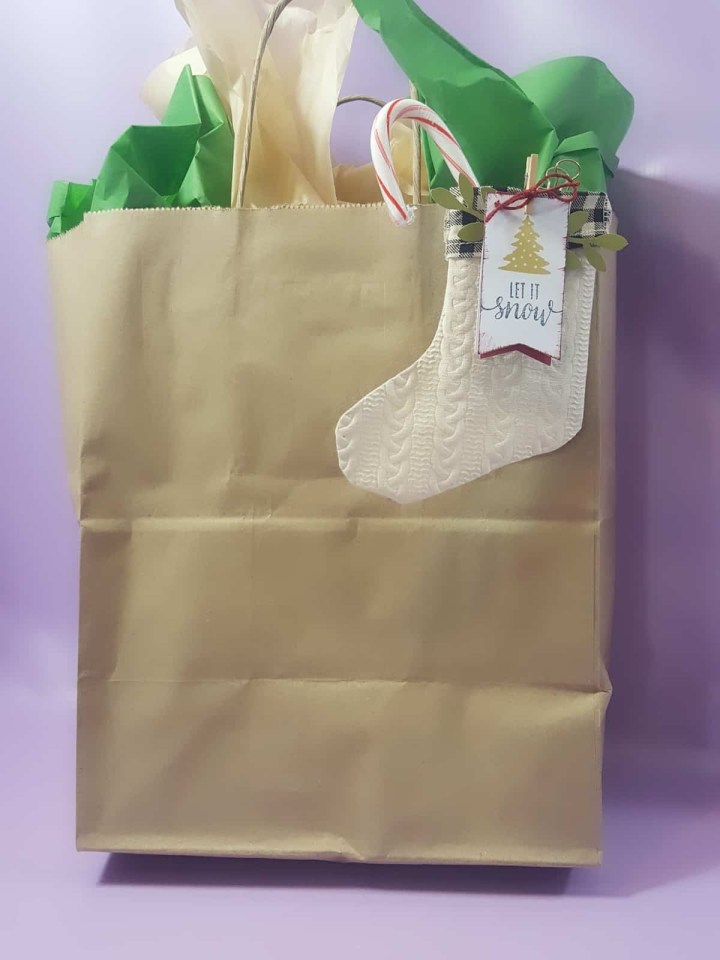 I also knew that I was going to use the stockings on our teacher gifts. How adorable is it on the gift bag?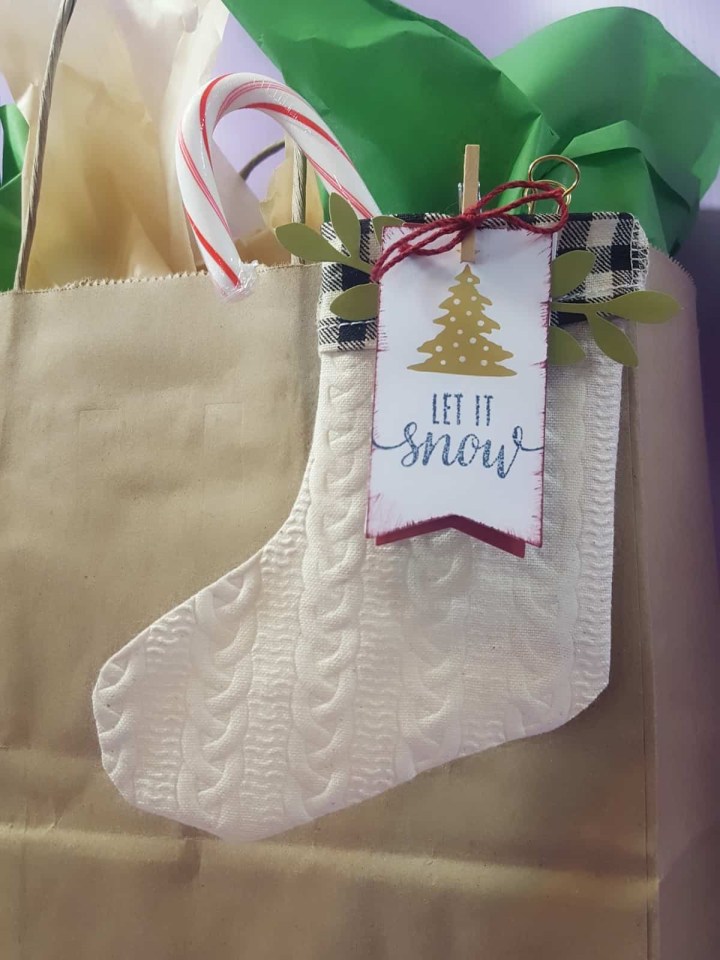 I used some of the Cherry Cobbler ink from last month's box to ink around the edges to make the tag really stand out and then held the whole thing to the bag with a binder clip.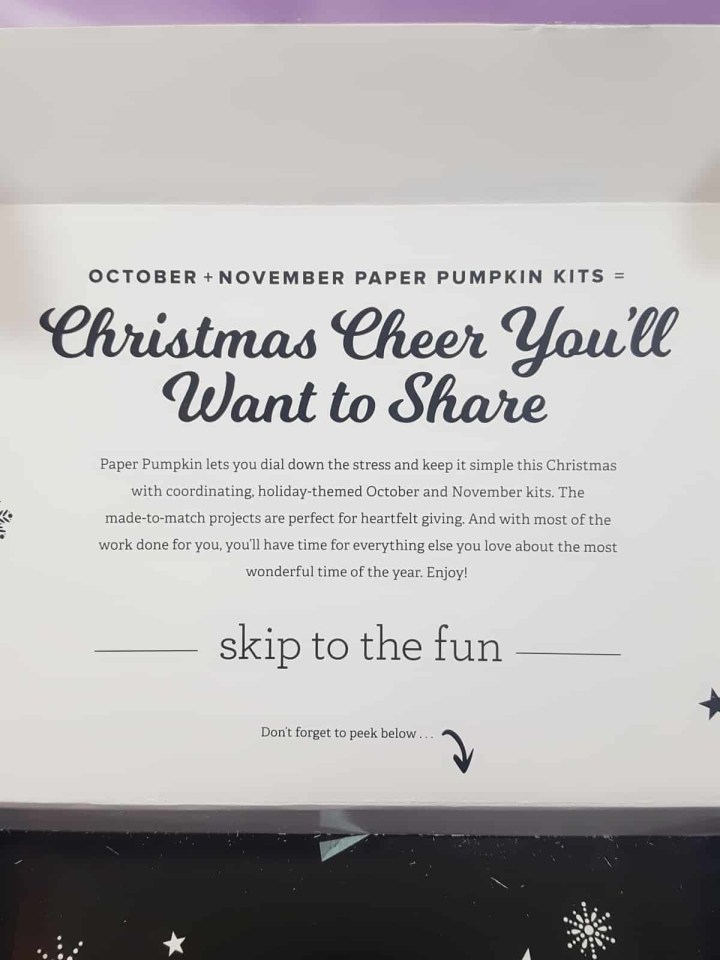 As I said with the October kit Stampin' Up designed the two months to work together.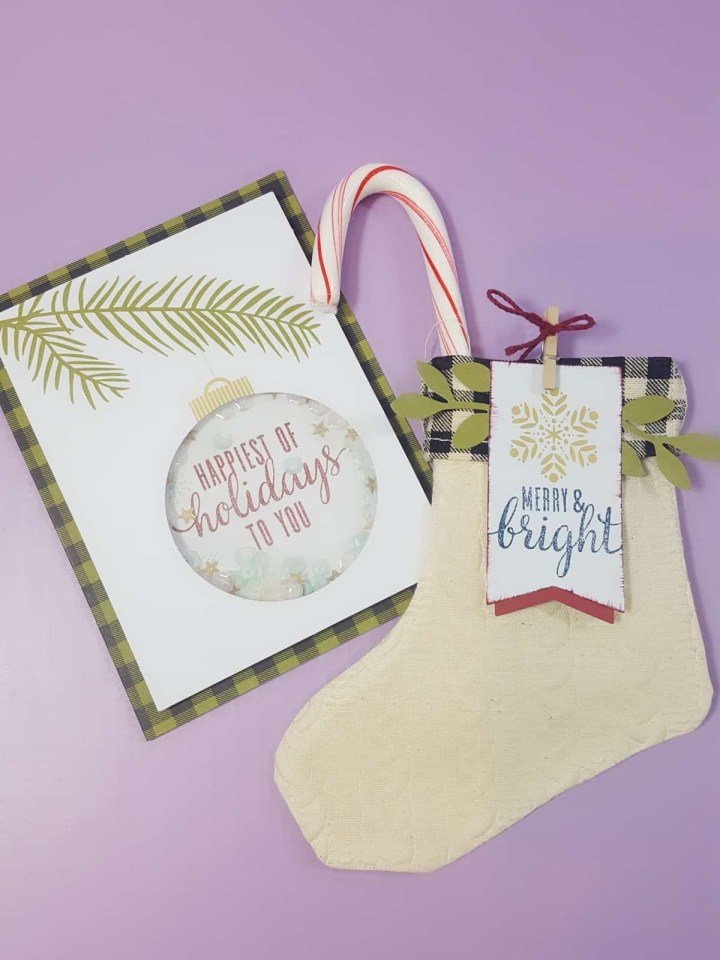 Here are the two months together and what the extra teachers and helpers are getting from my boys. A card and then the stocking attached to the outside of the envelope. They are so cute and coordinate without being too matchy-matchy which is the perfect combination.
Paper Pumpkin sent one of my favorite kits this month. I'm loving these stockings and just how cute they are on my gifts.  We are using most of them for teacher gifts and they hold a gift card perfectly but the extras will go on some of my family gifts and I'm going to have my boys write notes for people to place in them.  It will be a cute little holder for any goodie.
What did you think of this month's Paper Pumpkin kit? Do you enjoy sending and receiving hand made cards?