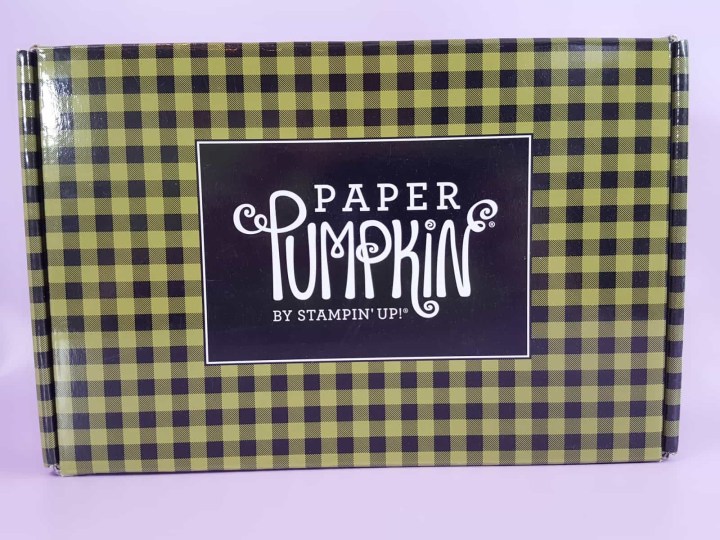 Paper Pumpkin is a monthly box from Stampin' Up that is a crafting subscription kit that delivers creativity to your door every month. Each box includes everything you need to make a stunning project. With Paper Pumpkin, you'll save time and money while you build your collection of crafting supplies. Every month you'll receive a unique stamp set with an ink spot or two (that won't repeat a color in a 12-month period). In no time at all, you'll have a variety of stamps and ink to use on other projects. In addition, your first kit includes a free clear stamping block that you'll use every month.

We'll surprise you with projects like cards, gift packaging, home décor, and more for just $19.95 a month (shipping included). Talk about happy mail!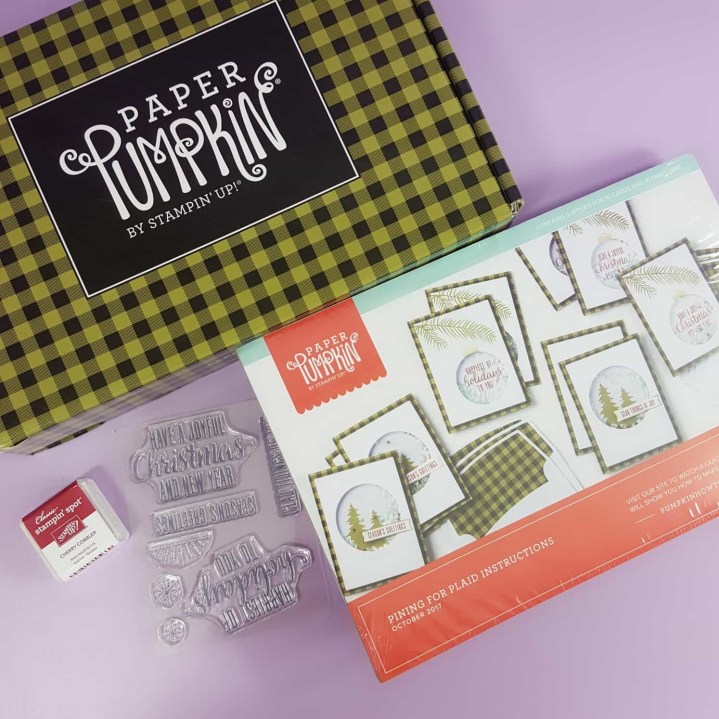 This month we had a special plaid box!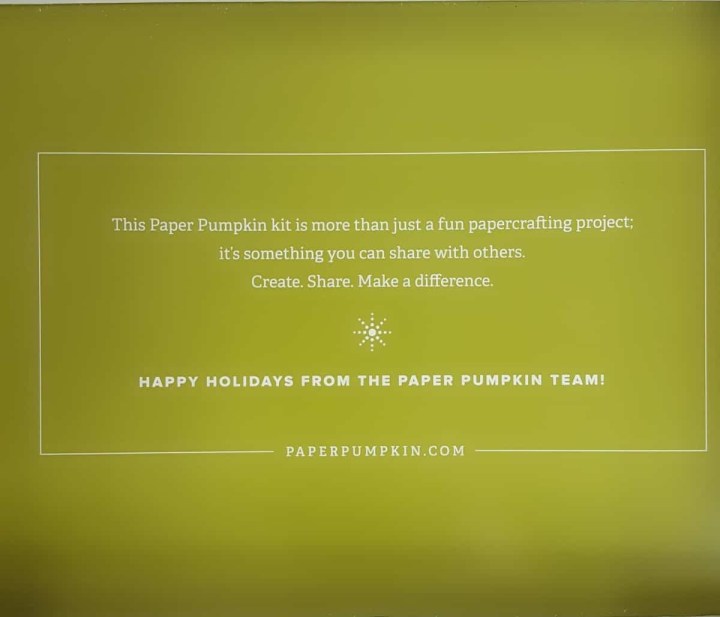 We have a holiday message inside the box.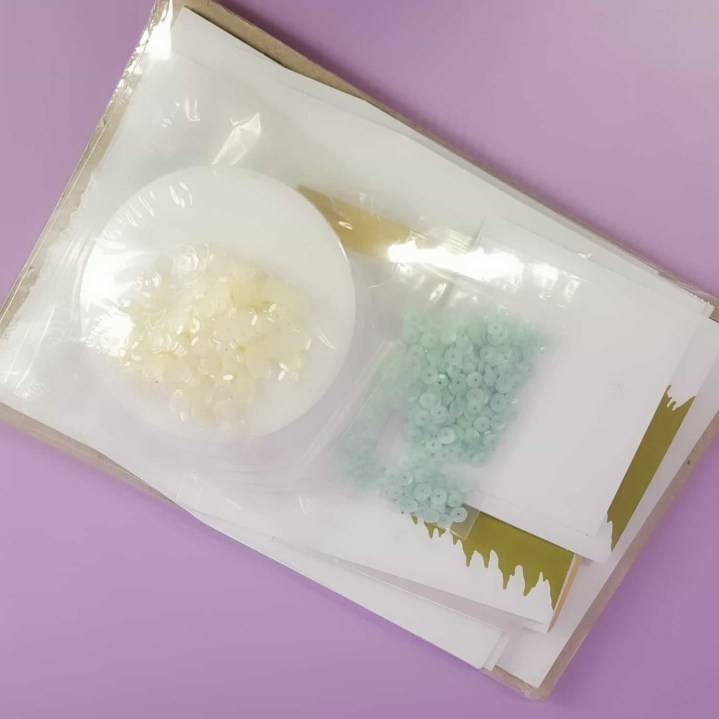 The paper products and supplies other then the ink spot and stamp set are all sealed and held flat with some cardboard.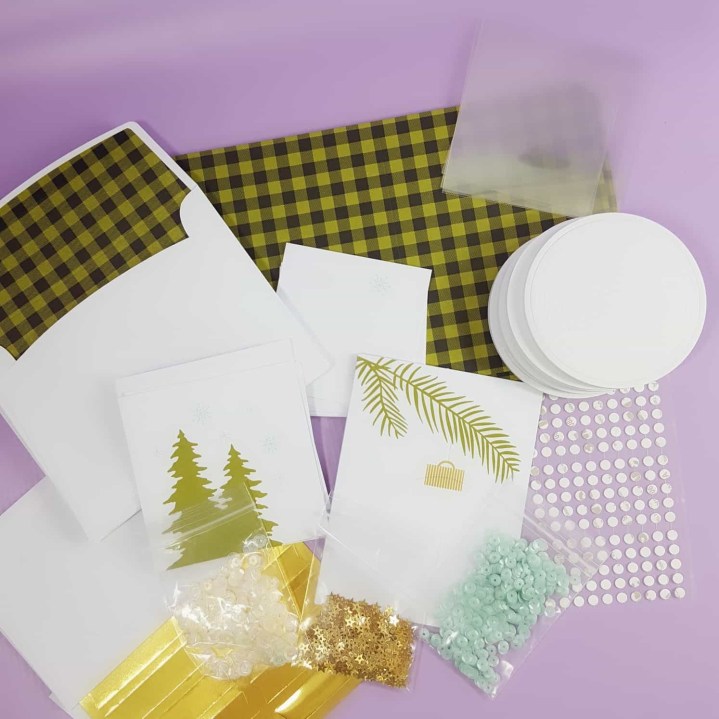 Here are all the products that are in the sealed kit. This month, it was really packed full.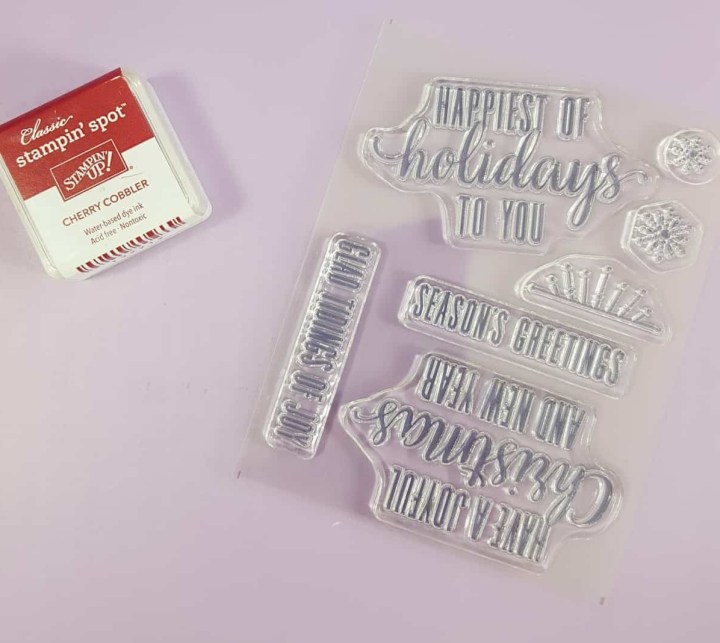 Every month, we get at least one ink spot and this month we got Cherry Cobbler. Cherry Cobbler is a deep red and perfect to go with the plaid of the box and papers. I use it a lot in my holiday crafting. The stamp set has some Holiday greetings.  I'm always needing more holiday options so a win-win for me.
Each month, the Paper Pumpkin comes with an information brochure that folds out and lets you know how to make the projects for that month. This month, we have supplies to make 10 cards with envelopes!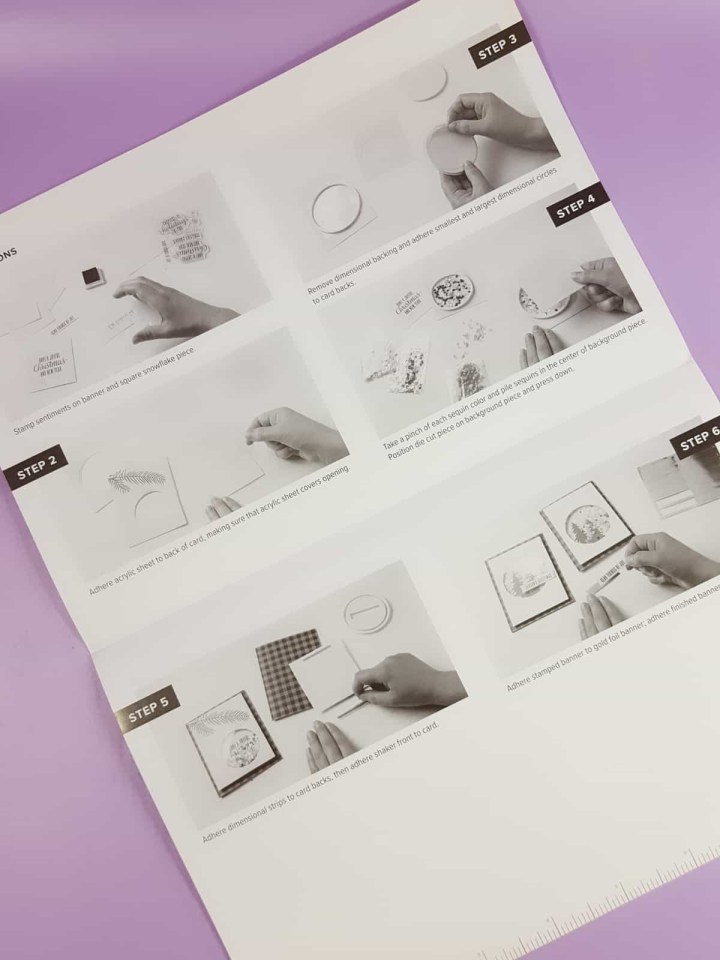 The instructions are easy to follow with both pictures and written descriptions.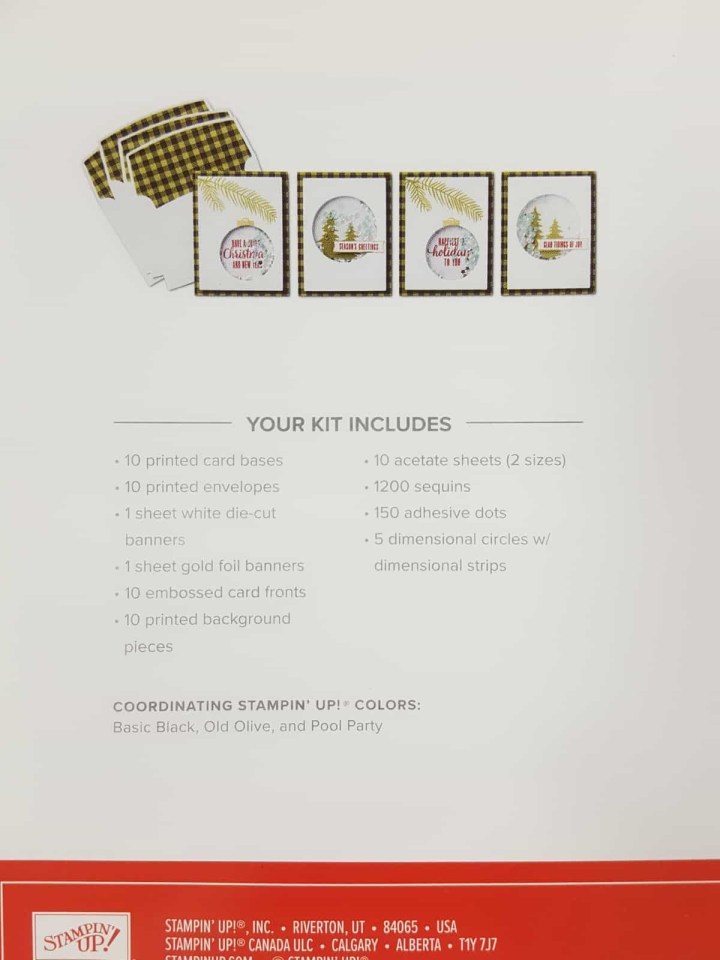 The back of the pamphlet lists the included supplies and a quick note on how to stamp if you are new to it. It also shows the colors that coordinate with the kit.  If you don't know Stampin' Up has core colors that it uses in their inks, cardstocks, papers, and embellishments so if you see the color listed it will be the same in all products with that color.  The coordination and ease of making things match is one of my favorite things about Stampin' Up.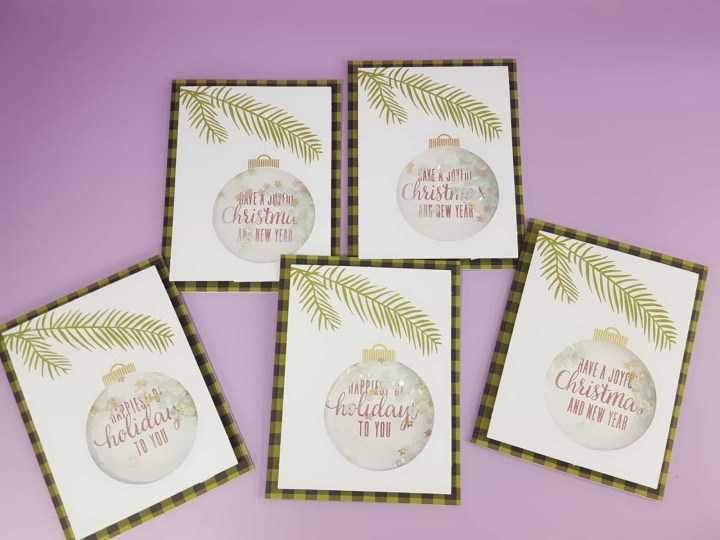 This was the first of the two designs I did.  I love the ornament hanging from the evergreen branch.
The cards this month were shaker cards so that really adds some depth to the card.  We built up the front so that there was room for the sequins to move around in there.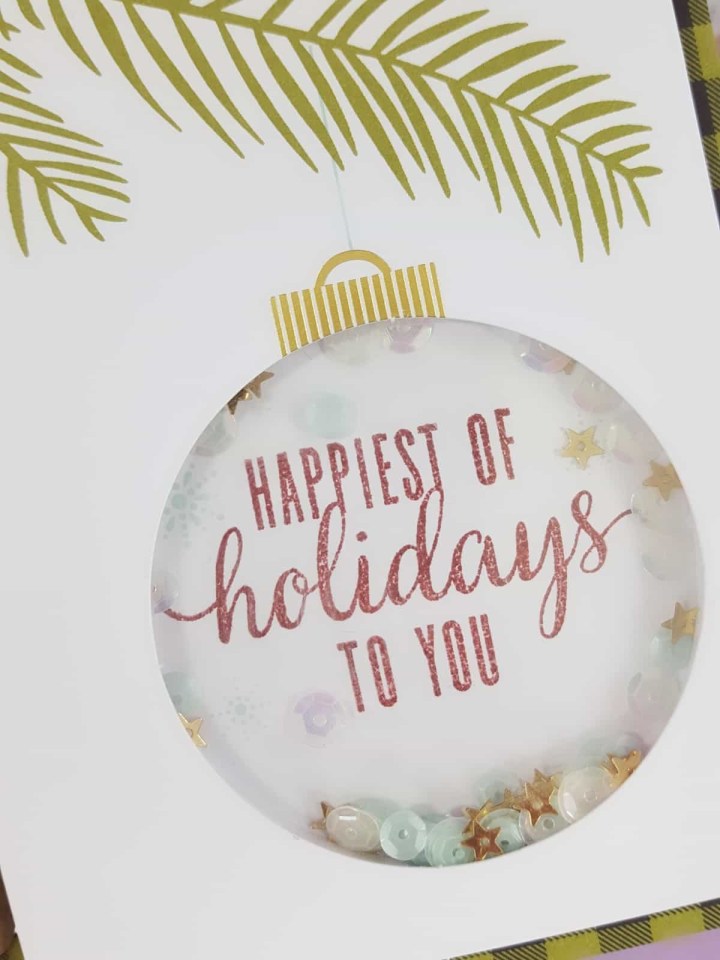 It's hard to get detail of a shaker card but you can see the different ones here.  Paper Pumpkin included three different sequins in the mix: pool party, clear and gold stars.  Crafter tip: when making shaker cards glue a could of the shaken pieces to the background so when the cards are just standing up you can still see them. I did 3 when I was doing this one but some of the others I did 5.  An odd number is more pleasing to the eye so you can do whatever works well for you.
The second card variation this month.  The trees are so cute behind the vellum from.  I didn't think of it at the time but since I love the look of these when I recreate them with stamps I have I'm thinking of adding some snowy glitter or flock to the tree.  That would be even more sparkle to the card!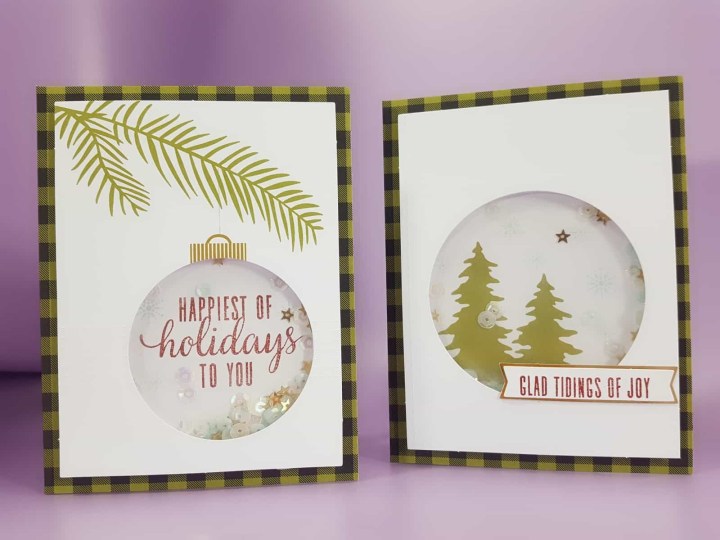 One of each of the cards this month.
Paper Pumpkin sent another fantastic box this month. As a crafter we always start holiday crafts before the actual holiday season so for them to send Christmas in October is perfect.  I love that they kept it a more traditional Christmas color scheme with their Old Olive and Cherry Cobbler and shaker cards are just plain fun. I'm a bit obsessed with sequins right now so I had a huge smile using them the whole time I was creating these.
What did you think of this month's Paper Pumpkin kit? Do you enjoy sending and receiving hand made cards?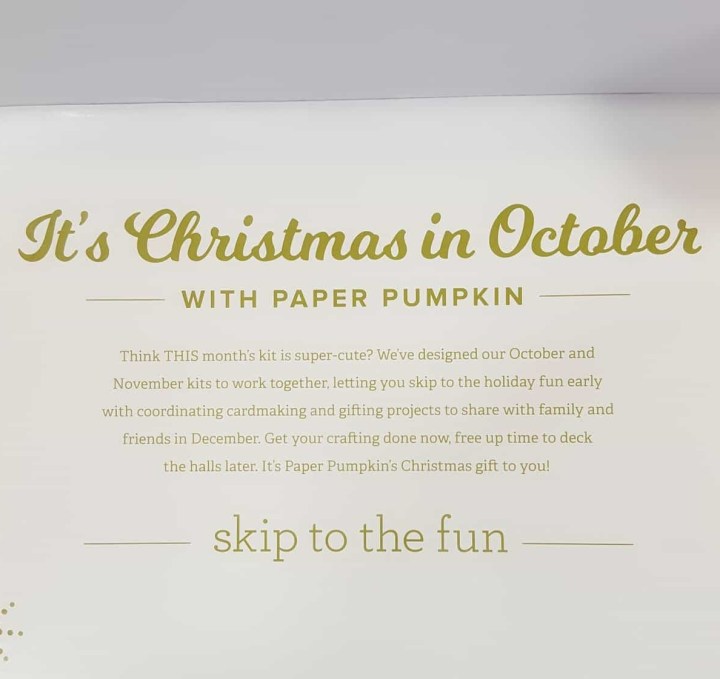 Sneak Peek for November – Paper Pumpkin has told us that it will work well with this kit. If you think this one is super cute then don't wait to sign up for the next one.  You will get the November kit if you sign up on or before November 10th.