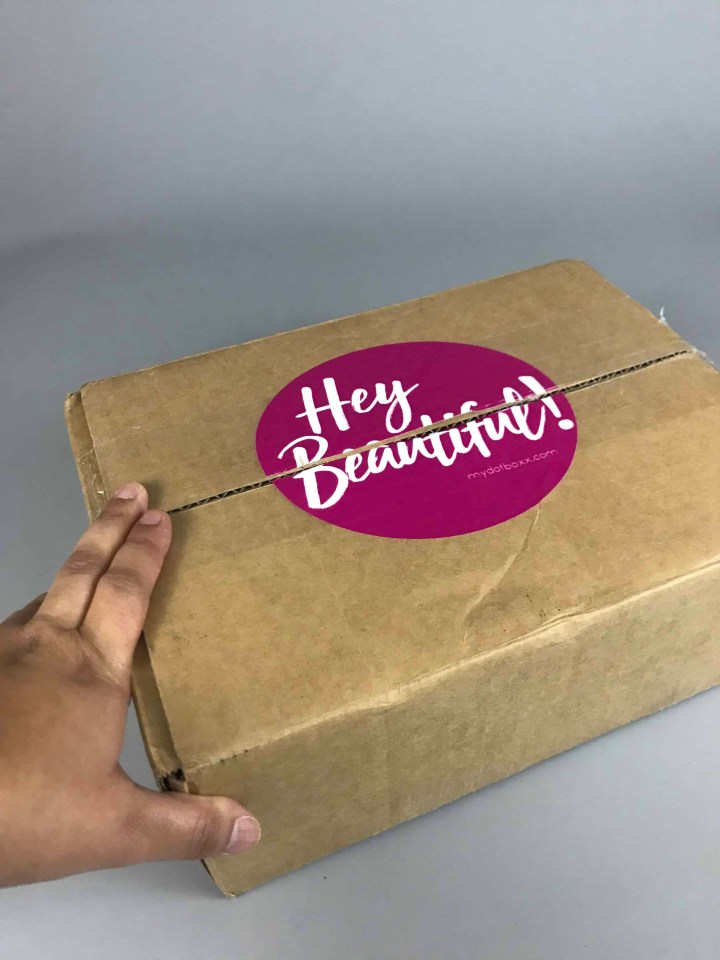 Dot Boxx is a period subscription box for ages 9+. They deliver period essentials to spoil yourself or a female you love. Each box includes up to 4 additional products including beauty, skincare, treats, and fun, trending accessories. They also offer customized boxes for tweens and adults.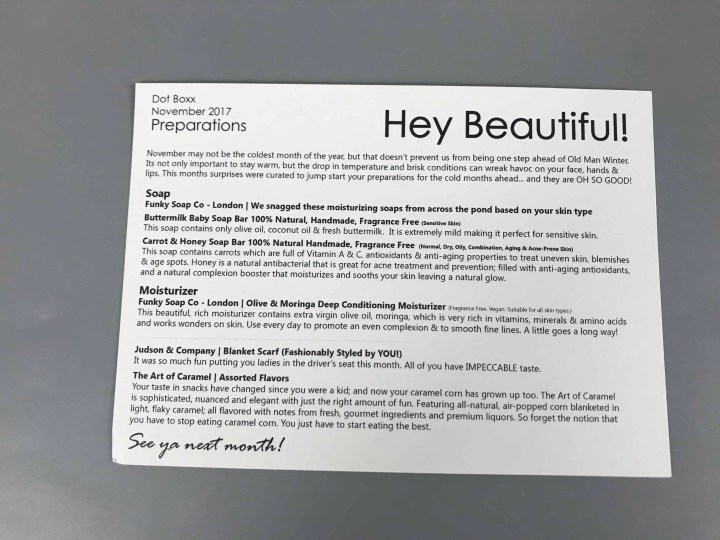 Content card with details and price. This month's theme is Time Out. It's a wonderful reminder that we all need a few minutes to our selves in order to relax and recharge.
DEAL: Save 20% off your first box! Use coupon code HELLOSUB.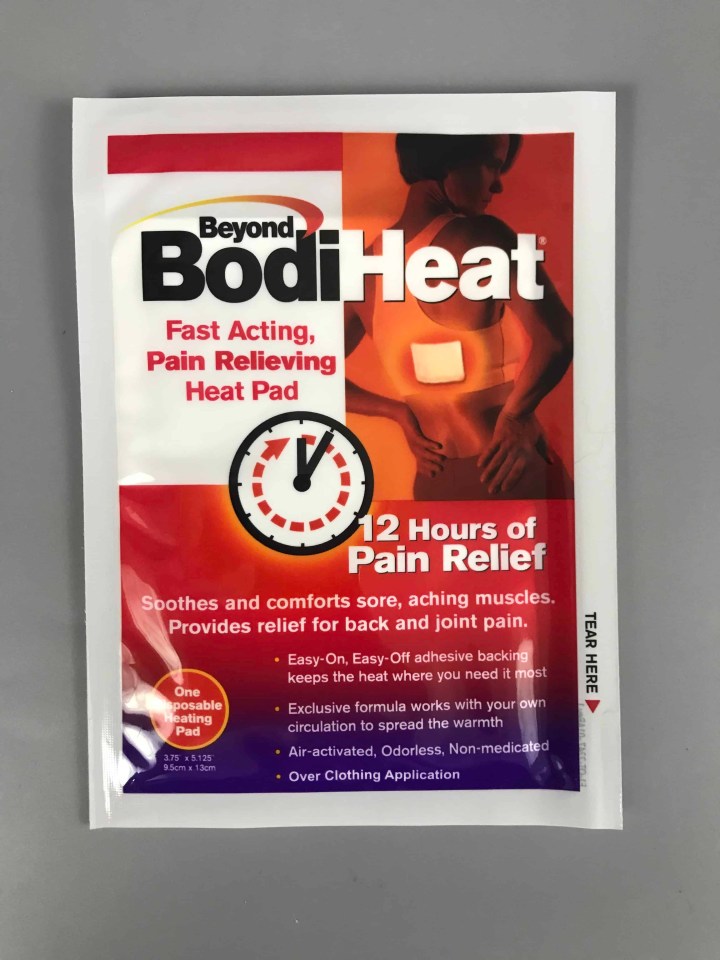 Beyond BodiHeat. These are  the best hidden secret ever to combat menstrual cramps, I swear by these wraps and so does my daughter. A full eight hours of soothing pain relief, these are amazing!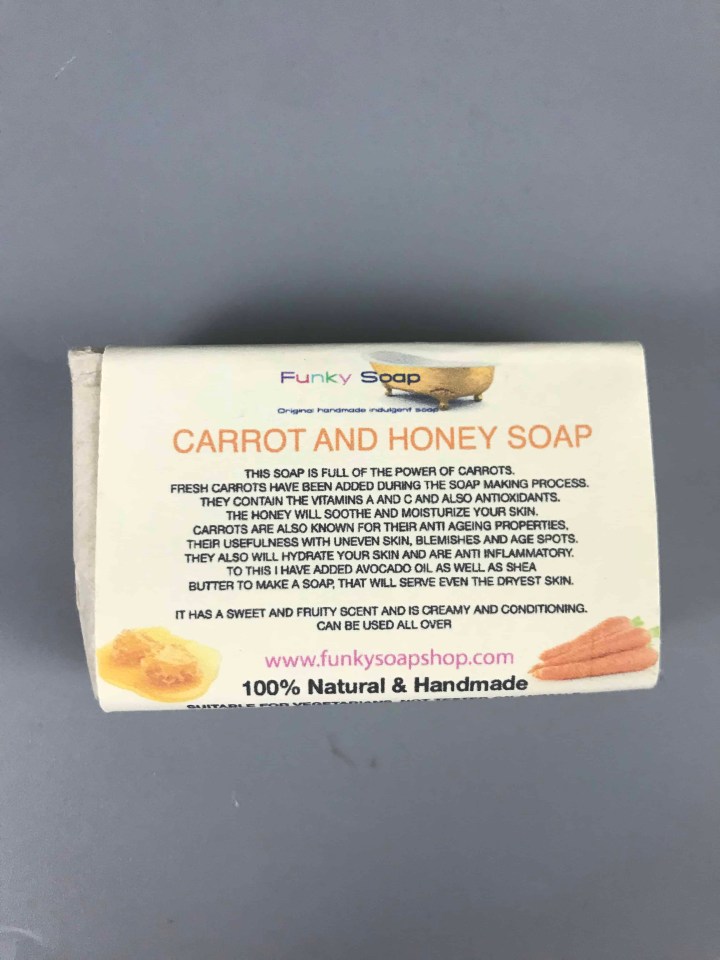 Soap from Funky Soap Co. I received Carrot & Honey Soap Bar. It's 100% natural handmade and fragrance free. This bar is formulated for dry, oily or combination skin and it's amazing. Honey is a natural antibacterial agent that helps fight acne. I loved how soft it made my face feel without over drying. I felt refreshed and like this really removed my makeup without being too harsh. So glad that Dot Boxx was able to get this wonderful product from across the Pond.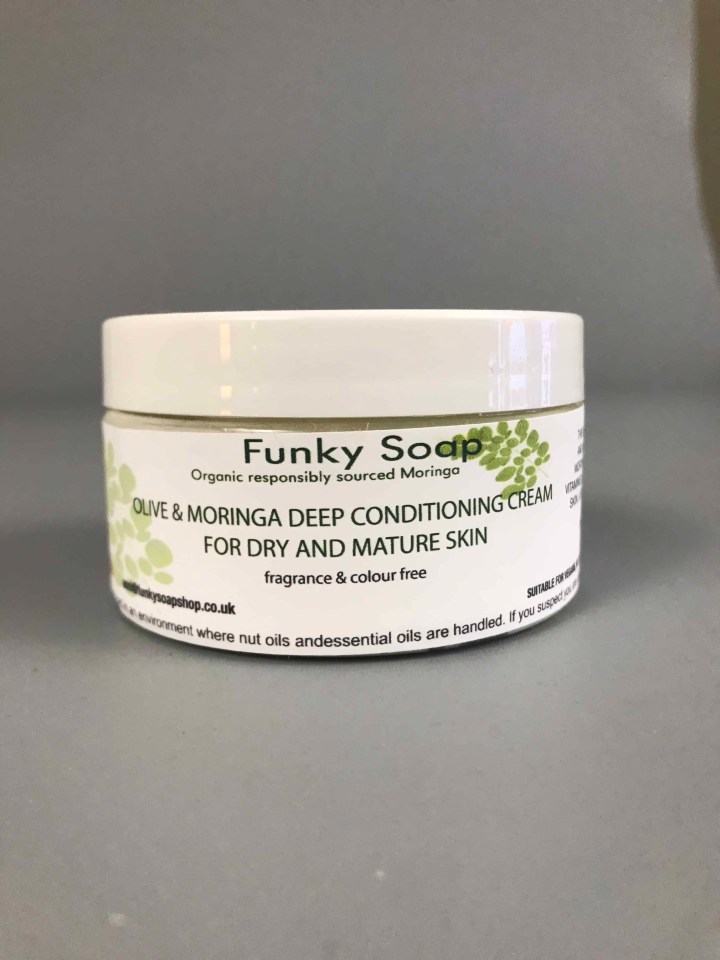 Funky Soap Olive & Moringa Deep Conditioning Moisturizer. This moisturizer is amazing and just a tish goes a long way to help keep my face looking young and rejuvenated. This formula is supposed to promote an even complexion and smooth fine lines. I am in love with these products from London, I must visit and learn all the secrets London holds to healthy, radiant skin.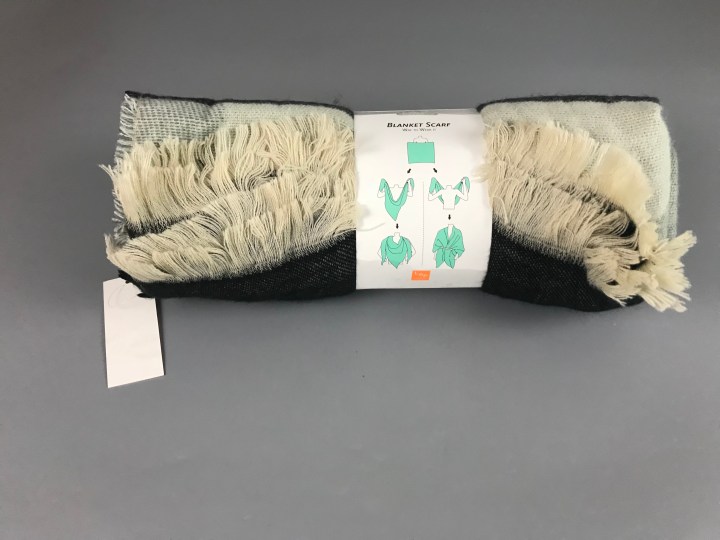 Judson & Company Blanket Scarf. I love these winter colors but more than anything I love that this is meant to show off my personal style. It comes with recommendations for style but at the end of the day I get to be the fashionista that I have always dreamed about being. It's the perfect weight for the not so cold Arizona winter I have coming for me. Not to mention it will be great with anything from jeans to a dress.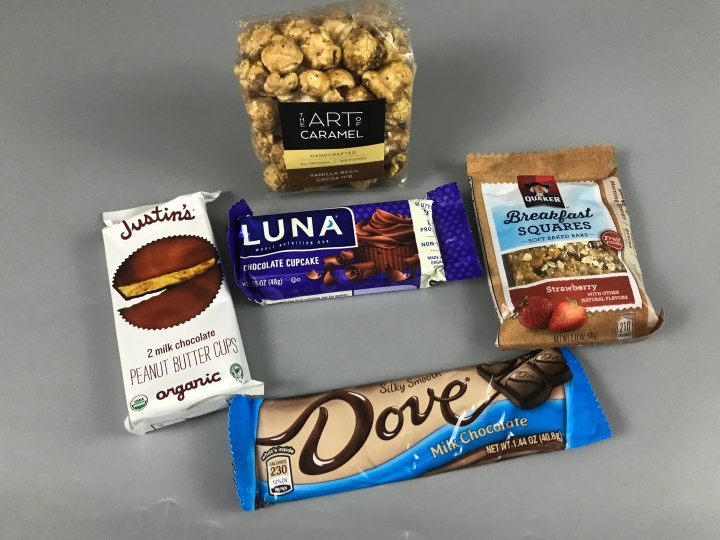 The Art of Caramel. I love caramel corn and this brings caramel corn to an entirely new level of awesome. The caramel is light, flaky and above all everything is deliciously fresh. This might be the best caramel corn I have ever tasted, besides my homemade corn. I can't wait to introduce all my sweet toothed friends to this brand. Other snacks include Dove chocolate, Justin's Peanut Butter Cups, Luna Bar and a Quaker Breakfast Square. Dove chocolate is one of my favorites so I was very happy to see that in this month's box. I tend to keep Luna bars and breakfast squares in my purse for a quick pick me up and these are both new flavors to me so I call that a snacking win.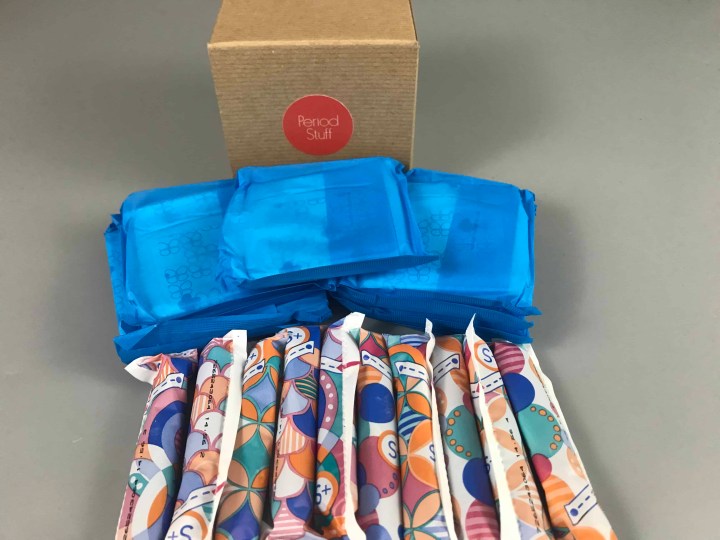 Period Stuff. I love that this box of necessities is packaged together and takes nothing away from all the pampering goodies. Pads, tampons, panty liners and cleansing wipes… everything I need without going to the store. Does it get much better than this, I think not. I love that the brands Dot Boxx sends are trusted and the creme de la creme of women's products.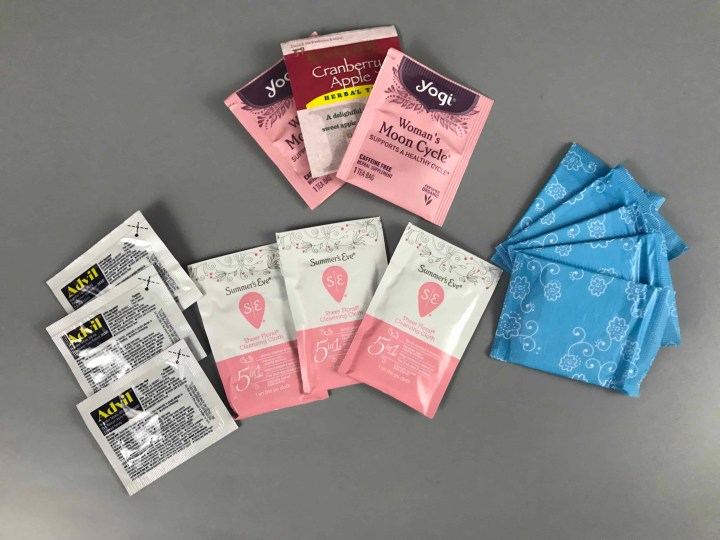 More necessities that wouldn't fit in the period stuff box… tea and Advil for the cramps. Summer's Eve cleansing wipes for a fresher feel during your monthly week or whenever. Can't leave out panty liners, which I love so much more as I get older than I did as a teenager.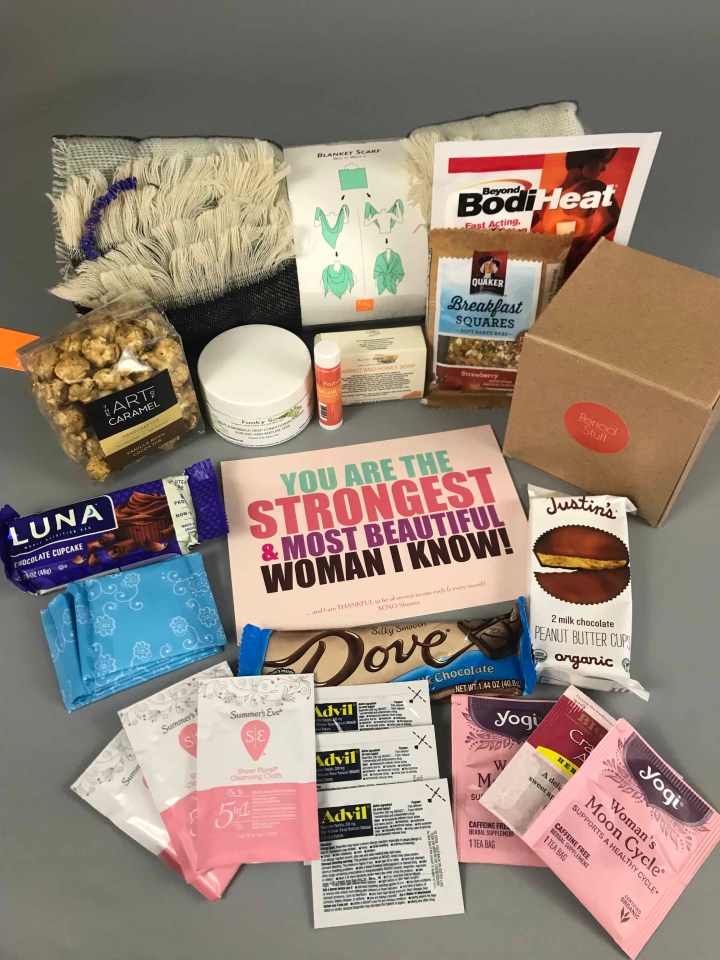 Dot Boxx is a great way to treat yourself or someone else every month. They always make sure I am the star of the show by making it about pampering myself and just tossing in the necessities. I love that the emphasis is on great skin care and not on the delicious not always healthy snacks they also provide. Since I did receive both the Teen Boxx and Dot Boxx I have to say that both my daughter's and my own needs have been met with these great subscriptions.
What do you think of this month's Dot Boxx? Let us know in the comments!