The Nerd Misfits of Espionage Cosmetics are curating packages that fuse the joys of fandom, fashion, & fun. You can choose your own adventure with their quarterly BOOM! Box and you will get 4-8 theme specific items in every box, including 2 new Nerd Manicures. The magical nail wraps will all be brand new and exclusive and the other products are created and curated by Espionage Cosmetics.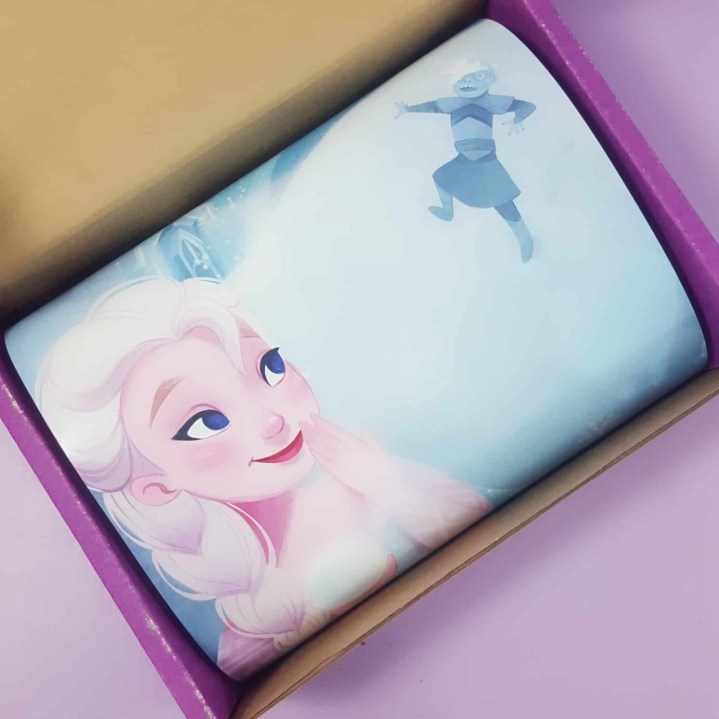 Espionage Cosmetics December 2017 BOOM! Box: FROZEN!
DEAL: Save $3 off first BOOM!Box or NEXUS! Use coupon code HELLOSUB2017.
Everything in my December BOOM! Box!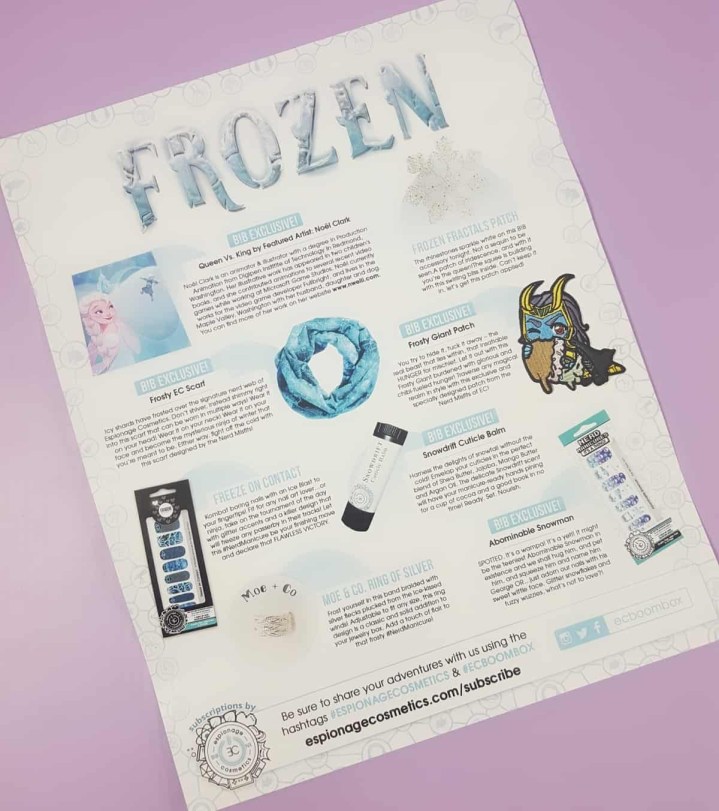 The back of the included print has all of the information on the items. Make sure to read the descriptions. They are so fun.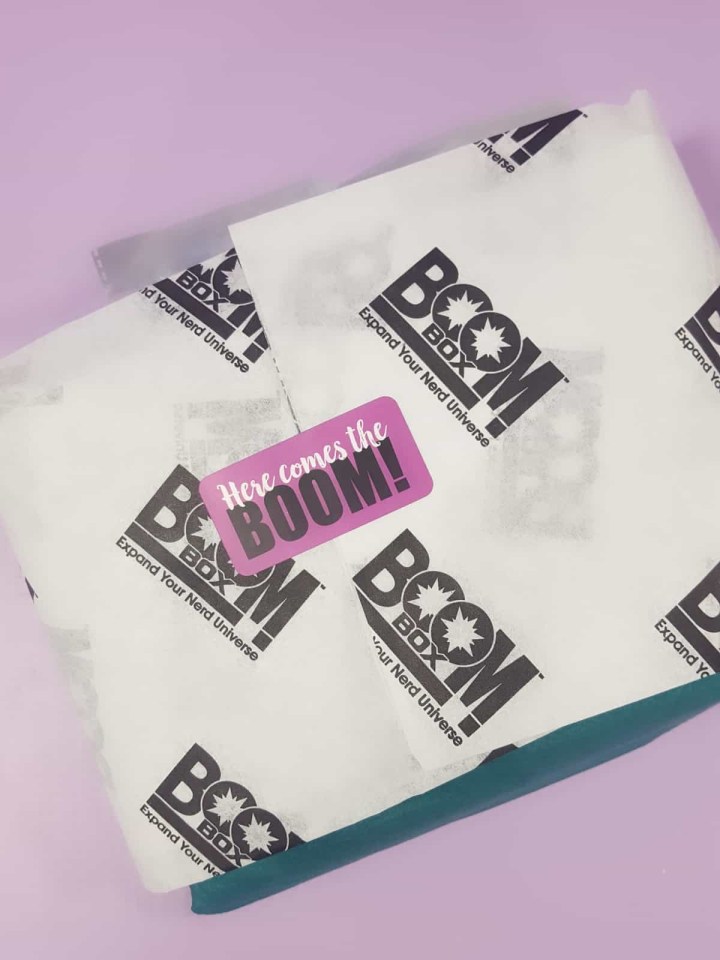 Underneath the print this month all the other goodies were wrapped up with a super fun sticker. "Here comes the BOOM!"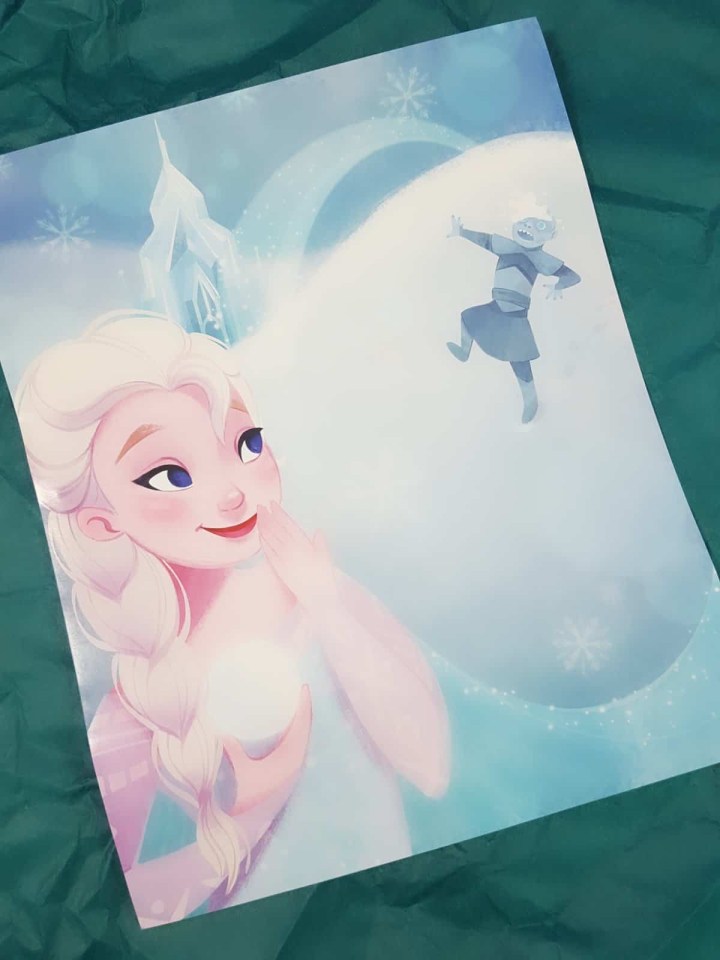 Queen vs. King by Featured Artist:Noel Clark – I'm always in for getting prints in my box and then when you do a Disney inspired print it is even better. I love how the Ice Queen looks a bit sassy in this one. The smirk is so great.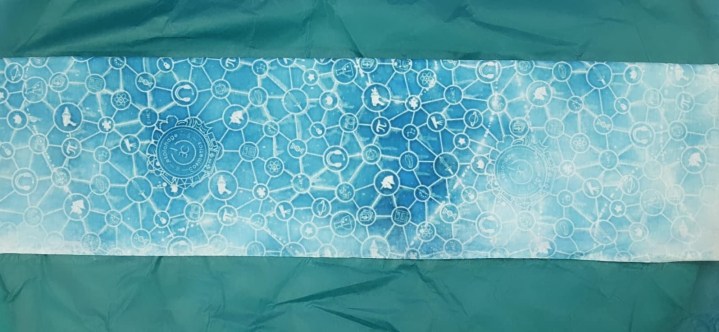 Frosty EC Scarf (B!B exclusive) – The Nerd Misfits designed this scarf that can be worn in so many ways. While I love the pattern, I'm really feeling the color. It goes great with the tissue paper they put in the box.
Check out all the great symbols and details in the scarf. So much to look at and see.
Freeze on Contact wraps – The first set of wraps this month are perfect frozen fractals for your nails.  I'm freezing right now so these might be the next wraps I put on.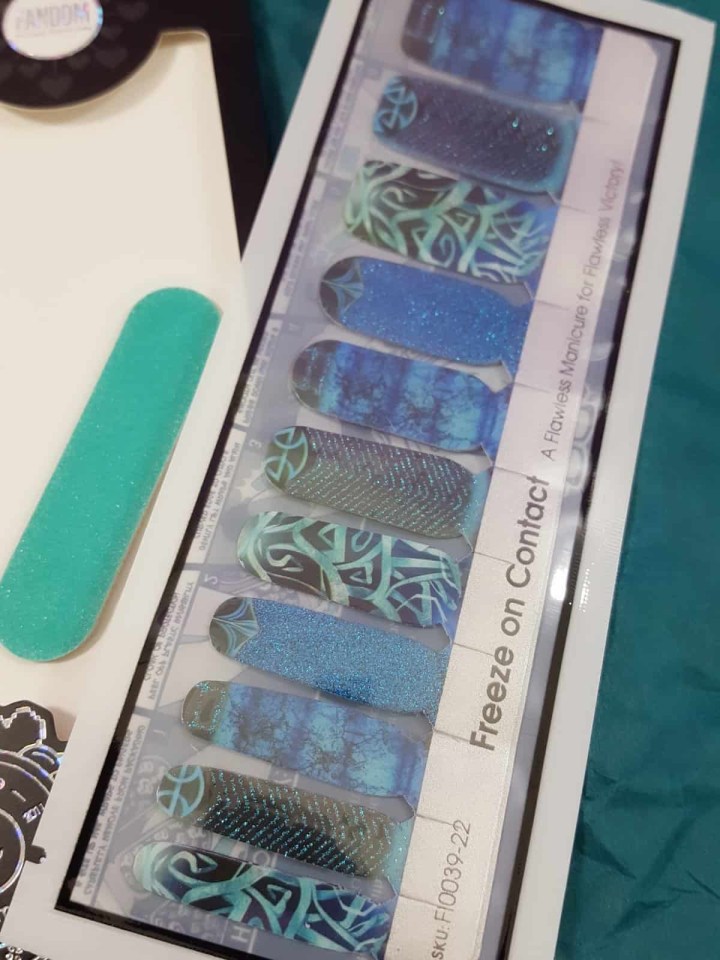 Check out the details and patterns. I love that the patterns coordinate so well without being too matchy matchy.  They really do look like ice fractal patterns.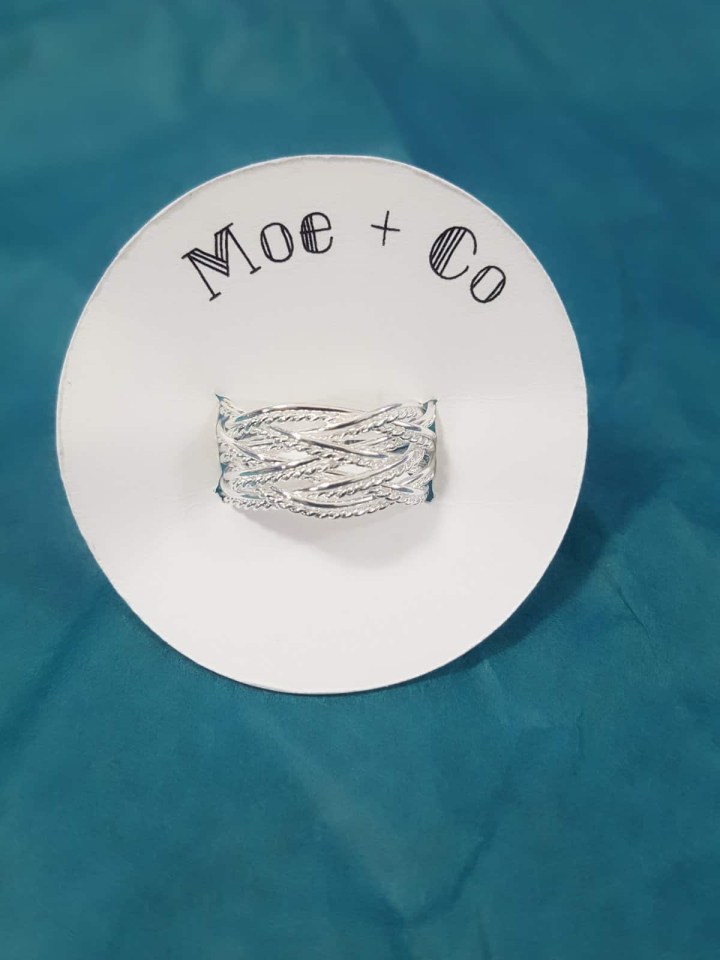 Moe & Co Ring of Silver – I'll be wearing this ring all winter. It is simple and detail and stunning all in one.  Remember when I told you to read the descriptions? I chuckled reading this one when it mentions "frost yourself." It comes from the too-bad-you-can't-help-but-watch-movie "How to Lose a Guy in Ten Days."  Does anyone else love that movie? I can't help but love a good Mathew McConaughey and Kate Hudson romcom.
Frozen Fractals Patch – Who else is singing in their head? I've been singing since I read this title when I first opened the box.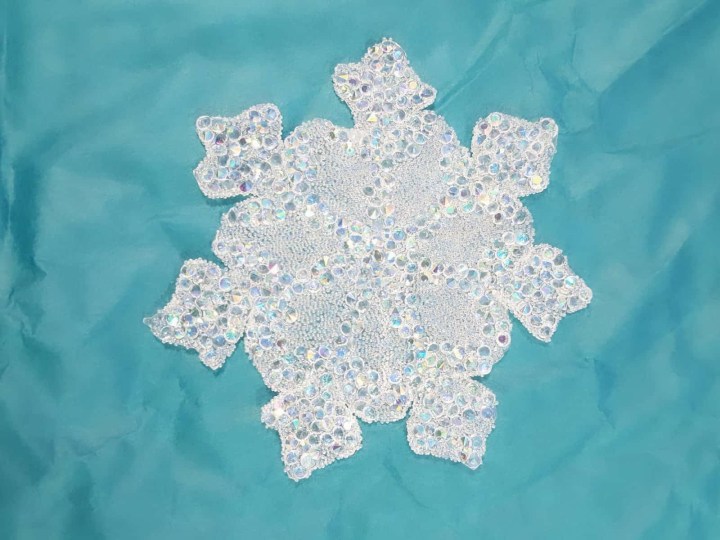 Check out all the sparkles in this patch. I haven't figured out the best thing to display my patches but I've been having fun using them in some mixed media art projects and some scrapbook pages. I have some Disney pages to scrap soon and this would be gorgeous on my Elsa page. It is so sparkly.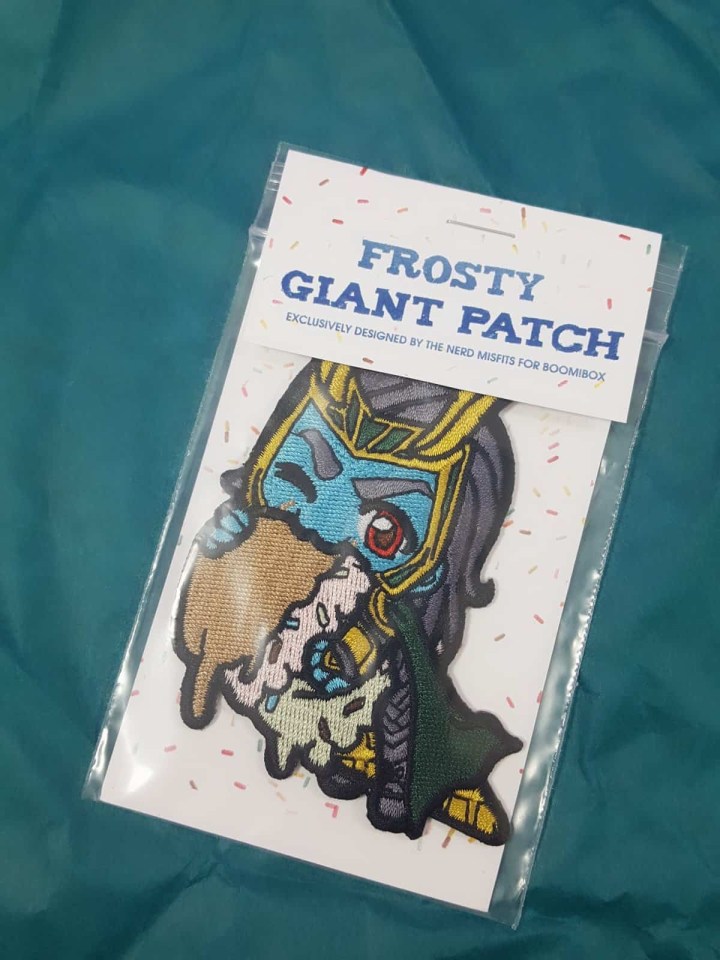 Frosty Giant Patch – Another patch and this one is just plain fun.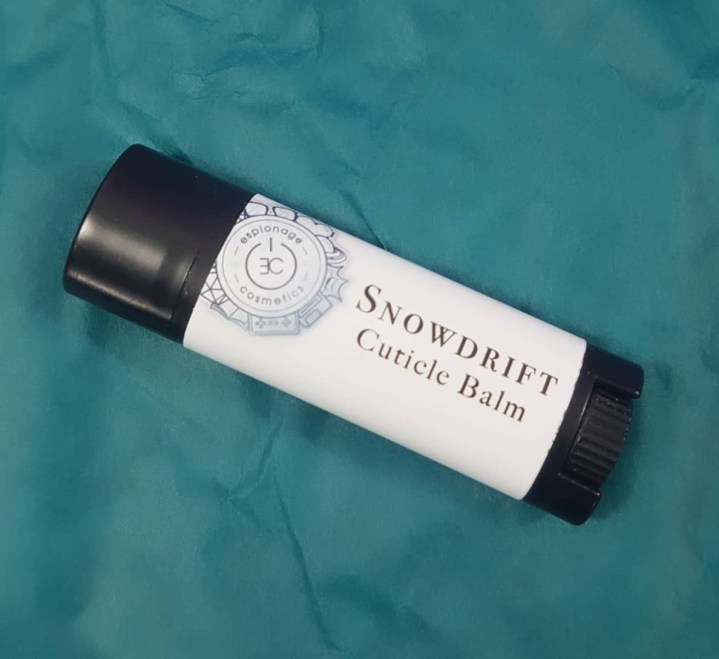 Snowdrift Cuticle Balm – My cuticles are already feeling the winter chill. This went on smooth and my nails felt better pretty fast. I need to remember to keep this up this winter so they don't get too dry and crackly.
Abominable Snowman wraps – Eehhh I can't decide if these or the ring are my favorite item in the box. I'm pretty sure its a tie for this one. These are so stinkin' cute.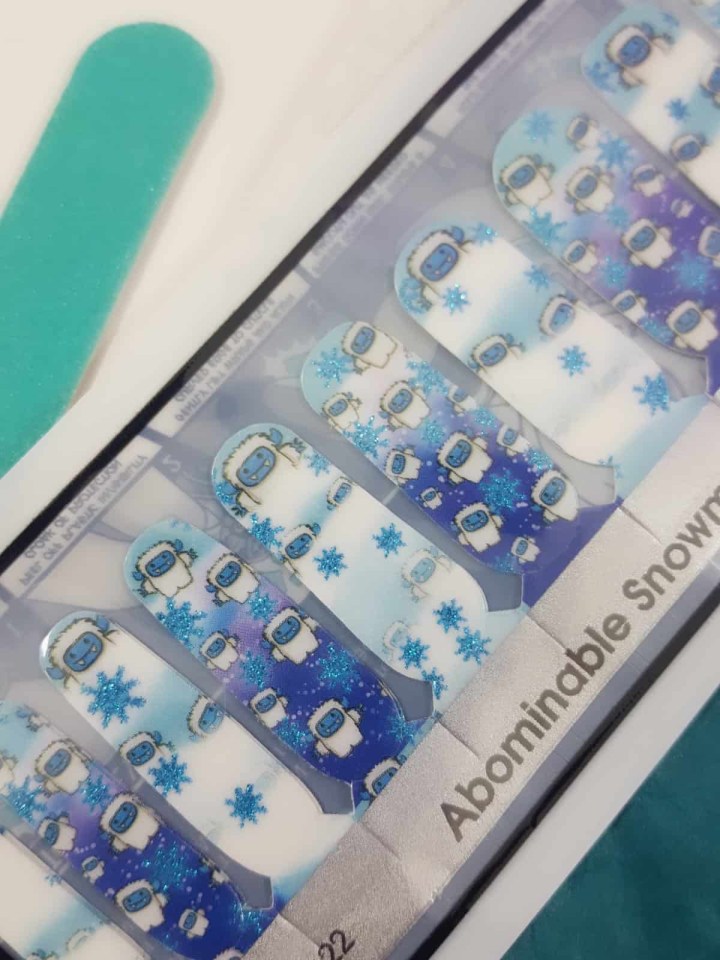 Check out these little guys. They are so cute and then add the glitter snowflakes and I'm in LOVE. We got an early snow here in NC last week so I've got snowmen and cold winter nights on the brain and these will be my go to wraps.
This quarters BOOM! Box is just way too fun. I love how they did the Frozen theme and worked in the current popular characters but also went with wintry items as well. The ring and wraps this month are more then enough but we also got other fun and fancy items to go with them and I'm just giddy with excitement. This box just makes me happy and ready for even more cold nights and days to come.
What is your favorite wintry activity? Have you already had snow where you live?
Visit BOOM!Box by Espionage Cosmetics to subscribe or find out more!