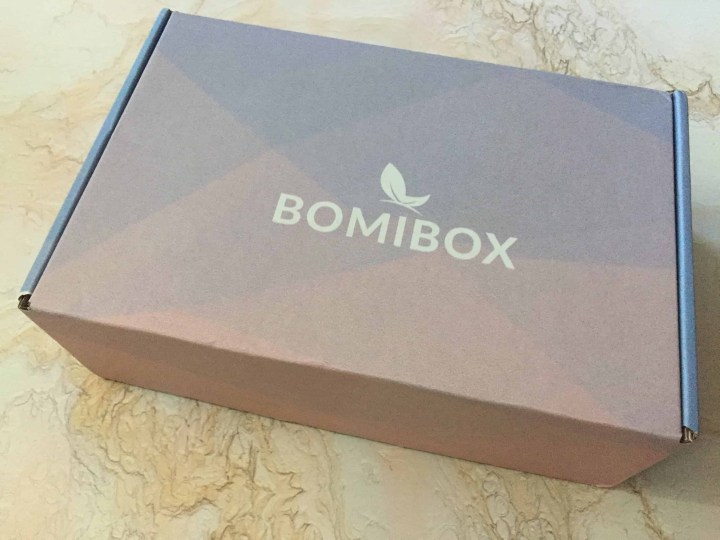 Bomibox is a Korean skincare subscription delivering 8 fullsize or sample products to your door right from Korea. Bomibox is full size and deluxe travel size products, while the smaller Bomibag is all small deluxe sample sizes. Either way, it's a great way to dip your toes into a Korean skincare routine and find out what works for your skin! The Bomibox ships monthly and is $37.99 and the Bomibag is $19.99. Shipping is free in the US and varies internationally.
My box got held up in customs for a month with the holiday rush!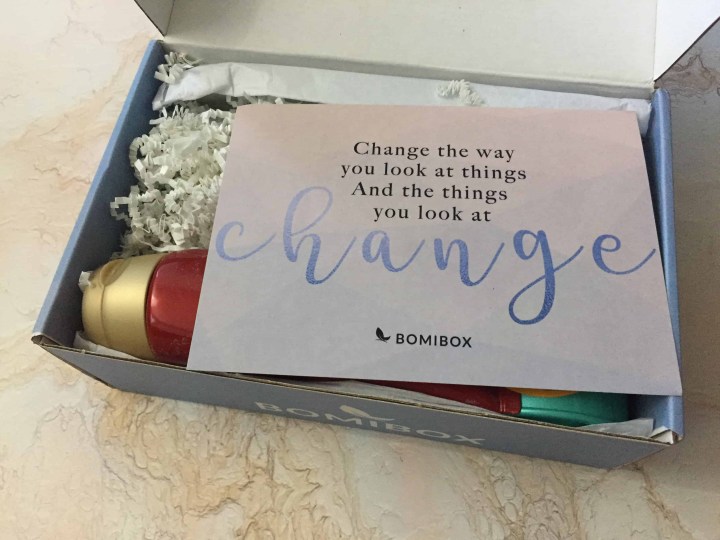 Here's my first look!
DEAL: Save $2 on your first Bomibox or Bomibag! Use coupon code HELLOBOMI.
The information guide is clear and has photos. I love that they mention CosDNA, which is a great website for finding translated ingredients of products from Asia and other international places.
For retail prices, I will try and use shops that ship directly from Korea whenever possible for the most accurate values (as most US shops mark up the prices).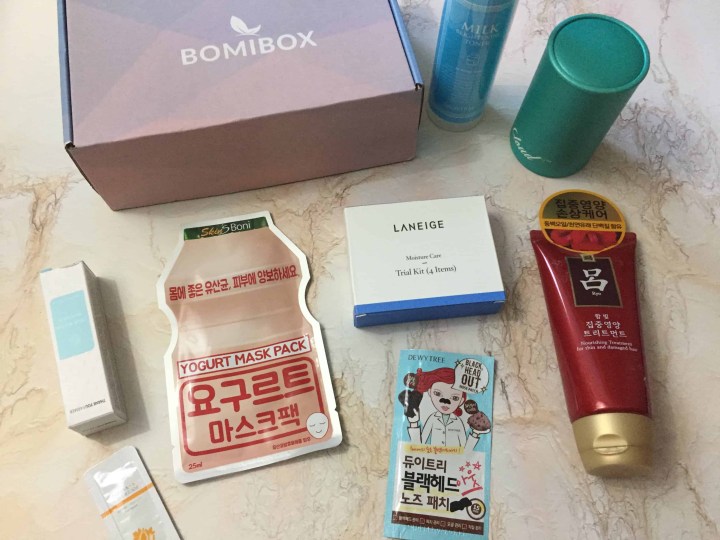 Everything laid out! All of the products have their manufacturing and/or expiry dates clearly labelled!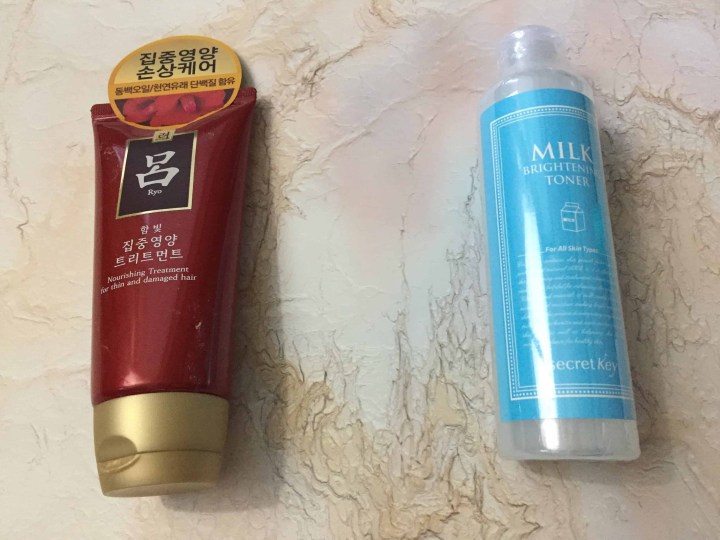 Ryo Nourishing Treatment for Thin and Damaged Hair ($6.53) — I have used a Ryo product before but not this one! My hair is thin and colour-treated, so I am thrilled with how well this product suits me. The past Ryo product I used (a shampoo sample) had a very strong medicinal herbal scent. This product smells much more light and generic, but still herbal. It uses camellia oil, which I'm very familiar having been a big fan of the Shiseido Tsubaki haircare line from Japan. Expiry Date: 2020
Secret Key Milk Brightening Toner ($7.27) — Secret Key is a brand that for me is hit or miss. Their FTE was a fail for me, but I love the Snow White essence. This toner is made without mineral oil, parabens, or alcohol, making it great for sensitive skin. It includes brightening ingredients like galactomyces ferment filtrate and pumpkin extract, as well as soothing ingredients like rice extracts which is great for sensitive skin. Expiry Date: 2020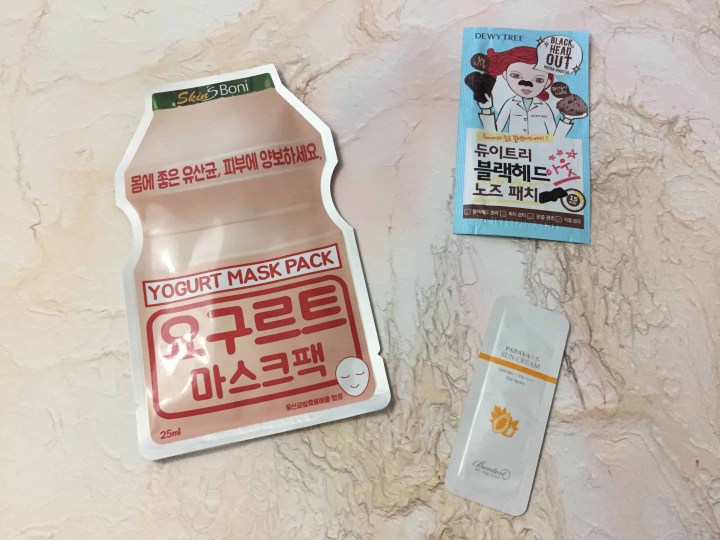 Yogurt Mask Pack ($3) — This isn't a sheet mask, it's an actual mask pack you smooth onto your skin. It contains the same fermented ingredients in yoghurt that are good for you, and also nourishes and hydrates the skin. Expiry Date: 2020
Dewy Tree Blackhead Out Patch — These always make me nervous; there are so many articles about why Biore nose strips are so bad for your pores. (They can permanently enlarge them!) I probably won't use this but we'll see. Expiry Date: 2020
Benton Papaya Suncream Sample — I love Benton products so I was happy to see this. I've tried the newest suncream before and it's nice and light, and doesn't have alcohol in it meaning it's somewhat hydrating as well. Expiry Date: 2019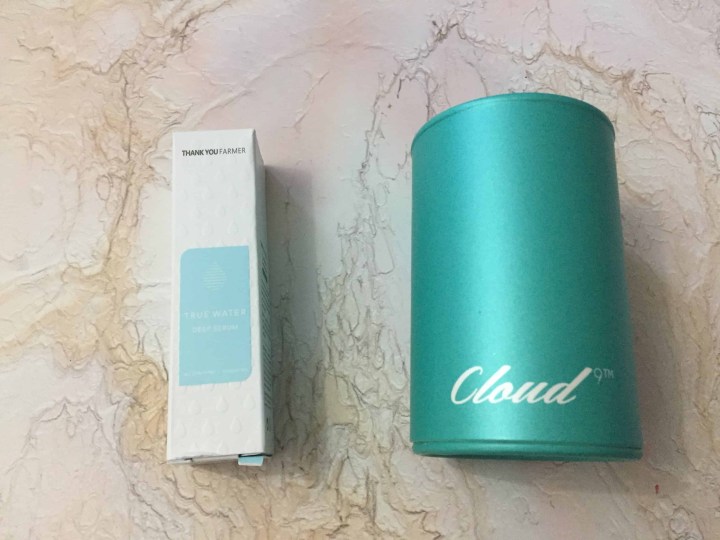 Thank You Farmer True Water Deep Serum ($8.99) — Eeeeee! I actually just got some samples of this serum in a recent sheet mask order and I loved it, so I'm super happy to have a larger size. This is a travel size but it's still more than enough to last a few months. It's lightweight but very hydrating. Expiry Date: November 2018, which is next year but should give me ample time to finish this sample.
Cloud 9 Brightening Serum ($14.00) — First of all, this serum smells lovely. It definitely has fragrance so if you have sensitive skin, maybe stay away, but I love the soft musky floral scent. The ingredients say it has no artificial ingredients so the scent must be from something — I just don't know what! Ceramides, hyaluronic acid, and collagen are great ingredients and I'm excited to try this. Expiry Date: 2019
Awesome pump packaging on both products to keep things hygienic. Love this!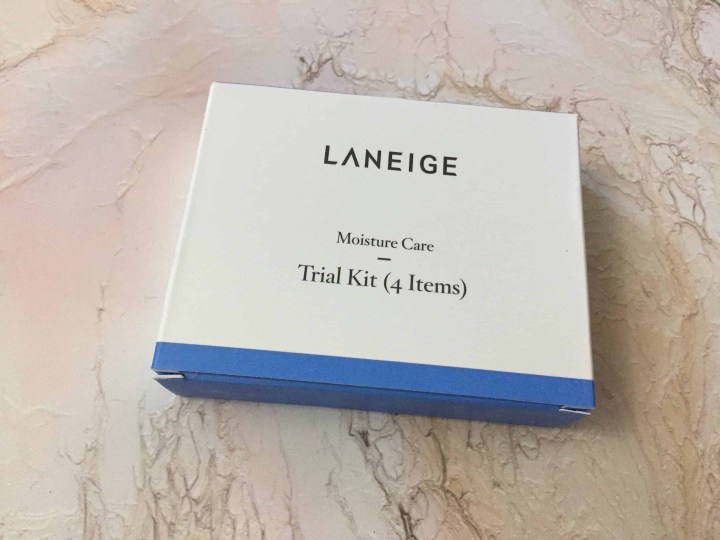 Laneige Trial Kit ($4.30) — Laneige is one of the first skincare lines I tried back in 2010 when I first got into k-beauty. This was before you could just find it at Sephora! This is the base set from the Moisture Care line.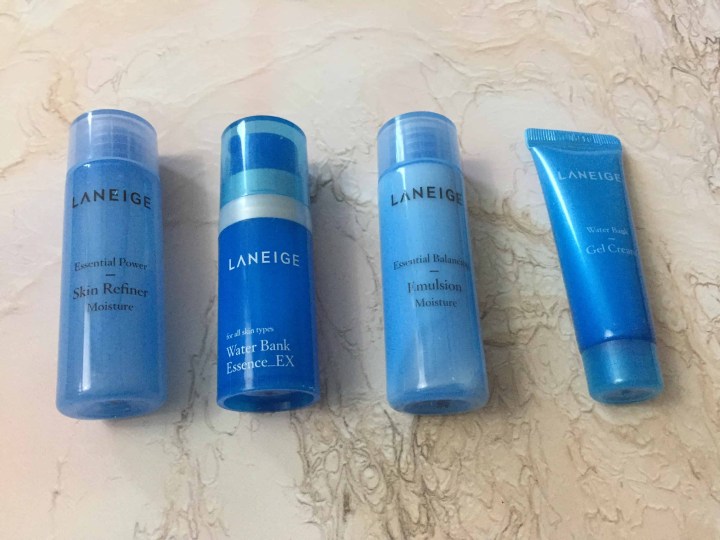 It includes the Skin Refiner (Toner), Water Bank Essence, Emulsion, and Gel Cream. This is a great basic routine and a great intro to a multi-step routine if you haven't done one before.
I'm very impressed with my first Bomibox. I liked that most of the brands included were known to me and are high quality and reputable with good products. I calculated the value to be around $45 but this is based on the shops I used for reference points. It's a great mix of items and I loved that it didn't have sheet masks as a filler or anything like that. I'm so excited to try the Ryo hair mask!
What do you think of this month's box?