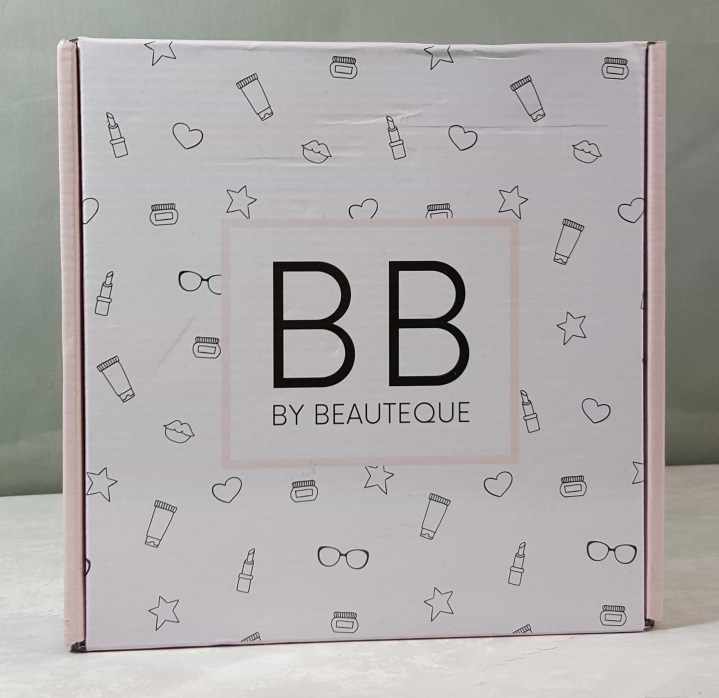 Beauteque offers two subscriptions featuring Asian beauty products delivered to your door monthly. Products include makeup, skin care, body care, and more. For $24 per month, your Beauty Box comes with 6-8 full-size products. Price per month is lower with extended subscription terms. If you like masks, the Mask Maven subscription brings you 9-11 various masks monthly starting at $14.
DEAL: You can save 10% on the Beauty Box or Mask Maven with coupon code CRATEJOY10.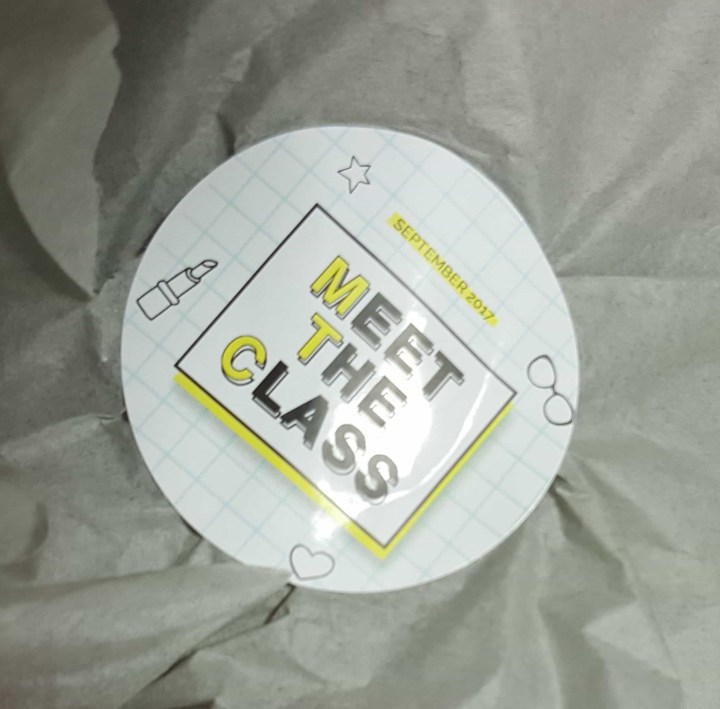 ICYMI, Beauteque has changed the look of the beauty box subscription. I really like the clean look of the pink and white box and think the cosmetics/accessories drawings are totally adorable. September's Beauteque Beauty Box theme is Meet The Class. Whether or not you're heading back to school, this month's products will help you de-stress and wash away those end of summer blues.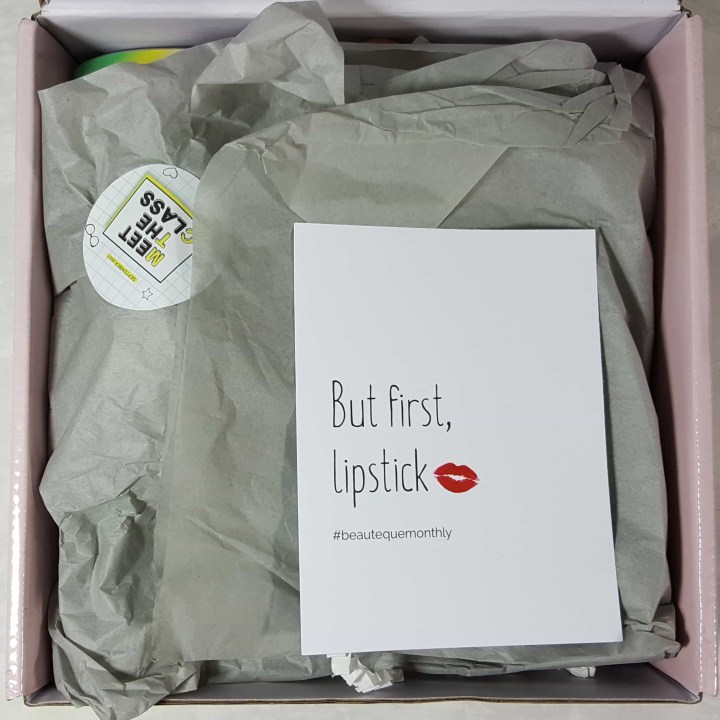 So, I was originally confused on the theme for this box edition. The card made me think that we were going to have a focus on lip care or makeup… the theme was on the itty bitty sticker closing the tissue wrap. LOL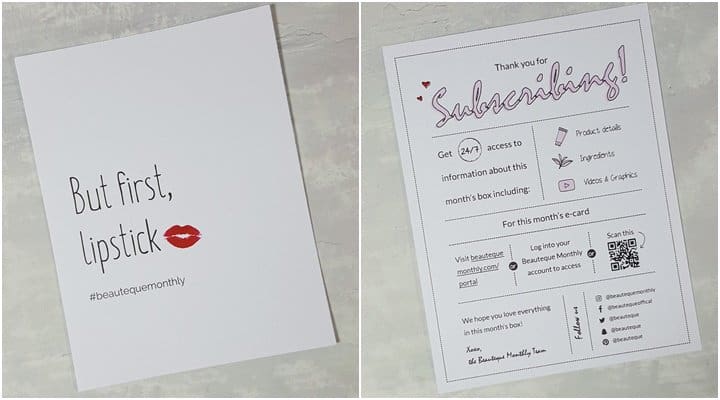 The information card is now digital. You can access product information and basic how-to-use directions by logging into your account, scanning the QR code, or visiting www.beautequemonthly.com/portal. The prices listed below are those of Beauteque, unless otherwise noted.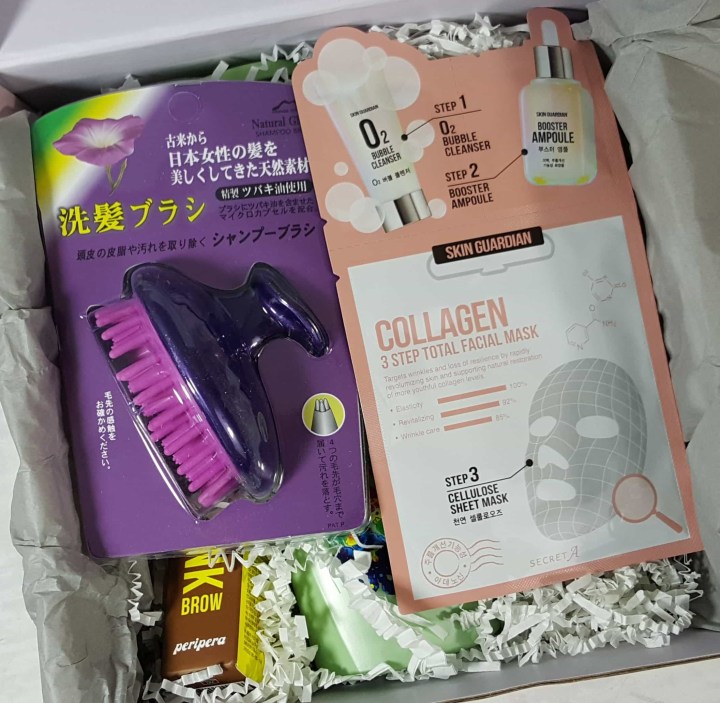 There's no longer a cosmetics bag included with the products.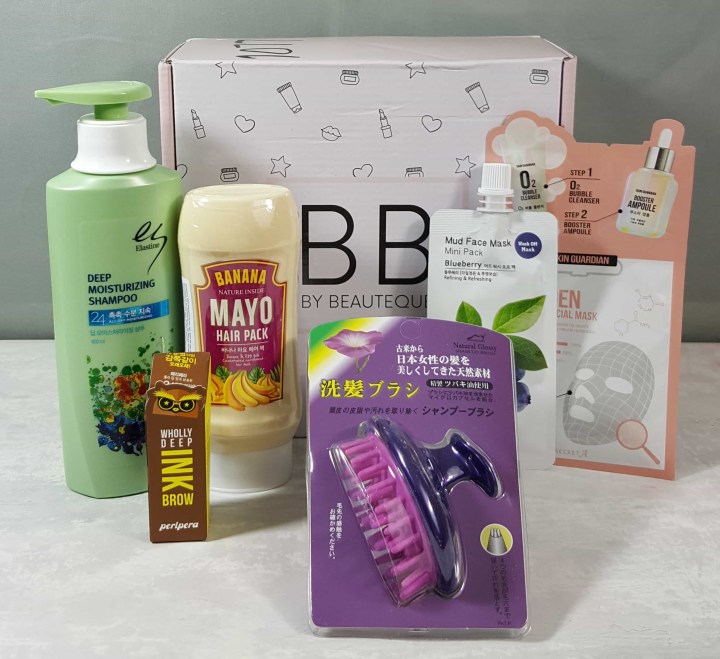 September's full Beauteque Beauty Box reveal. (Brandy called me when the Banana Mayo was revealed. I have saved it for her.)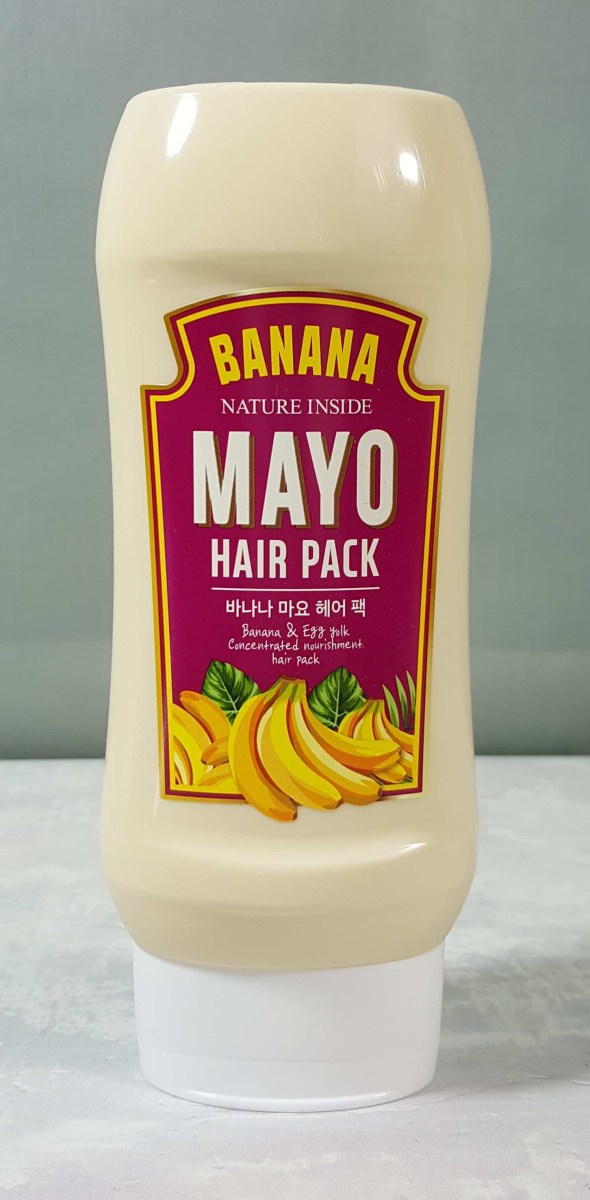 welcos | Nature Inside Banana Mayo Hair Pack ($13.99): This deep-conditioning hair mask contains banana extract, egg yolks, and shea butter to soften and nourish parched hair. After shampooing, apply the mayo and leave on for 3 minutes. Rinse and style as usual. I know I was saving this for Brandy, but I still had to see why she was so excited. This did leave my hair softer, although it didn't have the slip I expect from a conditioning mask (especially for my curls). I thought the banana scent was going to be overwhelming and lingering. It wasn't and does dissipate (or maybe I got used to it?). Side story – I used this and then showered with the strawberry yogurt wash from last month… I smelled like a daiquiri on my way to work. LOL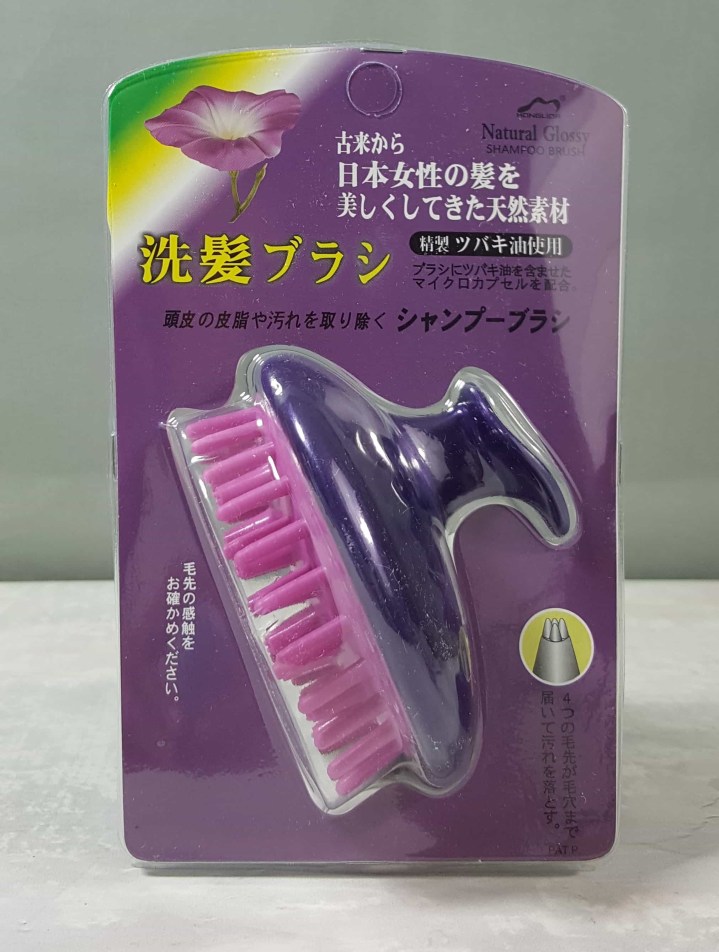 Honglida | Natural Glossy Shampoo Brush ($10.99): Shampoo brushes seem to have become all the rage lately. Why, you might ask? It's because the bristles help increase the lathering effects of the shampoo while massaging and stimulating your scalp. I thought I would give this a try, but I was a little weary about adding tangles to my hair. I did get a richer lather with the brush, but I also felt like I was teasing my roots. I had to seriously work out the kinks in my hair when I conditioned. If someone with curly hair had a better experience or knows of another tool, leave a comment below.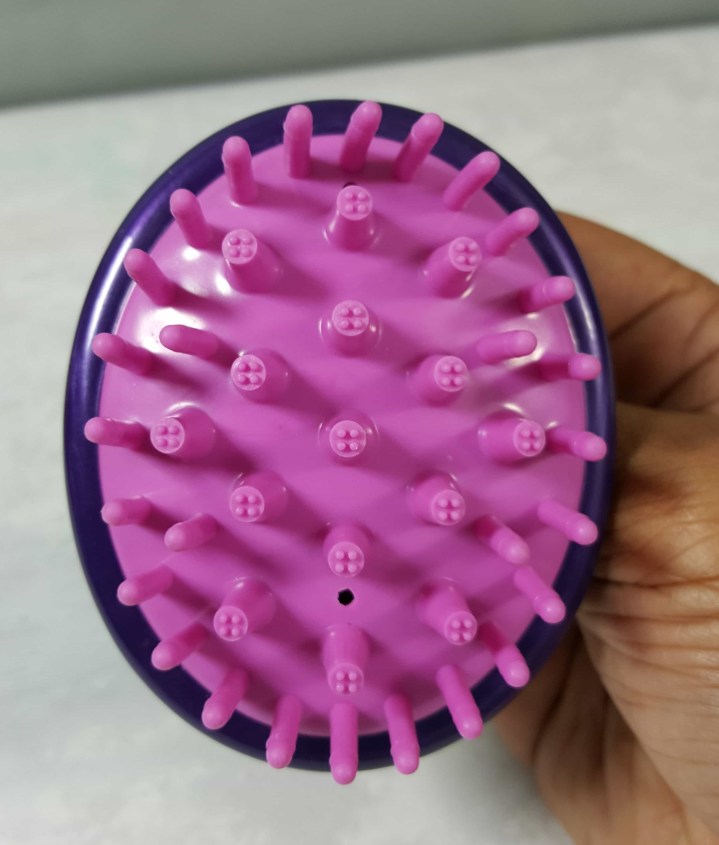 Here's a look at the brush head. My other concern was water/shampoo getting into the small hole and being trapped in the brush. Yes, that happened too.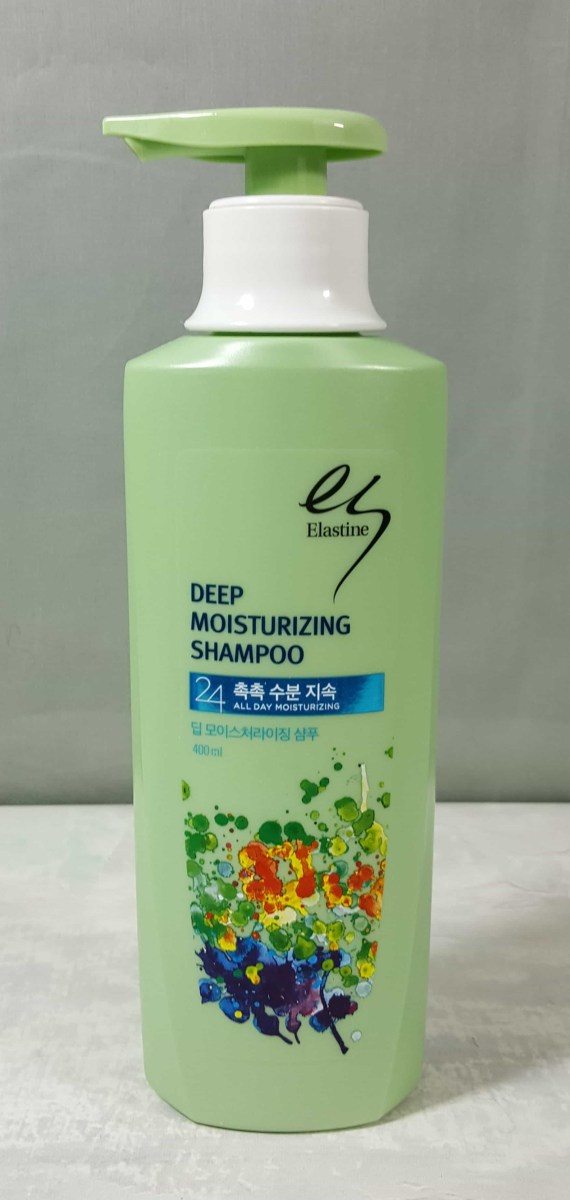 LG | Elastine Deep Moisturizing Shampoo ($14.99):  This shampoo combines LG's moisturizing complex with honey and avocado extracts for soft, hydrated touchable hair. I really like this shampoo. It delivers on its promise – I've been able to skip conditioner a few times, even. I noticed that there is less frizz as well. It does have a perfume-y aroma, but I've noticed the same scents in other Asian shampoos. This, combined with the Banana Mayo, was like a wash from the salon.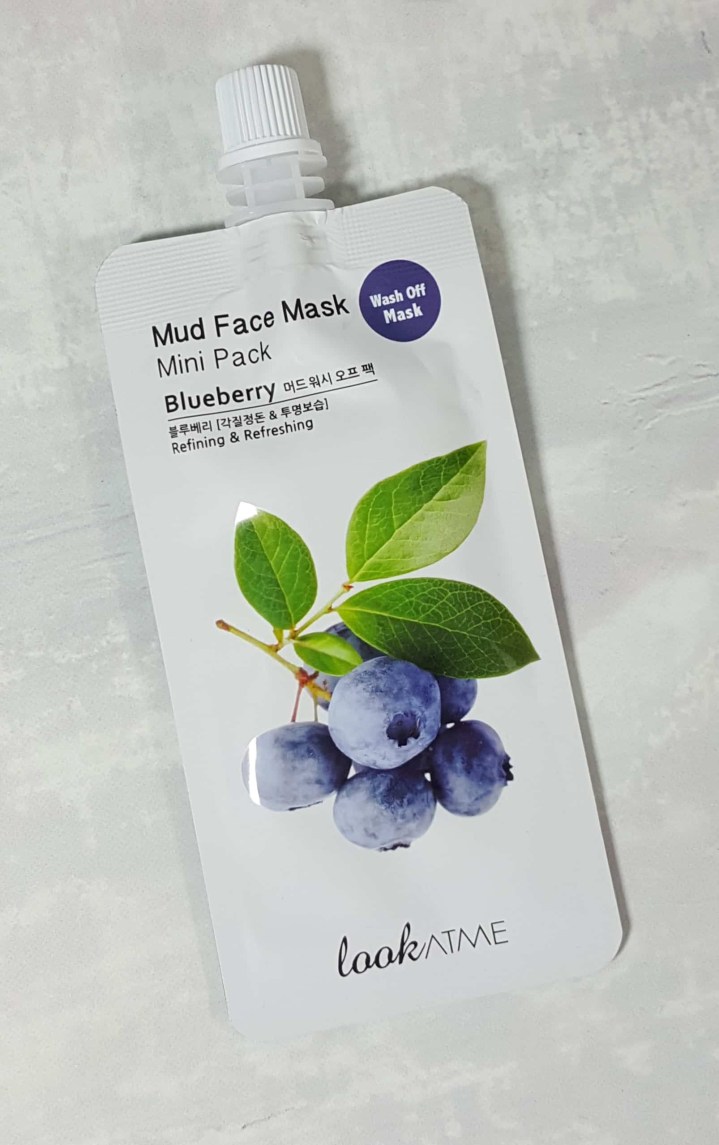 look AT ME | Mud Face Mask -Blueberry ($4.99):  This mask has a kaolin clay base that is loaded with a ton of other skin goodies such as grape seed oil, blueberry extract, tea tree extract, allantoin, collagen, and hyaluronic acid. It hydrates and soothes skin while evening skin tone. The first thing I noticed was that there was a stronger grape scent to the mask – you'd expect blueberry based on the packaging. Also, it is a little thinner than most clay masks I've used, making it easier to apply. Lastly, there was a slight cooling effect (probably from the peppermint extract). The pack contains enough product for 2 applications. I couldn't tell if there was a difference after using this since I had a facial the day before, but I was nice to have a little extra pampering.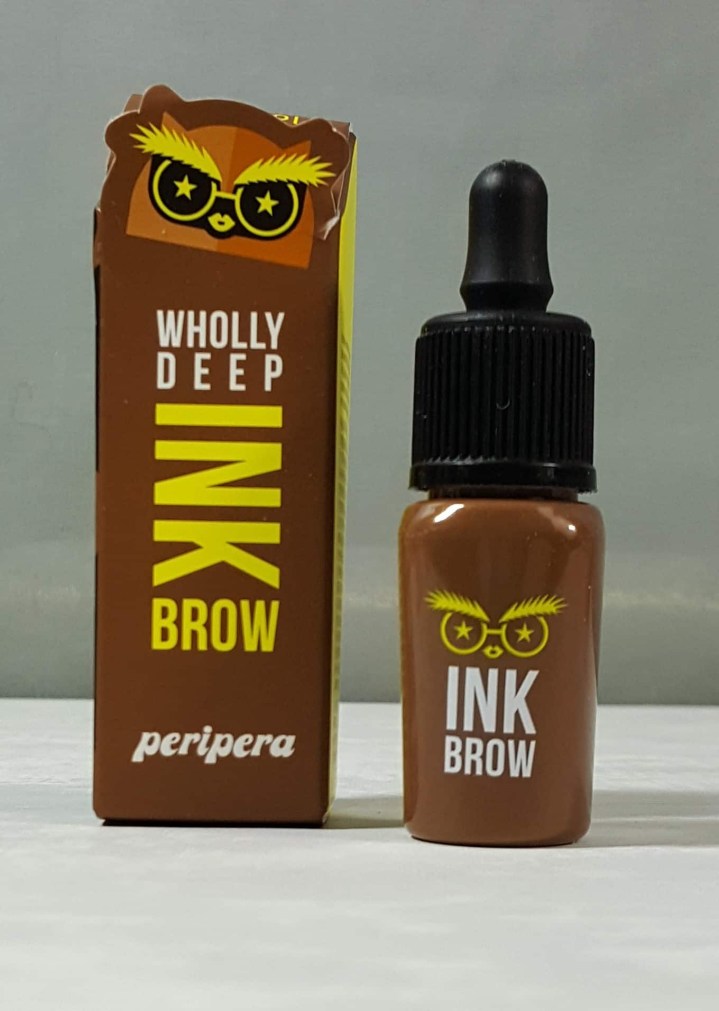 Peripera | Wholly Deep Ink Brow Stain – #2 Soft Brown ($12.99):  I am always leery of the eyebrow stains. Seriously, what if I mess up and then have crazy brows for the next 2-3 days!?! This is a waterproof and smudge proof stain that not only adds color and definition, it also helps tame stray brow hairs. Use the brush to enhance your brows, wait 10 minutes (seems like a long time), and voila. This shade is meant for those with light to medium brown hair.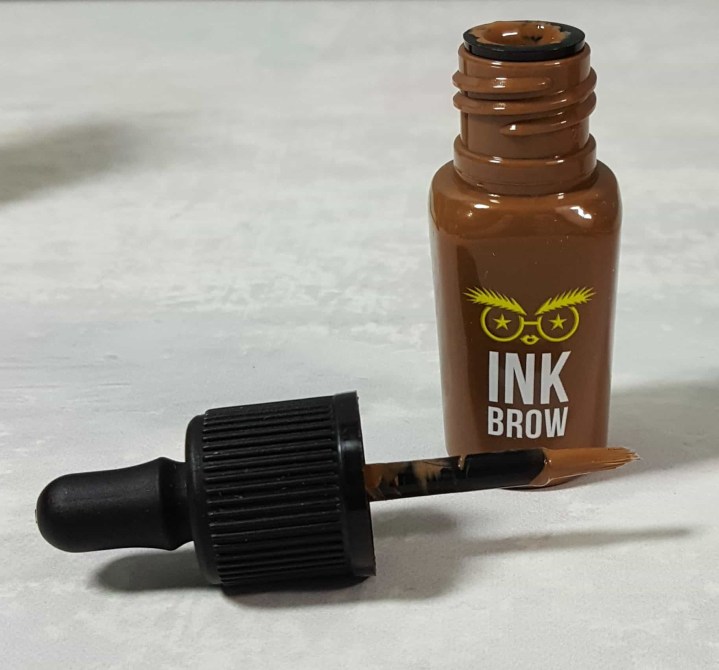 Here's a closer look at the brush and formula.
You can see from this swatch that the color is too light for me. Not sure why I didn't get #1 Deep Brown, which would have matched up to my profile.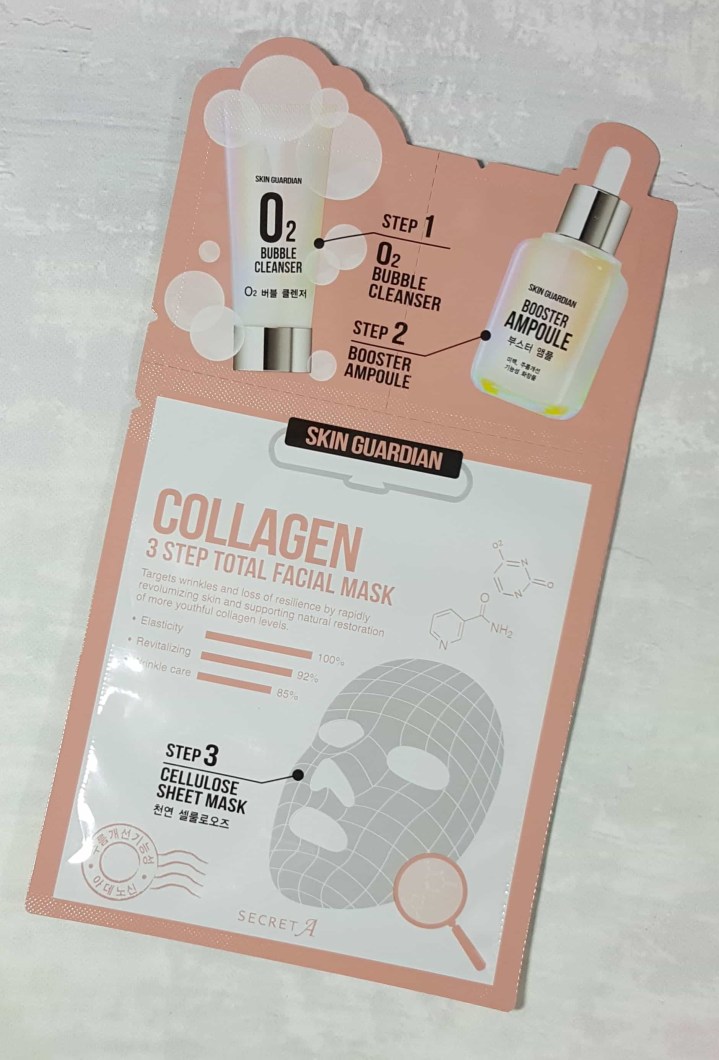 Secret A | Skin Guardian 3-Step Total Collagen Facial Mask ($3.25):  This month, the mask was a mystery item. Subscribers were only told that they would be getting a multi-step mask. If you received a different mask, let me know which one and what you thought of it.  Since this is a hydrating collagen mask, I am going to hold onto it until the weather gets a little cooler and dryer.
Step 1) Wash your face with the bubble cleanser. Apply to skin and wait for the bubbles to activate. Rub onto skin to wash, then rinse completely.
Step 2) Apply the booster ampoule and let it fully absorb into skin.
Step 3) Sheet Mask Time! Apply for 10-20 minutes.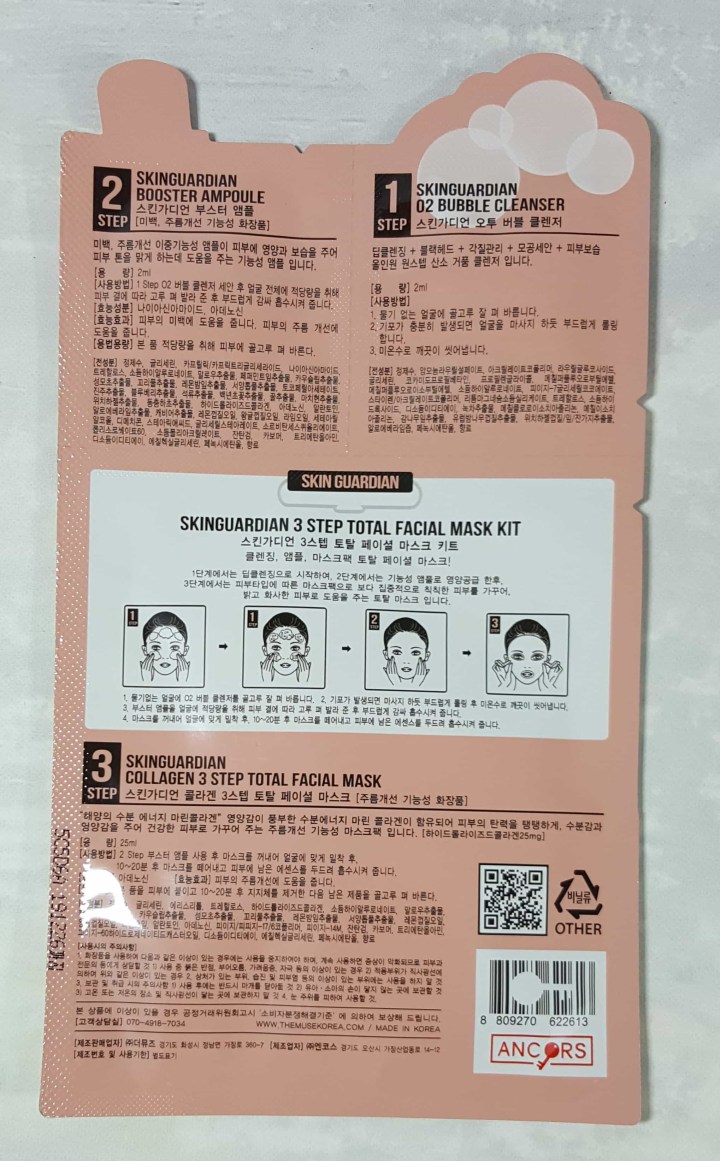 Back of the mask pack. Everything is written in Korean. Good thing Beauteque provides an ingredient list and directions on their site.
My September Beauty Box contained $61 worth of products. While the shampoo brush and brow stain were a bust for me, the other items more than made up for them. The shampoo is my favorite product this month, and I'm seriously debating whether or not to give the Banana Mayo up. LOL.
What did you think of this edition of the Beauteque Beauty Box? Leave a comment below and let me know.
On a side note: Before trying any Asian cosmetic subscription, expect that most information on the package will be in the native language. That said, more and more brands are including directions/ingredients in English, and information can also be found in English on the majority of brands' websites (you may have to choose a brand's global or US site). Secondly, a large number of products focus on brightening or whitening the skin. As a person of color, I have not seen my skin color change. Instead, I've experienced that my skin tone gets evened out after prolonged use. However, your results may be different. And lastly, many products contain ingredients which are animal-derived, so these may not be an option if you are vegan. You can also check out cosDNA.com to see if the ingredients for the product are listed there.