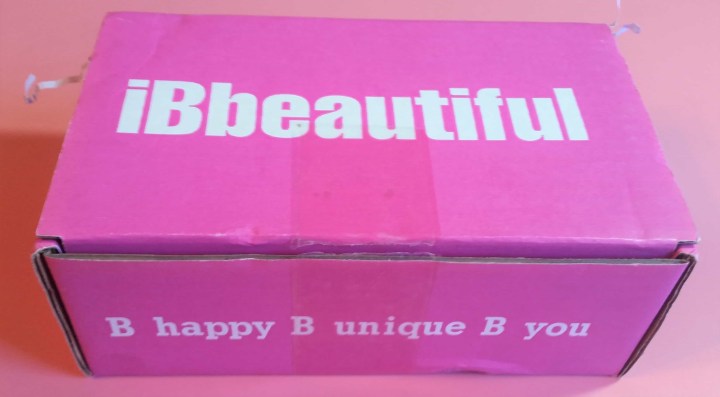 iBbeautiful is a subscription box for teen and tween girls with inspiring accessory and beauty products, plus a positive message! iBbeautiful wants to help girls be confident, smart, brave, unique, and kind. You can choose either tween (8-12 years old) or teen (13+). You also can choose between a basic box (no tee) for $20/month or a graphic tee box for $30/month. This review features the Tween basic box for October.
My daughters and I love ibBeautiful boxes. They are so much fun for tween (my younger daughter is 12) and teen (the older is 15) girls. The girls are so excited when the bright pink box arrives in our mailbox!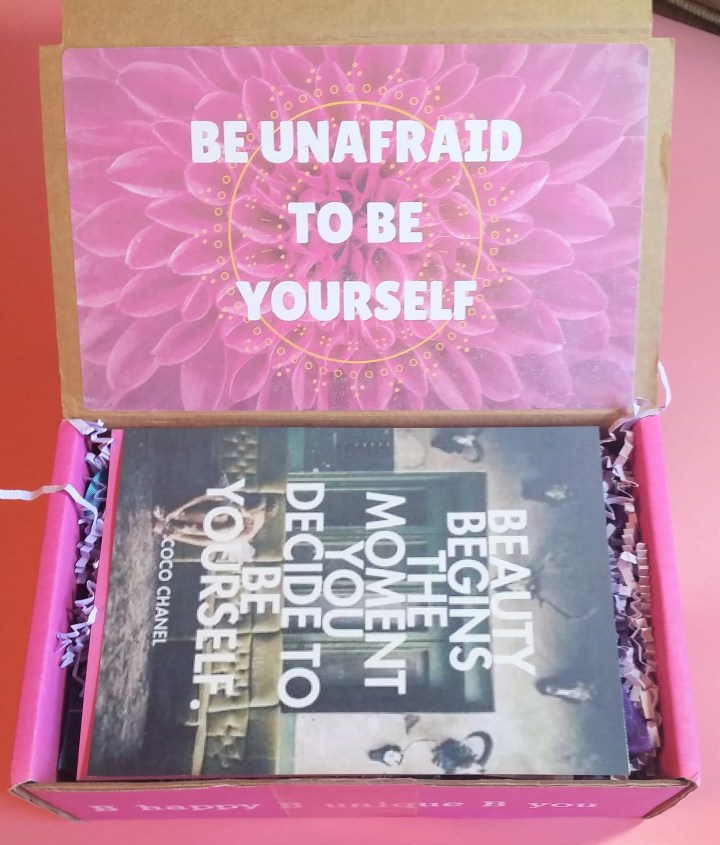 Each month, iBbeautiful brings a box full of goodies along with a positive message for teen and tween girls. The messages are always spot on for this age group… but also presented in a fun and beautiful way, so it actually reaches this tough age group. This month's theme is "Be unafraid to be yourself" – presented on a colorful placard on the inside lid of the box. The message is continued on a great information card (this month with a quote from Coco Chanel).
The back of the information card usually has a longer message that fleshes out the month's theme. These cards are full-color and glossy, suitable for displaying – as my girls have done with previous month's messages that really spoke to them. As a mom, I totally love this!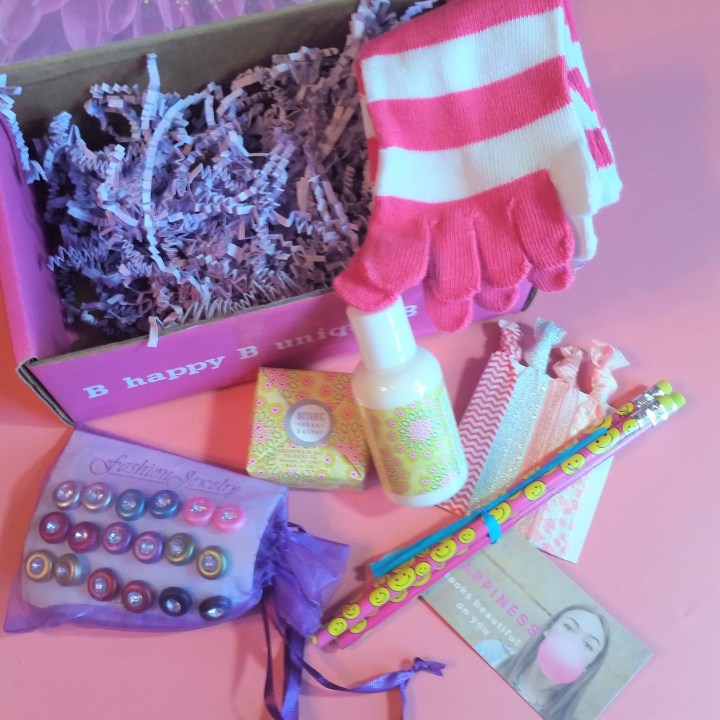 Here's a peek at all the goodies in this month's box. So much color! So many fun things! (Plus the box smells amazing, thanks to the soap!)

Toe Socks: Seriously – do I need to say anything else? TOE SOCKS! Fun, especially with adorable pink and white stripes. And perfect as we move into fall. (Plus both girls giggled when we first opened the box – a win, right from the get go.)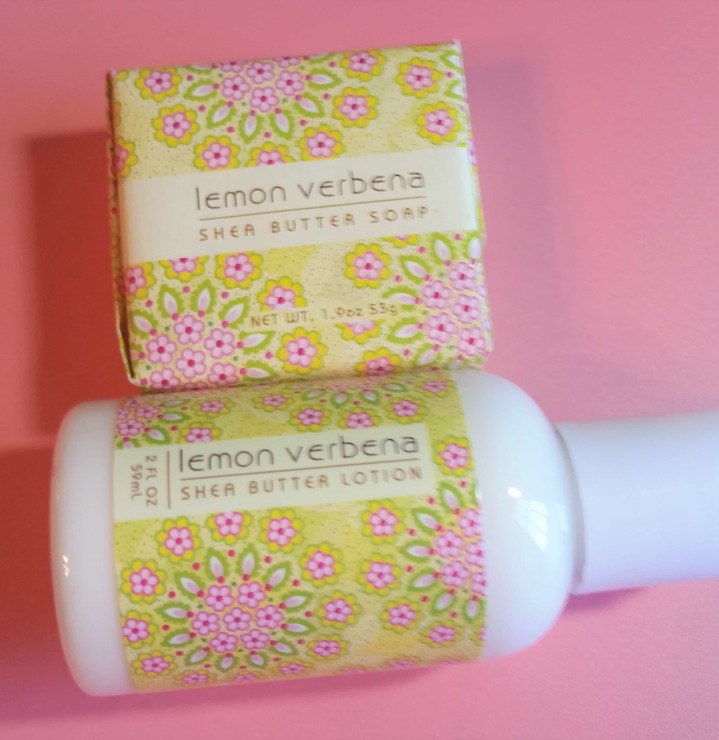 Greenwich Bay Shea Butter Soap & Lotion: Oooh… these little spa items (soap and lotion) smell so amazing! We love lemon verbena. Plus both of my daughters love a little bit of luxury and these items are perfect for a spot of lushness in their busy days.
Ribbon Hair Ties: Two girls, both with long hair – you can't have nearly enough hair ties. These are adorable with the pink patterns and sparkly silver. So cute!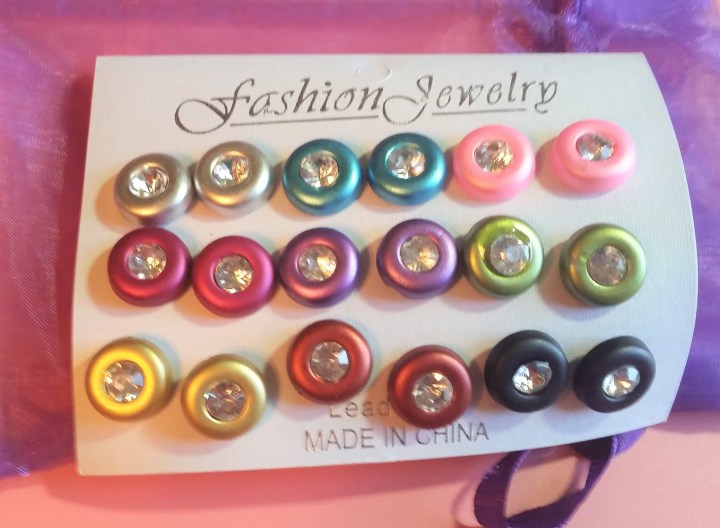 Earrings: This set of 9 pairs of earrings is awesome. A wide variety of colors (including some that are perfect for fall – like olive and fuschia) with a bit of bling in each earring's center – my girls will get a ton of use out of these!
Smiley Pencils: It never hurts to have a little fun with your homework, right? These cute smiley pencils make math problems a happy experience. Plus, as the accompanying card notes – happiness looks beautiful. (I love how iBbeautiful sneaks in messages… my girls may not even notice they're getting some positive thoughts!)
This month was another great box from iBbeautiful. Of the various teen/tween boxes we've had the chance to try, iBbeautiful is consistently fun, useful, and on-point. We love and use all of the items in every month's box and usually get a good chuckle out of at least one of the items. From opening the box to wearing the socks, iBbeautiful is something my daughters really enjoy. And as a mom, I love the messaging too!
What's your favorite item this month?