Chococurb is a monthly subscription containing extraordinary, premium, gourmet chocolates – this isn't your convenience store candy! These items can come from small, local chocolatiers or more established national brands. Every box will have something new, exciting, and absolutely delicious. You can choose from the Classic Box ($35), which contains 5-7 items, or choose the Mini ($20), which has 3 items for smaller appetites. Shipping is free during the cooler months but expect to pay for FedEx shipping in the warmer months. I am reviewing the Classic Box today!
Chococurb wants to help you discover chocolate that you will love so they have a short questionnaire that you fill out to let them know your preferences.
The chocolate was wrapped in insulated bubble wrap and placed inside of a box that was then placed inside of a styrofoam cooler with some ice packs (no longer cold) underneath and around the box. One of the ice packs had leaked but everything was protected by the shiny envelope.
I received 7 different items this month and they all sound so yummy! I always enjoy the variety – white, dark, or milk chocolate; nuts, caramel, everything!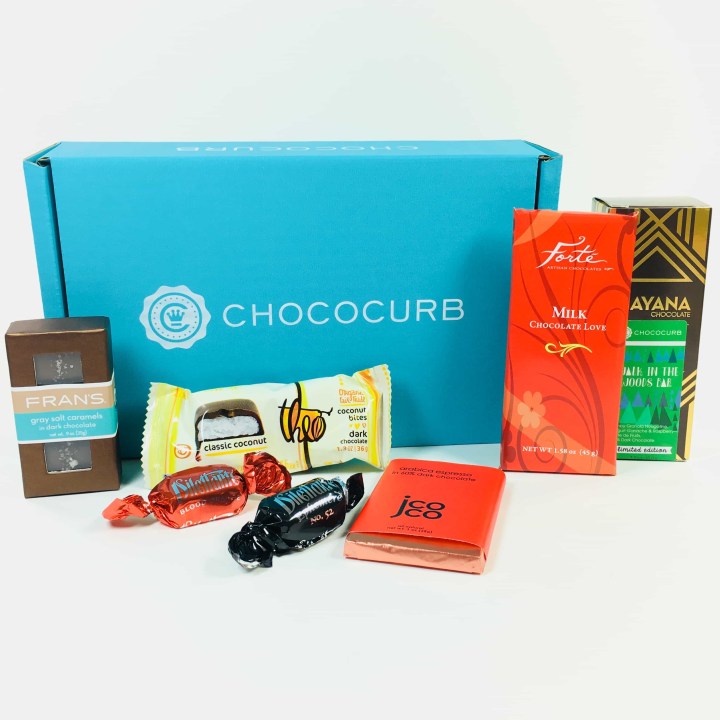 October 2017 Chococurb!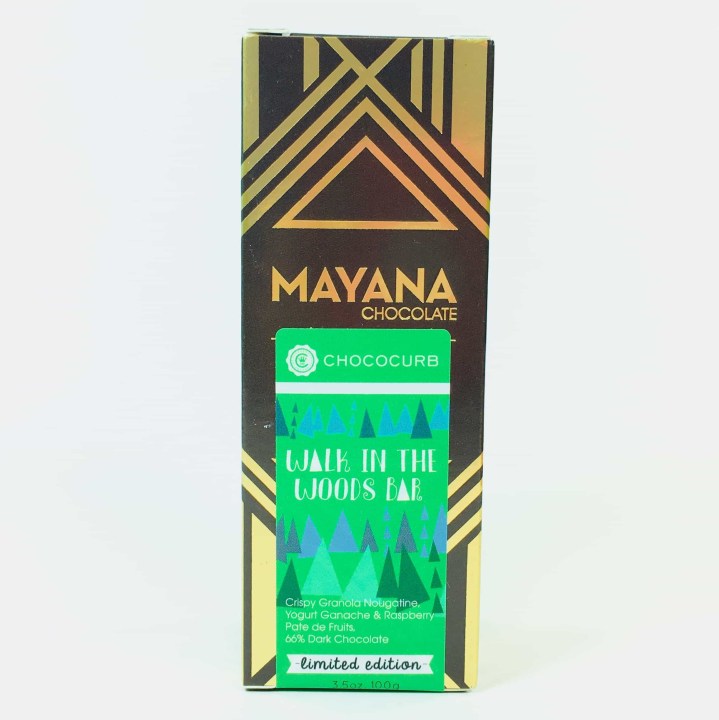 Chococurb X Mayana Walk in the Woods Bar "Crispy granola nougatine, yogurt ganache and raspberry pate de fruits, 66% dark chocolate."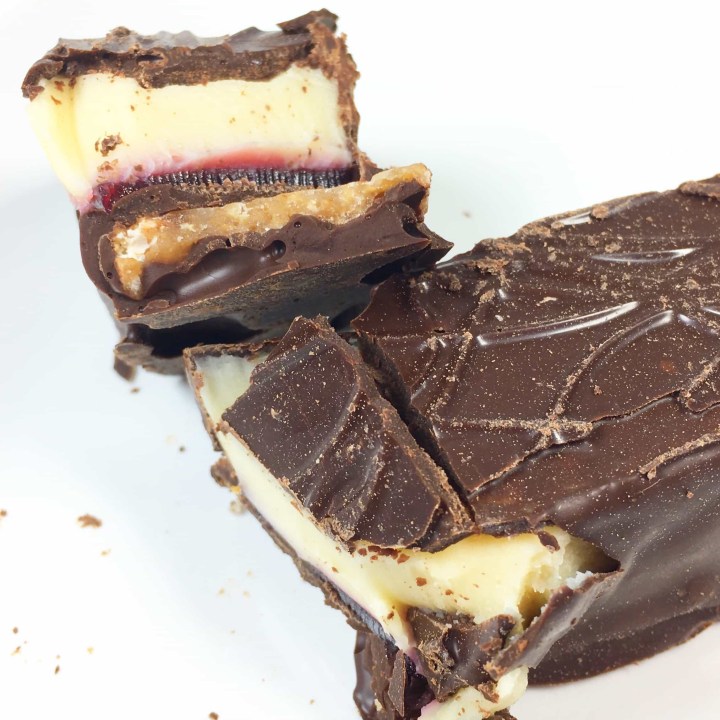 Holy moly, this bar is something else! The top features a yogurt ganache, which is basically creamy white chocolate. Next is raspberry pate de fruit, sort of like a gummy raspberry candy that is soft. A thick layer of chocolate sits in between and then the bottom layer is similar to toffee, but with oats. The whole shebang is covered with more chocolate. Good gravy, this huge bar can serve several people since only a small piece is needed to send one into a sugar induced state of euphoria.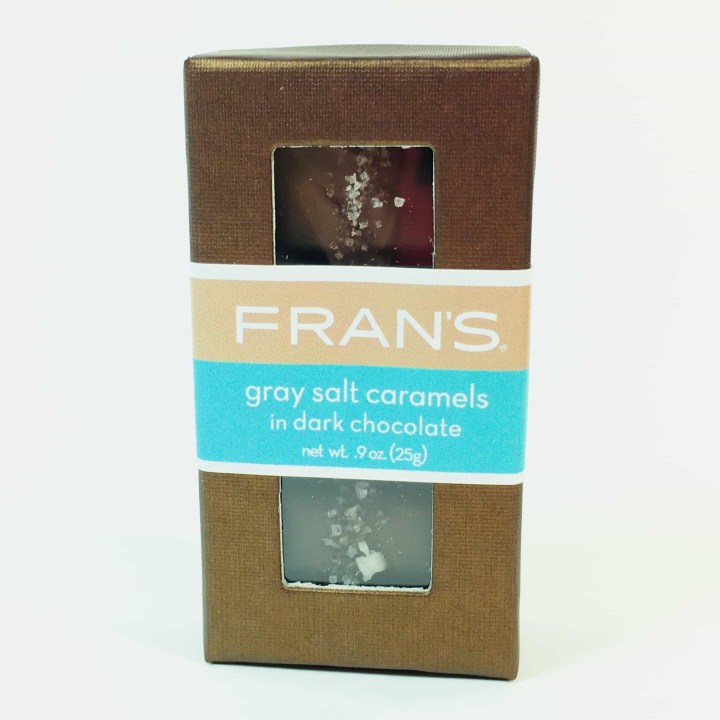 Fran's Gray Salt Caramels in Dark Chocolate "Fran's Gray Salt Caramels combines rich, dark chocolate with soft, buttery caramel, creating a treat that's smooth and delightful. The gray salt finish makes it even better."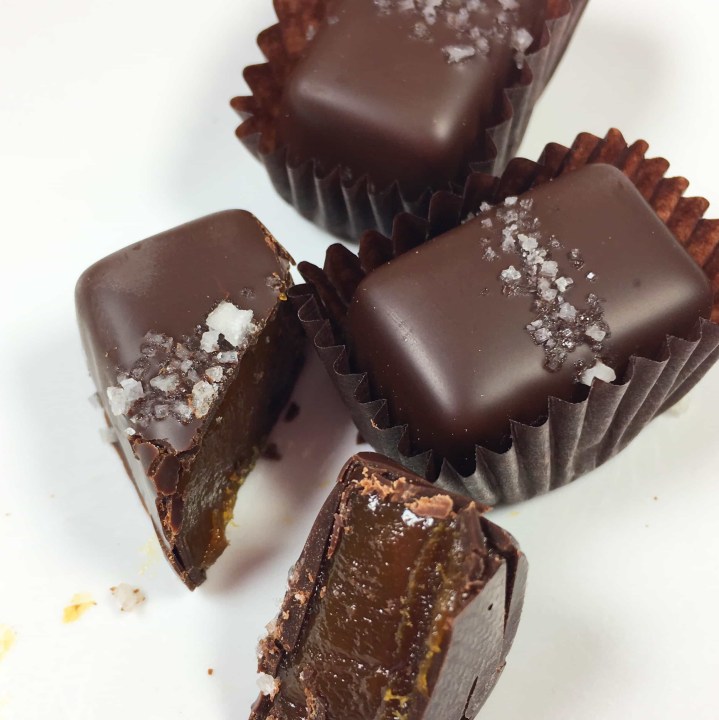 I'm not sure who first thought to cover caramel with chocolate and then top it off with exceptional sea salt, but thank you.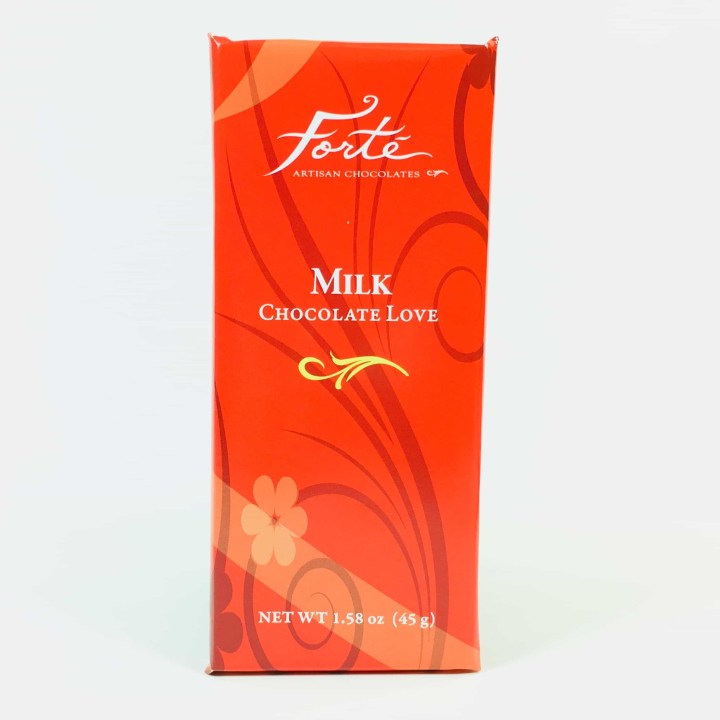 Forte Milk Love Bar "If you like smooth, silky, milk chocolate, you might wanna get this. Forte adds extra cocoa butter, quite possibly making this the smoothest (milk chocolate) you'll ever have."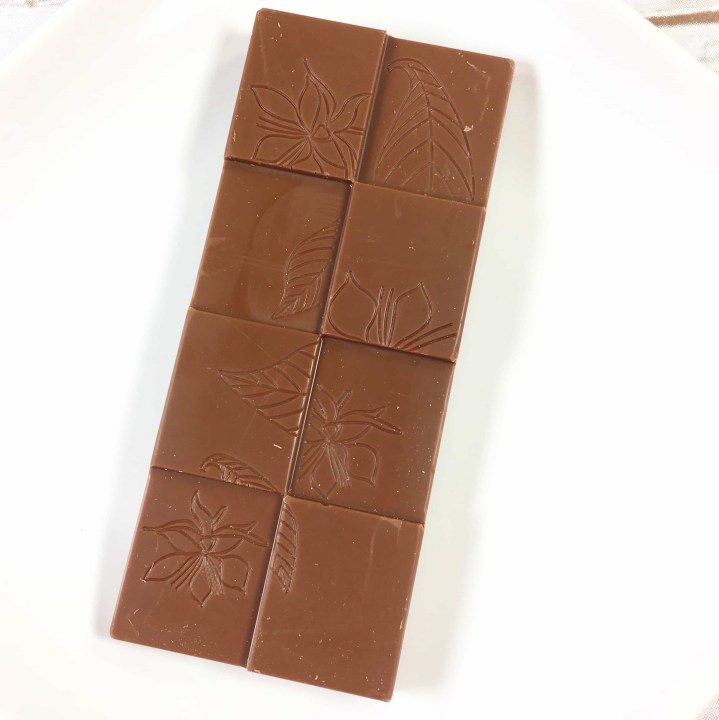 This is a simple bar of super smooth milk chocolate. Sweet and pleasant, it would make a killer s'mores.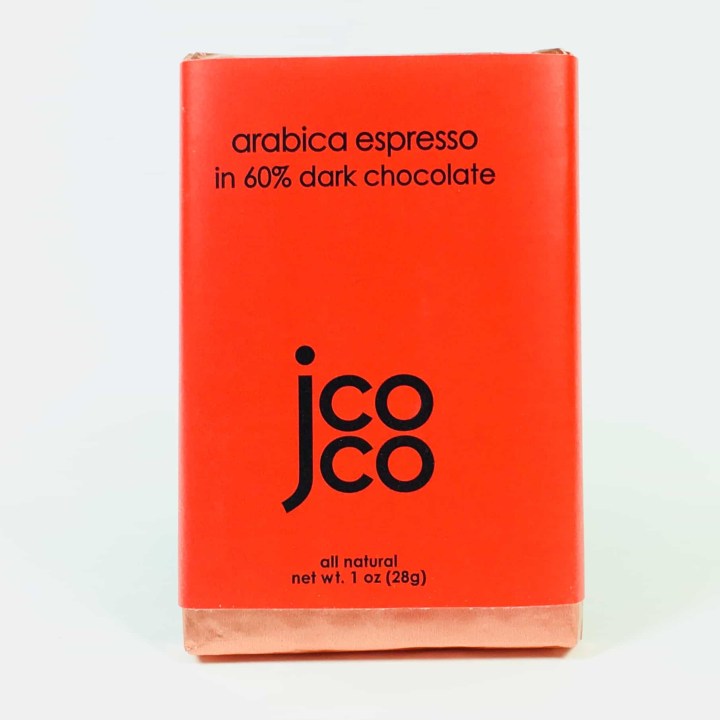 jcoco Arabica Cherry Espresso Bar "You love coffee, so why not have it with some rich, smooth dark chocolate? Especially when it's infused with CoffeeFlour®, a nutritious antioxidant with protein, potassium, and iron. Coffee, chocolate, and eating healthy tastes so good."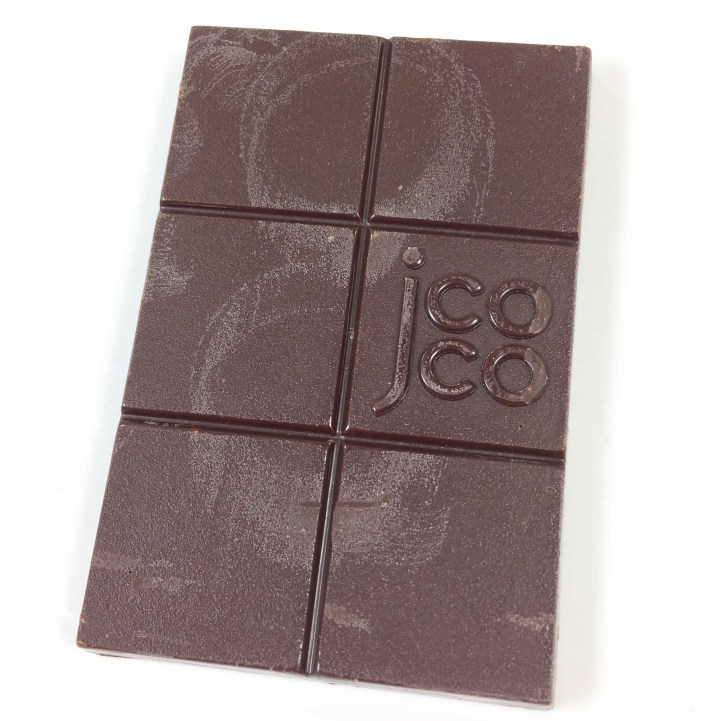 I am so happy to know that eating this bar of chocolate is healthy (wink wink)! There is a gritty texture from the ground up coffee cherries that makes this taste like ground up roasted coffee beans mixed with chocolate. The grittiness wasn't unpleasant and the flavor was smooth and rich.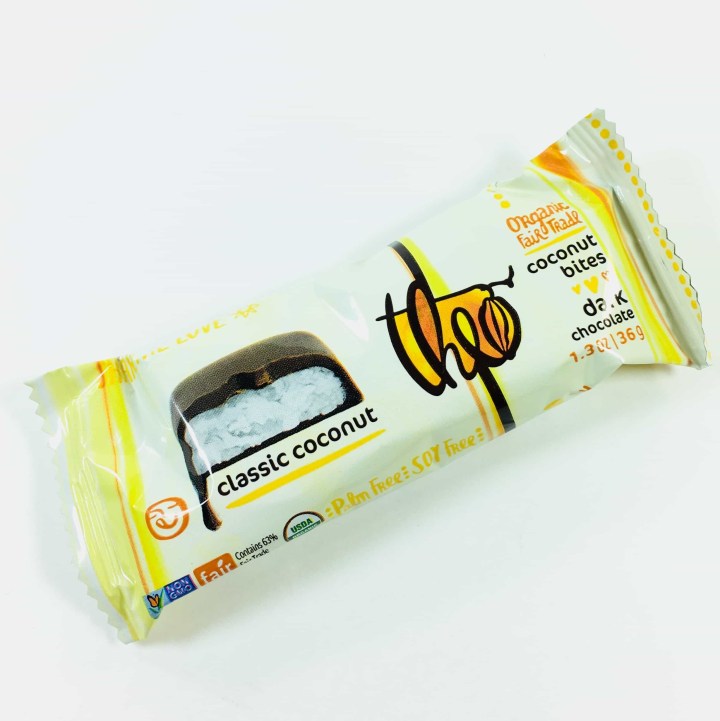 Theo Coconut Bites Dark Chocolate "Eating these rich, indulgent, and chewy dark chocolate coconut bites is like being on a tropical island and lying in a hammock. Why haven't you unwrapped them already?"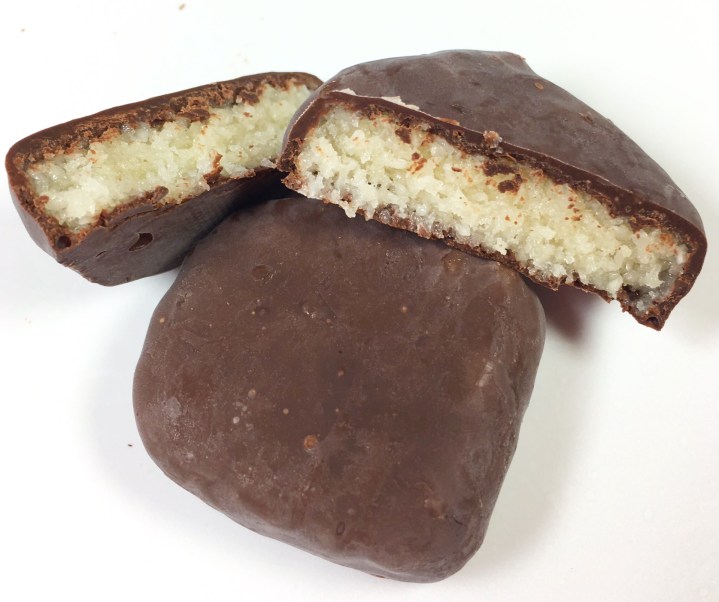 This is very similar to a Mounds Bar, dark chocolate and a sweet coconut filling. The filling isn't as sticky or sweet as the other brand, just a bit dry.
I received two chocolates from Dilettante – Ephemere No. 52 is chocolate ganache truffle covered in dark chocolate, while Blood Orange is milk chocolate ganache flavored with blood orange that is then covered in dark chocolate.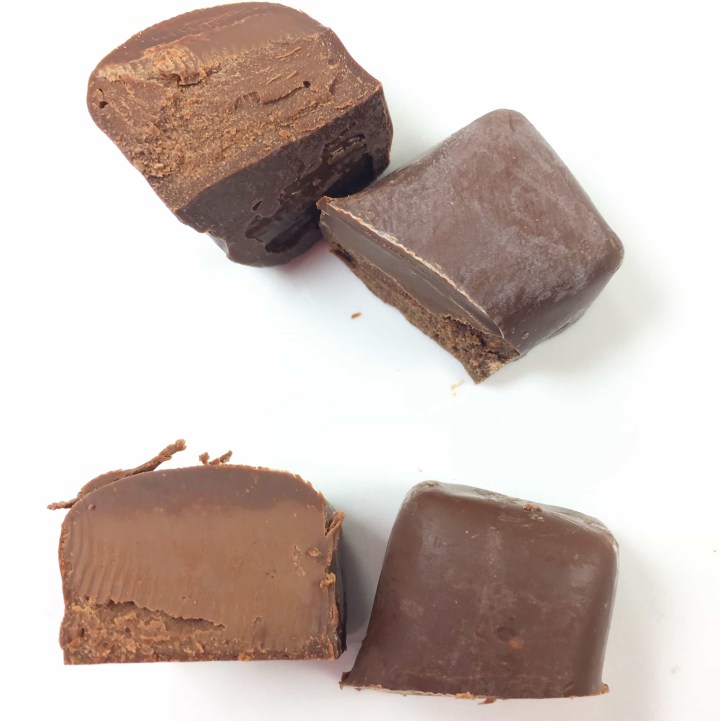 Ephemere is on top, Blood Orange is on the bottom. They were both creamy and rich, and I have the feeling the Ephemere was stored next to something mint flavored because that is the flavor I picked up.
Chococurb is so good and full of uncommonly wonderful chocolates. I truly love getting this box since these bars are extraordinary and maybe not something I would pick out for myself – like a special present each month from me to me! I love chocolate and these bars are so satisfying that just a bit is needed to fulfill your cravings/sweet tooth/PMS needs. Check out the Chococurb website for some more excellent choices for all of your chocolate needs!
I have found my favorite monthly subscription box! Do you feel the same way too? Let me know in the comments!