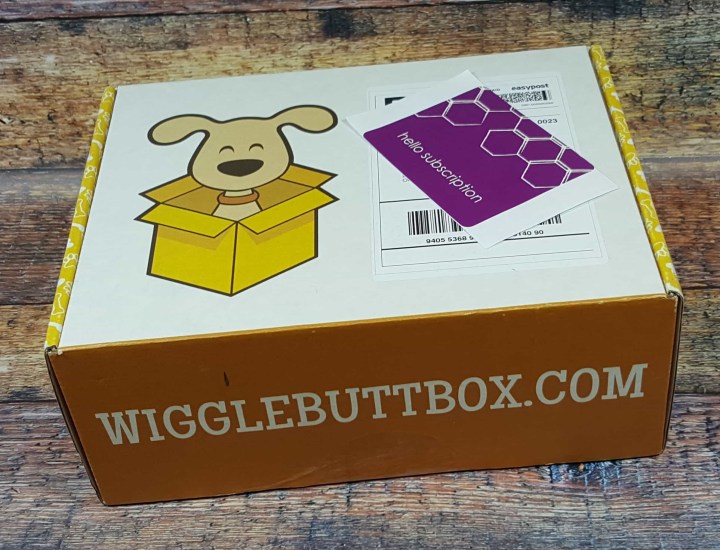 Wigglebutt Box is a subscription box of "yummy and fun surprises for you and your dog that are delivered right to your door every month." Each box contains a seasonal kerchief, a roll of poop bags, and a combination of 3-5 toys/treats/accessories. Boxes are tailored to your pet's size and toy treatment. Pet parents are not forgotten either; there's a gift included for you too! Plans start at $35/month, but you can increase your savings by choosing a longer subscription option (3-month, 6-month, and annual plans available). Plus, a portion of the proceeds from every box sold will go towards an animal charity.
I got the small dog/average play Wigglebutt box for my fur babies, Lily and Lexi.
Looks like May has an outdoor play theme.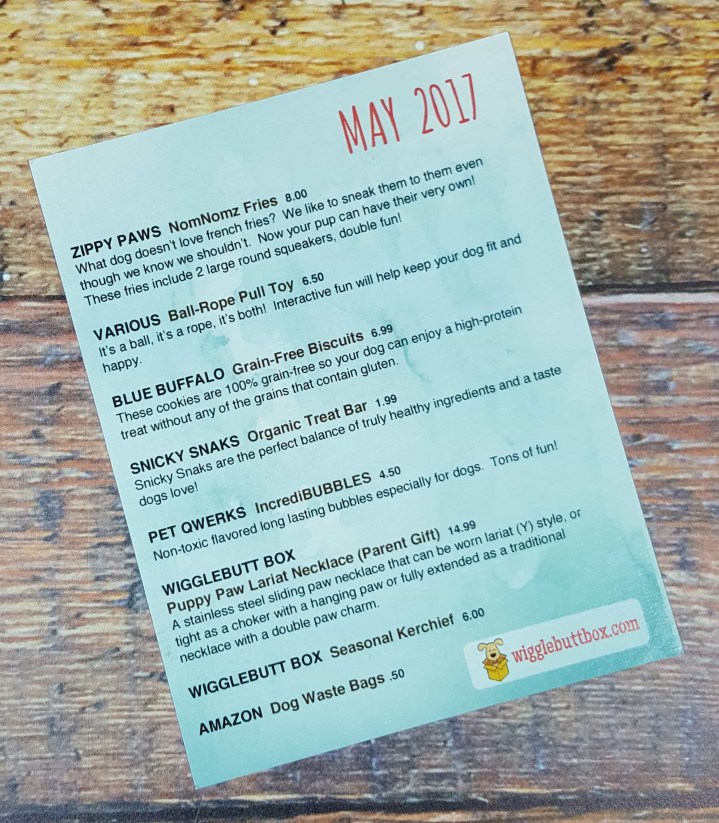 The information card has a list of box contents along with a brief description. Wigglebutt Box is now including pricing for box items. Unless noted otherwise, these are also the prices used below.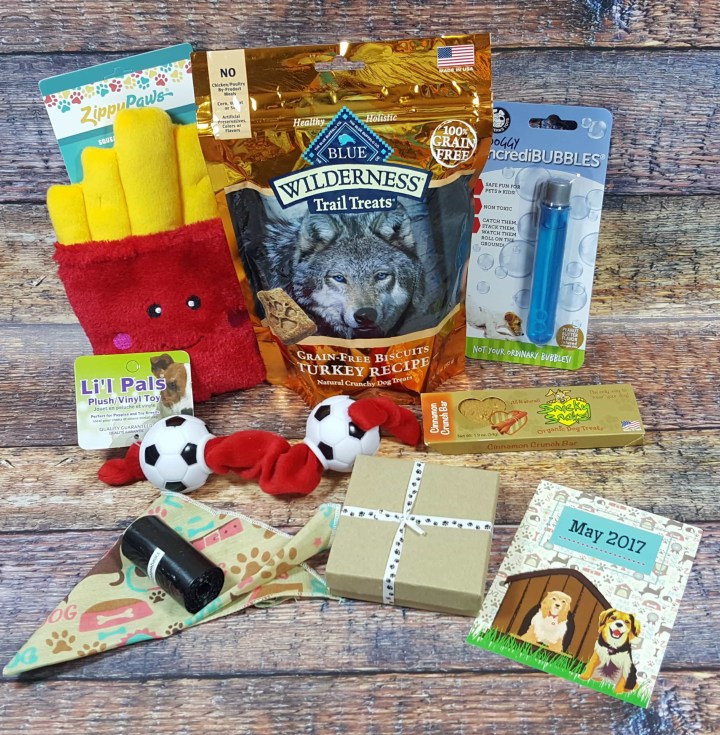 Our May Wigglebutt Box. The fries are too cute.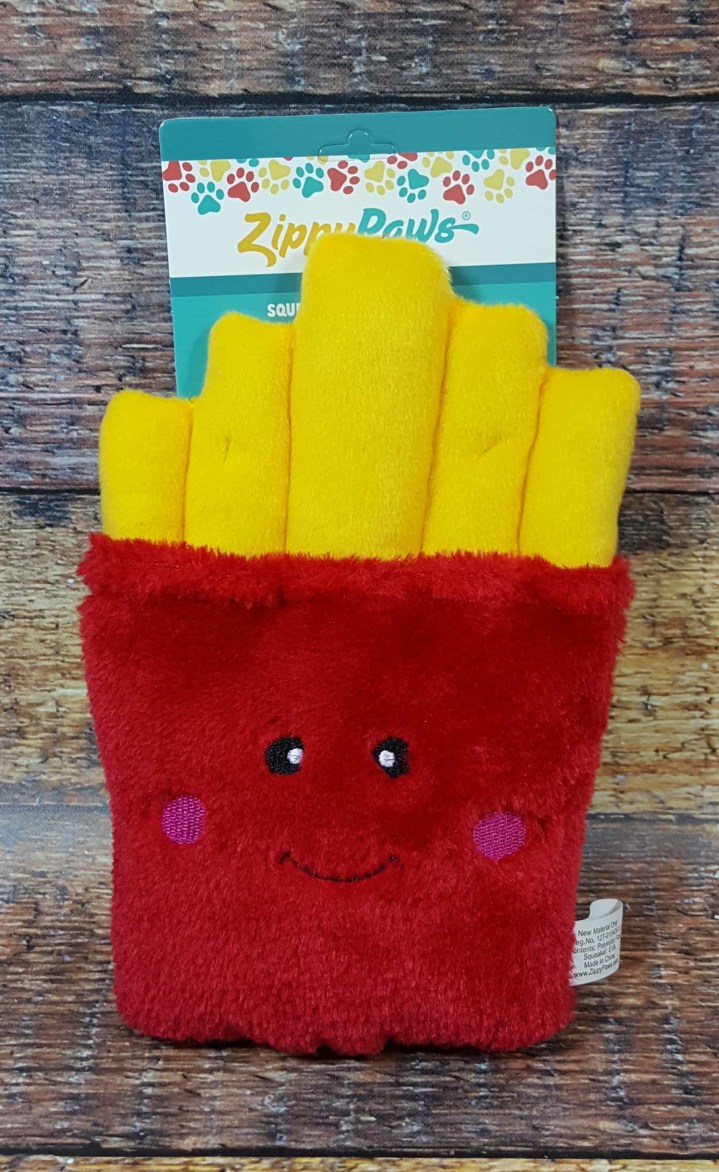 Zippy Paws | Nom Nomz Fries ($8.00): So, last month the girls got a taco. This month we're adding to the food toys with these adorable fries. This plush toy features two squeakers and is sized for small and medium dogs. I wonder if the girls will like this as much as they do real fries. LOL! (Note – This is listed at $6.99 on the Zippy Paws site.)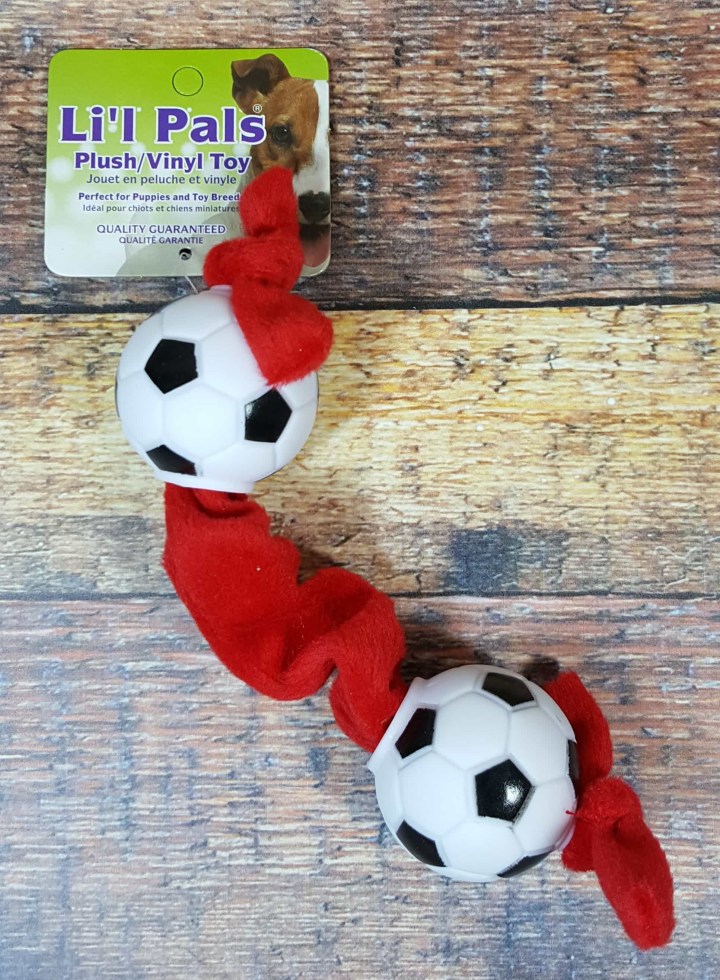 Lil' Pals | Soccer Ball Tug Toy ($6.50): Lexi loves balls while Lily loves rope/tug toys. That means this is the best of both worlds because they can play together and leave mommy with some free time. The toy has a plush rope and rubber balls on the ends. If the rope had been purple, it would have been perfect (Go, City!).
Blue Buffalo | Wilderness Trail Treats – Turkey Recipe ($6.99):  These crunchy cookie treats feature real turkey and are grain free. The texture also helps with dental hygiene. These were hit-and-miss in my house. Lily ate them, but it was a delayed response… like, she stored it in her bed for a day before eating it. Lexi played catch with hers (yes, she throws it and chases/catches it by herself). I'll keep trying because there has to be a cookie/biscuit that they will both like.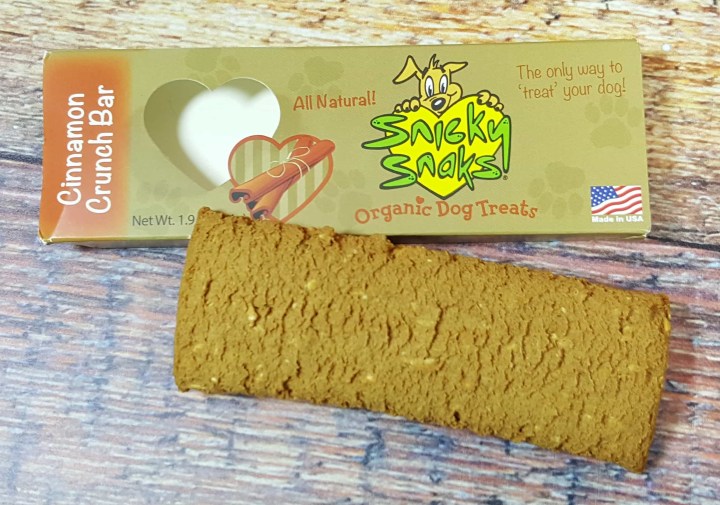 Snicky Snaks | Cinnamon Crunch Bar ($1.99): These bars are baked using organic ingredients and are gluten free (made from oat flour). They smell amazing too! It's like a giant oatmeal cookie for your pet. One bar is just over 200 calories. For my girls, this was broken into smaller pieces. I think the cinnamon made these more appealing to Lily and Lexi. They were able to finish this bar over a few days. Success!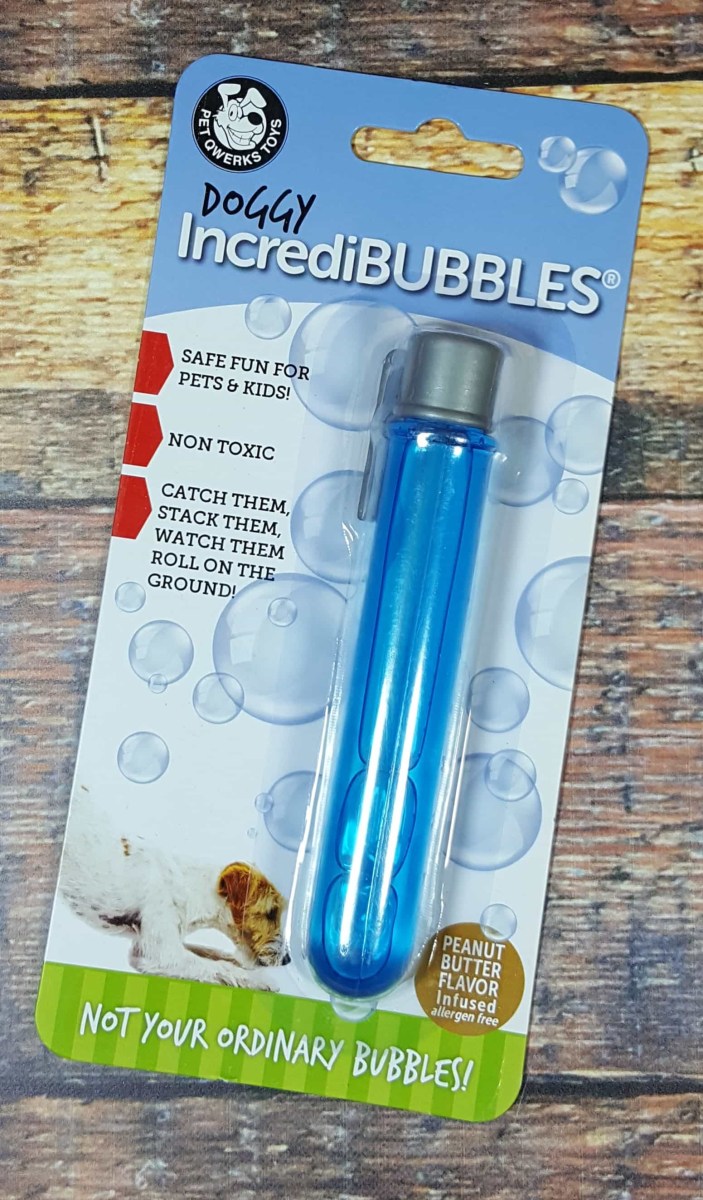 Pet Qwerks | Doggy Incredibubbles ($4.50):  The girls have gotten these before in another subscription. They seem to be more confused than entertained with them. These bubble are infused with peanut butter flavor and safe for pets and children. They are very strong, and do not pop on landing. The last time we got these, I found intact bubbles days later. My advice is to use these outdoors.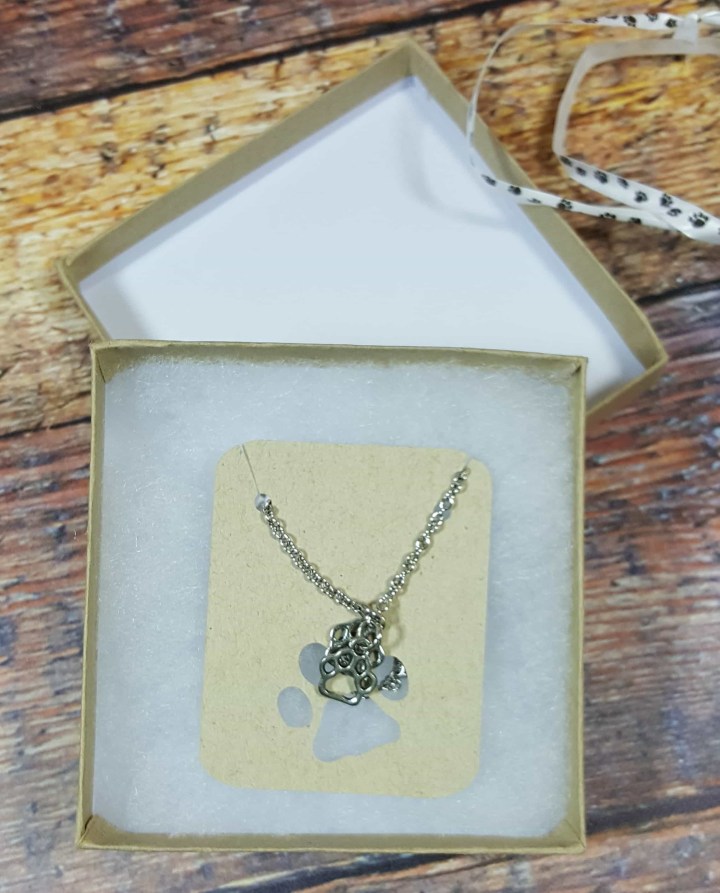 **Parent Gift ** Puppy Paw Lariat Necklace ($14.99): This stainless steel necklace features two delicate paw charms on the ends. It can be worn as a lariat (Y style), tightened into a choker with a hanging paw, or fully extended as a regular necklace with charms.
(Left) Fully Extended and (Right) Lariat style.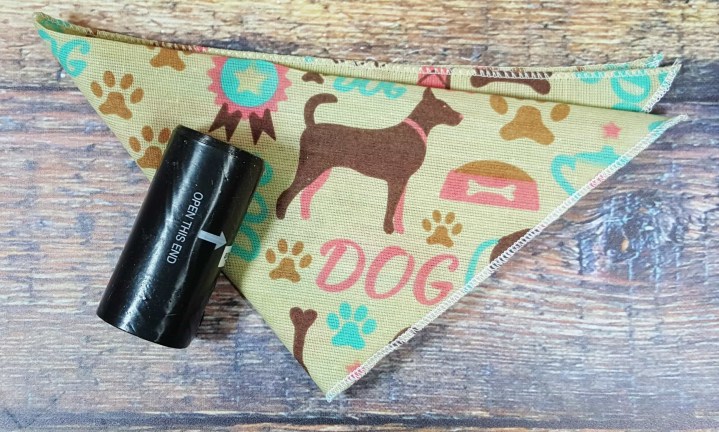 Seasonal Kerchief | Wigglebutt Box ($6.00): I love the pastels on this scarf. Plus, if I ever forget what my pet is, it reminds me that she's a dog. ? 
Dog Waste Bags | Amazon ($0.50): These come in every box and are always welcome in my house.
Is she yawning or excited by the Snicky Snak???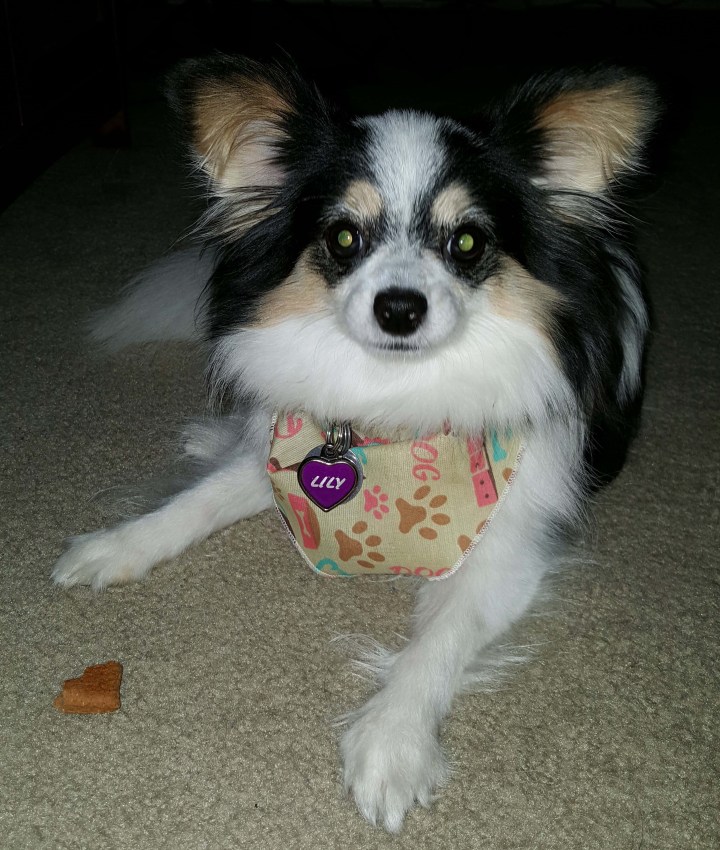 And modeling her new scarf. Glad that one of my dogs likes to be dressed.
May's Wigglebutt Box had a value just over $49. The girls liked their new toys and were OK with the snacks. They always enjoy the unboxing and are excited when the mailman drops this at the door. Can't wait to see what they'll get in our next box.
What did you think of May's Wigglebutt Box? Leave a comment below and let me know.