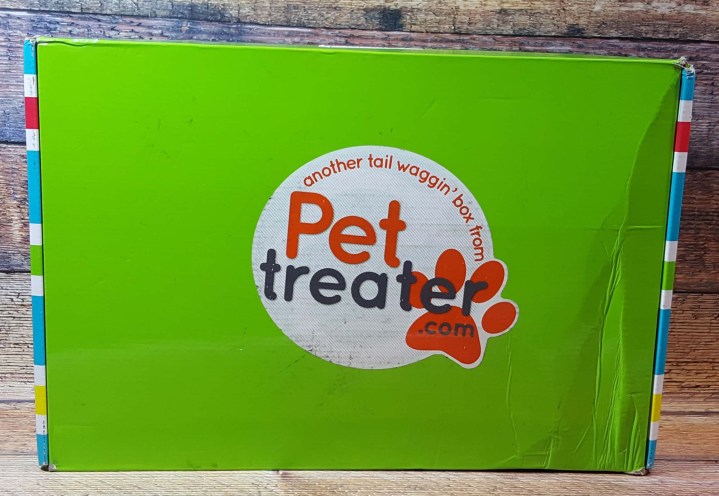 Pet Treater is a monthly dog treat, toy, and accessory box. Each box shipped results in a bag of treats, toy or accessory donated to a shelter in need. Choose from 3 size options (based on weight) to find the right fit for your furry friend – Small (0-20 pounds), Medium (21-50 pounds), and Large (51 + pounds). This is a review of the small dog box.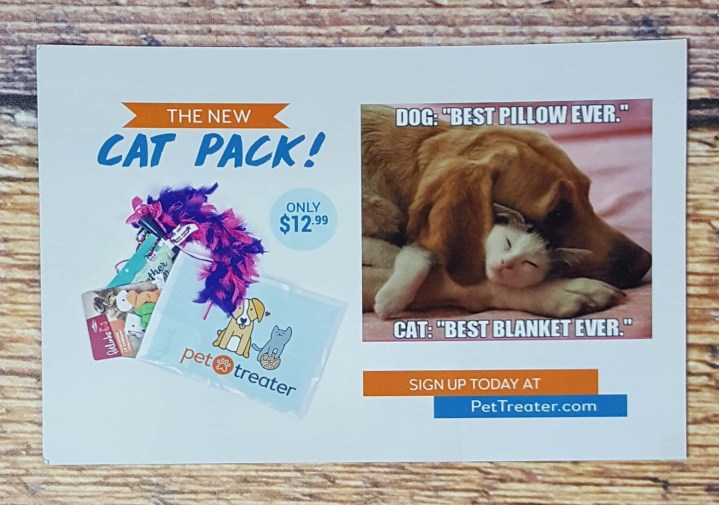 Introducting the new Cat Pack from Pet Treater! The cost is $12.99, and for a limited time you can get your first month for $9.99 with code LOVEMYCAT!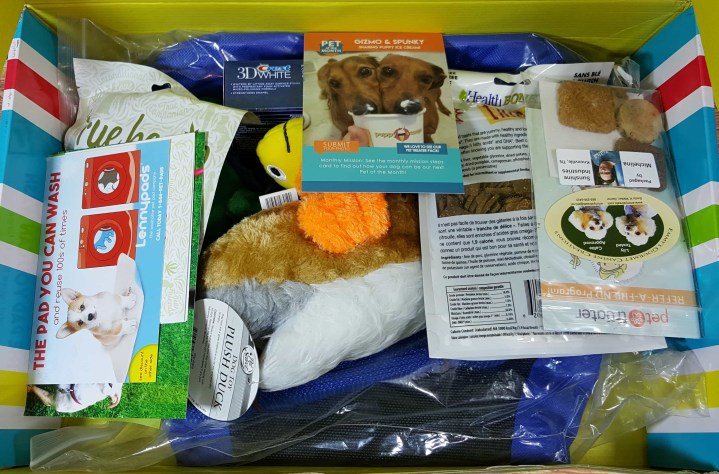 DEAL: For a limited time new Pet Treater subscribers can use code OUTBAR at checkout to receive three FREE OUT Bars with any subscription plan, including 1 time boxes OR use LOVE-PT5 to take $5.00 off your first box.
Codes cannot be combined, and are only valid on your first box.
FYI: FIRST TIME subscribers will receive a first time box, which is full of past favorites and will NOT be a themed box.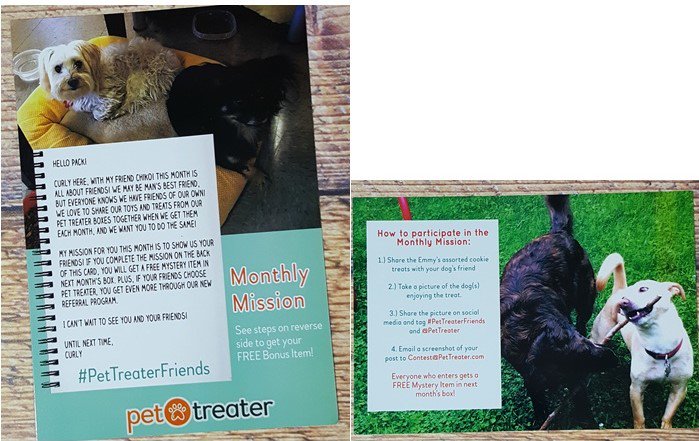 This month, Curly has asked Pet Treater receivers (a.k.a. your fur babies) to show pictures of them with their friends. Use the tags #PetTreaterFriends and @PetTreater when posting pictures of your pet and they could be featured as the next postcard Dog of the Month! Email a screenshot of your post to [email protected] and receive a FREE mystery item in next month's box.
The June Pet Treater box. Toothpaste for mommy. Is it wrong that I'm excited to get my gift!?!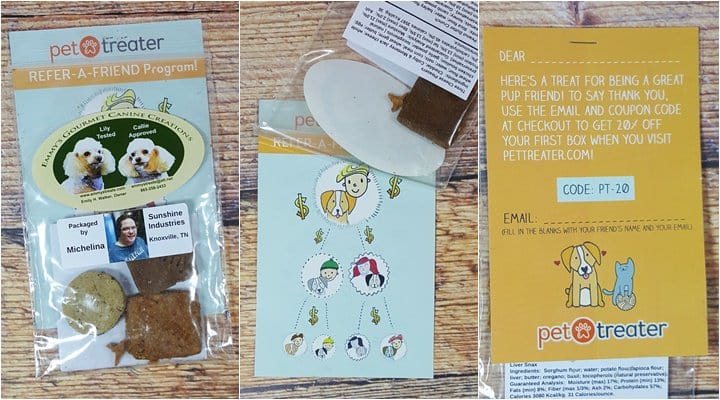 Emmy's Gourmet Canine Creations | 1-in. Training Treats 3-pk Asst. ($0.46): Pet Treater is helping you to refer a friend to join the service by including some treats as an invitation gift. The bag contains one treat in each of these flavors: 3 Cheese Pleasers, Carob Peanut Butter Crunch, and Liver Snax. These treats are frequently included in Pet Treater boxes, but they're not a fave of my girls. So they are being gifted to a friend.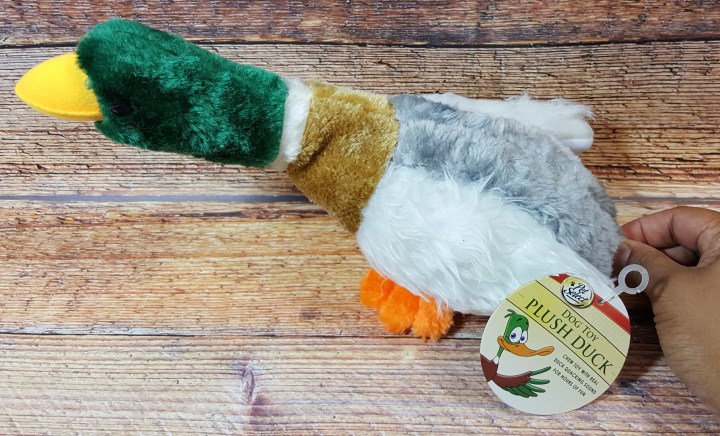 Pet Select | Plush Duck Dog Toy ($7.50): This duck is 13″ long and features a realistic quacking sound as its squeaker. I had to laugh at the girl's reaction to the squeaker – there were some confused looks. Once they understood that the toy was not harmful, they were completely ready for play time.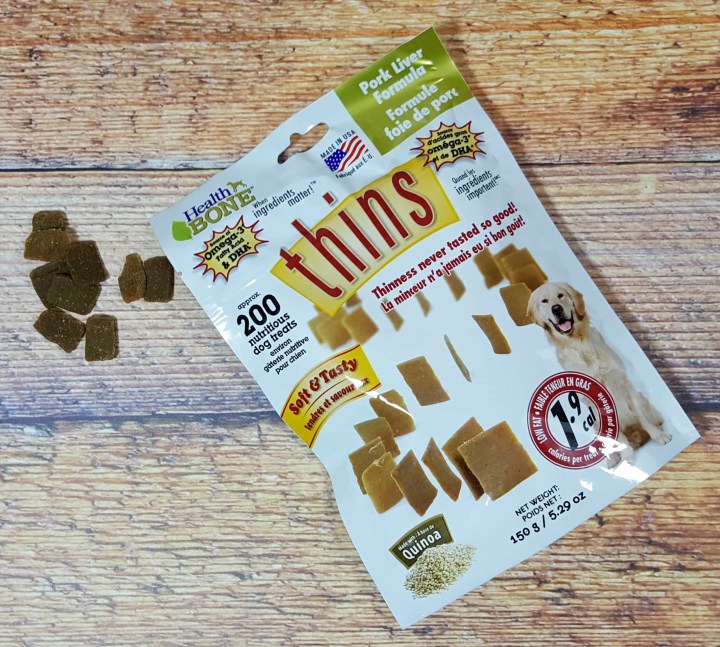 Omega Paw | Health Bone Thins – Pork Liver ($3.52): These treats provide a boost of omega-3 fatty acids and DHA to give your pups healthy skin and coats. If you have an overweight dog like I do, don't fret. These treats are only 1.9 calories each.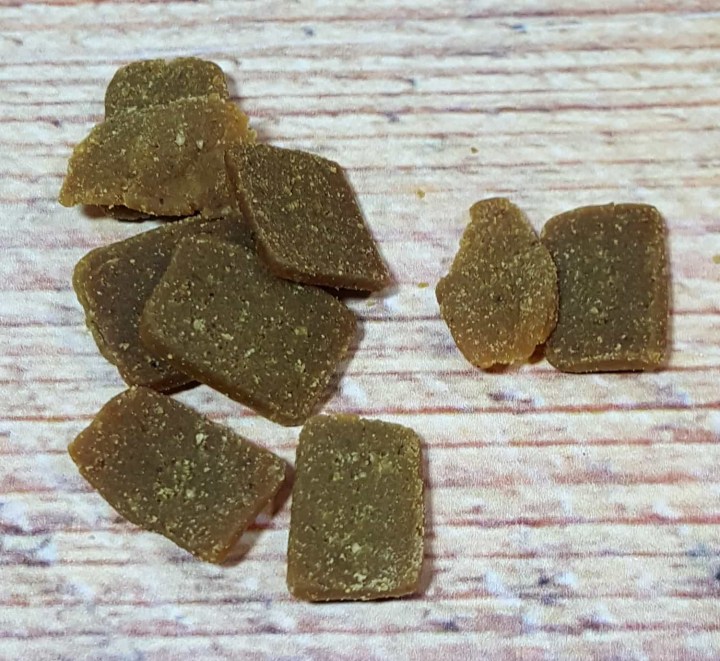 There's not much to each treat, so you can give your dog a few at a time. My girls loved these and gobbled them down quickly.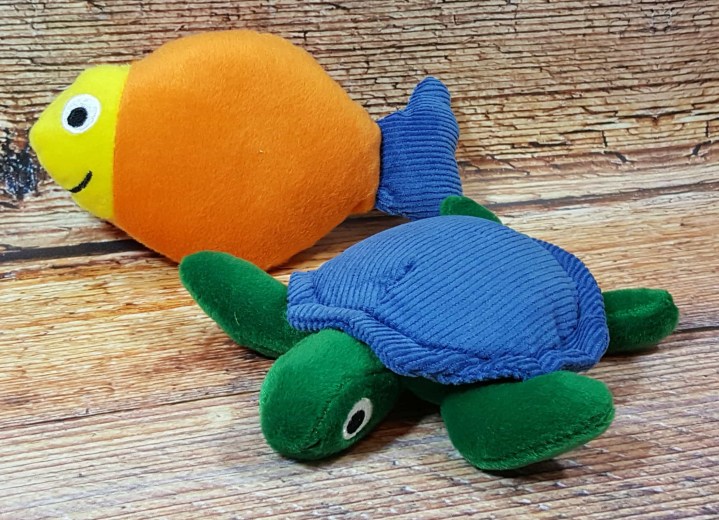 Miscellaneous Toys – Fish and Turtle (???): These 2 toys did not have any identifiers on them, so I couldn't get a comparison price. Regardless, they are cute and a size that my girls prefer with their toys. Each was about 4″ long. The mix of plush and corduroy gives your pup different textures to feel while playing, and each comes with one squeaker.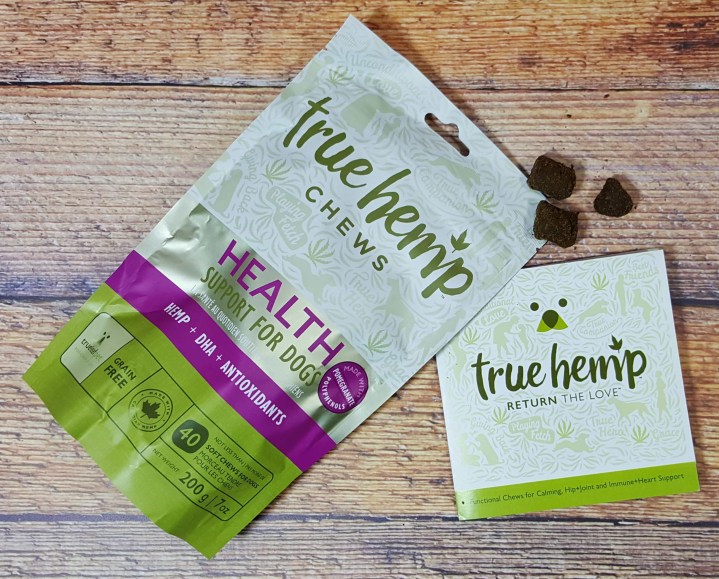 True Hemp Chews | Health Support for Dogs ($12.49): Let me start by saying that no, you are not getting your pooch high with these treats. This is a soft chew treat that contains Omega 3 and Omega 6 fatty acids. They also contain Punicic Acid, an antioxidant found in pomegranates. I've mentioned before that my girls are not fans of fish, and these treats include wild salmon and anchovy oil in their ingredients. Lexi ate one, but Lily only licked hers.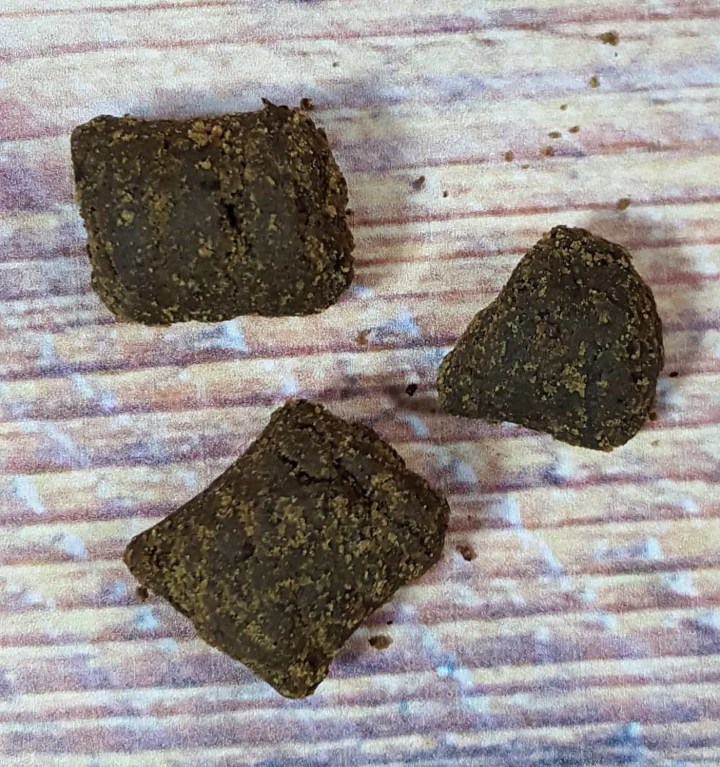 Here's a better look at each treat. For my girls' size, the recommended serving is one treat per day. By the way, these are very soft and crumbly. I tried to break on in half and it fell apart – there's a picture later that shows the results.
Pet 'n Place | Pet Restraining System ($17.96): Pet 'n Place is a portable pet management system. This indoor/outdoor restraint system consists of a durable polypropylene tote bag which you can fill with any convenient weighted device, like weights, sand, or even books. It also comes with a 6′ leash that attaches to the bag and your pooch's collar. The device allows you to keep your pet near you, as it restricts their movement to a defined radius. The restriction helps teach your pet good manners and conduct.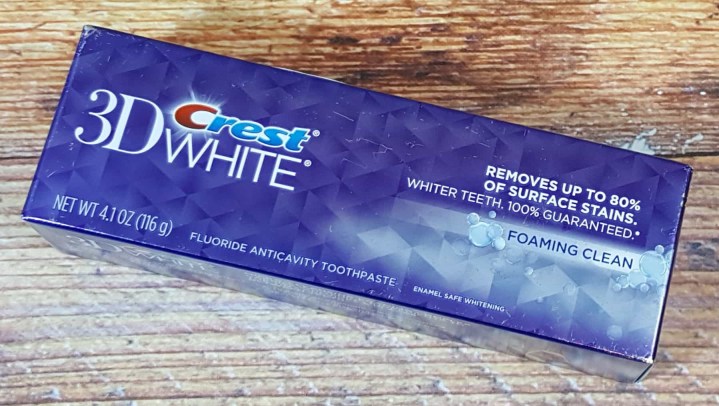 **Pet Treater Human Gift** Crest | 3D White Toothpaste – Foaming Clean ($5.15): I actually use the 3D White line of dental care, so this was a welcome gift. The foaming clean formula is new to me. The micropolishers and foam work to remove up to 80% of surface stains on tooth enamel. Note – do not use for longer than 4 weeks.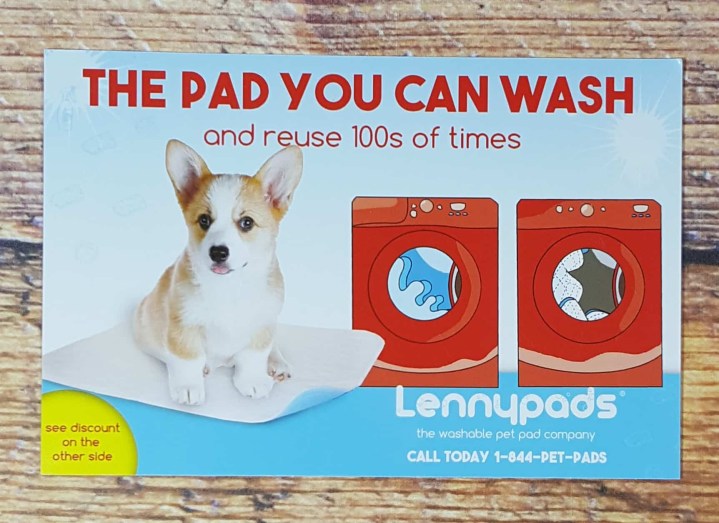 There was also a discount coupon for Lennypads. These are washable, reusable training pads. One Lennypad is said to replace a minimum of 300 disposable pads. I like the idea, but think that I'd go crazy with the extra wash loads.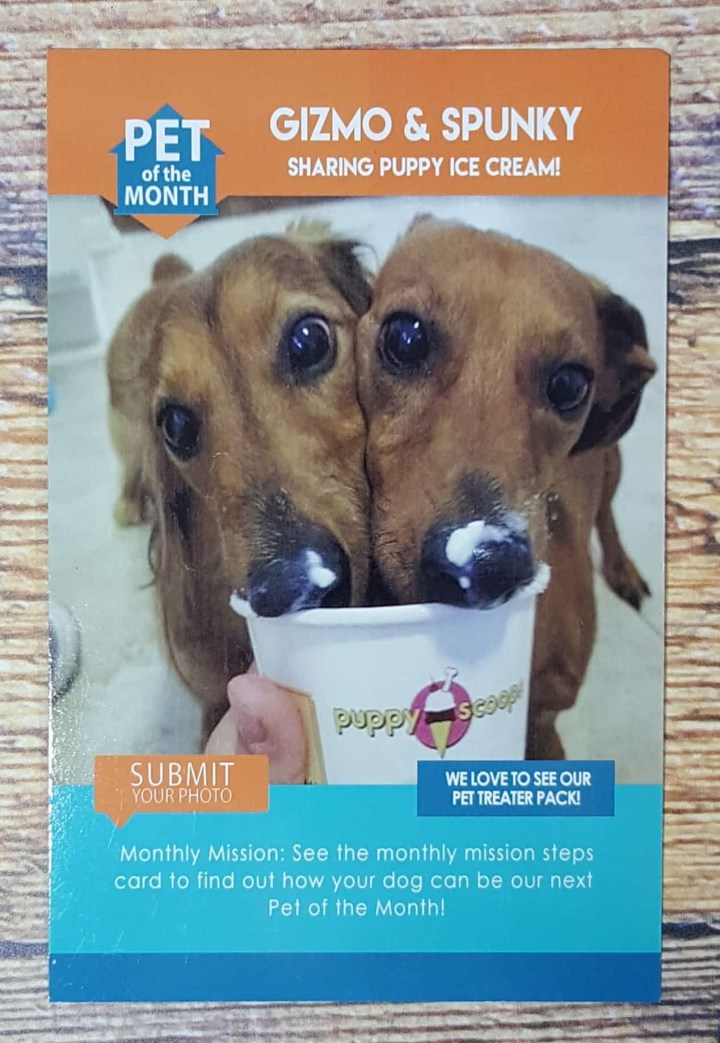 There was also information on how to submit your fur baby for consideration as Pet of the Month. Don't forget to complete this month's mission for a chance to be selected.
The June Pet Treater box is valued around $50. The girls loved their new toys, but the treats had mixed reactions. Thankfully, we can share the treats with less picky friends. Here are some pictures to tide you over until next month's unboxing.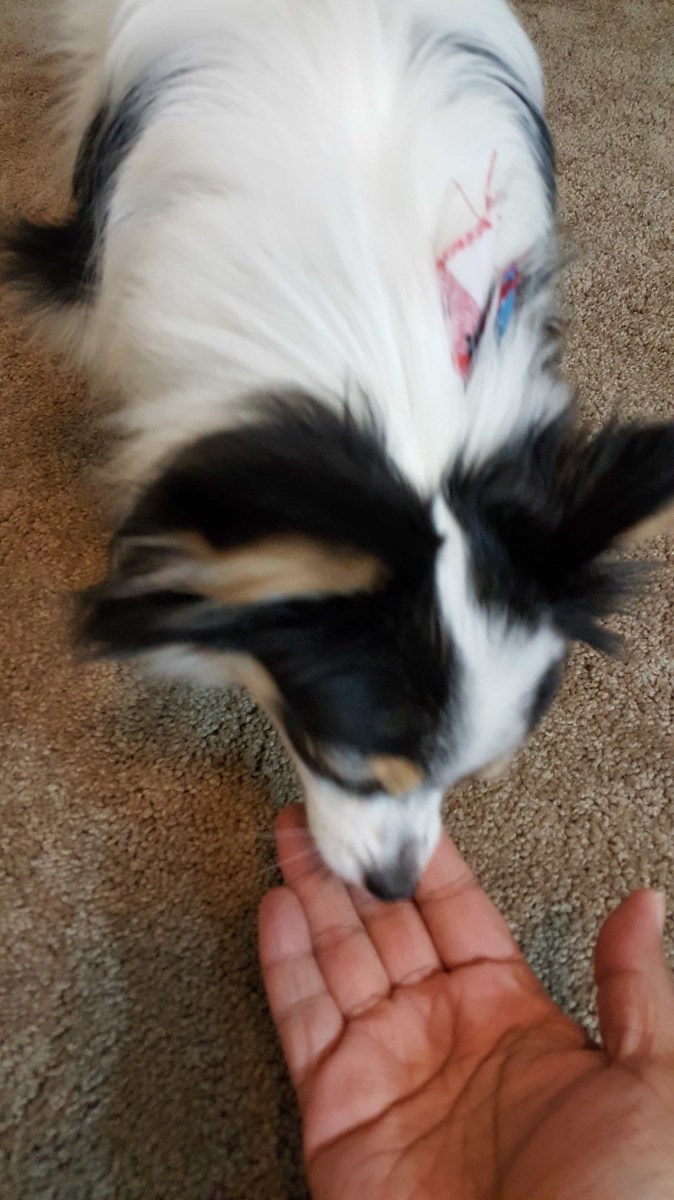 Lily wolfed down the Healthy Bone Thins before I could snap a photo.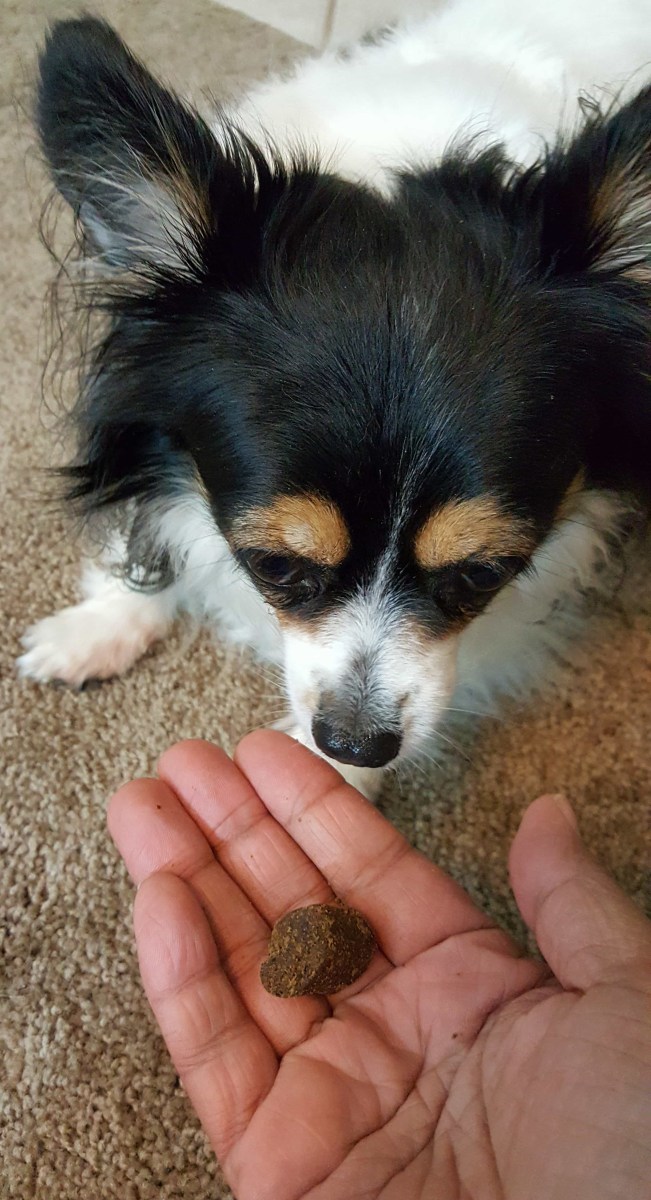 I love the intense look in Lexi's eyes as she eyeballs the True Hemp treat.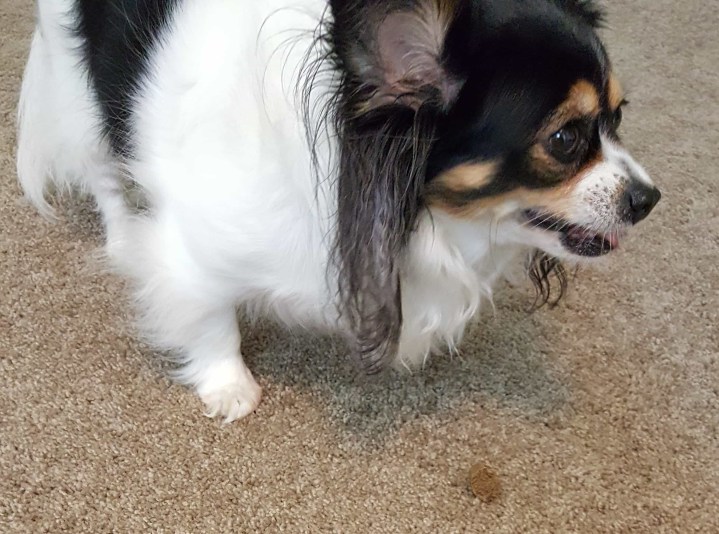 Caught her mid snacking. Half of the treat is on the floor and the other half is safely in her mouth. LOL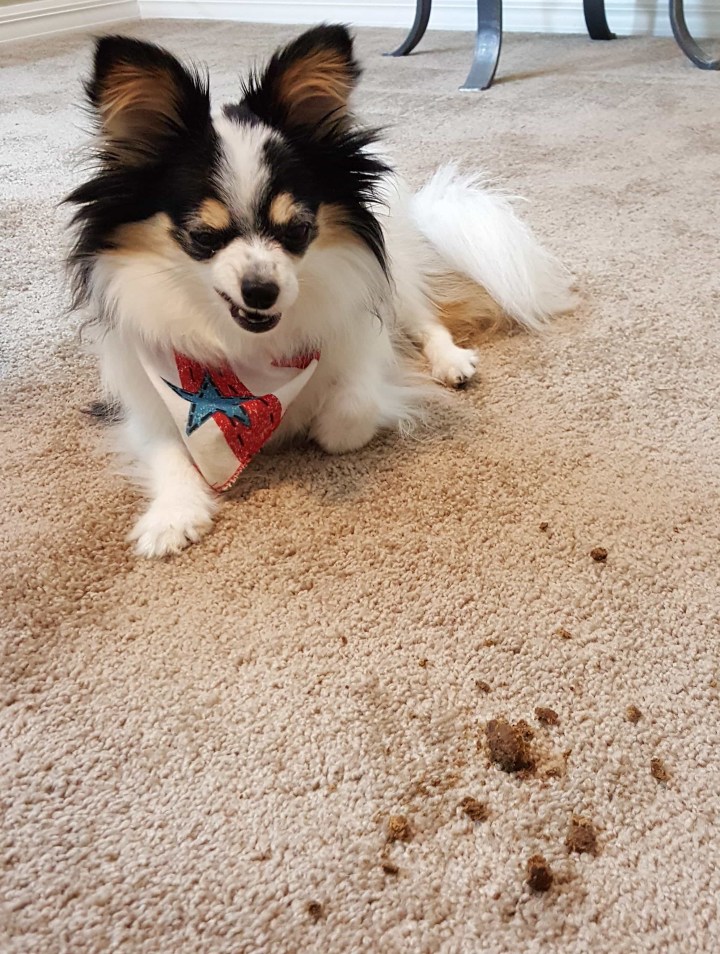 This is the result when I tried to break the hemp treat in half. Even Lily is trying to figure out what happened.
Have you tried Pet Treater yet? Share your thoughts with a comment below.