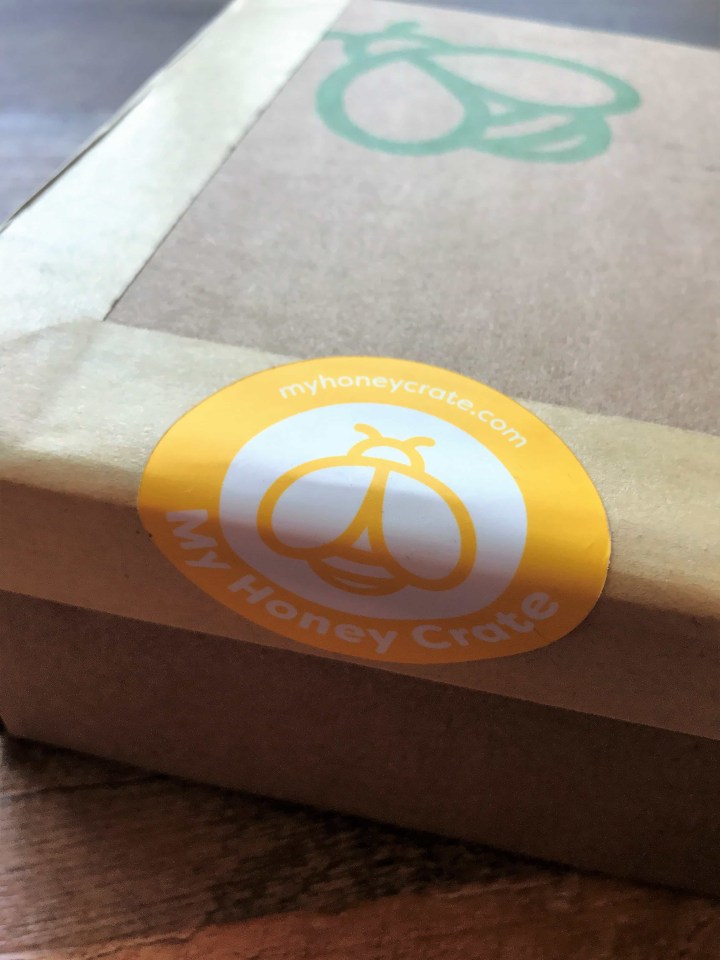 My Honey Crate Subscription Box features small batch raw honey from apiaries and beekeepers around the world.  Along with honey the box includes beeswax goods, handmade candies, soaps & beauty products, and bee themed home goods.
Each box is $29.95 plus shipping with a discount if you prepay for three or six months.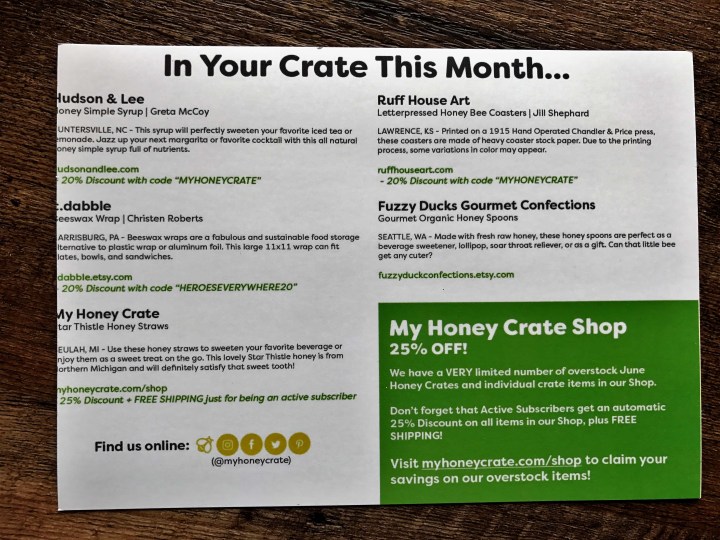 This product information card told us a little about each product. There is also overstock items and past boxes for sale on their site.
The back of the product information card had recipes that incorporated honey.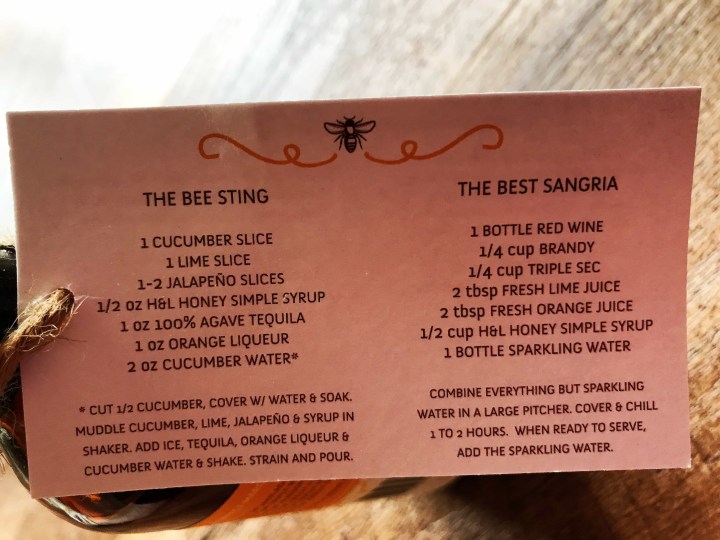 Hudson & Lee Honey Simple Syrup from Greta McCoy $12.99 – "Huntersville, NC – This syrup will perfectly sweeten your favorite iced tea or lemonade. Jazz up your next margarita or favorite cocktail with this all natural honey simple syrup full of nutrients."
So, I was thinking it was just a thinned honey syrup until I tasted it. They have combined honey, lemon juice and apple cider vinegar in just the right proportions to create this fabulous syrup. I don't drink alcohol, but it is great in hot tea!!! It gives the tea so much more flavor (I have always been of the opinion that most hot tea doesn't have enough flavor!). And, with those ingredients I think it would also make a very effective cough syrup.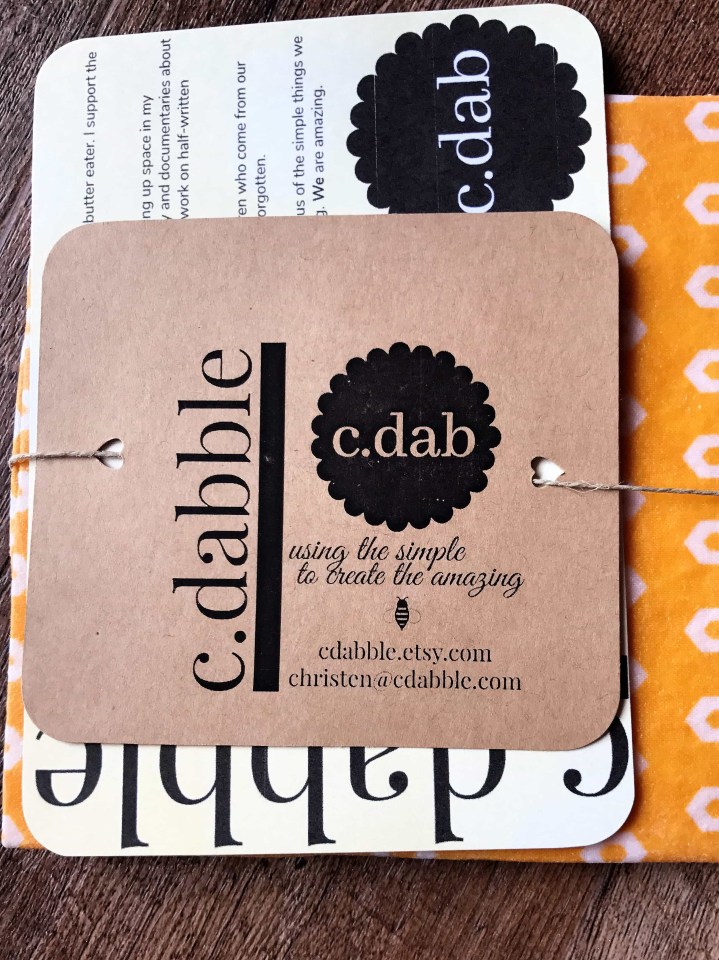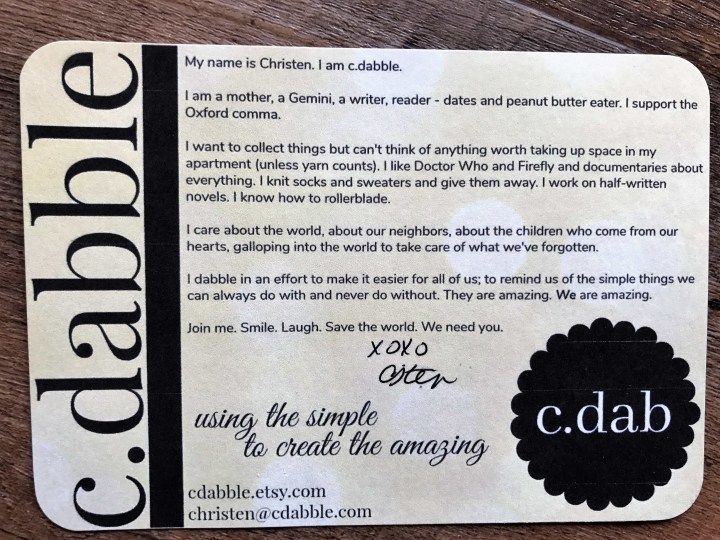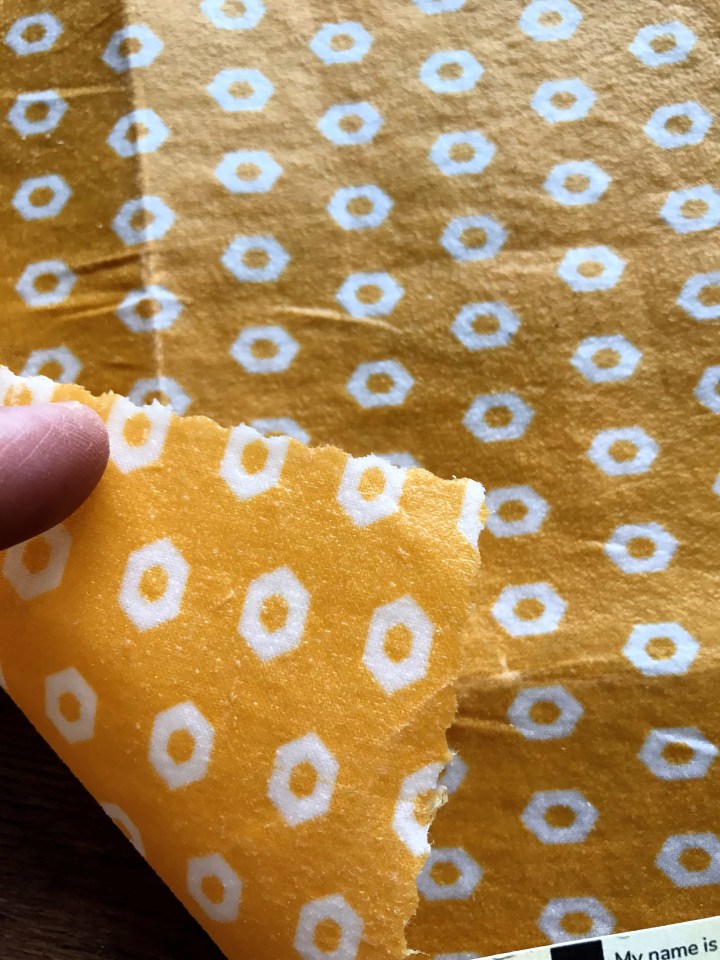 c.dabble Beeswax Wrap from Christen Roberts $5 – "Harrisburg, PA – Beeswax wraps are a fabulous and sustainable food storage alternative to plastic wrap or aluminum foil. This large 11 x 11 wrap can fit plate, bowls, and sandwiches."
Let me tell you what this is perfect for. Cast iron. I cook in cast iron pots and skillets all the time and sometimes I want to leave my apple crisp in the cast iron pan and pop it in the fridge for tomorrow. But, cling wrap won't stick to it and I found out the hard way that you can't cover it with aluminum foil! (If you cover an acidic dish that was cooked in cast iron with aluminum foil it will create a battery and you will end up with tiny holes all in your aluminum foil and metal ions in your food.  Not good.) So, this beeswax wrap is the perfect solution. The edges wrap and conform nicely to the slightly warm edges of my pans and no battery is created. Yay!!!
My Honey Crate Star Thistle Honey Straws $3.95 – "Beulah, MI – Use these honey straws to sweeten your favorite beverage or enjoy them as a treat on the go. This lovely Star Thistle honey is from northern Michigan and will definitely satisfy that sweet tooth!"
Honey straws are always a crowd favorite around here. And, this is honey has a bright, clear flavor.
Ruff House Art Letterpressed Honey Bee Coasters by Jill Shephard – $5.95 "Lawrence, KS – Printed on a 1915 Hand Operated Chandler & Price press these coasters are made of heavy coaster stock paper. Due to the printing process, some variations in color may appear."
These are cute. I'm thinking I might trim them to fit in the bottom of the cup holders in the car.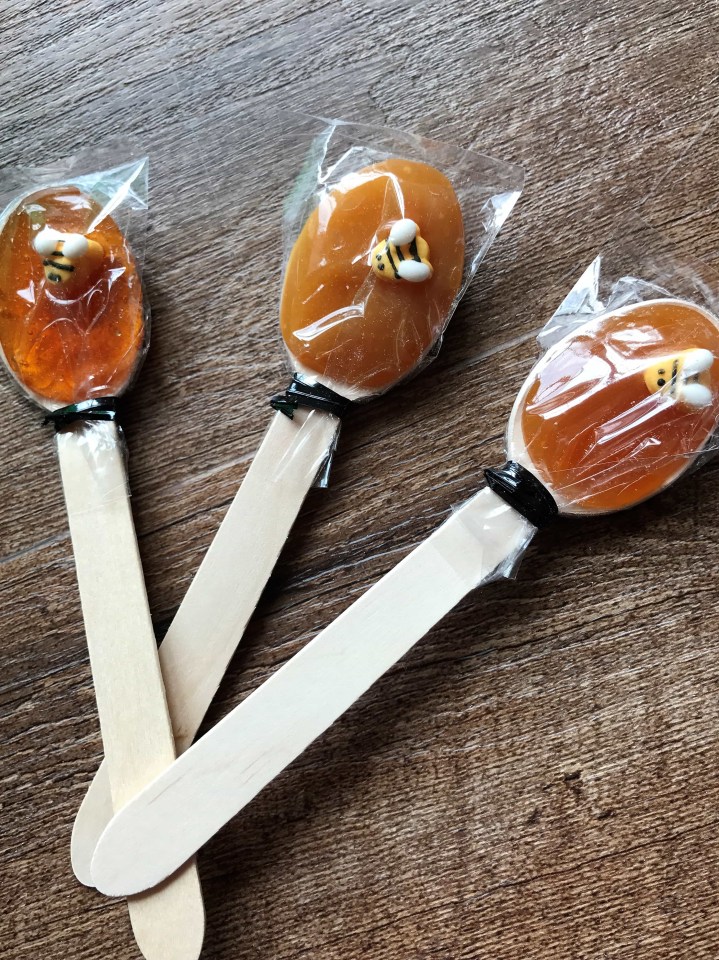 Fuzzy Ducks Gourmet Confections Organic Honey Spoons $5.95 – "Seattle, WA – Made with fresh raw honey, these honey spoons are perfect as a beverage sweetener, lollipop, soar throat reliever, or as a gift. Can that little bee get any cuter?"
No, it cannot get any cuter. These are just darling and look great on my coffee/tea bar. I love that they are raw honey, because we all know that heat (pasteurization) ruins the natural enzymes and nutrients in honey, right?
The Honey Crate box was great because they introduced us to small businesses and fabulous products that we wouldn't have otherwise never known existed. The c.dabble wrap is my favorite in this box. I really needed it!