I'm so excited to review MyTeaBox again! They are a Canadian tea subscription shipping from the East Coast. Every month promises 3 delicious bags, enough for 5 cups of each tea (so 15 cups altogether). The box is $24.99 CAD (around $19 USD) and ships free anywhere in North America!
I didn't take a picture of the mailing label because it had my address, but it has your name and address typed out in funky font that matches all the other details on the box!
On to the teas themselves! The information card is bright and cheerful! Now that the weather is getting colder (YAY!) the focus is shifting to hot teas once again.
The bags are clearly labelled, include ingredients, and also give important steeping information so every cup is perfect!
Autumn Awaits: A black tea with mystery to it — the ingredients list lemon and apple but not much else glaringly obvious. I'm excited to try it!
Pumpkin Spice: I feel like the odd one out when I say I don't like pumpkin that much. This is a black tea and also has orange and cinnamon.
Cuddle Time Vanilla: I've had two cups of this already and I'm gonna cry when my bag is empty. It's such a warm, soft vanilla rooibos but has almond in it too.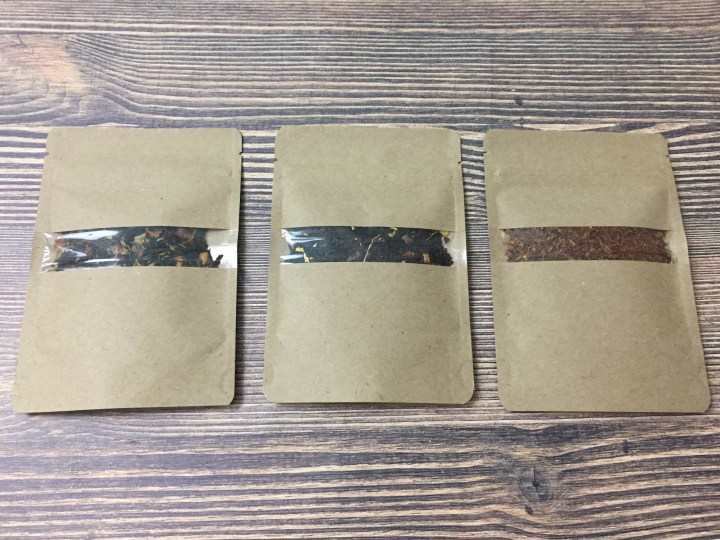 The packaging is awesome with clear windows to get a peek at the leaves. I find the packages make around 5-10 cups depending on how much I use.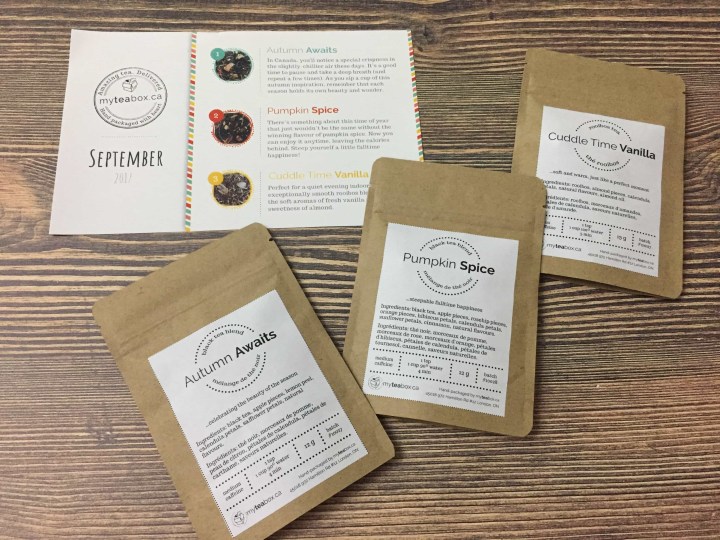 MyTeaBox is such a fun subscription. The samples are generous — but I wish they had a store so I could repurchase my favourites!