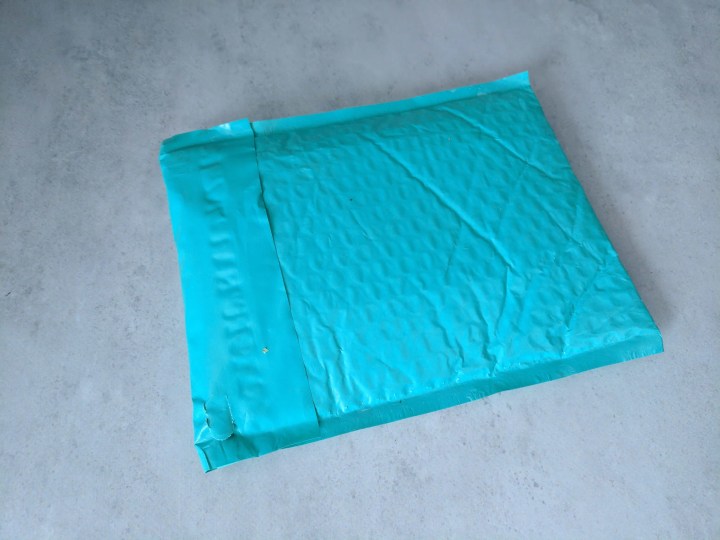 Bargain Bead Box is a monthly bead subscription service. Each month, you'll receive over $40 worth of top-quality jewelry supplies. It can be a mix of loose beads, bead strings, findings, and pendants. You can share your creation on their social media for a chance to win a $25 gift certificate for their sister store Bead Box Bargain. Boxes are $15.95 per month. Shipping is free in the US and $7.50 to Canada. Even if it's technically a subscription box, it comes in a teal bubble mailer, which is less expensive than a box so they can send more beads! And more beads is more fun!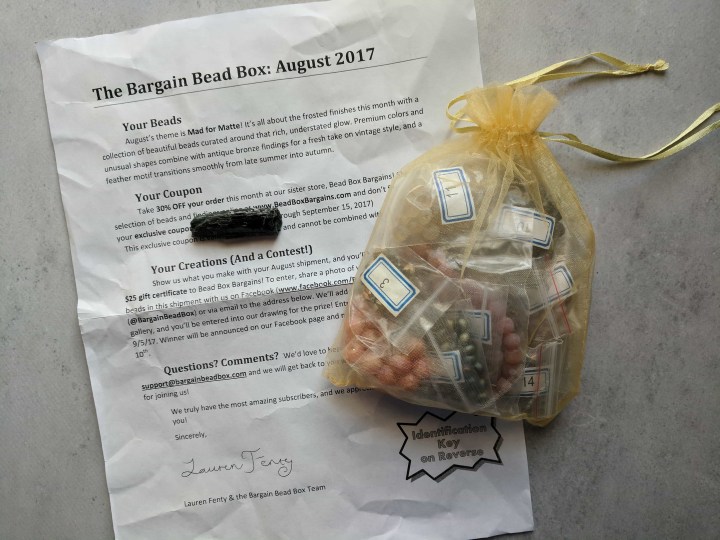 Each month is curated around a different theme and all the beads and findings are coordinated. This month's theme is "Mad for Matte," with Antique Bronze as the metal of the month! You also get a discount code for their sister store. I've used it a couple of times and it's totally worth it!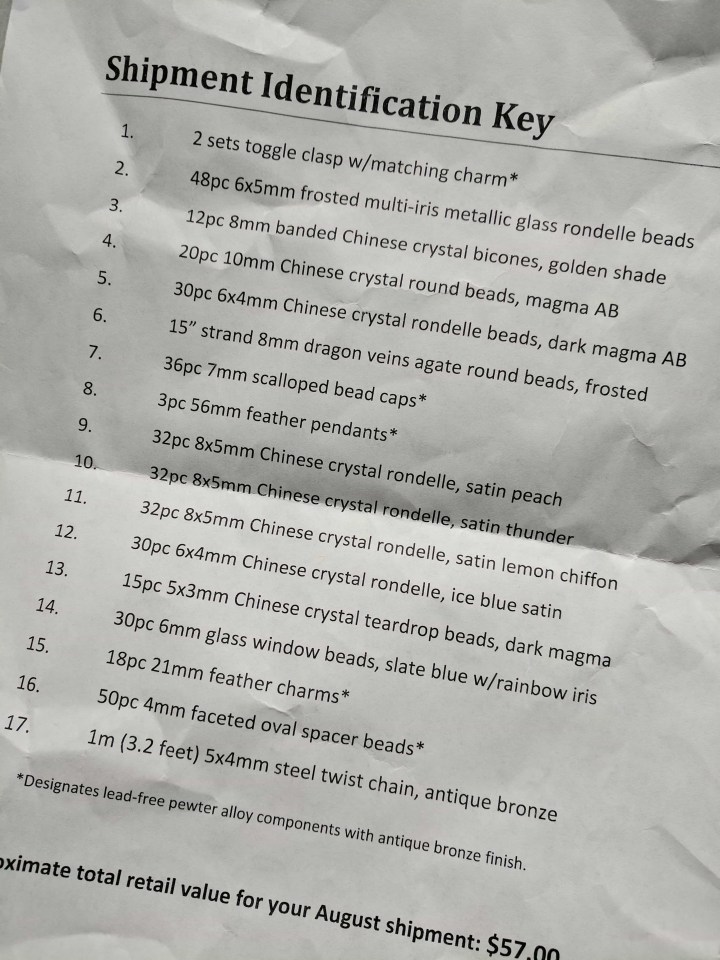 On the reverse of the introduction letter, we get a description of all the items in this month's box, with some gemstones (I love my gemstones!), and other fun frosted and matte beads.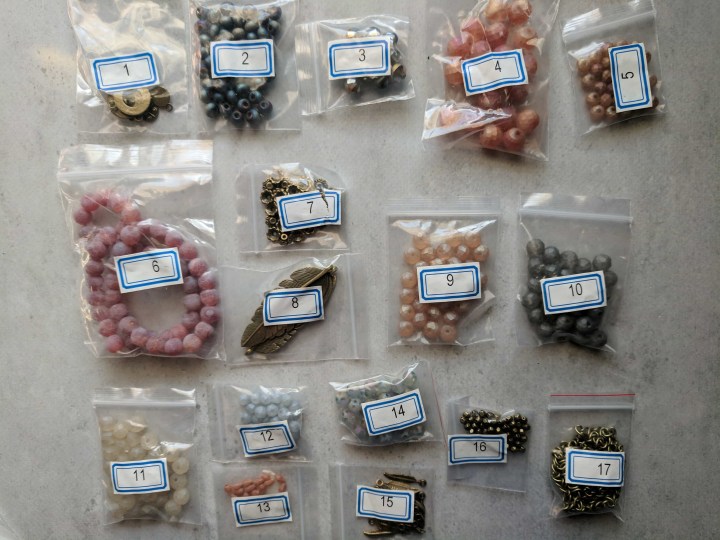 I love how everything look so soft and peaceful! There's not a lot of metal in this month's shipment!
3pc 56mm feather pendants. This is such a fun design! If you want to go bold, you can use them for a necklace and earrings set, as long as the earrings are not to heavy loaded with other beads!
18pc 21mm feather charms. For a smaller earring design to go along with the big feather pendants, these are ideal! They would also be adorable on a charm bracelet!
Every month, you'll get some spacer beads (50pc 4mm faceted oval spacer beads) and bead caps (36pc 7mm scalloped bead caps). They are both great to add details to a bead heavy design, and the bead caps look lovely with a simple faceted bead.
An other staple you get every month is a type of clasps (2 sets toggle clasp with matching charm) to put the finishing touch to your necklace, bracelet or anklet. This month, you even get a cute matching charm with the clasp! And no one said you have to use the clasp as a clasp. They can be part of a design, or used as a small and big charm!
Once in a while, you'll also get a length of chain (1m 5x4mm steel twist chain). You can use it as is, or to create a tassel. I used some to finish my design.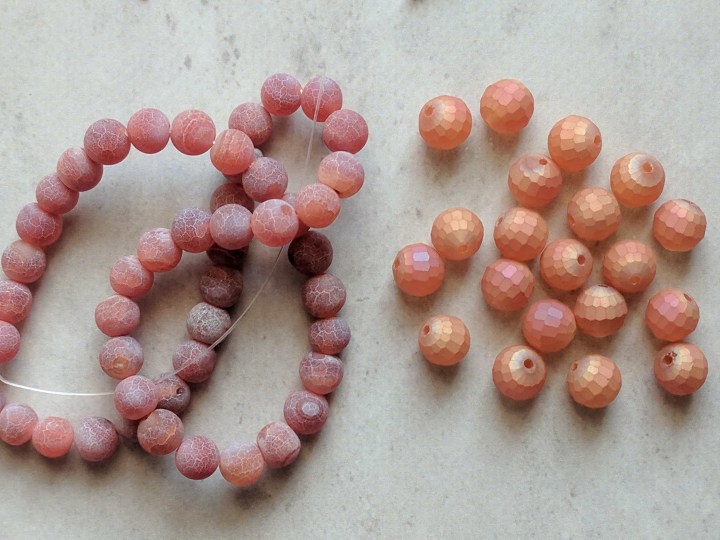 8mm dragon veins agate round beads, frosted. I can't get enough of these beads, they are so fun to create with, the frosted finish makes them so easy to mix with different colours!
10mm Chinese crystal round beads, magma AB. Such a lovely colour, perfect for Fall! They almost look like disco balls, and they would make awesome earrings with a simple bead cap!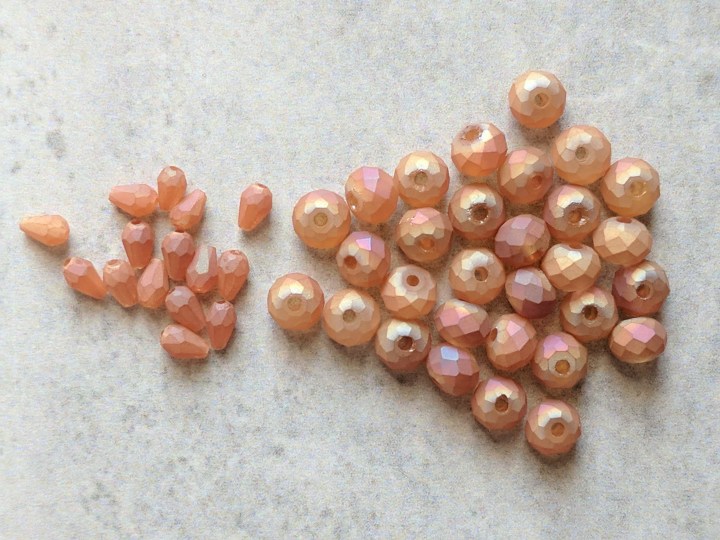 15pc 5x3mm Chinese crystal teardrop beads, dark magma. They are so small!!! I can see a cascading tassel made with different length of small chain with these at the bottom.
30pc 6x4mm Chinese crystal rondelle beads, dark magma AB. Once again, I love this colour! It fits with the season, it's bright and shiny, but matte at the same time! I used them all in this month's design, and I wish I had more!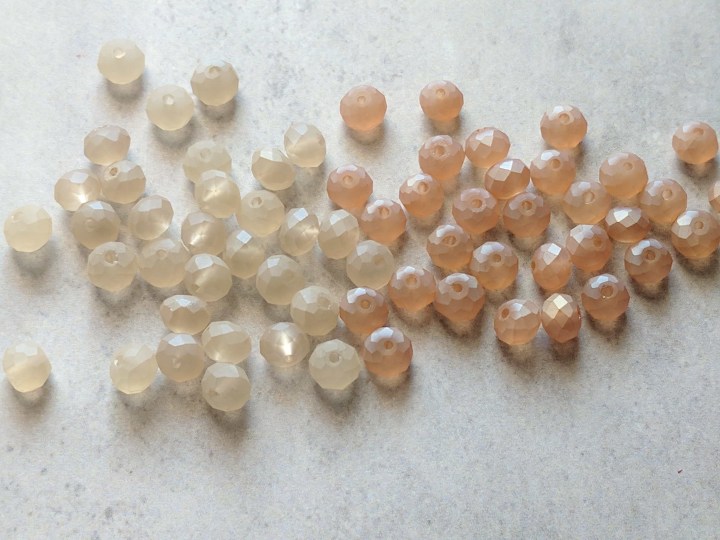 8x5mm Chinese crystal rondelle, satin lemon chiffon and 8x5mm Chinese crystal rondelle, satin peach. I love how candy-like the satin lemon chiffon beads (on the left) look like little candies. Or is it just me? I really like rondelle beads as they seem to fit perfectly with bead caps.
6x5mm frosted multi-iris metallic glass rondelle beads. Among a lot of matte beads this month, these look so shiny and bright! But they still have a matte finish, and I couldn't resist using them in my design. As they all have a different shade of iris colour, they can be easily stack together without looking flat.
8x5mm Chinese crystal rondelle, satin thunder. I love grey beads! They go well with a lot of different colours, to tone down brighter colours, or to create something more neutral.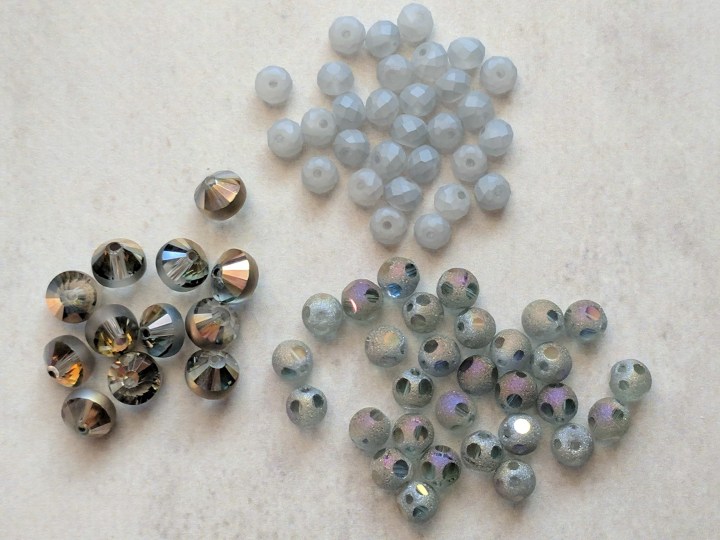 8mm banded Chinese crystal bicones, golden shade. If there was a bead that didn't belong with this month's theme, that would be the one! Only because it is so shiny! They would make cute earrings by themselves, or they could add sparkles to a matte design.
6x4mm Chinese crystal rondelle, ice blue satin. Such a lovely shade! I mixed them with the dark magma rondelles, they are so pretty together!
6mm glass window beads, slate blue with rainbow iris. So much is happening with these! You have matte, you have colours while still being tone down, and you have some very shiny spots!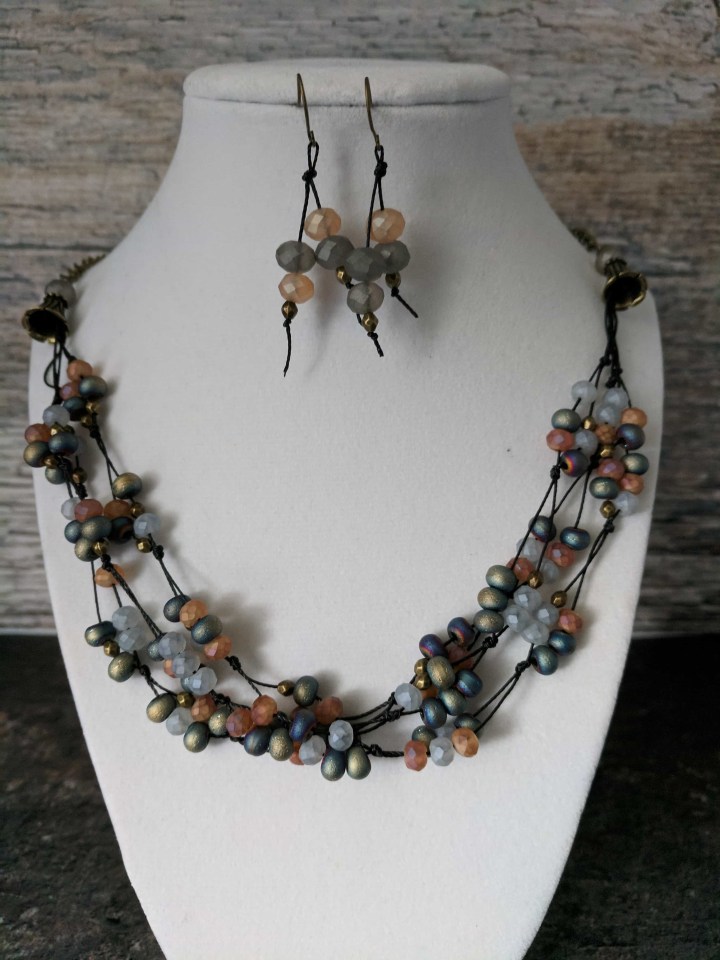 I decided to skip most of the metal this month, even though I'm a big fan of it. I wanted to go with the Mad for Matte theme and did a floating necklace using black thread and mixing the smaller beads together. I wish I had more, as I ran out to make a full necklace, but I used the chain to finish it up. I even had to use different beads for the earrings! I'll probably fix this necklace by removing one of the rank (I have three double thread) and use it to go around the neck.
I really liked this month's box! It's fitting for the season, and I discovered how much I enjoy matte beads! Not everything has to be about the metal! I love how all the colours work well together, and that we can create more than one design with the content of this box. We can go all out and use a lot of beads, or make something very simple. You can use one colour or both, the choices are endless! This was one of my favorite box by Bargain bead box!
What did you think of this month's Bargain Bead Box?