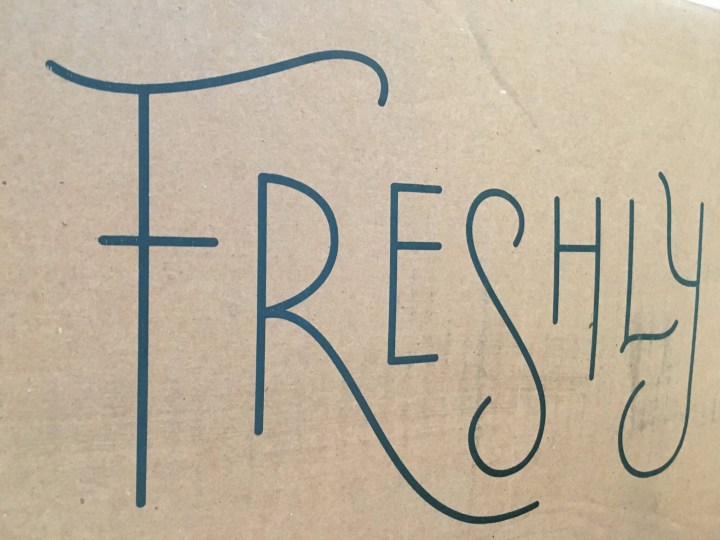 Freshly delivers deliciously healthy food right to your door – premade, prepackaged, and never frozen. This is a great subscription for people who want to spend less (i.e. no) time cooking but still want healthy foods. Freshly meals are free of gluten, refined sugars, and artificial ingredients. When you sign up for Freshly, you'll be able to select the number of meals you want per week plus the exact meals you want. You're able to skip weeks right from your account.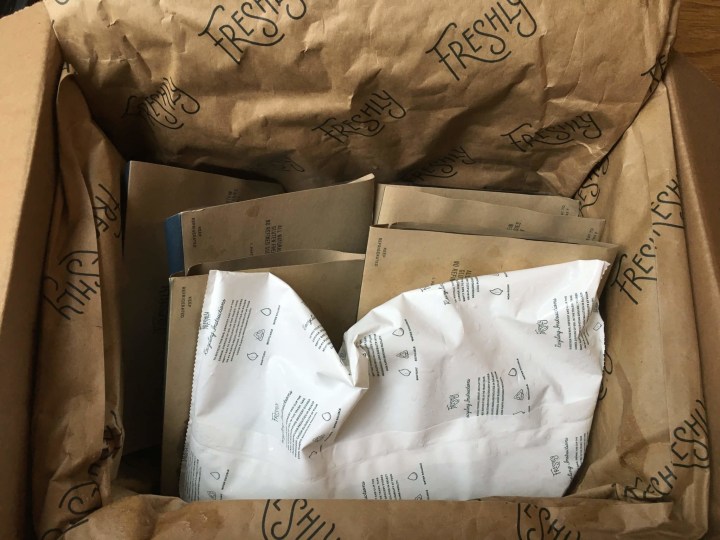 The food comes in a refrigerated box, surrounded by ice packs, and snugged up in an insulated blanket made from recycled denim (!). The insulation and the rest of the packing is all recyclable. It also makes an excellent air-conditioned cat fort.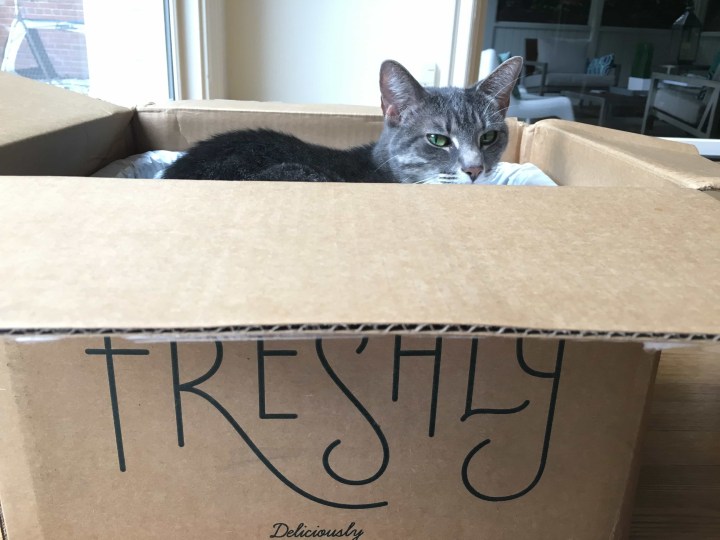 I ordered 6 meals, two of which were breakfast. Picking among the terrific-sounding options was difficult!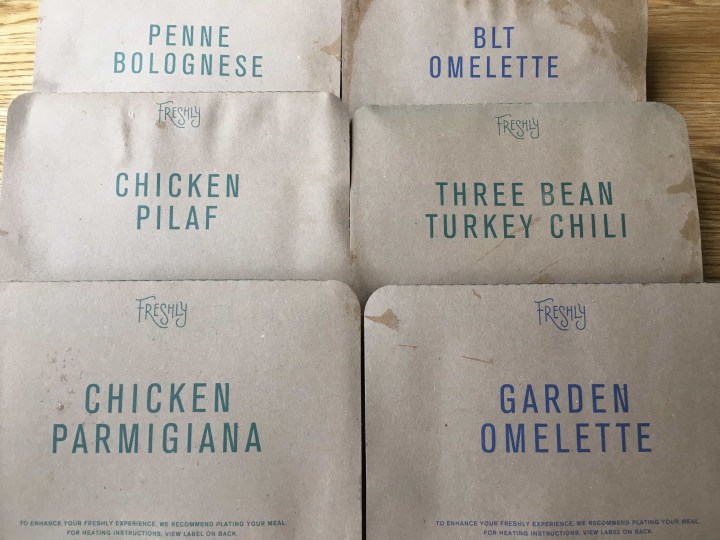 The underside of the wrappers have cute mini-essays on nutrition and wellness.
DEAL: Get $60 off your first four weeks of meals when you use this link and coupon code LAUNCH15.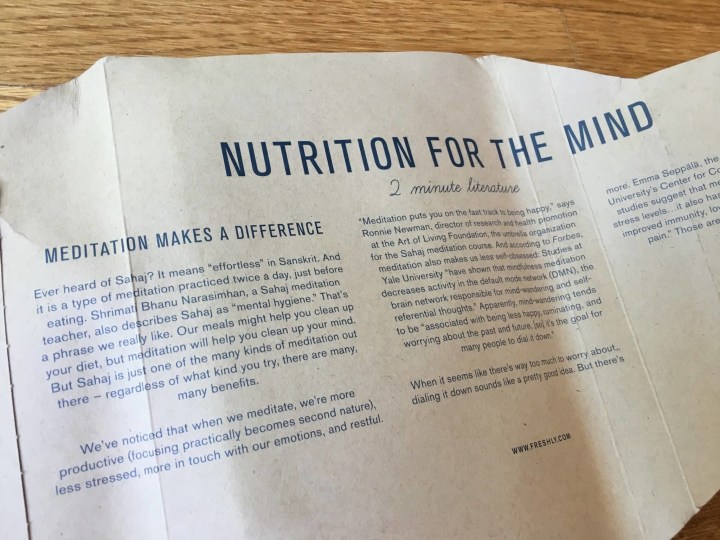 First up, breakfast! The Garden Omelette is, apparently, a customer favorite.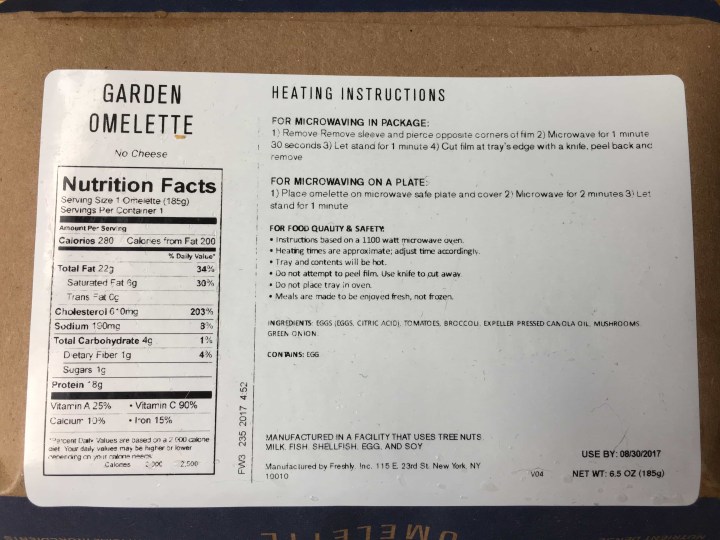 I was inclined to be dubious about pre-cooked eggs, but I shouldn't have been, because this came up reasonably tasty.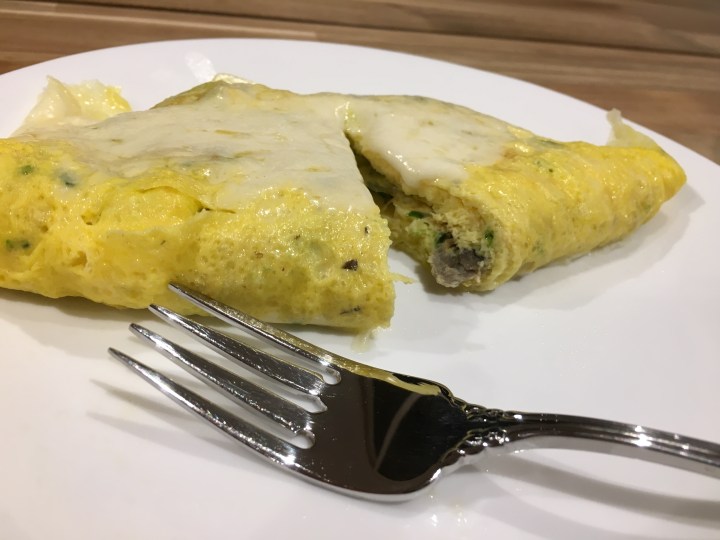 (Yes, I added cheese, because cheese). This was nicely flavorful, with intact veggies spread evenly throughout the omelet. Even with the cheese, this is a relatively low-calorie, protein-packed breakfast that will get you through your morning. Thumbs up!
My other breakfast was the BLT omelet, which my husband bogarted, presumably because of the bacon and cheese.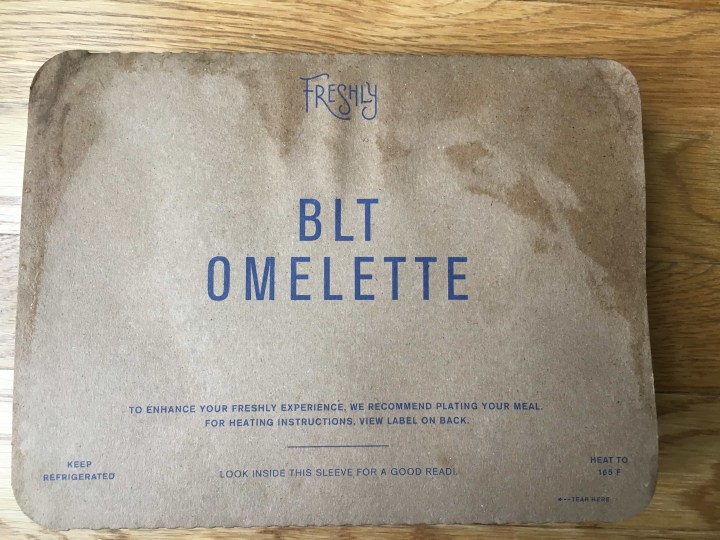 (Not to worry — the cardboard was a little damp from the ice pack, but everything inside was just fine.)
Somebody's husband's wife rarely makes a weekday omelet (nor does that husband, I might add), so he was pretty excited about 90 seconds in the microwave for one.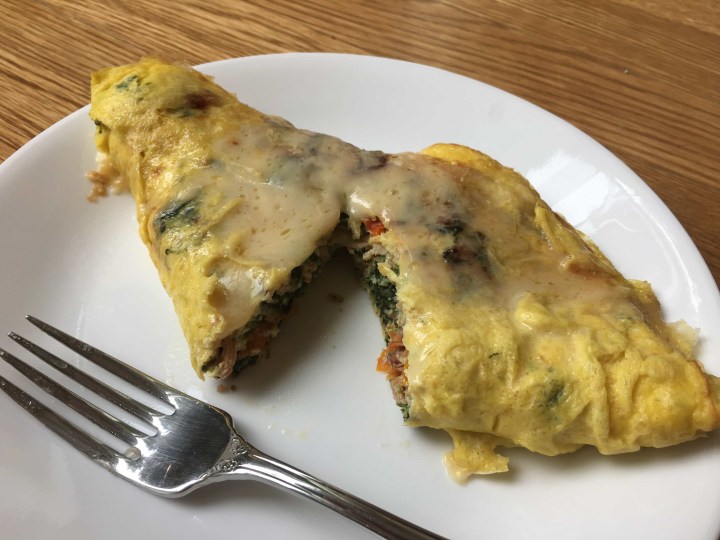 Well, this was fine. For whatever reason, the eggs on this were a bit overcooked, and the whole thing came up dry.  (Ketchup solved). The flavor was good, but this wasn't up to the usual Freshly standards. Still, it's hard to beat omelets on Monday.
Next up, lunch. I took the Chicken Pilaf with me to work.
Pilaf sounds so fancy. This is the "typical" Freshly meal, a protein plus side. Getting the pilaf carbs was a nice bonus in this meal.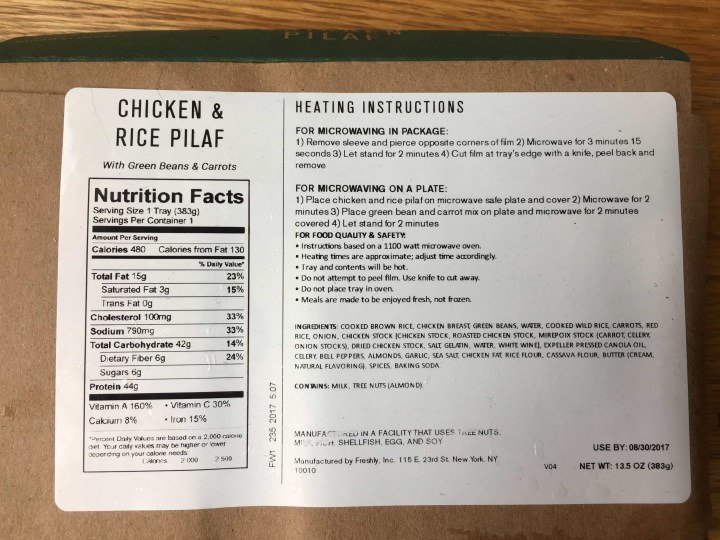 This is a bit of a big meal for me for lunch, but it is solid, healthy, and will keep the late-afternoon munchies away.  The sodium on this one is pretty high from the (delicious) chicken gravy.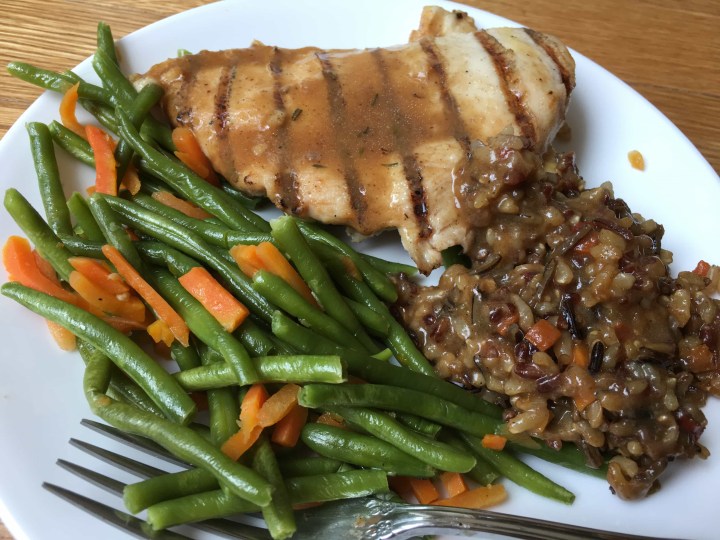 Look how much food is here! It's a ton of satisfying food to come in under 500 calories. This took 3 minutes to cook/reheat, and everything was hot and perfectly cooked. The chicken was perfect — flavorful, moist, and satisfying.  My favorite this time and a big thumbs up.
Next up was another chicken dish, the Sicilian-Style Parm.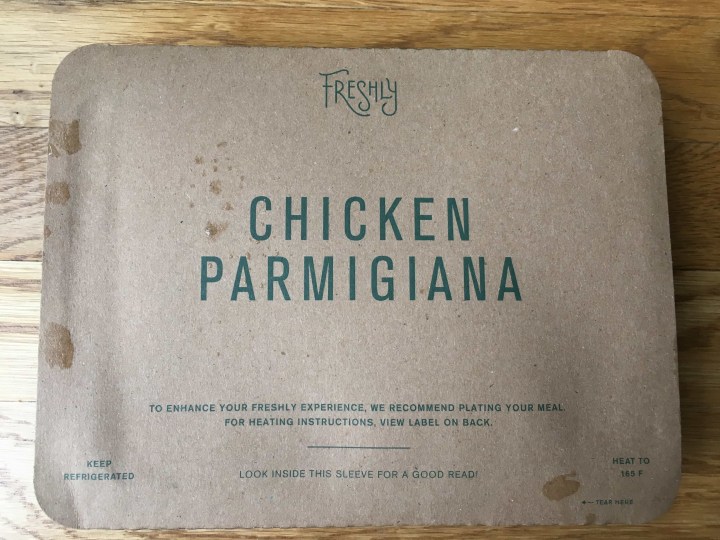 This is your breaded-chicken-cutlet style meal.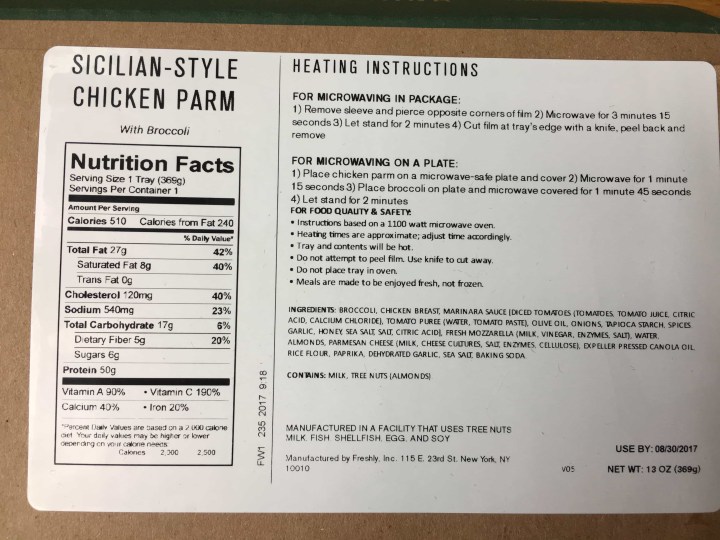 This was another meal I wasn't sure about, since microwaving and crispness don't usually go together. And, no, it wasn't crispy. But the breadcrumbs were pretty solid (they had almonds in them) and stayed on the chicken.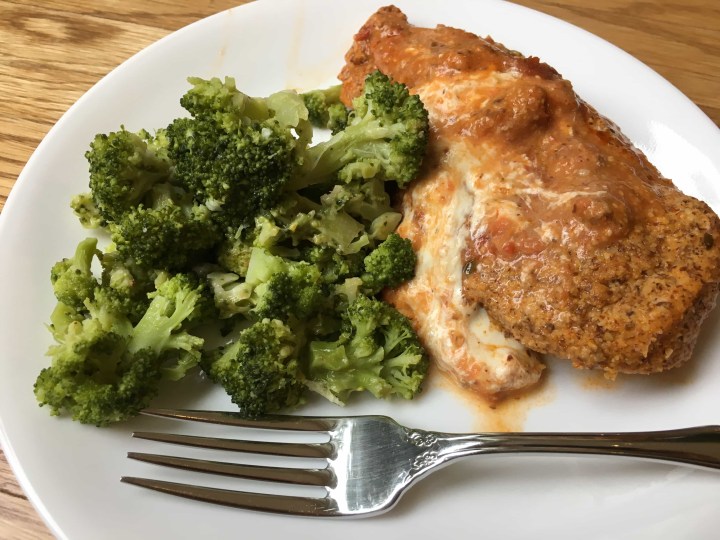 Another good meal! The sauce was bright, with plenty of tomato flavor, and the fresh mozzarella blob melted into it.  It was satiny and delicious. The broccoli was standard steamed broccoli, but it had a bit of parm and butter thrown in to boost the flavor. My husband ate this one for lunch and his co-workers were jealous.
Next up, dinner. I love any reason to eat chili.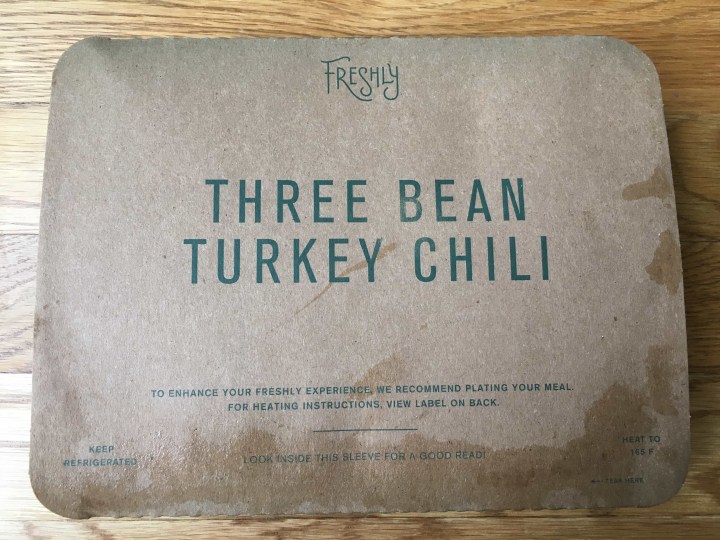 I think I've had this one before. The flavoring is a bit stronger than the Paleo Beef Chili I got last time. The sodium, fat, and cholesterol hit on this is pretty high, so it's not an everyday thing, but the nice thing about Freshly is that you can make the choice to occasionally splurge while keeping your other meals healthier.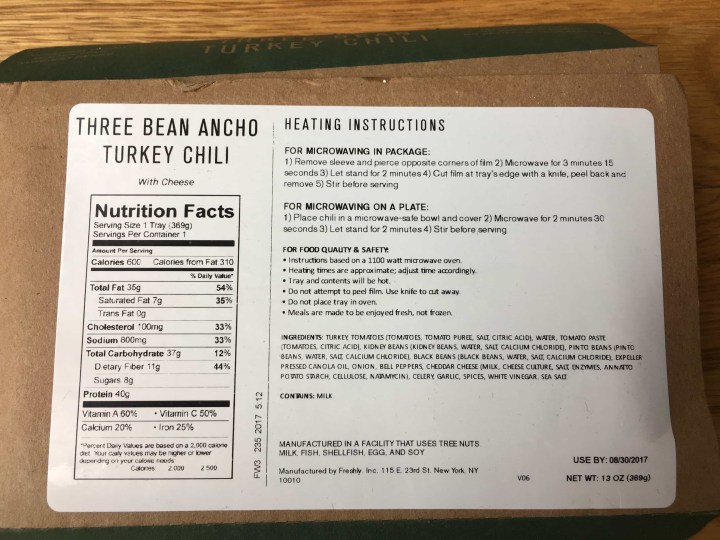 And yes, I added some cheese.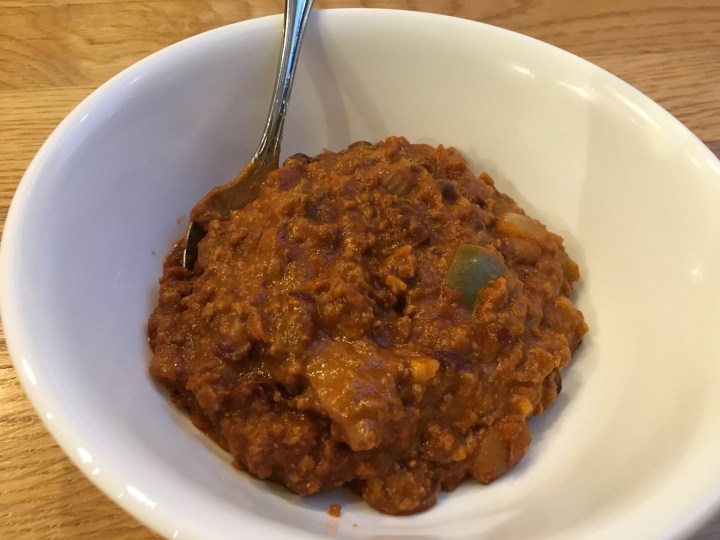 This is good. If you've had Panera's turkey chili before, you'll find this familiar. The turkey is nicely integrated with the veg and beans, with strong flavors of chili powder and cumin. Honestly, I'm not sure it's worth the calorie hit, but it's a lot better for you than something out of a can.
Our last meal was the Penne Bolognese.
Since I'm reviewing these, I try to get a wide variety of meals. I don't know that I'd normally get this and the chili in the same box, but sometimes a reviewer has to sacrifice for the craft, right?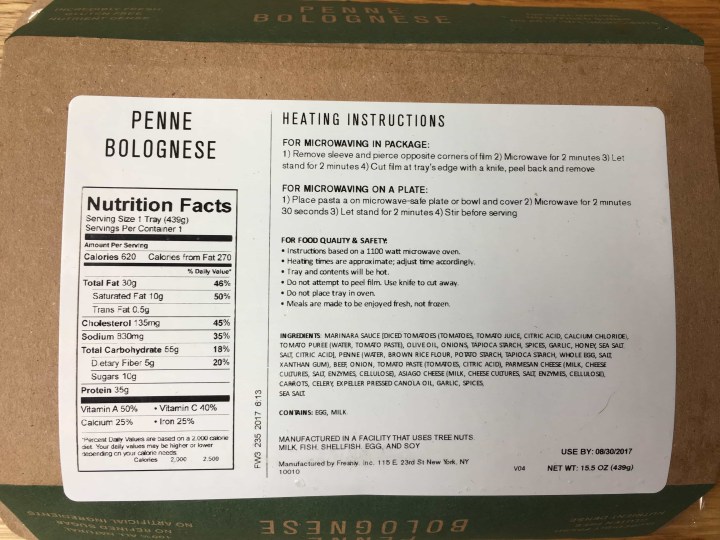 This is gluten-free, so the pasta is a rice/potato/tapioca blend. It might have a bit more chew than a wheat pasta, but it's not bad!
I mean, just look at that. Gorgeous. My 10-year-old daughter actually had this for dinner over two nights. (No cleanup! Win!) She gave it a firm thumbs-up. The flavors go together nicely, and it's reasonably authentic tasting.
Overall, I was pleased with my Freshly delivery. The food is high quality, tastes good, and keeps you full. And, of course, you simply can't beat the convenience of good food perfectly cooked in 3 minutes. I looked last time I was at the grocery store, and there really is no frozen food you can buy that is a simple and healthy as Freshly's meals.
This would be an awesome subscription for a busy professional who doesn't want to deal with cooking at the end of the day. (It would have been my dream years ago as a young attorney!) It also would be great for bringing to the office for lunch! These meals are designed to last in your fridge for a week.
It's nice to know that healthy choices can be so easy! Have you tried Freshly? Which meal did you like best? Let us know in the comments below!