Olfactif is a monthly fragrance sampler subscription box that sends hard-to-find niche perfumes. Every month you'll receive 3 samples, each of which contains 15-20 applications of an independently designed perfume. Along with every $18 subscription box you receive, your account will be credited with an $18 voucher to use on fragrances from the store. If you purchase a full bottle of perfume each month, the subscription sampler is free.
Olfactif focuses on niche fragrances – unique scents produced with higher quality and harder-to-find ingredients than you would encounter in a department store. They offer both a unisex scent sampler (for women and adventurous men) and a men's fragrance sampler with more masculine scents. You can check out our reviews of Olfactif Men here.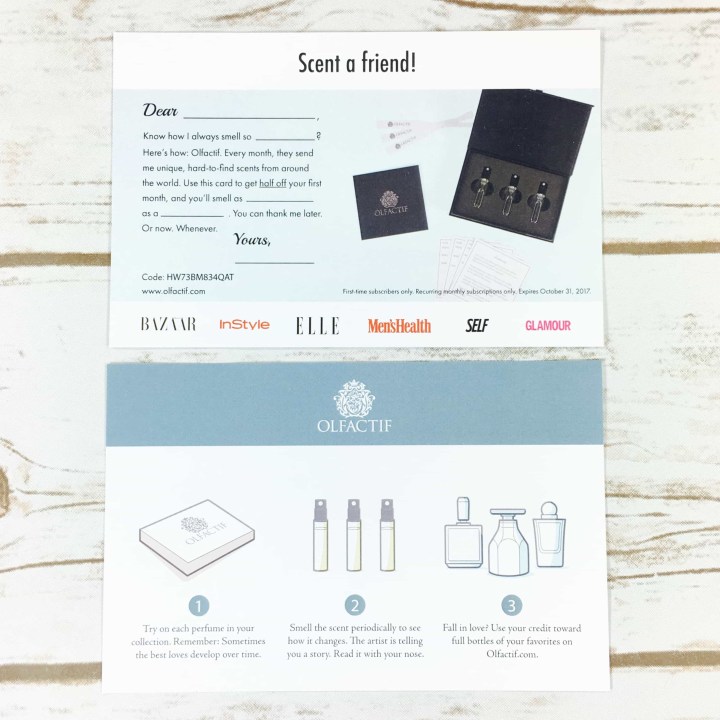 There were two cards in the box. The first one was a card that you can pass along to a friend so they can get their first box for half off. The second card tells a bit about the subscription.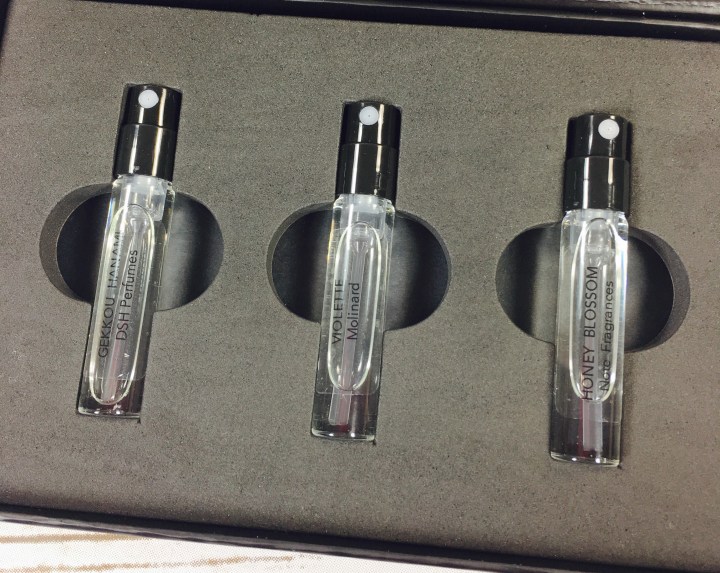 Opening my Olfactif box is like opening a special present: the presentation is simple and elegant.
I also received three testers so I could spray the scent and get a feel for it, however, the scents sometimes smell radically different on my skin than they do on paper!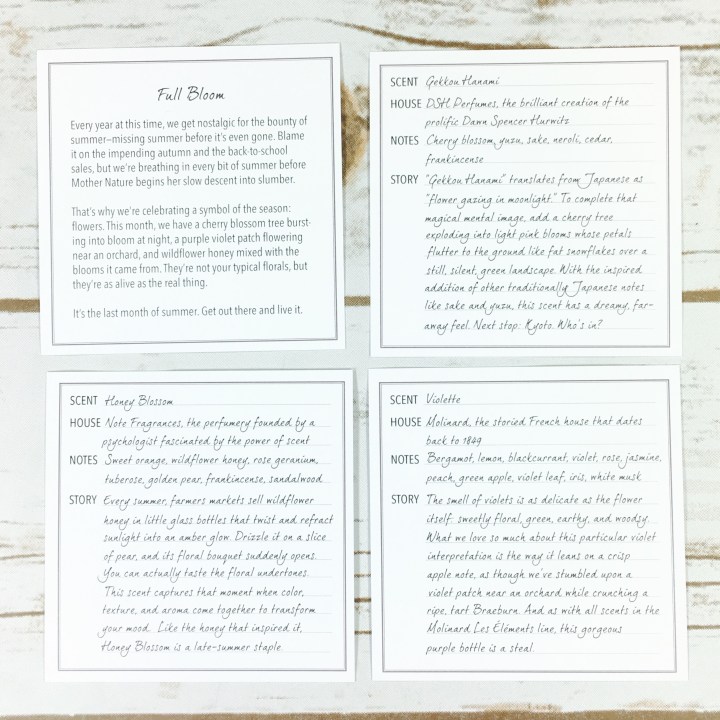 There was a beautiful embossed envelope that had 4 cards inside. Each scent has a card that offers suggestions on how best to appreciate the fragrances. Since scents develop over time on the body, don't assume your first experience will be your last! Spritz the fragrance on and smell it at different times to fully appreciate all that the artist intended to express through the scent.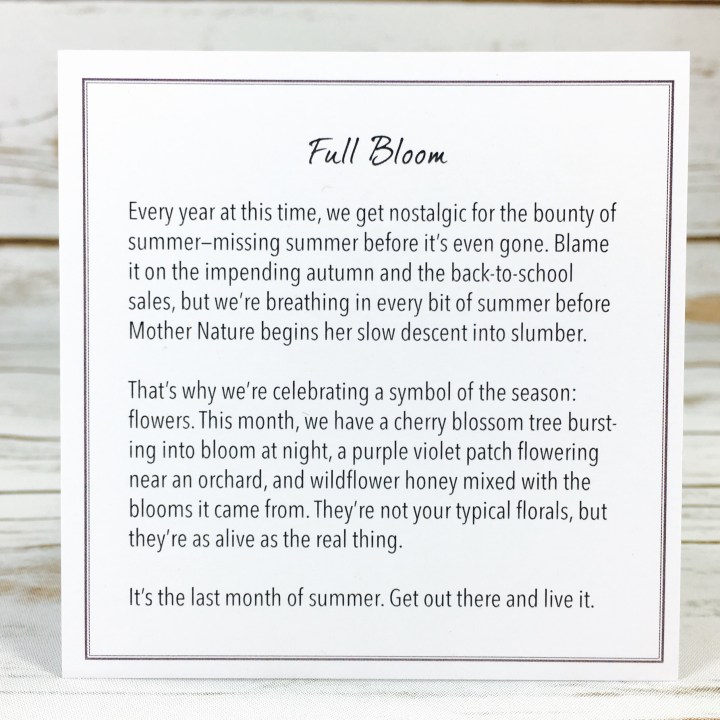 The unisex theme this month was Full Bloom. The scents sent were floral in nature to capture that last bit of summer!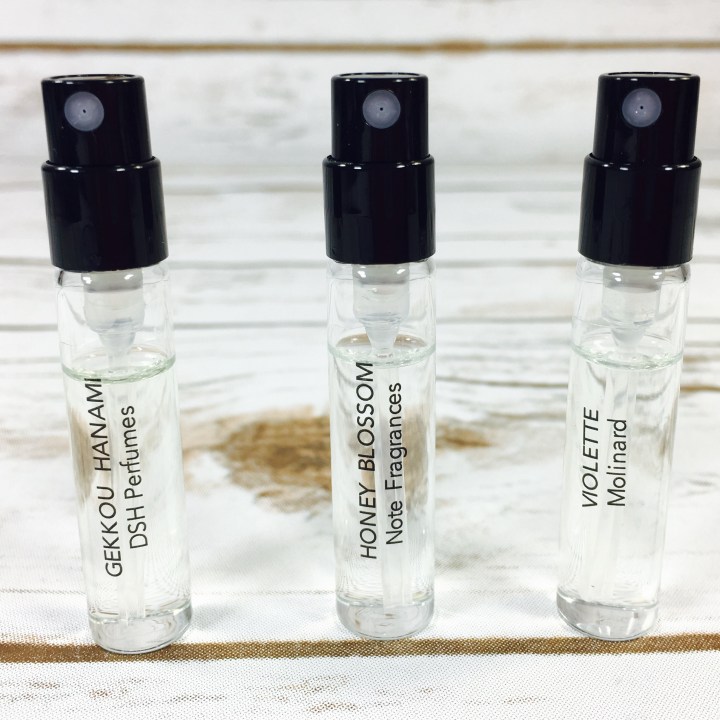 The three scents chosen this month are very different from one another and from mall perfumes. The information card gives the scent notes of each perfume, but keep in mind that fragrances may smell completely different on everyone due to our unique chemistry.
Olfactif August 2017 Unisex Full Bloom Box (all prices listed are for full bottles, available for purchase from Olfactif):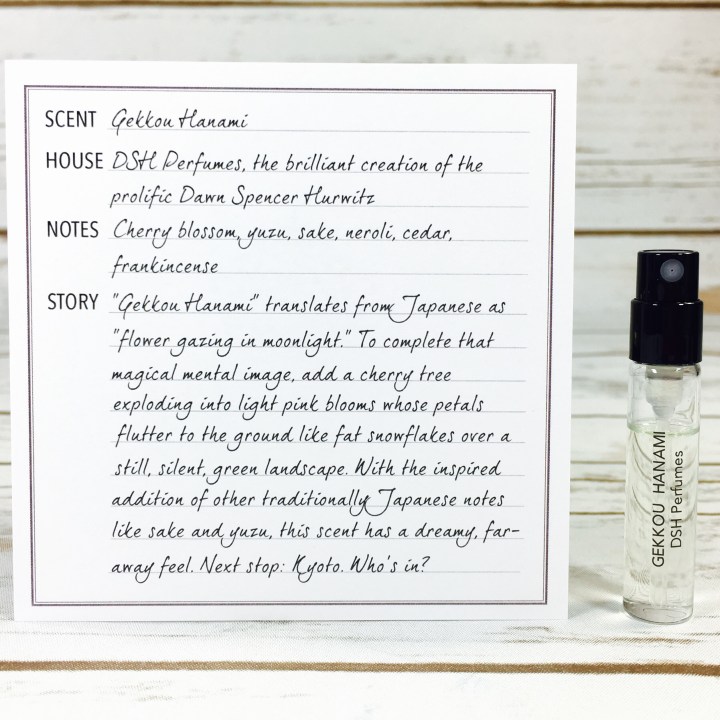 Gekkou Hanami by DSH Perfumes ($90 for 50ml) is a floral scent that smelled at first fresh and green. I did indeed pick up the note of sake in the very first spritz but it disappeared in a flash. The lingering base note was warm and while not exactly woodsy, it was a touch woody – more like the green bark you would reach if you scratched the trunk, as opposed to a smokey fireplace. I don't think of this as a typical floral, but it is different and clean.
Honey Blossom by Note Fragrances ($74 for 60 ml) is a warm and comforting scent. I love honey and this smells like wildflower honey, sweet and slightly floral. It's from the floral fragrance family but also features a touch of gourmand. The pear rounds it out and although sandalwood and frankincense are some of the notes mentioned, I think they provide depth and warmth but I can't pick them out on their own.
Violette by Molinard ($65 for 75ml) is our final floral scent of this box. As soon as I sprayed it on I got a whiff of something green, fresh, and herby. I also caught something sweet, like curry powder, which quickly faded away. My tester had a final powdery note but on my arm it was more warm and floral. I didn't pick up apple or leather but every nose picks up different scents!
I love getting my monthly Olfactif and am always happy to find it in the mail! I change my fragrance daily and may match it to the weather, my outfit, or how I am feeling in the morning so this subscription is perfect for people who can't commit to one fragrance or who are looking for something spectacular and out of the ordinary. The scents this month were all floral but they weren't what I would consider traditional florals, such as white flowers or roses, and each one had depth that added to its allure. They all had one more thing in common, at least with my body chemistry and the current weather – they all faded fairly quickly. I am actually all right with that though because I enjoy lighter fragrances during the super hot days of August, which are generally 100+ degrees here in Texas.
Have you tried Olfactif yet? Let me know what you think of this subscription in the comments!