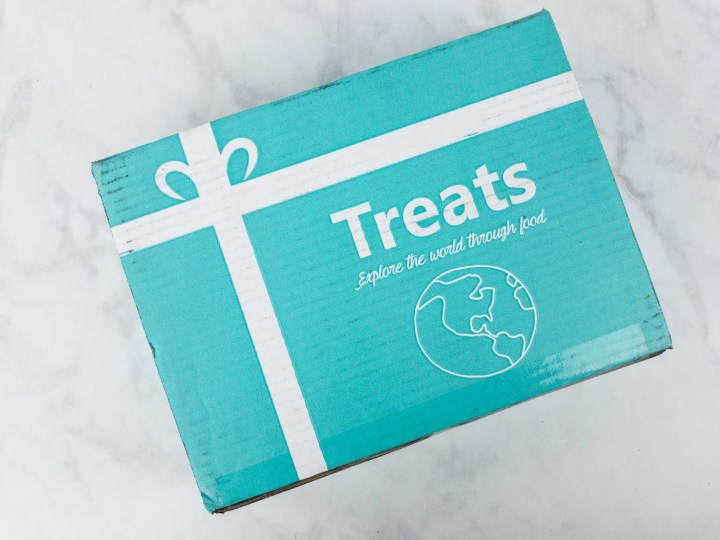 Treats is a monthly snack subscription full of snacks from around the world. You can expect to receive eclectic and interesting snacks that you've never sampled before (unless, of course, you've lived in the featured country recently)! The Standard Pack offers 4-5 snacks, while the Premium box offers 8-10. This, of course, is the Premium Box. It's quick to enroll, and you'll get your first box within a few days of when you subscribe.
The packaging is simple and elegant. Tissue paper keeps the contents a surprise until you are ready to immerse yourself in the destination country's food culture.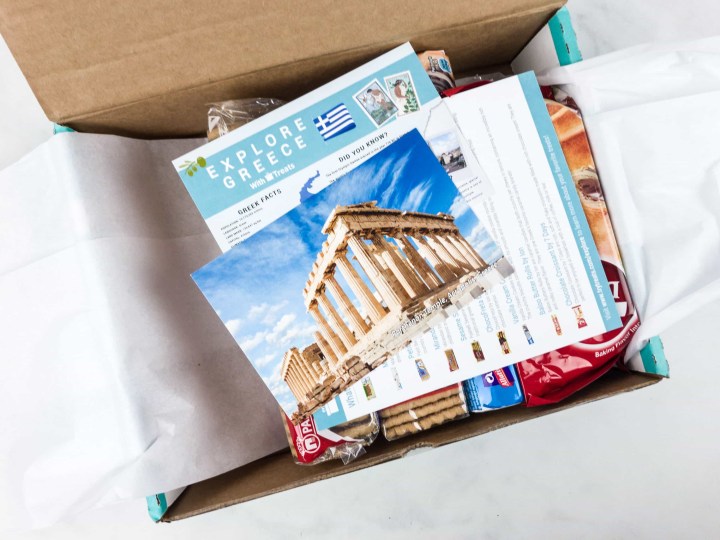 The box is crowned with a beautiful postcard welcoming us to this month's Treats destination – beautiful Greece!
DEAL: You can save 15% on your first month with coupon code HELLO15.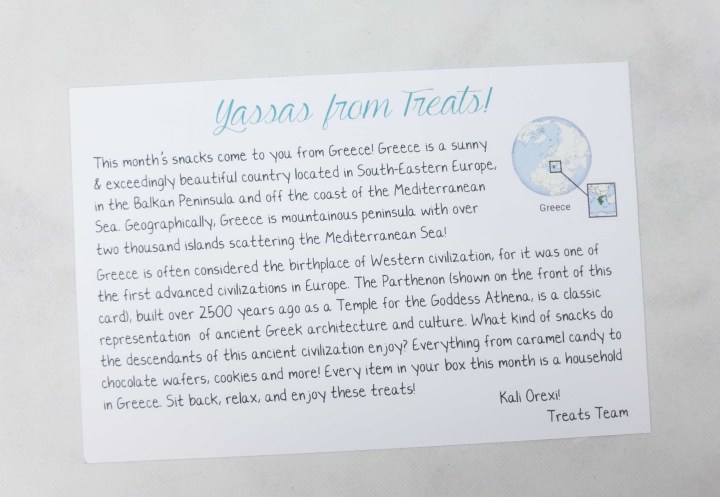 The back of the postcard points out some of the unique features of the featured culture.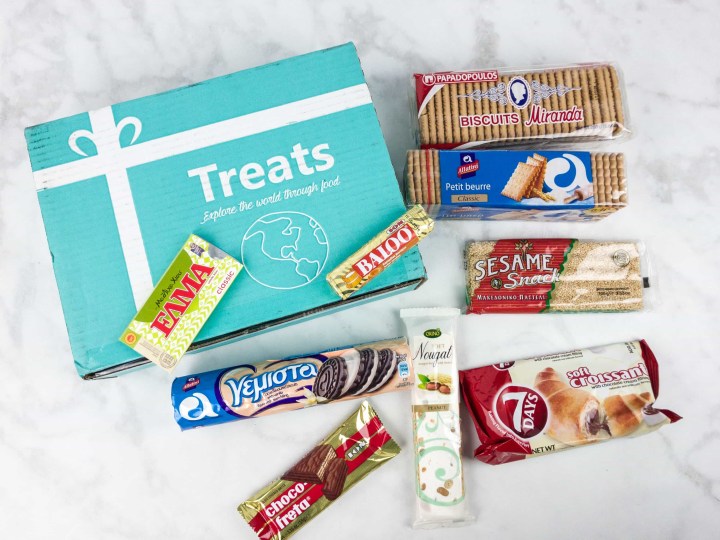 Everything in our Treats box! The composition of each Treats collection depends on the local snacking culture, but there is usually a good mix of sweet and savory and individual and family packs. This month looks to have several big packs of cookies and biscuits!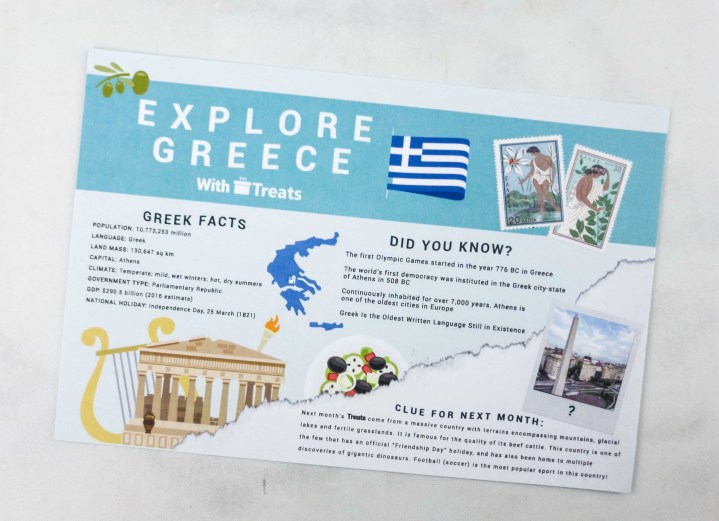 This card gives you some basic trivia about Greece. There's also a clue to where Treats Box will take you next month – judging by the mention of prized beef, varied terrain, and the pic of the Obelisco de Buenos Aires, I suspect we are headed to Argentina!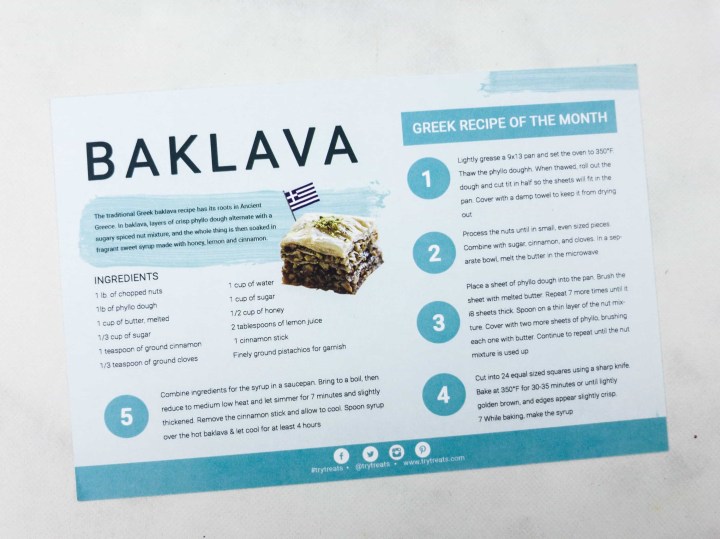 The back of the card comes with a recipe of a famous Greek dessert – Baklava! Though versions of the treat are made throughout the region, the pastry is a point of national pride among Greeks!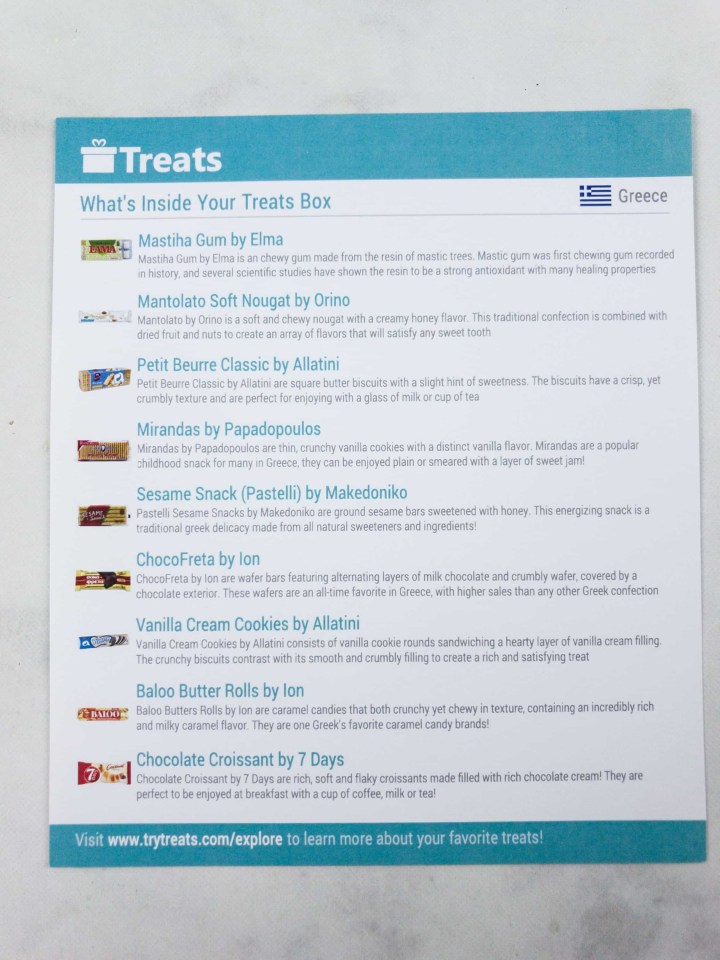 There is also a handy info card that gives the name and maker of each treat, as well as a short description of each. The blurbs give you a sense of what to expect, but you'll have to check each treat's label (and possibly hire a translator) for more detailed info on ingredients and nutrition. Even with the card, the only way to truly appreciate everything is to taste it!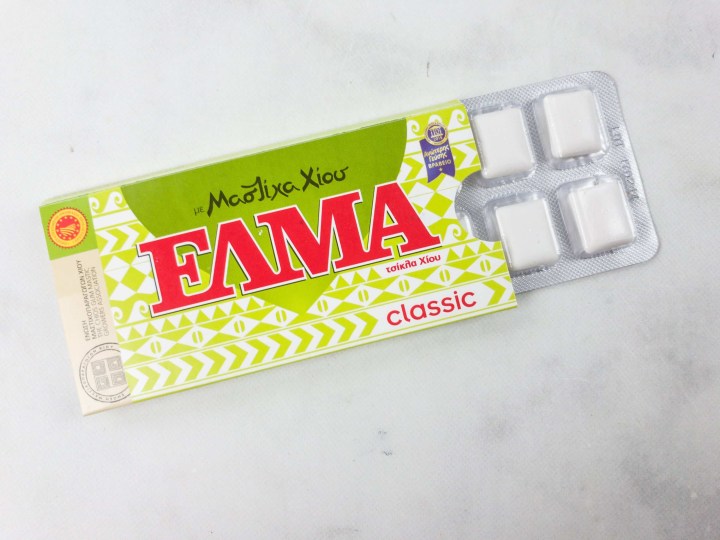 Elma Mastiha Gum: Mastic gum is resinous and slightly piney in flavor. The tablets are very similar in texture to Chiclets.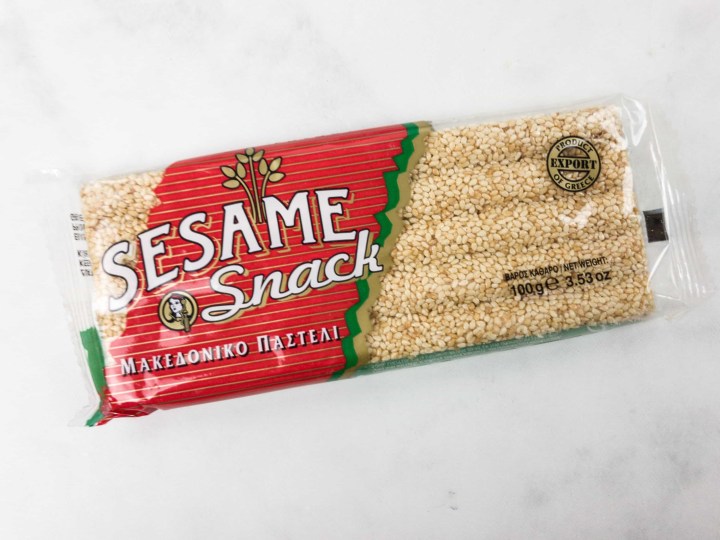 Makedoniko Sesame Snack: This traditional treat is made of sesame seeds and three kinds of sugar, including honey. The first bite is intensely nutty and the snack is light and crispy.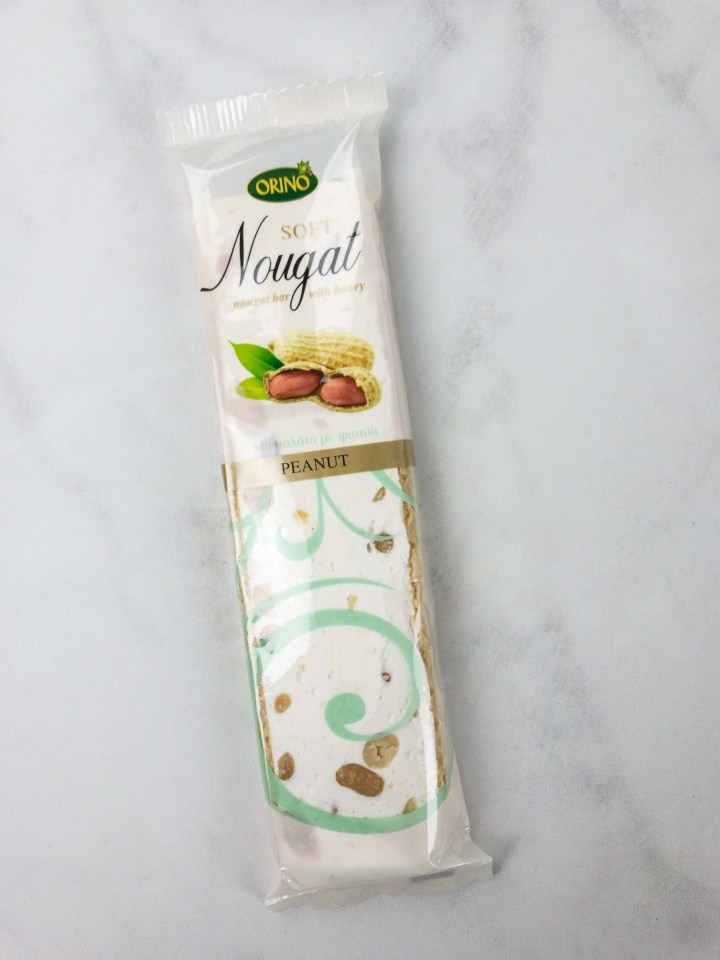 Orino Mantolato Soft Nougat: This is one of the softest versions of bar nougat I've tried – it is very close to marshmallow creme in consistency. It has toasted peanuts sprinkled throughout, but it isn't predominantly nuts like many Italian versions of the treat.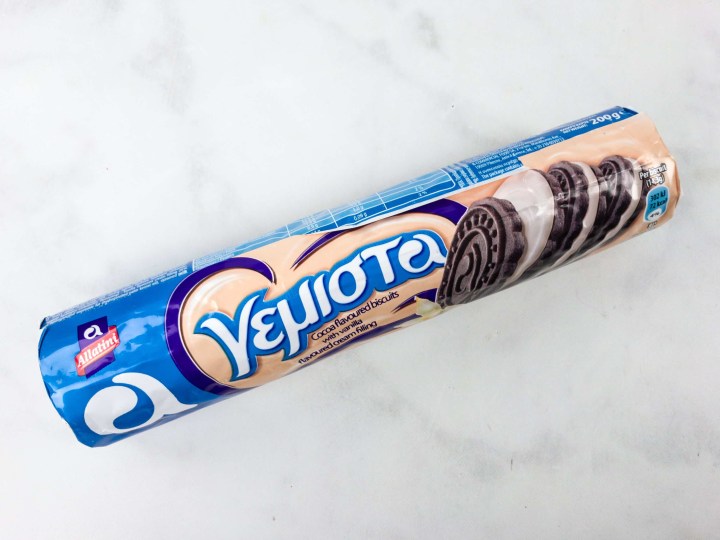 Allatini Vanilla Cream Cookies: These were very delicious! The cookie and overall design is similar to that of an OREO, but we actually preferred the flavor of the creme filling in the Allatini version, as it had a nice vanilla flavor instead of just being very sweet.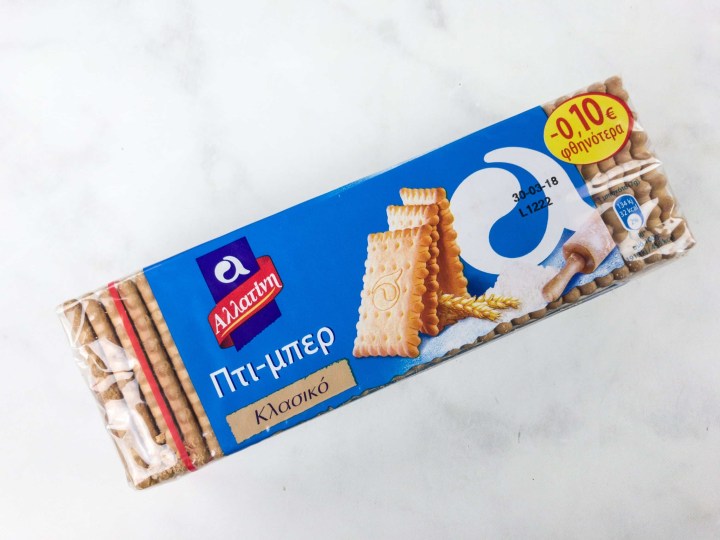 Allatini Petit Beurre Classic: Butter cookies with a crunchy, beverage-sopping texture. The flavor was a bit like a cross between a butter cookie and an animal cracker. Anyone who's grown up with European "biscuits" will find them familiar.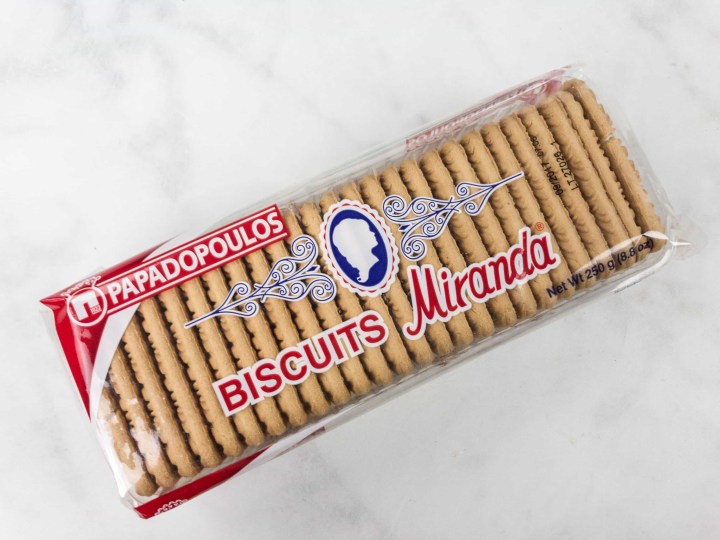 Papadopoulos Miranda Biscuits: These cookies have an elegant narrow shape, like a flatter lady finger. They have a pleasant vanilla flavor with a touch of richness and sweetness, like a graham cracker.
Each cookie had a very distinct design.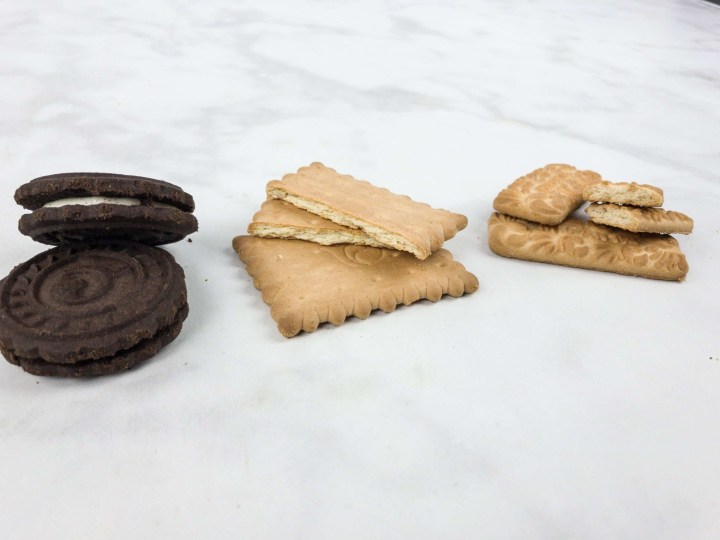 A cookie for every occasion!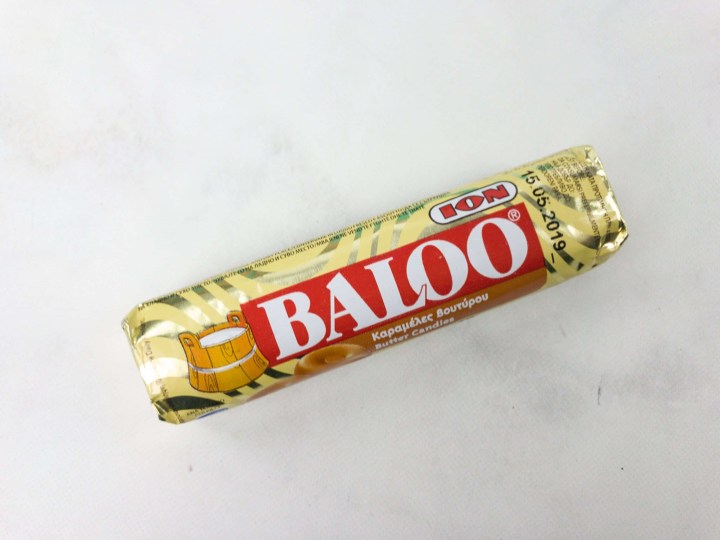 Ion Baloo Butter Rolls: Sweet little caramels that are hard when you begin eating them, but soften as they warm in your mouth.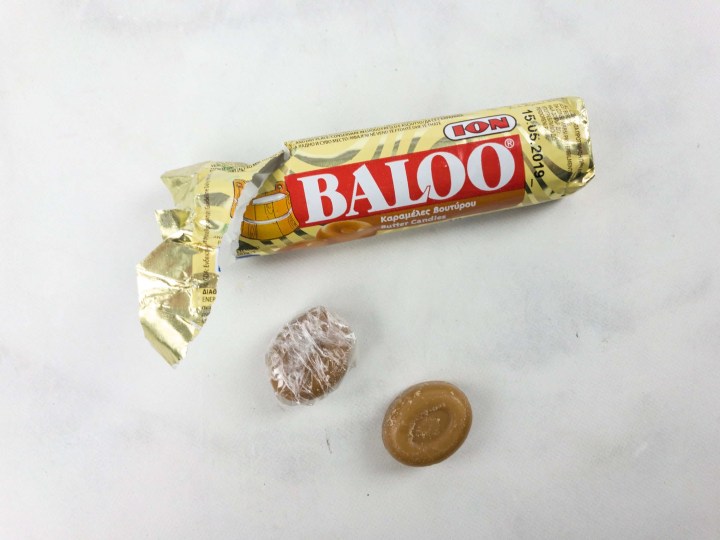 They are very similar to Werther's in both flavor and appearance.
Ion ChocoFreta: The most popular sweet in Greece, these wafer bars are a simple and light combo of wafers and chocolate creme, all coated in chocolate.
7 Days Chocolate Croissant: A buttery pastry roll filled with sweet chocolate creme.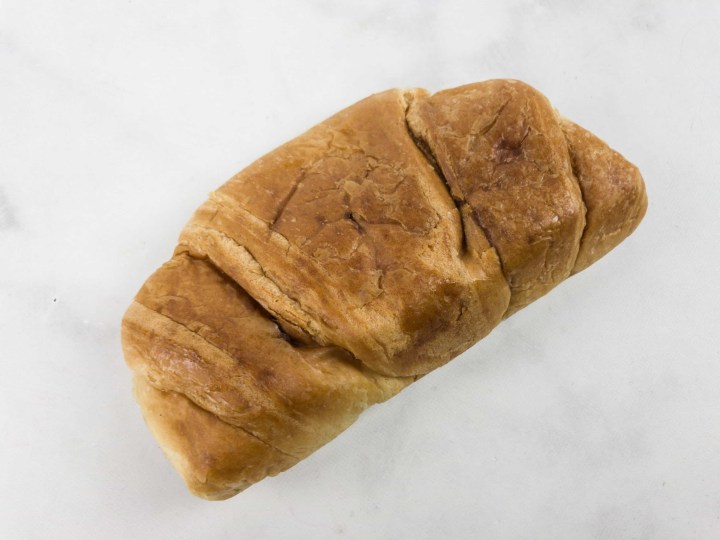 The loaf is constructed like a croissant, but it loses a bit of the distinctive shape in the package.
The inside has a good bit of filling and was tasty!
Treats is always a lot of fun. You never know just what you'll get. Most boxes have a few large packages of snacks along with the individual portions. This box had three large sleeves of cookies with similar textures — what you get is really a function of what is popular in the destination country, a fact that speaks to the authenticity of the box. Each was tasty and a nice alternative to sweeter fare. With great quality and great curation, every box is a treat!
Have you tried Treats yet? What did you think of the box?