Bead Trove is a monthly beading subscription where you receive a new artisan beading project every month. For $29.99, you'll receive a high quality pattern/tutorial and the supplies to complete the design. You will also often receive bonus promo codes from their designers and extra beads that don't relate to the current design, but that are fun to have. On the 5th of the month, subscribers will receive an email with a link and instructions to the tutorial for the month's project.
Everything in the envelop.
DEAL: Get 50% off your first months subscription! Use coupon code HELLOSUB50.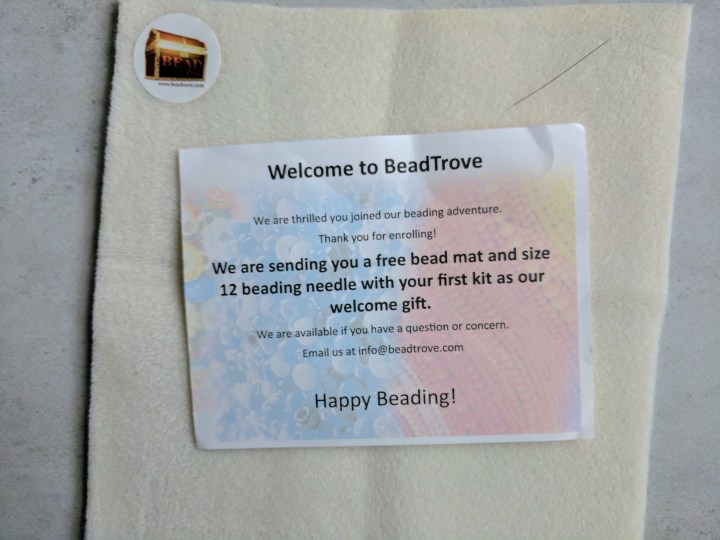 With the first shipment, subscribers will receive a bead mat and a size 12 beading needle as a gift. They are nice addition for people who are starting, but I'm used to longer needles (for looming).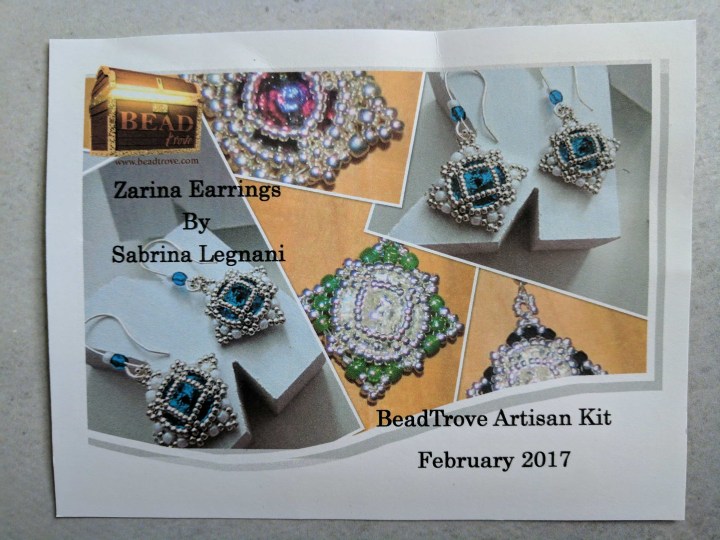 BeadTrove Artisan Kit for February was the Czarina Earrings by Sabrina Legnani.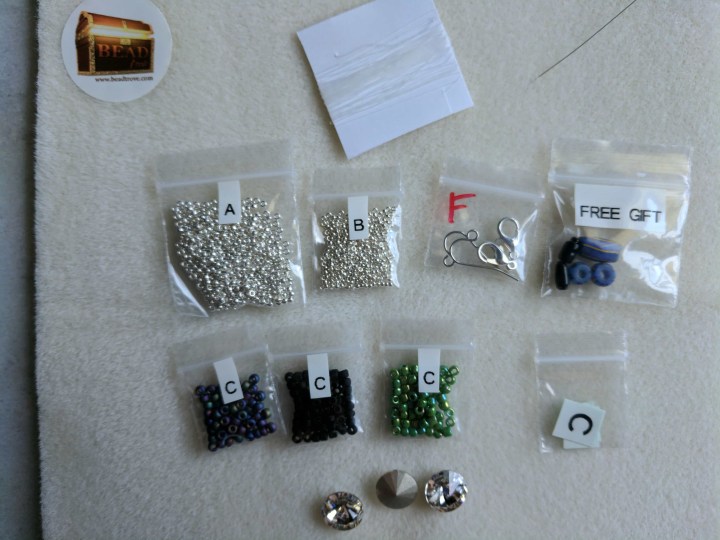 All the beads needed for the project are packed in individual bags. The bead colours might be different from the pictures and what is shown in the tutorial.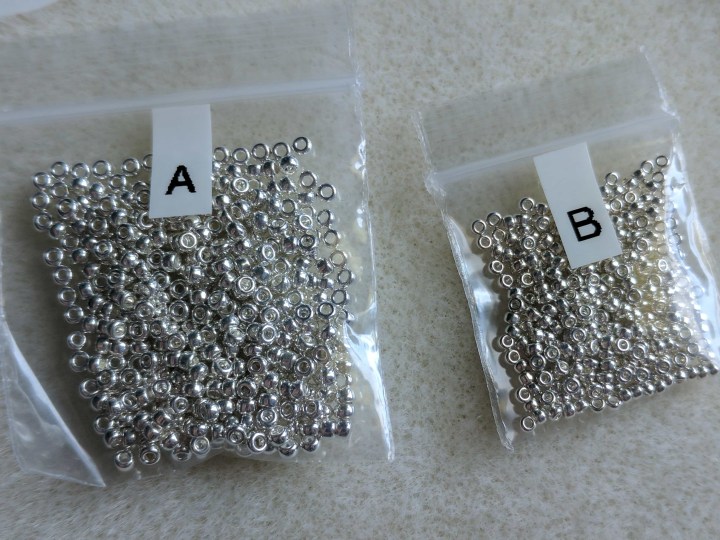 A were 11/0 seed beads in silver and B were 15/0 seed beads also in silver. I don't usually work with such small beads, but I was intrigued by the design. Only a couple of beads got stuck on my needle, but it wasn't a big problem.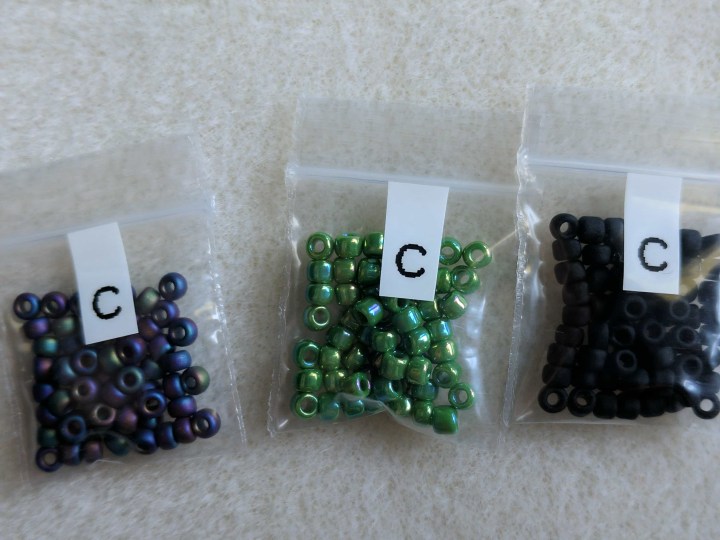 This month, I've received three different colours of the C beads (8/0 seed beads). I was confused at first, as there were no mention of different colours in the tutorial, but I figured that you would choose your favorite colours for the design. I really liked the blue/iris ones, but I thought that going into summer, the green ones were more appropriate.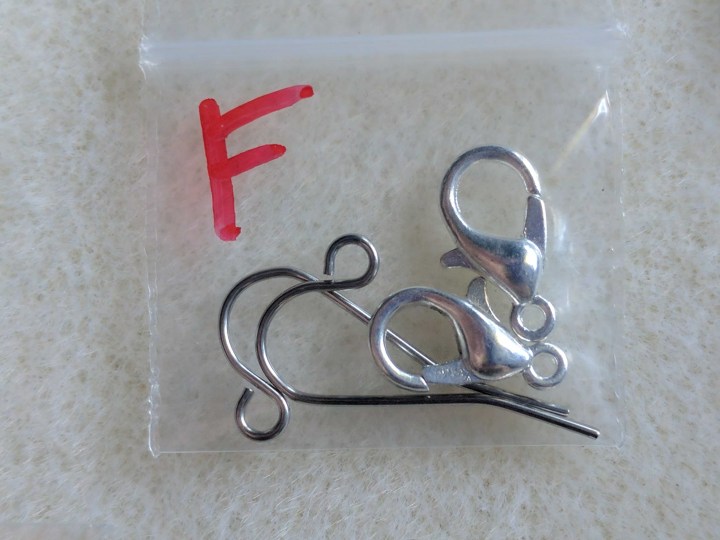 I also got two lobster claps and two hook earwires, all in silver.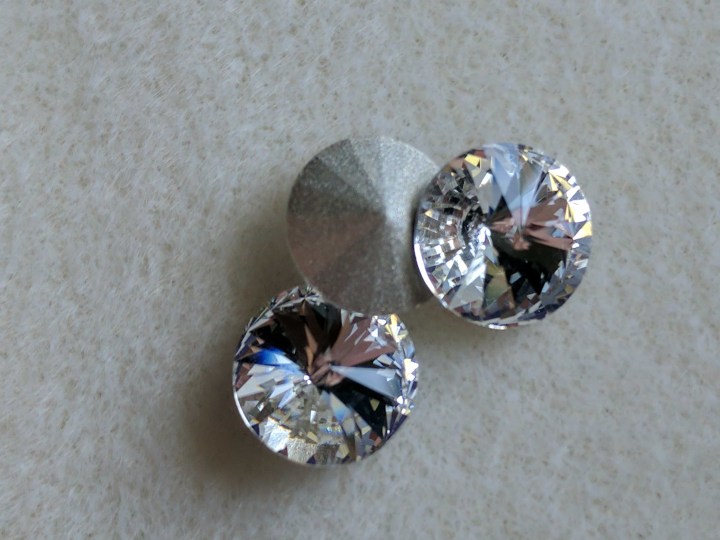 The last beads needed for this month's design were these rivolis in silver. I've never worked with rivolis before, so that'll be interesting!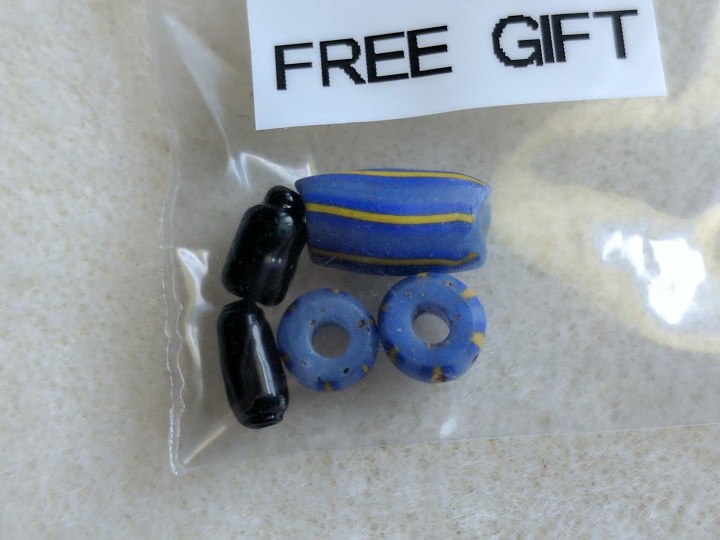 The bonus were these cute beads.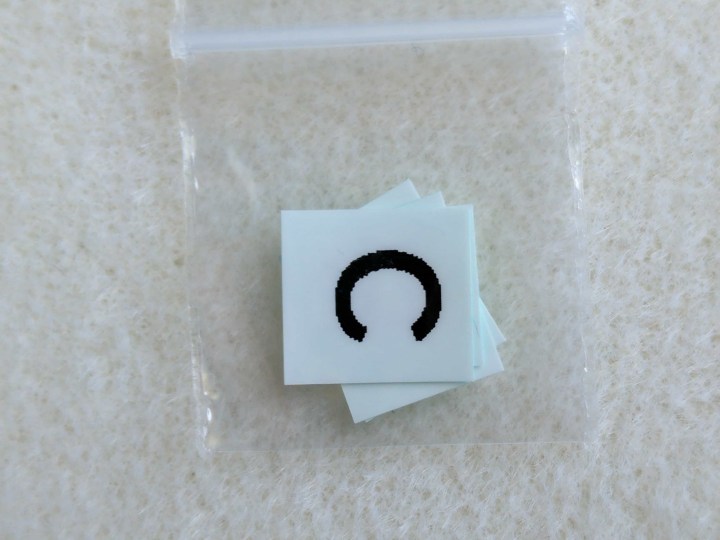 To help us with the design, sticky labels were provided. Although it is a neat idea, the tutorial never mentioned beads by their labels (A, B or C), only by their size (8/0, 11/0, 15/0), so these were useless with this kit.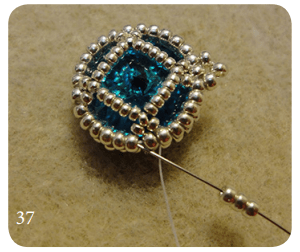 The tutorial was available in a PDF file. I wanted to print it, but the pictures were actual photos of the process, and not drawings, so it would have been a mess to try to see anything on paper. Although the pictures were clear, and the explanation useful, there were some shadows, and some of the angles were awkward to see what was going on. I sometimes had a hard time to know where to go, which bead I had to come out from, and it was frustrating at times. Especially since we needed to move from the front of the design, to the back with the rivoli in place, to the front, etc.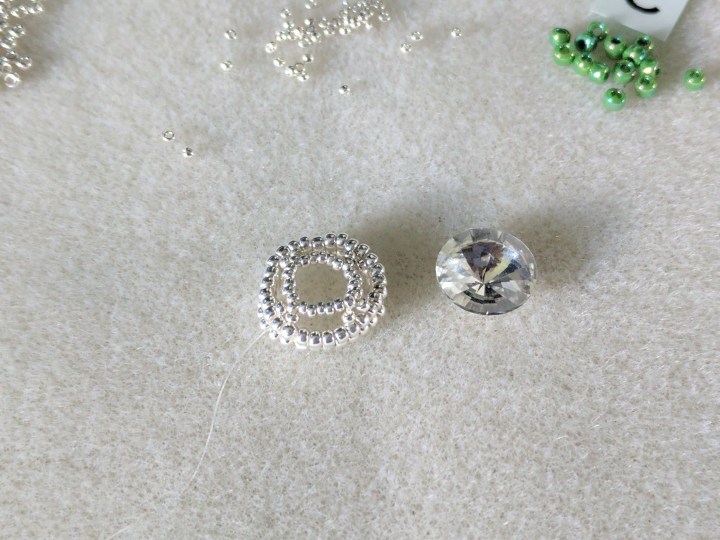 And the rivoli didn't want to stay in place.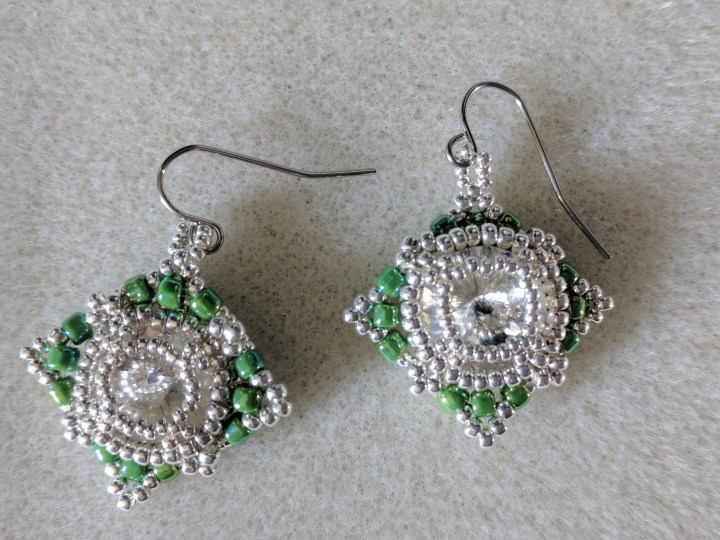 But I made it! I even did the second earring, which was so much easier now that I knew what I was suppose to do, and what it should look like. The first earring took me 3 hours (I had to redo a lot of it), and the second one took less than an hour, and I'm a beginner with seed beads.
February's kit was fun to learn new techniques ( I learned how to secure a rivoli in a design), but I didn't care for the design itself. On the card, it shows different variations of the earrings, and I would have preferred one with a colourful rivoli to showcase the design made with the silver seed beads. I appreciate that we get enough beads to make a third "earring" to be used as a pendant if we want a matching set.
Overall, this is a fun subscription to try new things, new techniques that I would overlook otherwise. Having said that, I wish there would be a way to know ahead of time what will be the monthly design so you could skip it if you know it's something you don't want to spend a lot of time on.
What did you think of the February Design by Bead Trove?