Amazon STEM Toy Club is a monthly subscription box service that delivers age-approriate STEM toy that encourages any child to learn through play. The subscription costs $19.99 per per month, and the theme of the month can be anything from natural sciences to robotics. There's always something new to discover in every box of Amazon STEM Toy Club!

There are three age ranges available for this box: 3-4 year old, 5-7 year old, and 8-13 year olds. This is a review of the 8-13 year old box.
In true Amazon style, the kits come in a large outer Amazon box, and purchases of multiple kits may be shipped together. Our kits for two different age ranges were packed and delivered together. This review covers the subscription for 8-13 year olds.
The toy selected for this age range was a challenging Gravity Maze!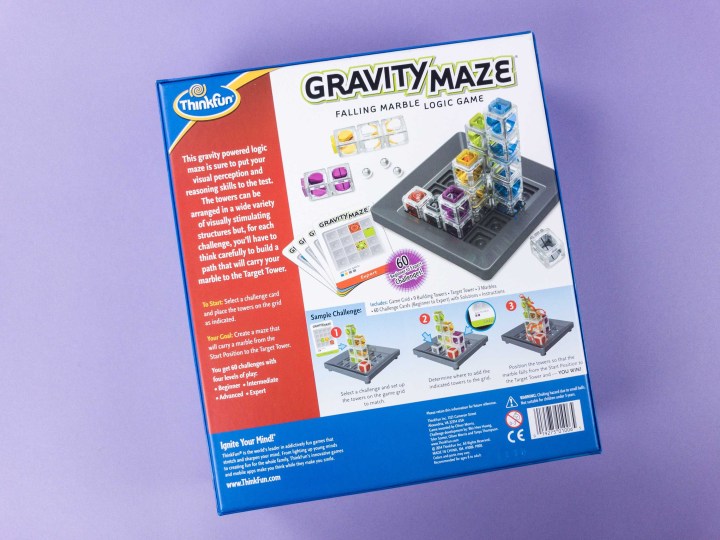 Thinkfun Gravity Maze ($25.49): This toy is pretty challenging, and even the "easy" puzzles require some thought and spacial awareness.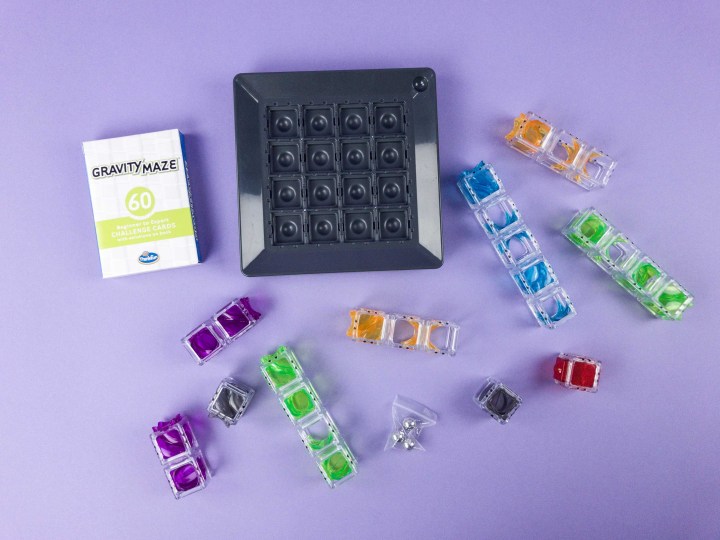 Everything in the game! The set includes a sturdy base, ten towers or varying sizes, three ball bearings, and a set of 60 challenge cards.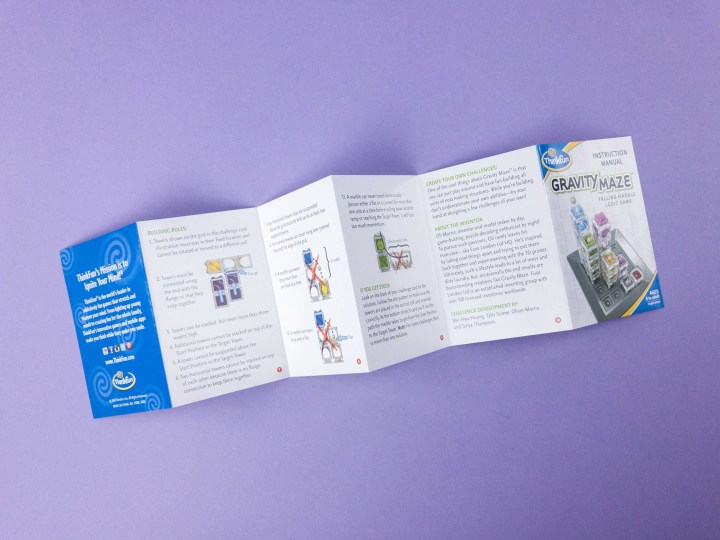 Instructions are included, setting forth some simple rules and explaining the general operation of the game. For example, solutions are not intended to include drops or horizontal paths of more than one block in length.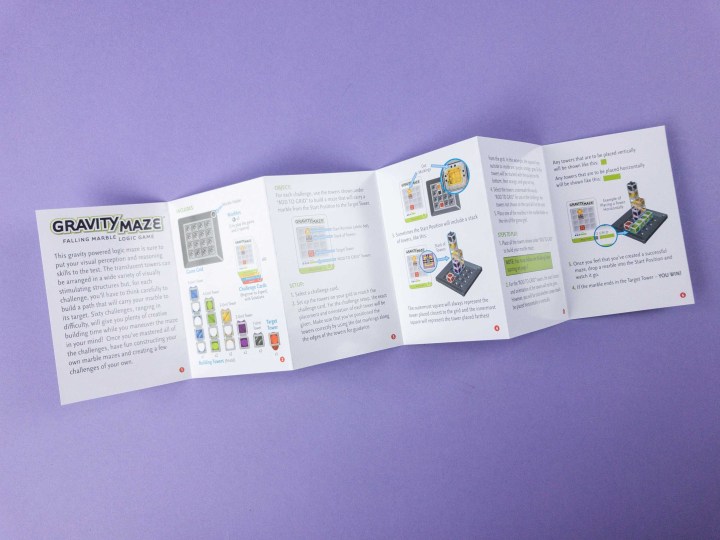 The towers snap into the base and into each other. They can be arranged vertically or horizontally, allowing countless arrangements.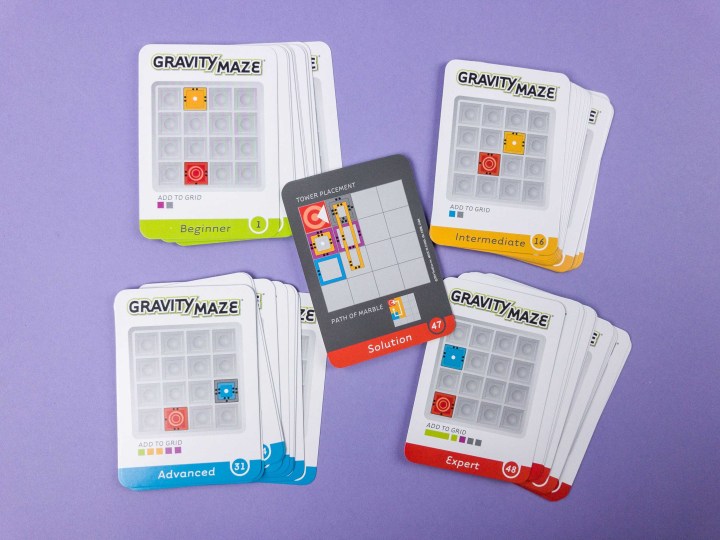 Sixty challenge cards with solutions are included, divided into four levels of difficulty. The cards show the starting and ending pieces with a specific orientation. The towers are marked with dots that allow you to orient them to match the cards. Each challenge shows the pieces you need to add to reach the desired solution. No hints are given as to the orientation of the added pieces, other than noting when a piece is to be placed horizontally. The goal is to add the suggested pieces such that your ball bearing travels, unassisted, from the starting point to the target block.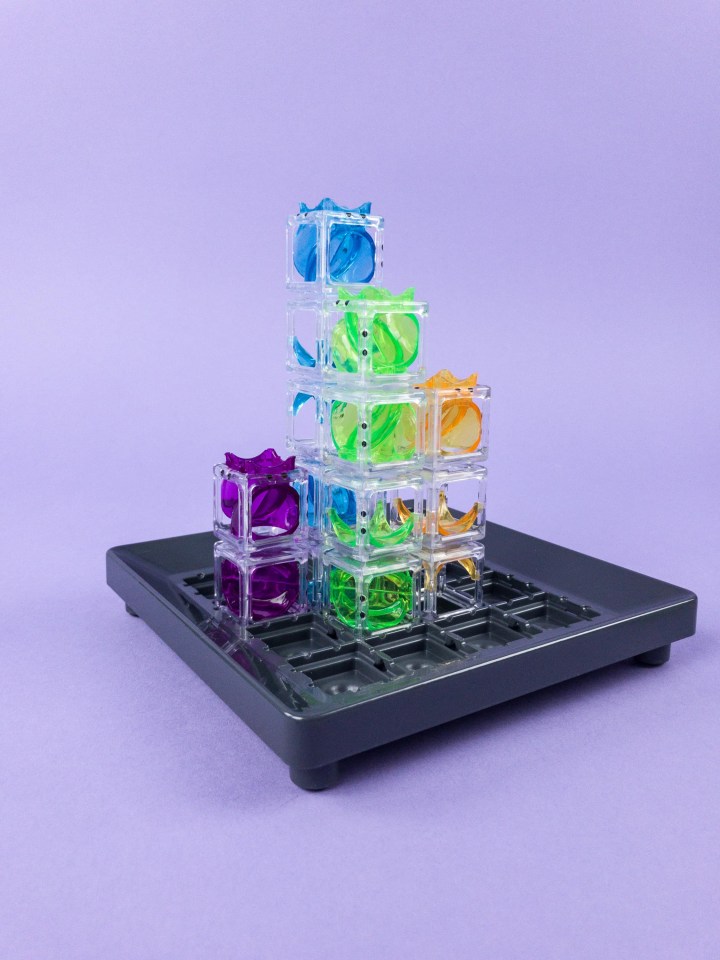 The interior of each block has a fixed interior that either changes the trajectory or the ball or allows it to pass through. The ball weaves through the towers, sometimes passing back through the same tower (at a lower level) more than once, until it reaches the target block.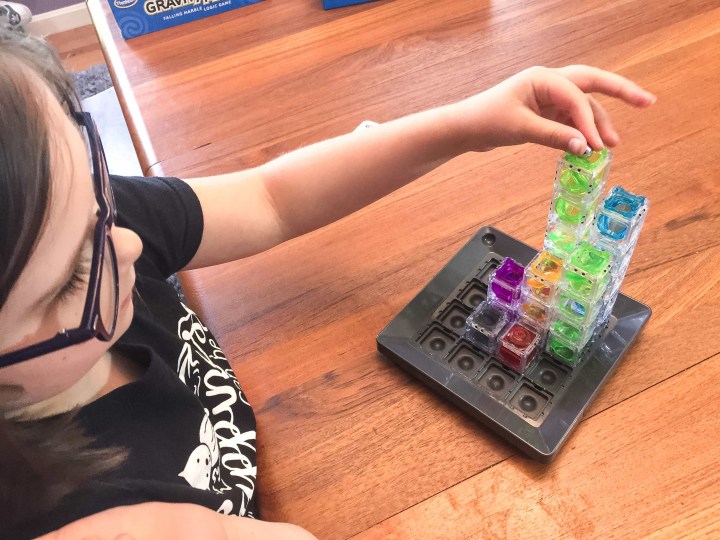 The game requires a lot of pondering, a bit of building, and then a split second of action to test your arrangement. There are lots of challenges to work through, and even the simplest of the four difficulty levels can take a little while to figure out. It is a cool game for your little problem solvers.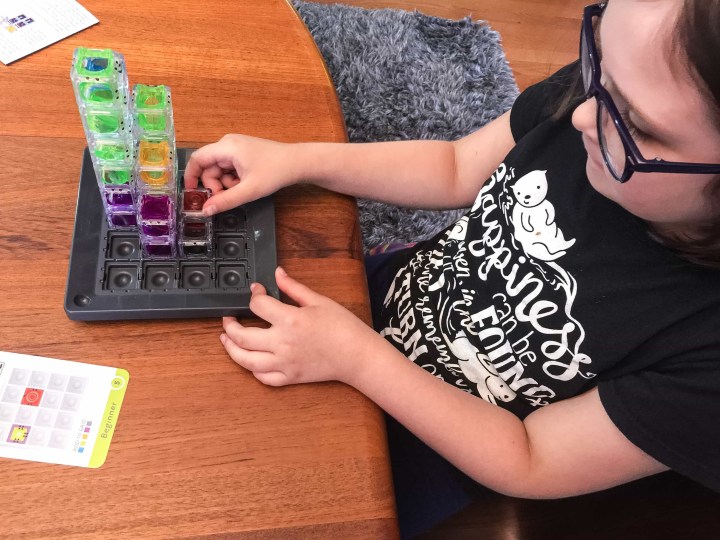 This particular STEM toy provides lots of challenge. It is easy to figure out the basic mechanics of the set, but the puzzles can be pretty tough to work through. I like that it is pretty compact – it is easy to pick up and take out for a quick challenge, and there aren't tons of pieces to lose (just keep an eye on those tiny ball bearings!). This is definitely suited to older kids, as it can be a head-scratcher and requires methodical problem solving. The value on this item was good – 25% above cost of the subscription – but not as incredible as the selections for previous months and other age ranges have been.
If you received something different than our family, let us know in the comments!