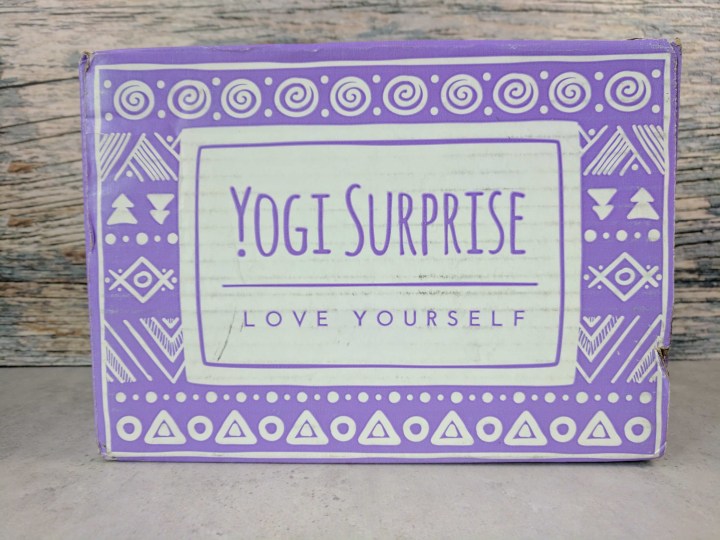 Yogi Surprise is a yoga-inspired monthly subscription box designed to complement your way of living. Each monthly box contains 6-8 products picked by experienced yogis to complement your yoga practice and your life! It's like getting a care package every month!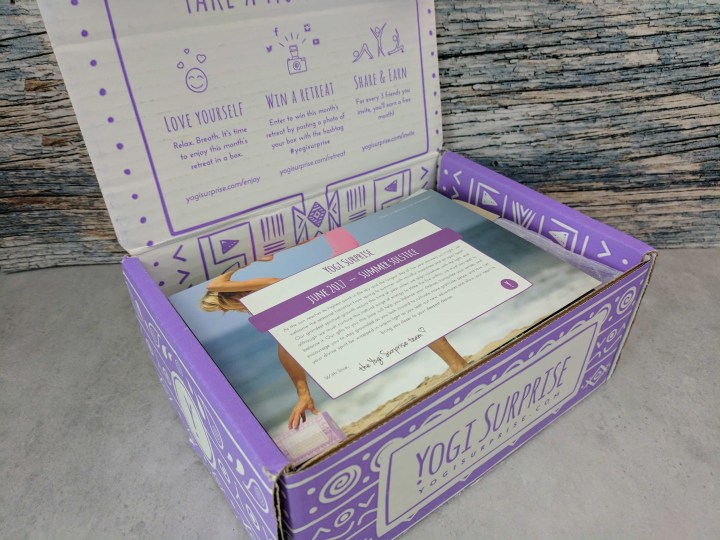 DEAL: Take 15% off your membership for life! Use coupon code HELLOYOGI.
Everything in the box. Summer is coming!
June's theme is Summer Solstice and the items are all about keeping our chakras balanced, and to stay grounded.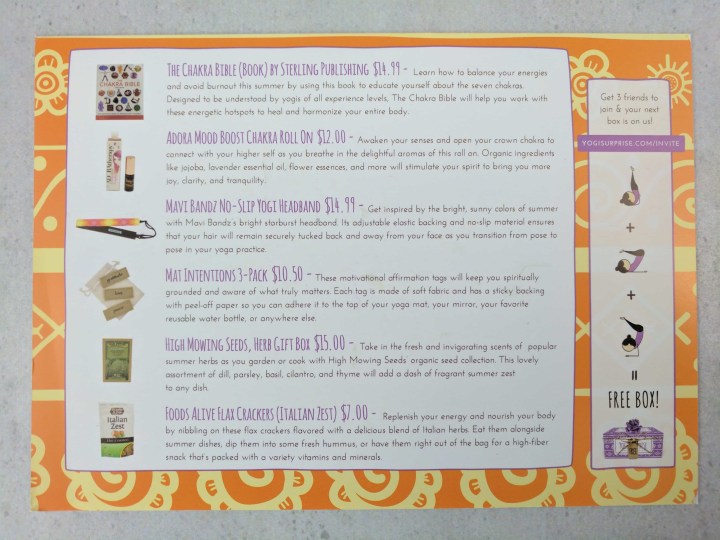 All the items are well described on the info card.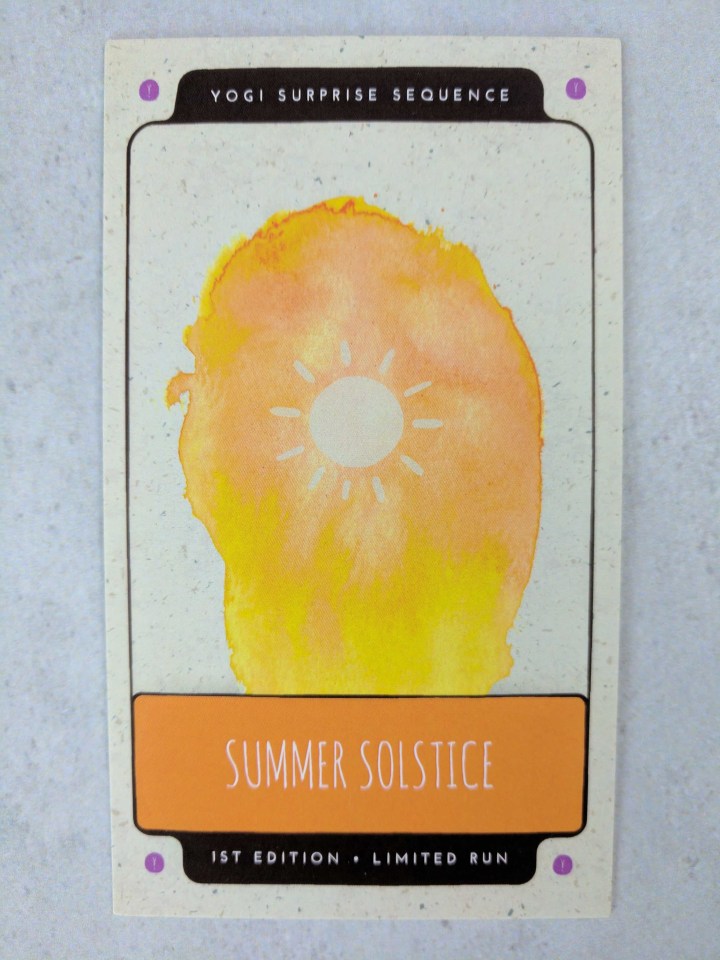 Yogi Surprise Yoga Sequence Series Card. Every month, you receive a little card with a sequence of poses to celebrate the month's theme.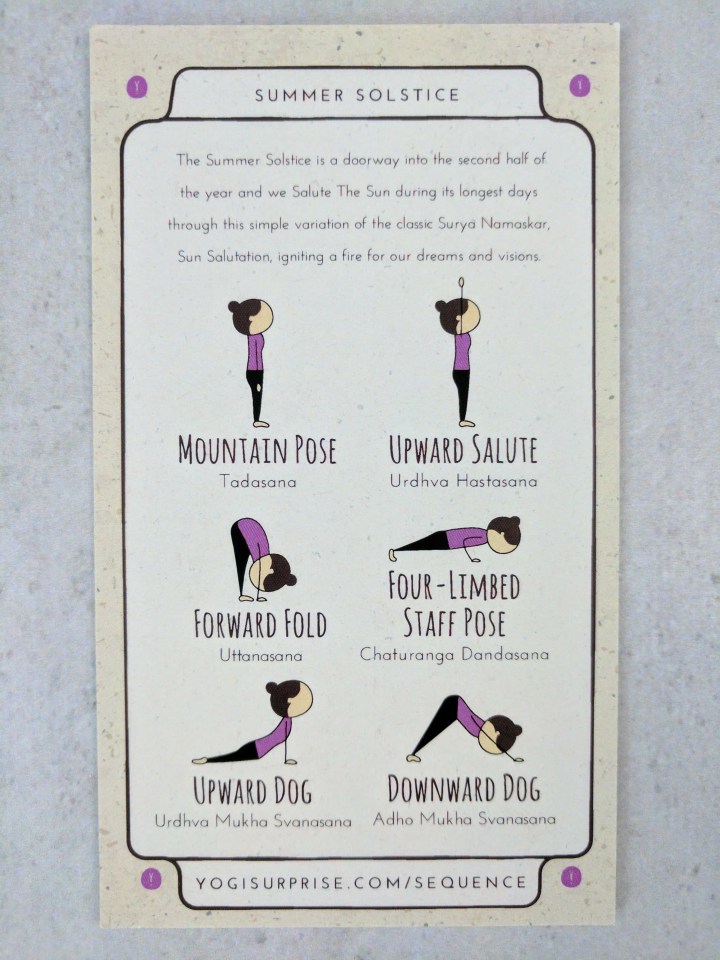 I love getting these sequences! This month, we are welcoming summer with a Sun Salutation! I carry my sequence cards in my yoga bag for when inspiration is a problem! Fun fact: you can download all the previous sequence cards on the yogi surprise website so you can have your own little inspiration book!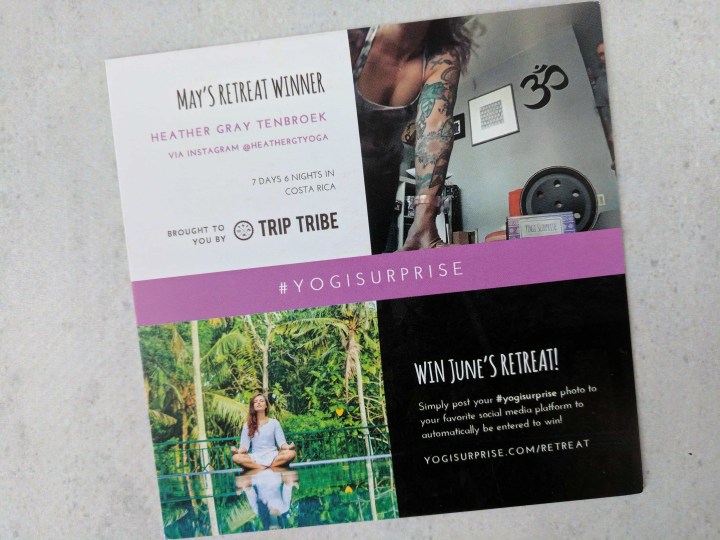 If you share your Yogi Surprise photo on social media, you are automatically entered to win a Yoga Retreat, in collaboration with Trip Tribe.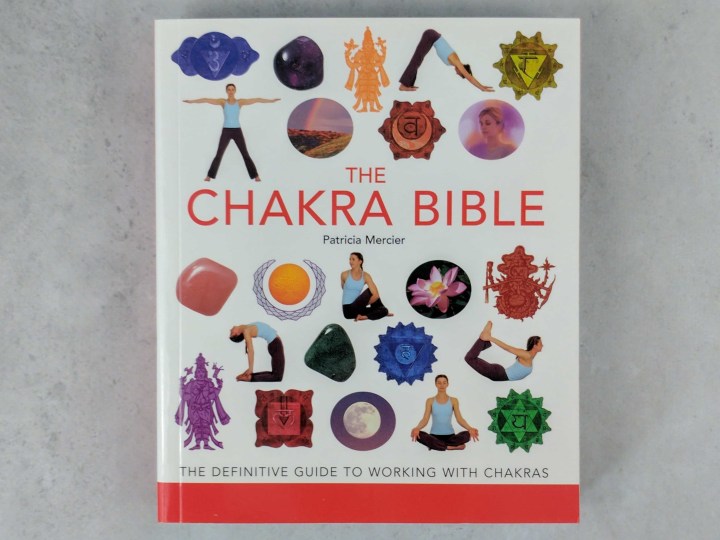 The Chakra Bible (Book) by Sterling Publishing ($14.99, $11.67 on amazon). If you are new to Chakra, and how they can relate to yoga, crystals and emotions, this little book is a nice starting point.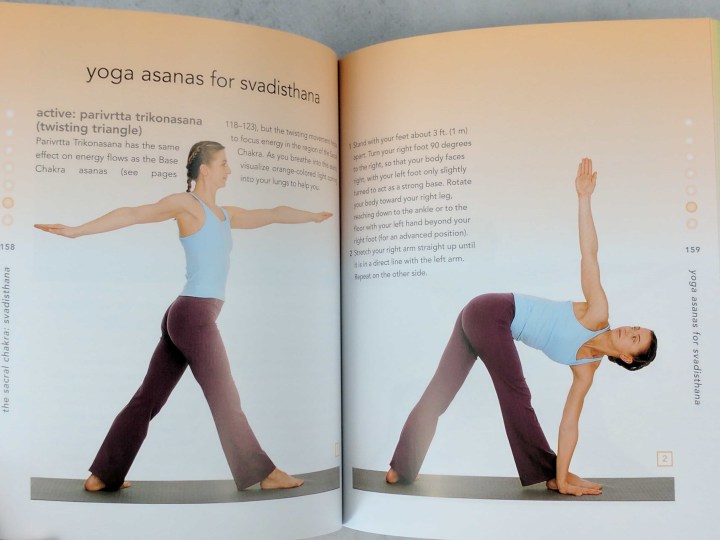 Each chakra is described and yoga asanas are suggested to help with the flow of your chakra.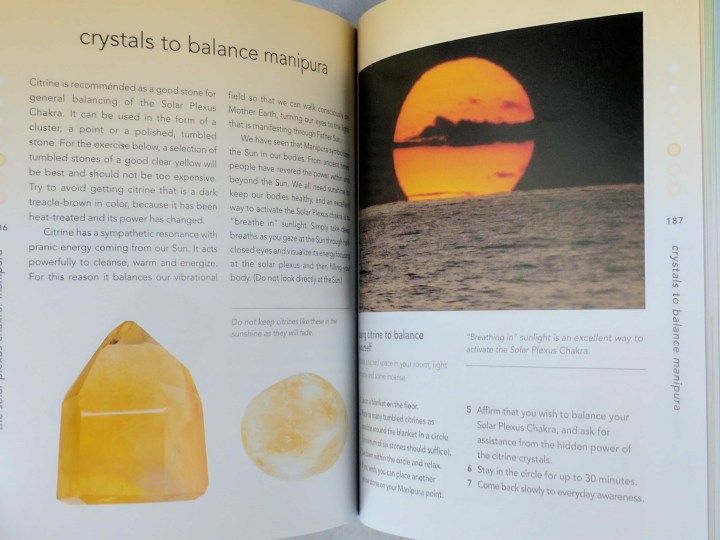 You also have a nice section about crystals for each chakra: which one to use to balance it, to calm it or to activate it. You'll also get information about aromatherapy, emotions, colours, deity associated with each chakra.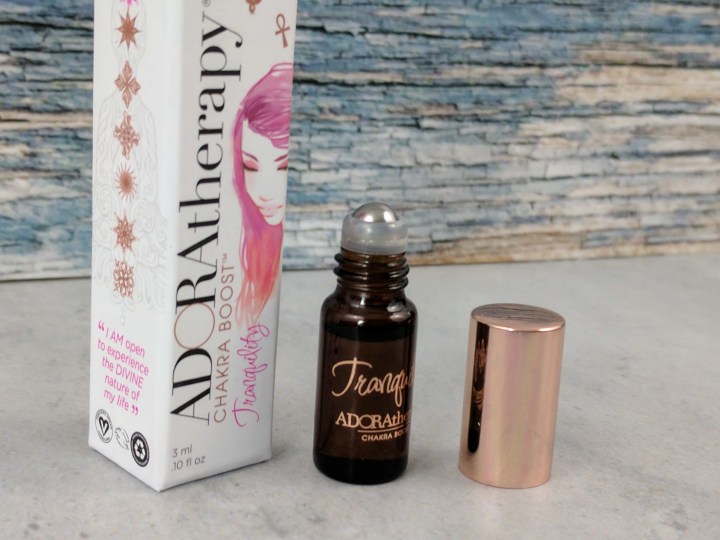 Adora Mood Boost Chakra Roll On ($12). Made with a blend of essential oils specifically chosen for the Crown Chakra, this little Roll on will help you connect with your higher self. Lavender, rosewood, cardamon, frankincense and jasmine essential oils give it a nice calming scent, flowery but grounded at the same time.  This is a small 3ml roll on, easy to carry in your purse for that little boost of tranquility.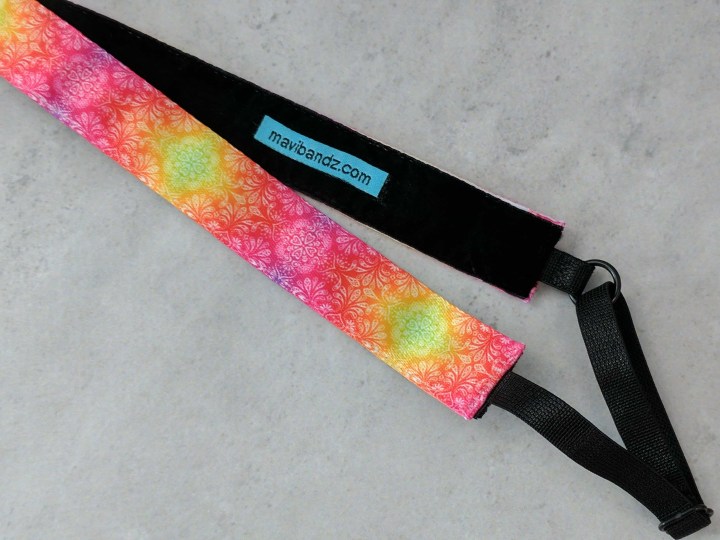 Mavi Bandz No-Slip Yogi Headband ($14.99). Adjustable, and with a no-slip material, this headband is a must! I love the burst of colour, and the suede-like material inside doesn't tangle my hair, even after a run. The adjustable band helps keep it in place. I love it!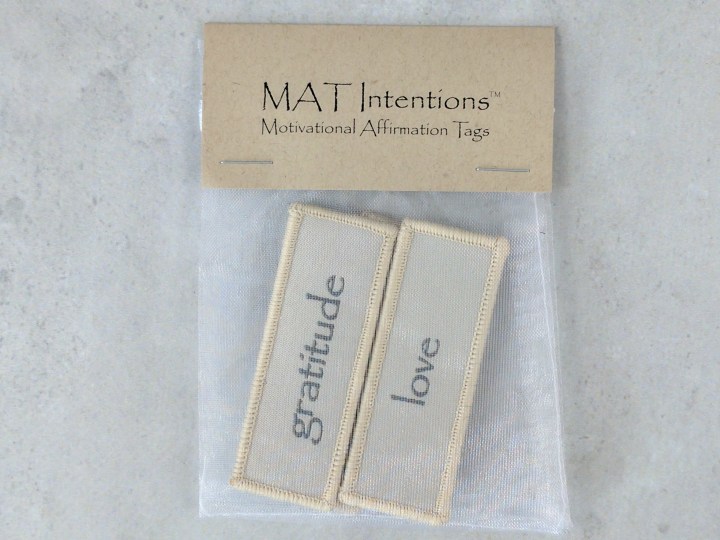 Mat Intentions 3-Pack ($10.50). Peace, Love and Gratitude, these tags can easily be attach to anything you want! The pack includes three intentions tag, and a velcro type strip that you can stick to your mat, your mirror, your water bottle, or whatever you want.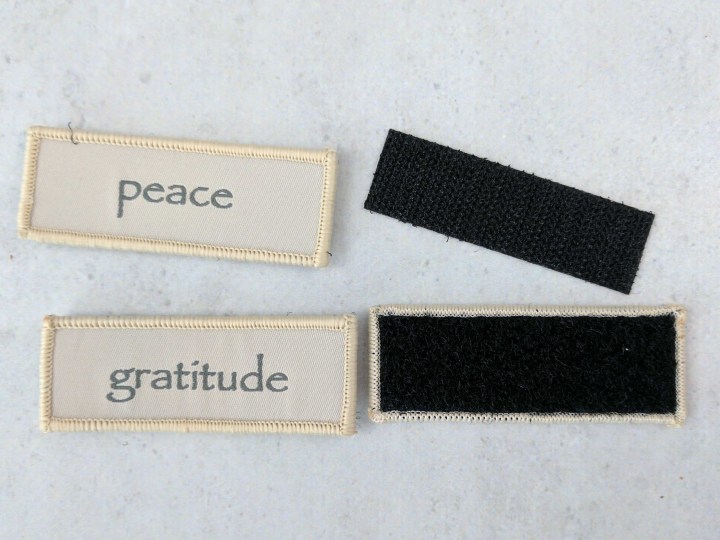 The velcro backing makes it easy to peel of the intention whenever you want. A discount for more MAT intentions was included in the box.
High Mowing Seeds, Herb Gift Box ($15). What would be summer without fresh organic herbs everywhere? A nice variety of common, and delicious, herbs that can be sow in your garden, or in an inside container to enjoy fresh picked herbs anytime! But you have to be patient, the quickest herb to grow from seed to maturity in this package is the Cilantro, ready in 55 days. But it'll be worth it!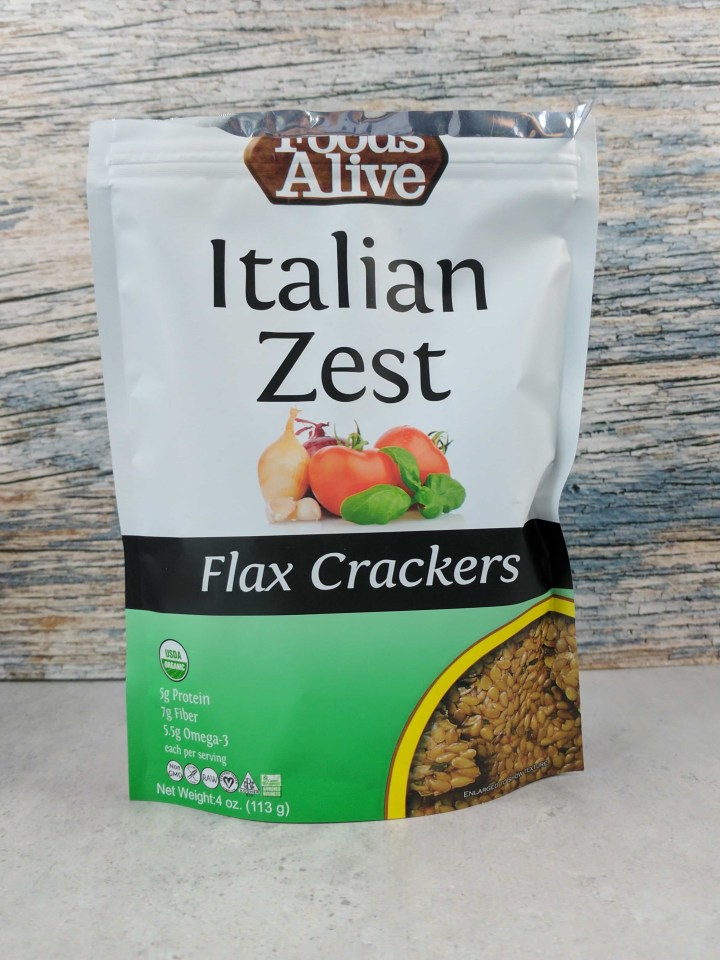 Foods Alive Flax Crackers (Italian Zest) ($7). Grounded Flax Seeds is a part of my diet, and these crackers do not disappoint! They've been soaked to germination before being dehydrated with a bunch of flavoring (tomato, garlic, onion powders, with parsley and other herbs) and they are delicious!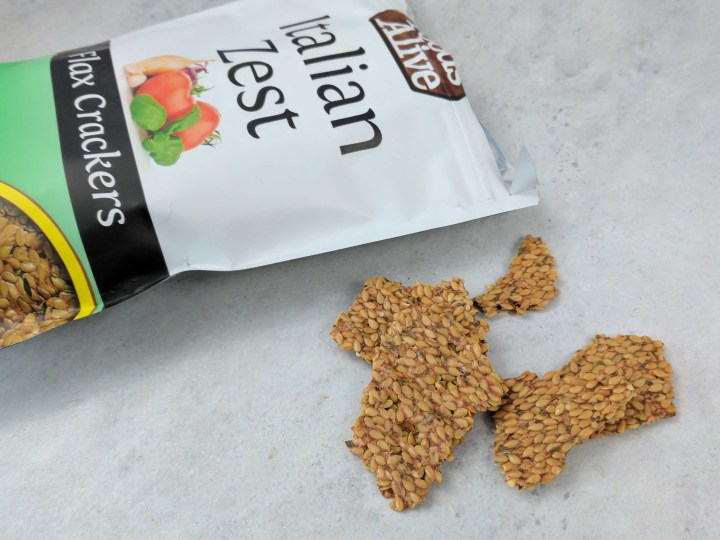 The info card suggest to eat them with hummus, but they are good as is. I like how they are crispy, but while you chew, the flax gets a bit… slimy? It's good, just a bit surprising at first!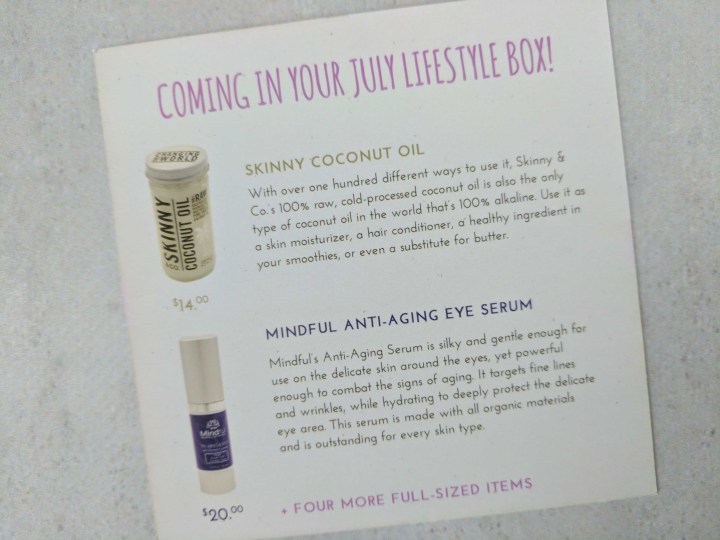 Included in the box, a spoiler for July's Yogi Surprise box: Skinny Coconut Oil and an Anti-Aging Eye Serum.
June's Yogi Surprise was another great month. I like the addition of the herb gift box, although I wish we would have received it a bit earlier (I've planted my herbs back in May), but I'll soon be starting an indoor garden, so they'll fit right in! I'm always happy to get a book in a box, and the Chakra Bible is a great introduction to different aspect of Chakras. The Crackers are probably my favorite! So good!
Are you a Yogi Surprise subscriber? What did you think of the box?