Valor Blocks is a monthly subscription box that features exclusive collectibles and merchandise from the world's most prominent protective services organizations, for $34 per month. If you are a member of the military or a veteran you can verify eligibility through a third party site and save 10% on your box.
I'm reviewing the US Air Force Block but you can choose from US Army Block, US Navy Block, or US Marine Corps Block.
U.S. Air Force® Block is an officially licensed monthly military subscription service that celebrates the personal achievement and pride of men and women in uniform, veterans and military families. Subscribe now, and you'll get exclusive U.S. Air Force® themed apparel, collectibles, games and merchandise delivered to you or your loved one.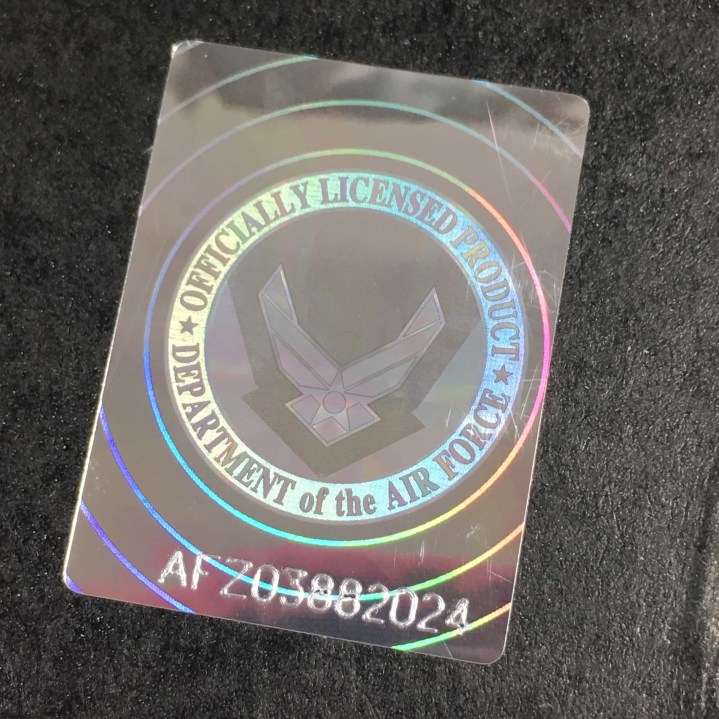 Valor Blocks comes with licensed products from the U.S. Air Force. Revenue from licensed products like these goes to Morale, Welfare, and Recreation programs. MWR programs include libraries, community education and recreation, base childcare, entertainment, and more – things that make a big difference in the quality of life for service members and their families but that aren't always federal budget priorities.
DEAL: Active duty members + veterans receive a 10% discount! You'll confirm your identity through a third-party service on checkout.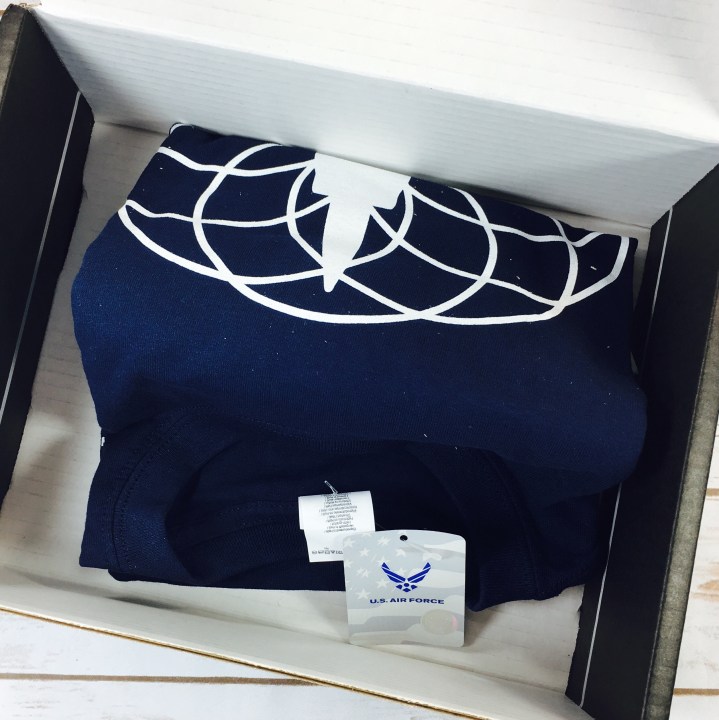 When I opened my box I found no packing material but then again I didn't receive anything breakable. My t-shirt was on top and the other items were underneath the shirt.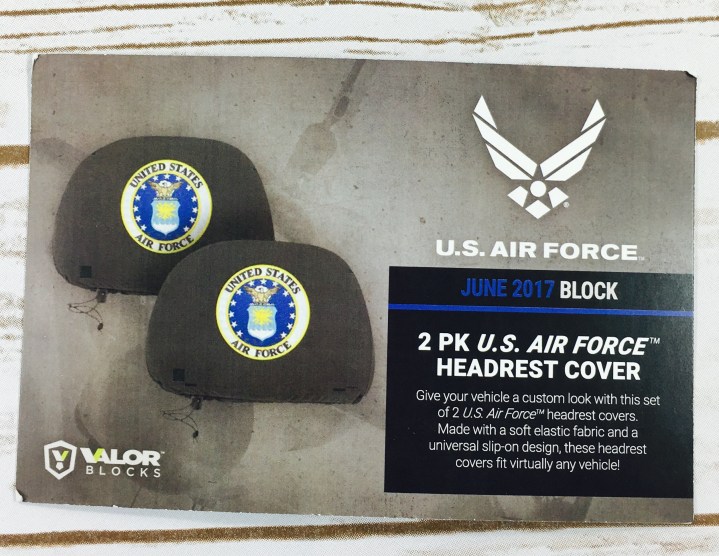 I received a product information card that listed what I am guessing is the main item this month.
The flip side of the card listed the remaining items. The items mostly speak for themselves, so not much explanation is needed.

Everything in the June 2017 USAF Valor Blocks box! I'm a veteran of the Air Force and it has had a profound effect upon my life. I knew when I was a junior in high school that I was going to join the military and even enrolled in ROTC my senior year so I would know how to march at basic! I went to basic training in San Antonio, technical school in Denver, and then served overseas in the U.K., where I met my husband, who was also on active duty. We were stationed in New Mexico before deciding to leave active duty, although my husband joined the AF Reserves a few years later. 9/11 also changed our lives as my husband was recalled to active duty for the next two years and he is still in the AF Reserves.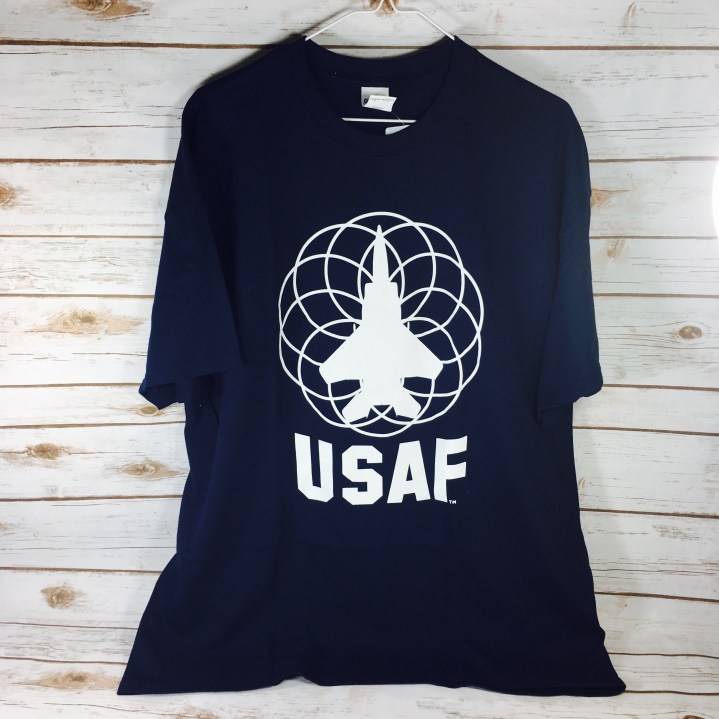 USAF T-Shirt When you sign up for Valor Blocks you get to choose whether you want a male fitted, female fitted, or unisex t-shirt and choose your size. I went for the unisex XL and it was pretty big. We don't live near an Air Force base so getting our hands on gear is kind of hard. I've never seen this particular design before and couldn't find it online. I washed this in warm water and placed in the dryer and it shrank and no longer hangs as long.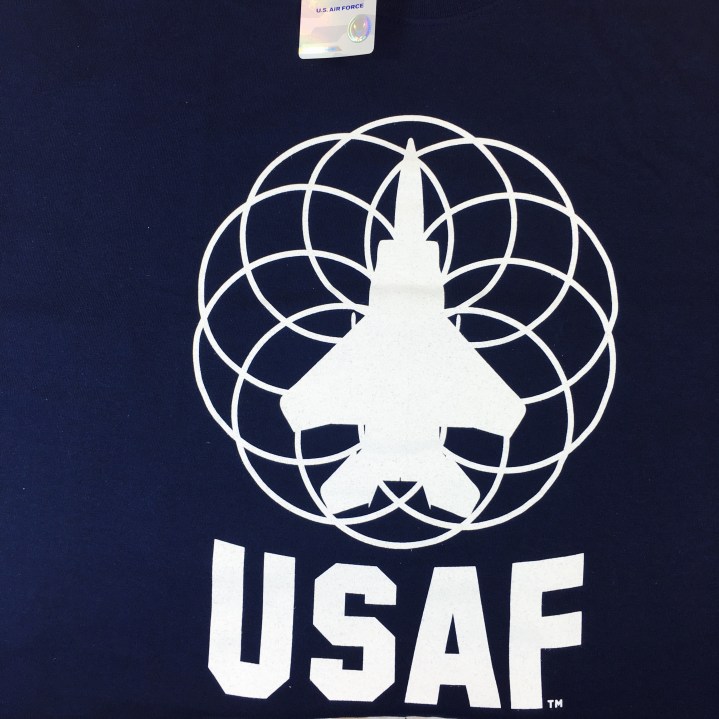 Despite being in the military and having a father who was a flight engineer on a C-130 I don't know all of my jets and at first glace we thought this was an F-18, which is a Navy jet. We kept going back and forth between that, or an F-22, and finally settled on an F-35 Joint Strike Fighter. Maybe an F-15. I give up. Either way the background reminds me of an atomic symbol.
C&D Visionary Air Freshener is going in my husband's car because although this says "new car smell" it actually smells like aftershave or men's cologne. I bleed red, white, and blue but I'm also a girly girl who loves unicorns and glitter so this scent was definitely not for me!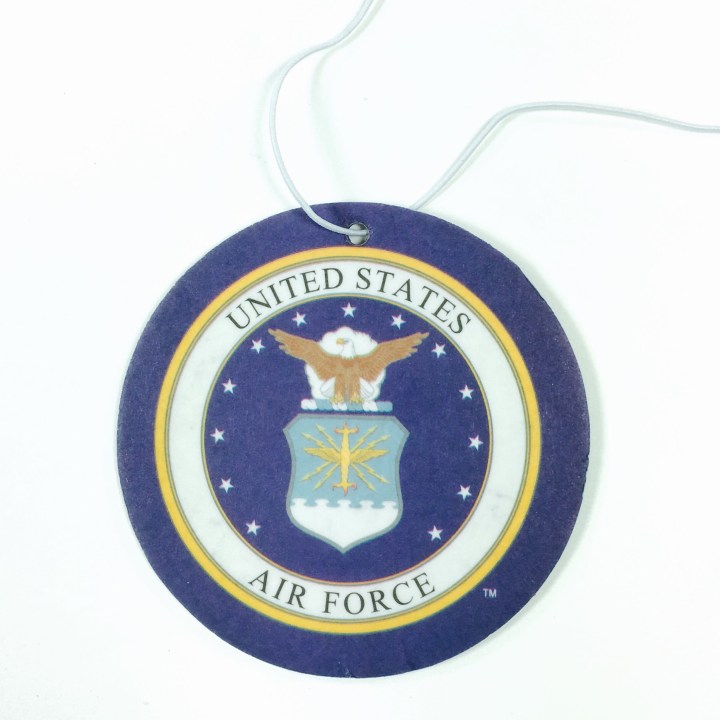 It has an elastic string for hanging and the AF seal can be seen on both sides.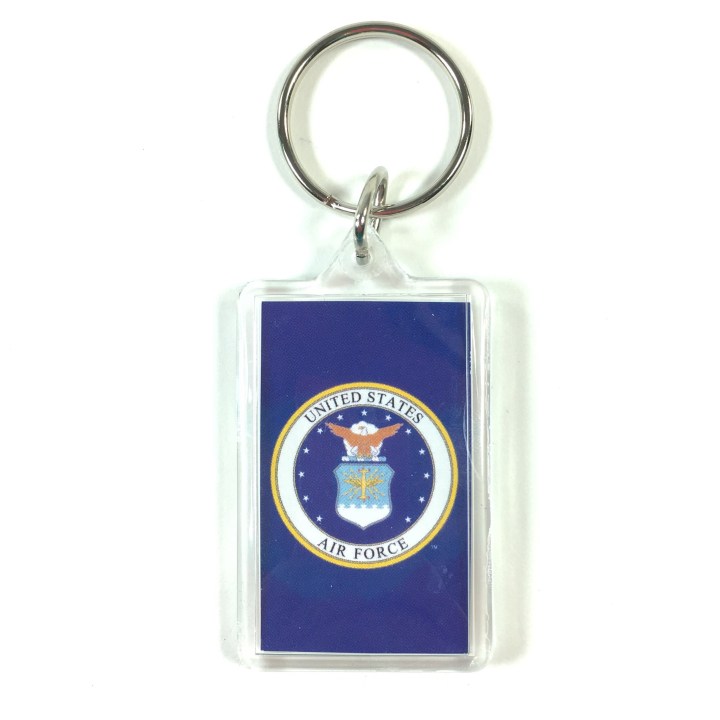 Air Force Key Chain has the seal on one side…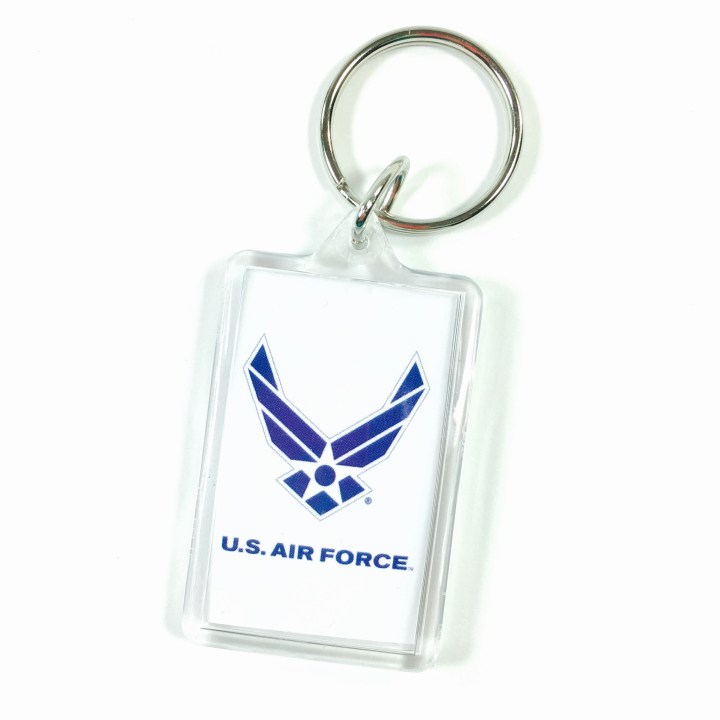 …and the logo on the other. It is acrylic with a metal key ring. I like that the sides are different because it looks more interesting.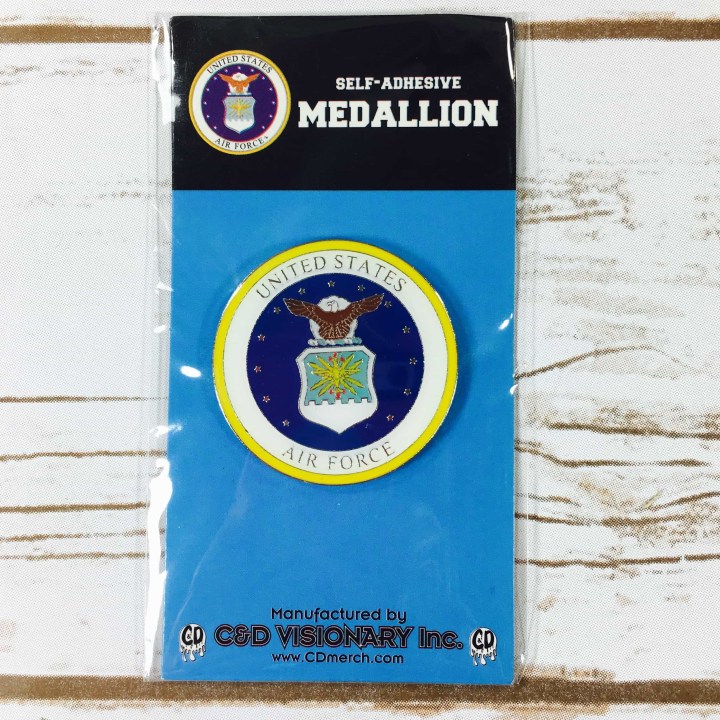 C&D Visionary Inc. Self-Adhesive Medallion can be stuck to whatever you wish.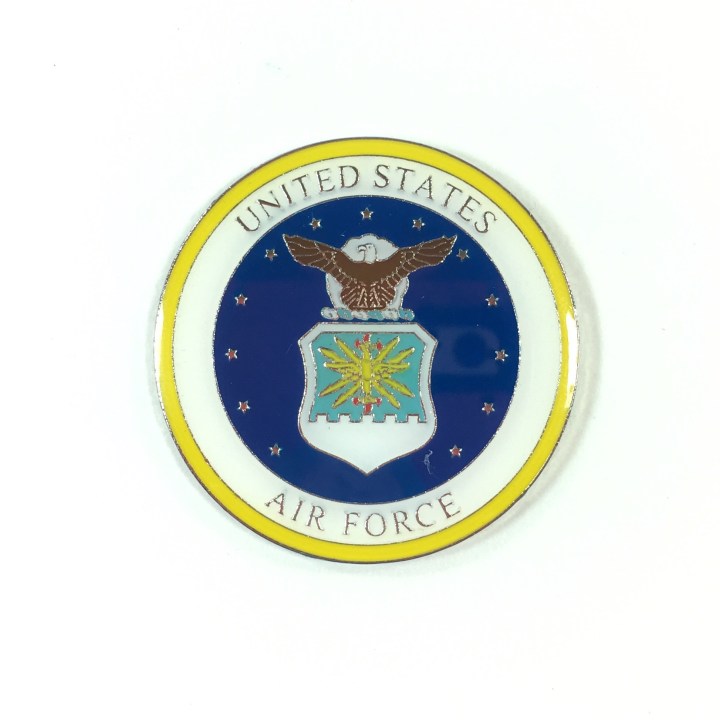 Here is an up close look at the detail.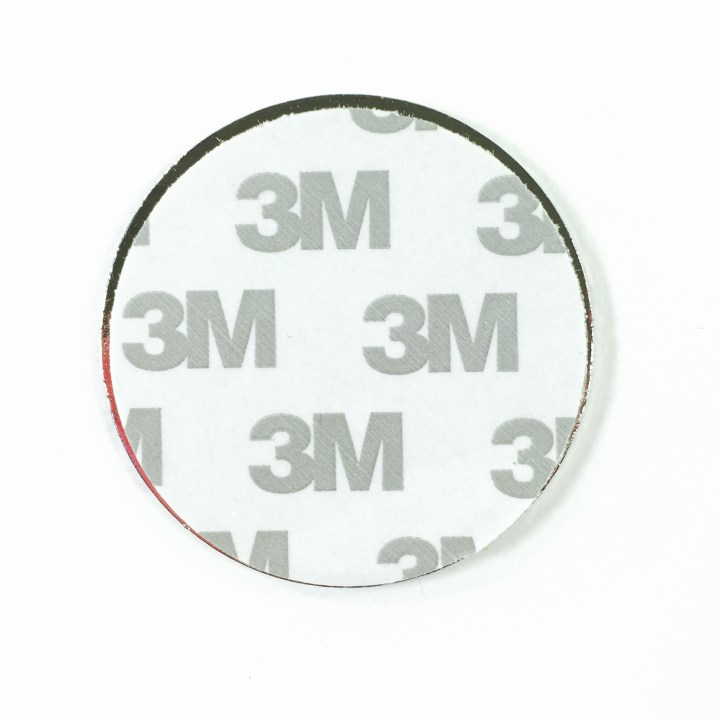 It has 3M sticky tape on the other side. I haven't decided where to put this yet, maybe my fridge.
I wasn't sure what this next item was so I had to refer back to the info card.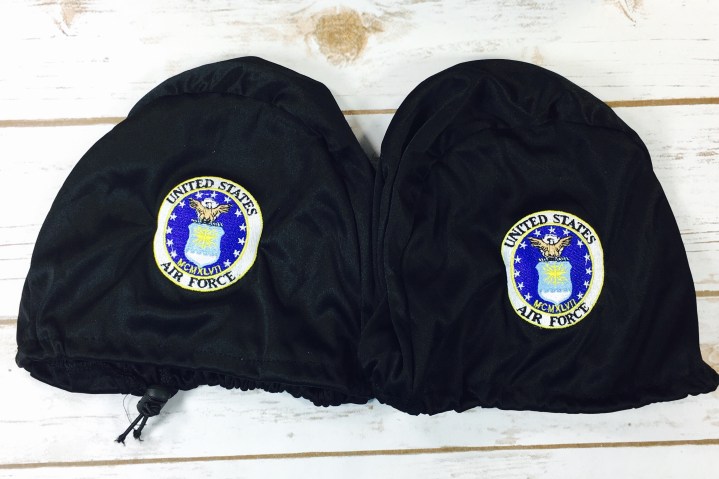 USAF Headrest Cover Set Oh my goodness, I never even knew that such a thing as a headrest cover existed! I showed them to my husband who said "sweet!" so I guess they'll go in his car.
Here is a close up of the seal on the front. I couldn't find this exact one but I linked to a similar one without the Roman numerals, which give the year the USAF became it's own branch of the military, 1947. There is an adjustable closure so you can get a secure fit. These retail for $25-$30 online.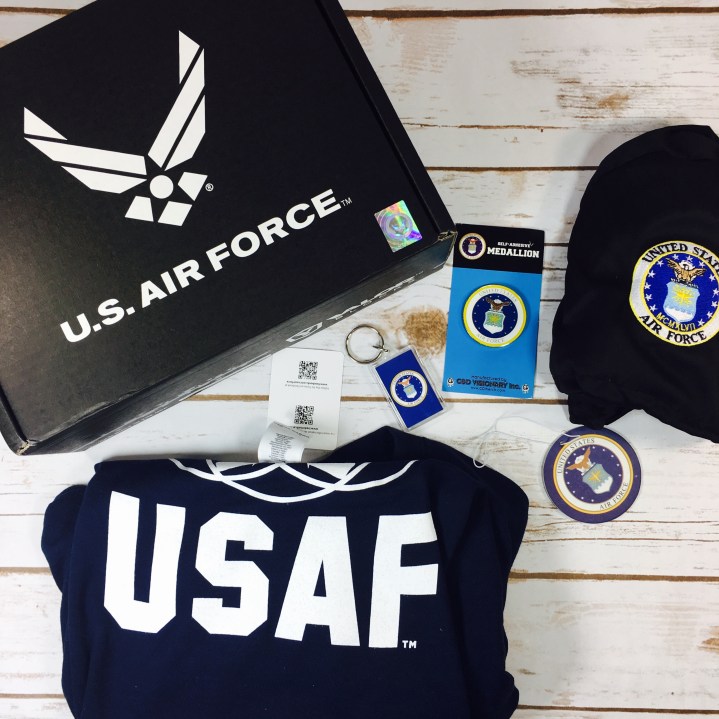 Wow, we are geared up to show our Air Force pride! The nearest Air Force base is in San Antonio, around 1 1/2 hours away so we don't get there very often to shop for branded items. My husband just got back from Korea and brought a plain black shirt with a base name on it for me but don't tell him that I prefer this one instead! I'm keeping the shirt and medallion but will give the other items to my husband for his car. I was really excited to get this box and it would make a nice subscription for spouses, respectful fans, parents, new recruits, and young and old veterans alike.
What do you think of this box? Let me know in the comments and if you were in the Air Force let me know where you were stationed!