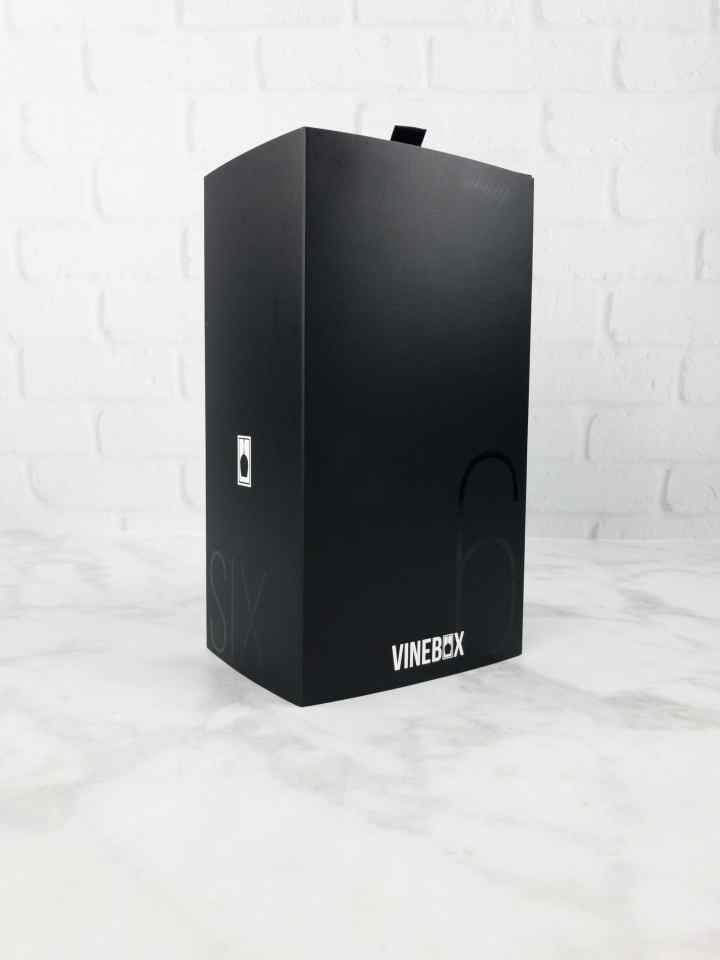 Vinebox is a delivered-to-your-door wine subscription serving up ultra high quality wines by the glass.
Vinebox has announced a new ROSÉ PACK: The Ultimate Rosé Collection limited edition box!
Enjoy 3 different rosés this season, all the way from France and Italy. Add some old world rosé to your warm weather routine. 2 glasses of each wine included.

These three are some of our favorites from France and Italy, pioneers of the pink nectar. This is handcrafted wine that happens to pair perfectly with sunshine.
This is a review of the Limited Edition Rosé Pack.
DEAL: Save 5% on all products including memberships, additional glasses purchases and limited edition boxes! Use coupon code HELLO5.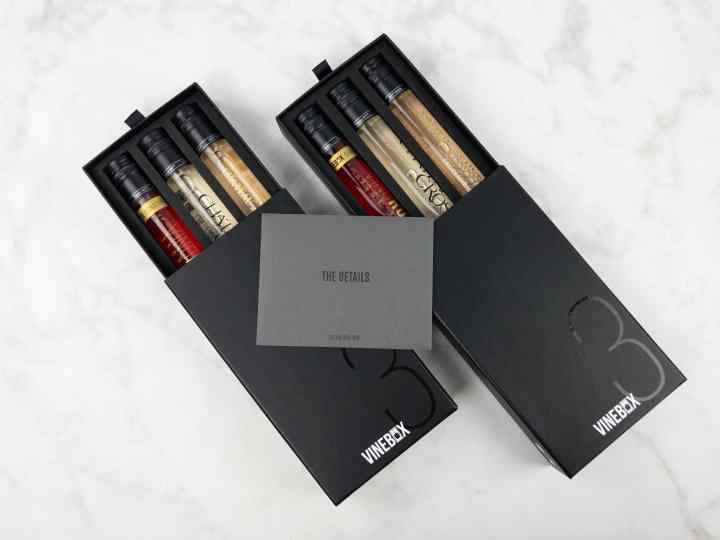 The Ultimate Rosé Collection is available for $49 with free shipping.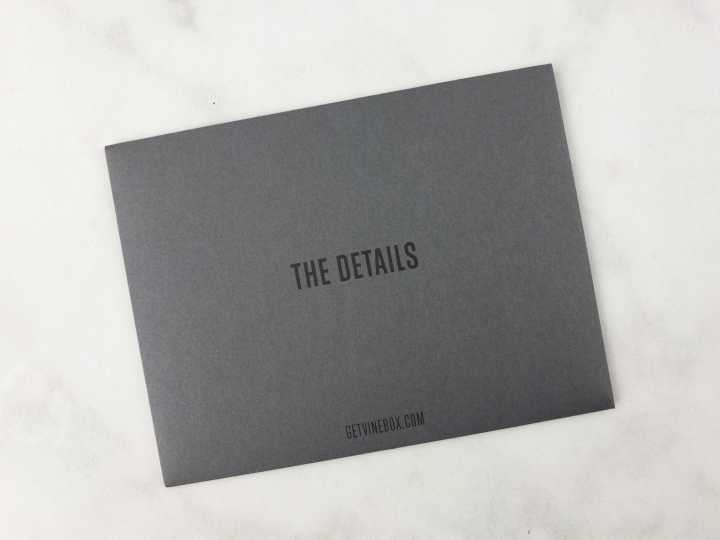 An elegant envelope accompanies your selections. Inside are cards with everything you need to know about your three rosés.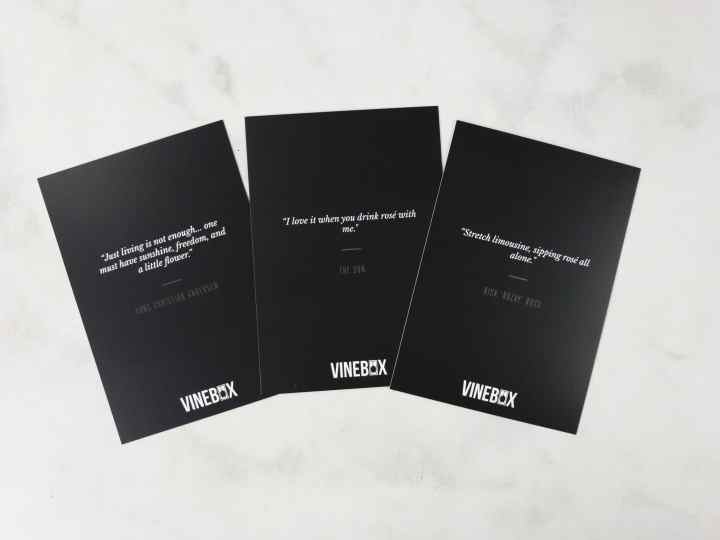 The back of the cards have pithy quotes that are inspirational, witty, or simply wine-related.
Our three wines arrive as a trio within a lovely black case. The Ultimate Rosé Collection has two servings of each wine, and you receive two trios so you and your drinking partner each get your own flight. The wines are the same high-prized potables sold in 750 ml bottles, but they are specially packed in glass tubes in France using a patented process.
The information card for each wine contains a brief but thorough rundown of the pertinent features of each wine. It shows the location of the source vineyard and has tasting notes, pairing suggestions, some additional notes on the varietal or peculiarities of the wine, and a graphical depiction of the fruit, body, and acidity levels.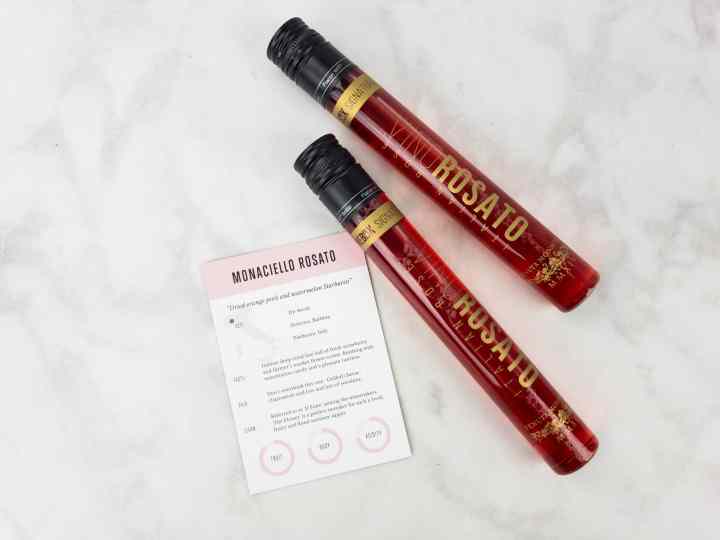 Monaciello Rosato: Very fruity and floral, with a pleasant tartness, this strawberry colored wine also exhibits flavors of the same. Tasting notes also suggest a candied watermelon finish. Made with Dolcetto and Barbera grapes.
Crostes Rosé: This pale, refreshing rosé displays notes of citrus and raspberry, with a strong minerality. Made from Cinsault and Grenache grapes.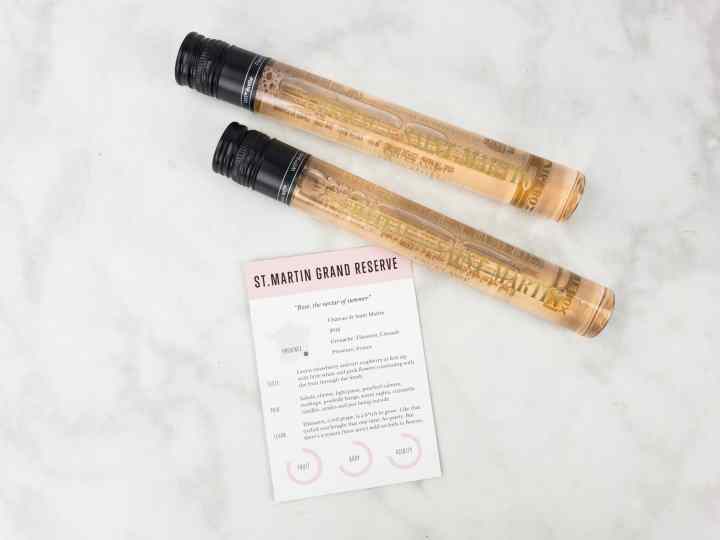 St. Martin Grand Reserve: This wine has a gorgeous coral color and boasts delicate tart notes of unripened berries and flowers. Made using Grenache, Tibouren, and Cinsault grapes.
Vinebox is a superb way to try a flight of great wines. The Ultimate Rosé Collection brings together three wines from the birthplace of rosé, France and Italy. You receive two 100 ml vials of each selection, so you can share with a friend… or not. All the wines in this flight were on the drier side, which is our preference. One of the things we love about VINEBOX is their sophisticated take on any theme they choose!
Have you tried VINEBOX?