Say it with a Sock is a monthly sock subscription that sends high-quality cute and/or funky socks to your door. You can also gift this sock club to someone special who likes really cool socks and they will receive a handwritten note to go along with their new warm fuzzies. This sockscription sends only brand name socks.
You or the object of your affection will receive a pair of brand-name socks every month. If you're the forgetful type or just want to wrap your friend's feet in happy fun sock goodness monthly, this is a great subscription.
This subscription is available for men, women, or children, and I am reviewing the women's subscription today. Women's subscriptions include 1, 2, or 3 pairs of socks a month and you can choose from monthly, 3, 6, or 12-month terms. Receive 1 free pair with a 6-month term or 2 free pairs with a 12-month term! You can select Pattern Socks (more subdued), Graphic Socks (crazier styles), or either. This is a review of the Women's 1-Pair Sockscription ($11.99 + free shipping).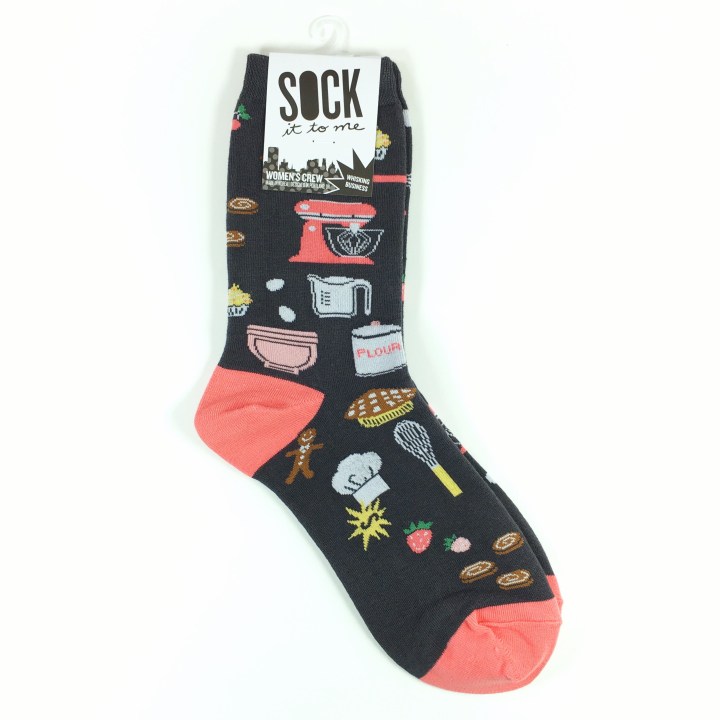 I received 1 pair of socks in a pretty poly mailer. This subscription starts at $11.99 including free shipping.
DEAL: Save 15% on your order with coupon code SOCKS15 or get your first pair for $11.99 with coupon WELCOMETOTHECLUB.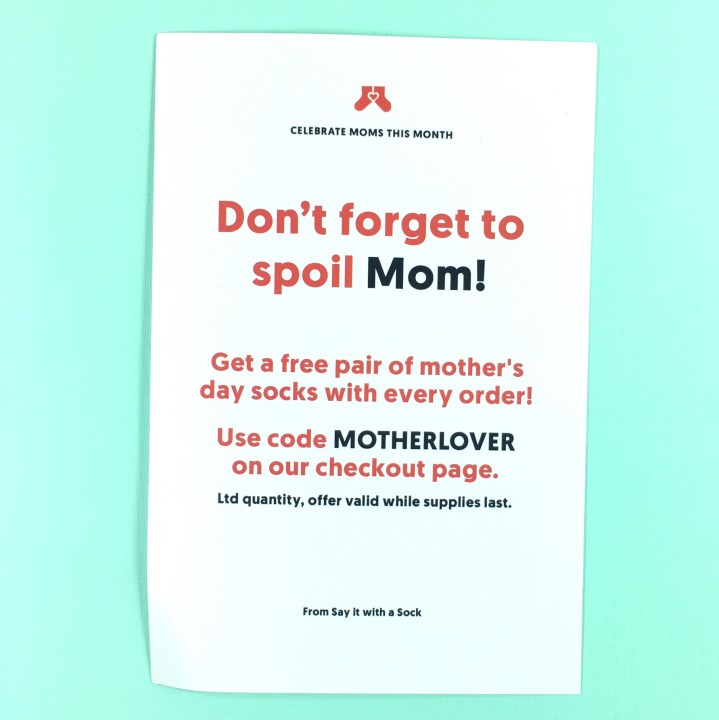 I received a card that had a code for a free pair of socks for mom…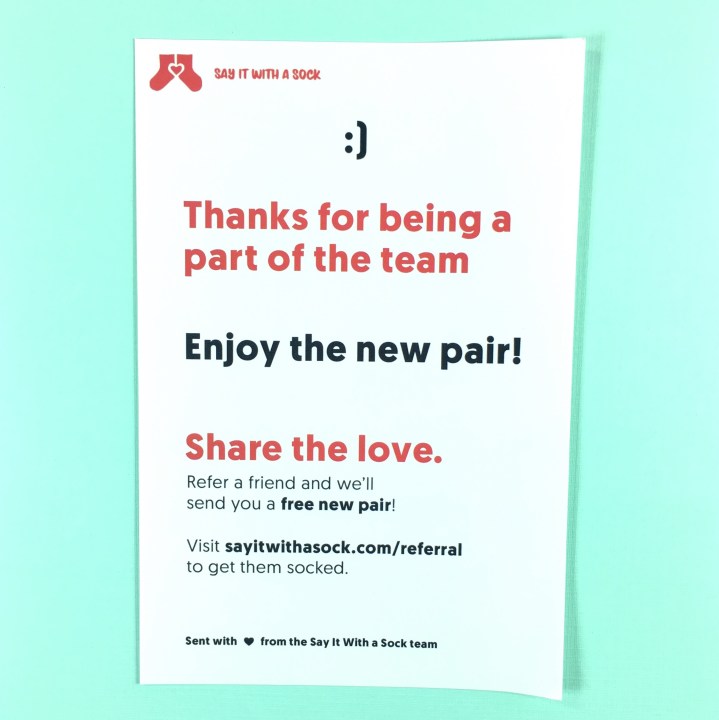 …and that had info on how to earn free socks when you refer a friend.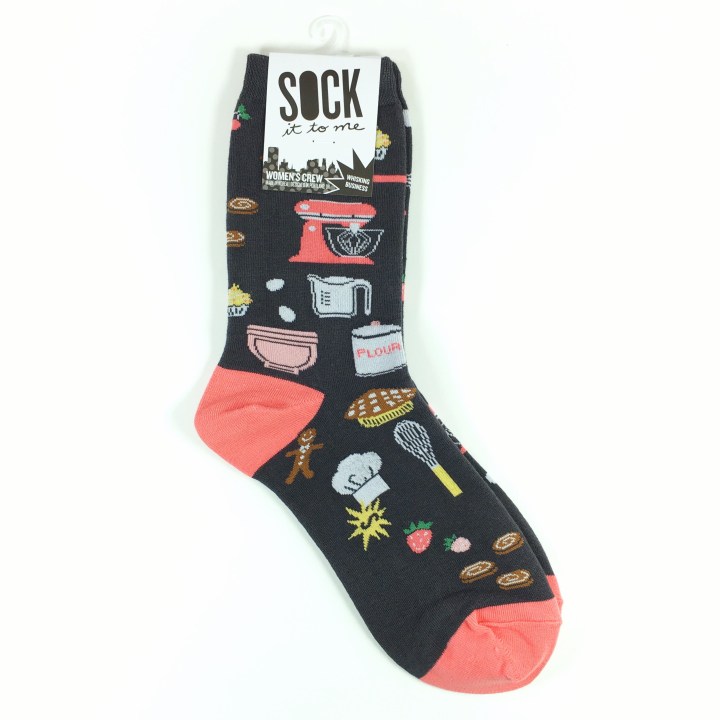 Sock it to Me Women's Crew Socks Whisking Business ($11) From the Sock it to Me website:
These baking socks were created to look even better when covered in a little flower and maybe an errant eggshell piece or two. The crews feature everything you knead to get along in the kitchen: stand mixer, measuring cups, whisks, and of course, chef hats! After all, it's all or muffin.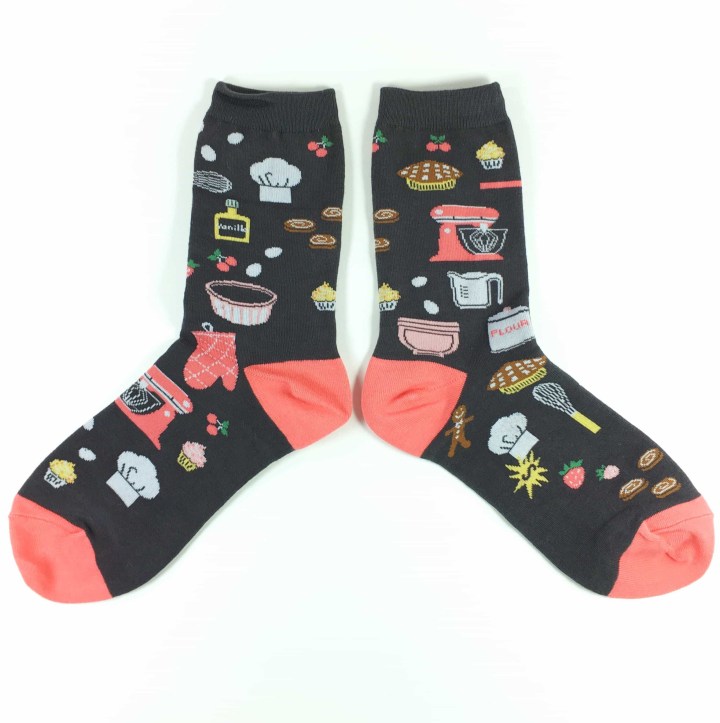 These socks are made of a cotton/polyester/spandex blend and will fit a women's shoe size 5-10.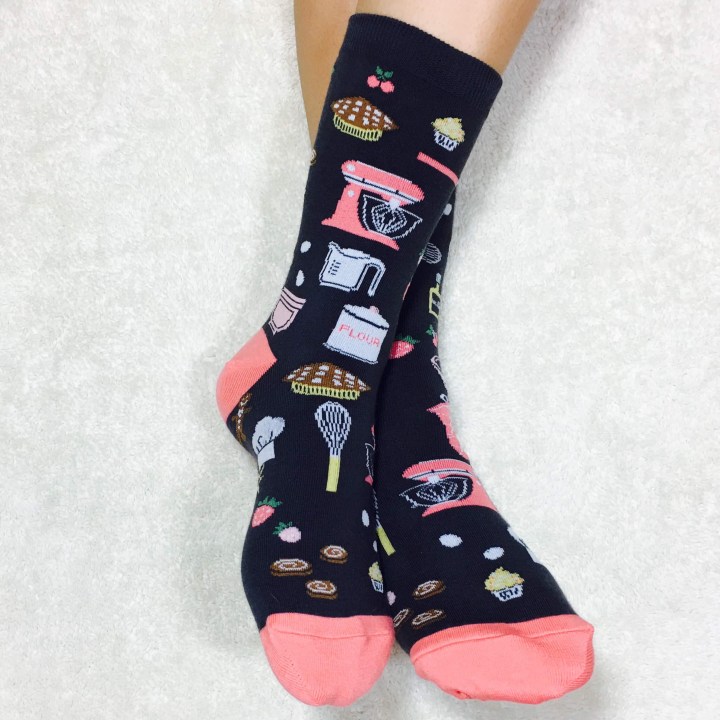 I LOVE them! I love to bake so these fit me to a t(easpoon). I don't own a KitchenAid mixer but now I want one that matches these socks! These socks are very comfy and I love the colors! This sockscription is a really cool way to add a funky touch to a somewhat ho-hum item. The value for my May shipment was $11, plus shipping was free, which would have added to the price had I ordered from the individual company website. If you are really into socks or want to send a gift to someone who is, then check out the Say it with a Sock website and start customizing to your feet's delight!