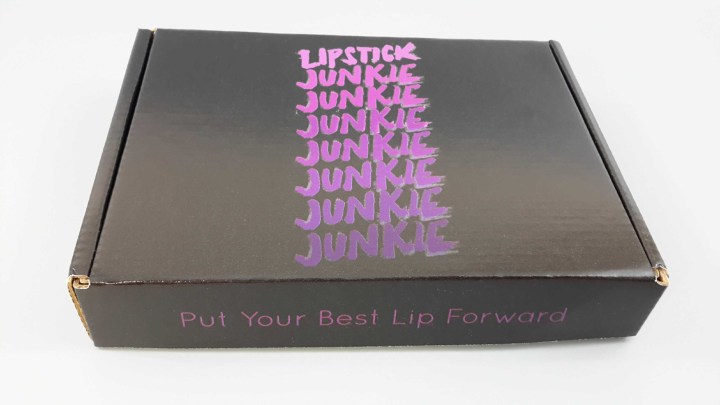 Are you a fan of lipsticks? I am a certified one! Lipstick Junkie is a subscription that will take care of all of your lip and lipstick needs. Starting at $24 per month, subscribers will receive 4-5 items in each box. They focus mostly on bright and vibrant colors to help you step out of your comfort zone and be bold when it comes to lipstick shades. Lipstick Junkie ships worldwide and shipping is FREE in the US!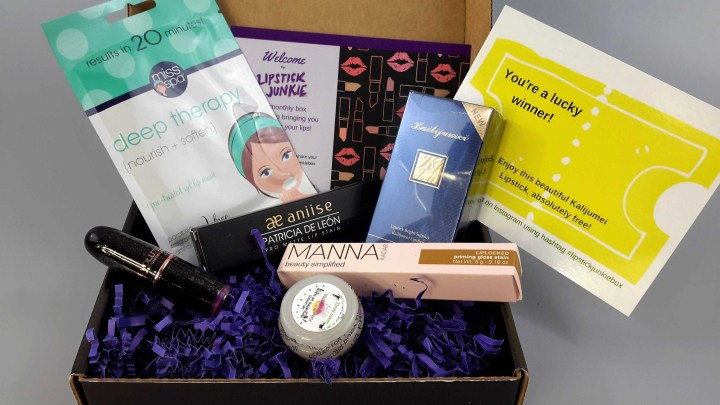 My box arrived with a variety of lip products and colors in it. It was not just about lipstick, but also lip gloss, scrubs, and moisture.
DEAL: Get 25% off your first box! Use coupon code HELLO25.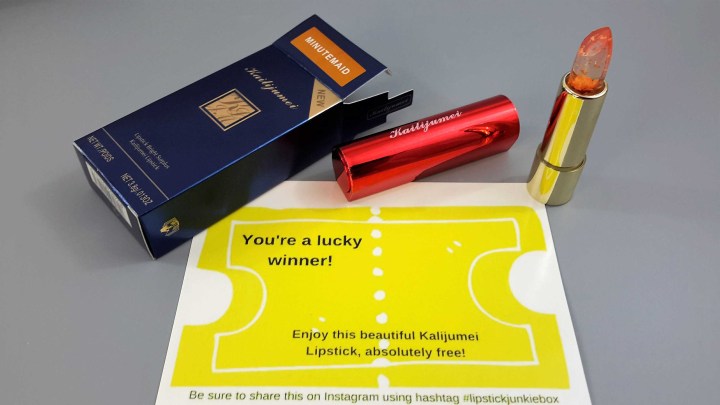 The first thing that popped out at me was the postcard letting me know I was the lucky winner of a Kalijumei lipstick. I had never seen this before so I was absolutely thrilled when I opened the fancy blue box this free gift came in.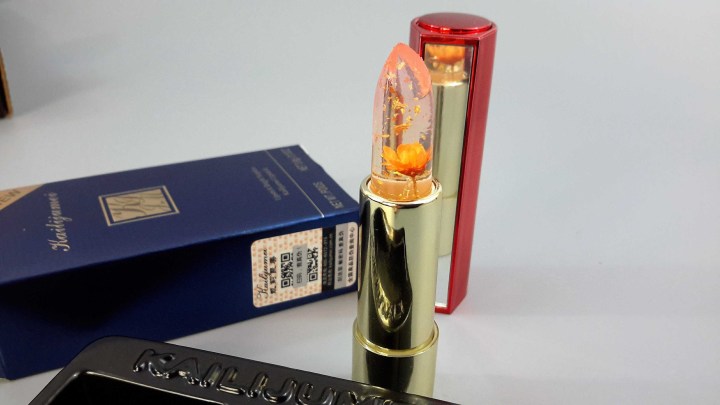 The lipstick was clear and had a beautiful flower inside! It comes on in a light pink color that adjusts to your body.  Its case, in red below, also serves as a handy mirror to help when applying.
The lipstick was just too beautiful not to give you more than one pic to admire it in. Take a look at the gold flakes floating inside. Fancy!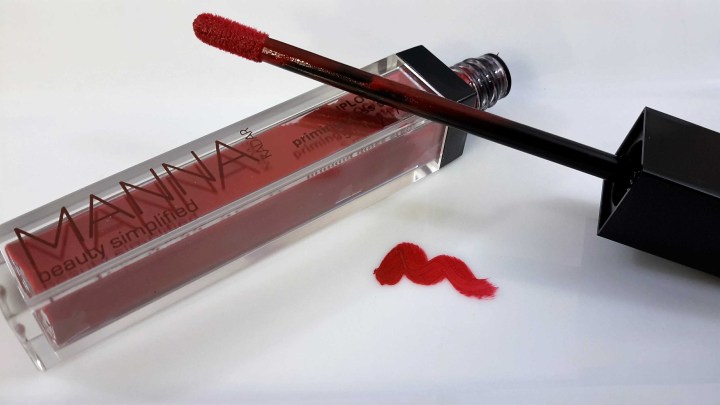 Also included in the box was this lip locked stain by Manna Kadar ($24) in Siren. It goes on Matte and has a beautiful color to it. It is a gloss, primer and stain all in one, with Vitamins A and E.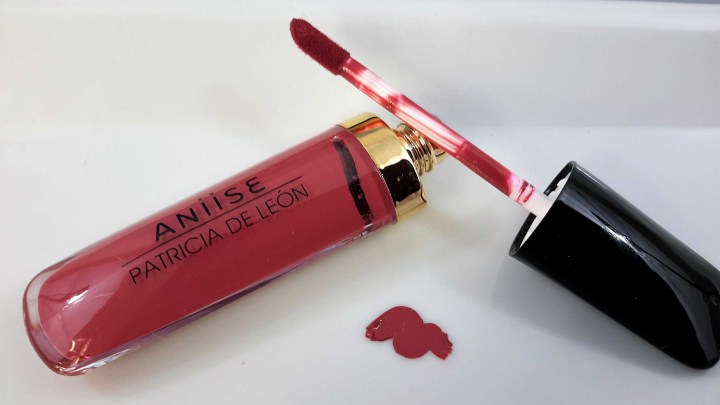 This Aniise Patricia De Leon lip Stain ($20) in September Rose is rich and moisturizing. It is also Cruelty-free and all natural. I couldn't wait to put it on and liked how it felt on my lips.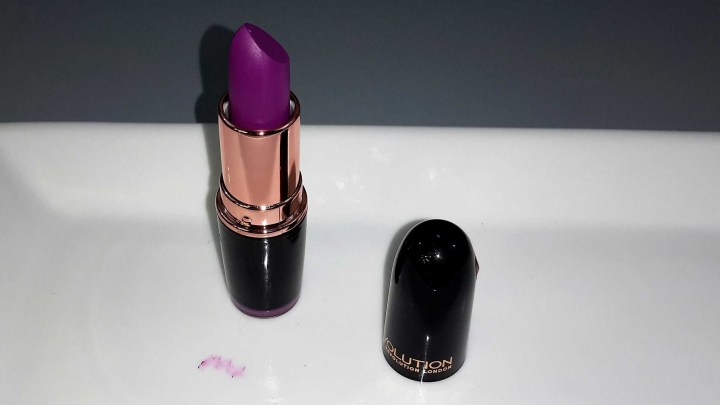 The Liberty Matte colored Make-Up Revolution lipstick ($5) was a luscious bright purple. I had never tried purple before and was pleasantly surprised to find I actually liked it on! The day I wore it, it happened to match my dress and I was complimented on the look.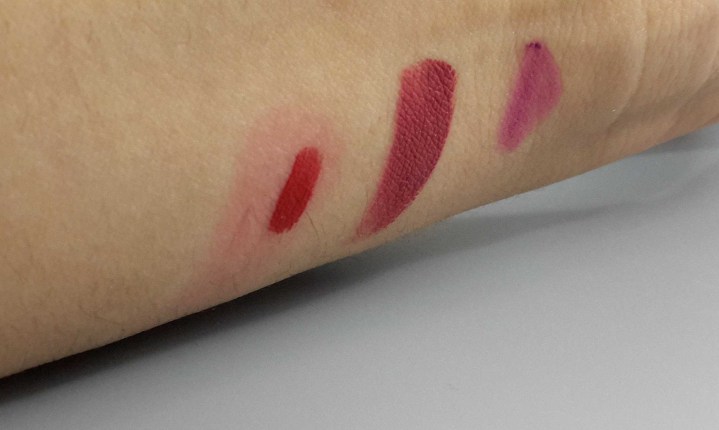 I did do a few swatches of the colors on my arm. They are in the same order as pictured above beginning with the Manna on the left.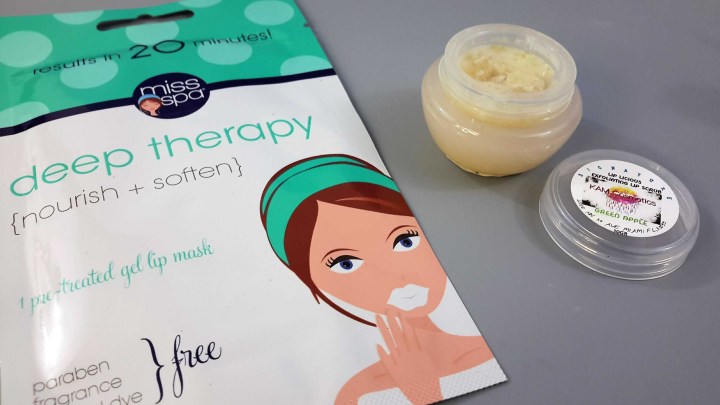 After all this sampling, having a lip scrub and mask to fall back on was reassuring. The pre-treated gel gel lip mask ($4.00) is for moisturizing dry and chapped lips. It is paraben and fragrance free.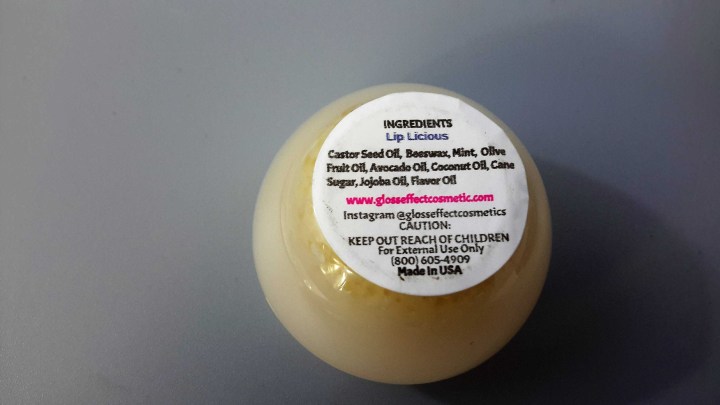 The Lip Lucious Green Apple Lip scrub ($3.85) is made of all natural ingredients. It smelled nice and would be great for smoothing lips.
The box also included an information card which lets you know what and how much everything would be at retail, which totaled to over $57 this month, without my generous bonus gift!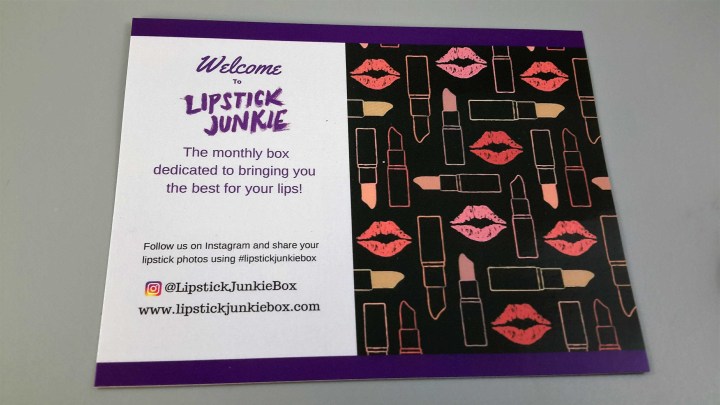 I recommend you give this great deal of a box a try for either yourself or a lipstick loving member of your family or friends. Hopefully you too will find some new favorites!
Visit Lipstick Junkie to subscribe or find out more!