Rocks Box is a designer jewelry rental subscription service – fill out a style profile and get 3 fabulous pieces of jewelry to try out and experiment with, and return when you're done and get your next set (free shipping both ways!).  You can also keep the pieces you want to love forever at a discount off retail.
When you sign up you take a quiz to determine your style; your stylist curates your box based on your wishlist and tastes.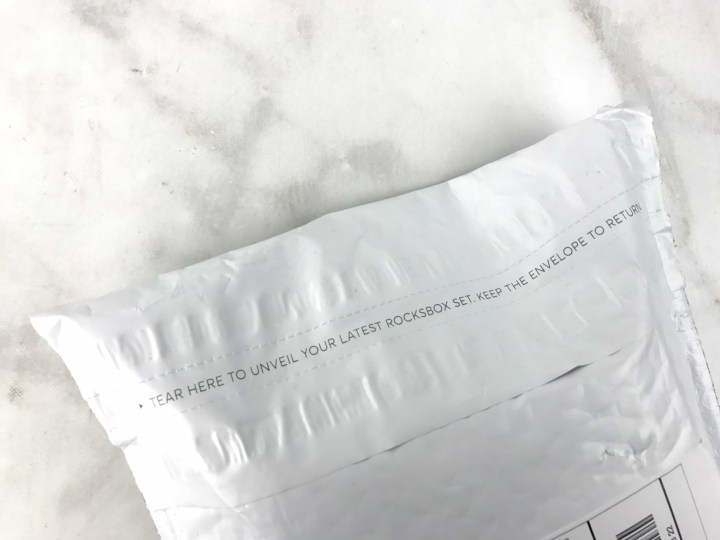 DEAL: You can get your first month of Rocks Box FREE with coupon code mommysplurgexoxo.
Your jewelry items come in a neat little box tied with a bow! I love this subscription because it's such a great way to try out new jewelry styles without overloading your collection or overspending.
Rocksbox turns around boxes quickly, and you get them even faster when you drop it in the mail and leave feedback for your stylist. I can get a box every 4 or 5 days depending on what day of the week I return it. Keep the box as long as you'd like or send back as soon as you wear – up to you!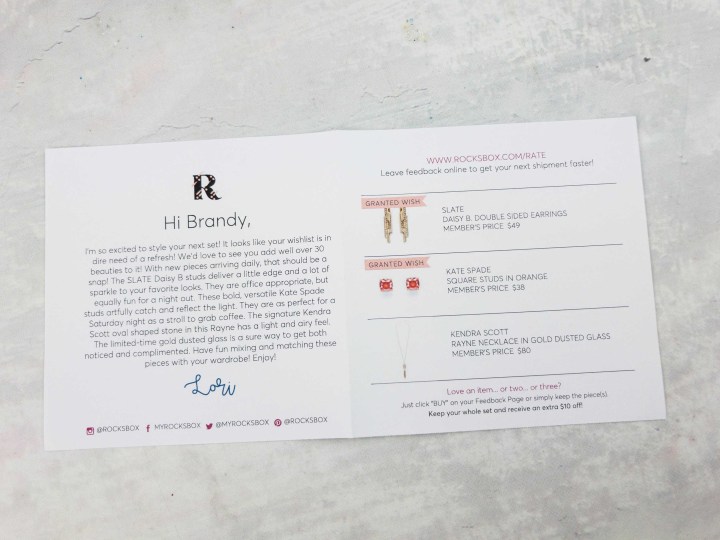 The information card has the cost to keep the item.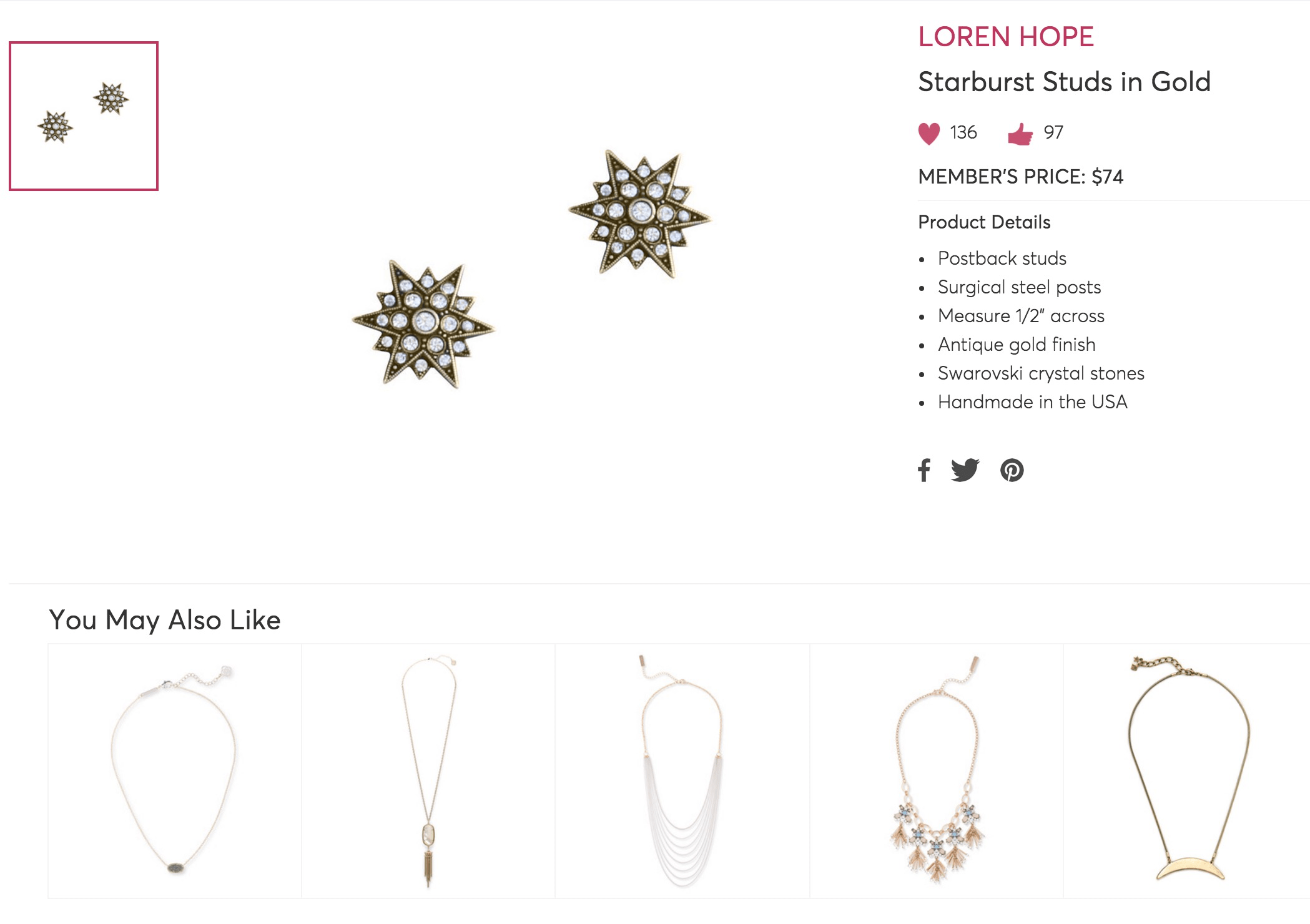 When you log in you can get all the details on every item in the box, including suggested similar styles. This is a great feature!
Rocks Box has a rewards program too: you'll be granted $21of credit every single month to keep the pieces you love. You can request pieces via the Wish List. I make sure to update my wishlist every time I send back my box.
You get an extra $10 off when you purchase your whole set.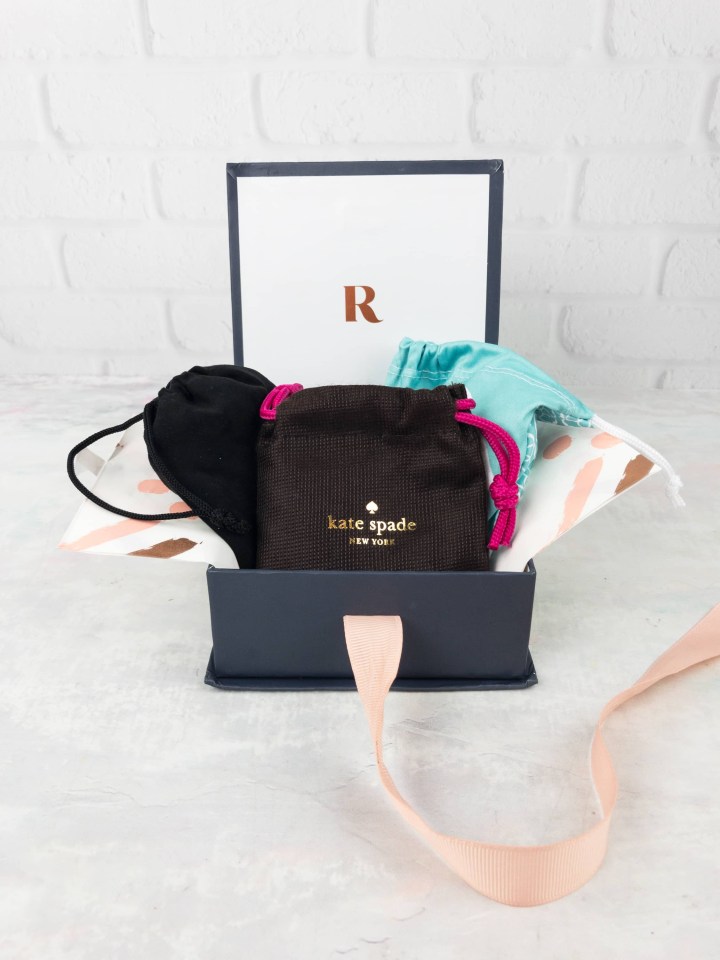 Every piece comes with its own pouch to keep everything nice & protected. All the jewelry items are inspected and sanitized before being sent out.
Everything in my set! Two of my items for this box were granted wishes – items I'd placed on my wishlist. I had the chance to swap out the necklace – but I thought I'd give it a try! See all the info on the the new swap feature here – essentially when your stylist assembles your set, you'll have a chance to swap out an item!
Kate Spade Square Studs in Orange ($38)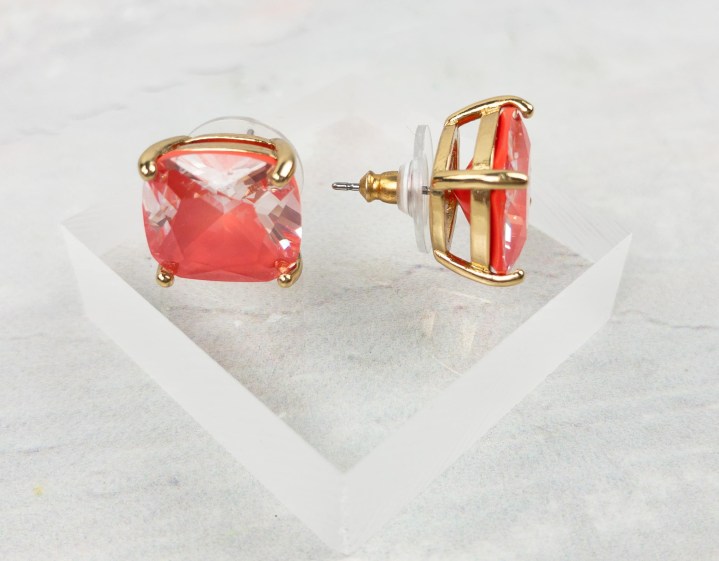 Gold plated metal with a glass stone – so shiny! Orange brings a nice pop of color too in these pretty coral studs.  I felt like South Beach royalty with these blingy 1/2″ studs!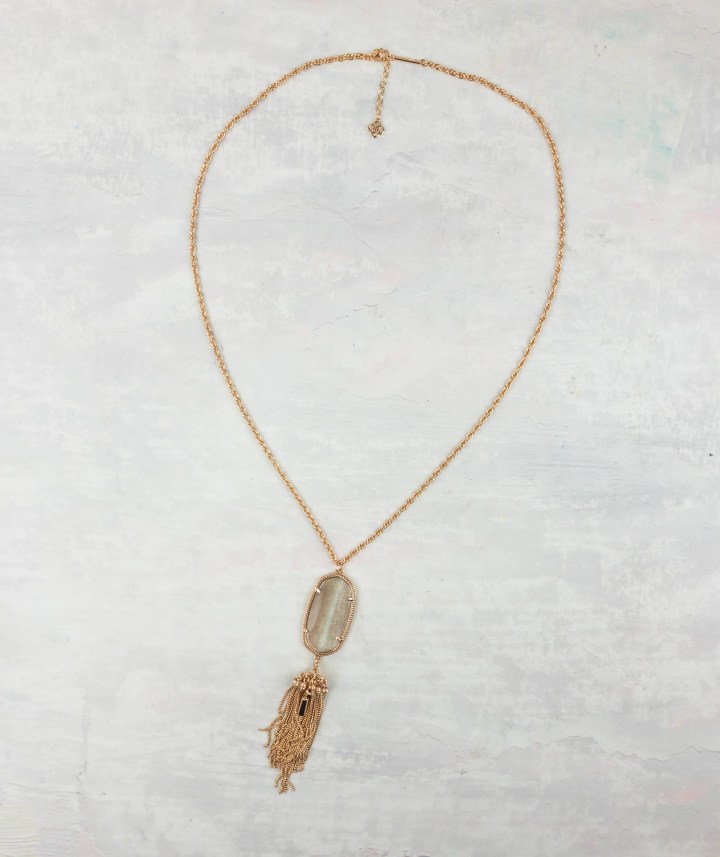 Kendra Scott Rayne Necklace in Gold Dusted Glass ($80)
Boho + gold is such a trendy look! This necklace is gold plated over brass, and with its sophisticated design, it's something that will get noticed whenever you wear it. I love how it has her signature style but with a totally different pendant – gold dusted glass!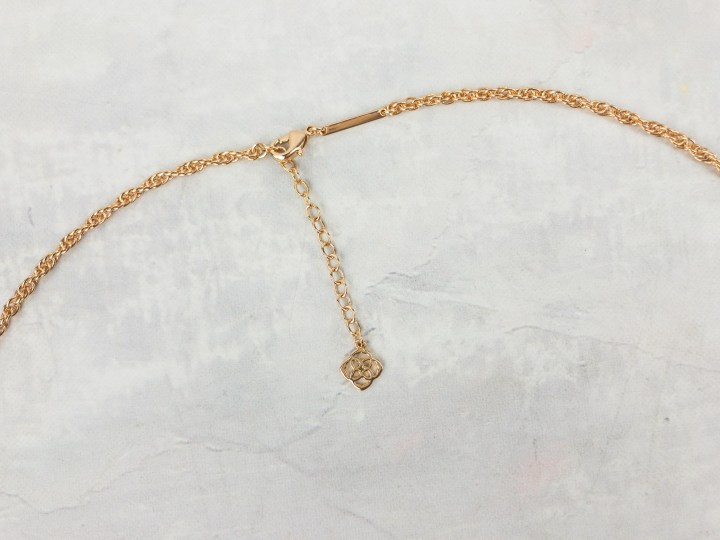 It has a lobster claw closure and an extender.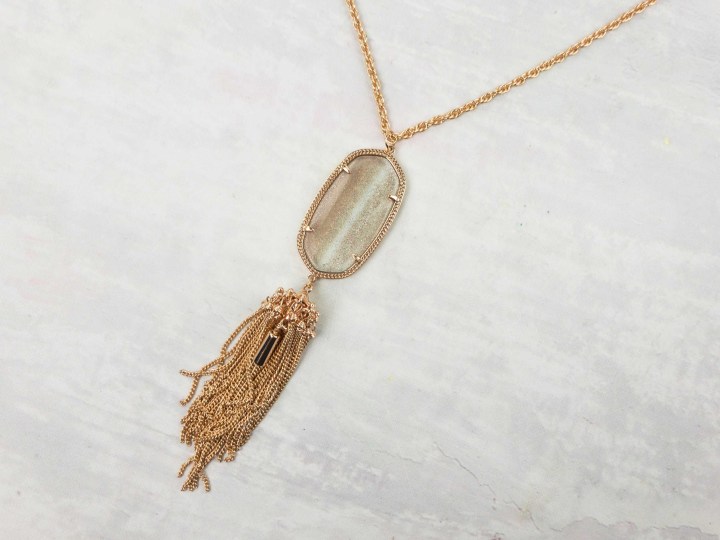 Glad to receive this Kendra Scott classic in this month's box!
Slate Daisy B. Double Sided Earrings ($49)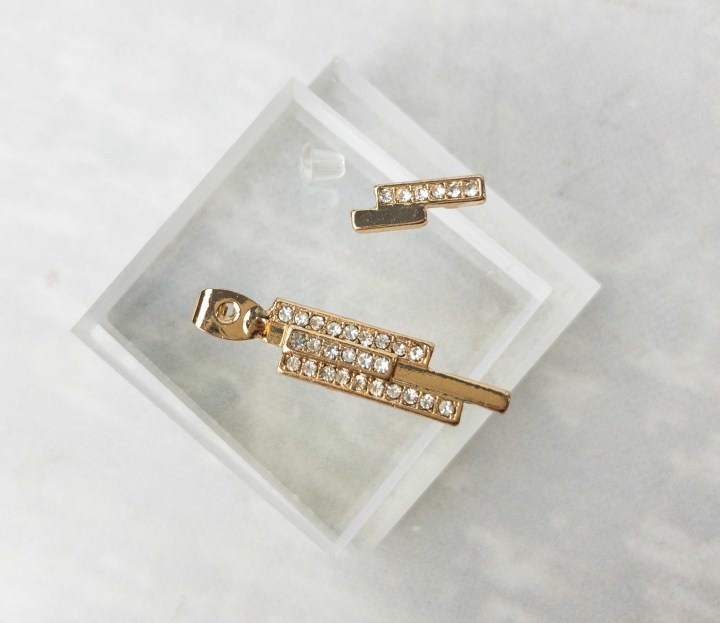 This unique pair is gold plated over brass and has postback ear jackets.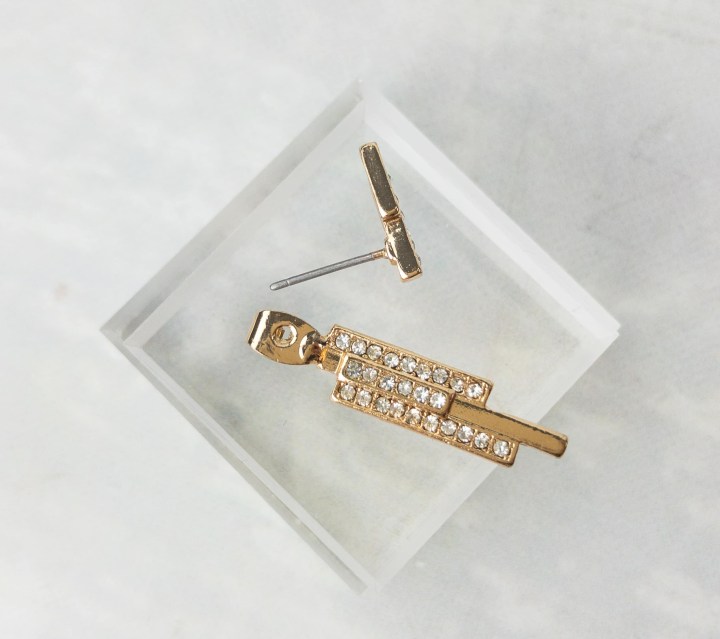 The crystal pave detailing is awesome and I think this style of ear jacket is really unique.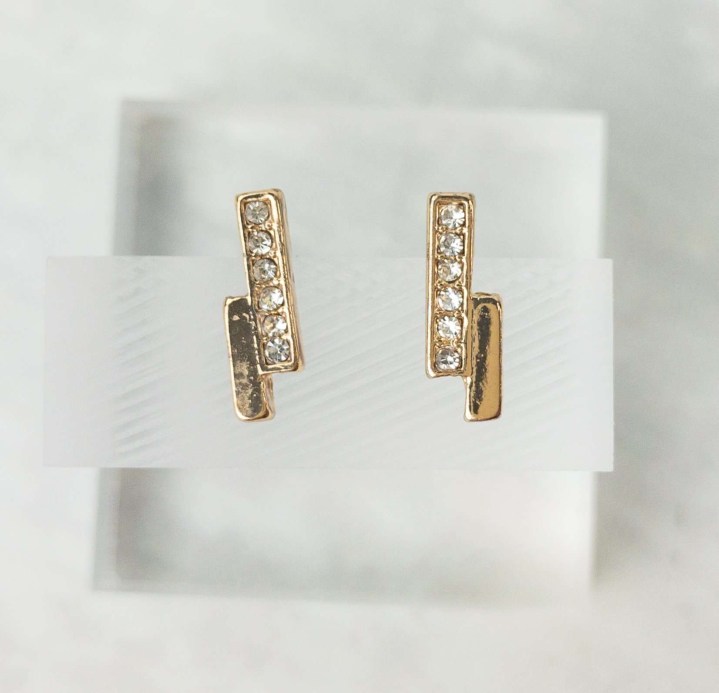 Two pairs of earrings and a necklace – this month's Rocks Box totally rocks and it really felt boho & festival season inspired! The Kate Spade giant pillow cut studs are something that I wouldn't buy in a million years, but it was nice to wear them out a few times and send them back!
Have you tried Rocks Box? What did you get this month?