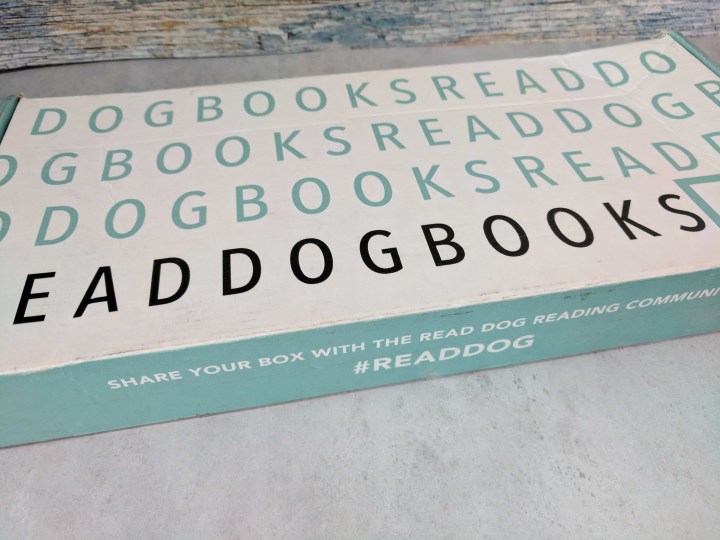 ReadDog Books is a personalized curated book subscription box where the book is chosen based on your preferences. When you subscribe, you fill out a quick little form where they ask you what kind of book you like, which one did you love, what's your ideal reading experience, etc. This subscription is $31.99 with free US shipping ($8 to Canada and $15 international), with discounts for longer subscriptions. Honestly, I'm so excited when I see that super long box in my mailbox, it turns my day into a happy and smiling day!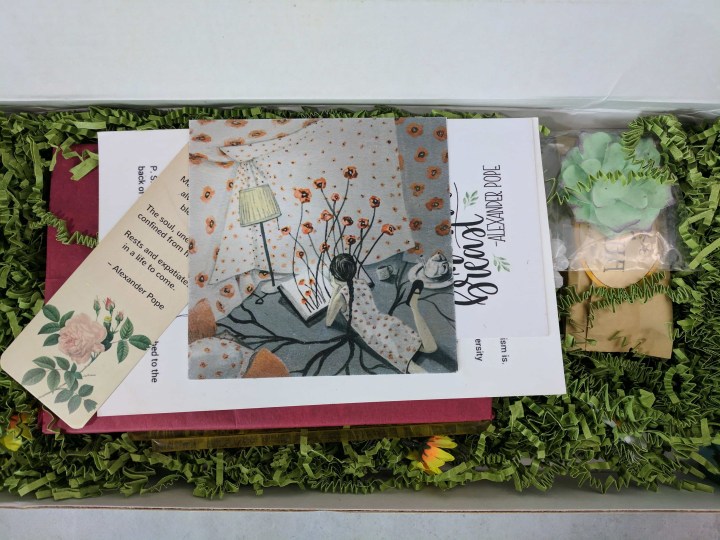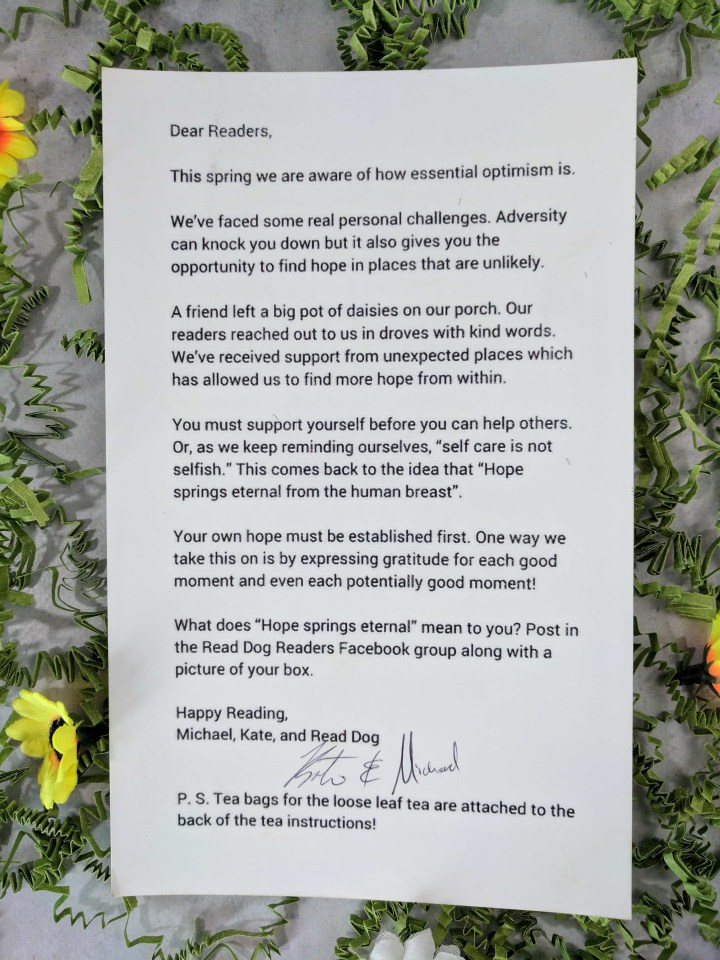 There's a note about the theme for the month, regardless of the personalised book chosen for each subscriber. For April, we are reminded that optimism is essential and that our own hope must be established first! This month's box is probably the prettiest I've received so far from Read Dog! I love all the "grass" paper with the flowers!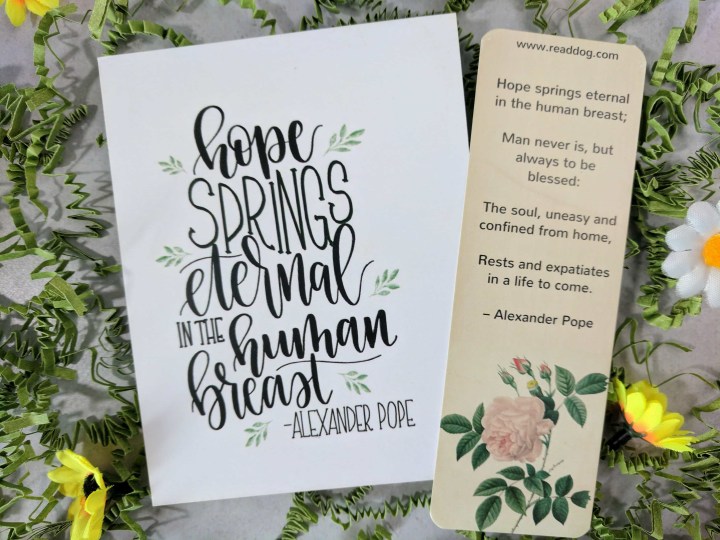 As usual, we get a cute bookmark, this time with a quote by Alexander Pope. A nice print with part of the same quote can be display to remind us to keep hope.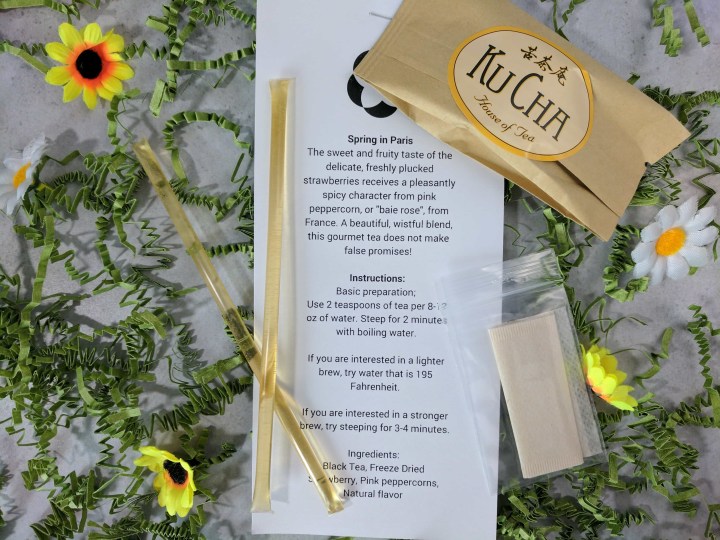 Every month, we get a little something to drink. This month's tea is Spring in Paris, a fruity black tea from KuCha House of Tea. It came with tea bags and two sticks of honey. It smells like ripe strawberries and I don't want to drink it, I want to eat it!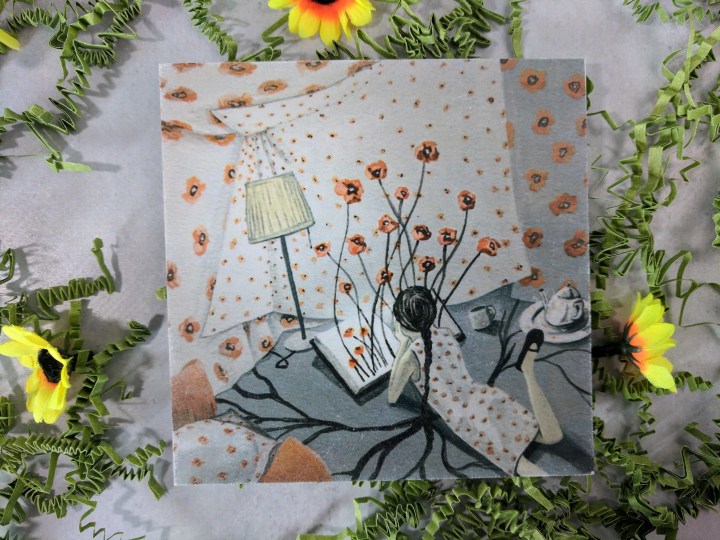 Look at this cute print featuring flowering book!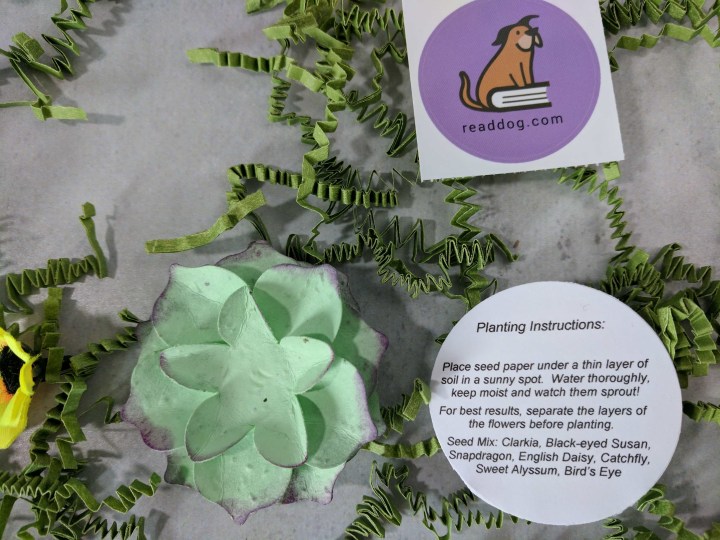 Flowering book? What about seed paper? Place this cute seed paper flower in your garden to enjoy flowers later! I love all type of seed paper and this one is so cute, I'm not sure I want to use it!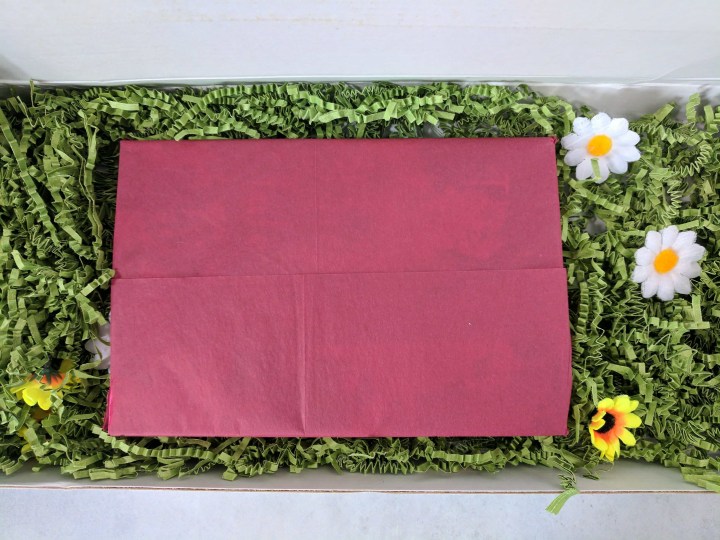 As usual, the book comes all wrapped up! I love the look of it in a bed of grass and flower. Did I mention how pretty is this month's box?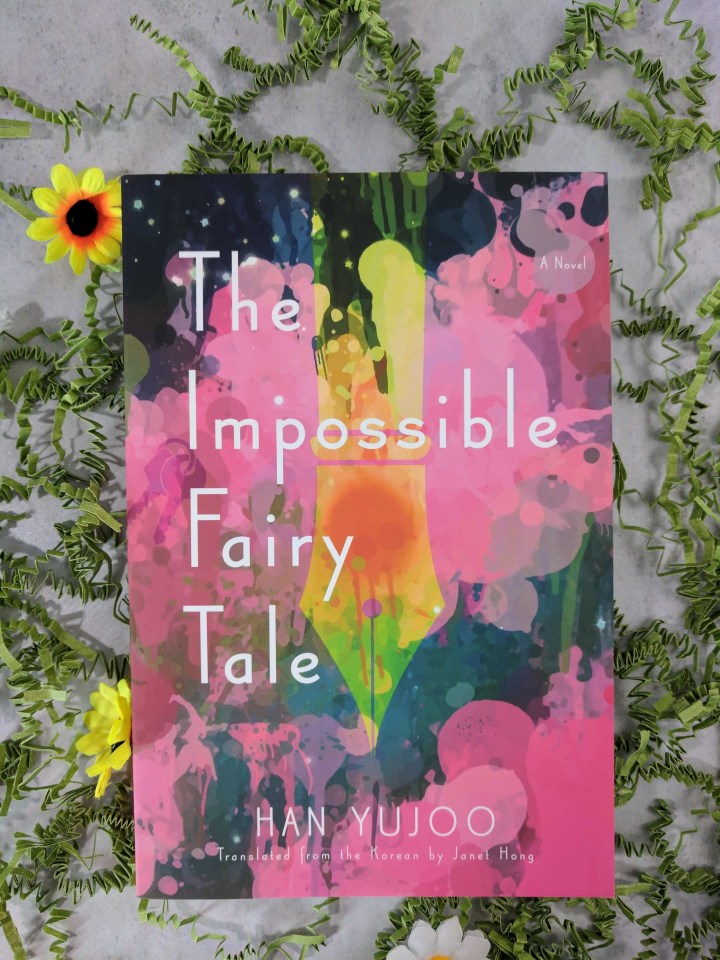 This month, I've received The Impossible Fairy Tale by Han YuJoo, translated from Korean by Janet Hong.
Mia is "lucky"―she is spoiled by her mother and, as she explains, her two fathers. She gloats over her exotic imported color pencils and won't be denied a coveted sweater. Then there is the Child who, by contrast, is neither lucky nor unlucky. She makes so little impression that she seems not even to merit a name.

At school, their fellow students, whether lucky or luckless or unlucky, seem consumed by an almost murderous rage. Adults are nearly invisible, and the society the children create on their own is marked by cruelty and soul-crushing hierarchies. Then, one day, the Child sneaks into the classroom after hours and adds ominous sentences to her classmates' notebooks. This sinister but initially inconsequential act unlocks a series of events that end in horrible violence.

But that is not the end of this eerie, unpredictable novel. A teacher, who is also this book's author, wakes from an intense dream. When she arrives at her next class, she recognizes a student: the Child, who knows about the events of the novel's first half, which took place years earlier. Han Yujoo's The Impossible Fairy Tale is a fresh and terrifying exploration of the ethics of art making and of the stinging consequences of neglect.
 At first, I was disappointed while reading the synopsis. I'm really not into young adult books and I had a strong vibe with the children and school. But once I was done reading the back of the book, I was sold! Yes, bring on the weird, the strange, the dreams, the magical realism!
And I LOVED this book! The writing did it for me. Strange, dream-like, almost stream of consciousness. The writing could feel repetitive to some people, but I loved it.
Is this a dream? No, it's not a dream. She won't be able to sleep tonight. Because she won't be able to sleep, she won't be able to dream. The Child tries to come up with a realistic way to open the door and go inside. But a realistic thing isn't realistic. A realistic thing has never once become a real thing.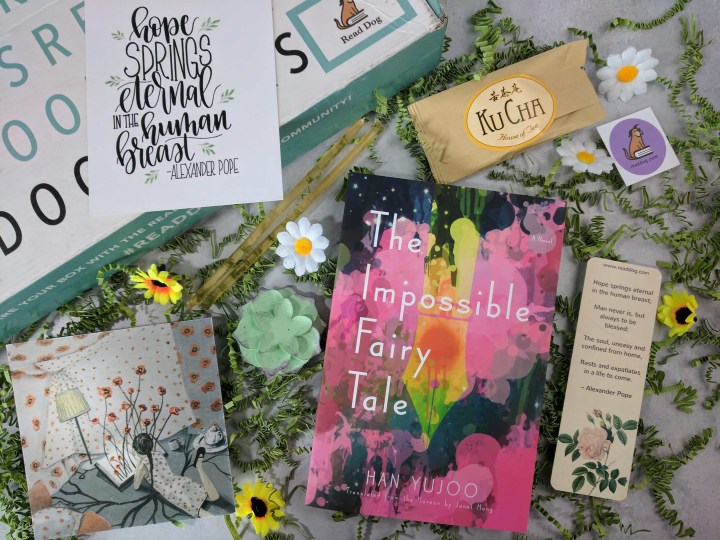 This is such a pretty box, and every month it gets better! I love the feeling that someone took the time to know me a bit (through the survey you fill out when you subscribe) before choosing the perfect book! Every month, I get excited to discover something new, something I might not have picked for myself, but that I end up falling in love with. So far, the curation for my boxes has been so on point, it's crazy!
What's also nice about this subscription is that if you have already read the book, or own the book, or hated the book, they will exchange your book for a different one! So the avid reader who seems to have read everything will get something new!
Once you have received and enjoy your box, you can fill out a survey about your experience so they can send you an even better box next time!