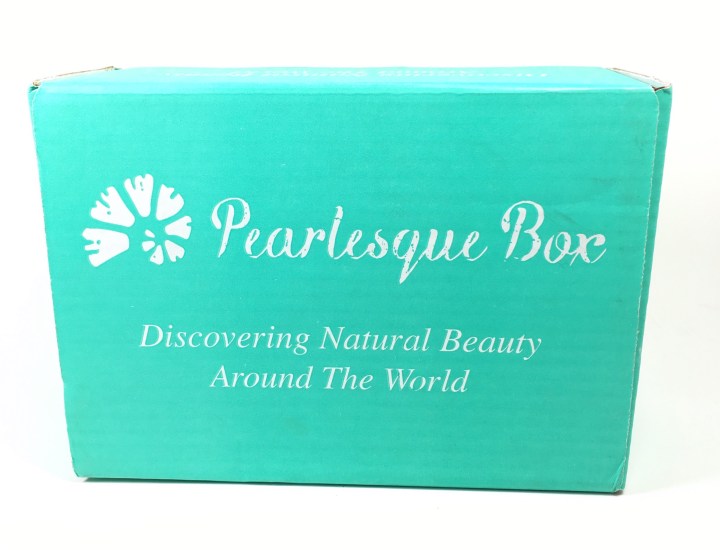 Pearlesque Box is a subscription box that delivers full-sized and travel-sized organic, non-toxic, natural beauty products from around the world to your home each month so that you can accurately judge how each product affects your skin. Each month features a different organic, non-toxic, natural skin care line. This box is $39.95 a month and promises a value of $90 – and sometimes over $140!
DEAL:  Save $5 on your first month! Use coupon code PEARL5.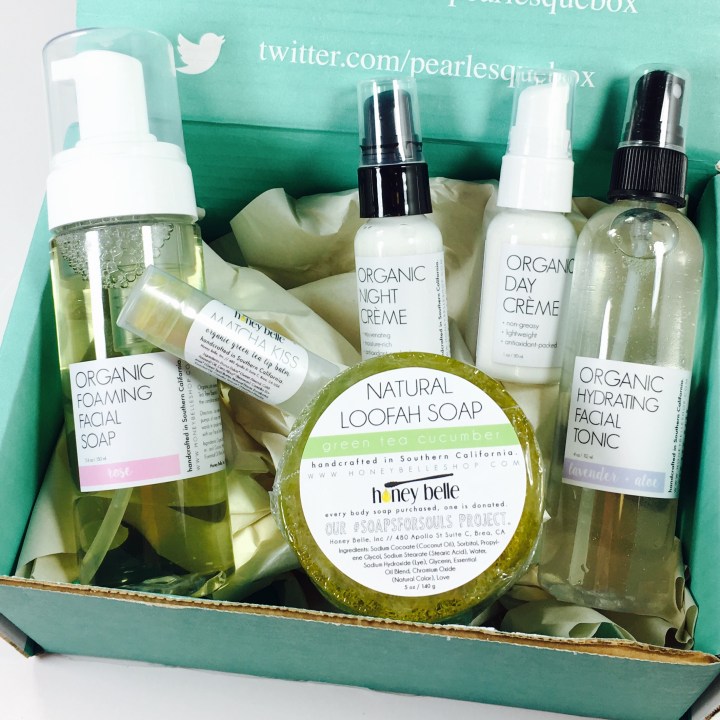 This month's box features products from Honey Belle!
Honey Belle is located in Southern California and wants to offer high quality natural beauty products at an affordable price.
To create and deliver affordable, natural, & handcrafted skin and body care around the world, and educate individuals where they are inspired, to better their lives one skin at a time.
The information card is full of details such as the item, price, description, and tips.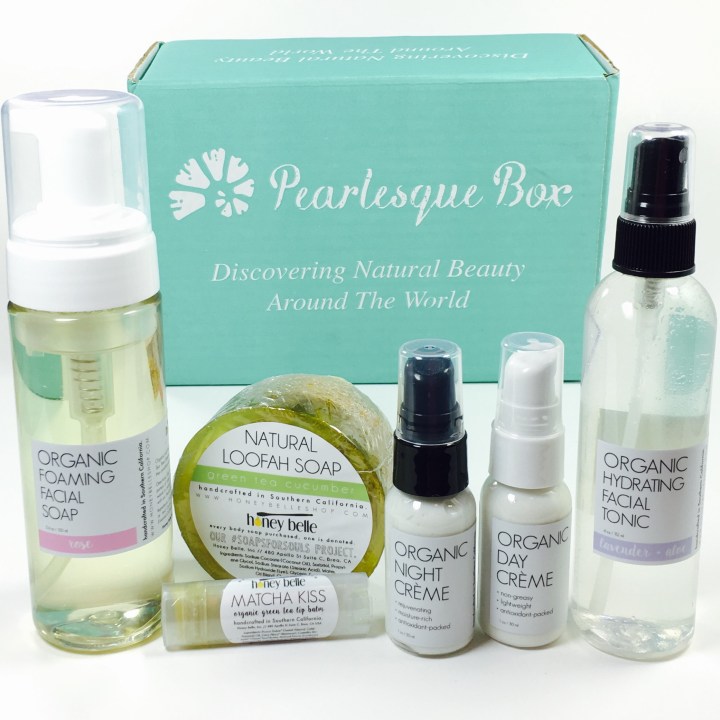 Here are the items in the May Pearlesque Box! This is a new-to-me brand; I couldn't wait to try these items! I committed to using them for a full week to see how they worked.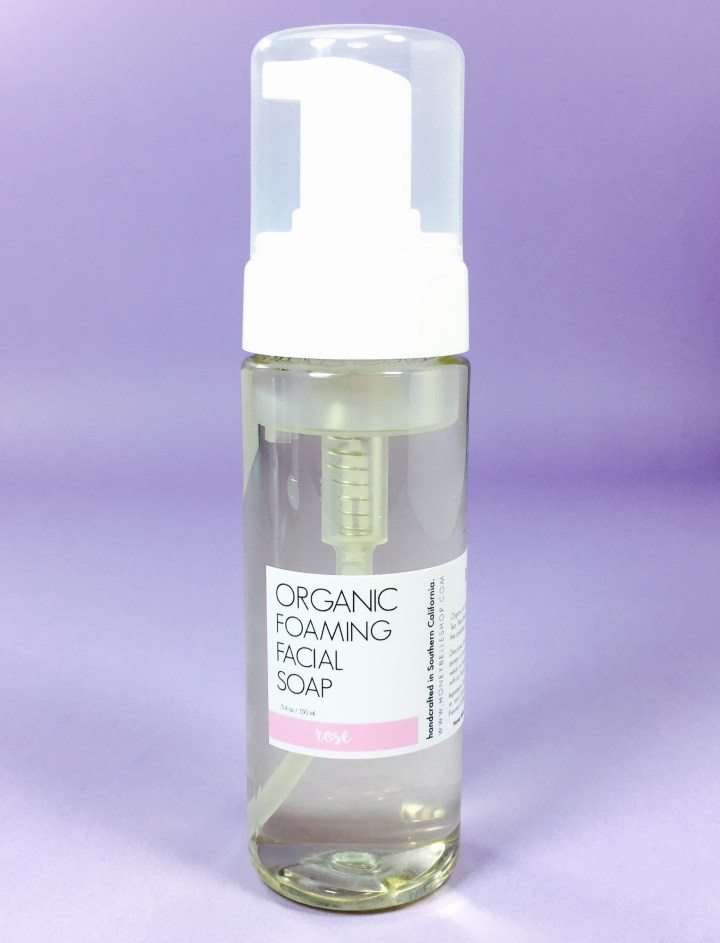 Foaming Facial Soap in Rose ($25) "Made with a perfect blend of organic oils, it is a much gentler & more natural alternative than most commercial cleansers." This foaming facial soap is made with a blend of saponified oils (sunflower, safflower, and coconut), vegetable glycerin, rosemary extract, and tea tree plus an "essential oil blend". Three pumps provided plenty of cleansing power and left not a trace of makeup afterwards. The scent was pretty strong, and I only needed one pump in the morning, plus it left my skin soft afterwards.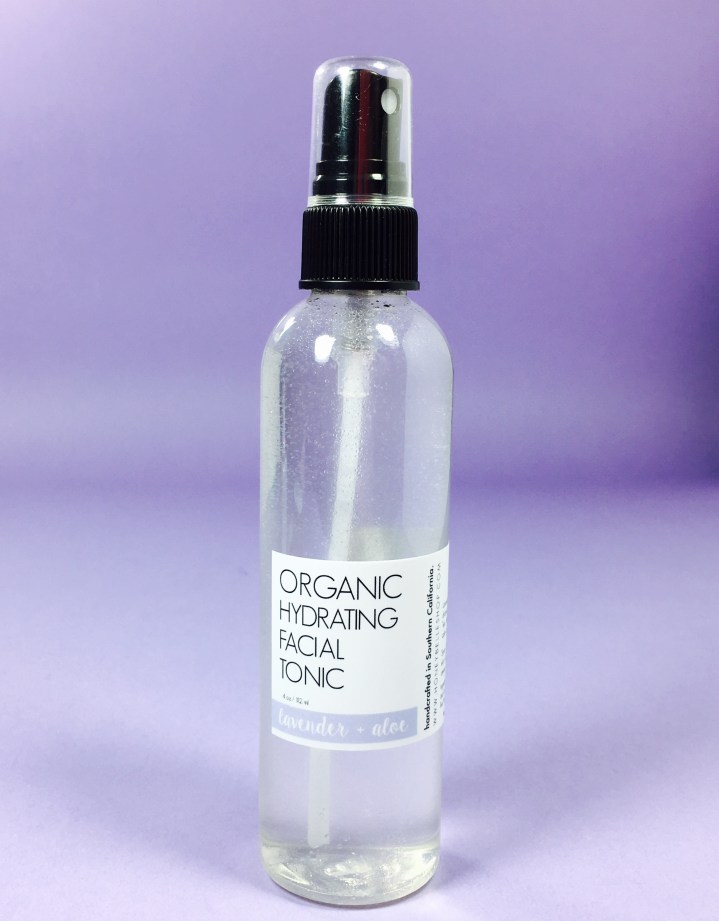 Hydrating Facial Toner ($18) "Organic Lavender Floral Water and Organic Aloe Leaf Juice keep your skin supple and hydrated after cleansing. Witch Hazel Extract is a natural astringent, traditionally used to minimize pores and alleviate redness, while Tea Tree Essential Oil treats blotchy skin conditions and acne, while improving skin complexion." I used this immediately after washing, giving a few spritzes to all areas of my face. It has a lavender and witch hazel scent and I followed with moisturizer before it had time to dry.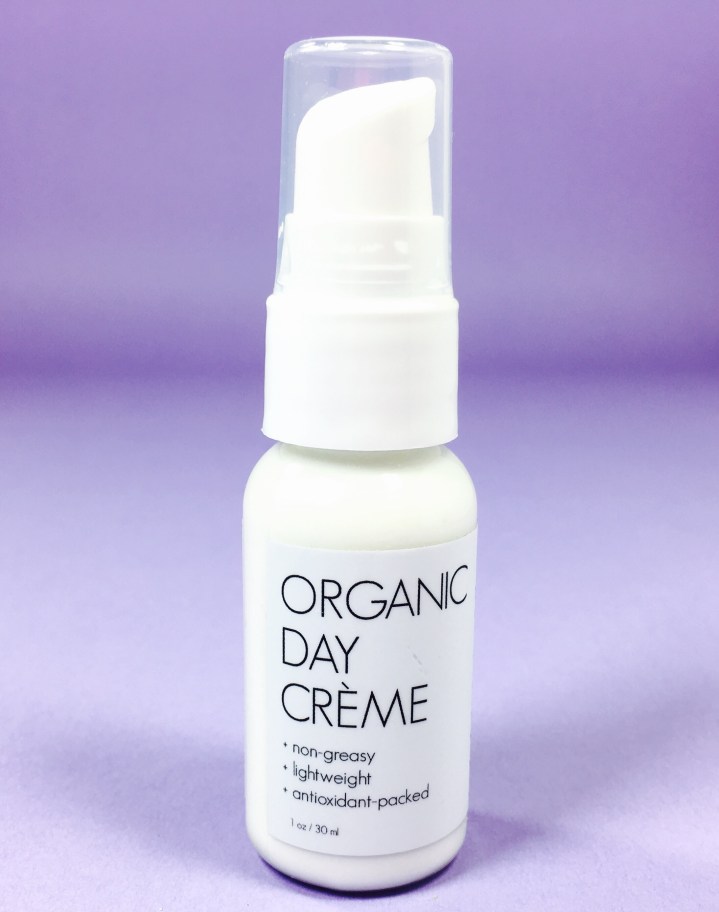 Day Crème (On sale for $14.99) "Made with Organic Aloe Juice and Organic Coconut Oil, this face crème provides extreme moisture, and they are perfect for sensitive to normal skin to oily and combination skin." This creme features aloe juice and coconut oil and didn't have much of a scent. It also felt very watery and I didn't feel like it softened my skin, but then again it is for skin with acne and I have dry skin.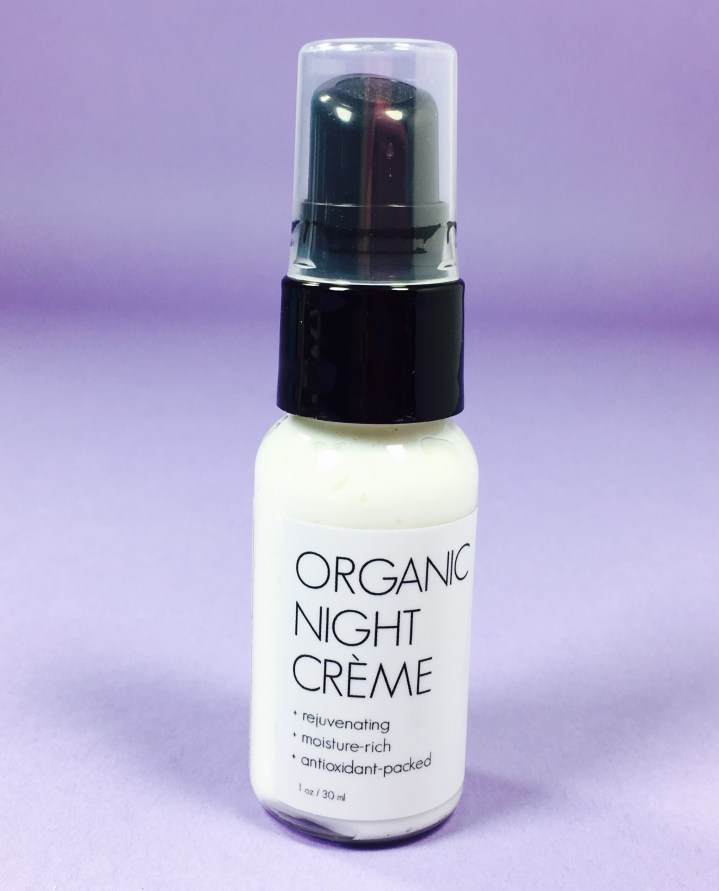 Night Crème (On sale for $14.99) This night creme has many of the same ingredients as the day creme but is a thicker formula. Again, I didn't feel very moisturized afterwards.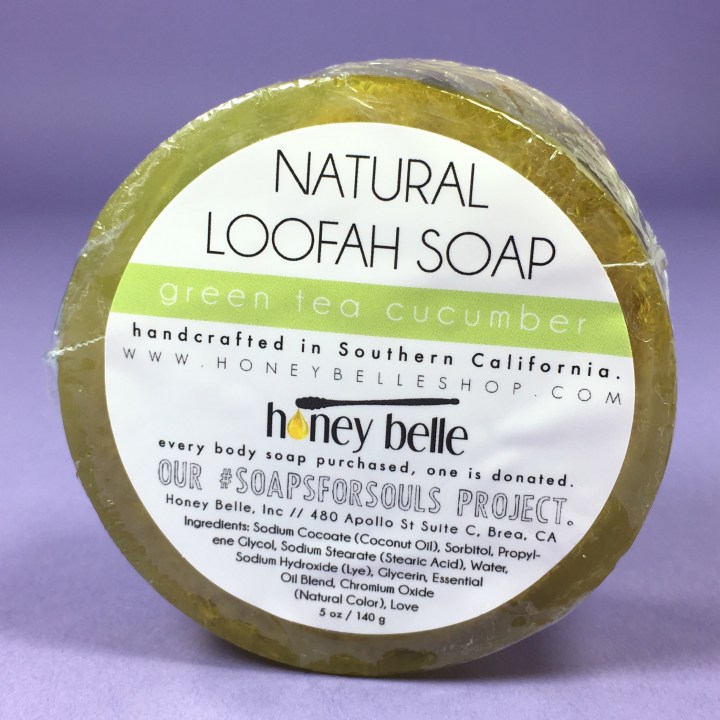 Natural Loofah Soap in Green Tea Cucumber ($8) "Cleanse, nourish, and scrub all at the same time! Coconut Oil and Glycerin keeps your skin moisturized and healthy. Glycerin is a natural humectant, so it's a substance that retains moisture, helping you keep your skin soft."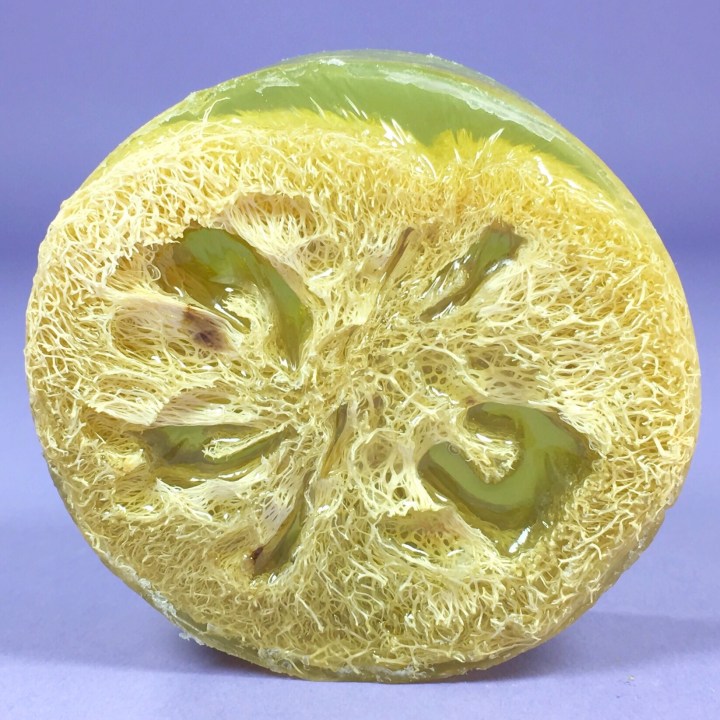 There was a lady down the street from us when I was growing up in Southern California who could do anything. She made tamales; sewed my bridesmaid dress without a pattern just by looking at the picture; took our jack-o-lantern away after Halloween and brought back candied pumpkin; and grew loofahs. She would bring us the whole loofah, and I would apply my jojoba bead soap to the long side and gently exfoliate my body. Well, this is the cross section of a loofah and it is rough. "Leave your skin red and scratched" rough. "Use only on the bottoms of your feet" rough. You've been warned.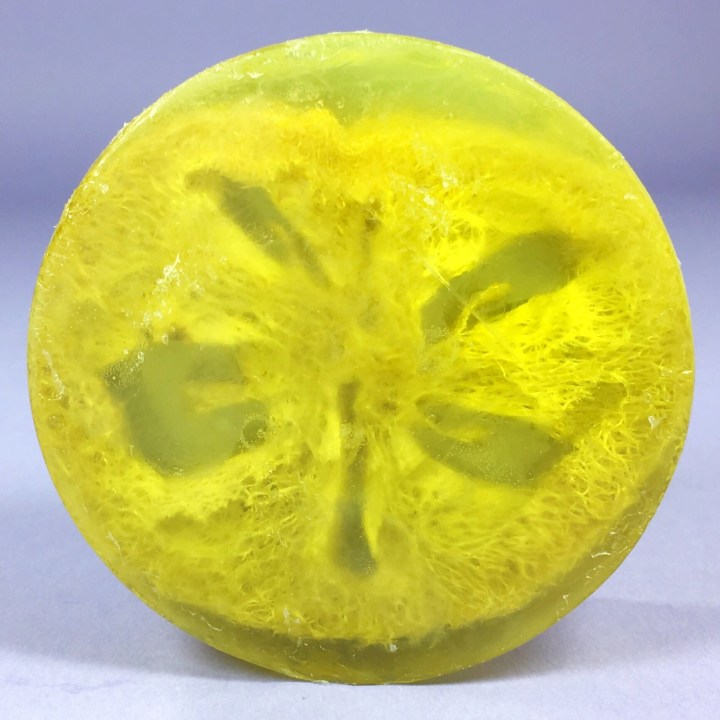 The scent of this soap is very strong but the soap itself lathered well. It says it is safe for sensitive skin but propylene glycol (one of the ingredients) can cause skin irritation and exacerbate eczema.
Nourishing Lip Balm in Matcha Kiss ($5) "I love dry, chapped, cracked lips! Said nobody ever. Nourish and condition your lips for hours with Organic Cold Pressed Sweet Almond Oil, Organic Cocoa Butter, and Organic Beeswax." Although I love tea, matcha is not in my rotation and with the addition of eucalyptus essential oil I feel like I'm rubbing Vicks Vaporub on my lips.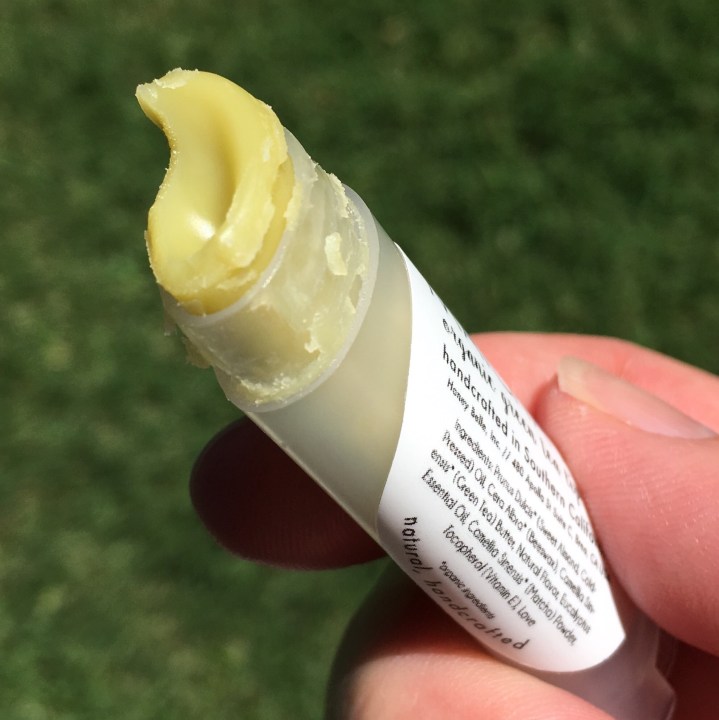 It looks like my product had a rough journey and was shaped weirdly. I simply rolled it up a bit and then sheared off the top with the cap (which I used to do when I was a kid and my lip balms were uneven) and threw the offending product away. I think I might follow the suggestion to use this on dry cuticles since I don't care for the flavor.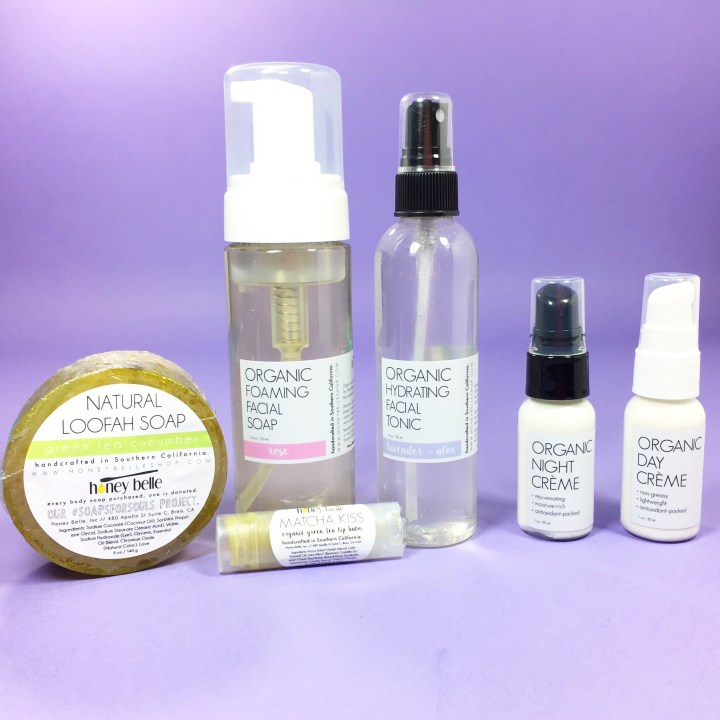 Wow, that was a nice assortment of products from Pearlesque Box! Most of these items seemed better suited to oily or acne-prone skin so I guess I didn't feel like they were perfect for me. About halfway through my week of testing, my cheeks were red and bumpy, so I went ahead and started using my facial oil before applying the moisturizers. That helped, and then I stopped using the day creme altogether because it felt like I was rubbing water all over my face. The sponge would benefit from a rope to hang it up to dry. The lip balm was very strong but it sounds perfect for my nails. I think I will continue to use the mist, which I liked and which had the nicest scent of any of this month's products, and I will use the moisturizers on my neglected neck. I question the use of propylene glycol in a natural beauty box but it could be vegetable based (and not petroleum based). The value of May's box is $85.98, just a few dollars short of their promised value and more than double the price paid for the subscription!
Next month's box will feature products from Pacific Northwest-based Kani Botanical Beauty! Aahhhhh, I need June to get here ASAP!
Do you subscribe to Pearlesque Box? What was your favorite product this month?