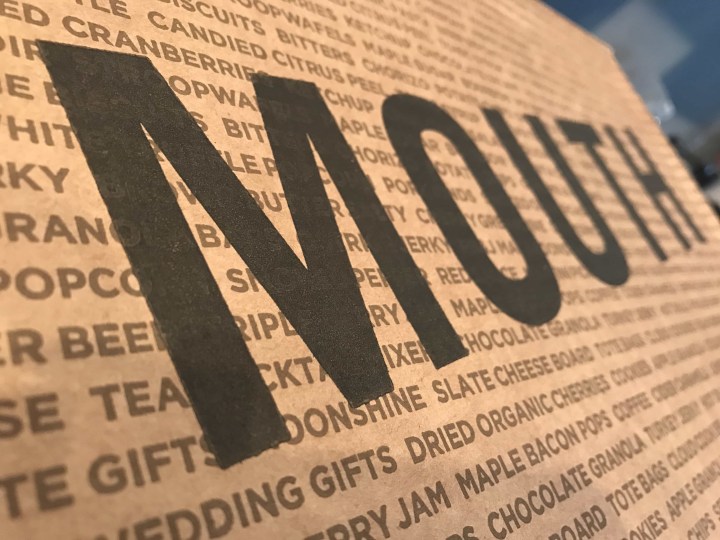 Mouth: Cocktail Hour Every Month is a monthly subscription from the Mouth family. Depending on the duration of your subscription, you will get almost everything you need for a delightful cocktail hour (just add cheese and a little alcohol) for $72-$82 per month. Each box contain six curated items ranging from sweet to savory, which, when combined together, equal a tasty gathering for you and a few friends.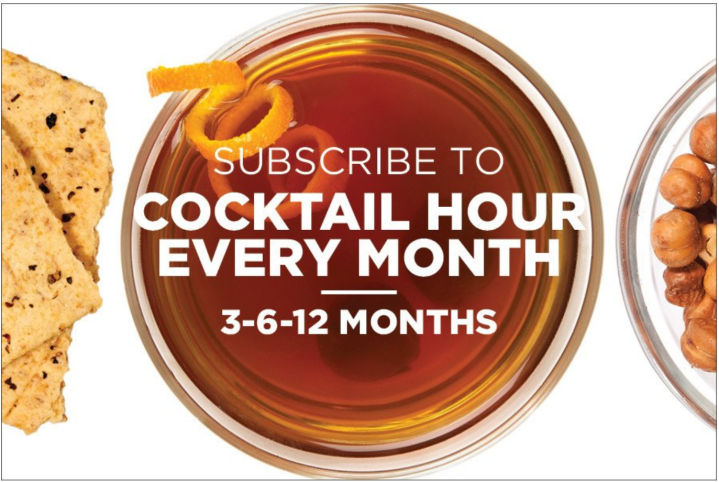 I love to keep a variety of meats and cured cheese around and then pull out a quick spread for friends. This box caught my interest as a way to broaden my horizons and spice things up (pun intended).
DEAL:  Save 20% on your subscription! Use coupon code SUBSCRIPTION20.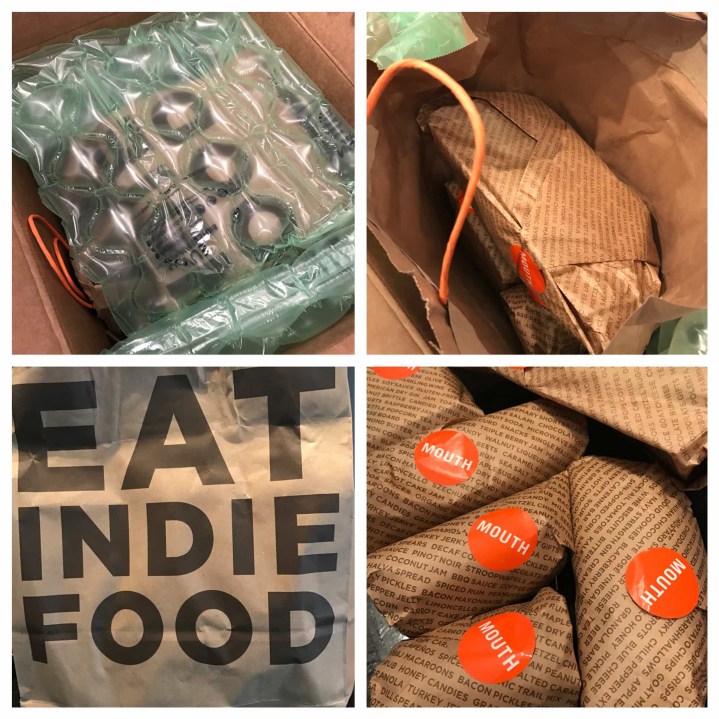 Enter, the Mouth: Cocktail Hour Every Month subscription. I generally love to shop local, but it is also nice to get some variety and see interesting items from other regions. I am quite happy to let someone else wade through the dozens, perhaps hundreds, of options that are out there. This month's haul is from Ohio, Washington, Massachusetts, South Carolina, California, and Texas!
How it works: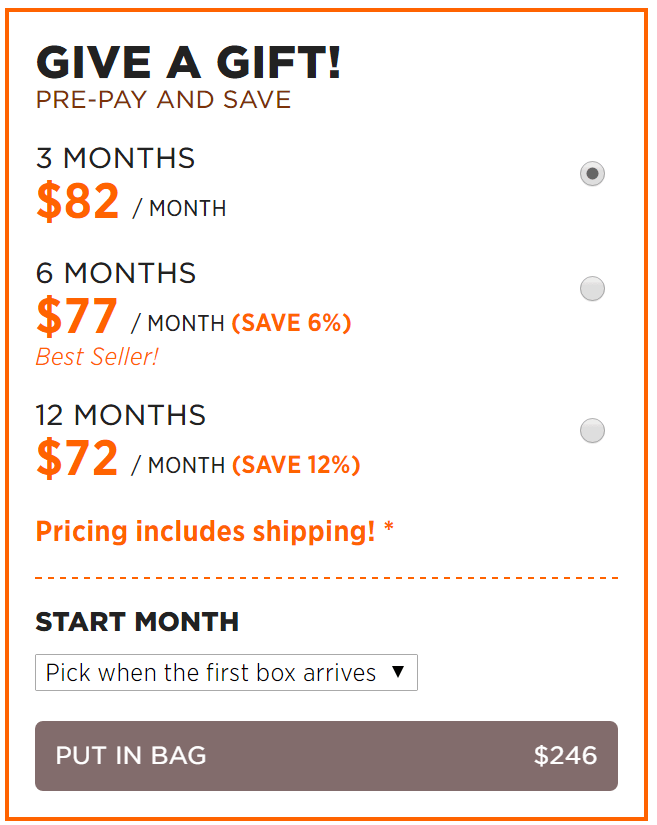 Choose the duration of your subscription. The longer you go, the better the deals. I'll talk about the value in this month's box later on.
After receiving a confirmation message and welcome certificate with the details of your subscription, sit on your hands and wait for your first shipment. If you order before the 3rd, you'll receive your first box that month. If you order on the 4th or later, your first box arrives the next month. Subscriptions boxes are shipped around the middle of each month. Boxes take 1 to 5 business days to arrive, so you can expect to receive yours between the 16th and the 25th. Shipping is included in the cost of the subscription.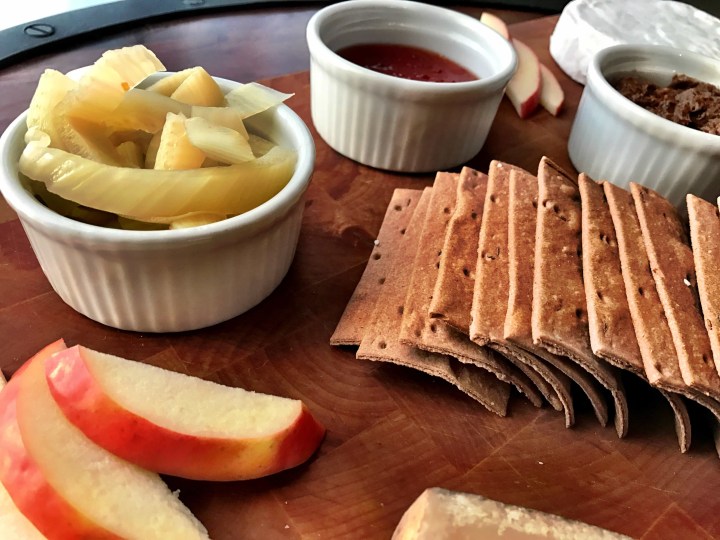 My Experience 
I have all of my Mouth packages sent to work (some of my subscriptions contain alcohol, so someone who is over 21 needs to sign for them). The cocktail hour subscription doesn't contain alcohol, so it could just be sent home, but then how would I make my coworkers jealous? They all get curious when one of my Mouth boxes shows up.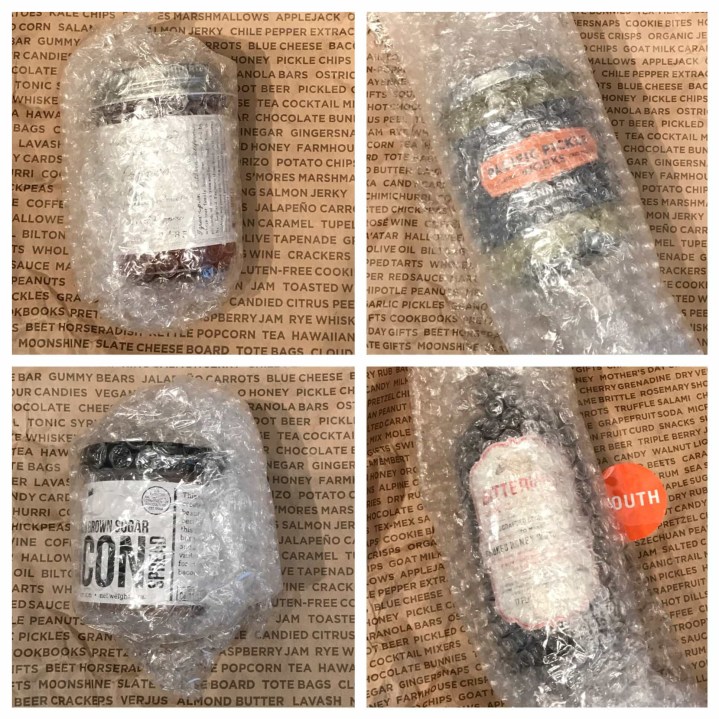 The Mouth packaging is really great. Heavy duty bubble wrap, with foam or more bubble wrap at either end of the box. Each item is individually wrapped in bubble wrap and brown paper. A list of the items and descriptions is also included.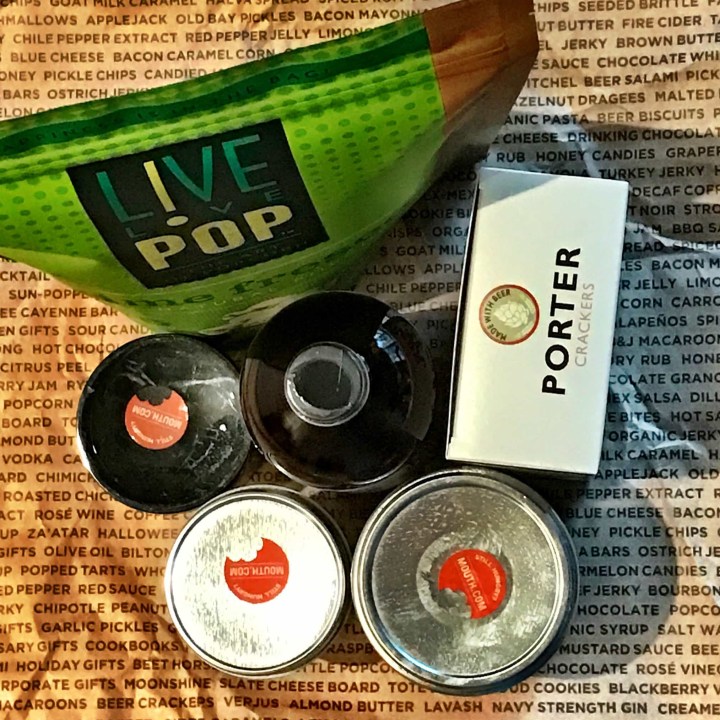 This delivery showed up in a month when I was traveling a lot, so I ended up not having a get together. BUT, it made a fantastic snacktastic meal for me and my boy one night, with leftovers to get me through the rest of the weekend. Party for two!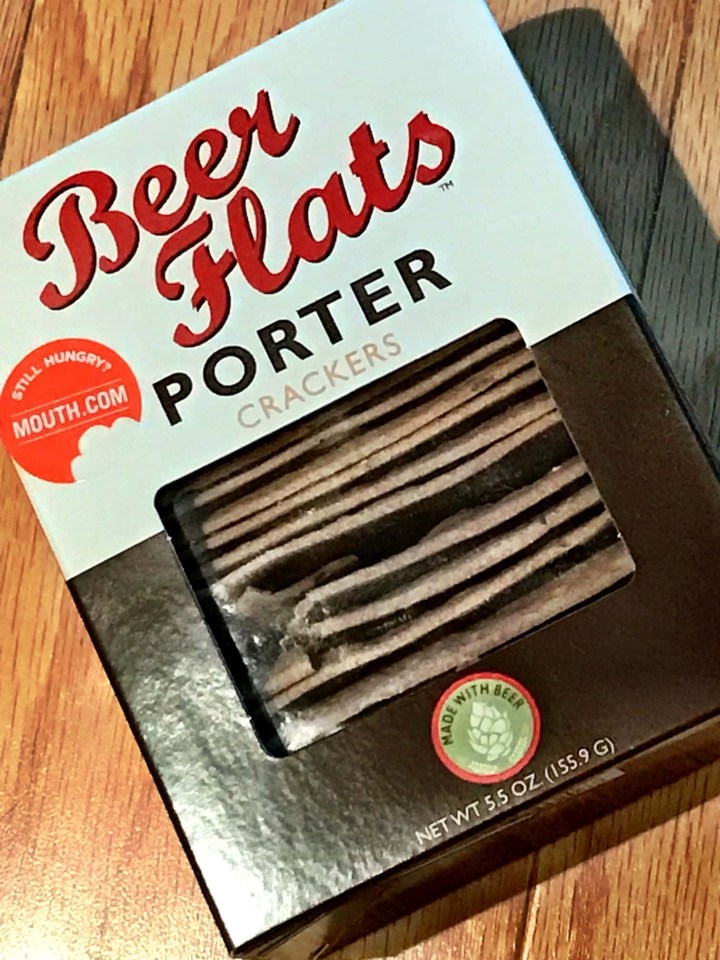 Porter Beer Flats Crackers, made by Daelia's Food Company, Cincinnati OH ($6.00-$8.50)
These are some seriously sturdy crackers. They survived the shipping process about 90% intact. The curved shape presumably makes them more stable, but it also makes them excellent for scooping or for layering on the tasty toppings.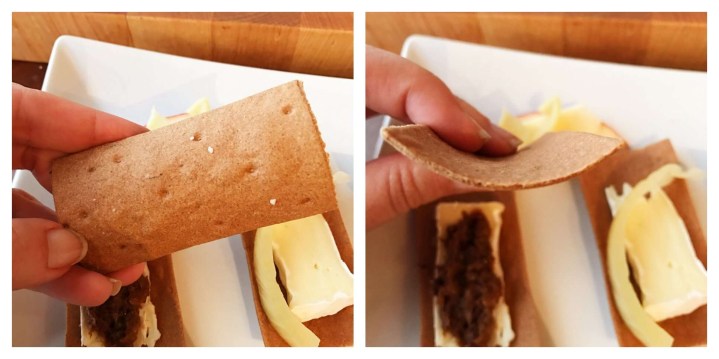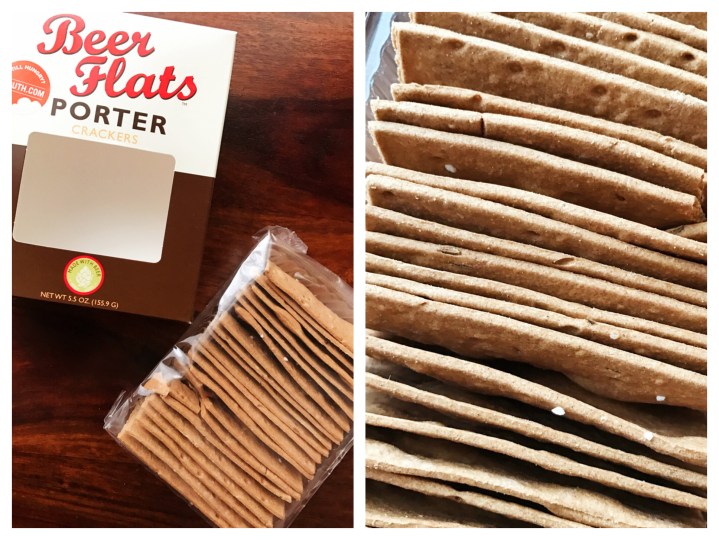 They have a hearty rye flavor. I would have happily eaten them on their own, but I received a lot of goodies in this box that were calling to be put on a cracker.
Bacon Jam, by Skillet Street Food, Seattle WA ($15)
So, maybe not the most appetizing looking thing I have ever received in a jar, but YUUUUMMMMMMMM. Minor criticism first – this isn't jam, which is how it was described in the list of items in the box. This is a bacon/meat spread, but it doesn't have the qualities of a jam, so I was initially disappointed when I opened the jar. Once I got over my semantic disappointment (also, acknowledging that the package says "spread"), I will admit, it is DELICIOUS.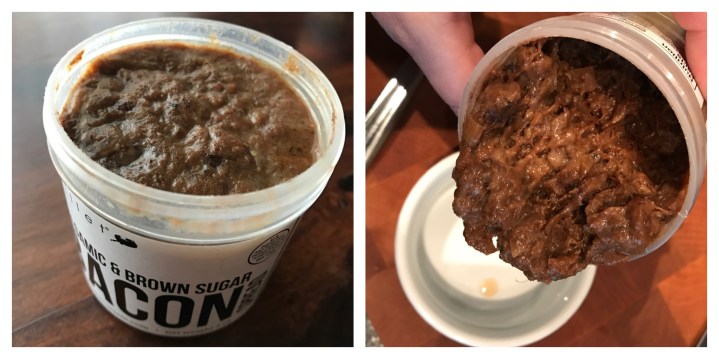 It basically tastes like a very flavorful, dense, meaty barbeque. Not a spicy barbeque, but a sweet one, with molasses and brown sugar flavors. I could just spoon this stuff straight into my mouth. Ultimately, I am not sure it went with much else in the box, but it was tasty on its own, and I made a grilled cheese with it (no pics, sorry!) that was Ah-MAZE-Ing.
Spicy Ginger Fennel Pickles by Pacific Pickle Works in Santa Barbara CA ($11-1$15.50)
I opened these the second I unwrapped them. I am SUCH a sucker for pickled things, and I love fresh fennel, so I wanted to know what these tasted like. They are made with a ginger and orange zest brine, and just to be clear, the pickled vegetable is fennel root (so these aren't fennel flavored cucumber pickles, as the name could be interpreted).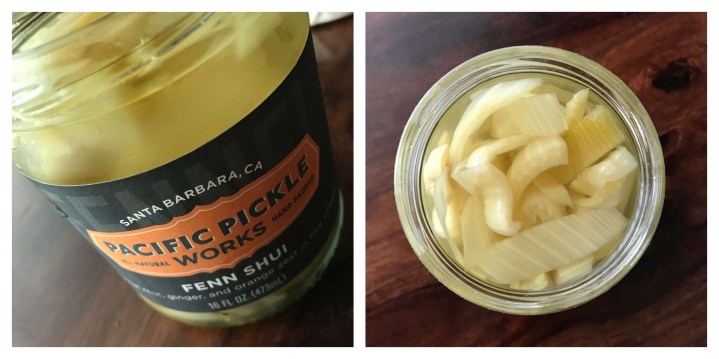 They are fresh and have a nice crunch, with an unusual (pleasant) taste. I ate a bunch on their own. I did end up pairing them with cheese, but they didn't quite match anything I had when we put the meal together. I checked out the producer website, and there is a suggestion to put these on a burger. I think that sounds like an excellent idea. So, like the bacon jam, yummy, but didn't quite "go" with the other stuff in a way that would make throwing a charcuterie plate together easy.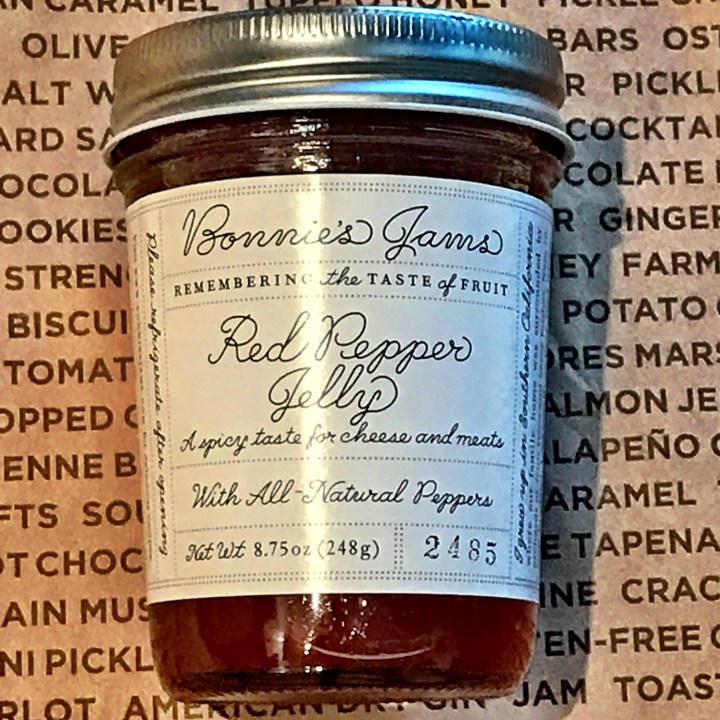 Red Pepper Jelly by Bonnie's Jams in Cambridge, MA ($10-$11.25) 
I love pepper jelly. The boy loves red pepper jelly. We went through about half of this jar in one sitting, because this is a DELICIOUS pepper jelly.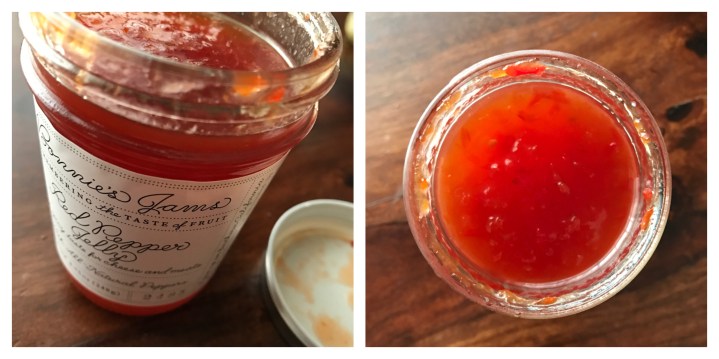 We paired this with both hard and soft cheeses and loved it with both. He was putting it on his breakfast the next morning. Frankly, I am amazed there is any left. It's sweet, a little tangy, and not too hot (just a hint of heat). I generally like my pepper jelly a little hotter, but if I want that, I can make it myself (and sometimes I just don't wanna!).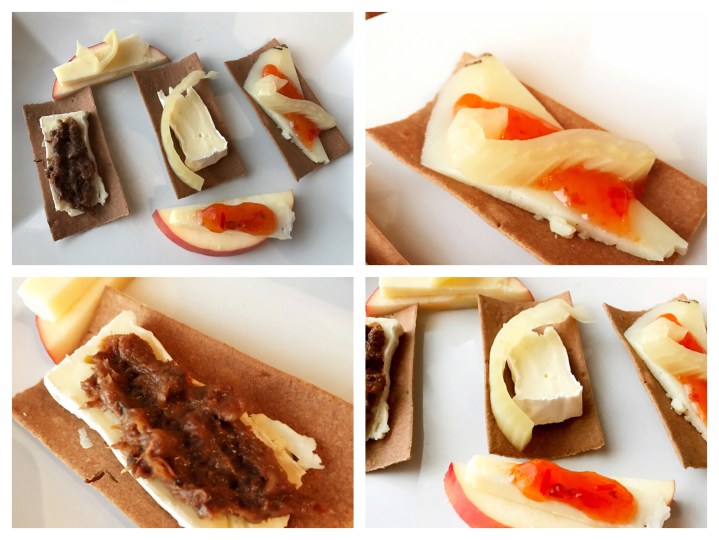 We tried a bunch of variations with the provided items, using a soft Camembert-like cheese from a local producer, a harder cheese (Parrano), and a young Manchego. The bacon jam overpowered everything (so we started just eating i on it's own on a cracker – no complaints here), the pepper jelly was great on all three. The pickles were fine with the cheese, but didn't go too well with either of the other toppings.
Zesty Lime Popcorn by Live Love Pop in Dallas, TX ($8)
What's a party without some munchie finger food? This popcorn was tasty and lite, which was nice after eating a big pile of cheese and bacon jam. I saved some to snack on for a few days. I wouldn't say this was anything special, but it tasted great, just a bit sweet, and the simplicity of it was appreciated.
Now, what's a party (ok, in my case, what's a nice dinner with your sweetie) without a tasty adult beverage?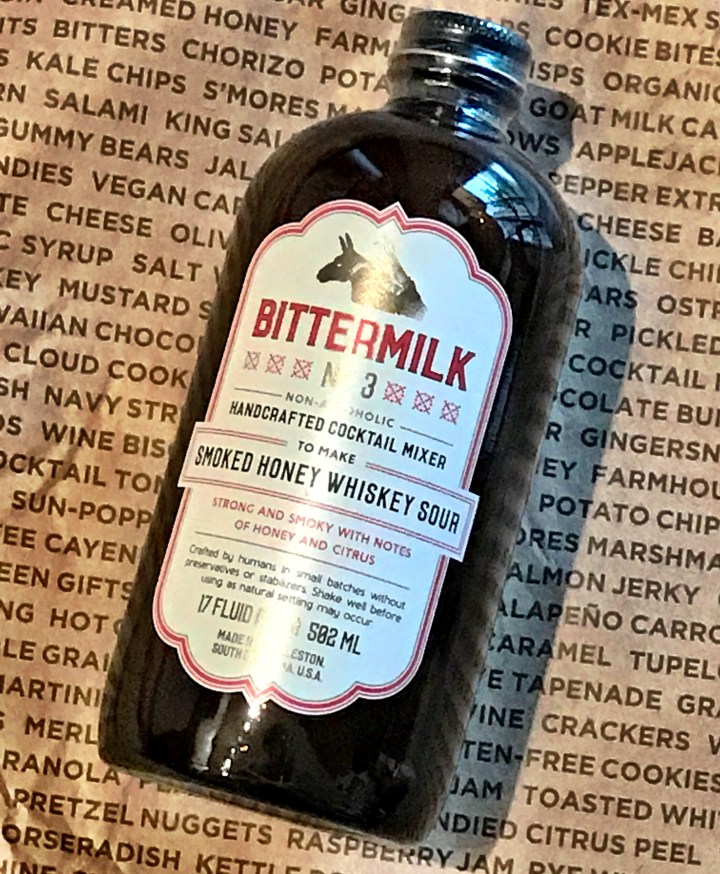 Smokey Whiskey Sour Cocktail Syrup by Bittermilk in Charleston, SC ($15-$20.25)
Avid readers may recall that I have quite a bit of bourbon around after reviewing the Mouth Bourbon Every Month box, so this is the perfect mixer. I know bourbon isn't whiskey, but for the purposes of using this mixer, they are close cousins and I went for it.
The instructions were simple and didn't require additional ingredients. I easily could have made six drinks of the portion size in this image, possibly more. The mix has strong flavors of orange peel, lemon, and honey. It has some smokiness, as well, though some of that also comes from the bourbon I used. The instructions call for equal parts mixer and whiskey. Personally, I found that way too sweet, so I think the next time I make one, I'll go for one part mix, three parts bourbon, or I'll add something else to stretch it a bit.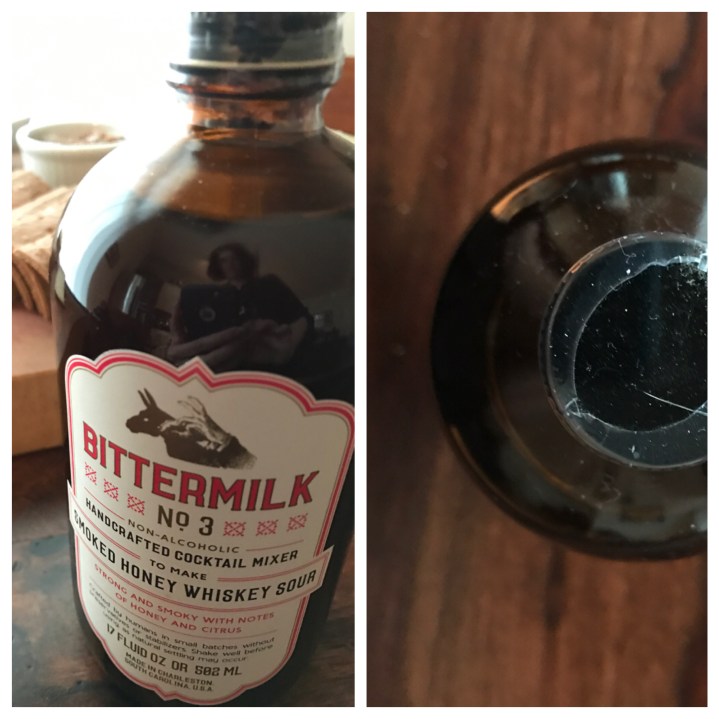 Why I like my Mouth: Cocktail Party Every Month Subscription
Well, for starters, I like food, and I like drinks, and I like sharing them with friends. I also like having things magically appear on my doorstep. When I think about how much I could spend hosting a get together, the cost of this box isn't far off. This month I noticed, moreso than I have in the past, that the prices on the Mouth site for the individual items was sometimes higher than other sites. That being said, to order each item individually from different sites and pay for shipping would definitely cost more than ordering a few items from Mouth.
Once you factor in shipping and your time to track down all of these treats, it's a pretty good deal to get the entire box, especially if you value having fun treats from around the country. I think this box would make a fun gift for the cocktail party throwing friend in your life, or for yourself!
I am looking forward to next month's box already!
Visit Mouth: Cocktail Hour Every Month to subscribe or find out more!