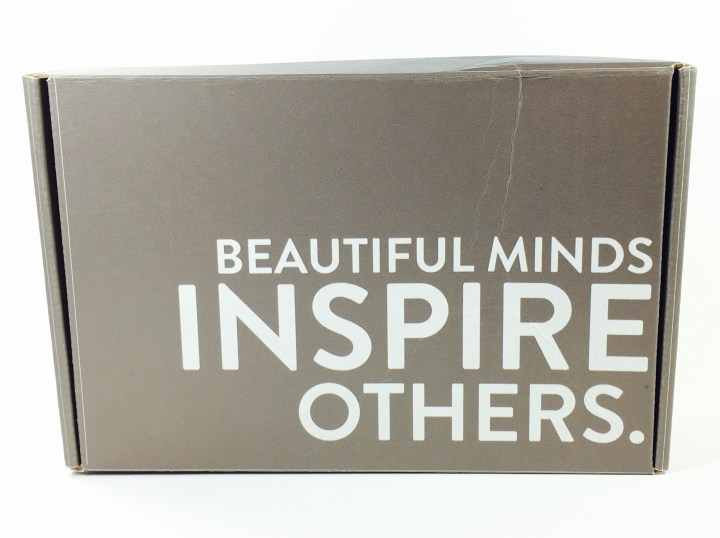 Inspired Book Club is a monthly subscription that sends an inspirational book and specially selected accessories to help you relax and renew. The additional items may include organic tea, a candle, a bookmark, suggested reading schedule, and other artisan items. This box is $34.99 and ships monthly. There is also a Facebook group that you can join to discuss the book with other members.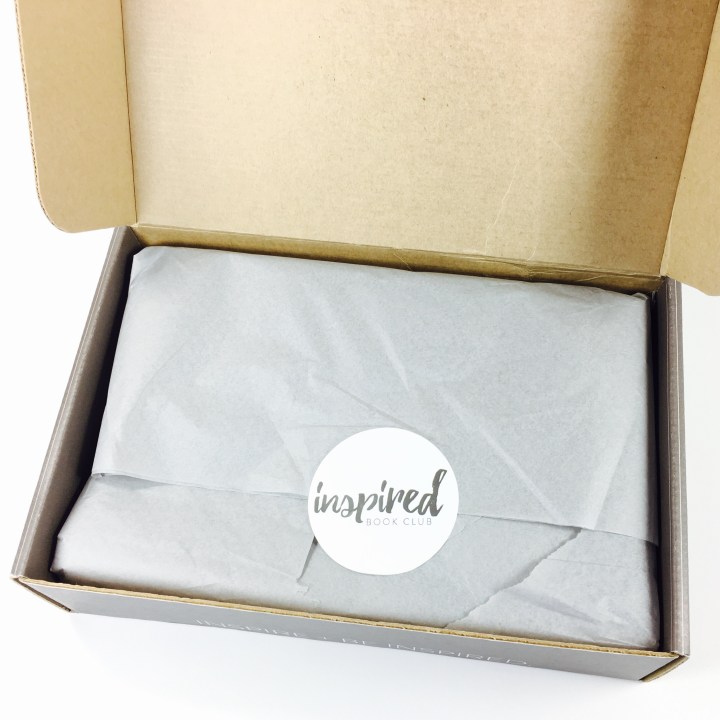 DEAL:
  Receive a FREE GIFT in your first month! Use coupon code 
hellobooklover
.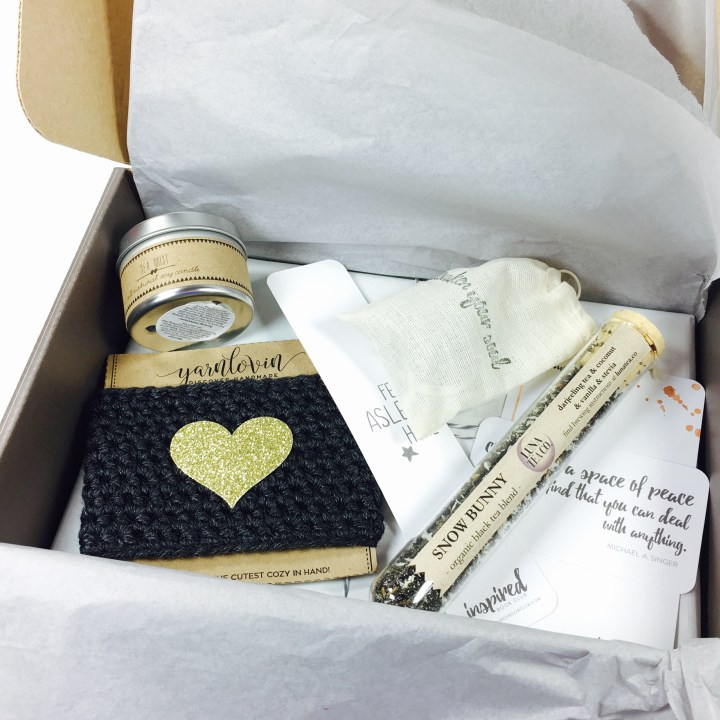 I liked the presentation of this box! My items were wrapped in tissue paper, which had a special sticker closure. The items coordinated well with each other. I'm always happy to see tea in a box, too!
There was a product information card that listed the makers of the accessories.
The flip side of the card tells how you can donate your book, once you've finished reading it. You can even print out paid postage to stick on the box, so check your email and keep the box handy if this sounds like something you might want to do.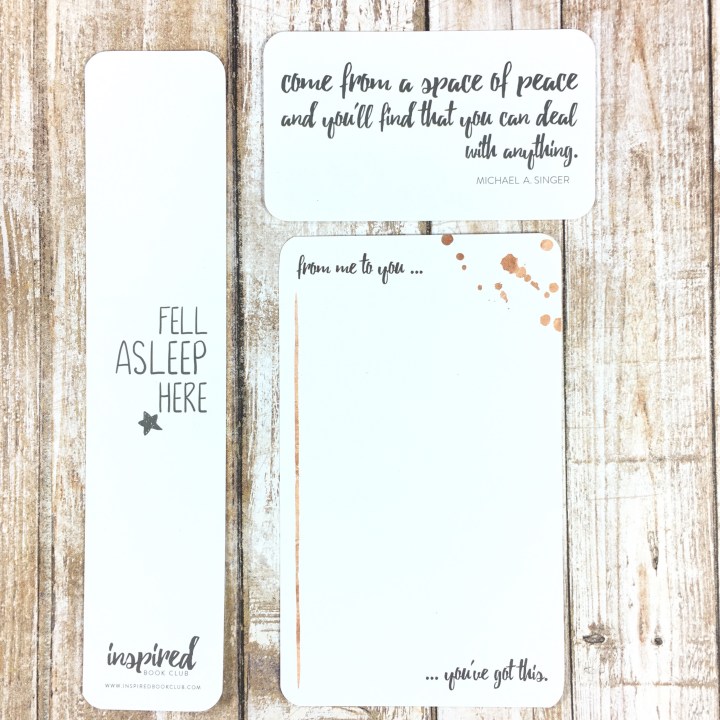 There was a cute bookmark and a note card that you can use to write a little note and place in the book (if you plan to pass it along), and a card with a quote and that featured…
…a suggested reading timeline on the back. This works out to around 6-7 pages a day.
The book was wrapped so it felt like another present inside my already adorable box.
The Untethered Soul: The Journey Beyond Yourself by Michael A. Singer ($16.95 $9.71) Amazon lists this book as its #1 bestseller in the cognitive psychology category and has 4.7 (out of 5) stars! I haven't had a chance to read it yet but it is supposed to help you move beyond labels that you may believe about yourself and help you become more in touch with who you can become.
What would it be like to free yourself from limitations and soar beyond your boundaries? What can you do each day to discover inner peace and serenity? The Untethered Soul—now a #1 New York Times bestseller—offers simple yet profound answers to these questions.

Whether this is your first exploration of inner space, or you've devoted your life to the inward journey, this book will transform your relationship with yourself and the world around you. You'll discover what you can do to put an end to the habitual thoughts and emotions that limit your consciousness. By tapping into traditions of meditation and mindfulness, author and spiritual teacher Michael A. Singer shows how the development of consciousness can enable us all to dwell in the present moment and let go of painful thoughts and memories that keep us from achieving happiness and self-realization.

Copublished with the Institute of Noetic Sciences (IONS) TheUntethered Soul begins by walking you through your relationship with your thoughts and emotions, helping you uncover the source and fluctuations of your inner energy. It then delves into what you can do to free yourself from the habitual thoughts, emotions, and energy patterns that limit your consciousness. Finally, with perfect clarity, this book opens the door to a life lived in the freedom of your innermost being.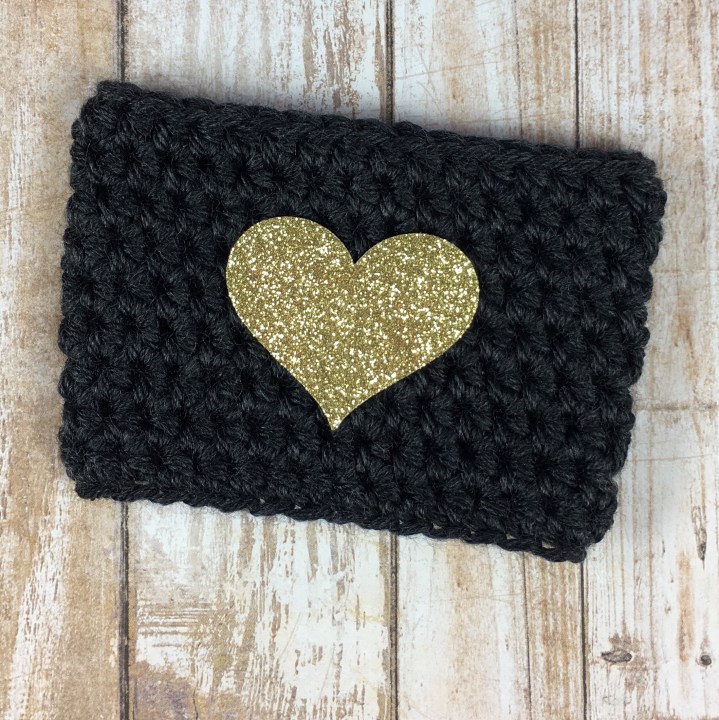 Yarnlovin Glitter Heart Coffee Cozy ($9.99) This is a handmade item that features a gold glitter heart and should fit over most coffee tumblers or even a mason jar in the summer, to soak up iced tea sweat!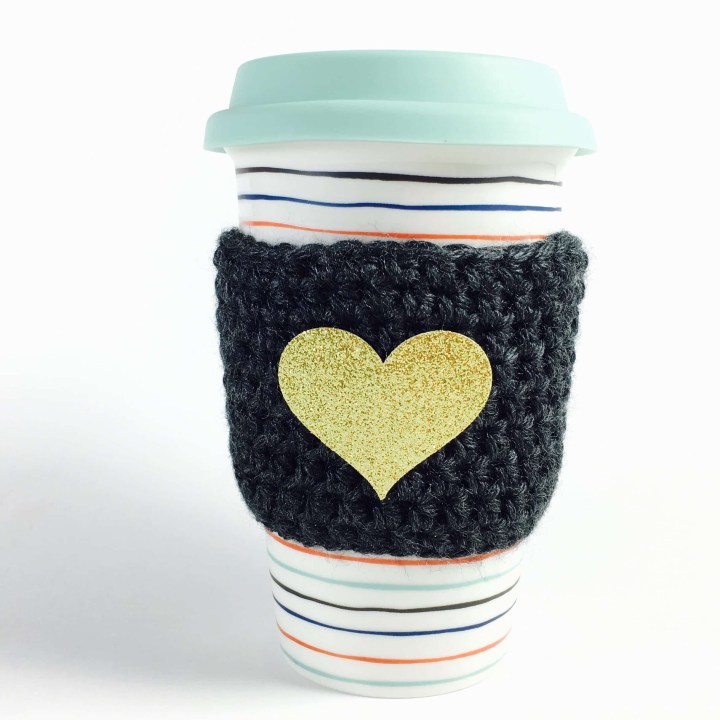 I mostly drink my hot tea out of a mug with a handle, but I brew a hot tea in the morning to take to work and this fit just fine over my tumbler.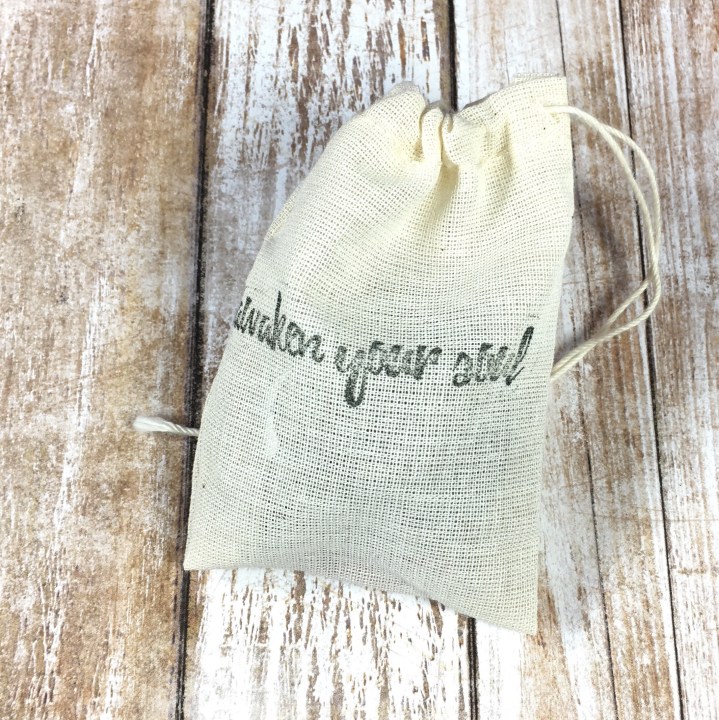 There was a little bag stamped with the words "awaken your soul."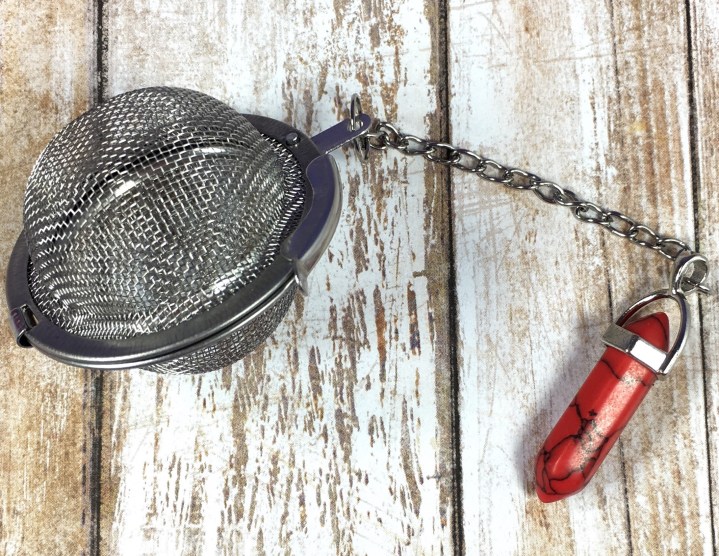 Inside the bag I found The Kai Life Crystal Tea Infuser ($12). This item is hand wash only which is how I wash all of my tea infusers. The crystal adds a surprising pop of color to an otherwise mundane item, plus it makes a nice counterweight to keep the infuser from falling into the mug.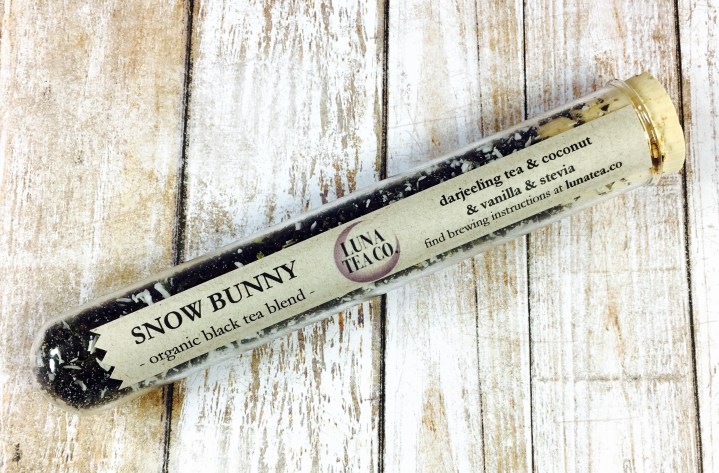 Luna Tea Co. Snow Bunny Organic Black Tea Blend ($6) This test tube has enough tea to make 3-6 cups, depending on how much you use. I had to look up the instructions on the Luna website but they didn't list measurements so I used 1 1/2 teaspoons of tea to 8 ounces of water.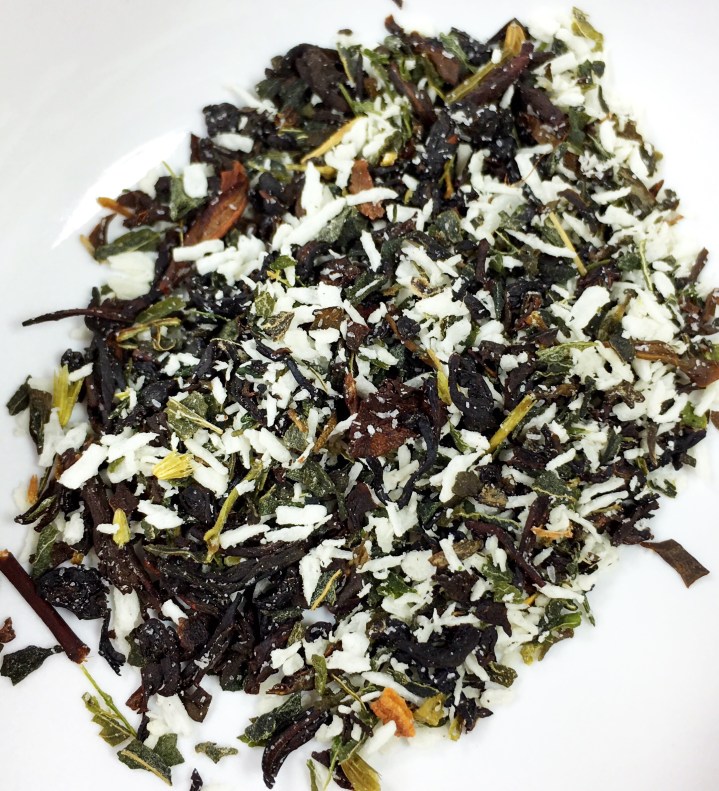 This blend is made of darjeeling tea, coconut & vanilla powder, and stevia leaf. I steeped it for 5 minutes using boiling water, as directed.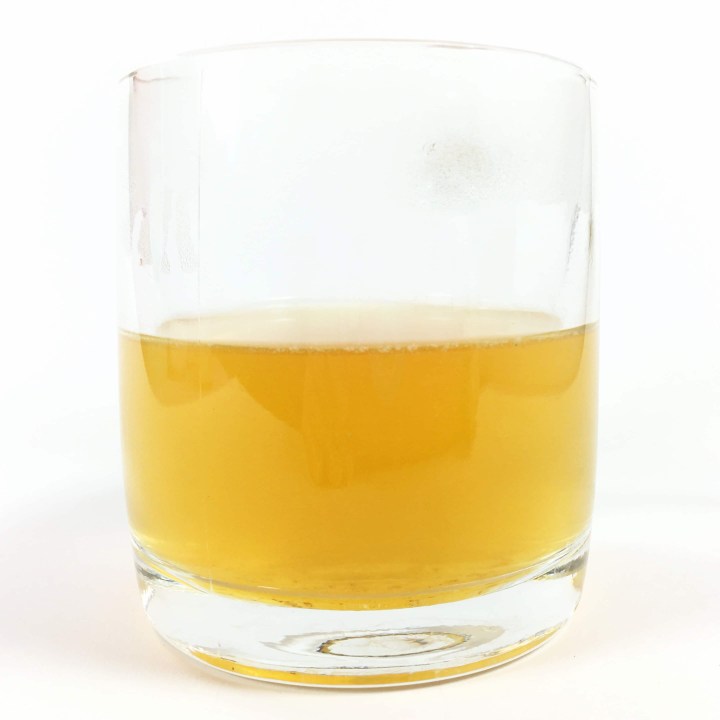 This tasted overwhelmingly sweet and was cloudy. I couldn't really tell you what flavor it was, except sweet and unappetizing. Was the coconut bad? I didn't care for it and tried to pass it along to my kids. My youngest said no thanks and my oldest took a sip and said "I would drink it, but I don't like it." I'm pretty sure this brand will be featured in every box so I look forward to trying a different flavor, hopefully without stevia, and seeing if it was just a personal dislike for this flavor or the brand as a whole.
I've received candles from this Etsy vendor before and Sea Mist by The Tiny Collection ($11) is a new-to-me scent and my favorite one so far! The all-natural soy candle features natural fragrance and essential oils. This particular scent is supposed to have musk and orange blossom notes and smells clean and like a familiar perfume, maybe Giorgio Beverly Hills? I looked it up and it does have some of the same notes so I'm going to stick with that.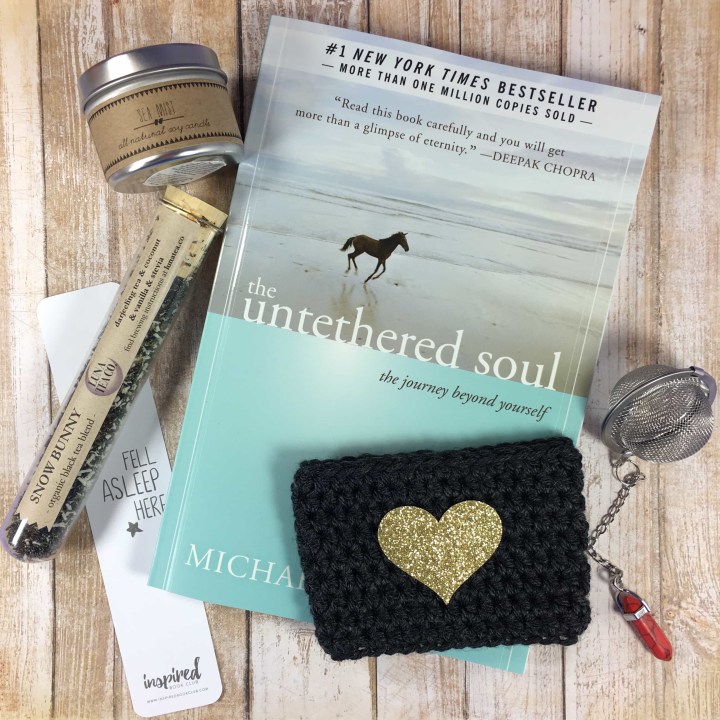 I liked the debut box from Inspired Book Club and thought the box had a lovely variety of items to accompany the book and was a nice way to relax and focus on one's self at the end of a long week. The suggested reading schedule is a great way to remind myself to stay on track and I have requested to join the Facebook group but as of this posting I am not a member. I don't know if the tea was bad or just not my taste but hopefully the next one will be better. This box had a value of around $48.70. The online book club and free postage to donate the book can add to the value if you take advantage of those services, too!
What do you think of Inspired Book Club? Let me know in the comments, along with what inspires YOU to feel good about yourself!