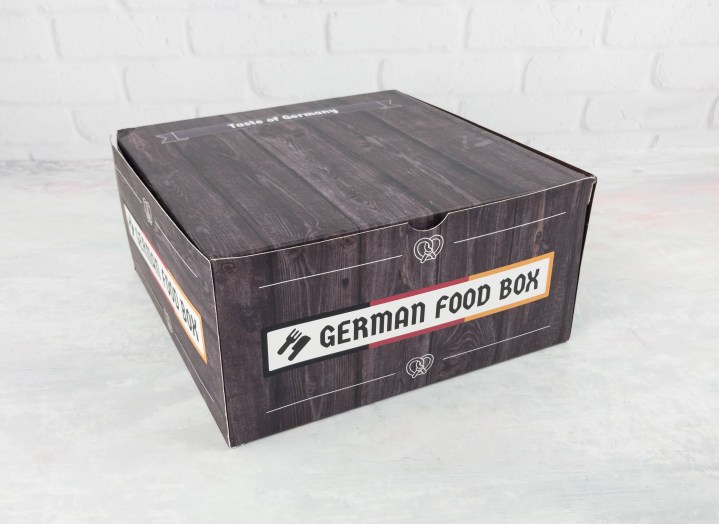 German Food Box lets you embark on a blind tour of German food every month! You'll receive 6-8 different food items that represents the best of German cuisine, all curated by a team of experts. The subscription costs $49 per month.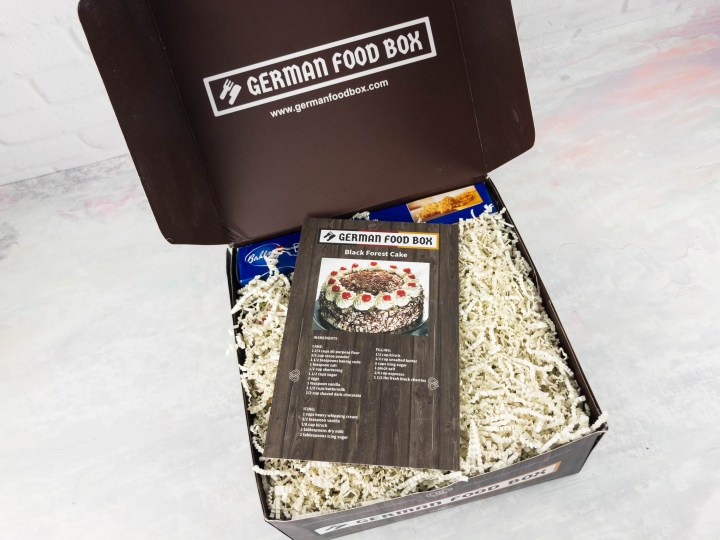 The box and contents are proudly made in Germany, and every month features a different traditional German food!
DEAL: Get $10 off your first box! Use coupon code FRIEND10.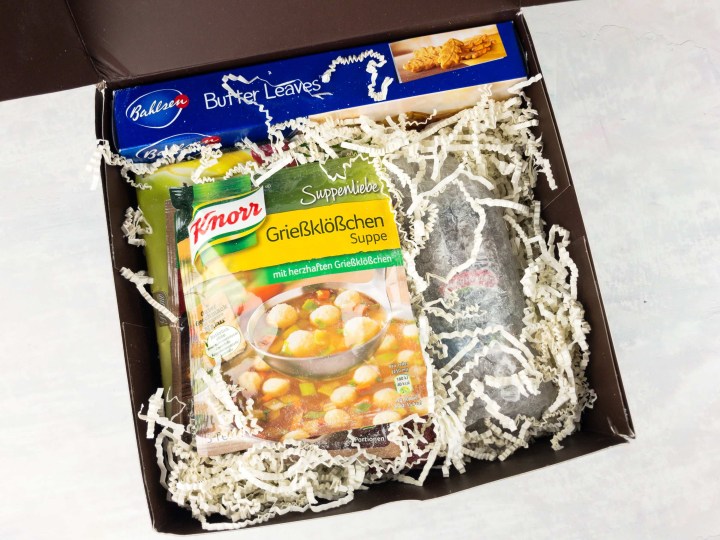 The box is filled with German-made food, with most in German language, non-export packaging. The box includes mixes and ready to prepare foods, snacks, and sweets. Everything was surrounded with white squiggles, with bubble wrap used to protect the one glass jar.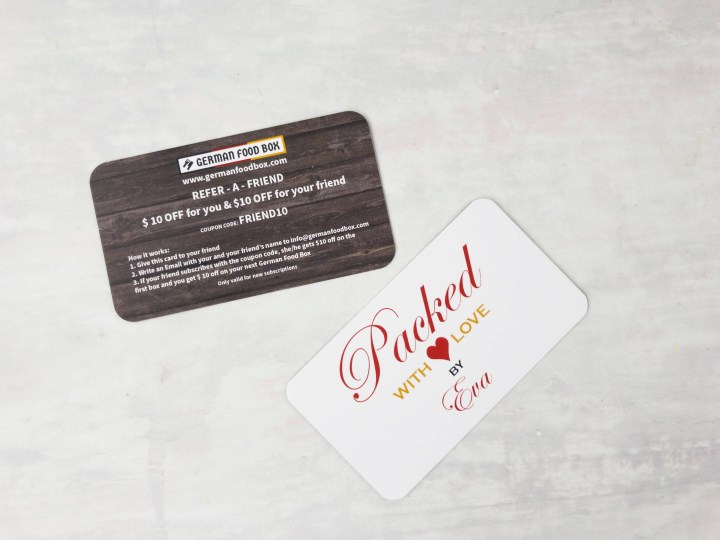 A referral/coupon card was included so you can get a friend hooked on German food, too! Our box was "Packed With Love By Eva."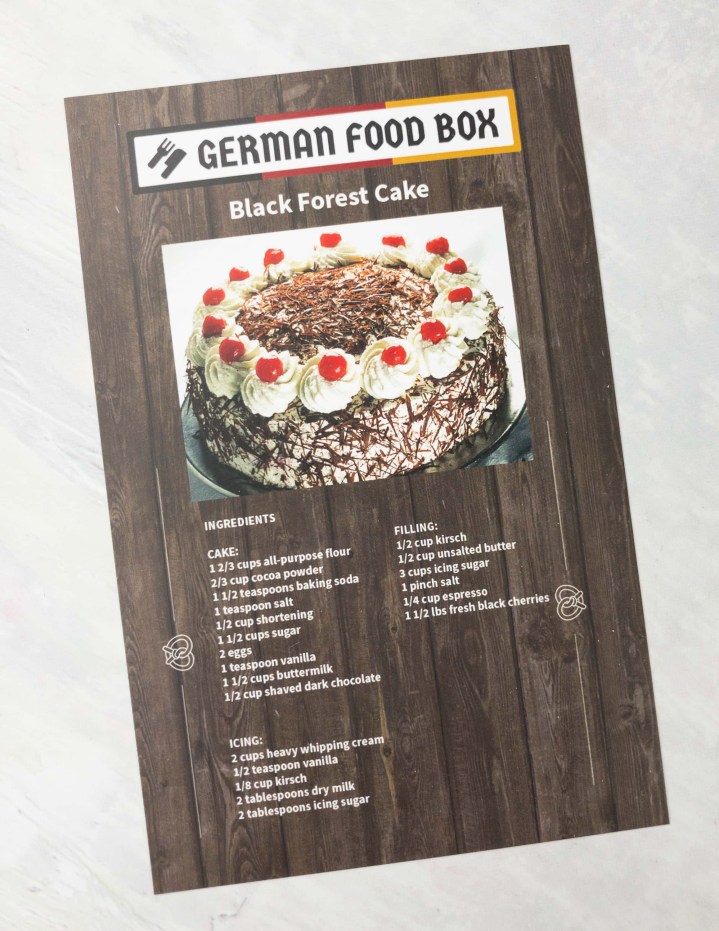 There's also a recipe card included in the box.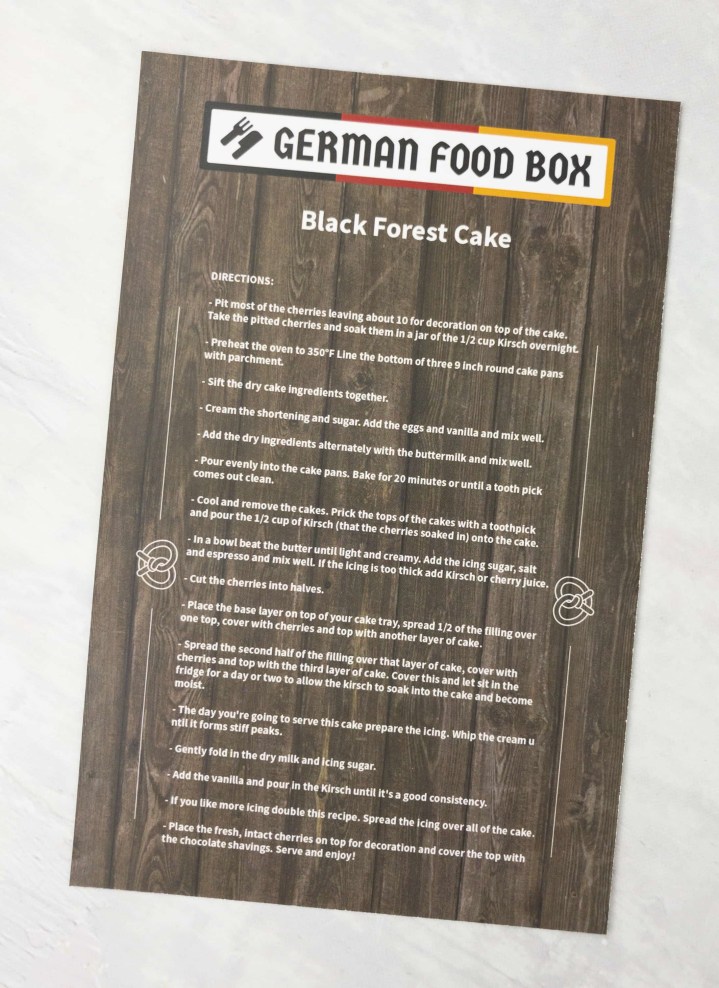 It's for Black Forest Cake. Last month, I commented that the box usually contains a quick version of the sauce used in the featured recipe – so this month it didn't. Of course. Lots of other good stuff, though!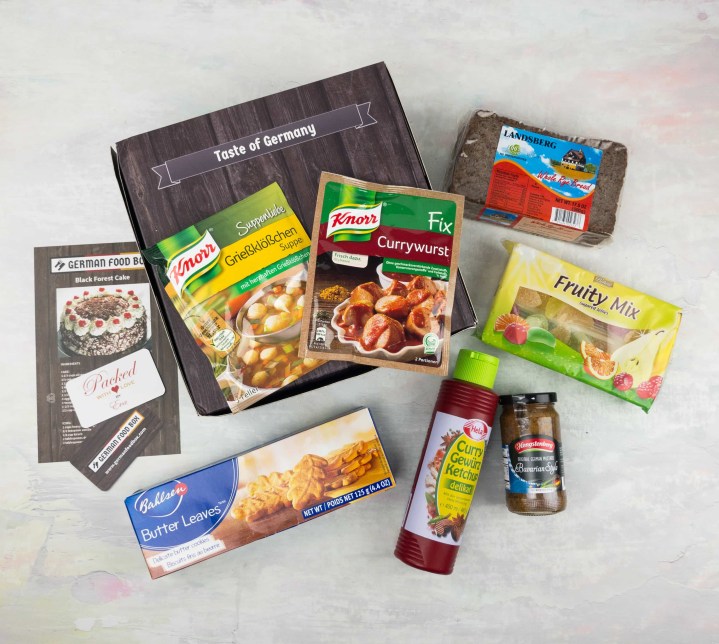 All the goodies in my German Food Box this month!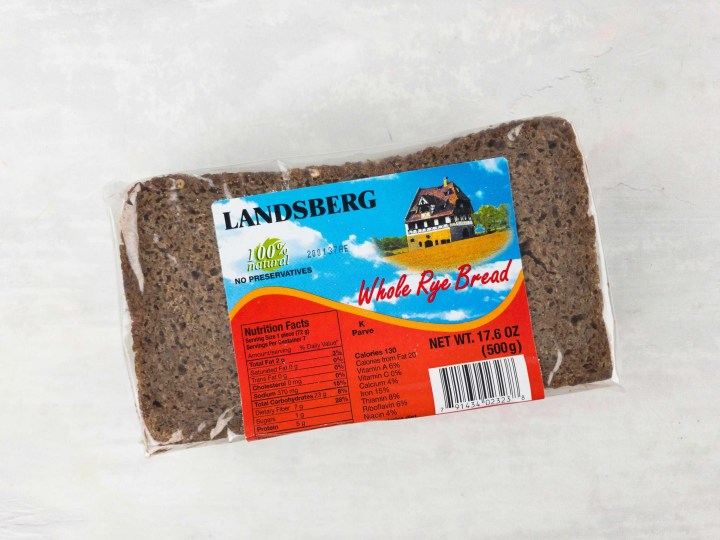 Landsberg Whole Rye Bread ($11.93): this bread has a dense, springy texture and can stand up to cured meats or complement jam equally well.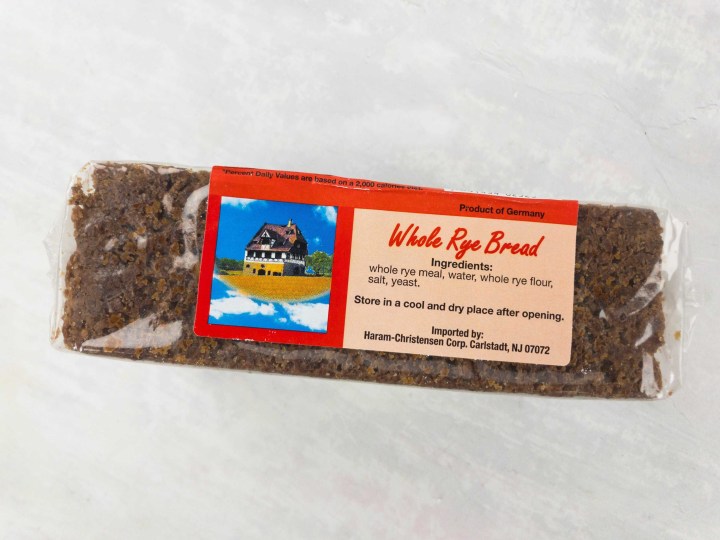 Made with whole rye meal and flour, the bread has a hearty flavor and texture you'd never get with refined flour. No sugar is the dough means a dense, low rising loaf.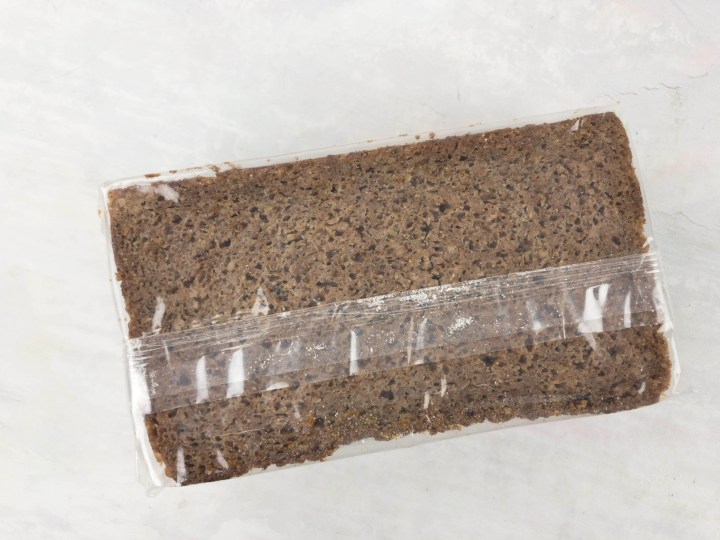 The bread has a remarkably even texture for using intact grain.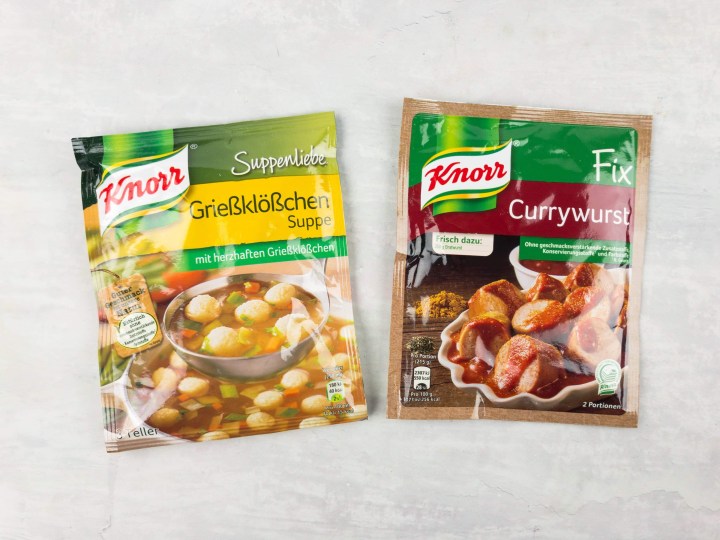 Knorr Suppenliebe Griessklösschensuppe ($10.99): Traditional German grilled dumpling soup. I can only assume this dish is a cousin of matzo ball soup.
Knorr Fix Currywurst ($9.74): Knorr Fix is a sauce mix that you combine with meat to make a complete dish. This dish is version of the increasingly popular street food that combines a curry-infused ketchup-based sauce with German sausage to make a dish that is both inspired by world cuisine and yet classically German at its roots.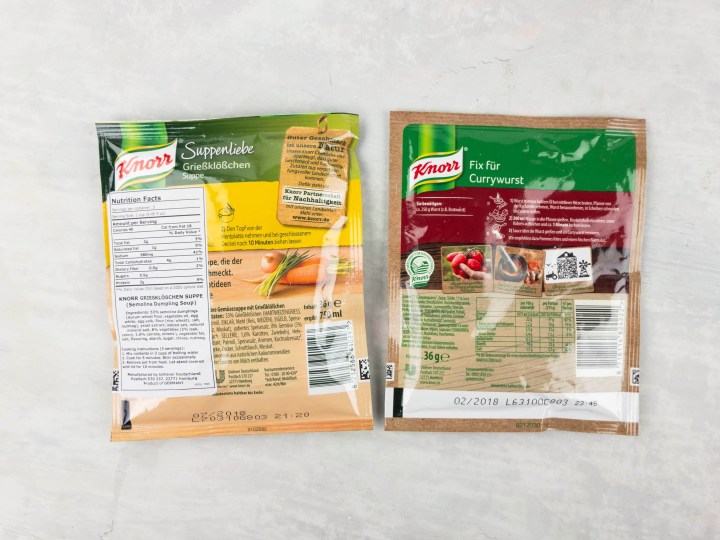 The mixes are quick ways to create a little taste of Germany at home, with only water needed (and sausage for the currywurst).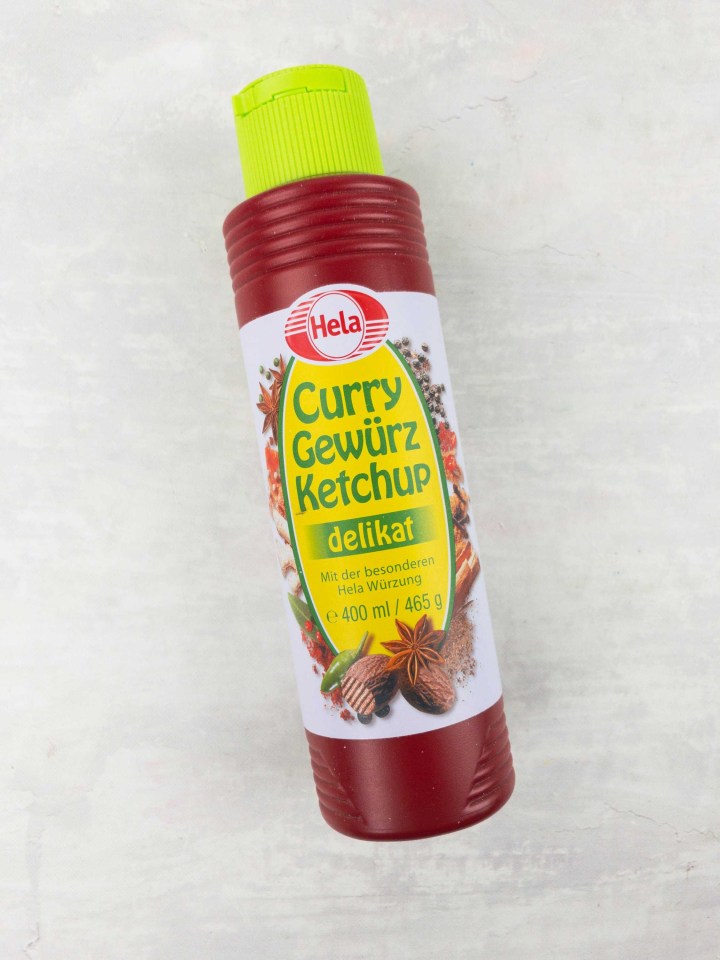 Hela Curry Gewurz Ketchup ($10.77): This month we may not have received a recipe and mix centered around the same classic German dish, but we received one of the key ingredients for making curry wurst without a mix. This ketchup blends the atypical condiment (Germans typically eat their fries, etc, with mayonnaise, not ketchup) and pairs it with a flavorful blend of curry spices.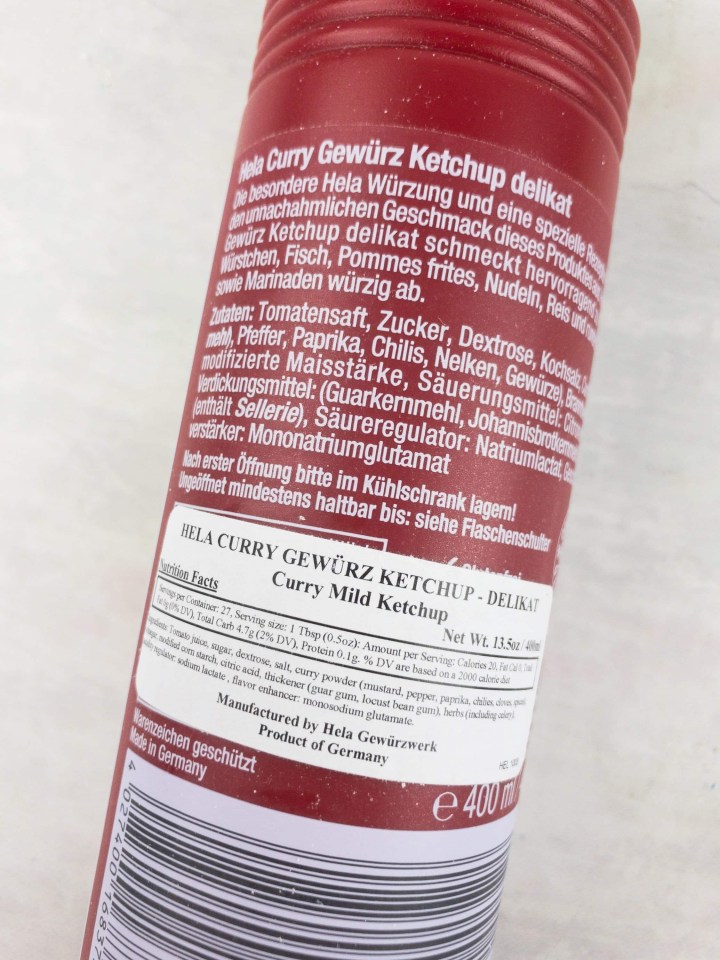 Unlike the American version of ketchup, this one skips the tangy vinegar and relies on the spices for its zip.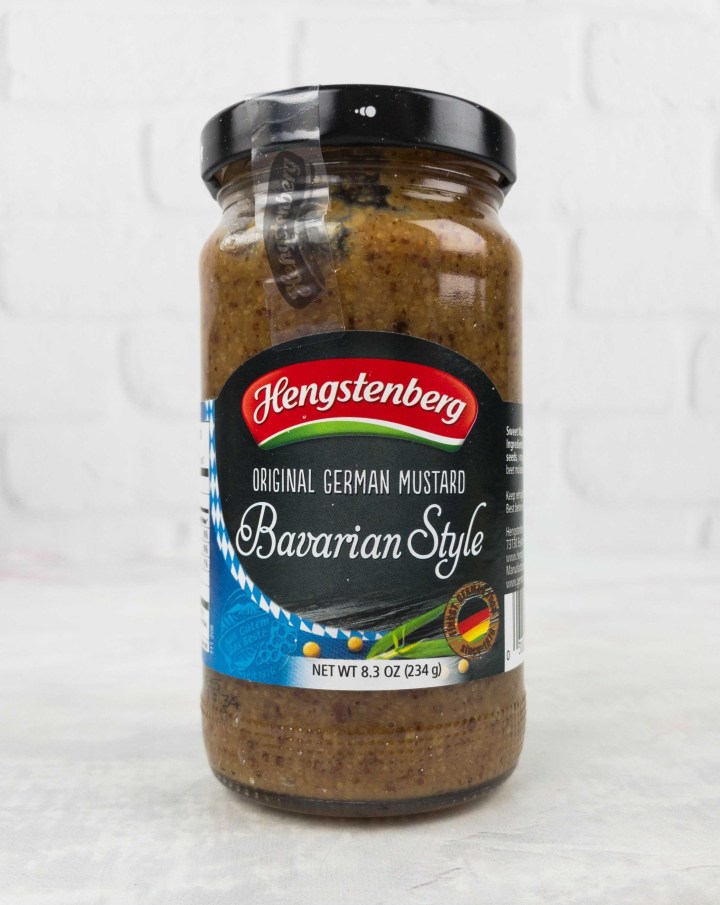 Hengstenberg Bavarian Style Original German Mustard ($11.48): A roughly ground mustard prepared in the sweet, Bavarian style.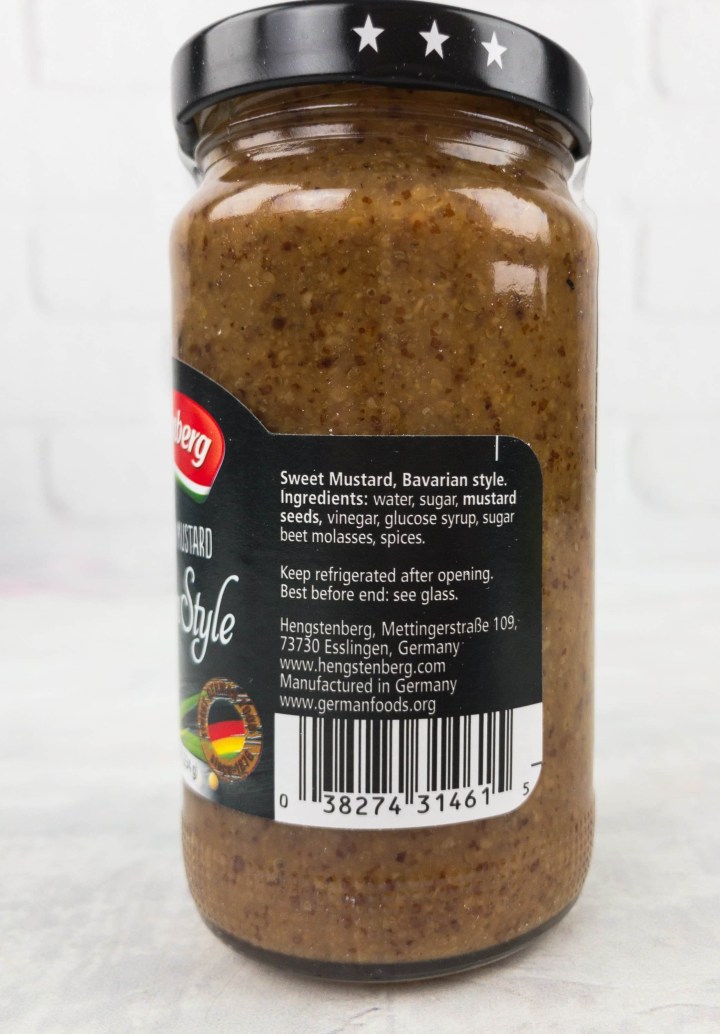 It is very traditional, incorporating sugar beet molasses among its sweeteners.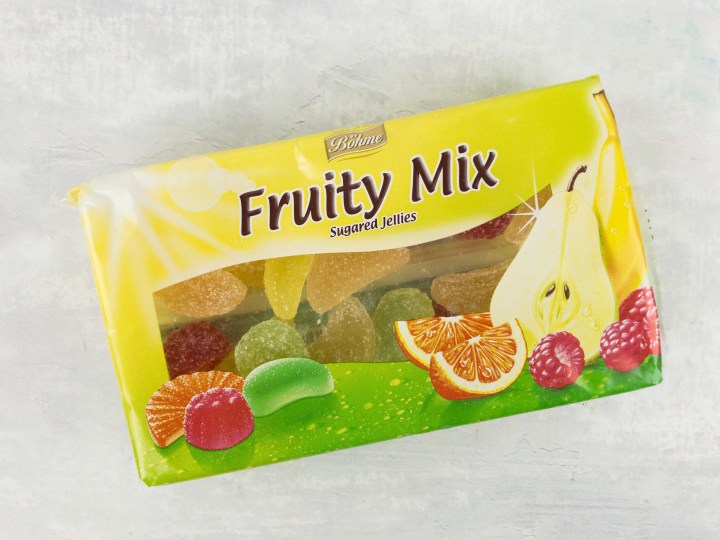 Bohme Fruity Mix Sugared Jellies: Exquisitely soft and delicate fruit jellies. These aren't your typical drugstore jellies!
The jellies came in raspberry, pear, banana and citrus slice.
Bahlsen Butter Leaves ($2.91): Danish style butter cookies with a delicate texture and rich taste.
It is always a good sign when butter is the second ingredient!
The cookies were in an oak leaf shape, creating crunchier areas at the lobes.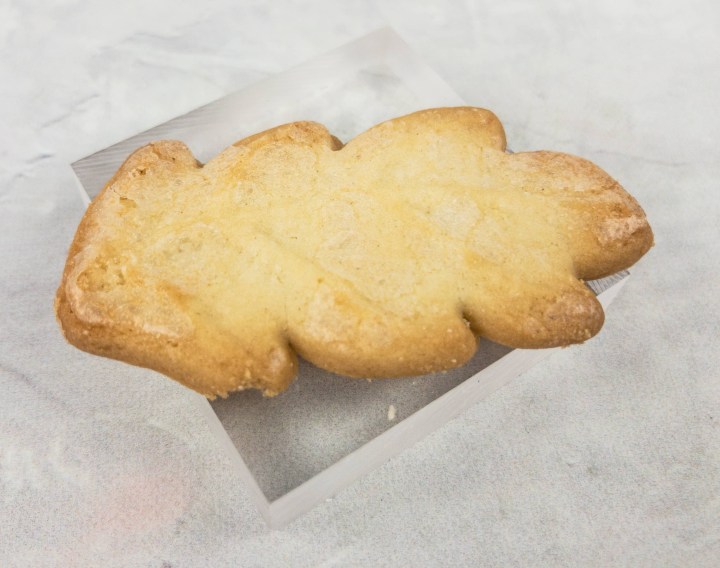 Each cookie had a thin, sugary glaze that was the perfect finish.
This is a fantastic subscription for fans of German food. Everything is super authentic and distinctly German. We are a big fan of international food boxes, and the ones dedicated to a specific country tend to dig up some of the most authentic items. We love the Made in Germany character and the "everyday food" bent of the box – it's nice to get some mixes to have with dinner (instead of just candy and snacks). This box had mixes for both dumpling soup and currywurst, and we loved seeing both classics and popular new dishes represented.