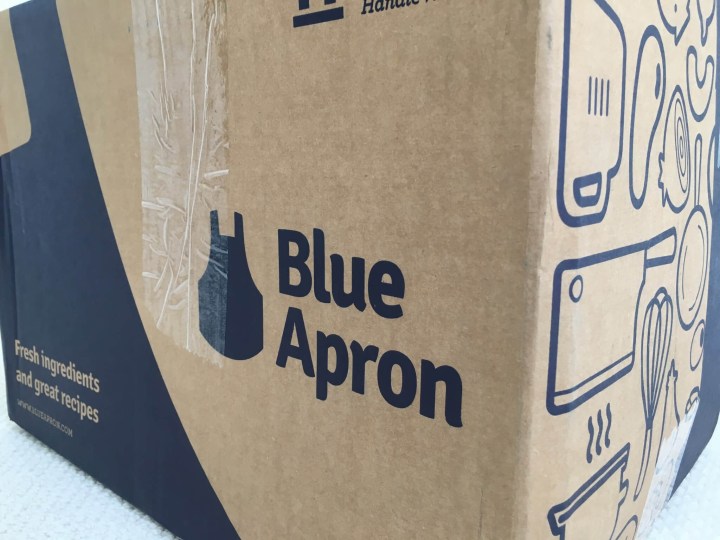 Blue Apron is a subscription box for making great meals at home. If you're like me, you periodically find yourself in a serious cooking rut. You make the same things every week, but the thought of researching a recipe and acquiring all of the ingredients is just too much work. Blue Apron is the solution! Each week, Blue Apron sends you a refrigerated box with all the fresh ingredients you need to make the included recipes. You can select the 2-person plan – 3 meals a week of 2 portions each – or the family plan – 2 to 4 meals a week of 4 portions each. The menus are set, but you can ask Blue Apron to avoid ingredients you don't eat – shellfish and lamb, in my case.
We got the Family Plan for 2 meals. I set the delivery date and it arrived right on time, securely packaged in a heavy-duty box. All of the ingredients are wrapped in an adorable insulated blanket and cooled with ice packs. Mine took a day to arrive and sat on my porch for 3 hours, and everything was perfectly cool inside.
Pricing: 2-Person Plan – $59.94 for 3 recipes. Family Plan (serves 4) – $69.92 for 2 recipes, $139.84 for 4 recipes.
DEAL: Save $30 on your first order! Use this link – no coupon code required!
The meat is at the bottom, surrounded by still-frozen gel ice packs. The pork and turkey was double-bagged in extra ziptop bags, so no concerns about leakage. The produce was all in good shape this month, although I was missing the thyme.
Regular readers of these reviews (Hi, Mom!) will know that I have a spotty record with pork recipes, for a variety of reasons. The primary issue, though, is that pork goes from perfect to garbage in literally seconds.  If it's in there a minute too long, it's too late.  So, I decided to vanquish all of my pork demons this month with the hardest pork recipe to get right–the pork chop.  Go big or go home, right?  Let's do this.
Our first meal Pork Chops and Apricot Pan Sauce with Cheesy Potatoes and Broccoli.
This is a pretty straightforward meat-and-veggie-side meal, so we did this one on a weekday night.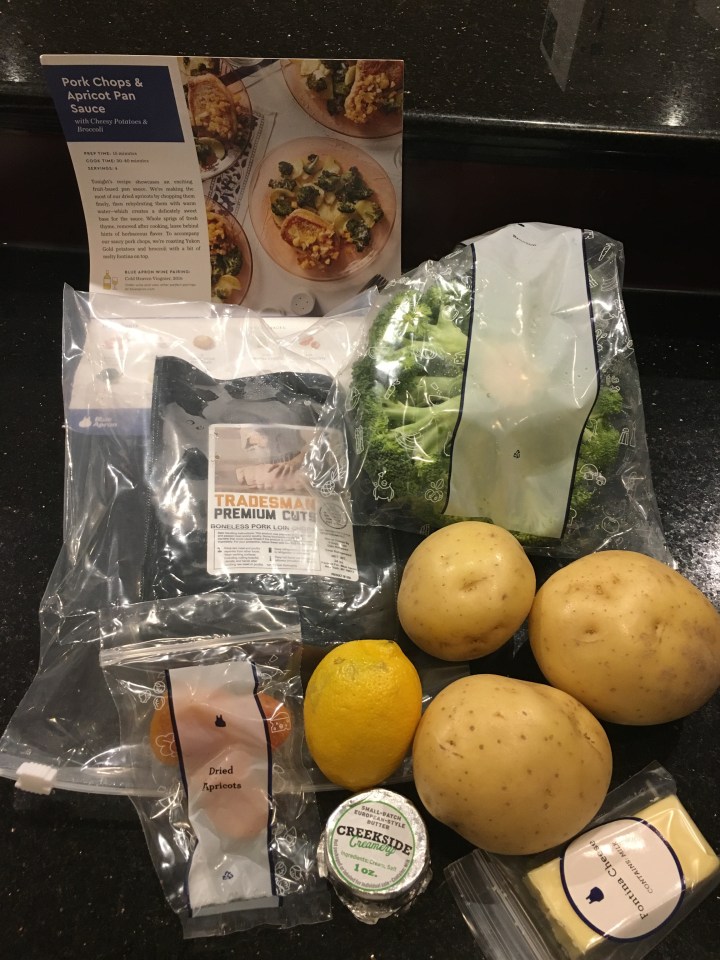 As usual, all of the ingredients were included, even a wee pat of butter. (I really like this butter – I have been known to use my regular butter in the recipe and save this little pat for serving on bread, where it'll be appreciated). Blue Apron does a great job of sending you just the amount you need for the recipe, so you don't waste anything; nor do you have to think about how much to add to the recipe.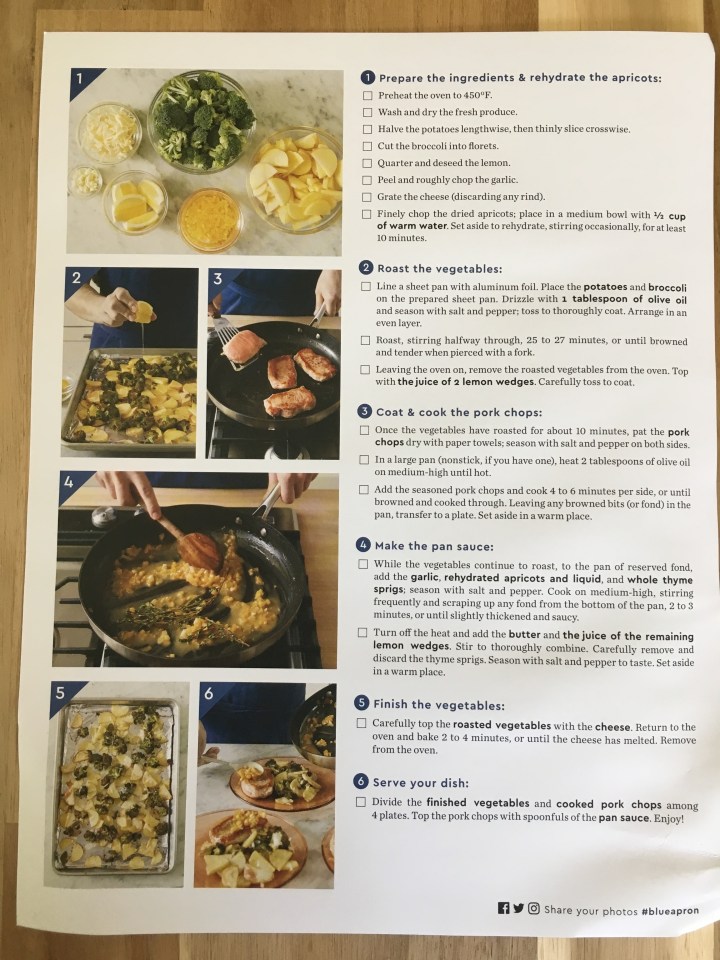 Each recipe comes with these easy-to-follow instructions. Even if you are new to knife skills, you will be able to do everything on this list. The prep time on this one was about right – the chopping was fairly minimal, and the pork was just salted and peppered.
Included in the box is the meal's nutrition facts. I think it's nice to have a ballpark idea of how this meal fits into my daily nutrition.
This meal was straightforward to make. 450 is too hot for my oven, so I went for 400 and it was great. Also, I used parchment instead of aluminum foil for the potatoes, and there were no problems with sticking. Everything else went fine! The pan sauce came up a bit thinner than pictured but the flavor was good and went well with the pork (I subbed dried oregano for the fresh thyme that was left out of my box). Roasted broccoli is always thumbs up, and everyone LOVED the cheesy potatoes. I think I've redeemed myself on cooking pork! Hooray.
After going for the fence on the pork chops, I decided to take the easy single with the Lemongrass and Ginger Turkey Burgers.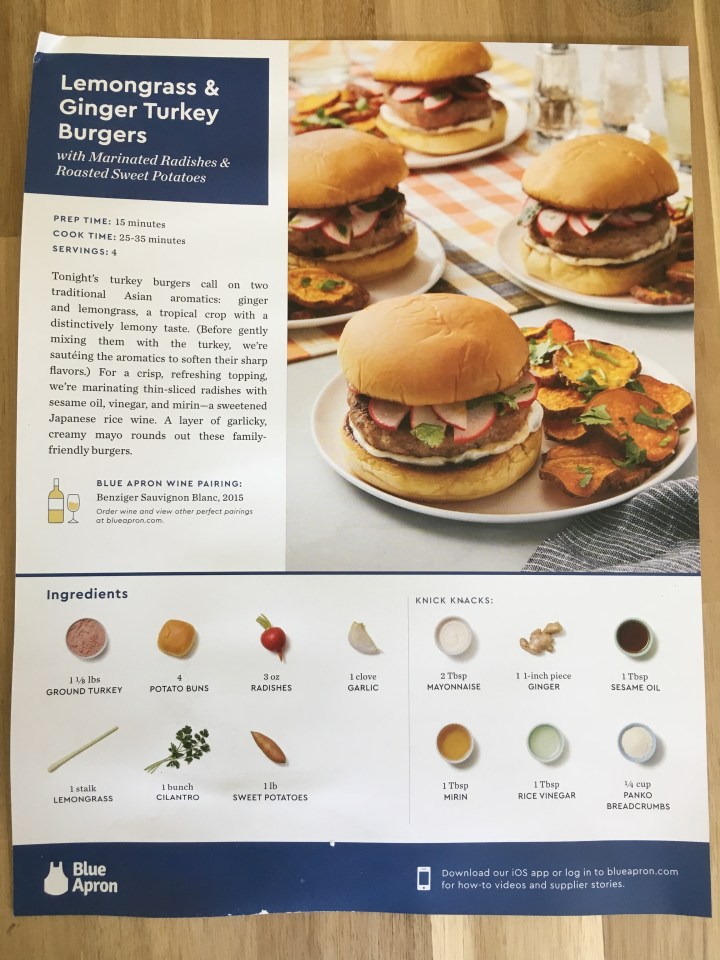 My 9-year-old would like me to get burgers in my BA box every month, and while she prefers beef, she was sufficiently stoked about any kind of burger to give me a hand with these.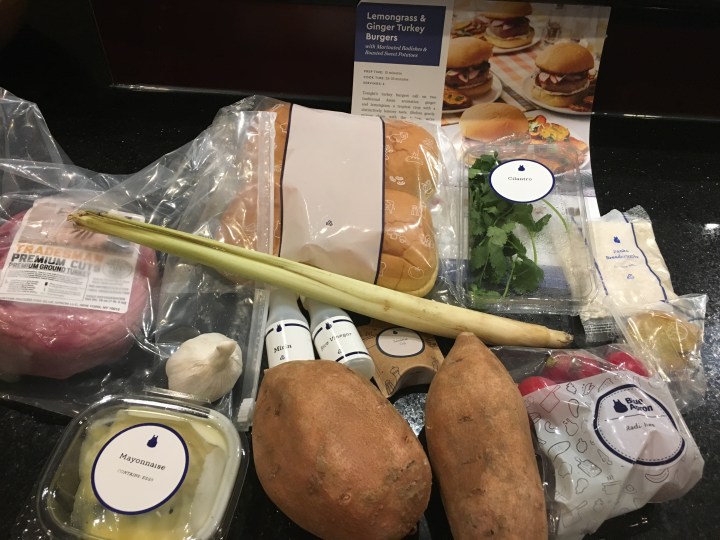 The recipe card has straightforward instructions that were easy to follow. Tips from this non-pro: use shears on the lemongrass instead of a knife, and use a microplane on the garlic and ginger. Saves you some time and avoids stringiness.
This recipe also included the nutrition facts.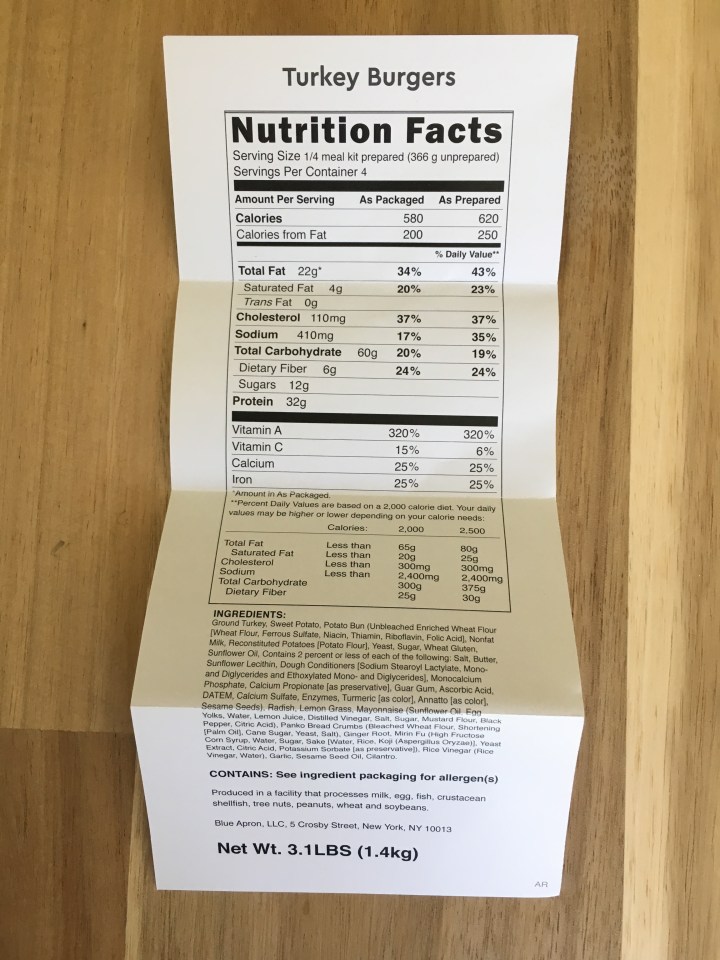 This was all pretty easy to put together. BA always tries to minimize prep/maximize efficiency by putting things in the oven and then doing something else, etc. In this case, I'd recommend that you prep the sweet potatoes but then set them aside while you make the patties. It'll save you some stress if it takes a little longer for your burgers to cook (like mine did).  As usual, I roasted at 400 instead of 450.
I was a little concerned about the texture of the meat – it was a really fine grind, and came up almost like a pate when I formed the burgers. But everything held together just fine. I got six burgers instead of four, which made for a couple easy lunches this week.
This turned out really tasty. The burgers had a nice mellow flavor from the lemongrass and ginger, and the garlic mayo really complemented them. The crunch of the radishes was a neat sub for pickles and even the kids like them.  Sweet potato rounds are a no-fail side. Thumbs up all around!
Hey, did you know that Blue Apron has a wine program now? Check out my Blue Apron Wine Subscription review for April. The Benziger Sauvignon Blanc that was paired with this recipe is the perfect choice for this meal.
It's nice to not have to decide "what's for dinner" all the time. Overall, Blue Apron has been enjoyable and gets us out of our boring dinner routine. Honestly, you can forget how fun cooking can be. Interesting ingredients, easy recipes, and delicious food. We can't wait to see what we get next time!