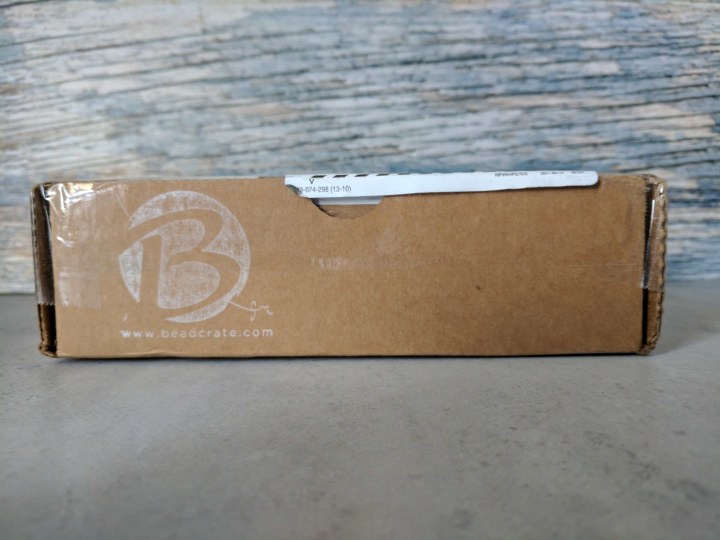 BeadCrate is a monthly subscription box for bead enthusiasts. Every month you'll receive a curated collection of beads, findings, and other goodies to enhance your beading creations! There are three box sizes – Hobbyist ($7.99), Enthusiast ($15.99), and Collector ($35) [prices don't include shipping] to choose from. This is the Enthusiast Crate!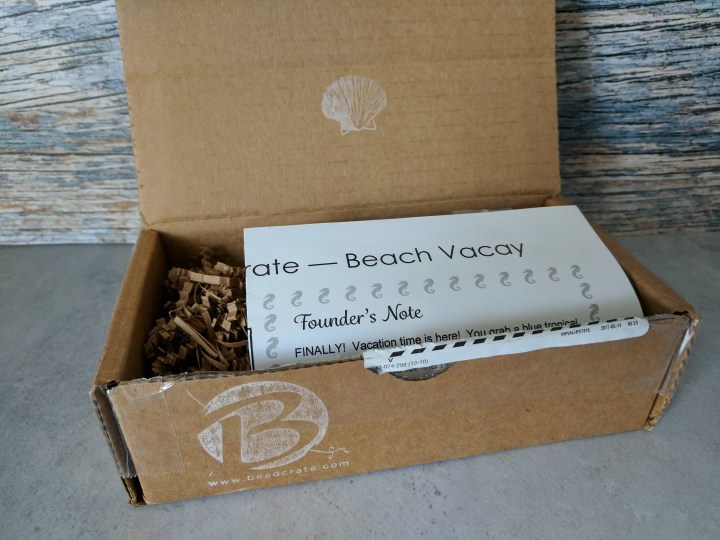 The beads always come neatly packaged inside individual well-labelled plastic bags inside a cute organza bag. We also have a curator's note explaining the theme. This month, we are heading to the beach for a nice vacation! Also, you can share your creation on their social media (Instagram or Facebook, don't forget to tag them!) for a chance to get a little surprise in next month's box.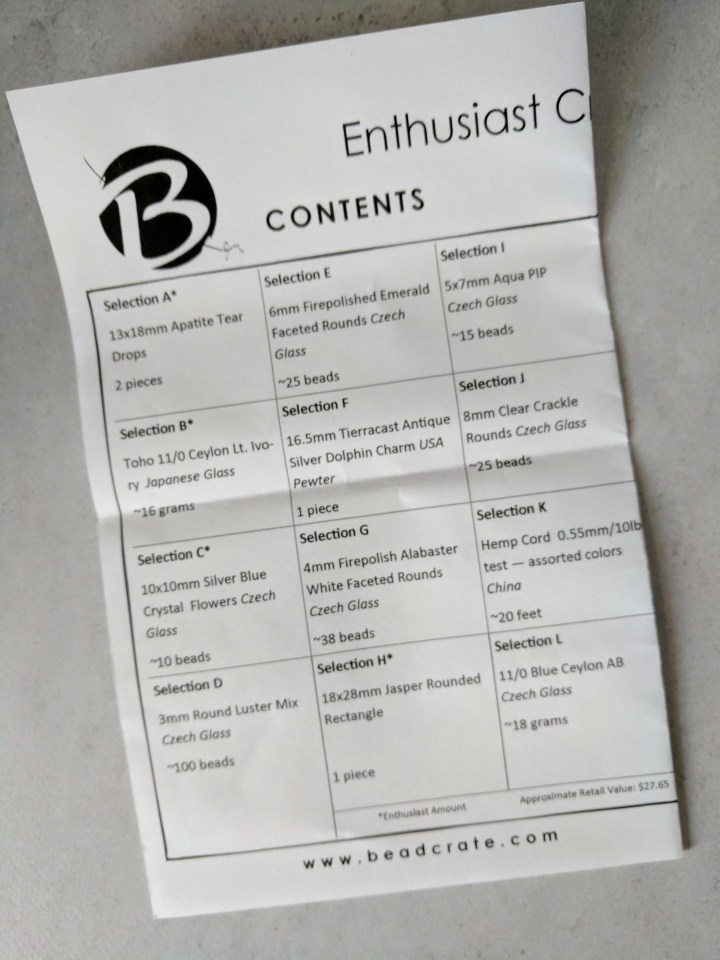 The crate comes with a chart that tells you exactly what you're getting.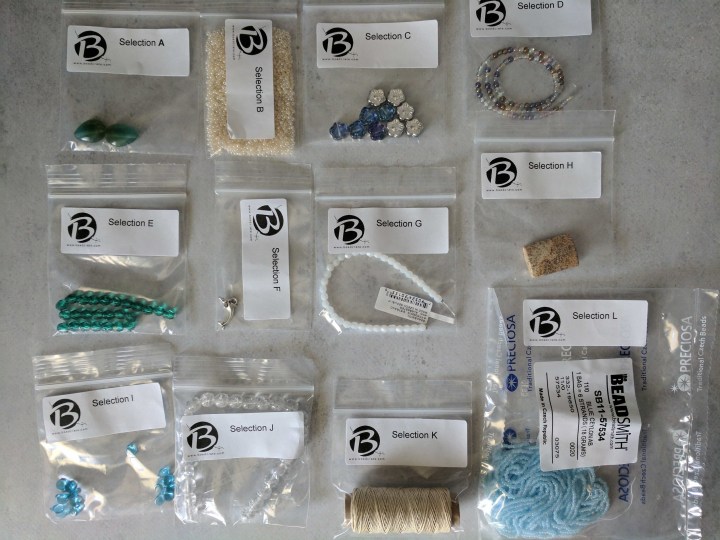 Ooh, I like the colours! Beach and Ocean!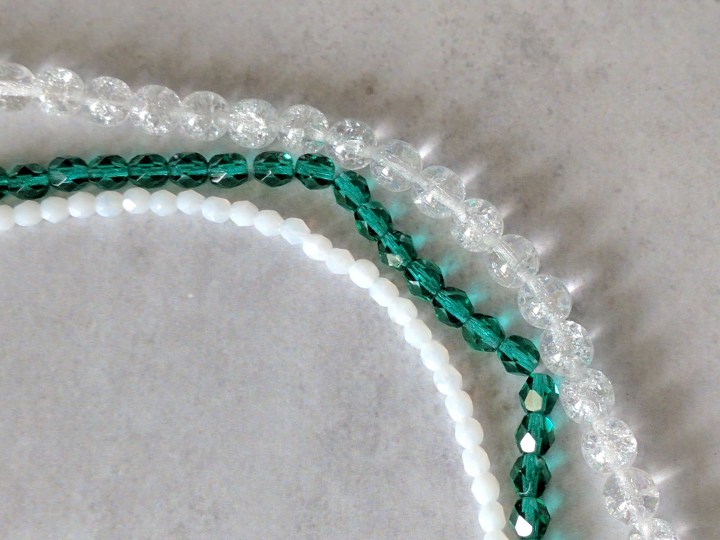 8mm Clear Crackle Rounds. I really like crackle beads, I just never use them for some reason.
6mm Firepolished Emerald Faceted Rounds. I love love love the colour! They remind me of palm trees on a quiet beach somewhere in the tropics. Firepolished beads are always nice to have around. They don't have sharp edges, so they are easy to add to bracelets (they won't scratch the skin) and they are easy on threads.
4mm Firepolish Alabaster White Faceted Rounds. They go nicely with the 3mm Round Luster Mix, and I really tried to do something with them both. Sadly, everything fell apart. I like that they are opaque, so they are mellow for everyday wear, perfect for the beachy look!
10x10mm Silver Blue Crystal Flowers. It's not the first time we get this shape in this subscription, and they are always lovely!. One side is opaque silver while the other side is translucent so you can see the blue colour. I wanted to used one as a button for a hemp bracelet.
5x7mm Aqua Pip. Such a fun bead shape! They look like little drops of ocean water! I would use them with a bunch of fish charms or beads. Or on hemp cord for an anklet.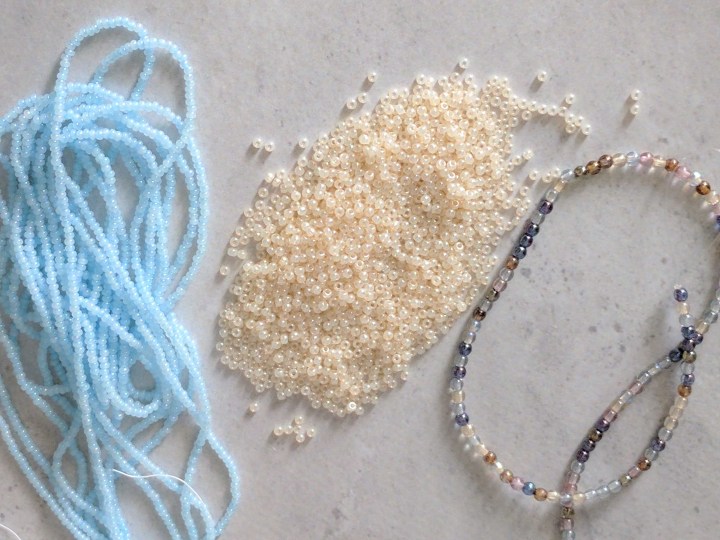 11/0 Blue Beylon AB Czech Glass. I love the soft blue, so peaceful. The beads are not all regularly shaped, but it wasn't a big deal for my project.
Toho 11/0 Ceylon Lt. Ivory. These have a more regular shape, easier for intricates design. Once again, I love the colour, they are perfect beside the blue ones for the beach-ocean look.
3mm Round Luster Mix. I like when we get a mix of different colours, and these are perfect for the theme. I mixed them with the alabaster white faceted beads to make a bracelet on hemp thread, but after my fifth try, I quit. For this time. I will make that bracelet.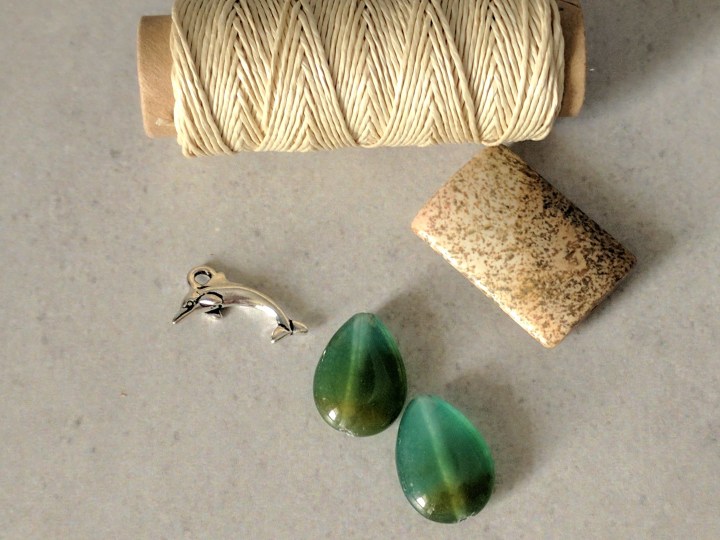 13x18mm Apatite Tear Drops. The picture doesn't do them justice. They have a lovely ombre effect from yellow-green to blue. I will probably use them to make a simple pair of earrings with silver findings at some point.
16.5mm Tierracast Antique Silver Dolphin Charm. Before I turned into a Crazy Bird Lady, I was all about dolphins. This little charm needed to be use somehow in my design this month. You could hang it inside a round link to pretend it's jumping in a loop!
18x28mm Jasper Rounded Rectangle. I need to go get some leather cord so I can turn it into a simple pendant, boho style!
Hemp Cord, assorted colors. I like the colour I received, and I worked hard to use it in my first design. But I kept cutting it too short for the bracelet I wanted to make. I don't know, I was sick when I tried to work on it. But I still have a lot left, so this bracelet will happen! The cord is thin enough that most of the beads this month could be thread with it.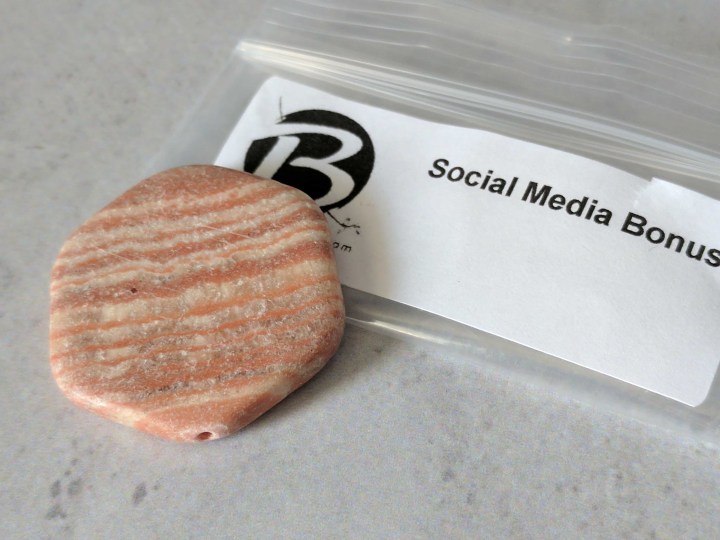 SOCIAL MEDIA BONUS!!!
If you shared your design this month and it was chosen as one of BeadCrate's favourite, you received this lovely aragonite (?) pendant. As for the Jasper Rounded Rectangle, I will simply hang it from a cord. I like stones, and wearing them is just something I do!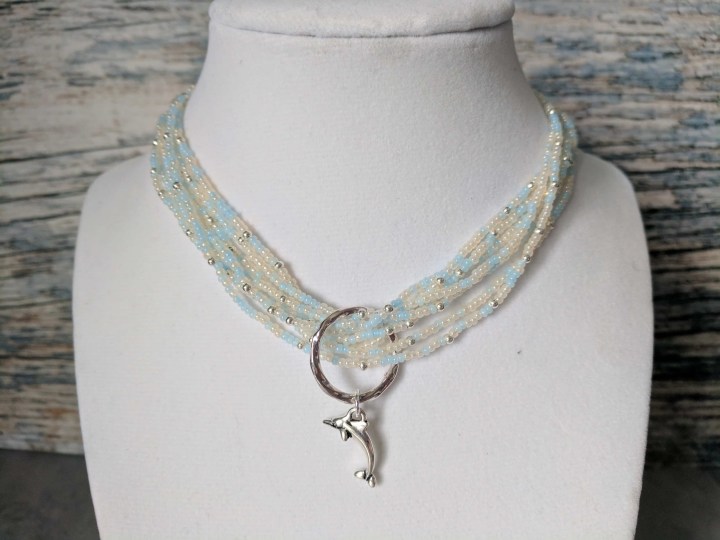 So after multiple attempt at a bracelet using the hemp cord, I gave up and instead this multi-row necklace using the seed beads from the box, as well as the lovely dolphin jumping through the loop (you have to imagine that's what I was going for!)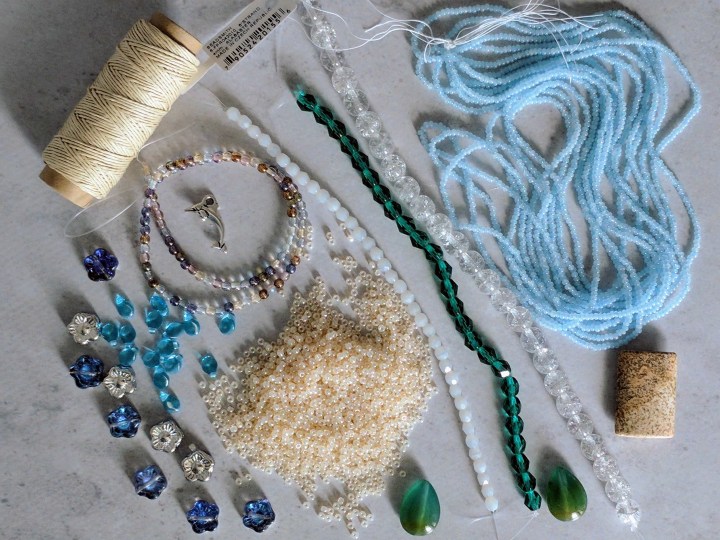 This month was a lovely mix of beach and ocean. I love the fresh and peaceful feeling I've got when I open the box. I really like Bead Crate subscription because you are always sure you'll get smaller beads and seed beads and it has forced me to play more with them!
What do you think of this month's BeadCrate box?