Umai Crate is a monthly subscription box that brings you exclusive Japanese-style noodles every month. The subscription costs $25 per month, and you'll get 7-8 noodles, plus bonus items like gachapons, collectible chopsticks, and more.
Umai Crate is from the same makers that bring you Japan Crate, Doki Doki Crate, and Kira Kira Crate!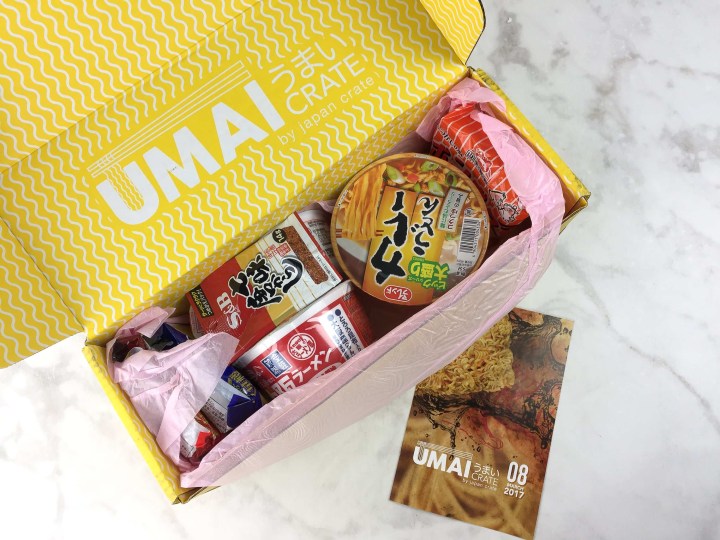 The box is almost the size of a windowsill planter, and it's packed with yummy noodles!
DEAL: Take $3 off your first crate. Use coupon code HELLO.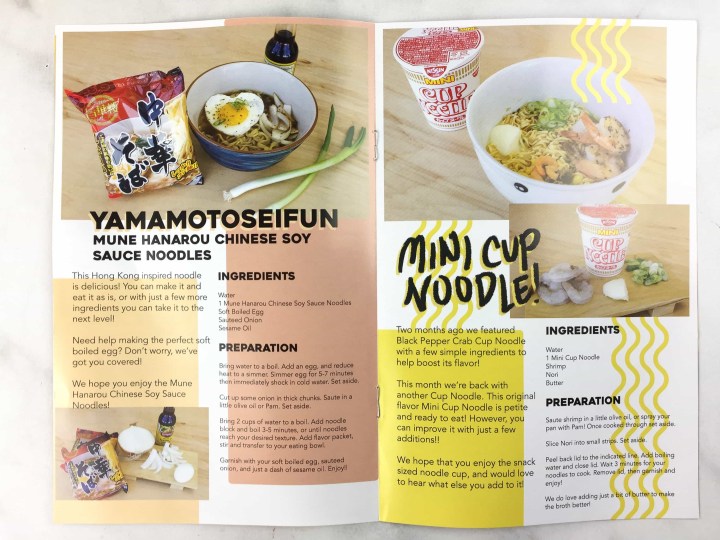 This is the March edition of Umai Crate. This booklet contains articles about ramen and noodles!
There are also some fun recipes – this one dresses up the Pokemon Noodle Mini Soy Sauce Flavor. Have you tried putting butter on your ramen? Also, how cute are those Pikachu?!
The booklet also has a list of everything in the box, including the bonus item. I like the way each noodle pack description has little IKEA-style pictograms showing the preferred preparation method. It helps us pick which ones to cook at home and which to take with!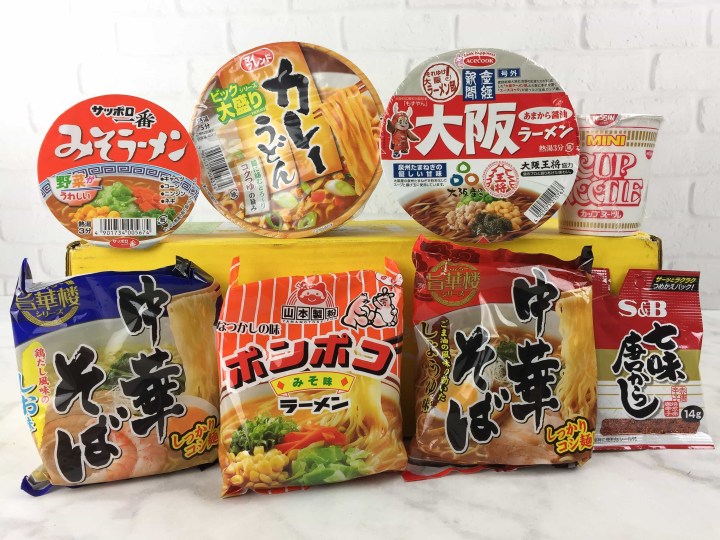 Everything in the March 2017 Umai Crate.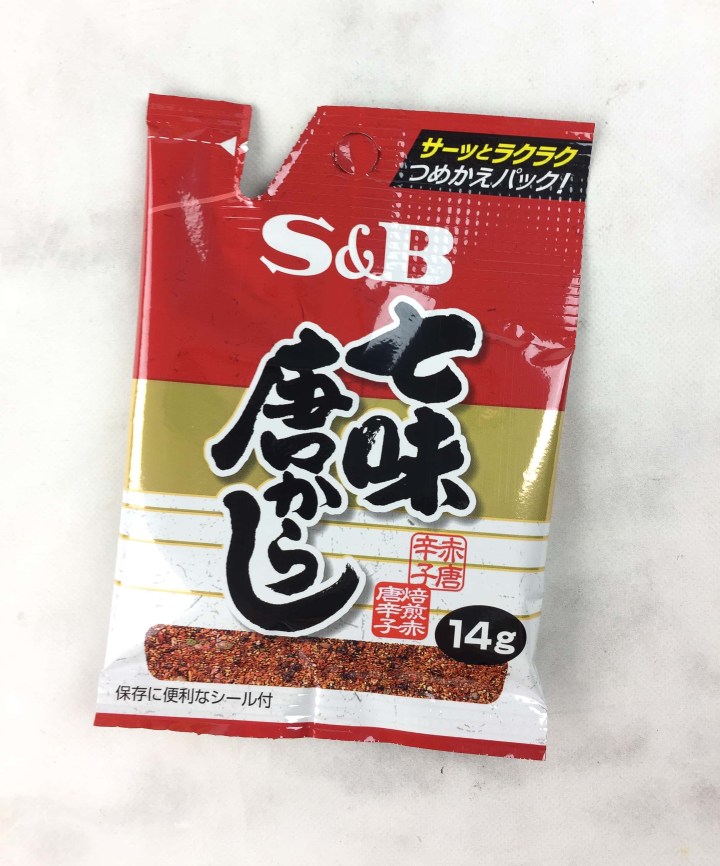 Bonus! Shichimi Togarashi. This delicious spice blend consists of Red Pepper, Roasted Orange Peel, Black Sesame Seed, Yellow Sesame Seed, Japanese Pepper, Seaweed, and Ginger. It's so funny – I have long been known for dressing up my regular Maruchan with some Tony Chachere's, which I thought was weird, but it's actually quite similar to this blend, which you can use to amp up the flavor of your noodle dishes.
Yamamotoseifun – Pompoko Ramen: This miso ramen has cute little raccoons on the package! It had a great hearty flavor and while it wasn't my favorite ramen from my ramen shop (I love miso ramen!) it was pretty danged good for a package.  It was nice and savory.
I asked my friend Sara about the little creatures on the package, and she said:
Those are Tanuki, "raccoon-dog'.  They are not, however, actually raccoons.  They are real animals and are found in Japanese folklore.  Statues of them are can be found outside restaurants and temples.  They are known for having large testicles with which they perform magical feats (non-sexual) .  Sorry.  It's true.   
HA!
Yamamotoseifun – Mune Hanarou Chinese Salted Noodles: Salted ramen flavor is much less overwhelming than it sounds, with a light broth that makes it a family favorite (we've had this one before and my kids fight over it!).
Yamamotoseifun – Mune Hanarou Chinese Soy Sauce Noodles
We really loved sampling the Yamamotoseifun flavors in this box! This was one of my favorite ramen from this box – salty and rich with a great soy base. My husband added an egg and fried red onions to this bowl.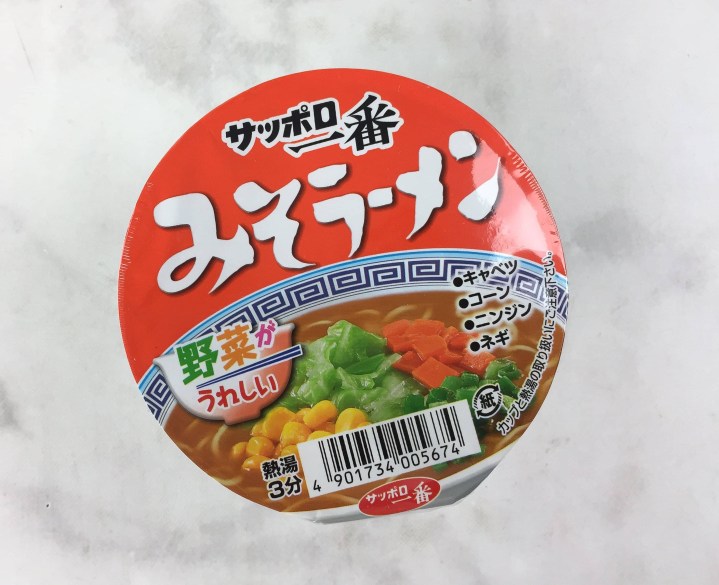 Sapporo Miso Ramen Mini Bowl: Mmm, more miso broth! It's my favorite! This mini bowl is perfect for a quick lunch, and included bits of carrot and corn to add an extra punch of sweetness to this savory bowl.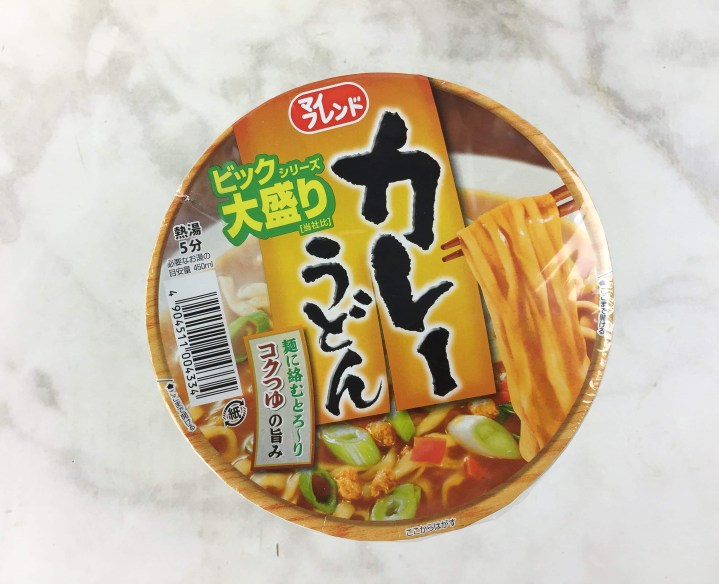 Daikoku Foods – Big Curry Udon: This curry noodle bowl was completely different than the other ones in the box – thick and wide udon style noodles coated in curry broth!
The curry was just a touch much for me and I wished we added some shredded chicken to the bowl but it sure was pretty topped off like this!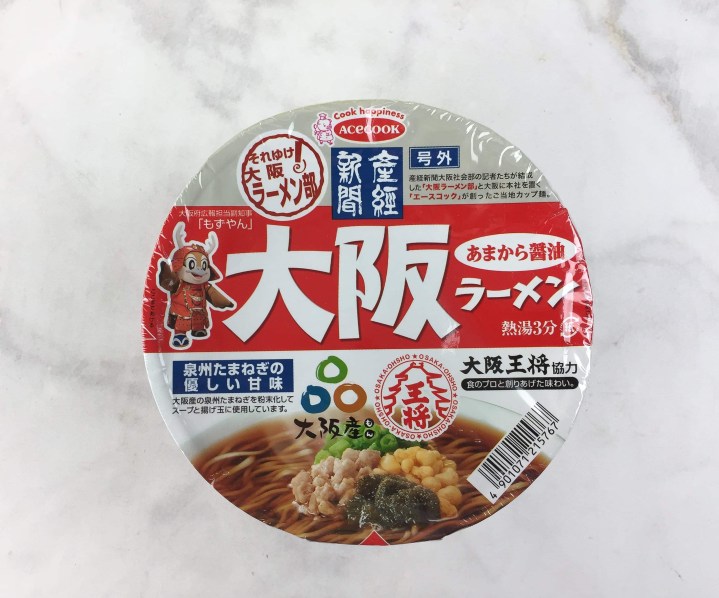 Sankei Shimbun Osaka Ramen Soy Sauce: This bowl was so delicious, with springy noodles and a rich salty soy base broth. A tad of the lauded oniony flavor came through, and I ate it in the dark after my husband cooked it for me, but I'm pretty sure it was punctuated with fun little corn bits.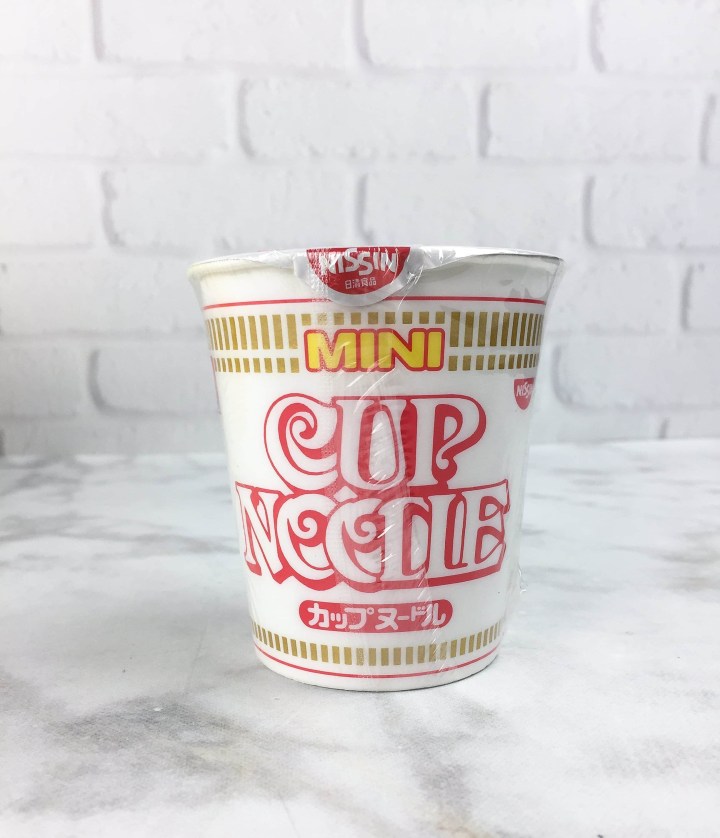 Nissin Mini Cup Noodle: Awww it's a mini version of the cup noodles we hate to love – NISSIN! I saved this for a desk snack when a ramen attack strikes!
This was one of my favorite crates yet – the salty and soy focus hit all the high notes for me for my personal ramen preferences and I enjoyed tasting the differences between the different varieties (some from the same brand!). At around $3.50 per pack the price is okay for the fanciest noodle bowls – but I can't get these noodles at my local stores and the box has free shipping, so I'm personally happy with everything.