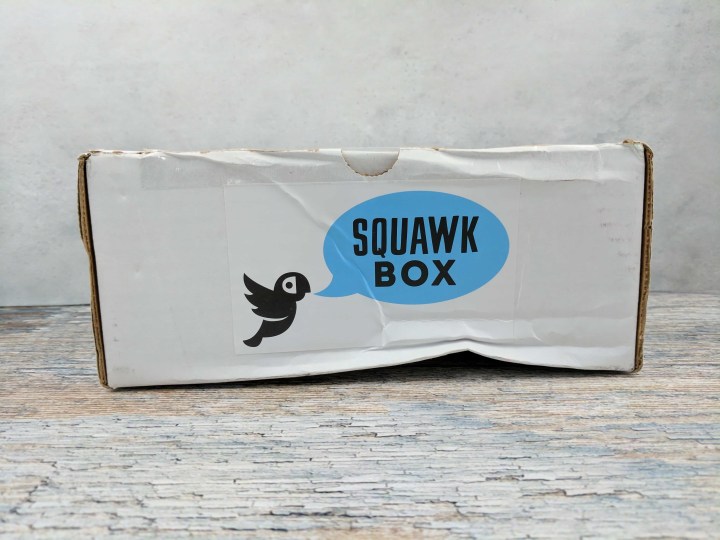 Squawk Box is a monthly birdie care package of 4-6 bird treats, toys, and more delivered straight to your door. Because parrots, big and small, need a great amount of stimulation to thrive, Squawk Box will deliver a new selection of toys every month. Every crate is carefully curated to keep our feather friends happy and healthy!
The box is available in three sizes: Little Birdie (great for Lovebirds, Parrotlets, Cockatiels, Parakeets, Green Cheek Conure sized), Middle Birdie (great for Quakers, Conures, Senegals, Pionus, Timneh Greys, Caiques, some Mini Macaws & some small cockatoos), and Big Birdie (Macaws, Amazons, Cockatoos, Eclectus, and Congo African Grey sizes). The monthly subscription starts at $24.95 for the Little Birdie to $34.95 for the Big Birdie, with significant discounts for longer subscriptions. Knowing that parrots have a long life ahead of them, and that they will destroy everything around them, the longer subscription is definitely a must!
Also, for each Squawk Box ordered, a percentage goes to parrot rescues. Not only do you provide fun new treats to your own bird, but you help other parrots as well!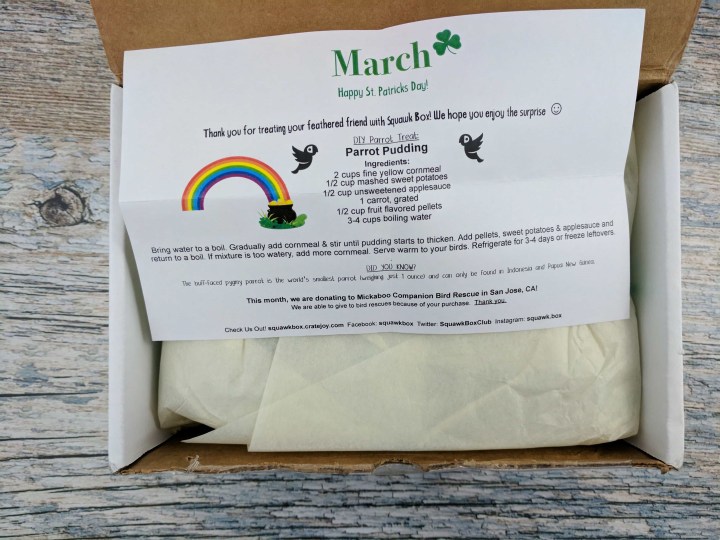 This review is for the Little Birdie. My assistant reviewer, Kiwi, refused to get her picture taken with the box. No paparazzi!
Everything is always so nicely wrapped up in tissue paper! I really enjoy the care they put into wrapping the toys!
There is no information on the content of the box, but you get a nice DIY Parrot Treat (Parrot Pudding), a Did You Know about the smallest parrot and the Rescue of the Month. For March, part of the money from the sale of each Squawk Box goes to Mickaboo Companion Bird Rescue in San Jose, CA.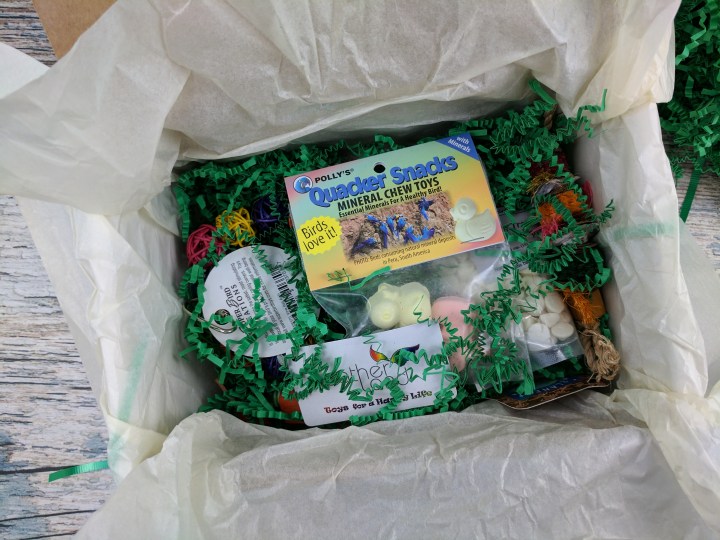 Under a layer of paper squiggles, here's everything in the box!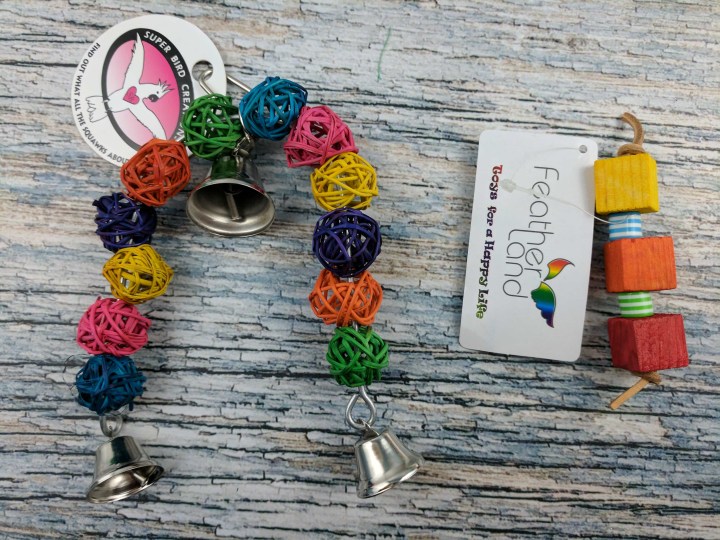 BELLS! Kiwi loves (hates) bells!
Super Bird Creations Vine Ball Arch Toy. The balls are super easy to chew on, and dye is safe for birds. Sometimes, Kiwi will tuck some of the coloured straw into her tail, forget about it, it'll fall into her water bowl and then she'll bath in it, resulting in a happy dyed bird! Great toy!
Featherland Foot Toy. This is a slightly too big foot toy for Kiwi, but I keep it on the couch anyway for when she NEEDS to push something off the couch to show who's the boss!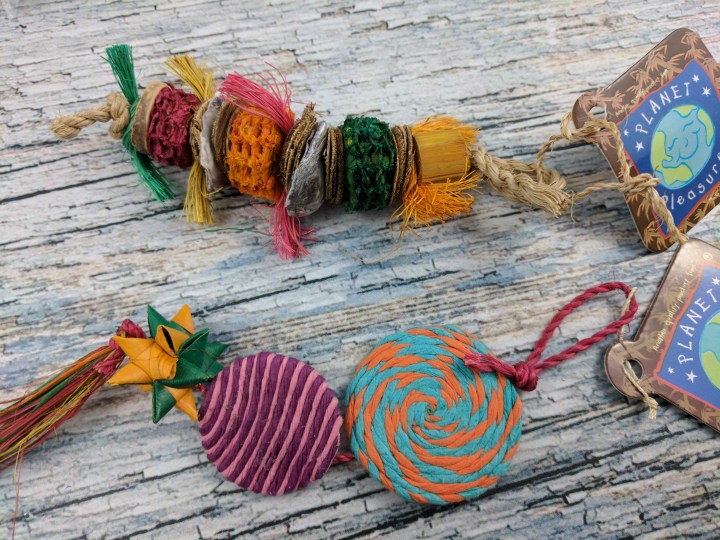 Planet Pleasure. Kiwi received a shredding toy where the paper is all coiled up in wheels and a cute kebab with different texture to play with. Both are perfect for quieter time, like in a sleeping cage. Kiwi likes them, when she's not busy with bells!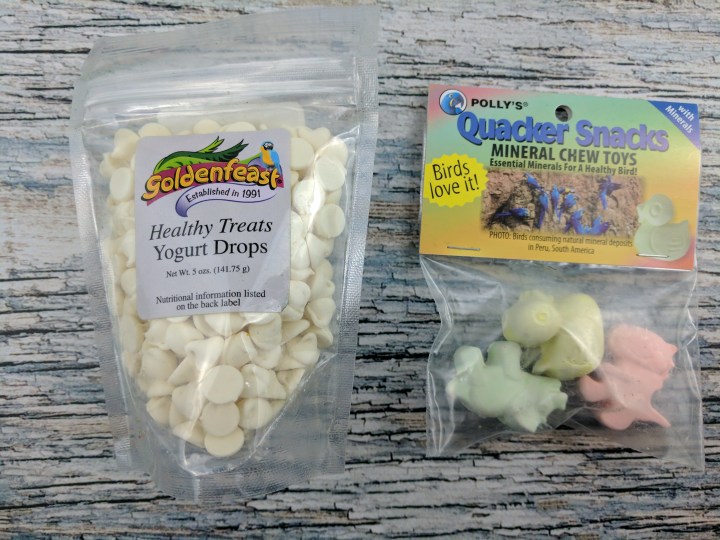 The treat this month was a bag of Yogurt Drops. Kiwi is still picky with treats,  so I ate some of them in front of her (sometimes it works.) They are quite tasty and I might keep them for myself!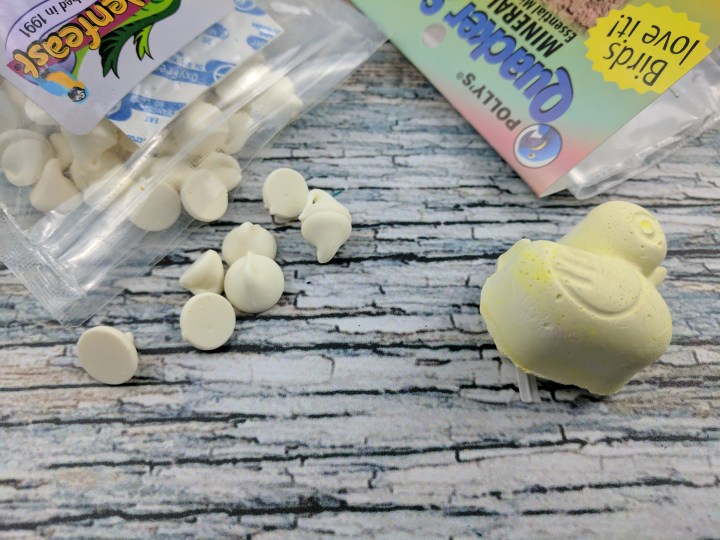 There's also a Polly'S Quacker Snacks Mineral Chew Toy in cute shapes you can hang on the cage bar with the twist wraps. They are quite nice for parrots that like to chew and don't get all their minerals from their diet. Kiwi loves her pellets, so she doesn't need them, but she likes to use the toy to clean her beak. Or sharpen it, depends on who you are asking!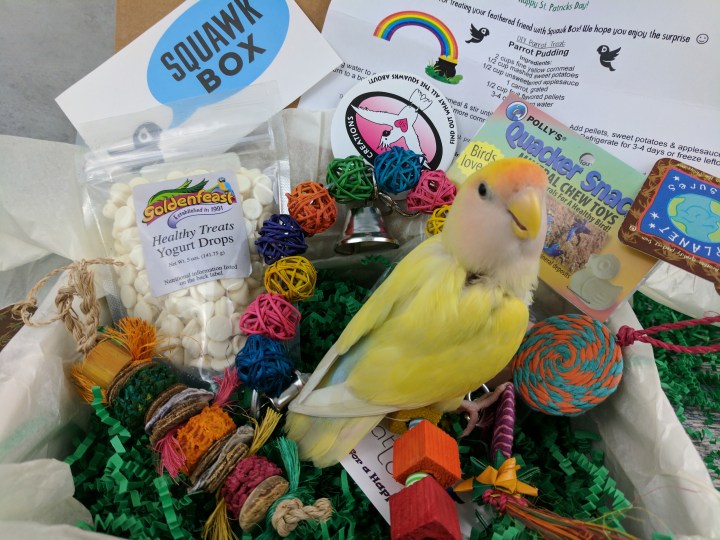 Kiwi finally came back to get her picture taken with the content of the box. Took a while.
He favourite toy was definitely the arch with the bells. She's addicted to bells.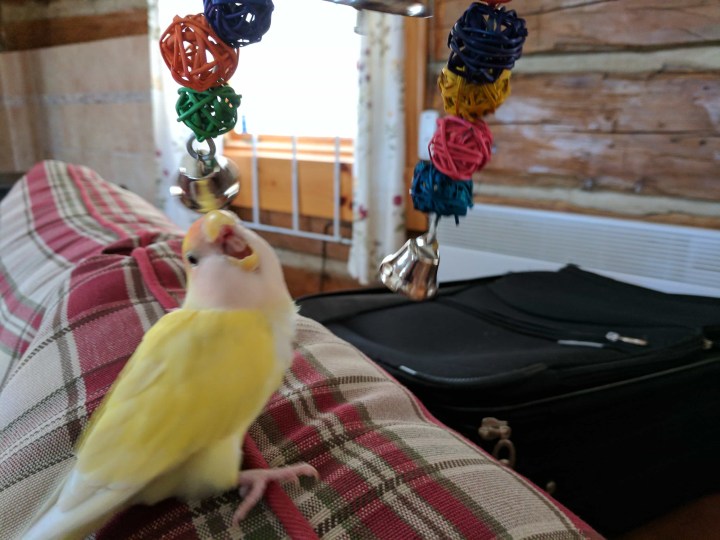 Or the most hated toy!
An other great box from Squawk Box!
Every month, Squawk Box brings new toys, new treats, and new adventures to your feathered friend! Also, KIWI loves that most of the treats included in the box are also human friendly so she can share her box with her owners!
Chirp!