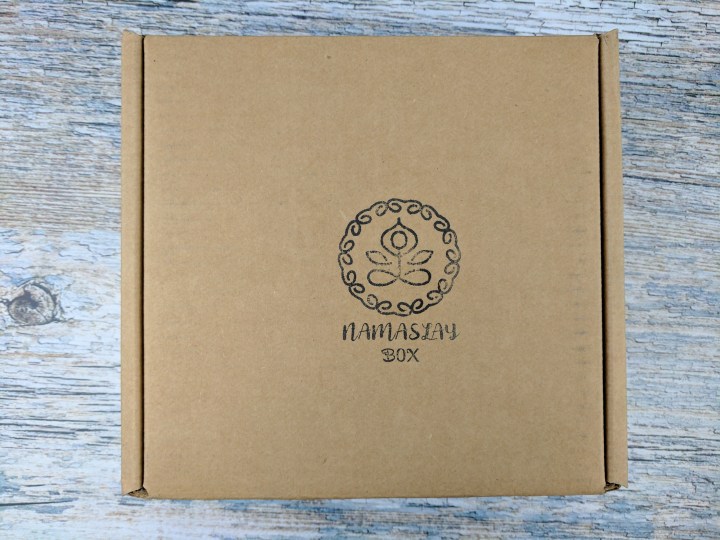 Namaslay Box is a brand new bi-monthly yoga inspired care package to motivate and support your lifestyle, straight from Montreal. Every other month, you'll receive 5 to 7 products like aromatherapy products, Natural skin care, healthy snacks, organic tea, home items. The box is $49.95 CAD + shipping ($5.95 CAD for Canada, $7.95 CAD for US).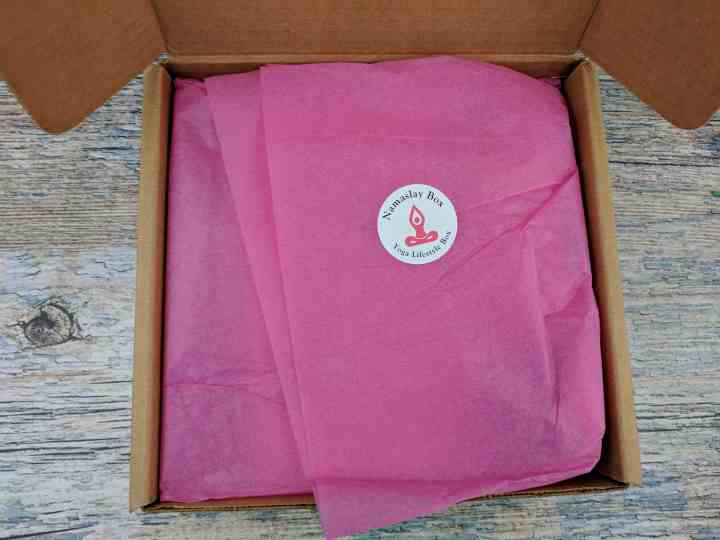 DEALS: Get $5 off your first box! Use coupon code HSB5.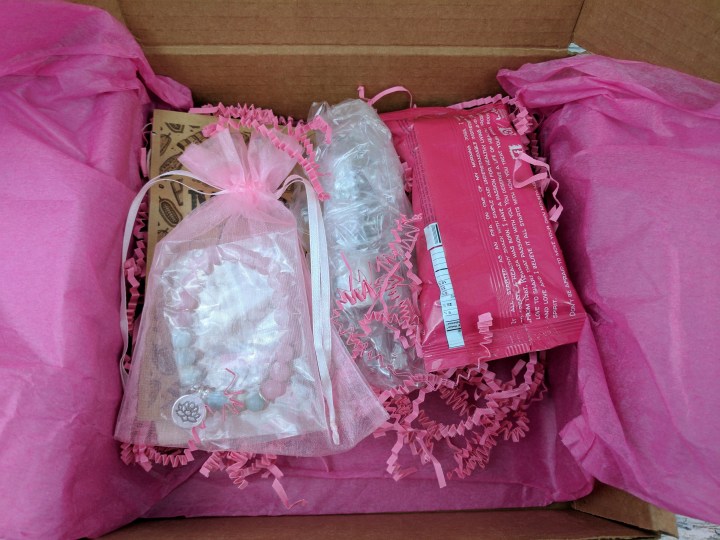 This box was full of pink!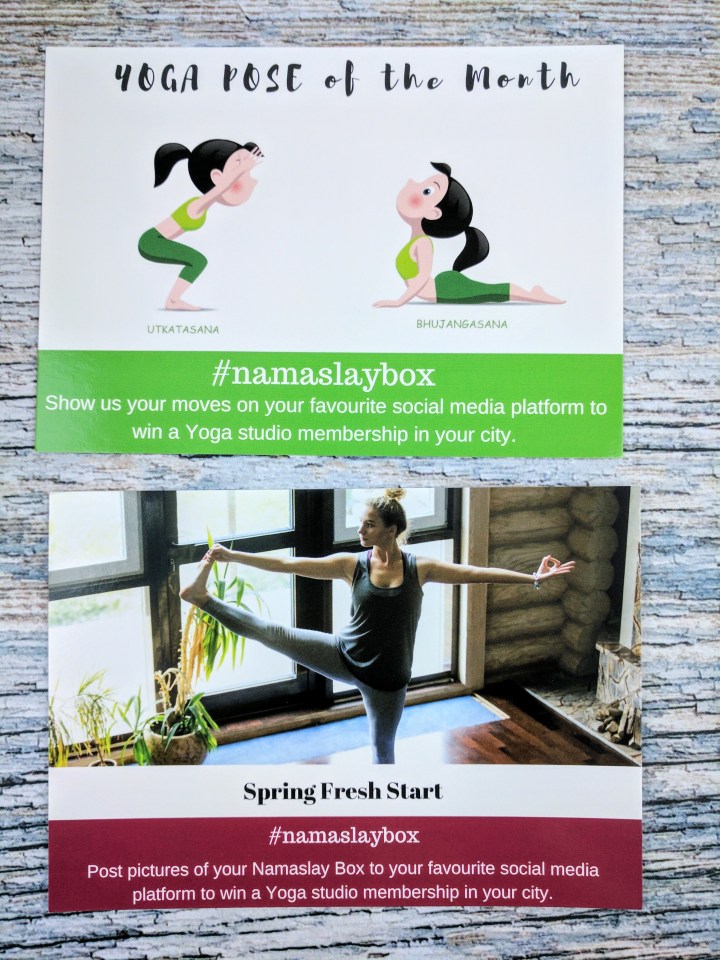 There were two notecards included in the box. The first card had two yoga poses of the month, and the second one was the information card. And don't forget to follow them on their Instagram and to post your Namaslay Box for a chance to win a Yoga Studio membership in your own city!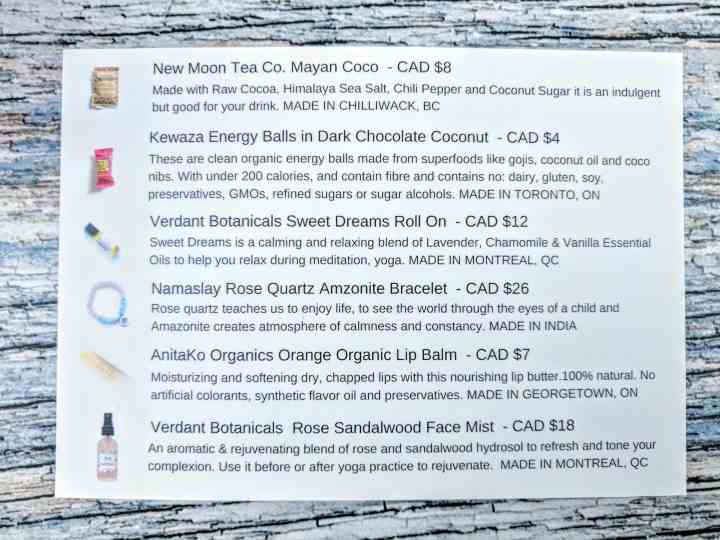 All the items are described on the information cards with their prices in CAD and where they were made!
The Vegetarian Recipe this month is a Vegetable Pulao Recipe that looks delicious!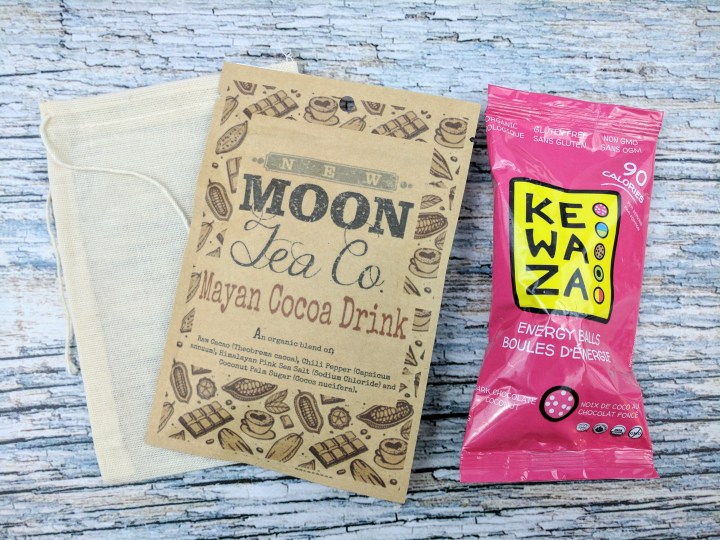 New Moon Tea Co. Mayan Cocoa Drink (CAD $8, made in Chiliwack BC.) I couldn't find the cocoa drink on their website, but the mix of raw cocoa, Himalayan sea salt, chili pepper and coconut sugar sounds delicious. I'm not a fan of chocolate in general, except in liquid form, like a hot chocolate! And I can't say no to spicy anything! The pouch comes with a muslin bag for sipping the mix.
Kewaza Energy Balls, Dark Chocolate Coconut. (CAD $4, made in Toronto, ON.) I have a weakness for energy balls and bars, they are perfect either before or after a workout, easy to keep in my purse or gym bag. The bag contains two very chocolaty balls covered with the right amount of coconut. It's like a little chocolate truffle with little bits of berries in it. Not bad, but it's too rich to eat both in one sitting!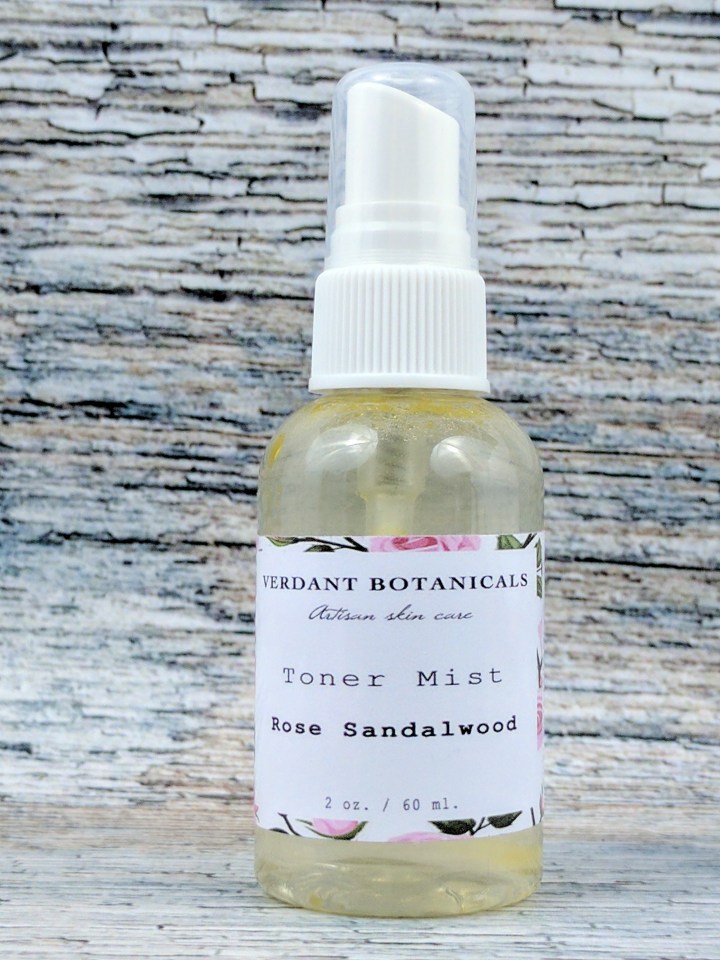 Verdant Botanicals Rose Sandalwood Face Mist. (CAD $18, made in Montreal, QC) I love the scent of sandalwood and rose separately, but I never thought they would work together so well! It gives a nice refreshing feeling to the face, and the scent is both woody and floral, and I love it! Verdant Botanicals is the house brand for Namaslay Box, so more of their natural beauty products will find their way in future boxes!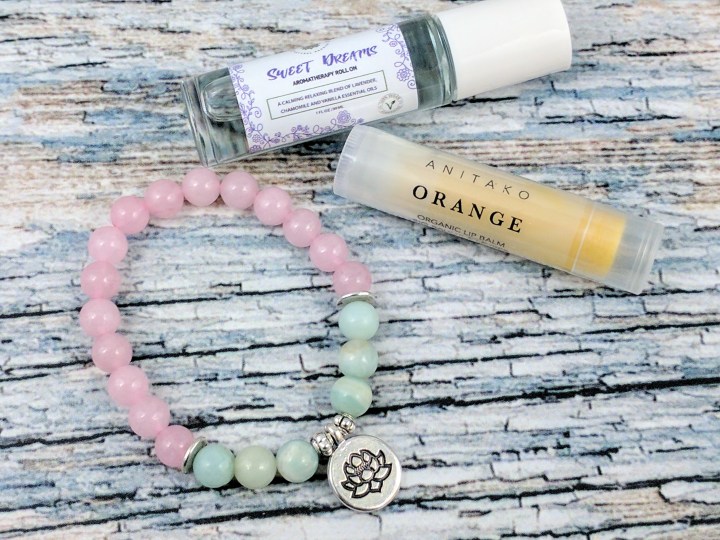 Verdant Botanicas Sweet Dreams Aromatherapy roll-on (CAD $12, made in Montreal, QC). I'm don't really care for lavender scents, I wish less products would use it, but it's true that the scent is very calming, perfect for bedtime. The Sweet Dreams is made with lavender, chamomile and vanilla essential oils and it smells like a lighter lavender scented version of their body butter we received in the January Box. It is a nice roll on.
AnitaKo Organics Orange Organic Lip Balm (CAD $7, made in Georgetown, ON) I go through a lot of lip balm in winter, and I like the orange/citrus scent it has.
Namaslay Rose Quartz Amazonite Bracelet (CAD $26, made in India). Lovely stone bracelet, I love the colour combination used! Rose quartz is the perfect self-love stone (heart chakra) and the amazonite is a stone of communication (throat chakra). Great bracelet to express what we really want and desire!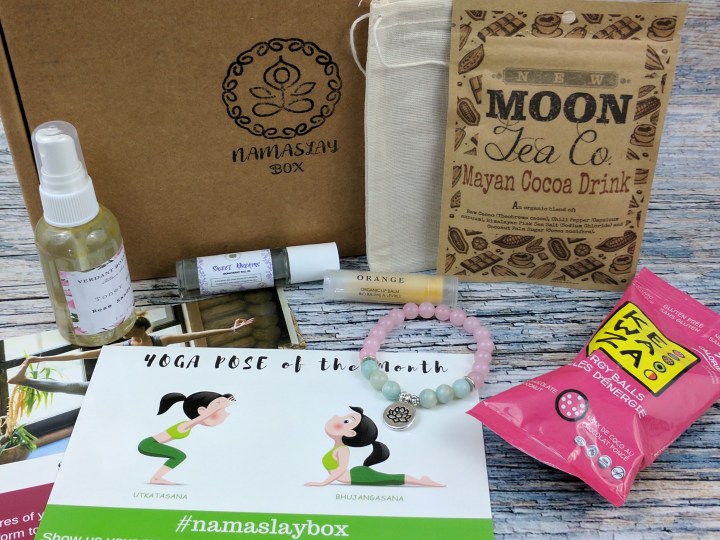 This is the second box from Nasmaslay Box and I like the changes made to the information card (a notecard instead of the pamphlet we had in the first box) and to the recipes card. The treats were nice and the face mist is probably my favourite item this month (followed closely by the bracelet). Even though I really enjoyed this box from Namaslay Box, the items were all lovely and I'll use everything from it, I feel this box is more about mindfulness and calmness than yoga practice. I don't mind that, but for a box "yoga inspired" I wish we would get something more specific to yoga beside the yoga pose card.
What did you think of this month's Namaslay Box?