Loot Crate's theme for April is INVESTIGATE.  Loot Crate is the original nerd subscription box for geeks & gamers. Every month you'll get awesome, mostly exclusive geeky pop culture items curated around a theme for only $20 per month, shipped.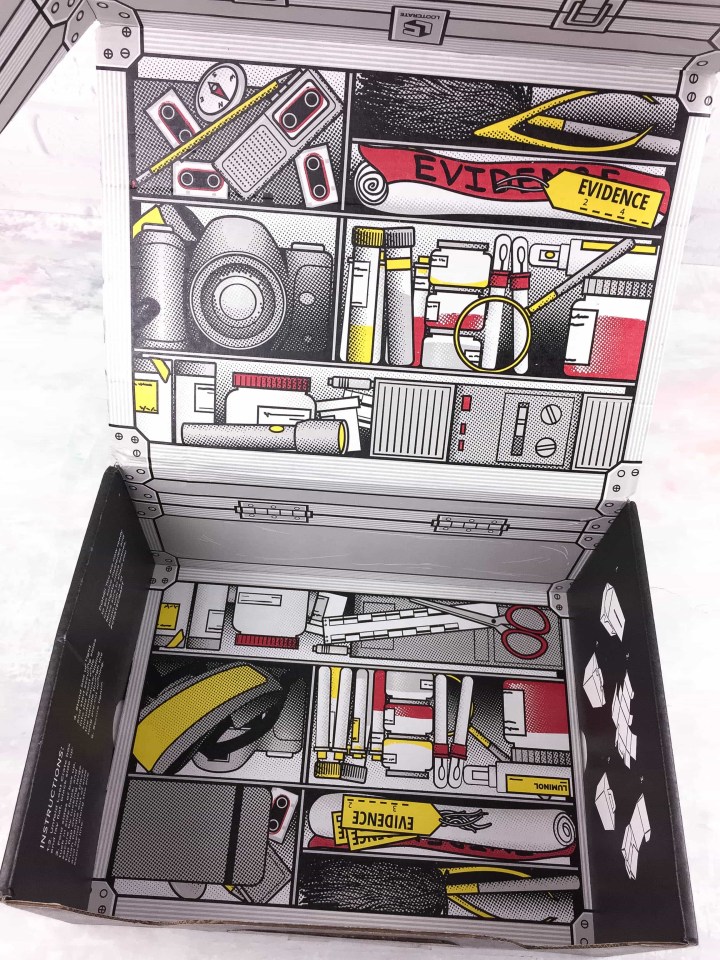 Because of the nature of this month's theme there was a lot of paper-ish items in this box. Bear with us, the items are in this review, we promise!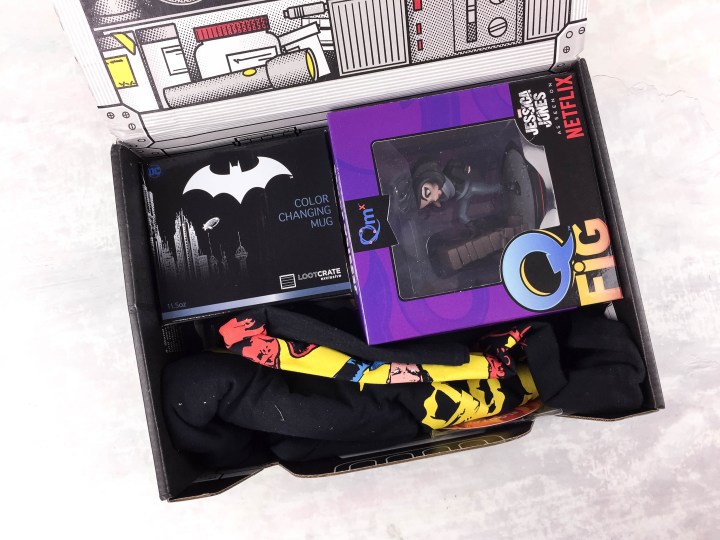 DEAL: Save 15% on any subscription when you use this link and coupon code HELLOSUBSCRIPTION15.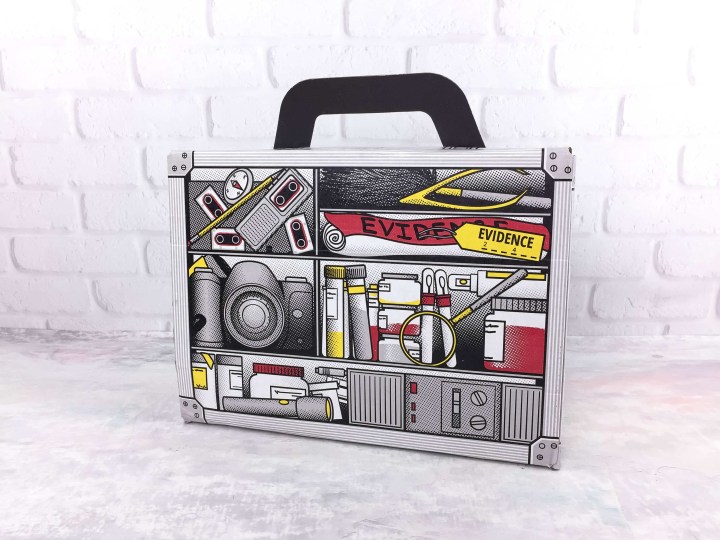 This month you could turn your box into your own CSI kit!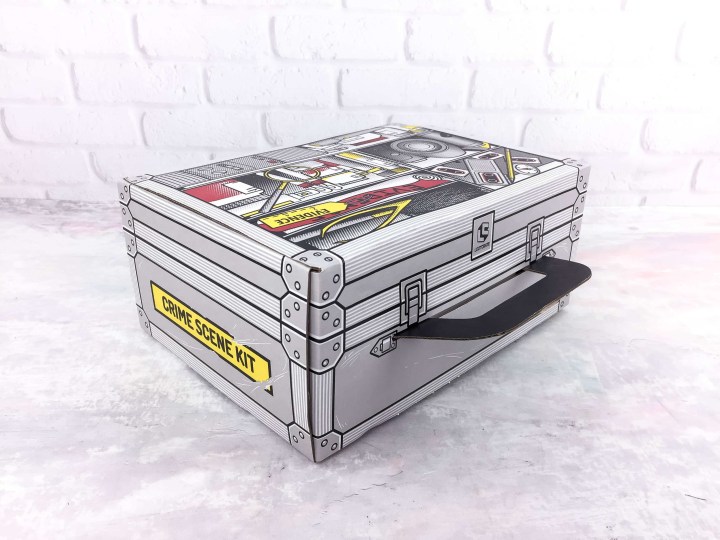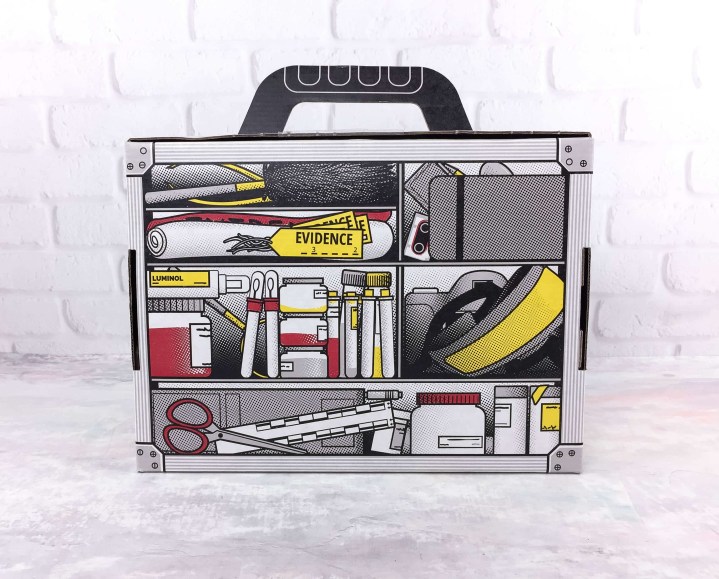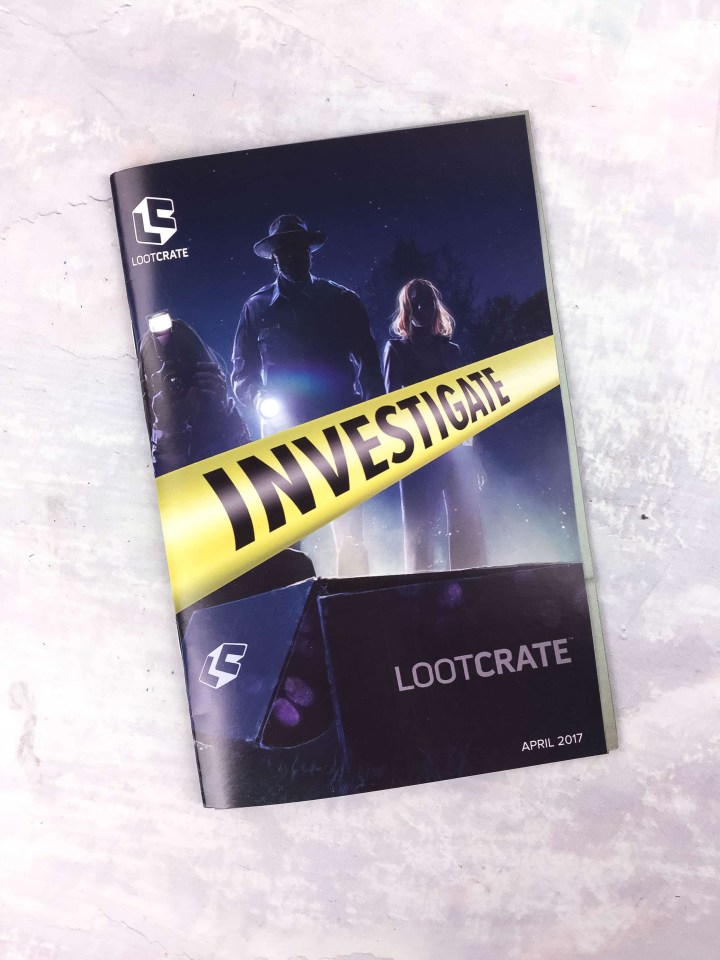 Every Loot Crate box comes with the mini mag!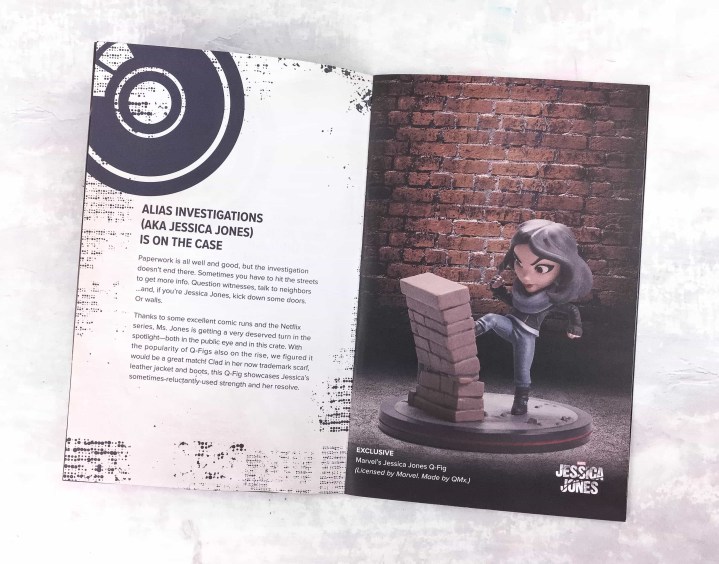 The magazine also included some short features – they are always a fun read and you'll be able to read it here.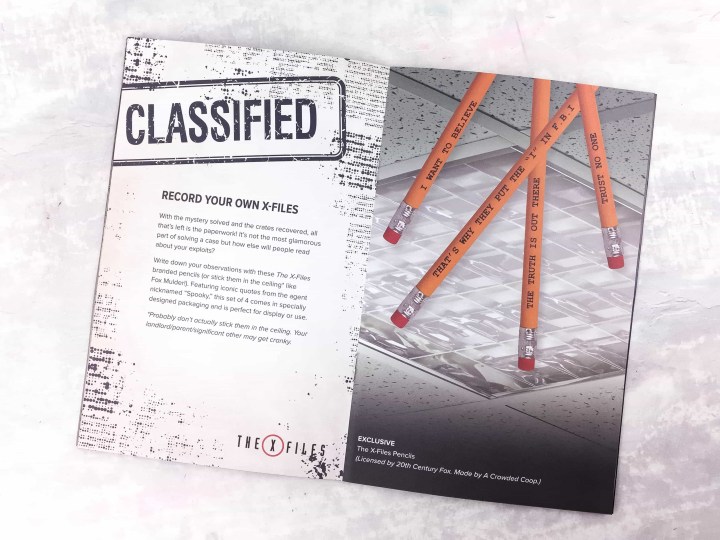 The mini-mag contains all the item details, looter intel, as well as short features.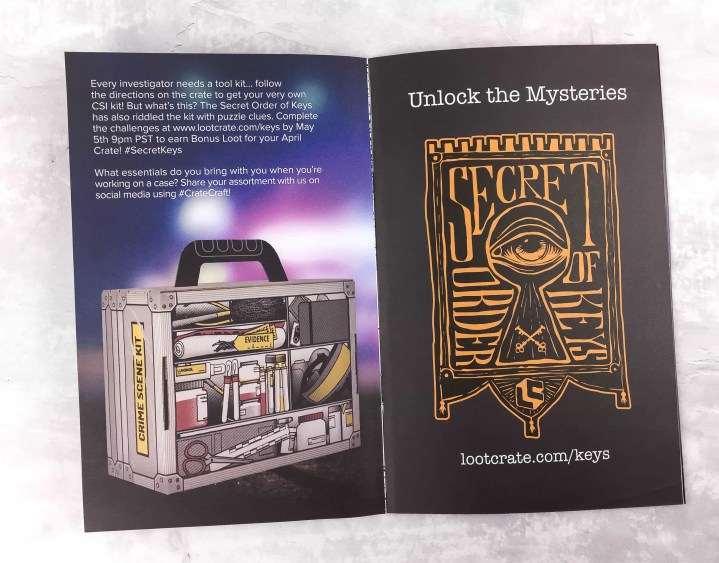 Secret Order Of Keys: The challenge continues! If you answered last month's challenge correctly (unfortunately I don't have access with this review box!) you received a digital key and bonus loot in this month's box (To earn Bonus Loot you must complete every challenge for a given month by the posted deadline AND be an active subscriber who receives the following month's crate).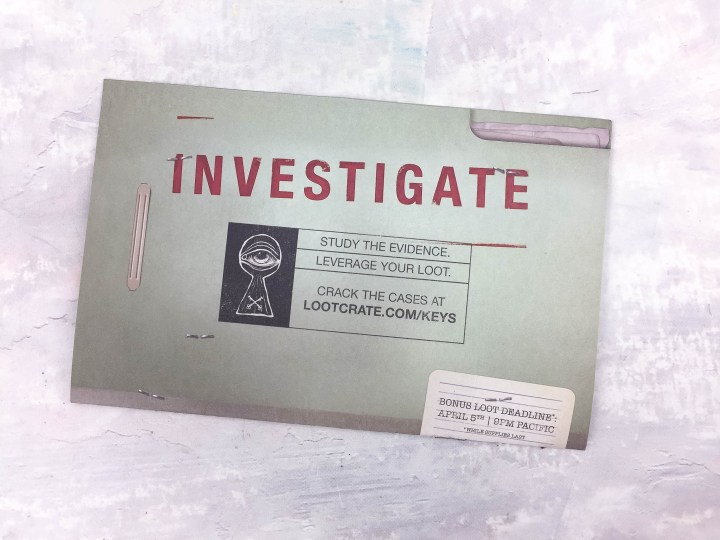 With the INVESTIGATE theme, this month's challenge had considerably more materials than in months past.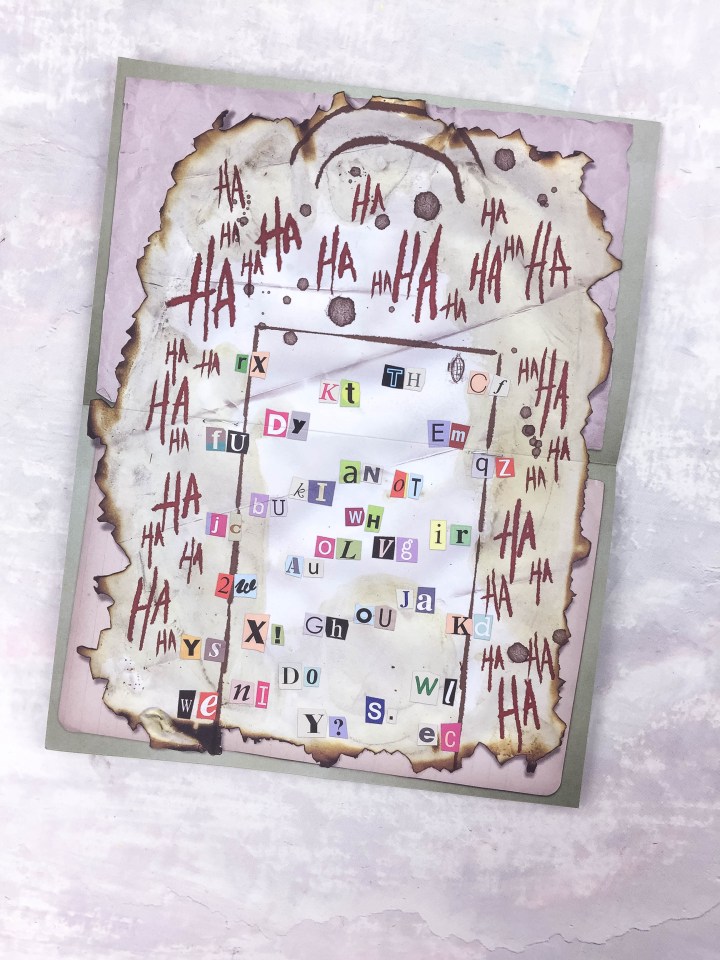 I'm feeling something Joker-ish on this one!
Uncover the evidence & unlock clues.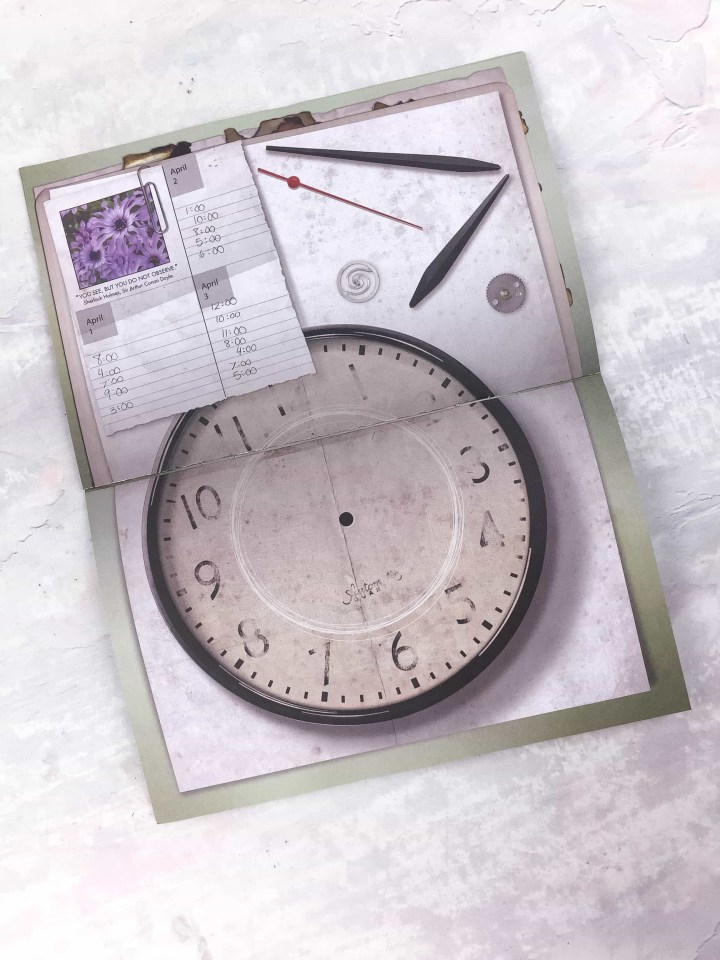 I really love how this challenge extends the fun of the box even longer! Let me know how it goes for you!
Everything in our April 2017 box!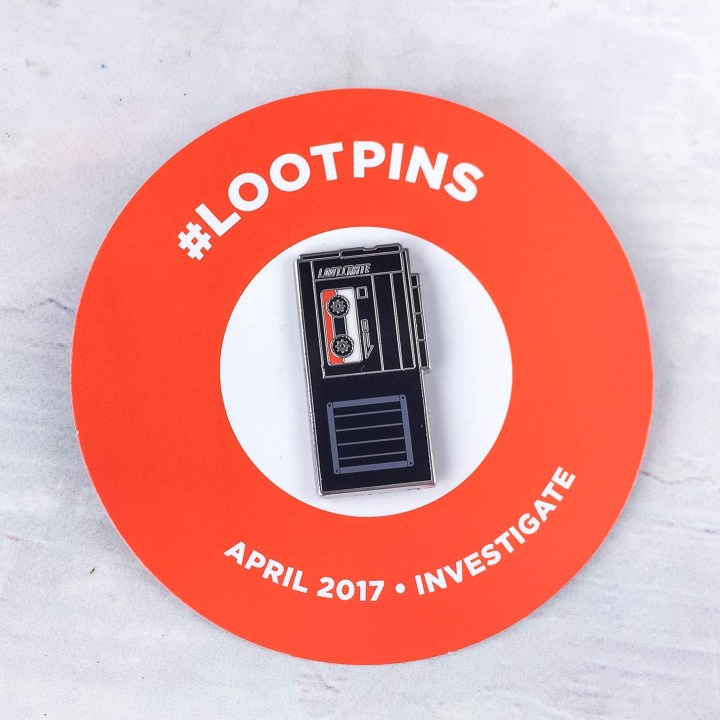 Loot Crate April 2017 INVESTIGATE Pin: It's a mini tape recorder! Definitely a throwback!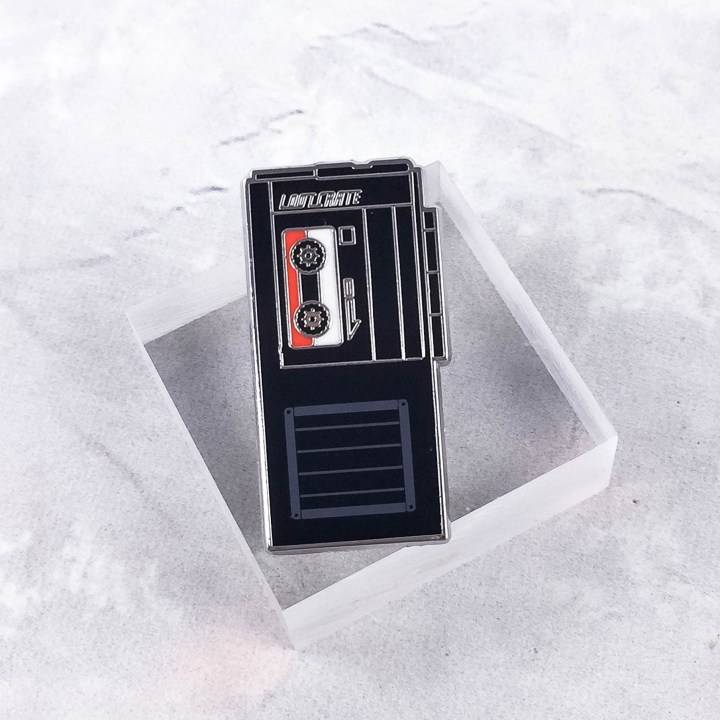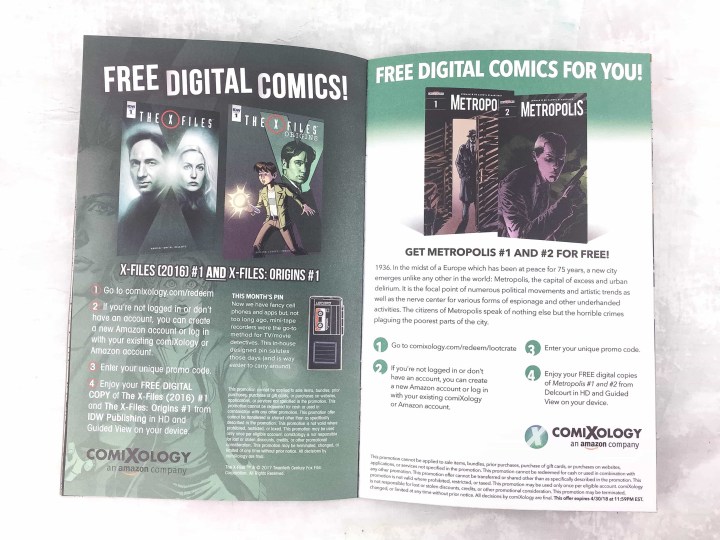 This month's Loot Pins unlocks 2 free digital comics from Comixology:  X-Files (2016) #1 and X-Files: Origins #1 PLUS Metropolis #1 and #2 as additional bonuses!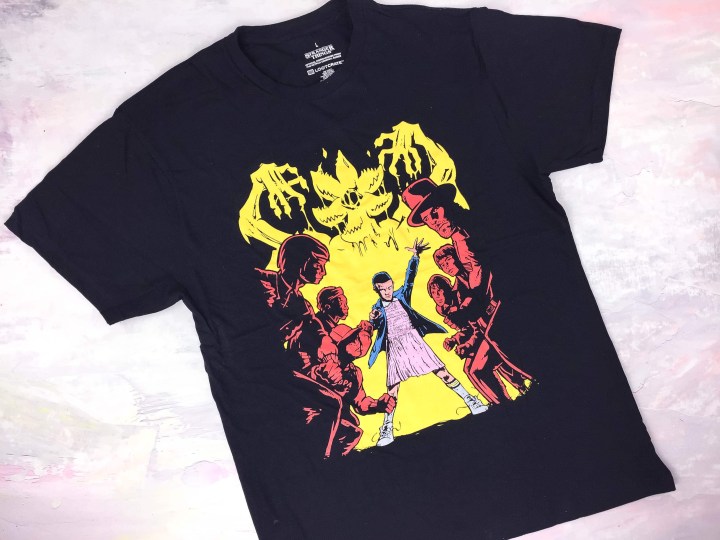 Exclusive Stranger Things Tee: This awesome tee features a comics inspired design (Uncanny X-Men #134!) and demonstrates Eleven's power in front of the Demogorgon!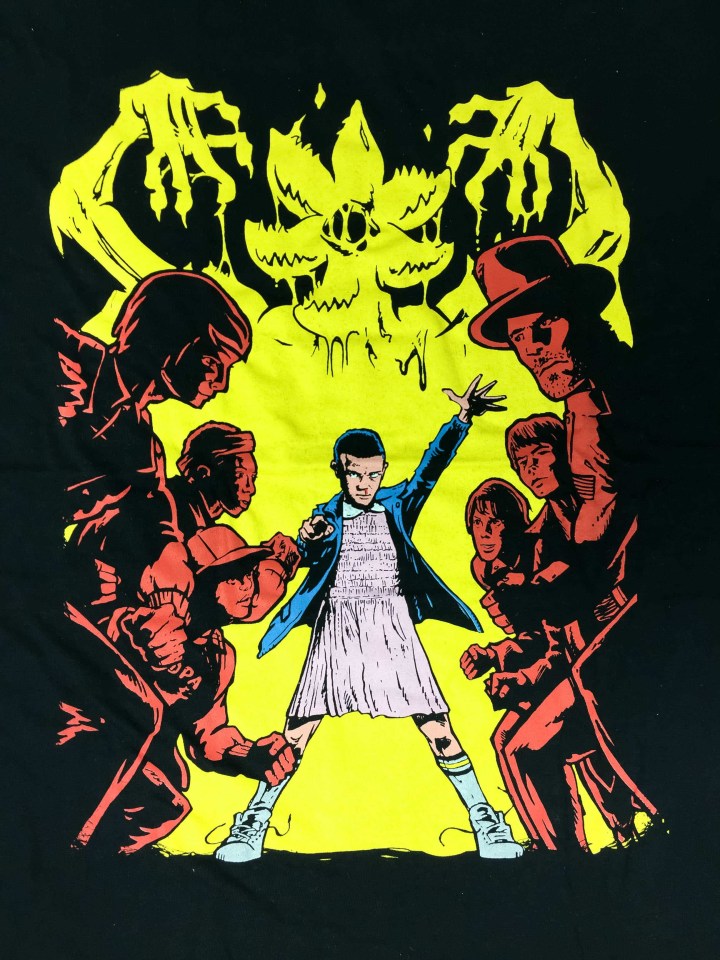 As Loot Crate notes in the mag, there's not a lot of merchandise for this show, so this is a great item! (Besides the design, which is fantastic!).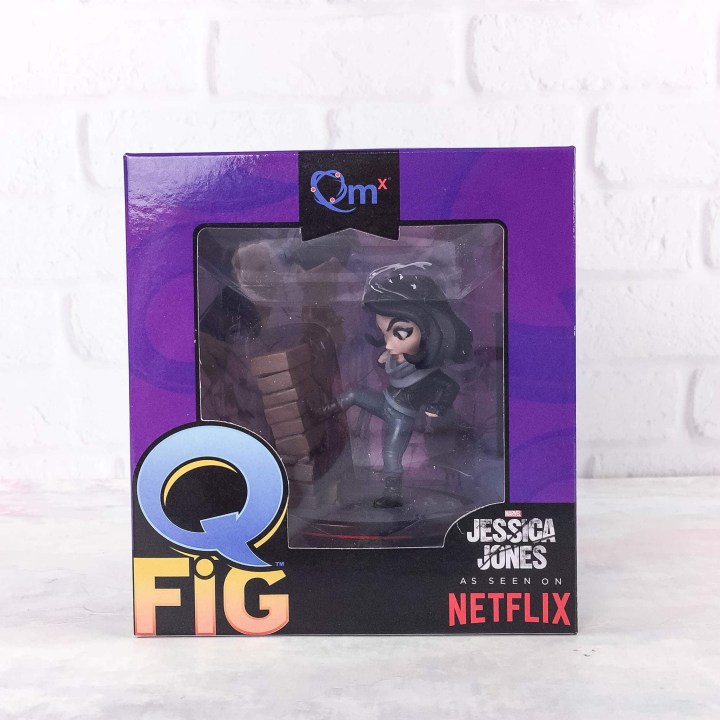 Marvel's Jessica Jones Q-Fig – Exclusive!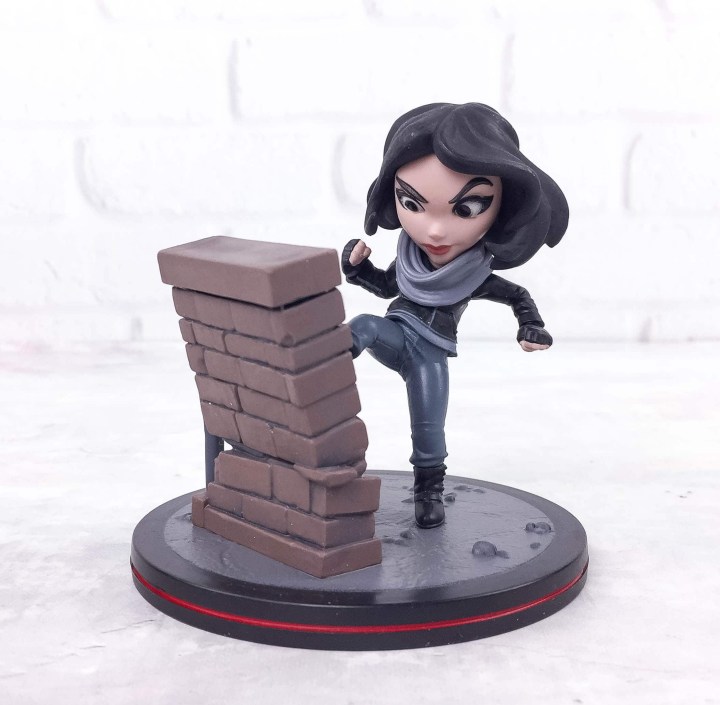 This figure showcases Jessica kicking down a brick wall! Love that determination on her face.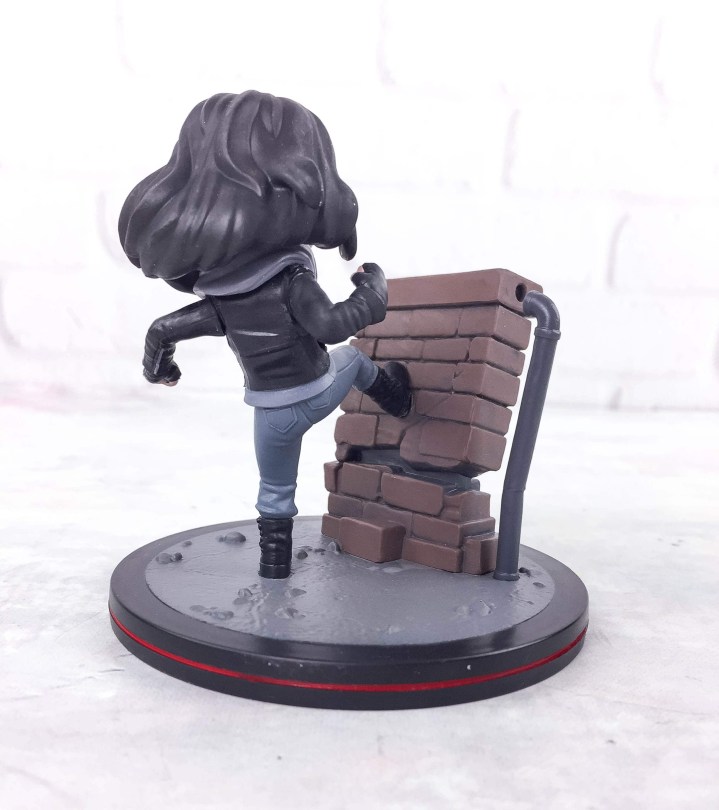 Highly detailed as always – I love the pipe coming loose.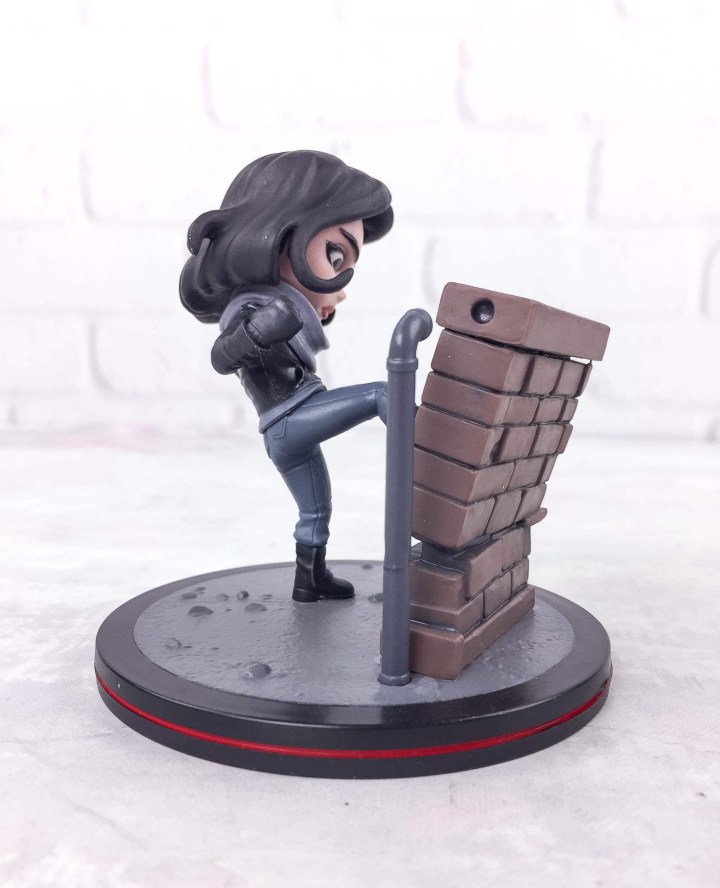 She's wearing her scarf, leather jacket, and boots too. Great addition to any Marvel or Q-Fig collection!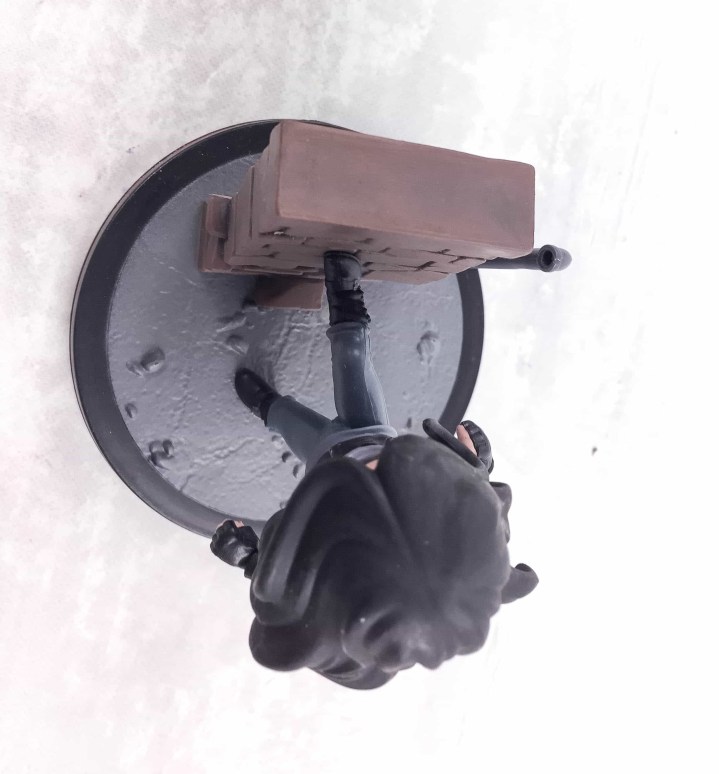 This figure has a lot of energy!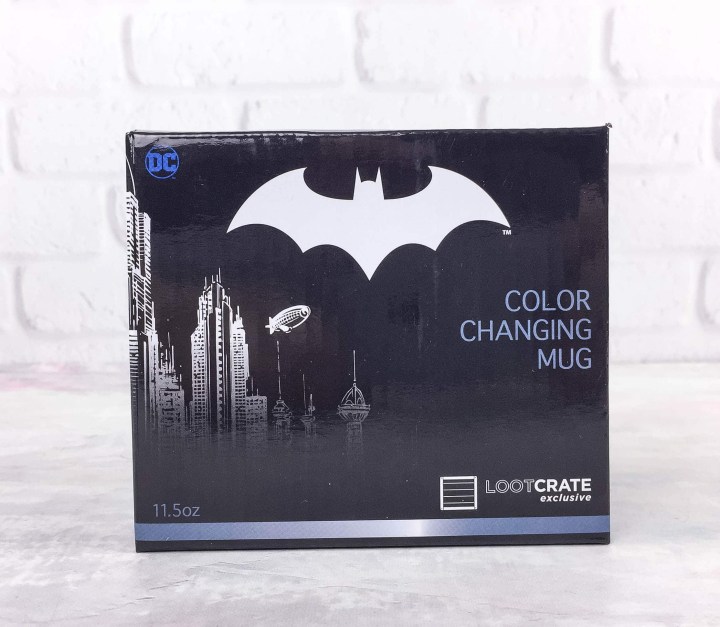 Exclusive Batman Color Changing Mug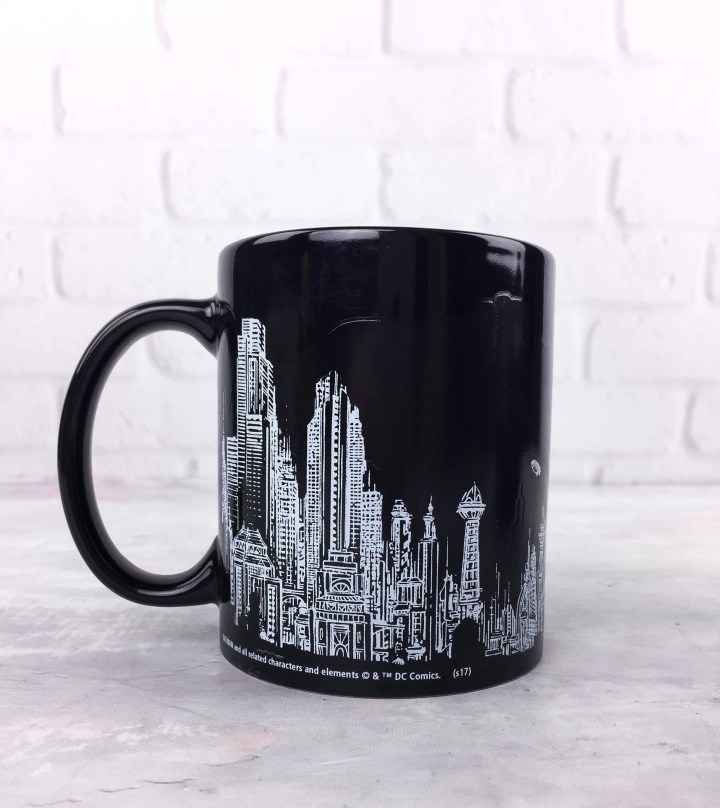 By itself the mug showcases the Gotham City skyline – and highly detailed too!
Hello Zeppelin!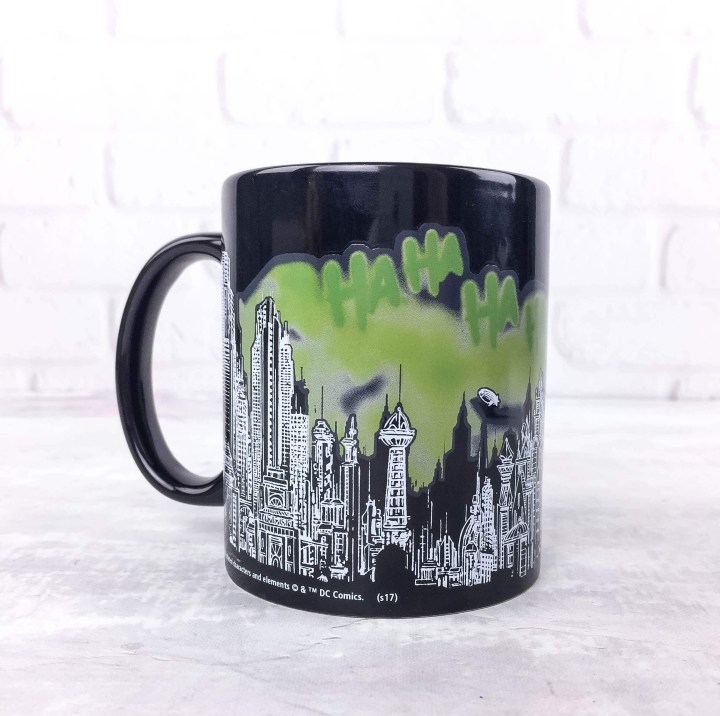 Reveal the scene when you pour in a hot beverage! Gotham's been covered in Joker Gas!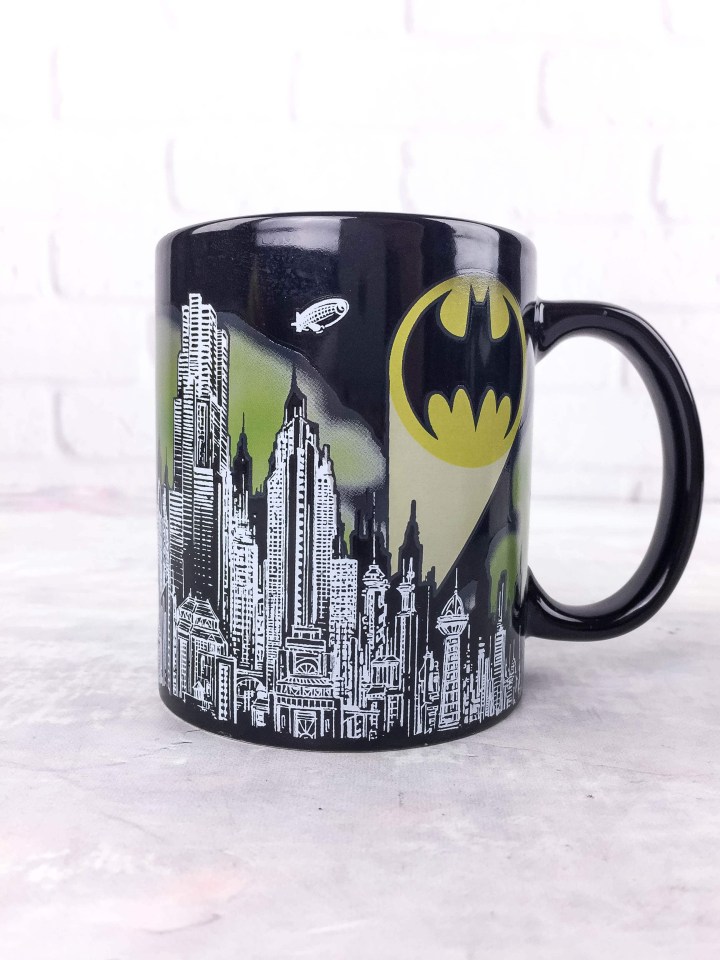 The Bat Signal! Batman, we need you! I'm sure he'll be able to assist as soon as he finishes his 11.5 ounces of beverage. Preferably caffeinated.
FYI – the box says this is dishwasher safe. Just don't – it will ruin the heat change.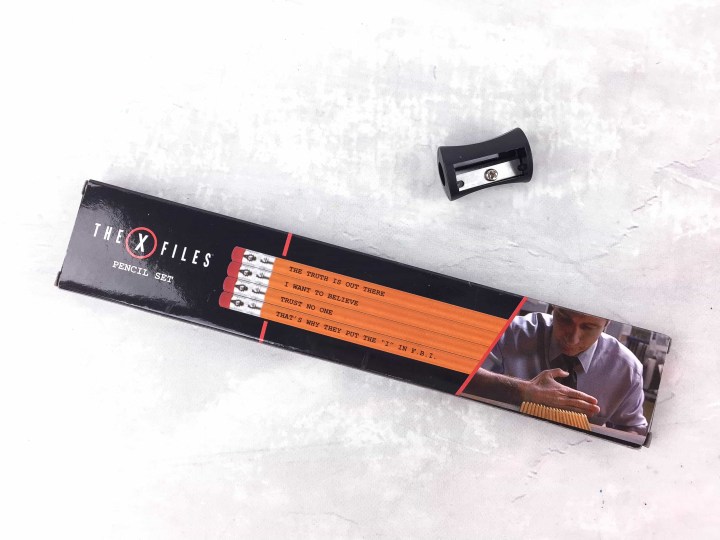 Exclusive The X-Files Pencils (and sharpener!)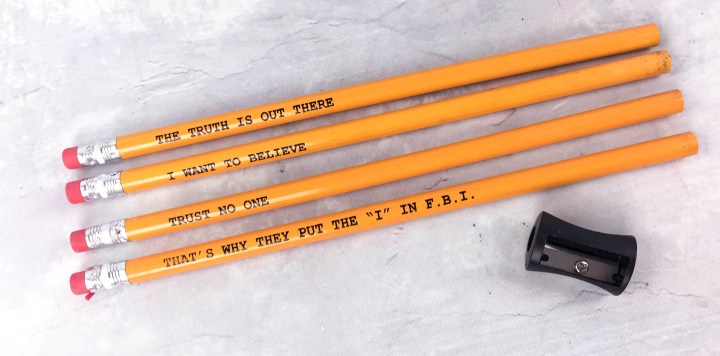 Ok, this is admittedly a weird item but… you kinda have to love it. Spooky's most memorable quotes right on the pencils. Sharpen them up and toss them in the ceiling. I can just hear Mulder saying "That's Why they put the I in FBI."
Maybe don't toss them on the ceiling but they belong in a place of honor on your desk. If you're an X-Files freak. I might be.
I love how Loot Crate expanded on the Secret Order of the Keys this month – it's like Kiwi Crate for geek grownups, plus you get bonus loot the next month! I always think Loot Crate is more than solid for $22 per month, and this month was no exception with a great Batman Mug, Jessica Jones Q-Figure, and the extremely covetable Stranger Things shirt, plus a fun pin and X-Files pencil set. Was it the highest value box ever? Certainly not, but they did a great job with the theme and it was just a fun box overall with items we'll definitely use and display!
What did you think of this month's Loot Crate?