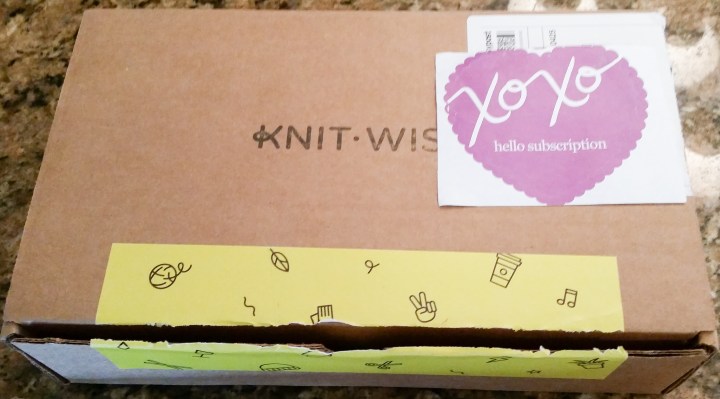 Knit-Wise is a monthly box that arrives with everything you need to create a hand knit project. According to the site, you will build new skills, save time and money, and learn at your leisure. You can choose your skill level – either beginner or intermediate/advanced. I'm a fairly proficient knitter, so I picked the "intermediate/advanced" level. Subscriptions start at $29/month.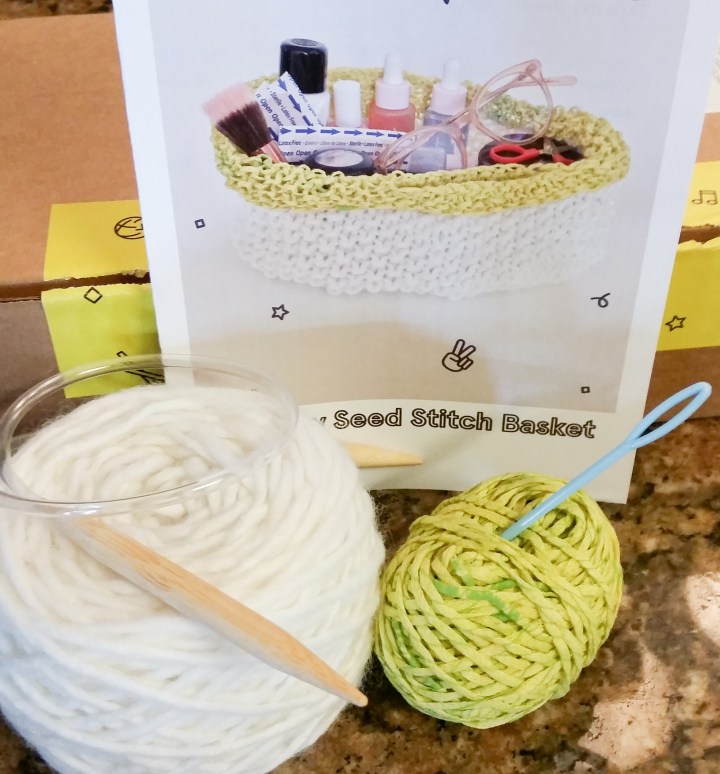 Knit-Wise generally provides all the supplies you need for the project – basically everything but scissors. Super convenient!
Instructions: Knit-Wise instructions generally come in a little booklet. The front of the booklet provides a full-color image of what the final project will look like. This month's project is a slouchy seed stitch basket – how fun for spring!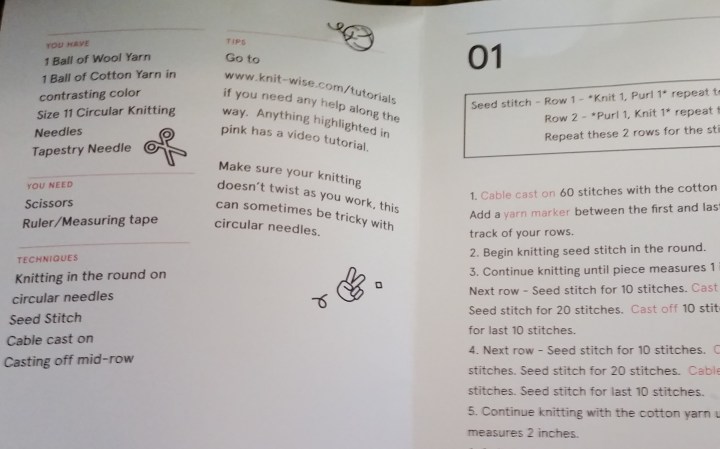 Here's a peek at the back of the instruction booklet. The step-by-step instructions are very clear and have some terms printed in pink ink (e.g., "Cable cast on" and "yarn marker" above), indicating there is a video explaining that stitch on the Knit-Wise website.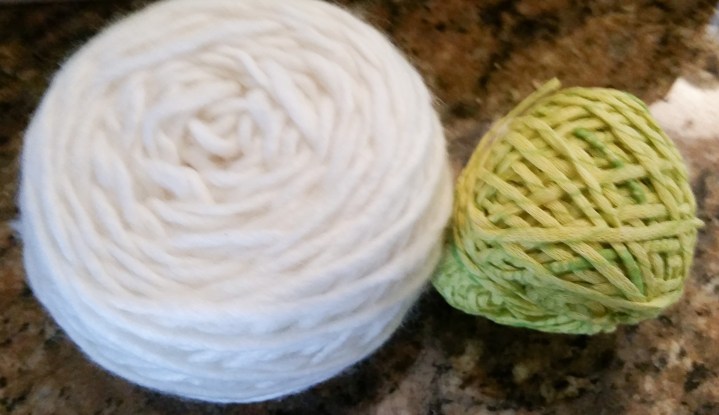 Yarn: This month's box included 2 balls of yarn. The white wool yarn is nice and fluffy, while the cotton yarn provides a nice springy contrast in greenish-yellow.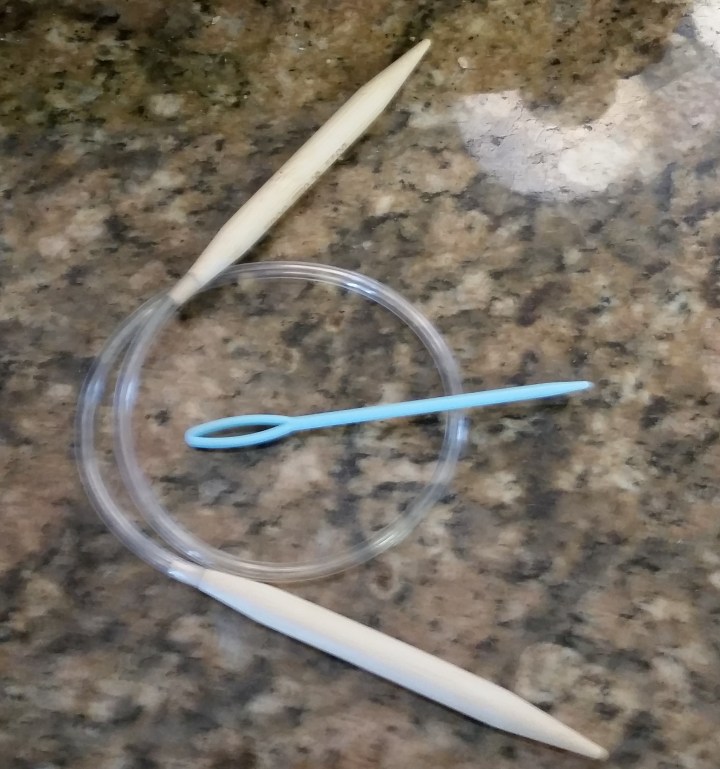 Notions: In general, Knit-Wise includes every thing you need (other than scissors) – so great to start a project without digging through your craft box looking for a specific size knitting needle or having to run to the craft store! This month's box included a set of bamboo circular knitting needles, as well as a tapestry needle for finishing work. The only things I had to provide myself were scissors and a yarn marker.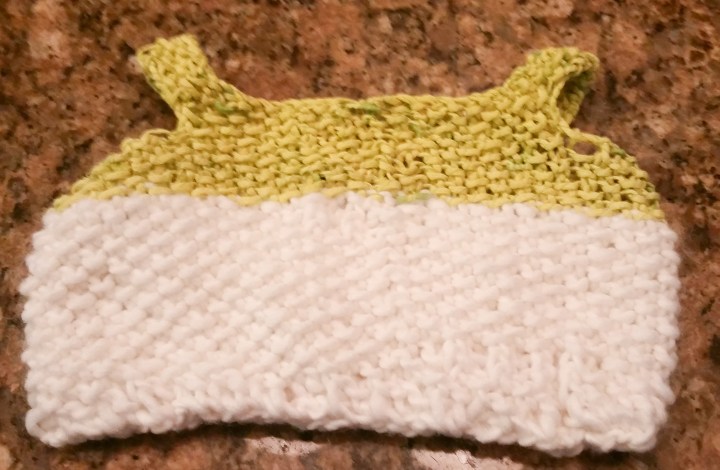 Here's the finished project, laying flat. It is a cute little basket with handles – but here it looks a little bit like a kid's tank top. Oh well. It would be cute for that too, except the bottom is sewn shut. (The project should be a bit larger; I truncated the white seed stitch portion of the basket so I could finish the project and share it with you – it should be another inch or so deeper.)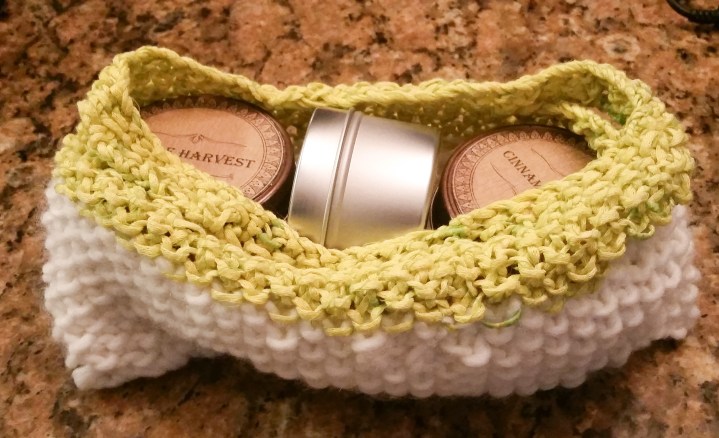 And here's the basket in action, holding some of my candle tins (not included).
This project was fun. I liked the spring color scheme and I was happy to have a chance to practice seed stitch and knitting in the round. The technique was very simple but not one I use often. Knit-Wise has provided a wide variety of projects (e.g., booties, jewelry, and home decor) as well as many different techniques to practice (e.g., seed stitch, cable knitting, etc.). I think this is what makes Knit-Wise a great subscription box – each month is something different to try!
What do you think about this month's Knit-Wise project?