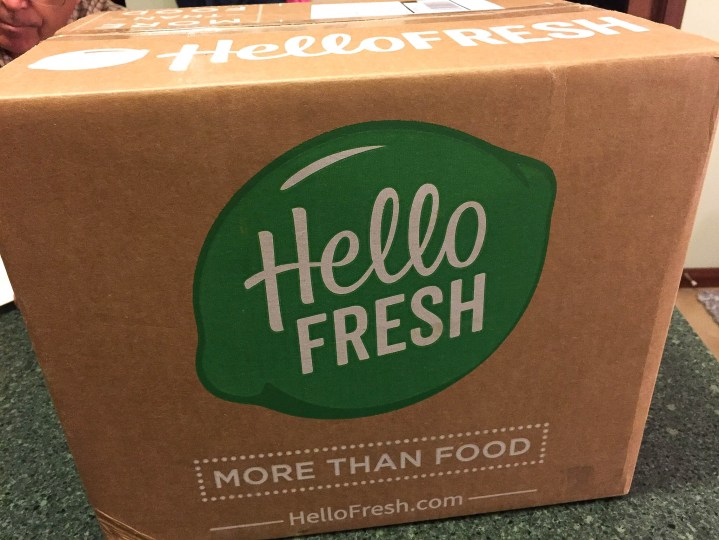 Hello Fresh is a meal kit subscription box with complete recipes and ingredients to make 3 meals every week, with each meal feeding either two or four people, depending on the plan you choose.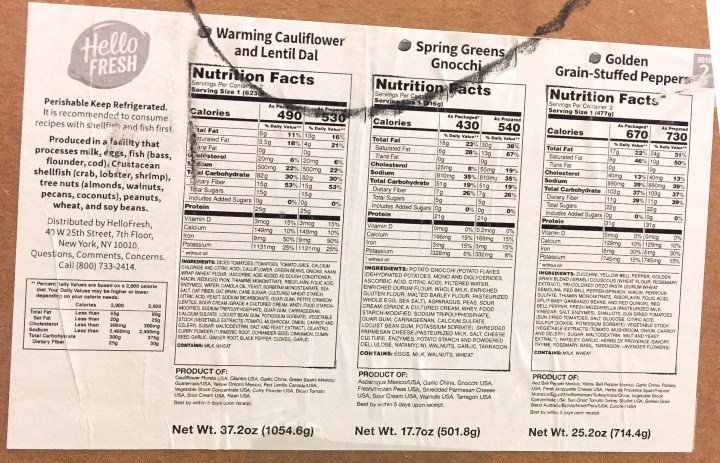 Though it is a subscription, you can pause your deliveries when needed – whether you are out of town, have other dinner plans, or just aren't in love with that week's selections. The standard subscription provides high-quality meats (free-range chicken, antibiotic meats, etc.) to use in the recipes.  
DEAL: Currently, you can save $40 off your first box with coupon code 7UT7K8.
Hello Fresh has great instructions, and they are easy to follow even if you are an inexperienced cook. There are even some kitchen tips included in the information card.
Though we do eat meat, we cook vegetarian three times a week. Thankfully, Hello Fresh has a vegetarian subscription for both casual and dedicated vegetarians.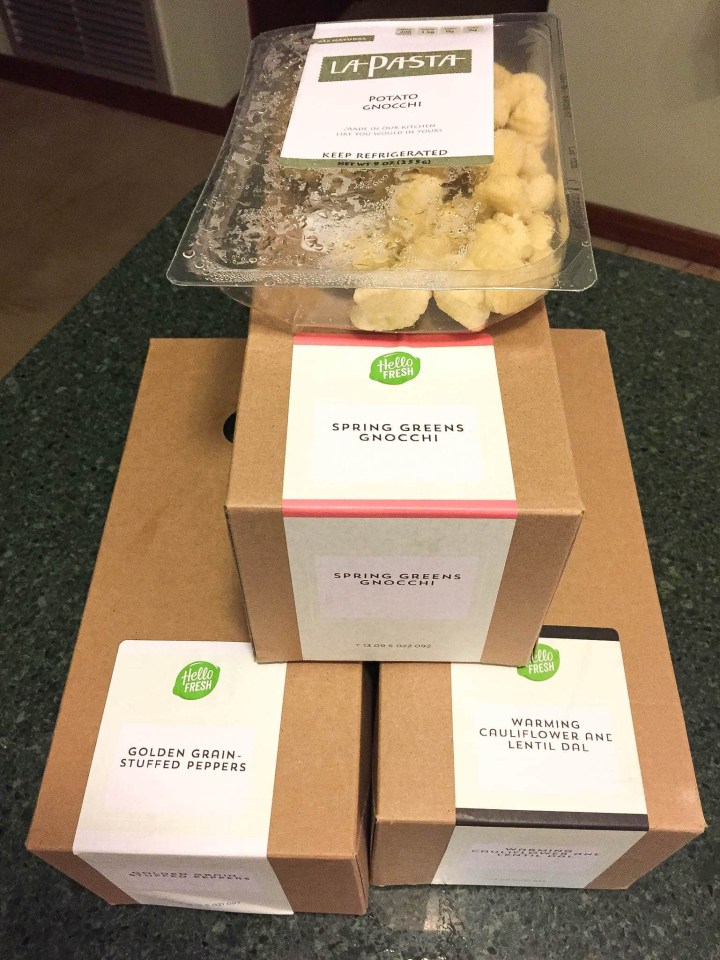 The boxes used by Hello Fresh keep all the ingredients for the recipes in order, and they stack nicely in the fridge. Within each box, everything but the largest vegetables is separately packaged and is packed at the bottom. Condiments and canned goods are provided in high-end, commercial packaging. Hello Fresh usually provides spices in their own, pre-measured branded packaging.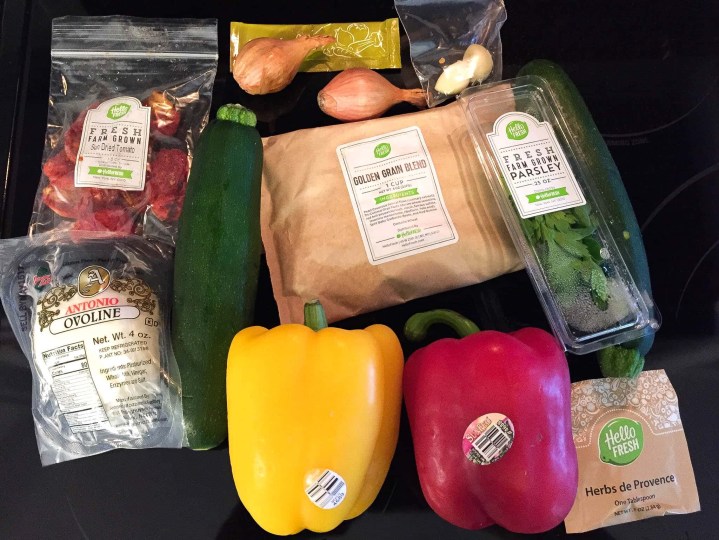 Golden Grain-Stuffed Peppers With Sun-Dried Tomatoes And Zucchini. 30 minutes, level 1, 730 calories per serving.
This is a little different in the way they baked the peppers than I used to do it. I stuck my peppers in boiling water for several minutes, filled them with stuffing and then baked them. They bake it, stuff it and rebake it. The difference is my peppers held their shape and held much more stuffing than theirs. I think I like my way better. I had so much stuffing left I had to use a small pyrex dish to hold all the leftover stuffing.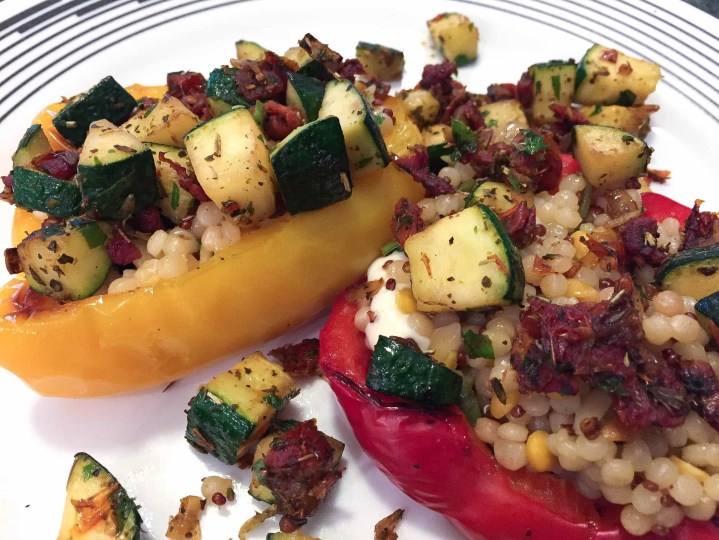 What I loved about this dish was the golden grain blend, yummy! There's couscous, tricolor orzo, split chickpeas and quinoa. My husband thought there were nuts and I figure that was the chickpeas. Anyhow, what a great blend of grains.
He also thought the chopped sun-dried tomatoes where hot chili peppers until he tasted it! The concentrated sweet flavor of the tomato really comes out once you cook them.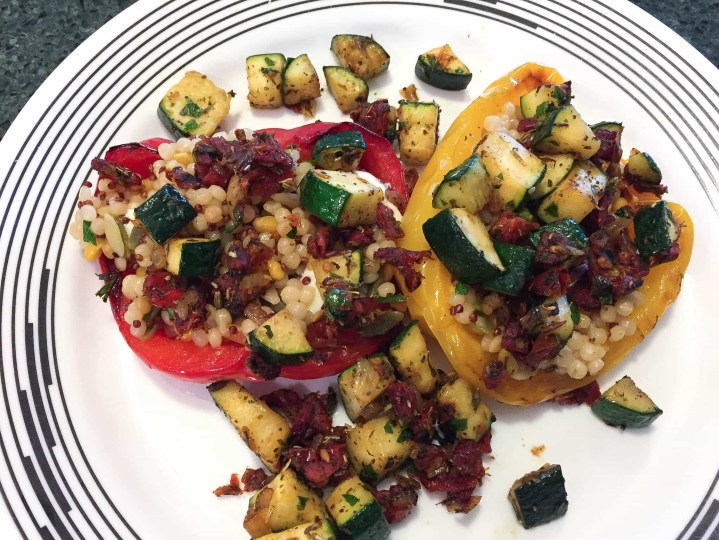 Beautiful grain blend with beautiful vegetables made for a bountiful feast.
Warming Cauliflower And Lentil Dal With Green Beans And Toasted Naan Flatbreads. 35 minutes, level 1, 530 calories per serving.
I just had to google what is a lentil dal. Anyhow, a lentil dal is a traditional Indian dish apparently it's supposed to be a bit soupy but some of the pictures I saw looked more like mine, a thicker rendition. I like curry a lot and usually when my curry meter is low I go to the local Thai restaurant to fill up. AWWWWWW.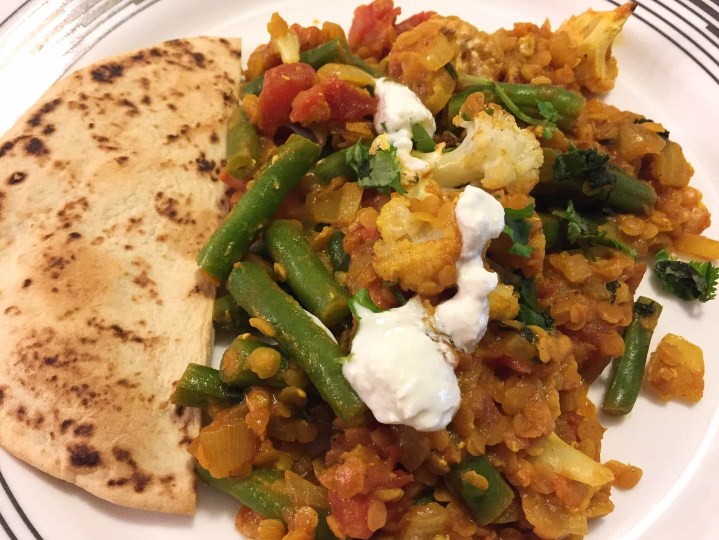 With the curry powder in this dish, it did remind me of the curry I order out. Very tasty. I've started inviting my parents to have dinner with my husband and I. They get to pick which recipe they want as my dad's a bit fussy on what he'll eat. Funny, they loved the bread. Eating vegetarian isn't something they do a lot so this will be something new and different for them. My husband and I liked the recipe a lot, loved the roasted cauliflower. We also appreciate the nutritional value of lentils, you just can't go wrong with them.
So many dishes just not enough days to try them all.
Spring Greens Gnocchi With Asparagus, Peas, And A Creamy Tarragon Sauce. 25 minutes, level 2, 540 calories per serving.
My husband has severe sinus problems and most of the time can't smell a thing but when I was chopping up tarragon he could smell it! He really enjoyed the meal, I think because of that. You know you don't eat with just your mouth.  Smell and sight are very important, also. The smell of the tarragon along with the creamy white sauce and gnocchis combined with the pretty greens. Well, that's a beautiful banquet for the senses.
It looks very rich which usually translates to lots of calories but at 540 per serving, that's not too bad.  There's so much I only ate 1/2 a serving!
This meal gets a thumbs up from this small family.