Handmade Hive is a monthly lifestyle box that delivers local, handmade items from around the country to your home. Monthly contents are curated around a theme. Handmade Hive donates a portion of the sale of each of its boxes to organizations dedicated to fighting sex trafficking, sexual exploitation, and sexual abuse. Subscribers have the option of purchasing additional items at a 10% discount directly from Handmade Hive. Subscriptions cost $44.95 each month plus $9.99 flat rate shipping ($54.94 each month total). Handmade Hive promises that the retail value of the items in the box will exceed the cost of the box each month.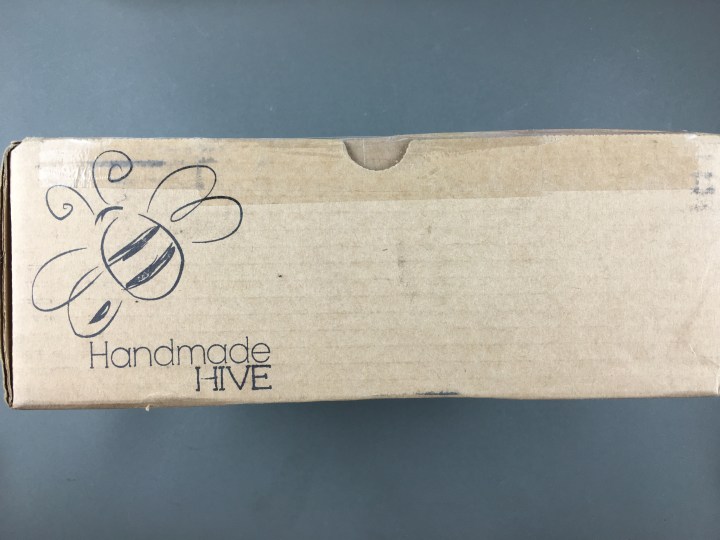 DEAL: Get your first box for free upon subscription! Use coupon code FIRSTBOX.
If anyone is interested in purchasing this box without committing to a subscription, it's currently available at Handmade Hive's online store for $49.99 plus $9.99 shipping.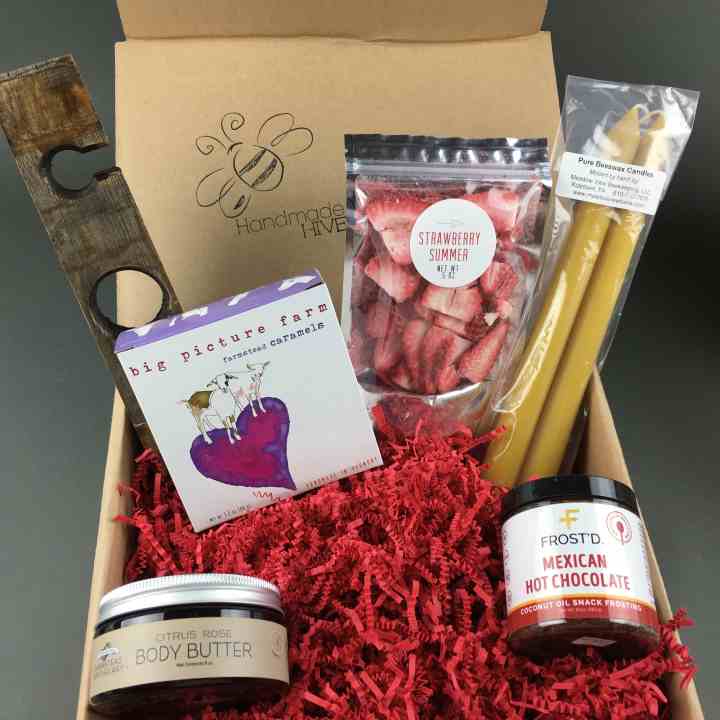 Handmade Hive's February 2017 Subscription Box's theme was Love Is In The Air!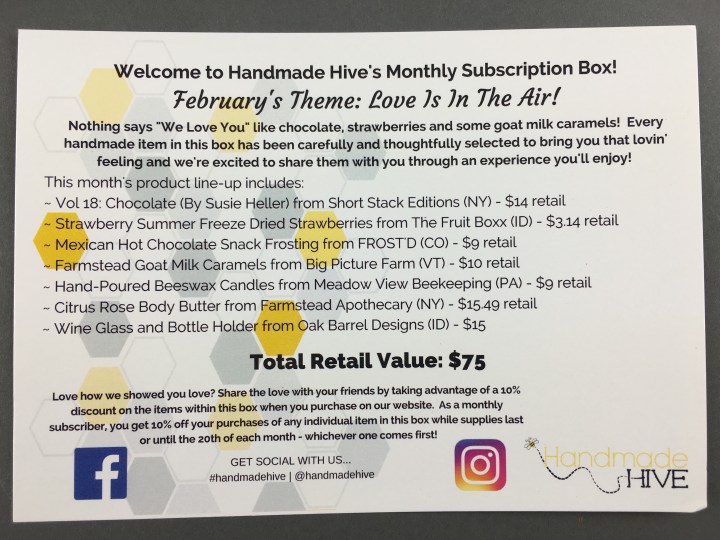 Items included a recipe book, a dried strawberry snack, a hot chocolate frosting, a pack of caramels, beeswax candles, body butter, and a wine glass holder.
This business card was included in the package.
Vol. 18: Chocolate ($14) A recipe book perfect for chocolate lovers. Written by Susie Heller, a caterer and restaurant owner turned writer. It contains some go-to chocolate recipes like chocolate pancakes and chocolate gingerbread, as well as unique savory-sweet dishes like chocolate pasta and chicken cacahuate.
Strawberry Summer Freeze Dried Strawberries ($3.14) So healthy and delicious! It has a nice tart-sweet taste that even kids would like. It is gluten-free and vegan too. The package is also convenient, making it a perfect snack for for traveling.
Farmstead Goat Milk Caramels ($10) An assortment of caramels in eight different flavors: Sea Salt & Vanilla, Brown Butter Bourbon,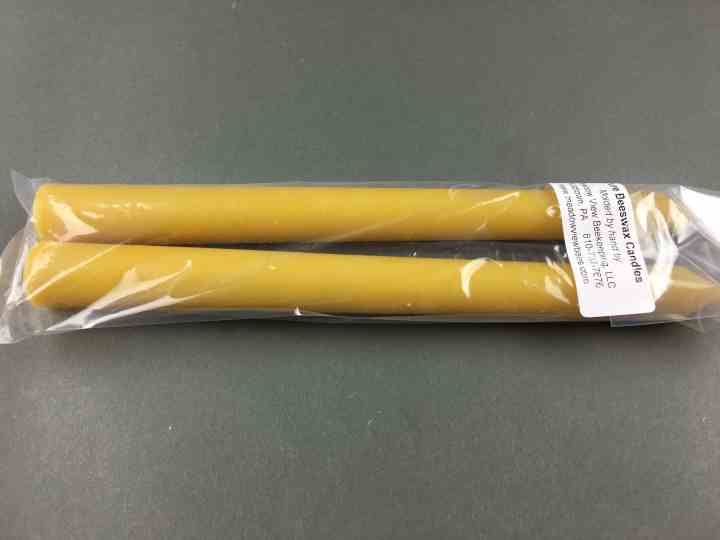 Hand-poured Beeswax Candles ($9) A pair of pure beeswax candles! These were molded by hand at Meadow View Beekeeping in Kutztown, PA.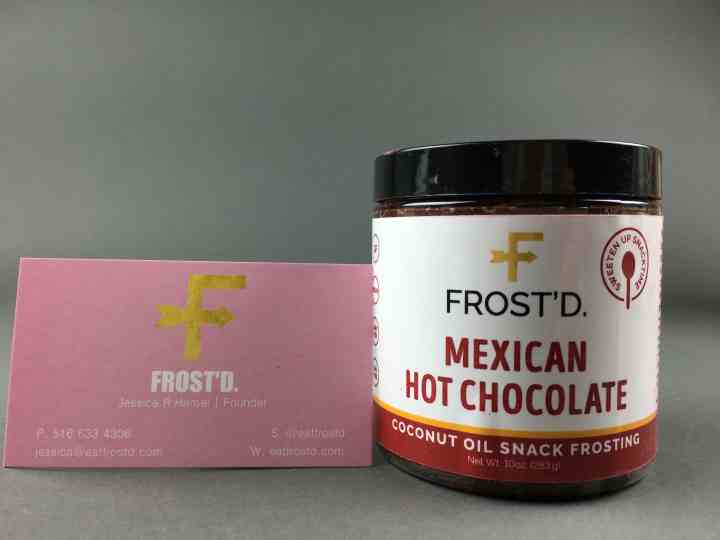 Frost'd Mexican Hot Chocolate Snack Frosting ($9) Cinnamon, bittersweet cocoa and cayenne make such a perfect combination. It is not too spicy, it gives just the right kick. Other ingredients include organic coconut oil, vanilla extract, sea salt, and sunflower liquid lecithin. Ideal for toasts and pancakes!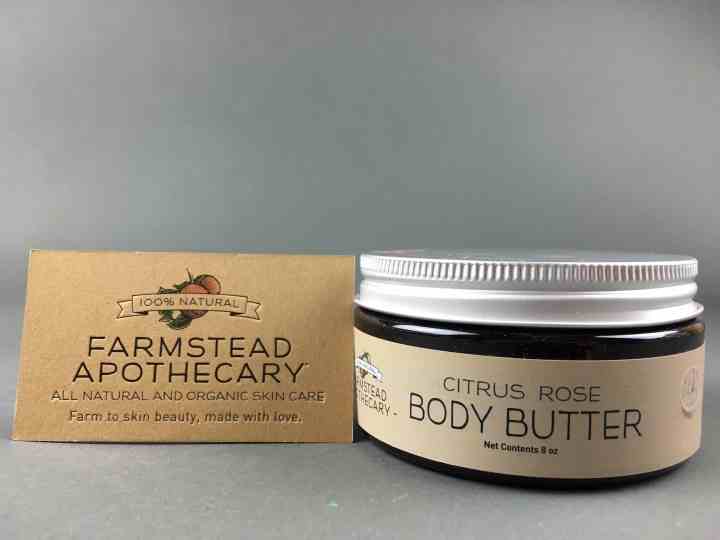 Farmstead Apothecary Citrus Rose Body Butter ($15.49) Smells good and feels good on the skin! Vegan and 100% plant-based too.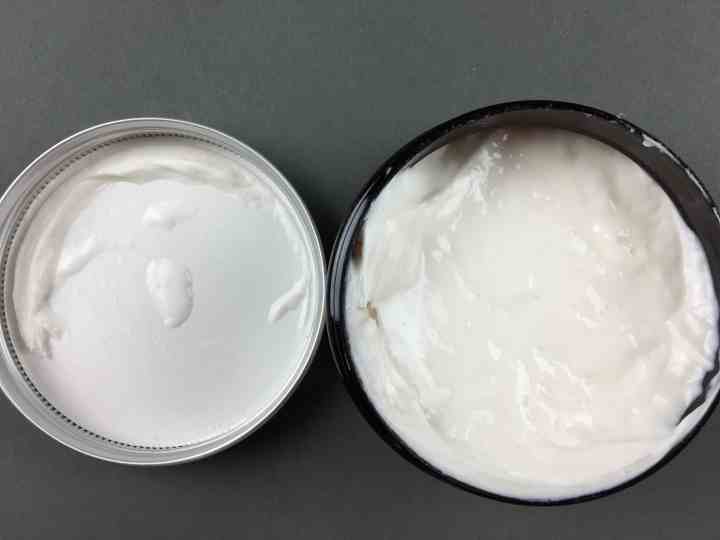 This body butter is thick and creamy, ideal for those days when you need to protect your skin from the harsh dry air.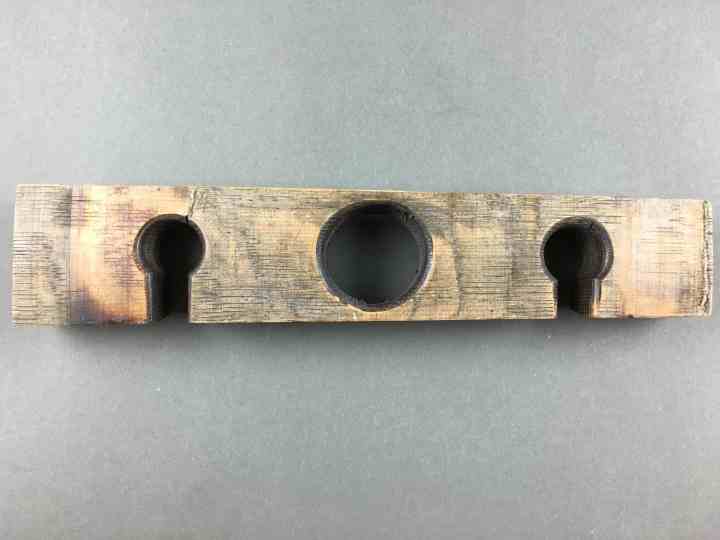 Wine Glass and Bottle Holder ($15) Made of oak wine barrel, this holder is a space-saving way of keeping your wine glasses and your favorite bottle of wine.
This month's Handmade Hive indeed made me feel like love is in the air. Each of the product in the box was special and high-quality. I had fun indulging in all of the products that I received. I wonder what theme they came up for next month!
Are you as excited as I am by thismonth's selections from Handmade Hive? Will you be subscribing for yourself or someone else?