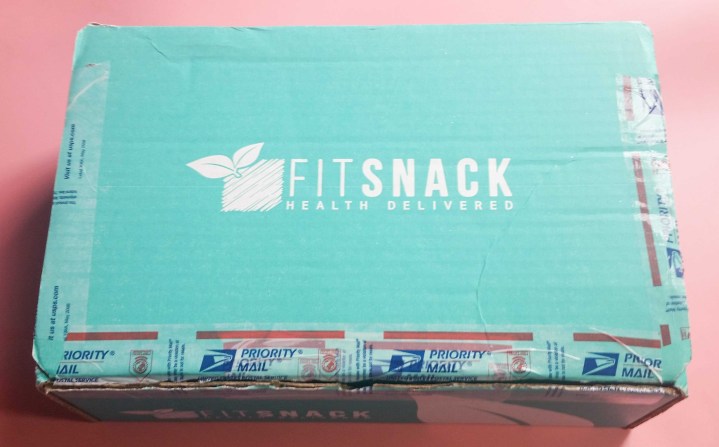 Fit Snack is a monthly subscription box delivering healthy nutritious snacks directly to your door. Every month, expect 7-10 full-size items plus samples of delicious and healthy snack foods.
Fit Snack curates its boxes according to the following criteria:
Each product always containing two or more of the following: GMO-free, high in protein, low in sugar, gluten free, organic, raw, vegan and all natural.
Plus, we add in bonus items such as energy boosters, nutritional supplements, or refreshing beverages.
Finally, we find a little space for exclusive workouts, workout gear or other active lifestyle inspiration.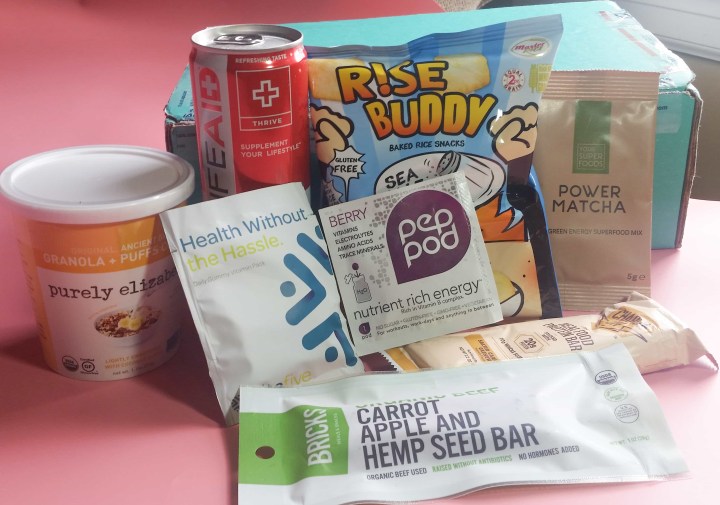 Here's a peek at everything in the March box. I'm excited to try some of the new snacks!
DEAL: Save $3 on your first box! Deal applies automatically, just visit and subscribe.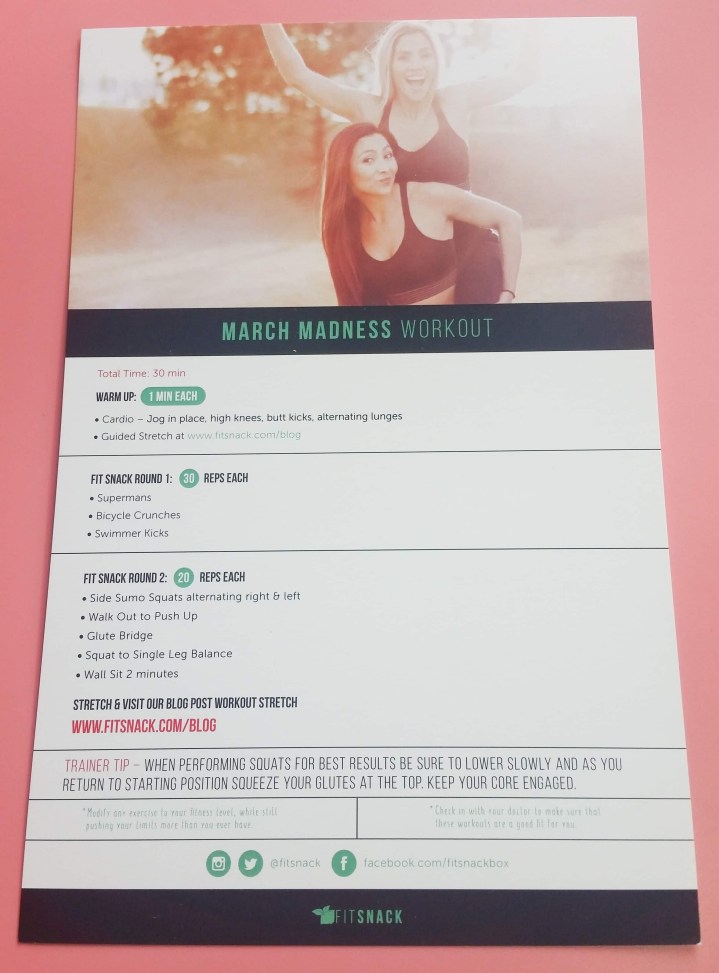 One side of the information card gives a workout (with more details available at the Fit Snack blog).  This month's theme is appropriately "March Madness"!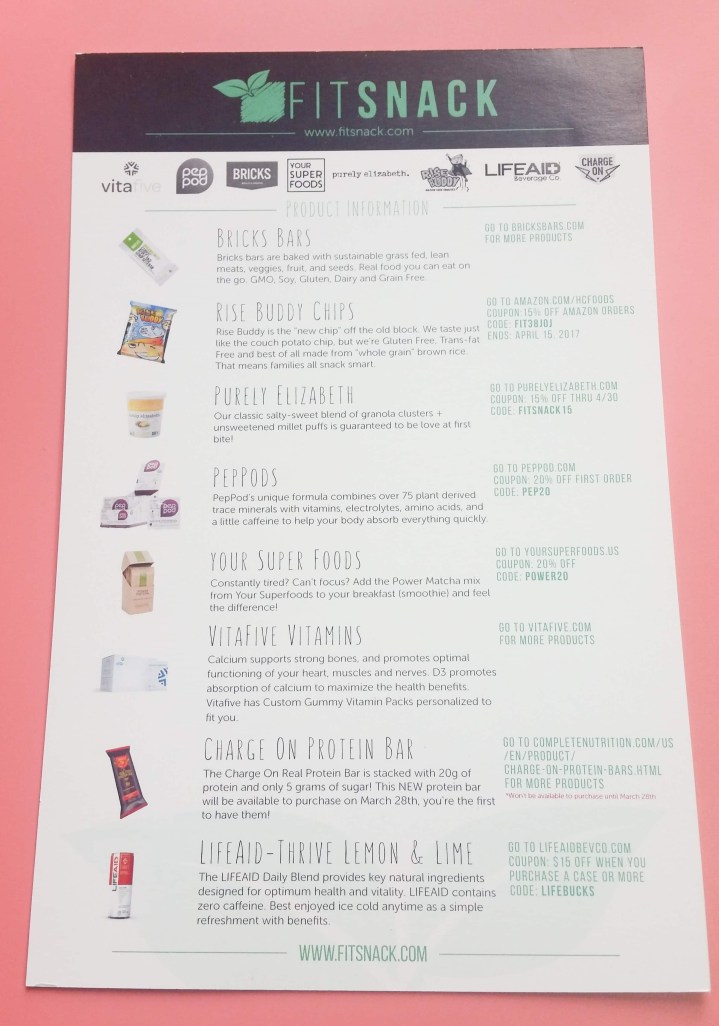 The other side of the information card tells you a little bit about each of the products in the box (and coupon codes for most). Just like last month, I am a little disappointed in this box. Although FitSnack promises 7-10 full size snacks, plus other samples, this box included 8 items and more than one of them is not what I'd consider a snack.  Specifically, I am again disappointed to see the VitaFive Vitamins included as one of items – in the past, these had been included as bonus extras. Vitamins may certainly be an extra, but vitamins are not snacks. Similarly, I'm not thrilled about high number of "drink" type snacks – PepPods, Matcha mix, and LifeAid.  Of the 8 items in the box, only four of them really feel like snacks to me. I think FitSnack has done a much better job with providing actual snack food earlier… but the last few month's boxes are getting pretty light on snacks. I would not rely on this subscription to fill my snack drawer at this point.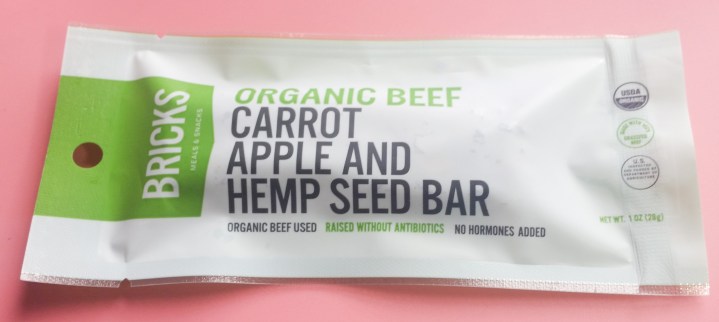 Bricks Bar: I want to love meat bars – I do. They make so much sense, but I just haven't been able to get into them. This one has a very good taste – I love granny smith apples and beef and carrots, and it's clear that Bricks uses quality ingredients.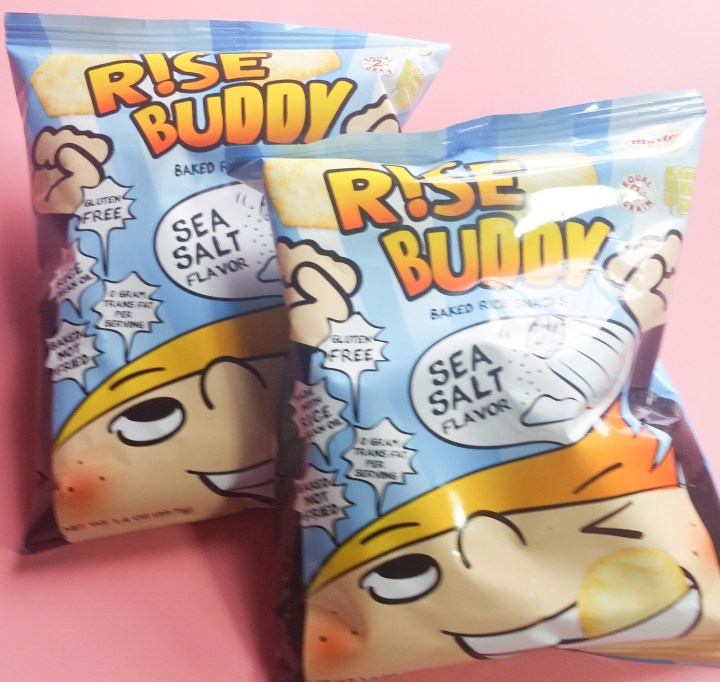 Rise Buddy rice crisps: This is my favorite snack from the March box. These rice crisps are kind of like a chip, kind of like a cracker, and very tasty. Salty and crunchy, just like snacks should be!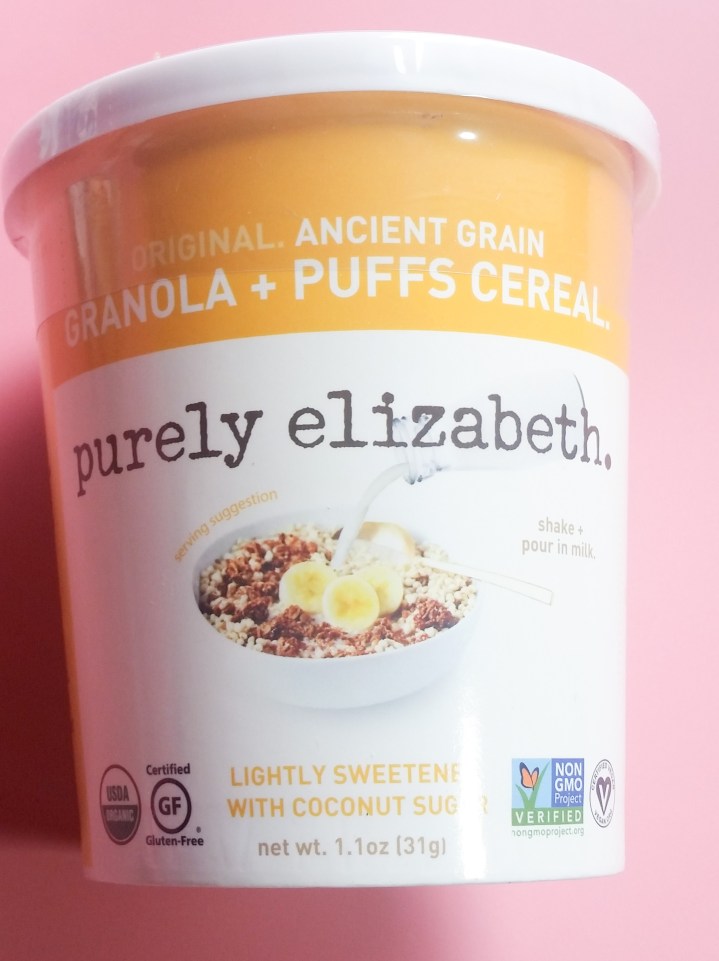 Purely Elizabeth Granola + Puffs Cereal: I liked this item a lot. I'm a big fan of grab-and-go breakfasts to eat after swim practice and this little cup (along with a carton of milk) worked perfectly. It would also make a super easy snack with some yogurt.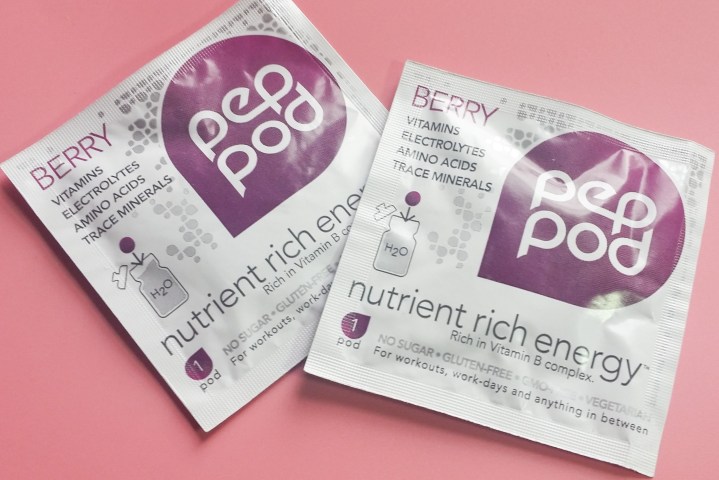 PepPods: PepPods are little tablets that you throw into your water bottle. They add vitamins, electrolytes, and more. The berry flavor was tasty, but water-flavoring tabs are not a snack.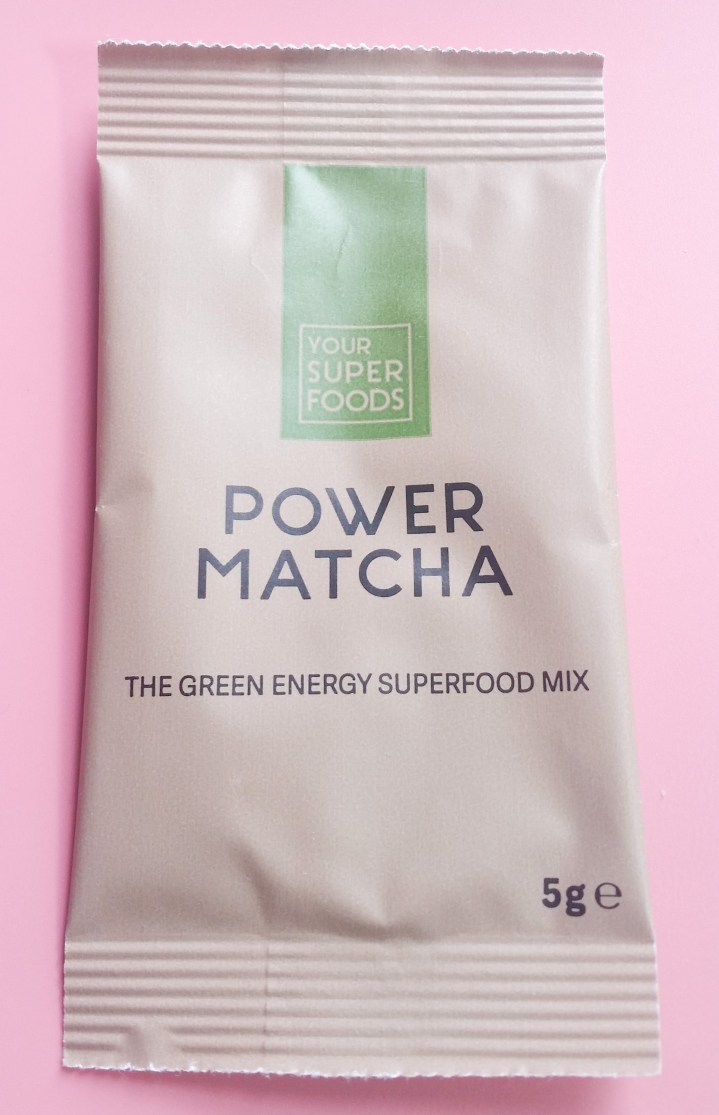 Your Super Foods Power Matcha mix: I added this pouch to a smoothie – it has matcha green tea and a bunch of other "super foods." It had a typical seaweed-like flavor and may have given me a little energy boost in the morning.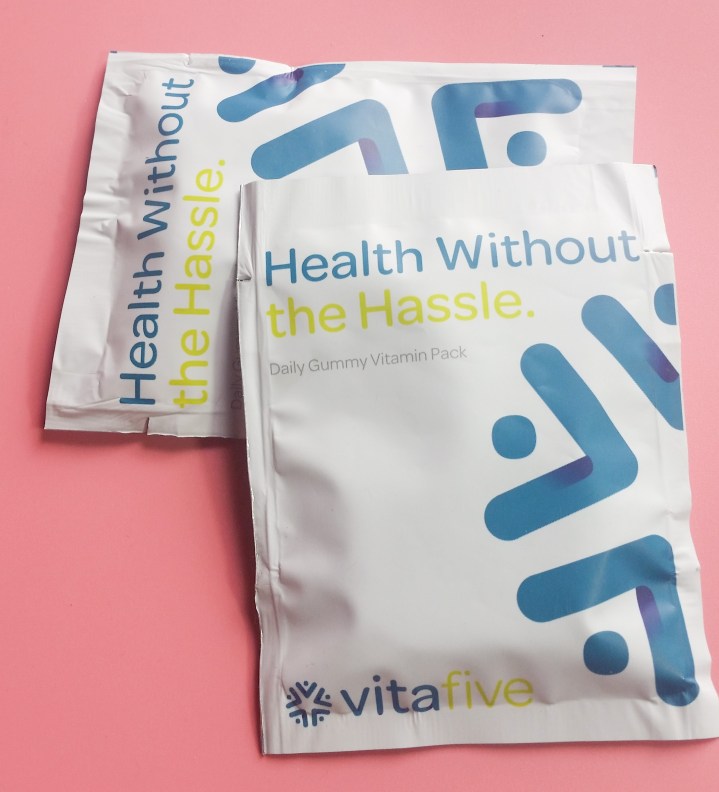 VitaFive Vitamins: VitaFive makes custom gummy vitamin packs for grownups and kids. I do not take vitamins, but if I did, these daily packs would make it easy and convenient. However, vitamins are not snacks.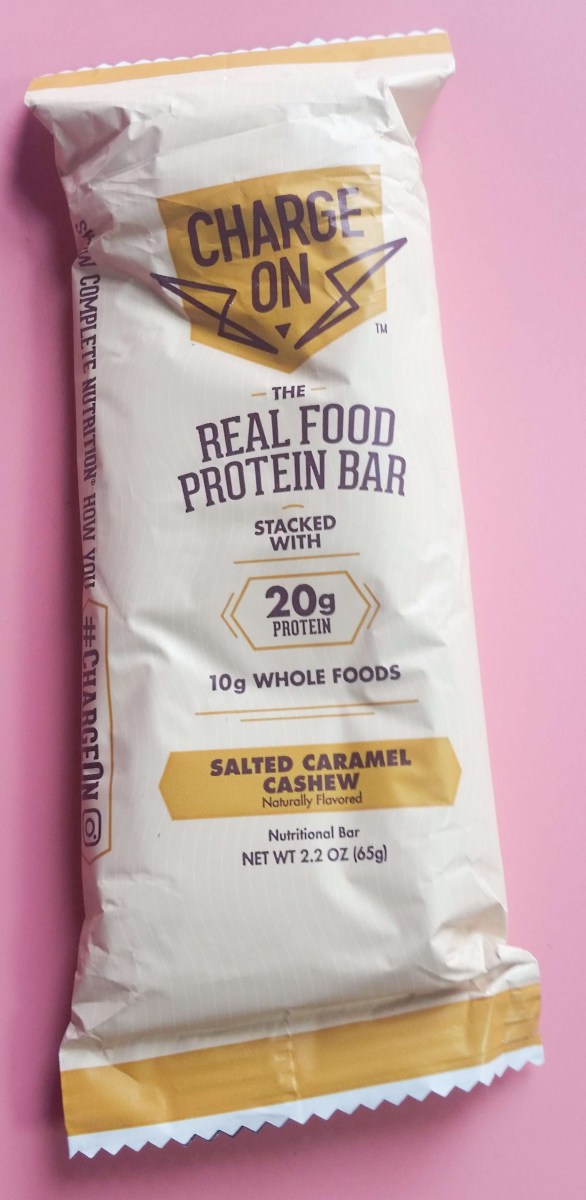 Charge On Protein Bar: I also liked this protein bar a lot. I'm a sucker for salted caramel anything and cashews are one of my favorite types of nuts, so it wasn't a big surprise that I enjoyed this bar. Plus it has a ton of protein and not a horrible amount of sugar for a bar, which I also was happy to see.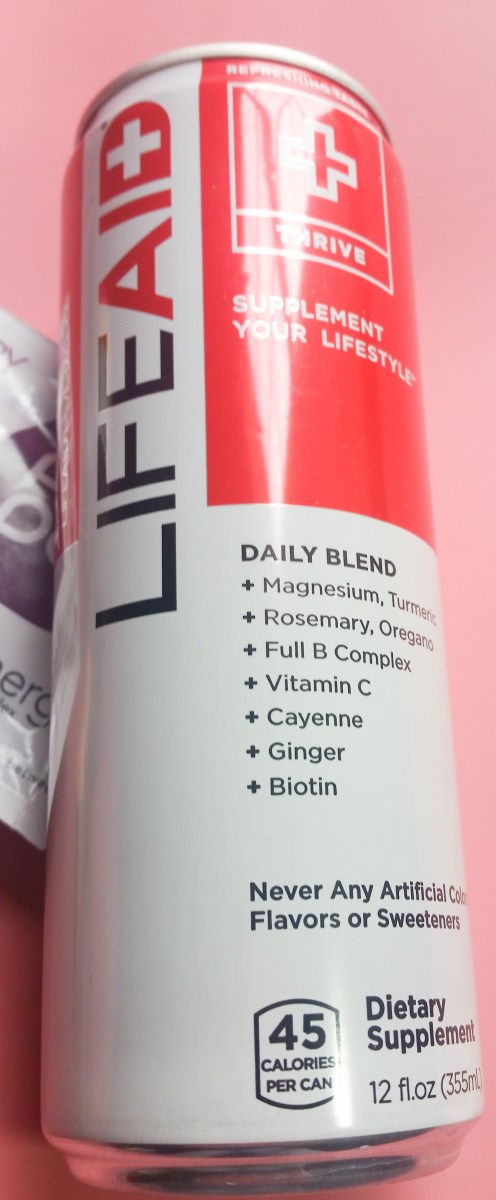 LifeAid energy drink: FitSnack has included LifeAid drinks before. I'm not a big fan of these supplement drinks. And, as I mentioned above, I do not consider these drinks to be a snack. (Including one drink or non-snack item isn't a big issue for me…but this box had way too many non-snack items for my preference.)
This is probably my least favorite FitSnack box of all time. Besides having too many non-snack items, the other items were just fine. Other months, I have found snacks that I want to go out and buy lots more of – and that just wasn't the case for this month of FitSnack. I hope that they'll do something about this and improve next month's box contents.