Barkbox is a monthly subscription box just for dogs. Each box has 4-6 dog products and is customized to the size of your pup, plus it has a cute theme. We selected the large box for our three dogs. Bella is a Rat Terrier, Odie is a Borador (half Border Collie and half Labrador Retriever), and Daisy is an English Shepherd.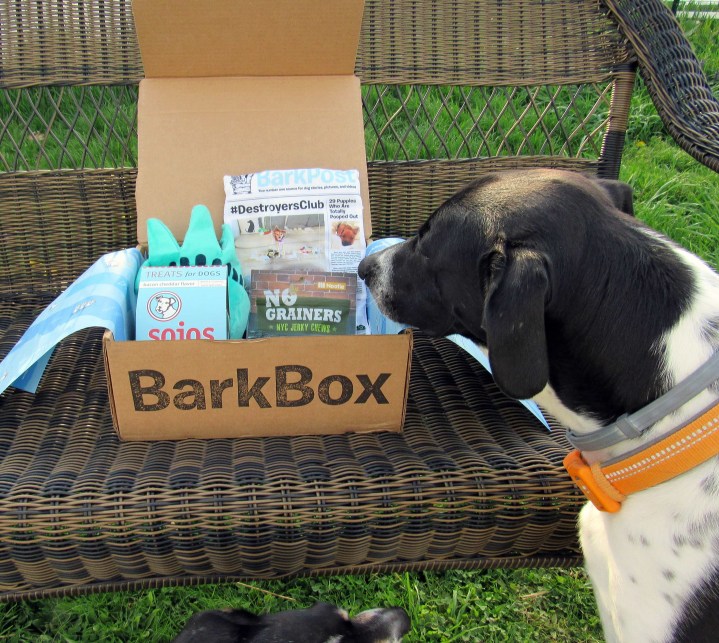 DEAL: You can save $10 on your Barkbox subscription with promo code MS10X1213.

Both boys were fascinated by the themed paper.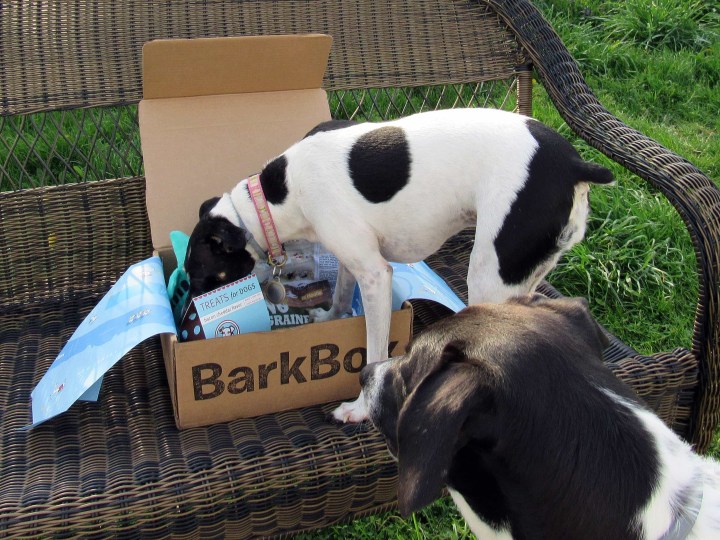 Bella had a hard time waiting to start reviewing the box!
The April theme is #pooyorkcity. I'm hungry for pizza and pretzels!
Here are the items in the April BarkBox Large Dog Box. It has an iconic New York feel to it.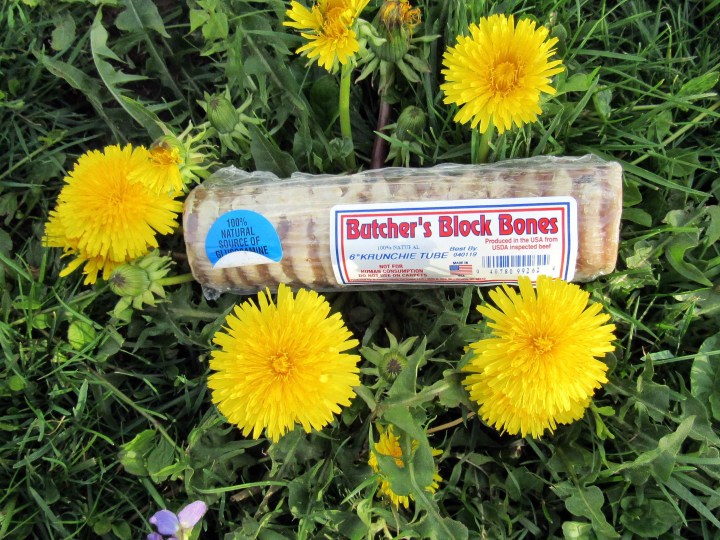 My dogs deepest desire is that every dog box comes with a trachea. The Made in the USA Butcher's Block Bones 6″ Krunchie Tube  ($3.00) is made from USDA inspected meat.
Bella would make a great NYC dog because she has a larger than life personality. She pounced on that trachea and started to eat it right away.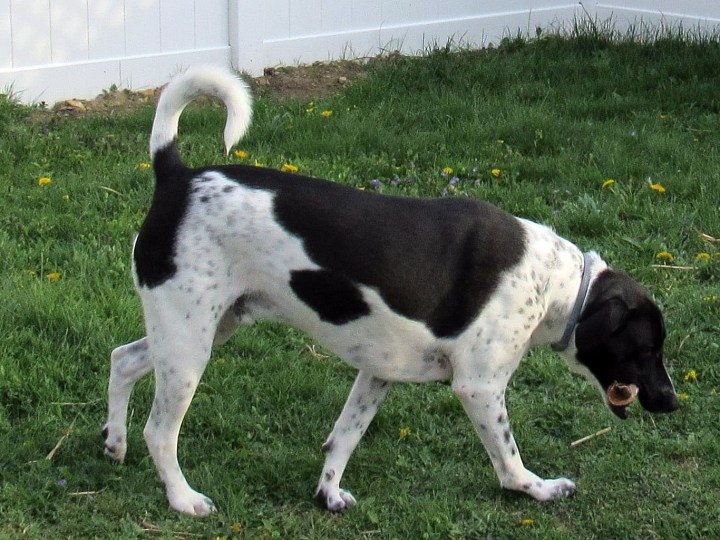 It's also a great size for Odie. He's happy to have his turn with the trachea.
Yum, Yum! The doggies relished the Made in the USA No Grainers NYC Jerky Chews (5 oz, $8.00). I had to hide the bag from Bella and Odie! Duck is the first ingredient of the grain and gluten-free treats.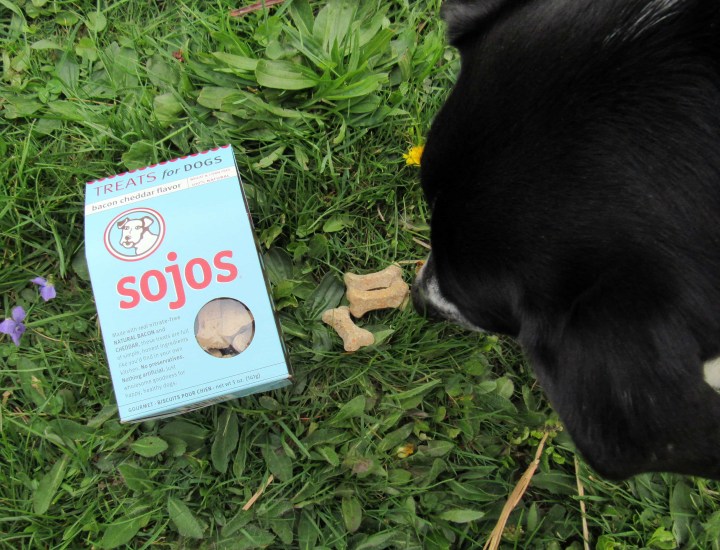 Odie could barely wait for me to take a photo! He had a hard time resisting the made from scratch Sojos Bacon Cheddar Flavor Treats (5 oz, $6.00). The wheat and corn free treats are made with cheddar cheese and nitrate-free bacon. Bella and Odie thought they were woofilicious.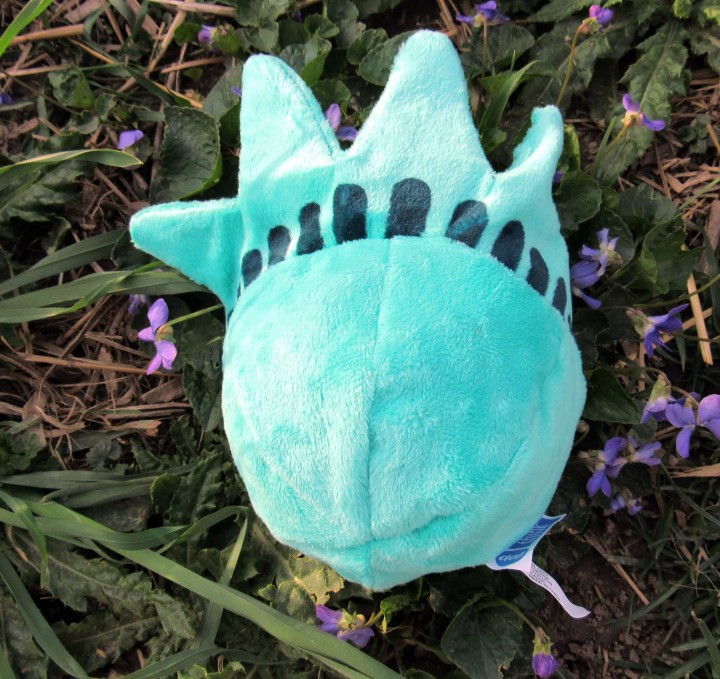 Odie never turns down a ball. The Lady Liberty Ball – Large ($12.00) has a squeaky, spiky ball inside.
He is such a happy dog when he plays with a ball!
The Bark Post ($10.00) has the cutest headlines. It crinkles and has eight squeakers. It appears that both the Small Dog Box and the large dog box received the same size.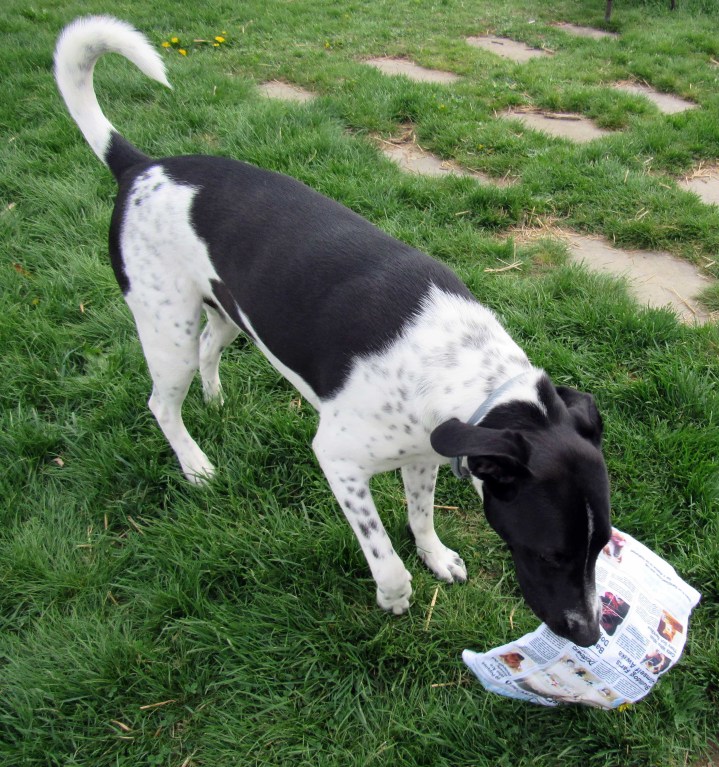 Odie wanted to play tug-of war with it.
Time for more doggy pictures.
Daisy is busy working on the farm and can't wait to eat BarkBox treats.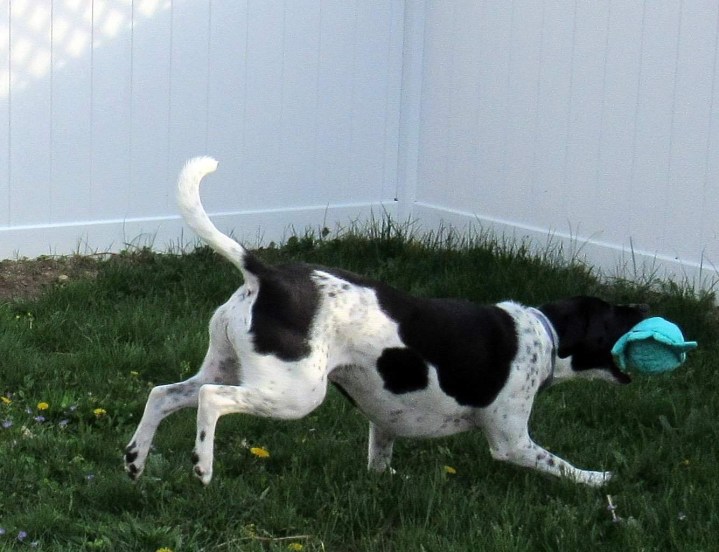 Odie was delighted to fetch. He loves to gallop around the yard.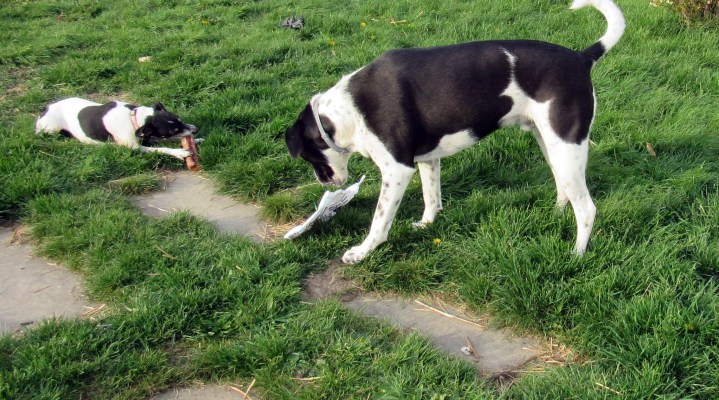 He tried to interest Bella in a good game of tug-of-war. She declined because she was eating the trachea.
Odie completely understands. He loves a good trachea too.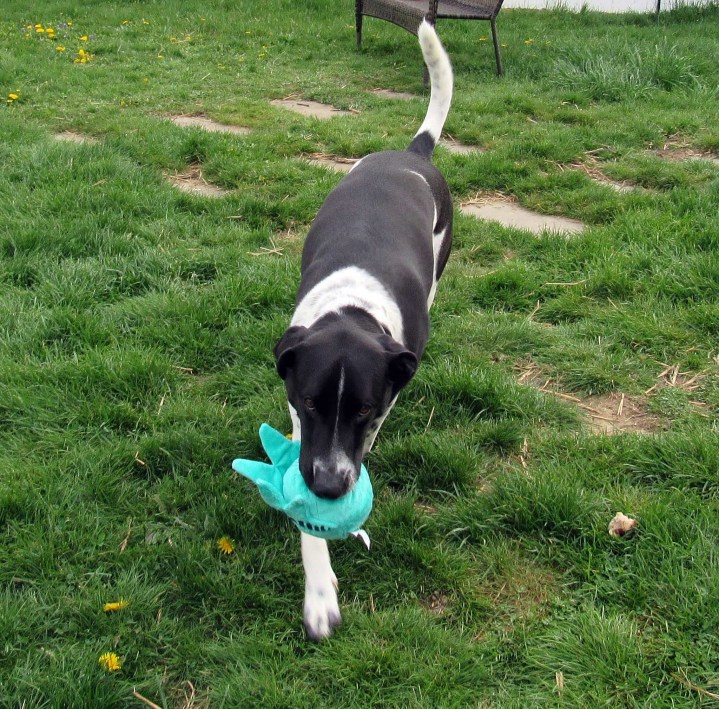 He wants mommy to put down the mysterious black object (camera) and play with him!
Odie and Bella enjoyed their April Bark Box. Odie enjoyed his treats, chew, and the toys. Bella loved the trachea. Daisy will be able to eat both treats because there is no chicken in them. I did notice that Barkbox had two different themes this month. The second theme is Throwbox Tuesday which can be seen in my April Barkbox SuperChewer review. Check out Brandy's Small Dog Box to see Lindy posing next to the box. Barkbox is an excellent choice for doggies and their humans that want fun-filled boxes full of wonderful themed toys and treats.
What do you think of the April Barkbox having two different themes? Share below!