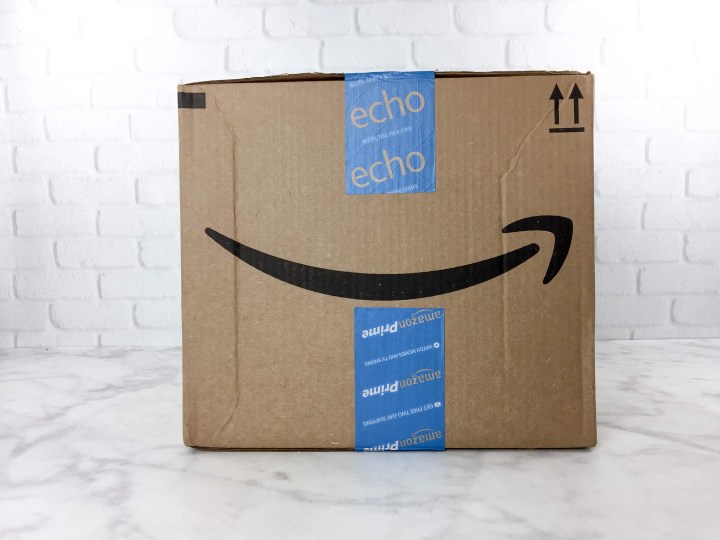 Amazon STEM Toy Club is a monthly subscription box service that delivers age-approriate STEM toy that encourages any child to learn through play. The subscription costs $19.99 per per month, and the theme of the month can be anything from natural sciences to robotics. There's always something new to discover in every box of Amazon STEM Toy Club!

There are three age ranges available for this box: 3-4 year old, 5-7 year old, and 8-13 year olds. This is a review of the 8-13 year old box.

Everything in my box! In true Amazon style, the kits come in a large outer Amazon box, and purchases of multiple kits may be shipped together. Our kits for three different age ranges were all packed and delivered together. This review covers the Mechanics set for 8-13 year olds.
Engino Discovering STEM Mechanics Levers & Linkages Construction Kit ($27.17 via Amazon, $35 Target or Walmart): In line with the theme of Engineering, this kit contains instructions and parts for making 16 different machines, plus whatever your imagination can think up. Instructions for 8 of the machines are included in printed form with the kit itself – the other 8 are available online.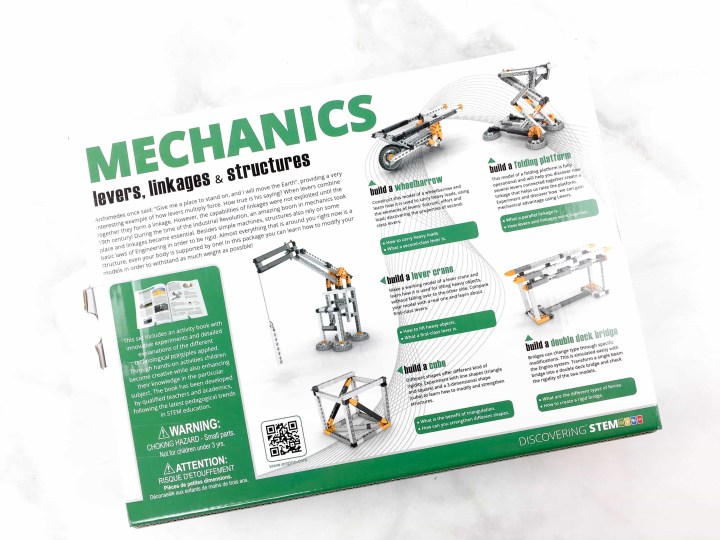 Structures to be built range from a (not-so-)simple wheelbarrow to an expandable scaffolding and crane.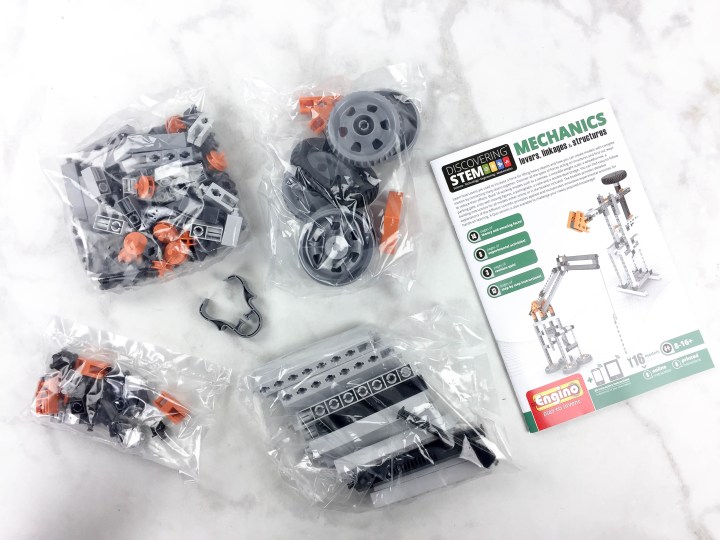 The kit includes all of the pieces necessary to construct any of the designs included either online or in the booklet. Though the kit has many pieces, even simple projects incorporate a surprising number of small pieces – don't lose any pieces – some machines require all or nearly all of a specific kind of piece! I don't know if there are any two devices that can be built concurrently – you have to reuse pieces from prior builds to make anything new.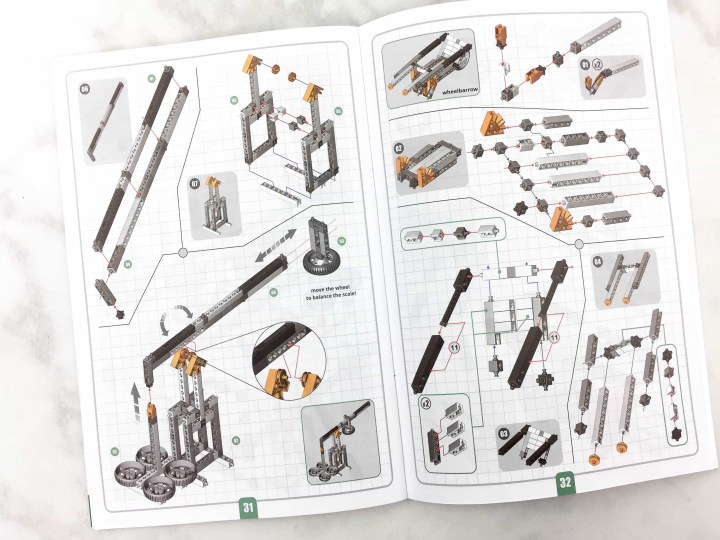 This kit is simple in concept, but very technical in execution. The instructions lay out all the pieces and steps required to build each project, but they are a bit tough to see, particularly for old eyes. The tiniest cubic connectors have two male connectors, two female connectors, and two smooth sides. One male allows a piece joined with it to spin, while the other male connector prevents such movement – you have only the tiny graphics in the instructions to use in deciphering the suggested orientation of each piece. The exploded diagram style of the instructions also leaves you to figure out the order in which to make the connections within each step. Because each piece in the set locks together in a specific manner (snapping together or sliding a specific direction), the integrity of structures depends on differently oriented connections limiting the motion of each other – this makes the structures sturdy, but it also makes them trickier to assemble.
The supporting materials are amazingly detailed. Though they don't incorporate any higher-level mathematics, the concepts are very technical and precise. They include a section on the history of structures, both natural and manmade.
The booklet also contains a quiz for each of the mini-lessons in the book. The combination of detailed materials and testing for reinforcement makes the booklet a very useful study aid for the simple machines portion of Freshman (HS) Physics.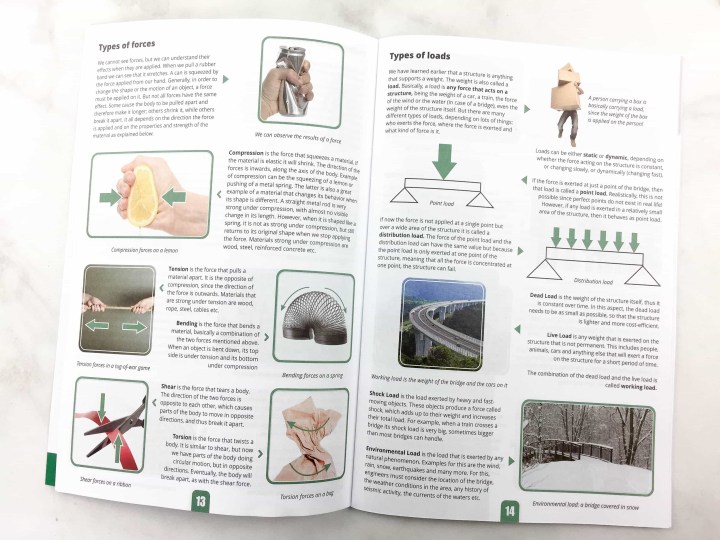 The materials go beyond that normally covered in a general academic setting, covering some vocabulary and concepts, like types of forces and loads, usually reserved for those in engineering occupations.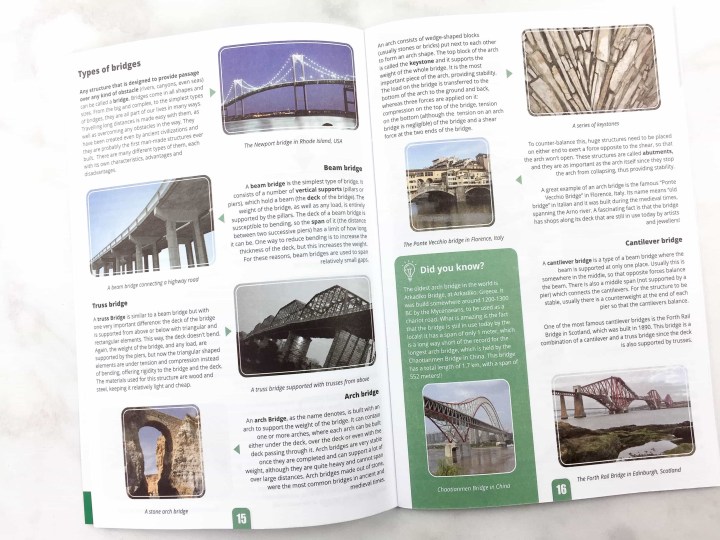 Despite the technical content, the materials remains accessible, as the info is condensed in discrete blurbs and is accompanied by illustrative photos.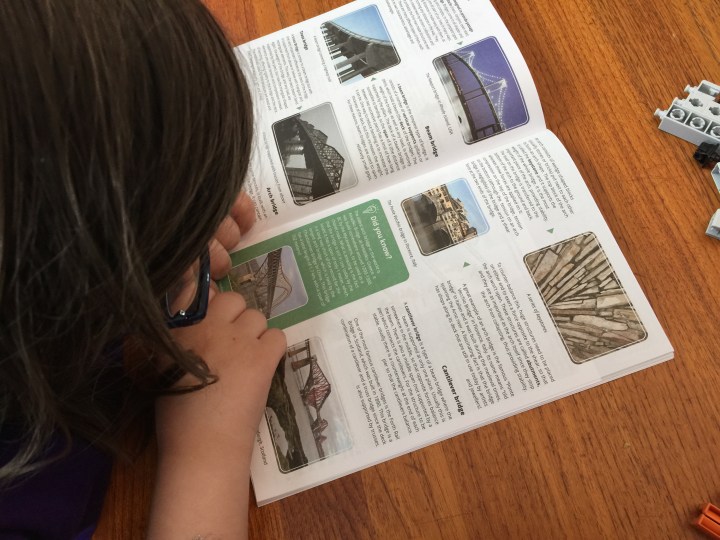 Our daughter is at the younger end of the recommended age range for this kit. While the building portion of the kit required a fair amount of manual dexterity, the reading material was fairly accessible – it has accurate nomenclature and incorporates plenty of discussion of physical forces, but it is not made ostentatiously technical, and she was able to follow it quite well.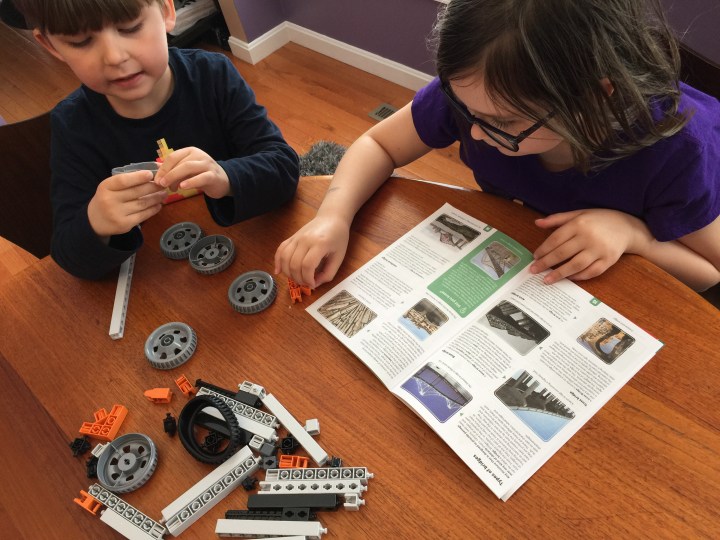 The kit is best suited for kids at the older end of the recommended age range. Our kids work through tons of craft boxes, so they are quite are good following directions and assembling models, and they love LEGOs. This set contemplates connecting pieces to serve specific functions and does not have extra pieces beyond those called for in the directions (amazingly, each project consumes the majority of the available pieces), so it's not as conducive to free play and creative building as other, more opened-ended sets are.
Our youngest was fascinated by the pieces (especially the "tires"), but he wasn't able to build much.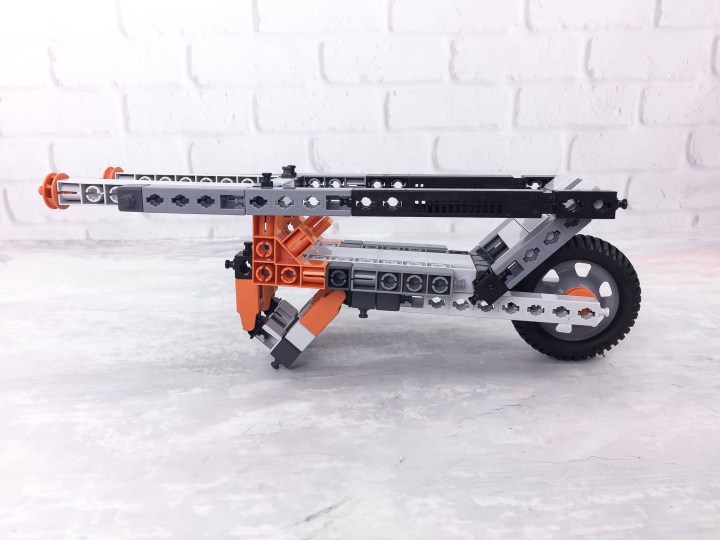 Here is a "simple" wheelbarrow from the printed directions.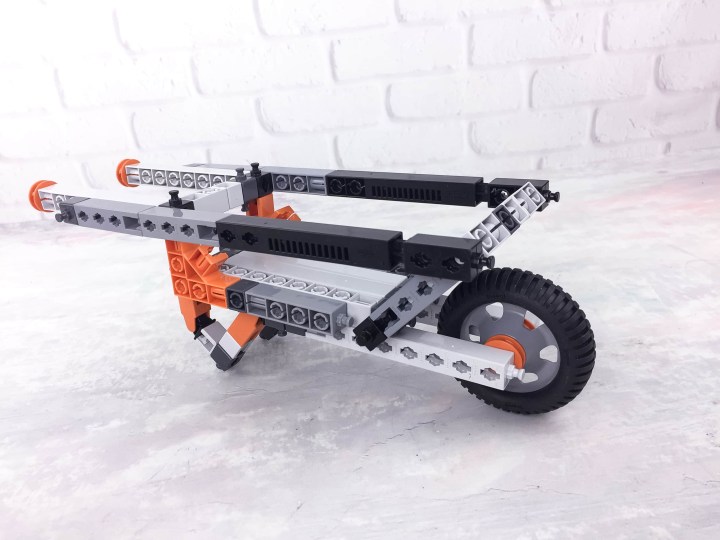 The motto of the kit seems to be "Why use two blocks, when you can use five?" The orientation-dependent function of the connectors makes for added complexity, requiring seemingly symmetrical builds to incorporate asymmetrical structures.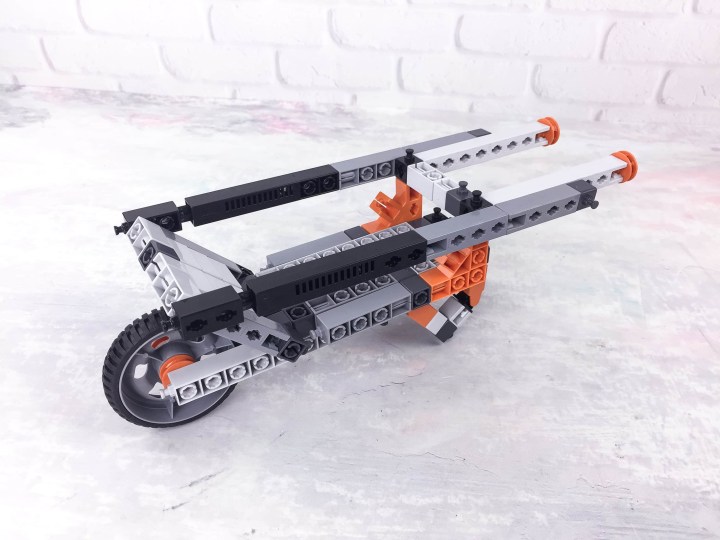 The kit is also a little frustrating when moving on to another project. The sharing of pieces by all projects means disassembling whatever you just built to make your next build. The connections hold together very firmly and take some effort to get apart – I had to connect differently-connecting pieces to some joined pieces just to get an adequate enough handle to separate them.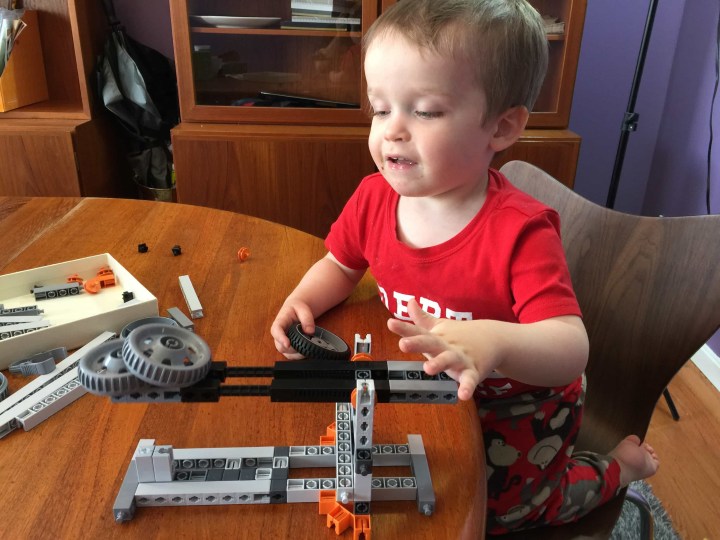 We also made a catapult from the online instructions.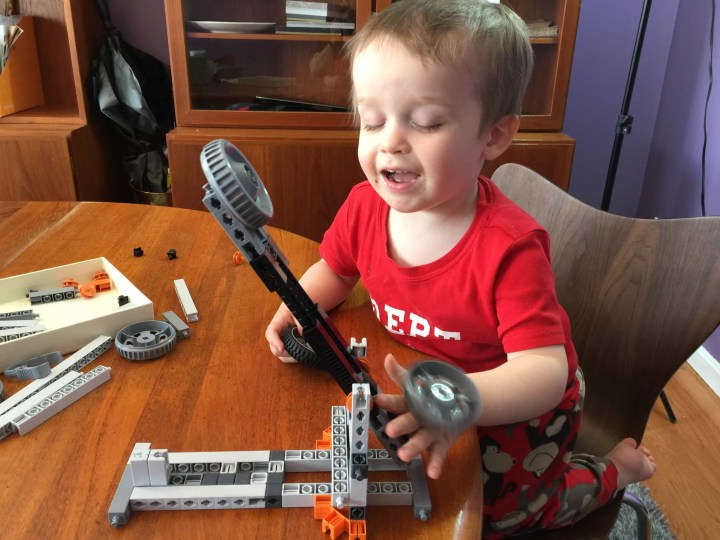 This one was more well-received by the kids, but it also required some adult assistance.
This particular STEM toy definitely should be reserved for kids in the suggested age range. Handling the small pieces requires a little bit of dexterity, and the level of the materials and complexity of builds may prove frustrating for younger users. It was a bit beyond our 6 year old's comfort level, and our 8 year old found it challenging, too. I did think the supporting materials were fantastic – perfect for a pre-high school refresher on engineering and simple machines. There's still no great presentation like there is in Surprise Sweets, but in this case it's not necessary, as the star of the show is the toy, although I would still love a cute custom sticker on the side of the shipping box. Like the other STEM toys we've reviewed, the value was really good for this toy – and Amazon really was able to step up the complexity and level of material for this age group.
If you received something different than our family, let us know in the comments!