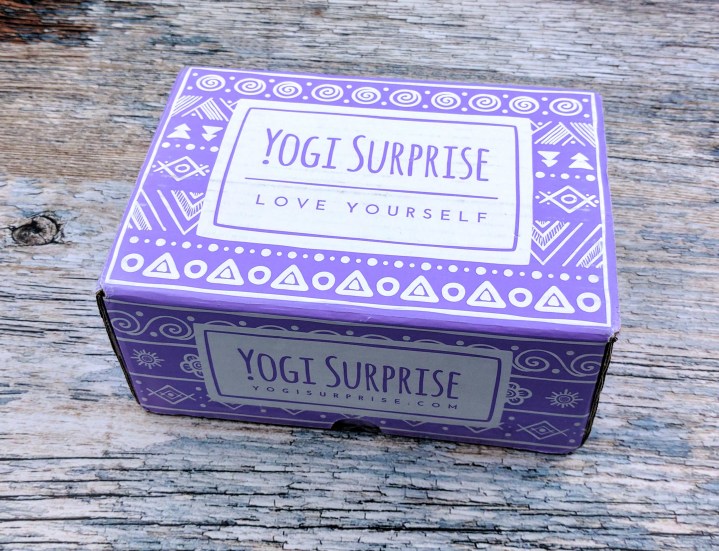 Yogi Surprise is a yoga-inspired monthly subscription box designed to complement your way of living. Each monthly box contains 6-8 products picked by experienced yogis to complement your yoga practice and your life!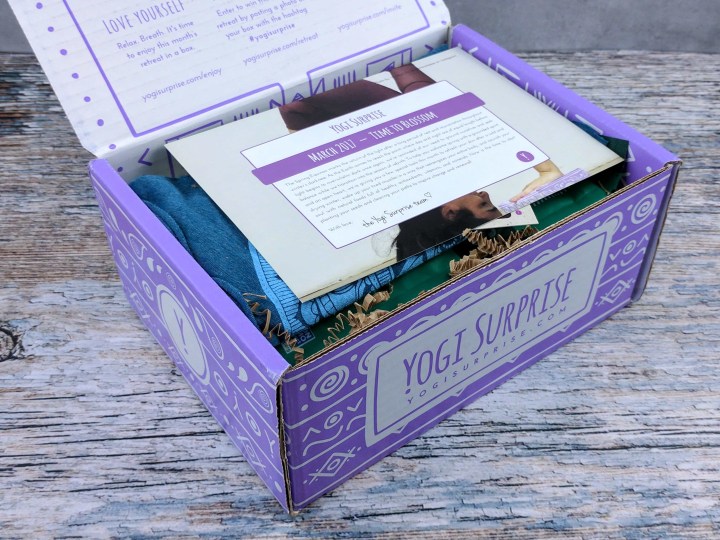 DEAL: Take 15% off your membership for life! Use coupon code HELLOYOGI.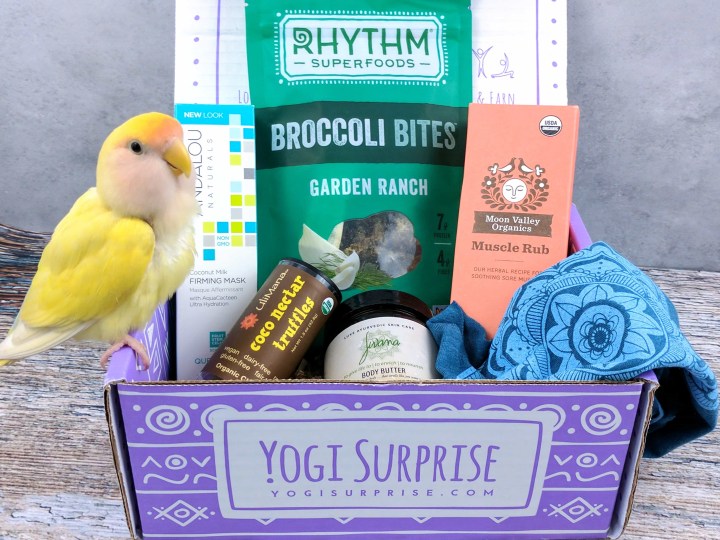 Everything in the box. Bird not included!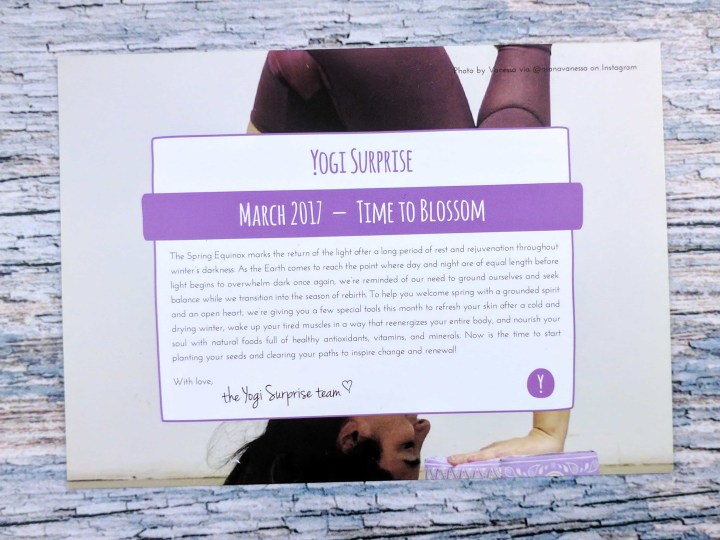 March's theme is "Time to Blossom," a time of the year when we need to ground ourselves and seek balance while we transition into the season of rebirth. The tools given to us in this box will refresh our skin, wake up our tired muscles and nourish our soul. It's time to plant our seeds and clearing our paths to inspire change and renewal!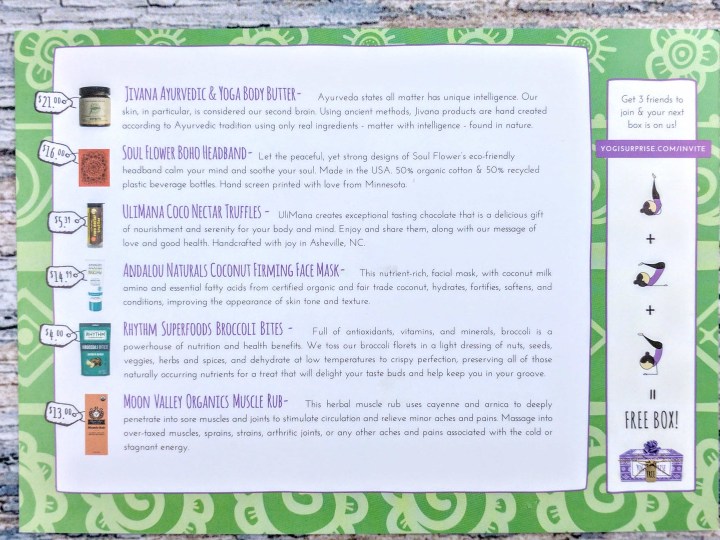 All the items are well described with some hints on how to use them.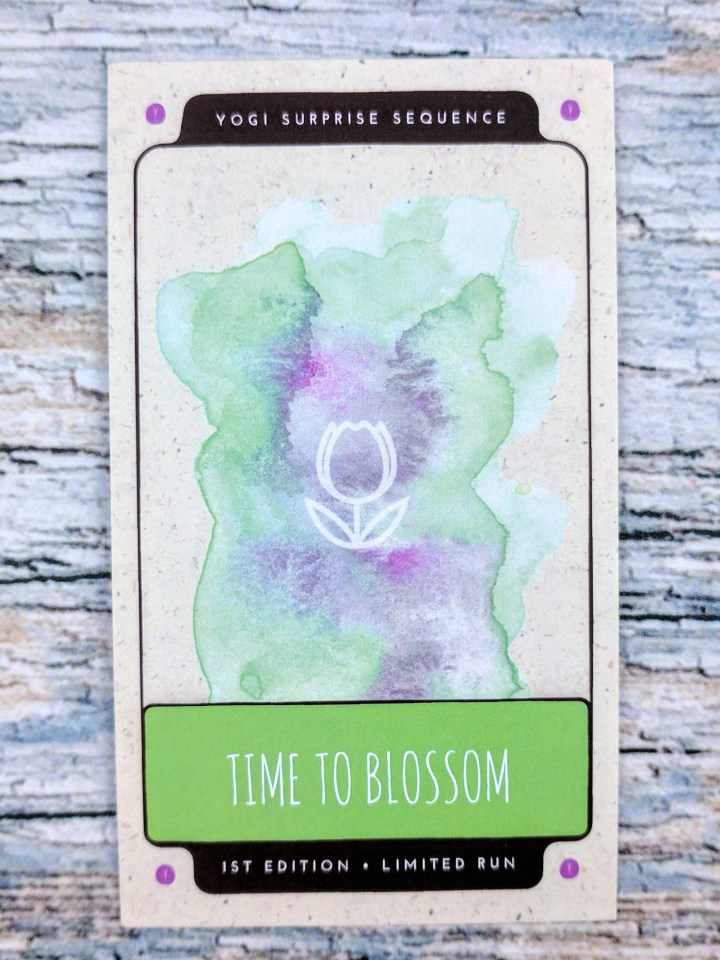 Yogi Surprise Yoga Sequence Series Card. Every month, you receive a little card with a sequence of poses to celebrate the month's theme.
I love getting these sequences! I usually do them before digging any further into the box, but I just got out of my yoga class when I received my box and for the first time EVER, I managed the Crow Pose! I'm still working on the Lord of the Dance (the leg doesn't want to move that high yet, I'll work on it). I carry my sequence cards in my yoga bag for when inspiration is a problem! Fun fact : you can download all the previous sequence cards on the yogi surprise website so you can have your own little inspiration book!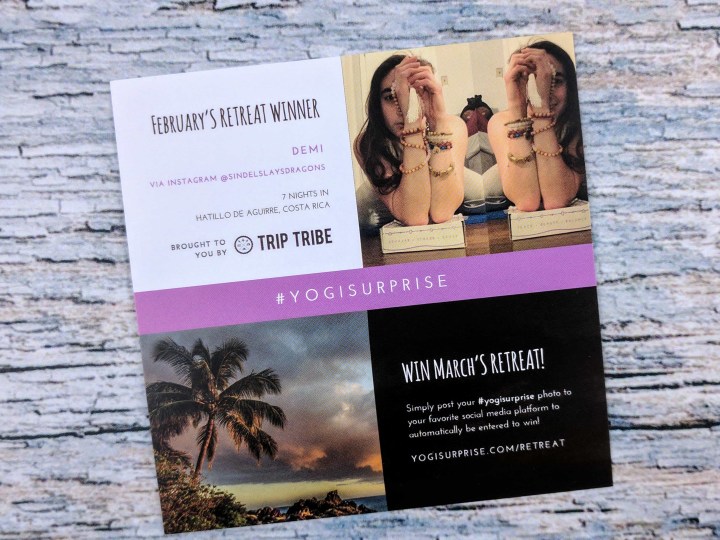 If you share your yogi surprise photo on social media, you are automatically entered to win a Yoga Retreat, in collaboration with Trip Tribe.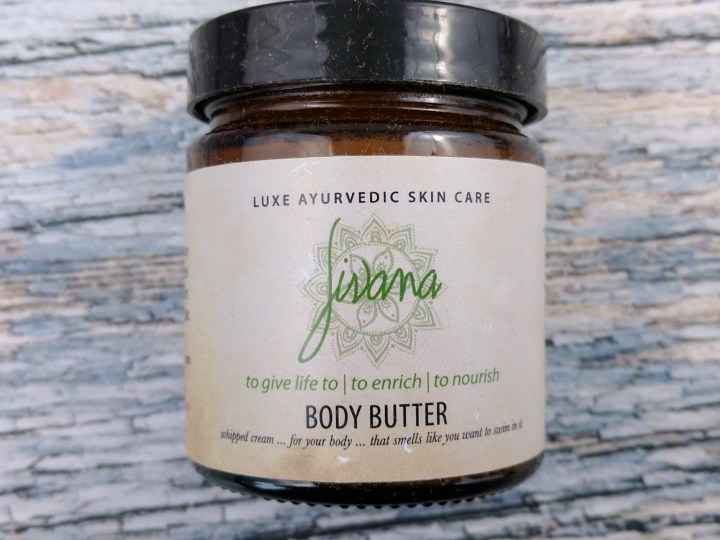 Jyvana Ayurvedic & Yoga Body butter ($21) This is a blend of vegan butter and oils (Olive, Sunflower, Almond, Grpae Seed Oils and Cocoa, Shea Butter) that melts on the skin to bring back the balance to your skin. I have very very dry skin (if I don't moisturise right after my bath or shower, I'll be scratching my skin all day long), and this butter feels so good! It's easy to apply and a bit goes a long way.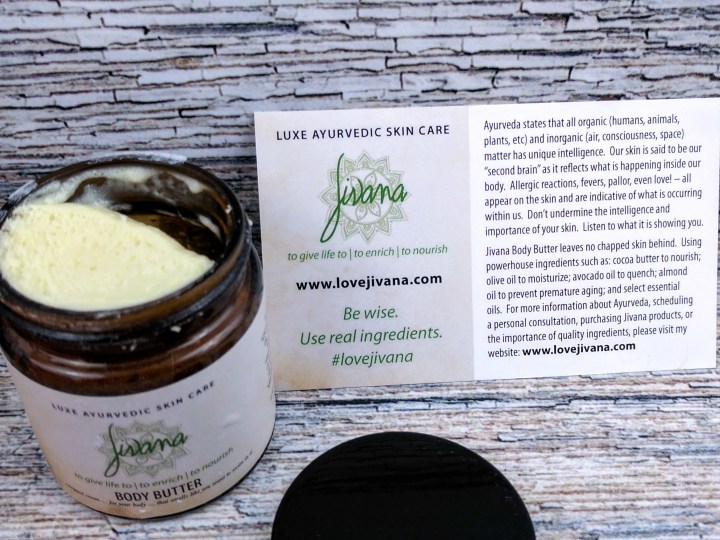 The scents is pretty neutral (citrus and mint) and light, so even my husband is using it.
Soul Flower Boho Headband ($16). I loooove the colour of the headband I've received! I know there were quite a lot of diversity in the design, and I'm very happy I've got this one! I've got the one named "Water Spirit" and it could not be less perfect! It is a wide headband, so even people with bangs (like me) can keep their hair under control and not looking like the crazy bird lady! It's a stretchy cotton, very light and easy to keep in place.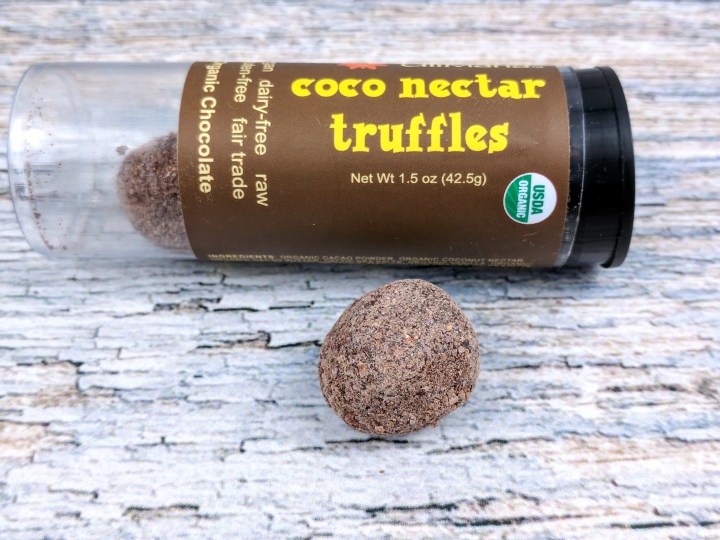 Ulimana Coco Nectar Truffles ($5.39). I want to like chocolate. But I don't. I'll eat it, I'll appreciate the quality of the ingredients, the care put into it, but I will not enjoy it. It's no different with these cuties. I love the packaging, no truffle have been squished and they are cute looking. They are organic, vegan, gluten and soy-free, raw, non-GMO, fair trade and no-processed sugar. It's a nice truffle and doesn't feel luscious!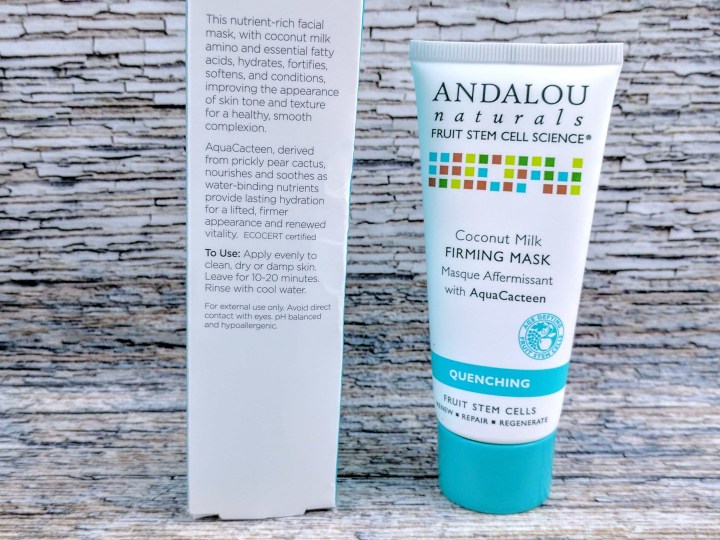 Andalou Naturals Coconut Firming Face Mask ($14.99). This is the perfect face mask for thirsty skin. With all the fatty goodness from coconut, your chapped skin will thank you. The texture is very light, milky but it stays on your skin. It feels great on the skin and leaves the skin soft! I used it right after my face scrub, to bring back and lock in the moisture.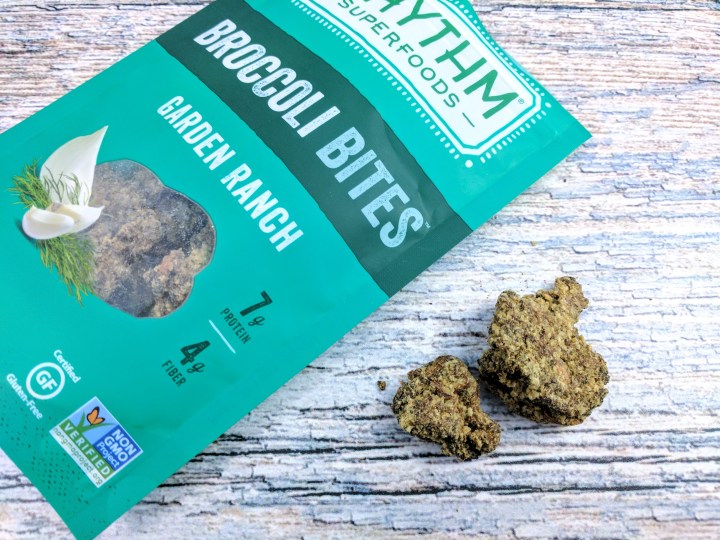 Rhythm Superfoods Broccoli Bites ($4). I was super excited to try these out! I love dried fruits or veggies snacks and broccoli is one of my husband's favourite veggie. The broccoli florets are tossed with nuts, seeds, herbs and spice. The Garden ranch has onions, cane sugar, lemon juice, dill weed, garlic, sea salt and white pepper. Sadly, one of the Superfoods is Cashew (the other two being broccoli and sunflower seeds) so my husband had to leave them to me (he's allergic to peanuts and he had bad experiences with cashew contaminated with peanuts). I didn't like them, due to the dill weed, a taste I find "off".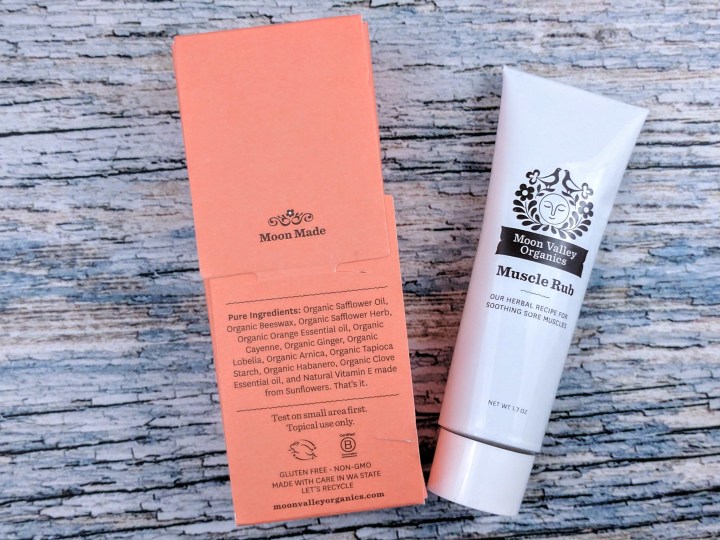 Moon Valley Organics Muscle Rub ($13). An herbal muscle rub using cayenne and arnica to stimulate circulation and relieve minor aches and pains. I think this is my favourite item in this month's box. I have constant muscle pains, especially in my upper back (causing me nasty headaches at the slightest wrong movement of the neck) and muscle rubs are one of the few things that actually helps me (besides yoga). You can use this rub with heat, that's a plus for me. This is a rub to use also for pains associated with the cold or stagnant energy. I tried it and it doesn't leave the skin greasy, and has a very subtle scent. It temporarily relieve my pain, enough to keep on going. This will be added to my yoga bag.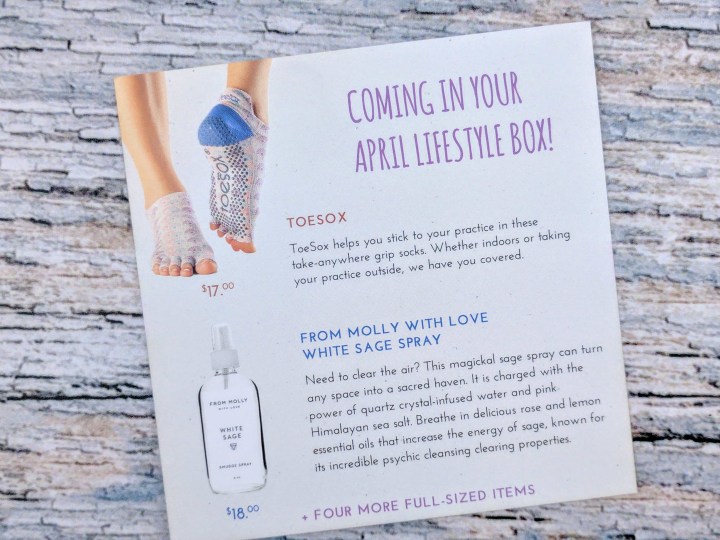 Included in the box, a spoiler for March Yogi Surprise Lifestyle Box! ToeSox and a White Sage Spray to clean the air!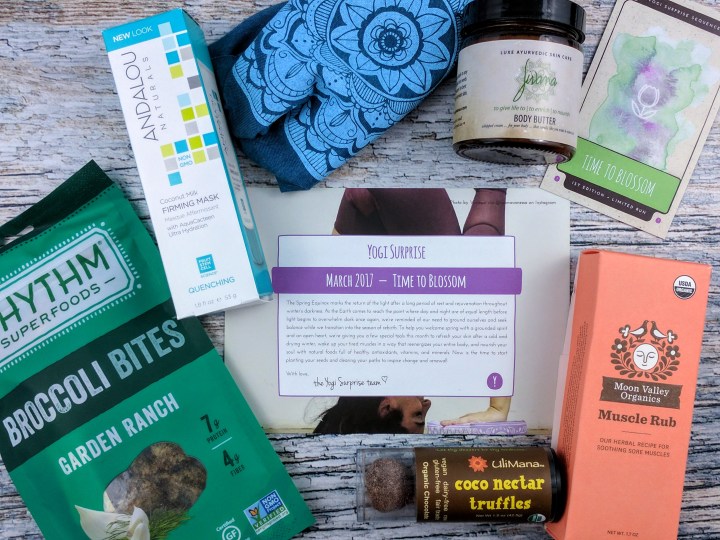 I really enjoyed this month's Yogi Surprise and my favourite item was definitely the muscle rub, but I liked everything in this box. The headband is perfect on my head, and my skin will get some well deserve care after this weird, cold, windy, and snowy winter. This box was perfect to give me the little extra boost needed to get through the end of winter into the spring (especially since I was in the middle of a snowstorm while writing this review)!
Are you a Yogi Surprise subscriber? What did you think of the box?