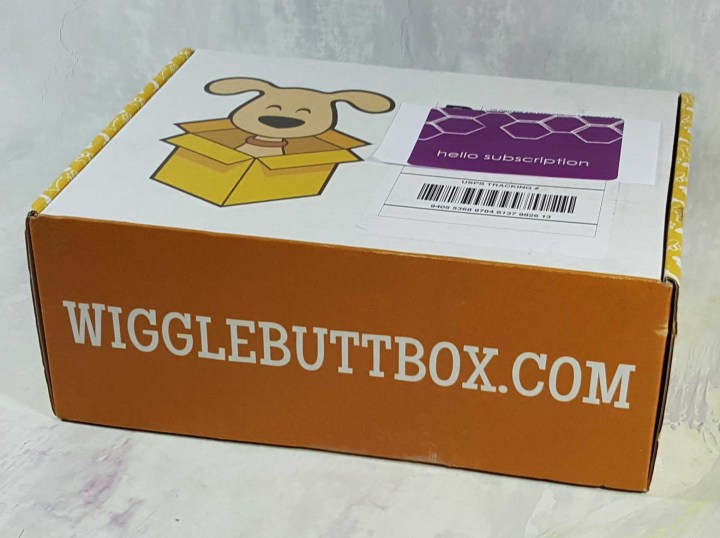 Wigglebutt Box is a subscription box of "yummy and fun surprises for you and your dog that are delivered right to your door every month." Each box contains a seasonal kerchief, a roll of poop bags, and a combination of 3-5 toys/treats/accessories. Boxes are tailored to your pet's size and toy treatment. Pet parents are not forgotten either; there's a gift included for you too! Plans start at $35/month, but you can increase your savings by choosing a longer subscription option (3-month, 6-month, and annual plans available). Plus, a portion of the proceeds from every box sold will go towards an animal charity.
I got the small dog/average play Wigglebutt box for my fur babies, Lily and Lexi.
Happy Valentine's Day! Mia and April apparently are Beatles fans too. LOL.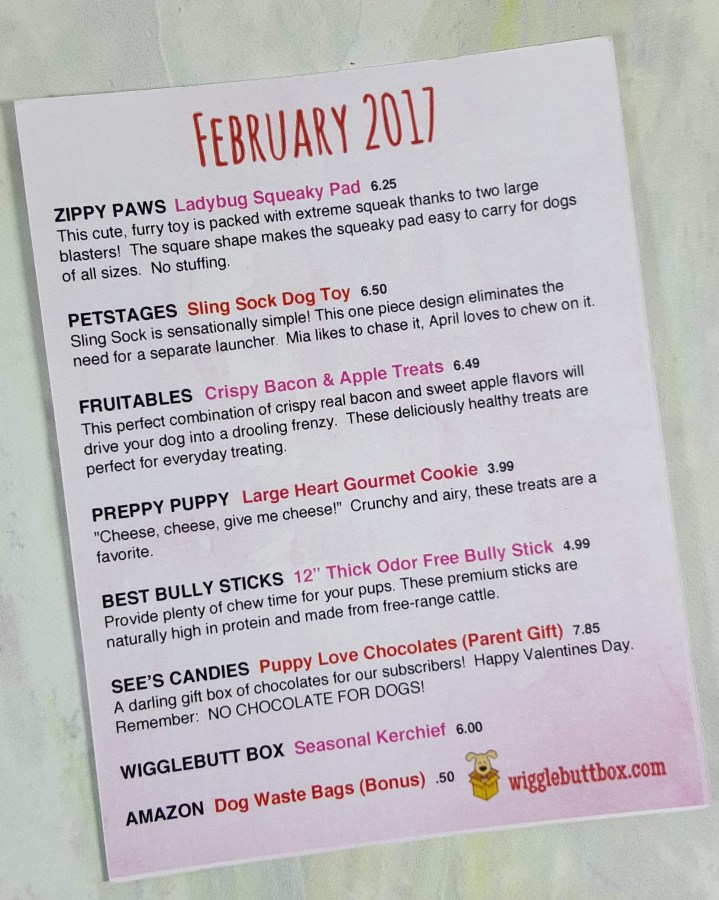 The information card has a list of box contents along with a brief description. Wigglebutt Box is now including pricing for box items. Unless noted otherwise, these are also the prices used below.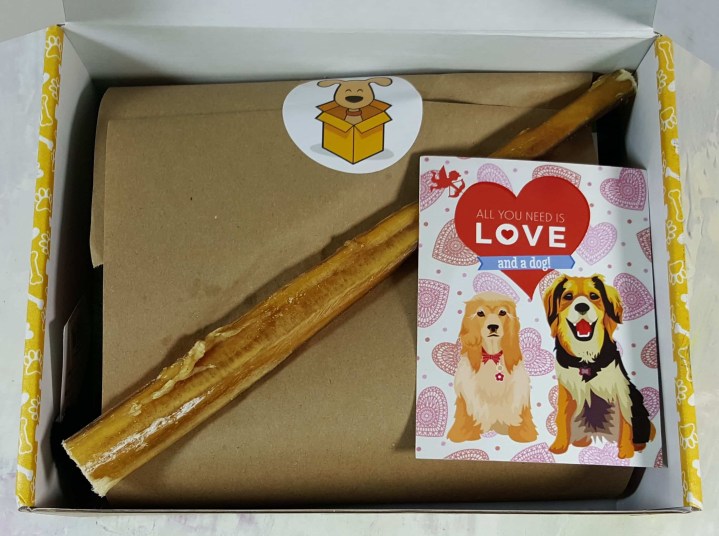 Now to figure out which girl gets the bully stick as her Valentine.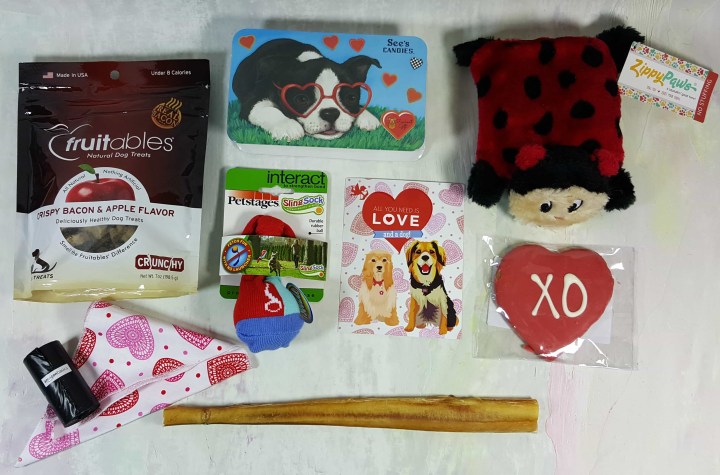 The full February Wigglebutt Box reveal! So much goodness this month.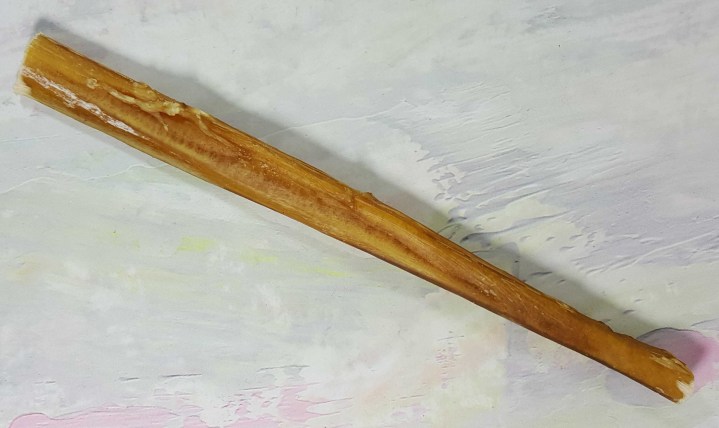 12″ Thick Odor Free Bully Stick | Best Bully Sticks ($4.99): These bully sticks are 30-50% wider than standard sticks. They are cooked longer to reduce their moisture content and smell. My girls are funny about these. They don't want one unless it's already been chewed (kinda gross, I know). After my sister's pup got ahold of this, my girls couldn't get enough and they couldn't share. Thankfully, this was long enough for me to split in half for each girl.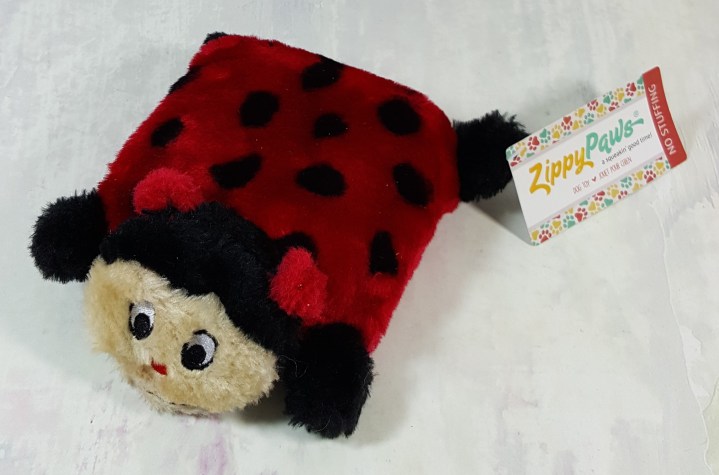 Ladybug Squeaky Pad | Zippy Paws ($6.25): This is another toy with blast squeakers. We are still playing with a different Zippy Paws plush with the extra loud squeaker, and one is all I can handle at a time. I think the ladybug is completely adorable. The square pad shape makes her easy to carry for any pup.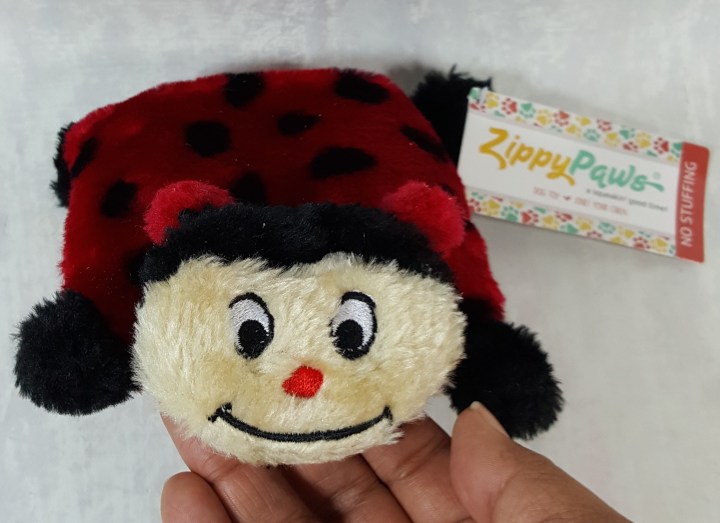 A close up of that face. How can you resist?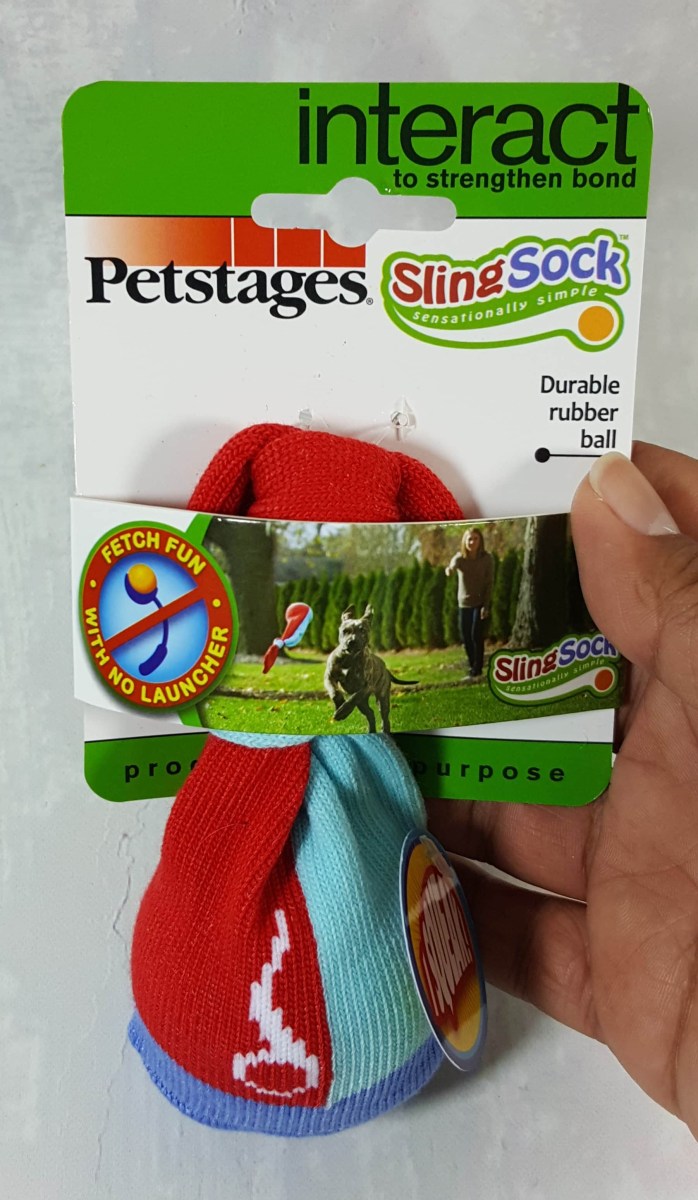 Sling Sock Dog Toy | Petstages ($6.50): Ball and launcher all in one! Lily likes that she can pull the ball with the sock, and Lexi just likes that there's a squeaky ball inside. Mommy likes that the girls can play together without me. Sometimes, I need a break from playtime.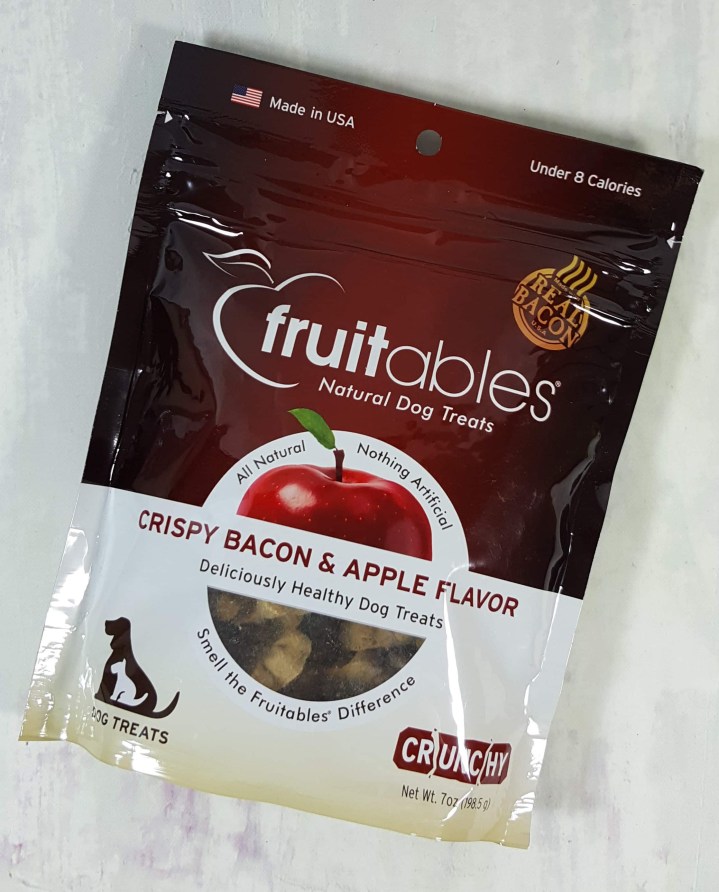 Crispy Bacon & Apple Treats | Fruitables ($6.49): These are currently on sale for $2.37 at chewy.com. A healthy treat combining the salty-sweet goodness of bacon and apples. Each crunchy, organic treat is less than 8 calories too. I was surprised that my girls ate these considering their aversion to most dog biscuit treats.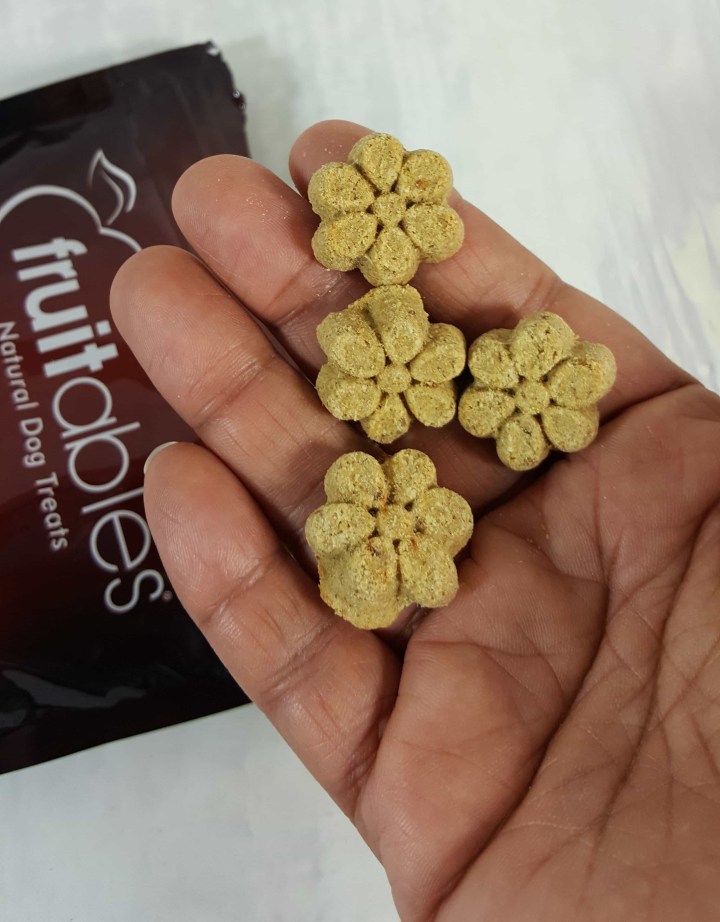 I can't say how tasty these are, but they are pretty treats.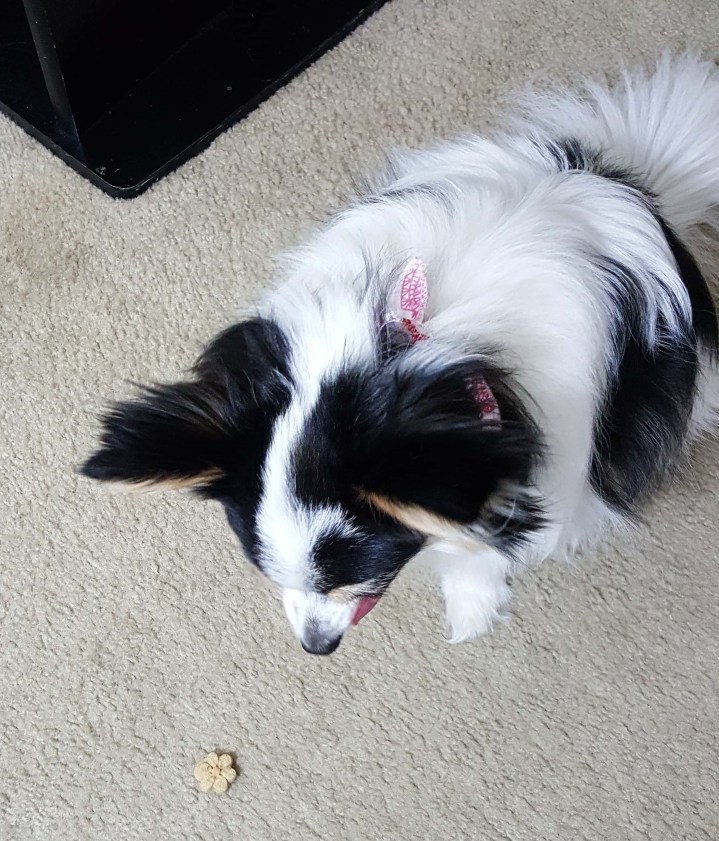 OK, I had to include this shot of Lily contemplating the treat because she was licking her lips. LOL.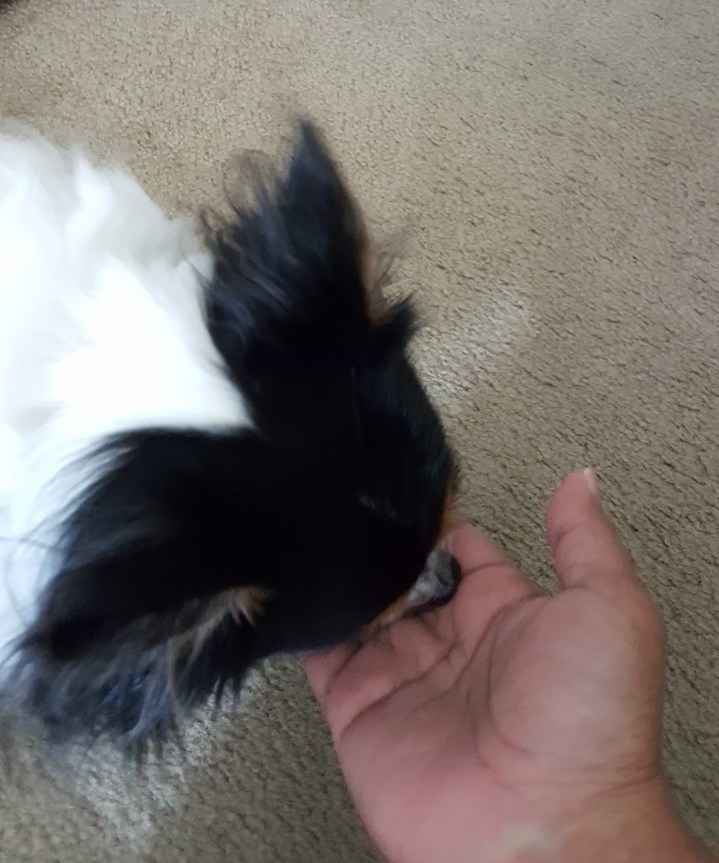 …and Lexi just devoured her treat.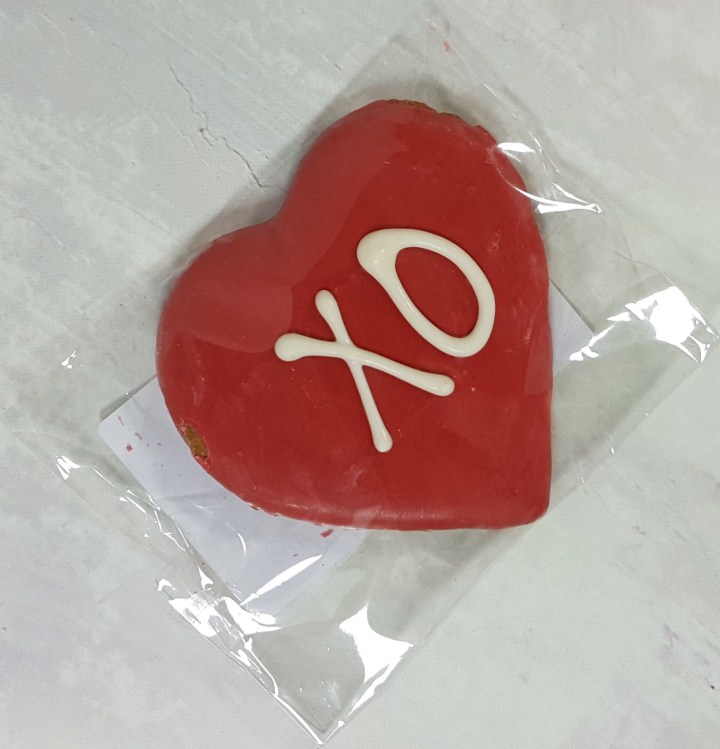 Large Heart Gourmet Cookie | Preppy Puppy ($3.99):  These were originally $1.50 at preppypuppytreats.com; however, you need to sign up with them to purchase these. I thought this was a cute cookie for the girls to share on Valentines'. Too bad they decided that they only liked the frosting. I ended up with naked cookie halves on the floor. The cookies are molasses based and made with human grade ingredients. They are also wheat and corn free.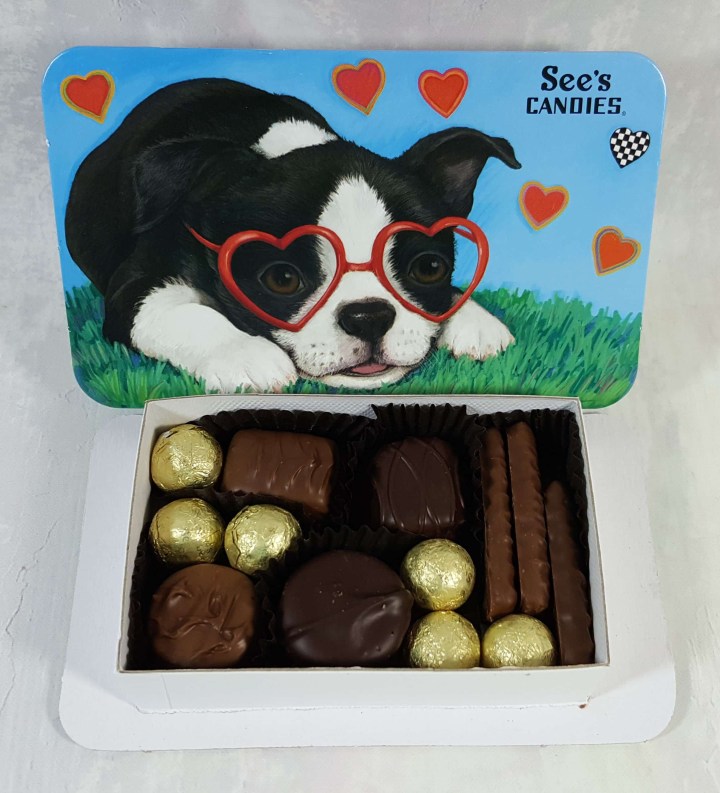 ** Pawrent Gift ** Puppy Love Chocolates | See's Candies ($7.85):  This box made me so happy! It is filled with milk and dark chocolates, molasses chips, and truffles. It was so much goodness that I literally had to force myself to not eat everything in one sitting. I also did not share these. Sorry, not sorry.
Seasonal Kerchief | Wigglebutt Box ($6.00): I love the fun heart pattern of this scarf, and so does Lily.
** Bonus ** Dog Waste Bags | Amazon ($0.50): These come in every box and are always welcome in my house.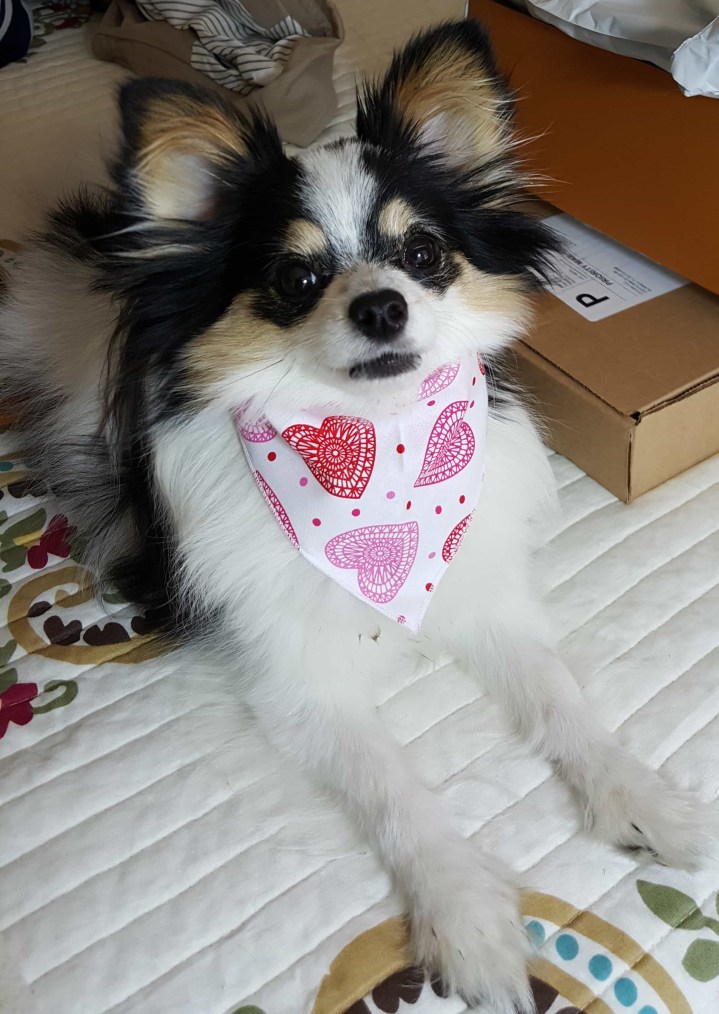 Here's Lily, the multi-tasker. Not only is she modeling, but she's also helping unbox (and waiting for treats to sample).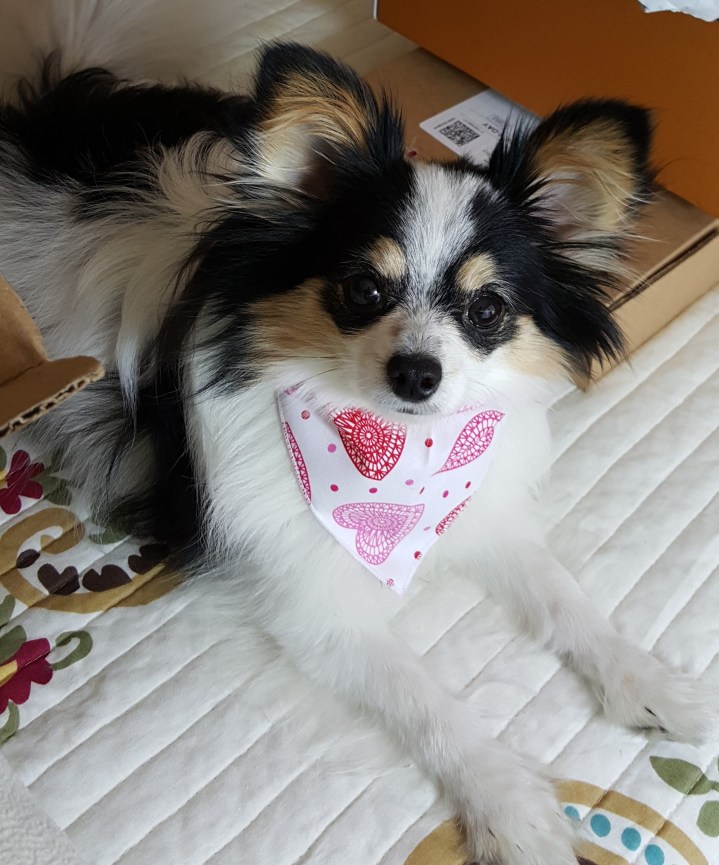 Seriously, this girl can work a camera. LOL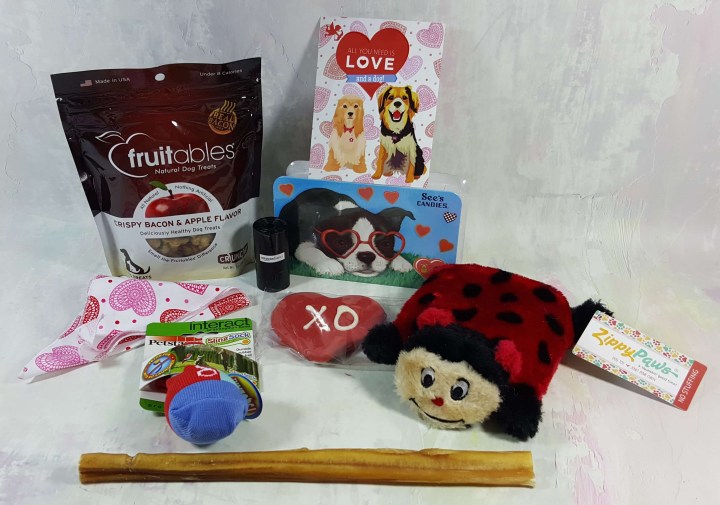 The listed value of this month's Wigglebutt Box is almost $43. While I enjoyed my See's Chocolates, the girls happily chewed on bully sticks and played tug o' war with the sling sock. I thought the Valentines- themed curation was fun and cute. I can't wait to see if we get a St. Patrick's Day or Welcome Spring box for March.
What did you think of the January Wigglebutt Box? Leave a comment below and let me know.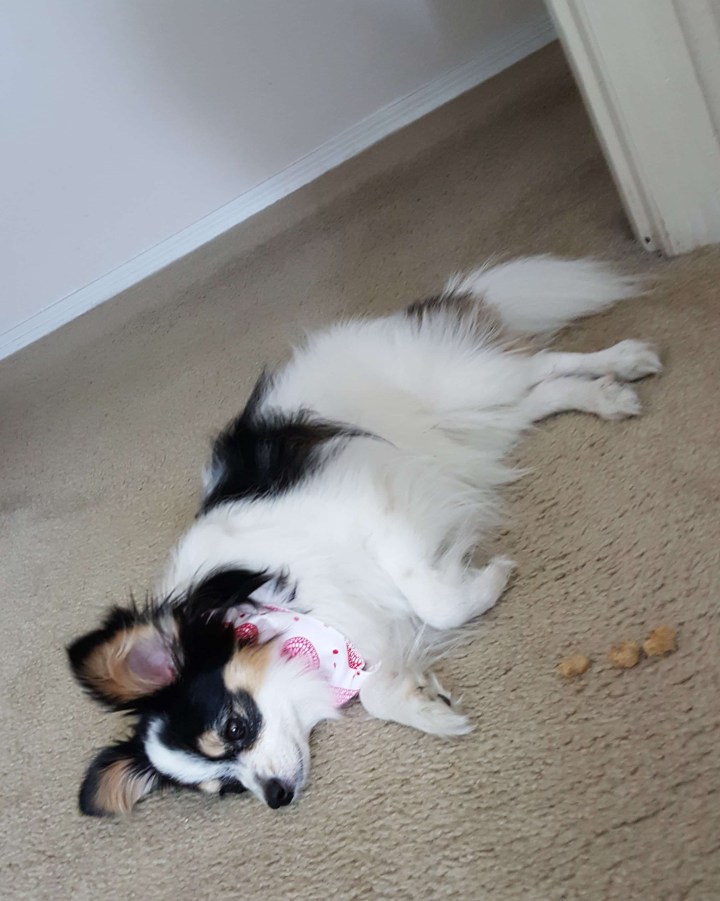 And we're done. (When you ask your dog to sit and she's not feeling it.)