Pupjoy is a subscription box for dogs that delivers the healthiest dog treats with all-natural ingredients and clear labeling, as well as well-crafted dog toys and artisan accessories. You can choose from monthly, bi-monthly or quarterly subscriptions, and then have it customized for your dog's specific needs. To date, PupJoy has a total of 28 options to customize your box.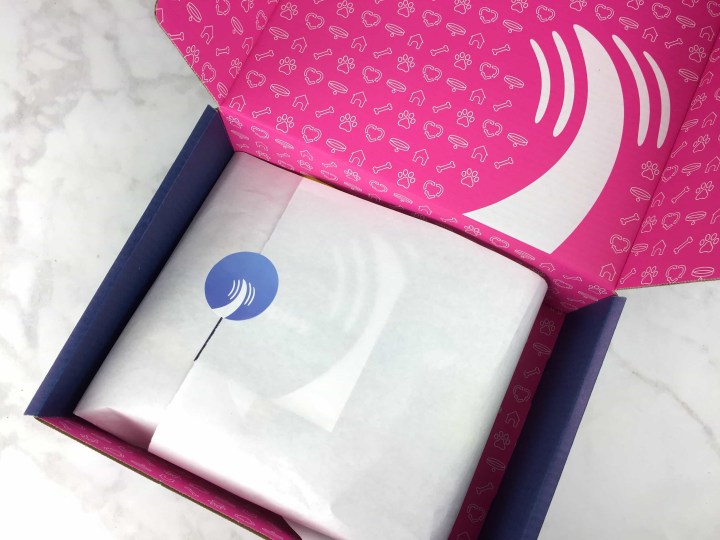 You can choose either an Uno Box, great for single dog households or a Grande Box, a plus-sized box for a multiple dog household. There is also an option to receive a combination of toys, treats & accessories, or you can limit the subscription to toys & accessories only. If you wish, you can even opt to receive treats only. You can skip renewals and edit or cancel a subscription – anytime, without penalty.
As always, our box is full of dog goodies! The first thing you will notice is a welcome card on top – it contains information about PupJoy and how to share pup photos to get featured on their social pages. PupJoy works directly with small manufacturers. They support independent businesses and they give back through charitable programs too.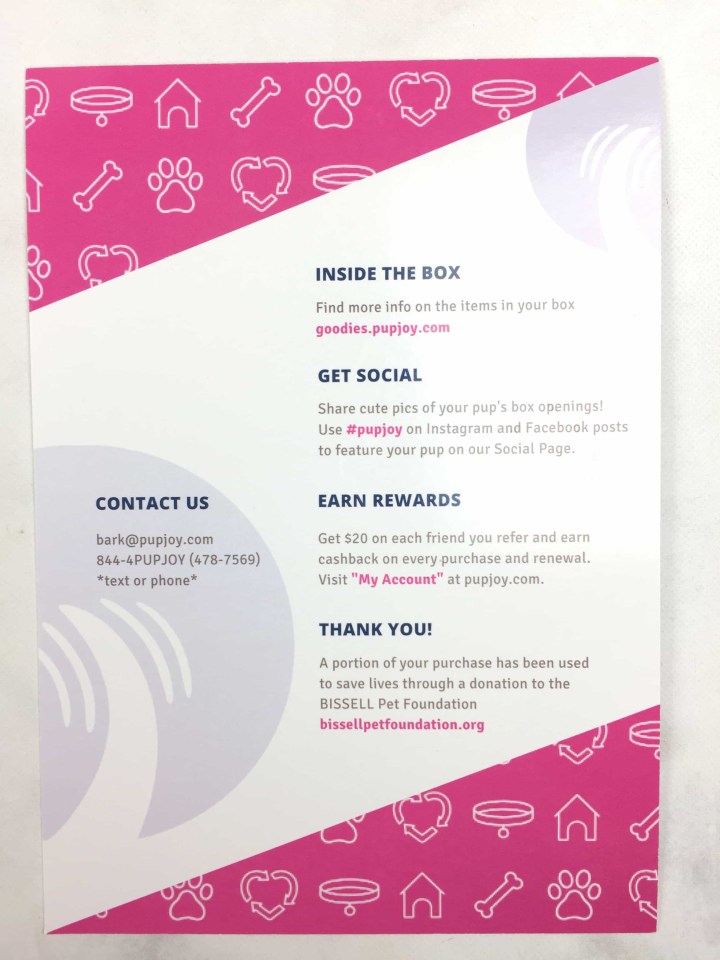 DEAL: Take $10 off any subscription plan! Use coupon code HELLOSUBSCRIPTION.
Everything in the box!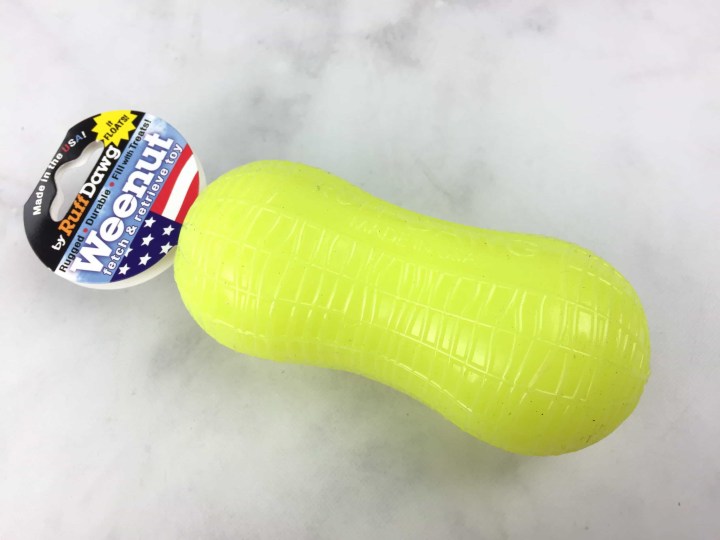 RuffDawg Weenut ($15): This bright yellow peanut is not so wee – it's sized more like a summer squash, but it does have peanut shell-like striations on the surface to add some grip and chewing interest.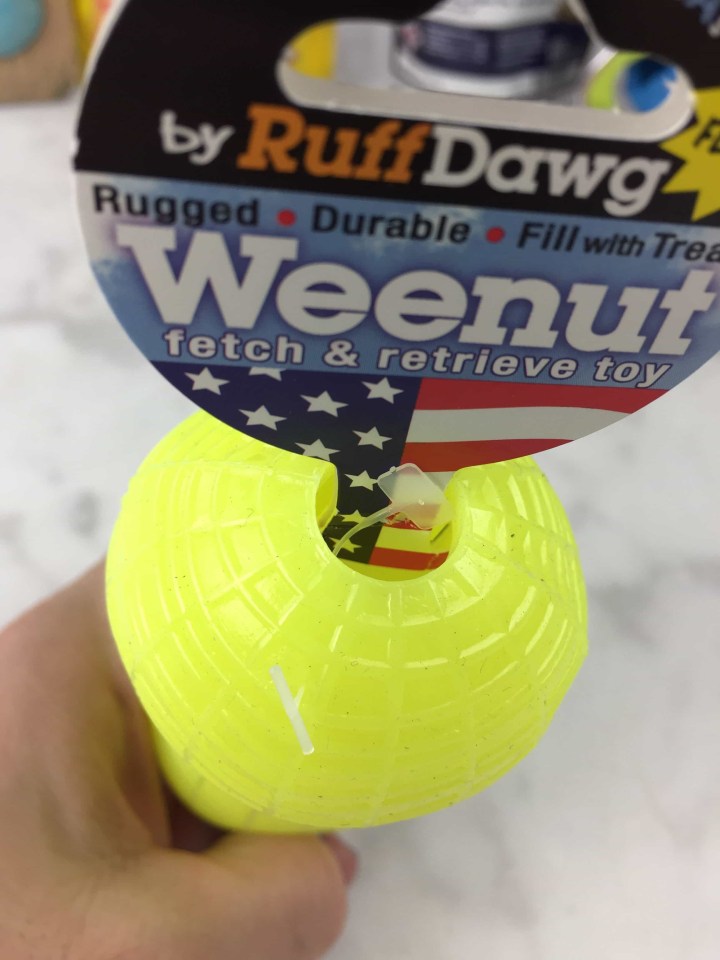 One end has a small hole that allows you to stuff treats inside. Lindy wasn't really too interested in the toy when it was empty, but stuffing a few of her favorite snacks inside changed her tune!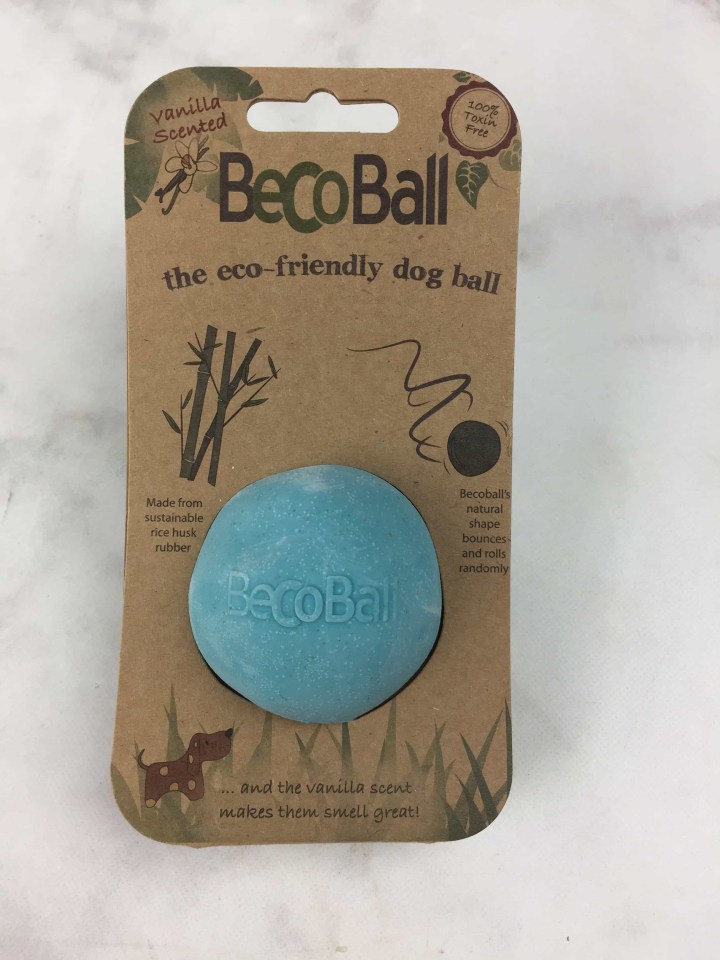 Beco Ball ($7.42): The "rubber" that forms this ball is actually natural rice rusk, processed without the use of toxins.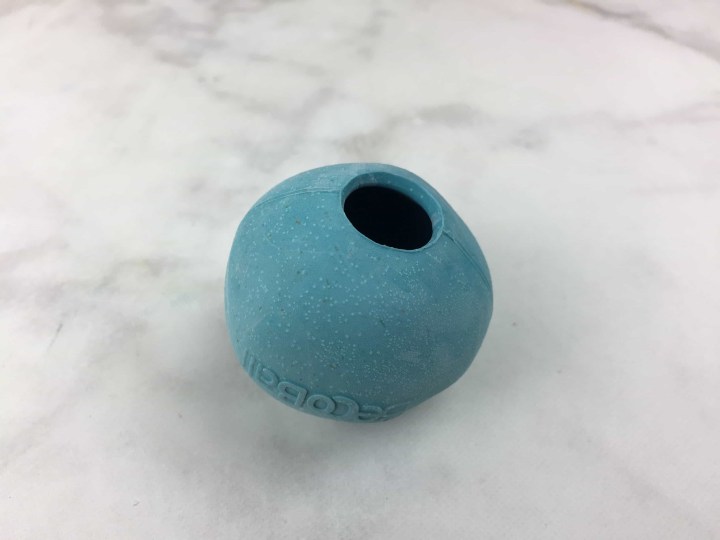 The resulting ball is eco-friendly and one-of-a-kind. The natural material forms and imperfect sphere, so it rolls and bounces in an awkward fashion. A hole in the ball makes it suitable for stuffing with treats.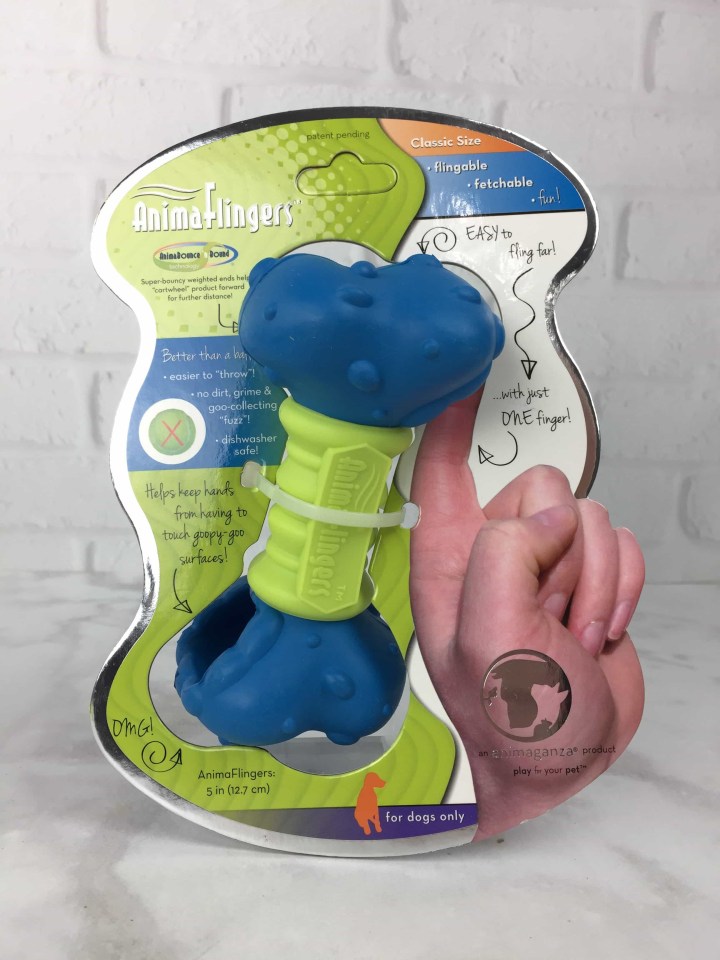 Animaganza AnimaFlingers ($8.99): This hefty toy is very sturdy and solid. The rubbery material from which it is made is dense and hard, making it suitable for aggressive biters and chewers.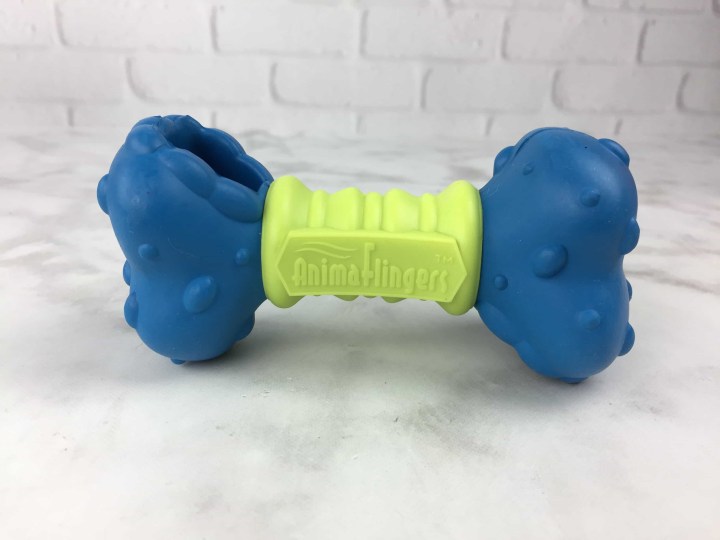 Bone-shaped, a ring around the center and knobby ends add textural interest. The big innovation here is the "flinging" hole on each end of the bone. It allows you to toss the bone by flinging it with your finger, avoiding the need to grasp it once it has become a drooly, slimy mess.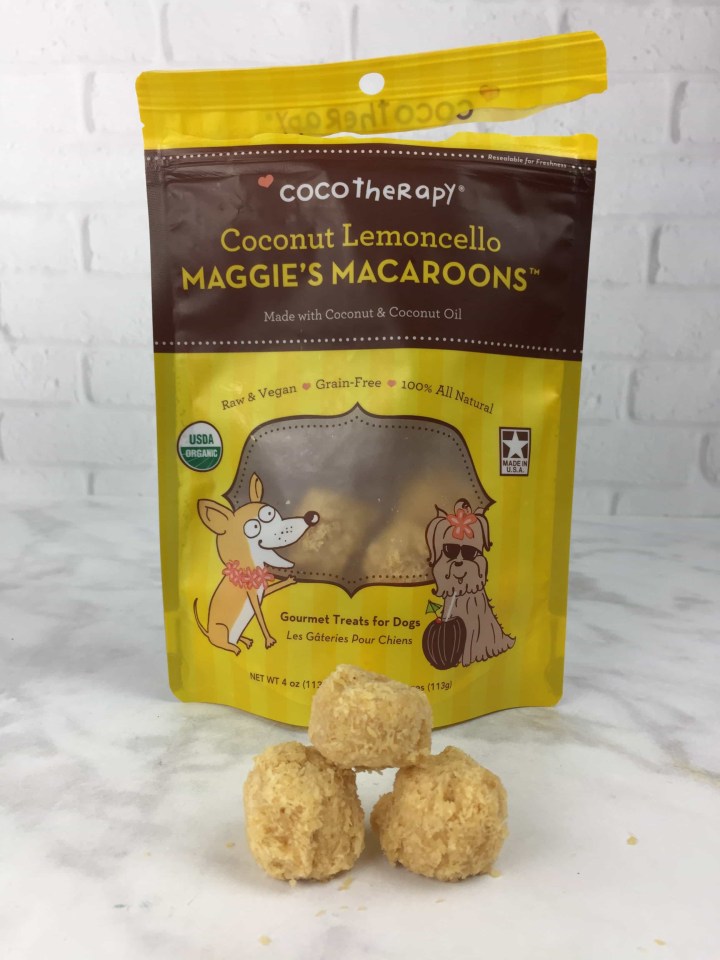 Cocotherapy Maggie's Macaroons Coconut Lemoncello ($12): These treats could easily be mistaken for human desserts. Judging by the ingredients, they are pretty much the same as one would expect a human version of the treat to be, sans liquor and sugar. Made entirely from organic, human-grade ingredients, they have a bright lemon scent and dense, chewy texture.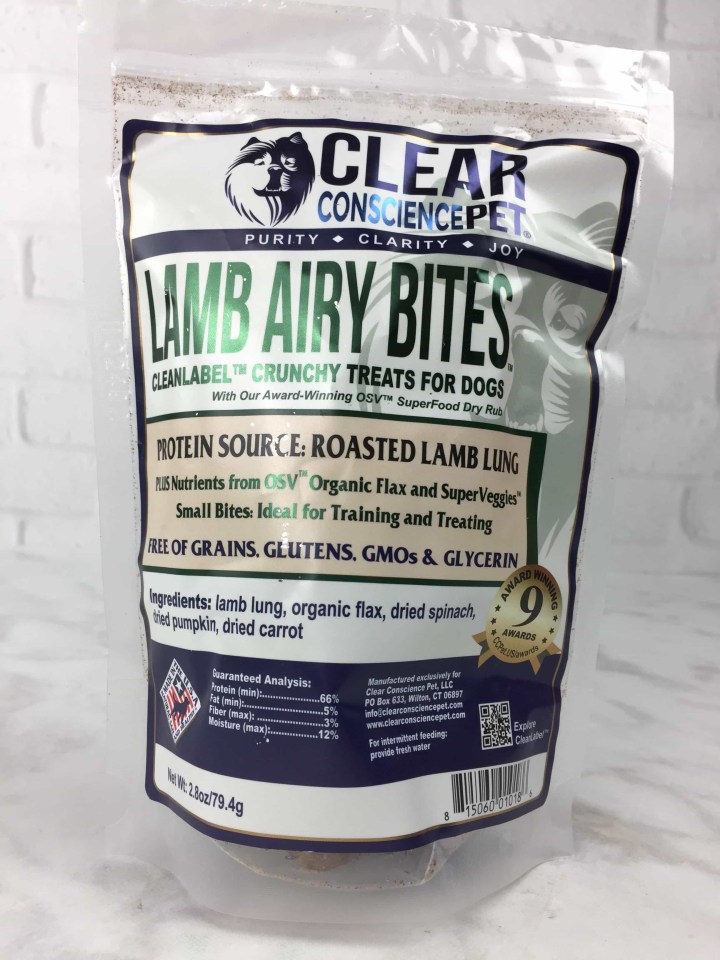 Clear Conscience Pet Lamb Airy Bites ($9.99): These are not easily mistaken for a human treat. Chunks of lamb lung are dried into light, crunchy, pungent treats. They are a bit like astronaut ice-cream, just made from lamb organs.
These are Lindy's absolute favorite treat. They are made from real lung and seasoned with a powder made from flax, spinach, carrot, and pumpkin.
GivePet Campfire Feast Dog Treats ($12): These crunchy hearts are made with salmon, sweet potato (one of my pup's favorites), and blueberries. They are hardier than a Milkbone, with a coarser texture. A portion of proceeds goes to assist shelter pets.
Lindy digs Pupjoy! She checks out the toys, but she totally devours the treats. My dog has made it her life's mission to survive on treats alone, making them as large a portion of her diet as she possibly can. I like that the treats included in Pupjoy are really high quality (gourmet, organic, or all-natural) – I don't have to worry about them being bad for my dog, so long as I watch her portions.
Pupjoy is a good subscription for any dog, and it can be tailored quite a bit to suit your pup's nutrition and play needs. The treats come in large, full-size packs, and our dog always enjoys them. There are no artificial flavors, and most selections are USA made, with many being either grain-free, organic, or similarly distinguished. The treats are made with high-quality, nutritious ingredients, and they are usually produced by small businesses. The toys are well-made, but we favor the treats since our dog loves them so much!