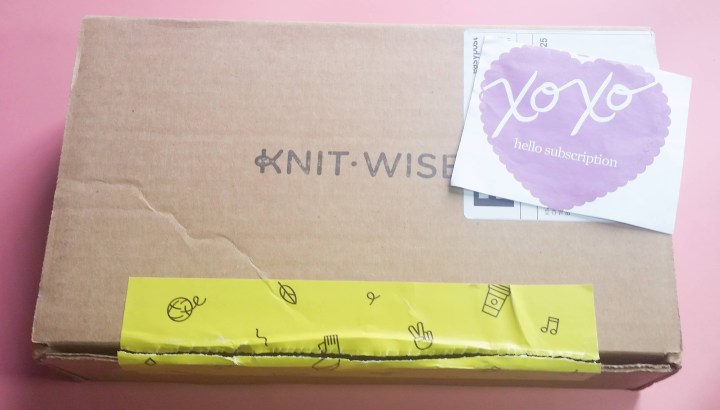 Knit-Wise is a monthly box that arrives with everything you need to create a hand knit project. According to the site, you will build new skills, save time and money, and learn at your leisure. You can choose your skill level – either beginner or intermediate/advanced. I'm a fairly proficient knitter, so I picked the "intermediate/advanced" level. Subscriptions start at $29/month.
I was a little slow getting to the February Knit-Wise project – in fact, this month's box showed up before I got much of a start on the February project. I decided to get working on the March project right away!
Knit-Wise generally provides all the supplies you need for the project – basically everything but scissors. Super convenient! Here's a look at this month's supplies – directions and yarn.  Previous projects have also included knitting needles, tapestry needles, or other necessary notions. After receiving a number of Knit-Wise boxes (and from just being an avid knitter generally), I have a good supply of knitting needles, tapestry needles, and more, so I wasn't disappointed that there were none included in this month's box.  Hopefully, however, for newer subscribers, I hope that these notions were included.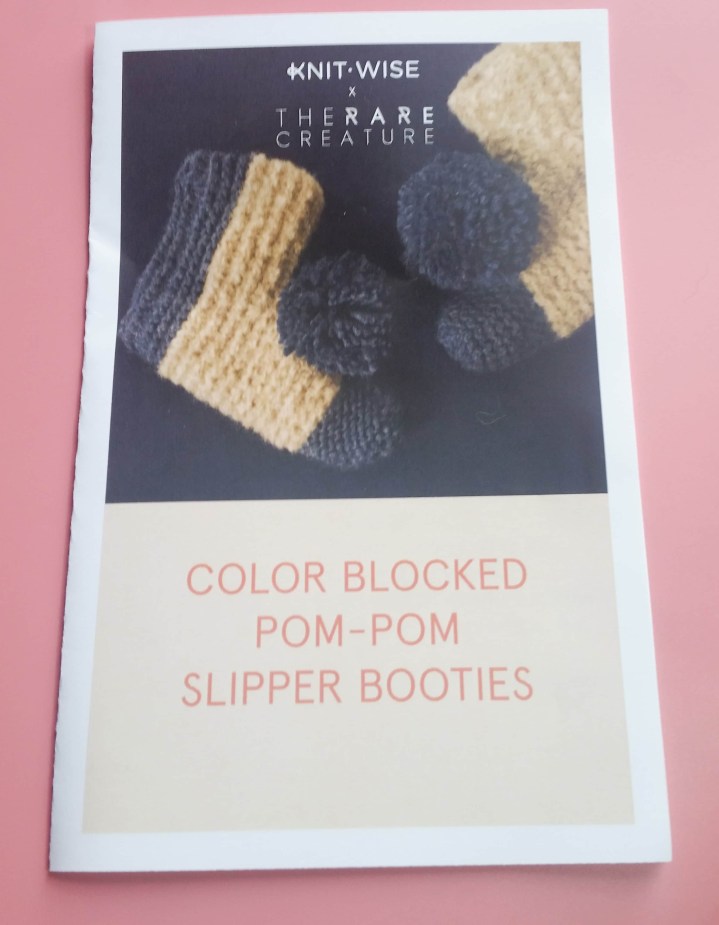 Instructions: Knit-Wise instructions generally come in a little booklet. The front of the booklet provides a full-color image of what the final project will look like. This month's project is slipper booties. Knit-Wise has sent many, varying projects over the past months – home decor, scarves, mittens, and more. I like that I'm not only learning different knitting techniques, but I'm also getting exposed to all different types of knit items.
Here's a peek at the back of the instruction booklet. The step-by-step instructions are very clear and have some terms printed in pink ink (e.g., "invisible seam" above), indicating there is a video explaining that stitch on the Knit-Wise website.
This month, Knit-Wise has joined with The Rare Creature to include some fantastic alpaca yarn. In addition to the instructions, Knit-Wise included information about The Rare Creature's yarn  So nice to learn about where the yarn comes from!
Yarn: This month's box included 2 balls of yarn. The tan is The Rare Creature alpaca yarn – it has an interesting texture and I was happy to learn about it. The blue is normal acrylic yarn. I was happy to see a non-neutral color in this month's Knit-Wise box. One of my only complaints about Knit-Wise is the company's preference for neutral colors. I am a colorful girl and prefer to knit with (and wear) fun colored items, so having blue to mix in with the tan is a good call in my opinion.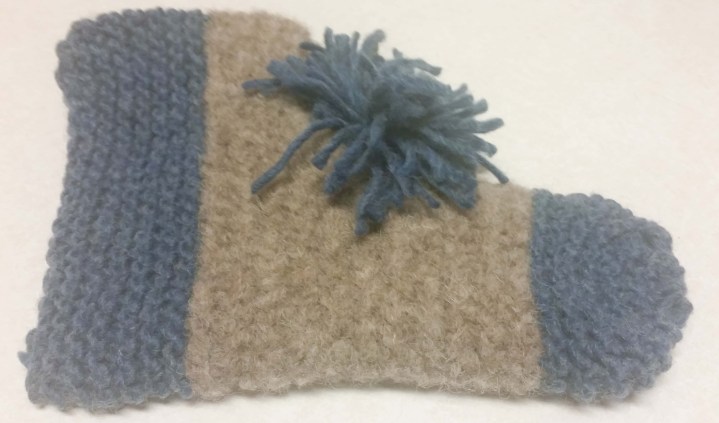 I've finished one of the slipper booties so far. It looks pretty much exactly like the booklet photo! I made the pompom a little less full than the photo because I wanted to make sure I have enough yarn left for the second bootie – if I have extra, I may remake the pompom so it looks a little less straggly.
And here I am modeling my bootie! It fits and is super warm and cozy. Now to finish the other bootie so I have a matching pair…
I liked this project much more than the scarf from the February box. However, I think that overall, I've really enjoyed the Knit-Wise projects. With the variety of projects they have included, it isn't surprising that some would be more fun/interesting/etc. than others. Not only is there variety with respect to the finished item, but also with the knitting techniques. While these booties are simple garter stitch and would be easy for even a beginner, some of the other projects are more complicated – not beyond the scope of a newer knitter, but also interesting for a more experienced knitter like me. For example, there was a simple cabling stitch for the January project.
What do you think about this month's Knit-Wise project?