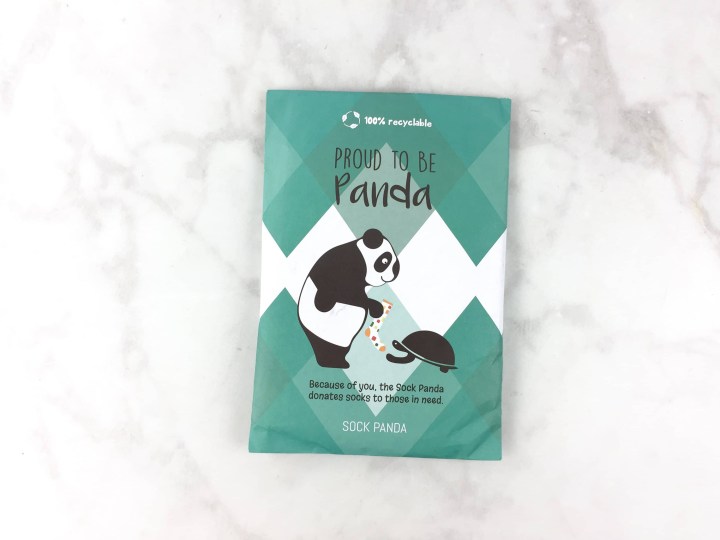 Panda Pals is a play and learn monthly sock subscription for kids. Every pack contains two pair of socks and an activity pack. The outer packaging often has cool Panda-themed illustrations –  this one is simple and adorable, but some are pretty intense!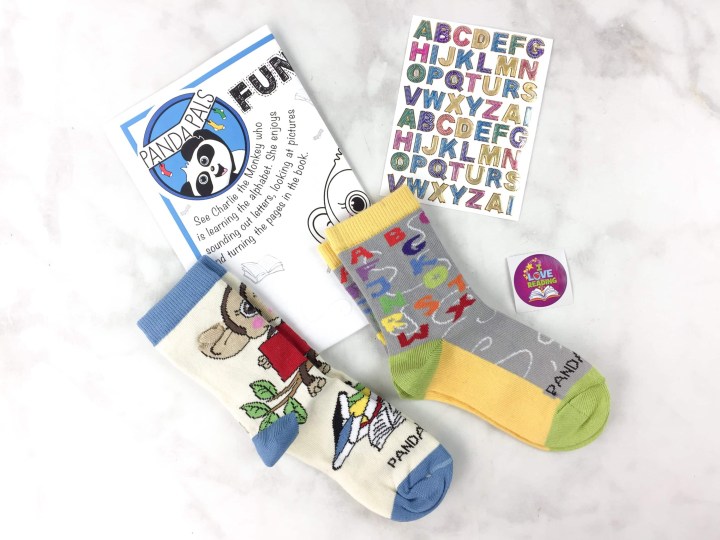 Everything in the box. You get two pairs of cute socks and socktivity pack.
DEAL: Save 10% on your subscription. Use coupon code PANDA10.
The pack included a sheet of colorful metallic-accented alphabet stickers, plus a sticker saying "I Love Reading."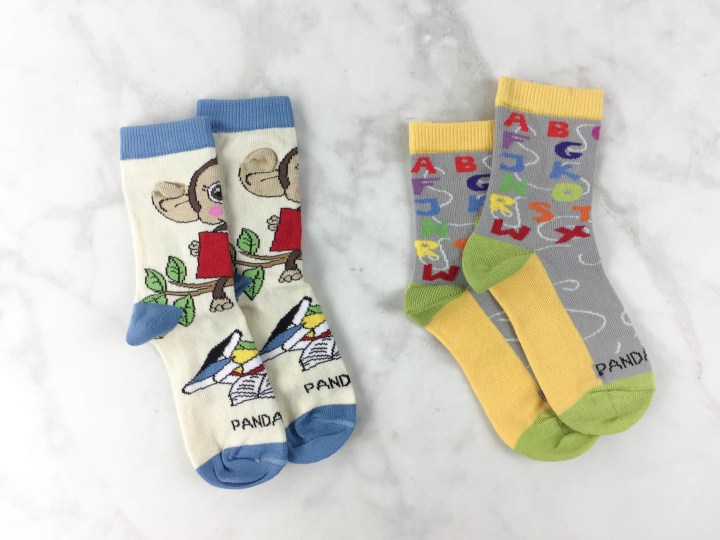 Each Panda Pals includes two pairs of socks, each with a cool design.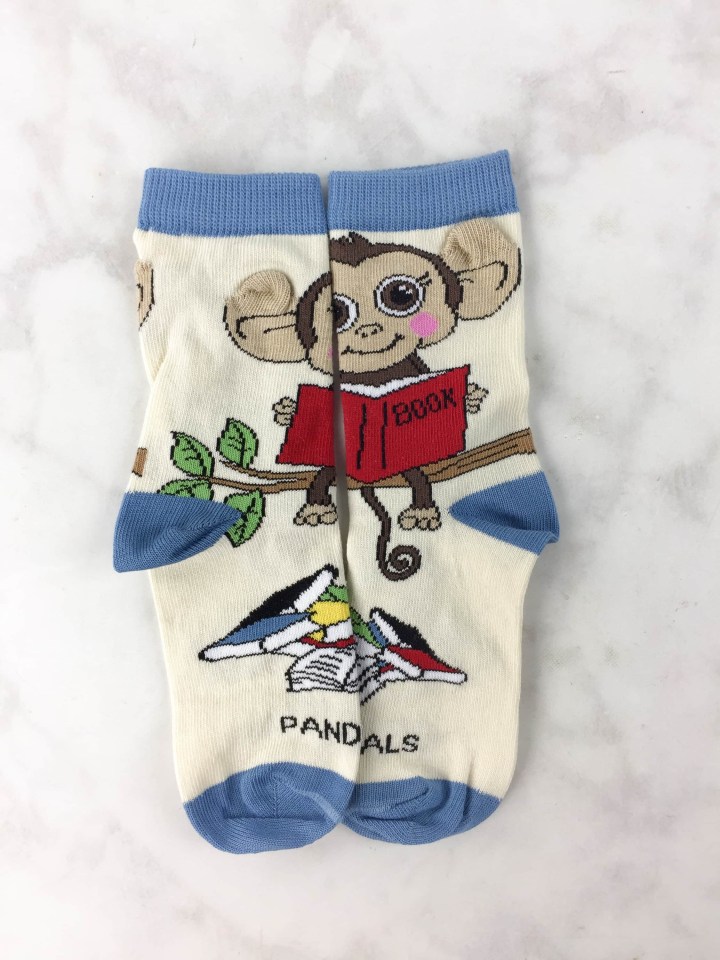 One pair has a picture of Charlie the Monkey. The image runs across the front of each sock when worn (it only looks split across the socks because we are seeing opposite sides of each sock in this photo).
The other pair has the alphabet. Both pairs are super adorable! The sizing is very versatile, too. I've had both my 2-year-old and 8-year-old in the same size socks, though they were knee socks when worn by the former! They fit both of my older kids (6 and 8) very well. The construction is good, too – we've never had issues with socks wearing out quickly or elastic failing. Each pair is constructed of durable Peruvian cotton.
The socktivity packet has changed a bit over time. The original concept always worked in some sock-based activity – now it is just fun, learning related activities and not necessarily sock-dependent. This month was about mastering the alphabet and getting excited about reading. The introduction to the socktivity did tie-in the character featured on one of this month's socks – Charlie the Monkey.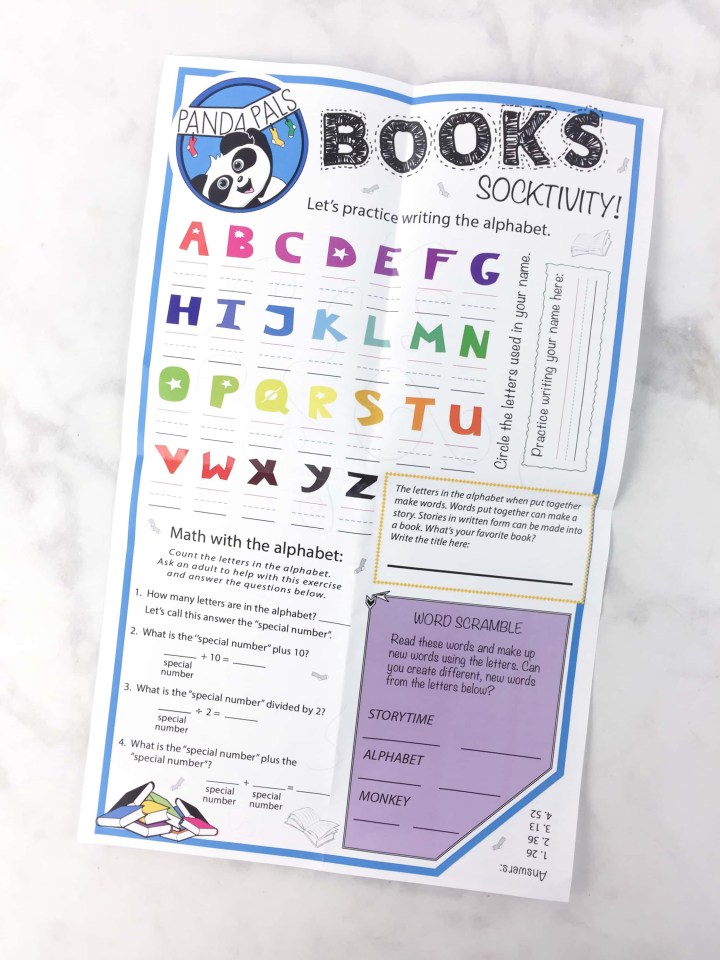 Both sides of the activity sheet have learning activities, including coloring, guided discussion prompts, and a puzzle.
The activities are good for a range of ages – elementary school age kids could do most unassisted, and they are accessible for younger kids if a little help is given on reading the prompts. There is room between the activities for coloring, drawing, and applying stickers.  Panda Pals is a great kit to take along if you are going to be in a waiting room or restaurant for a while, since it is light and has relatively few pieces.
Panda Pals is a very unique subscription, combining practical clothing and fun activity subscriptions in one. The activities are great – they aren't overly complicated and are easy to dive into. Our kids had a lot of fun with it — the socks themselves are so cute the kids loved wearing them!
Have you tried Panda Pals?